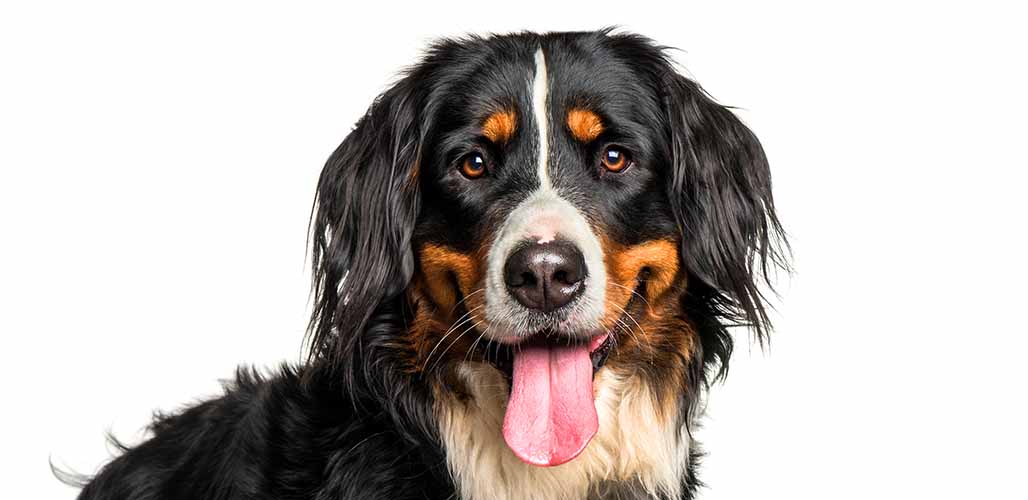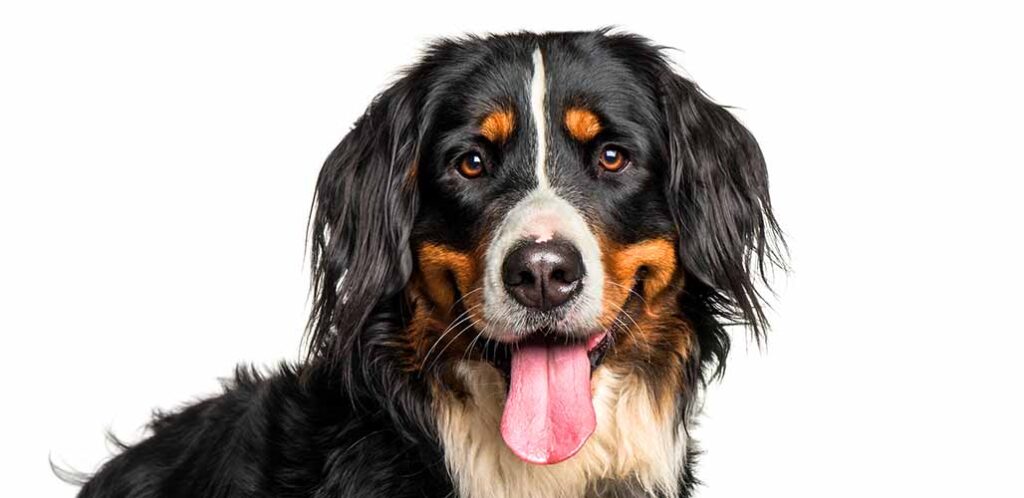 This complete guide to your 1 year old Bernese Mountain Dog explores the healthiest size for your pup, how much growing they have left, and their best care.
A 1 year old Bernese Mountain Dog will be large. But, they are not yet at their adult size! In fact, most Bernese Mountain Dogs will have another 12 months of growing to do. So, it's important that you continue to support this growth with a nutritious, balanced diet, positive training, and gentle exercise. Let's take a closer look, so your Bernese can continue to grow into a happy, healthy adult.
1 Year Old Bernese Mountain Dog
At 12 months old, a Bernese Mountain Dog will look much more like an adult than a puppy. Especially to people who are more familiar with smaller breeds! But, as a giant breed, these dogs won't yet be at their adult size or maturity. So, a 1 year old Bernese will still have an energetic and playful puppy temperament.
12 month Bernese dogs will enjoy spending plenty of time with you as they continue to learn about the world. But, training and a healthy lifestyle are more important than ever! As large dogs, they could easily hurt people when playing, or if they don't have obedience training. And, as a large breed, their joints are vulnerable to certain problems.
1 Year Bernese Mountain Dog Size
When they're fully grown, a Bernese Mountain Dog can be as much as 27 inches tall, and can weigh well over 100 lbs. Males tend to be larger than females, so can take even longer to reach their full weight and height. A Bernese puppy at 12 months won't quite be at their full size, but they will be very close to it.
Most year old Bernese Mountain Dogs will be at (or very close to) their full adult height. This is usually somewhere between 24 and 26 inches tall. But, they will continue to fill out and pack on muscle over the following year. At 2 years old, your Bernese will be as large as they will get – though this only applies to dogs who are at a healthy weight. Of course, the more you feed your Bernese, the larger they will get, but excess weight and obesity can worsen some serious Bernese Mountain Dog Health Problems.
How Much Should a 1 Year Old Bernese Mountain Dog Weigh?
A Bernese Mountain Dog won't be at its full weight by 12 months of age. And, weight will naturally vary from one Bernese puppy to the next. Even puppies from the same litter can be very different weights at the same age.
Females are generally lighter than males. At 1 year old, a female Bernese will probably weigh somewhere between 60 and 90 lbs. But, a male will usually be more, often between 70 and 100 lbs.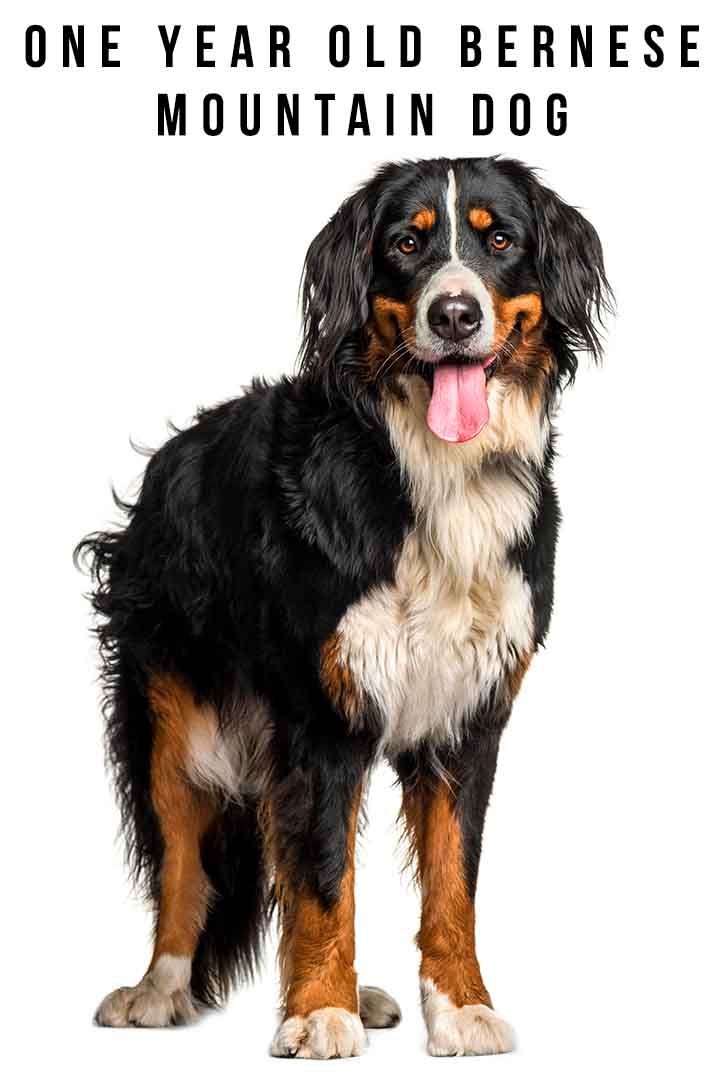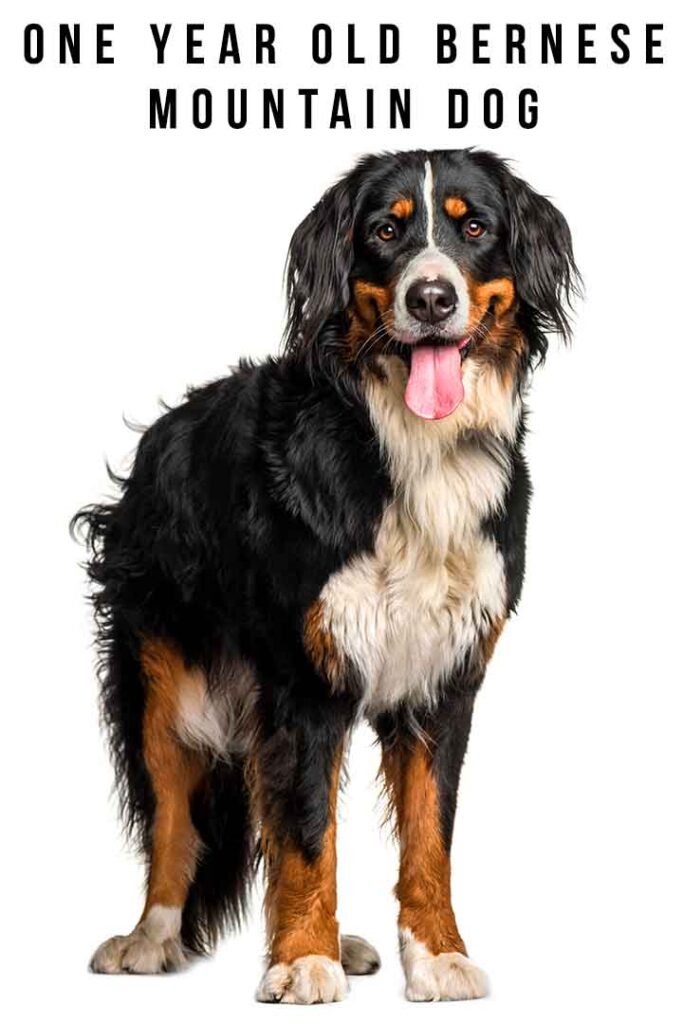 Since each Bernese Mountain Dog can be so different from the next, you shouldn't rely too much on online weight charts and estimates. If you're ever concerned about your puppy's size or weight, the best person to speak to is your veterinarian. They will be able to help you ensure your puppy is growing healthily, and is not becoming overweight.
1 Year Old Bernese Mountain Dog Health
There are a number of serious health conditions that are known to impact this breed. In particular, joint problems like hip and elbow dysplasia can be an issue for large breeds. To reduce these problems, make sure that your puppy is a healthy weight as they grow. Obese and overweight dogs can experience a higher risk of health problems.
Whilst your dog's joints are growing, it's a good idea to avoid extremely strenuous exercise. Some studies suggest that dogs should even avoid stairs until they are over 3 months old. If you're worried about your Bernese puppy's joints, it's a good idea to speak to your veterinarian. With regular checks and great care, you can ensure your growing dog has the best health possible.
How Much Should a 1 Year Old Bernese Mountain Dog Eat?
Since Bernese Mountain Dogs are large dogs, they will consume quite a lot of food! But, the specific amount of food an individual dog needs will vary. You can use the feeding charts on the back of your dog's food as a general guideline, but it's worth noting that these won't always be accurate. Most of these will use your dog's current weight or their predicted adult weight to decide how much food they need at certain ages.
A good way to ensure you're feeding the right amount is to keep an eye on your dog's weight. Bernese Mountain Dogs have thick, long fur, so you won't ever be able to see their ribs clearly. But, you can feel their sides regularly. If your puppy's ribs are very prominent, they may not be getting enough food, or the right nutritional balance. Alternatively, if you really struggle to feel their ribs at all, speak to your veterinarian to check that your Bernese puppy is not overweight.
Best Dog Food for a 1 Year Old Bernese Mountain Dog
The best dog food for a growing Bernese Mountain Dog puppy is one with balanced nutrition to support their growing bones and joints. Bernese Mountain Dogs grow to be very large. So, you might wish to choose a dog food designed for large breeds. Since your Bernese dog won't be finished growing for around another year, they will still be eating puppy food at 1 year old.
If you aren't happy with the food your Bernese dog is currently eating, your veterinarian may be able to suggest some alternatives.
How to Train a 1 Year Old Bernese Mountain Dog
Bernese Mountain Dogs grow up to be very large and strong. So, it's important that they are well trained and polite. Having a dog that large jumping up at people can be problematic, and even dangerous! And, walking your Bernese on a leash will be painful if they're constantly pulling your arm!
Bernese Mountain Dogs are intelligent and people-oriented. Positive reward methods are great, especially for food motivated puppies. And, these training methods can start from the moment you bring your puppy home. For more help, you can take a look at some of our online training resources!
1 Year Old Bernese Mountain Dog – A Summary
A 1 year old Bernese Mountain Dog is around halfway to becoming an adult! They will be quite large, but they still have some growing to do. Bernese dogs will be playful and energetic at 12 months. But, you must still take care of their joints as they're growing! Ensure they're on a high quality food, getting plenty of positive training, and attending regular veterinary checks!
Do you have a 1 year old Bernese Mountain Dog at home? We would love to hear about them in the comments!
Readers Also Liked
References and Resources