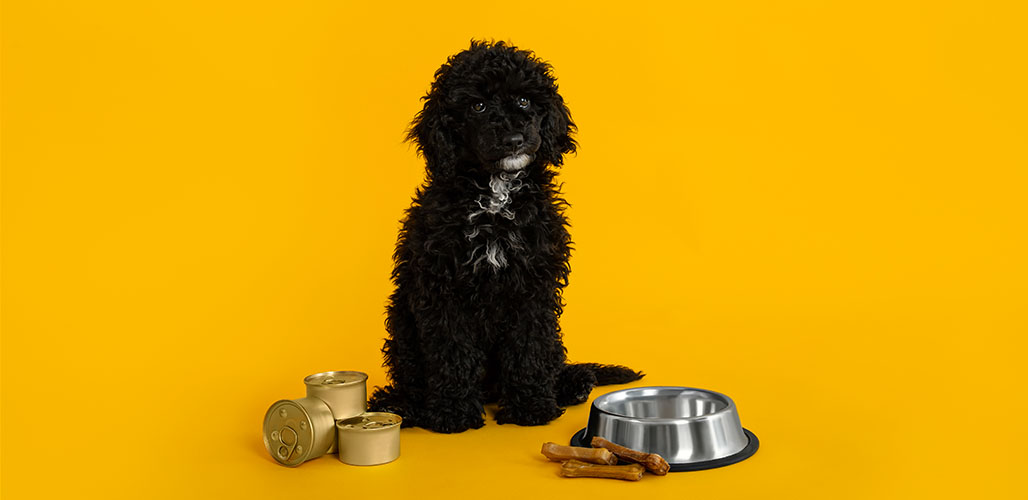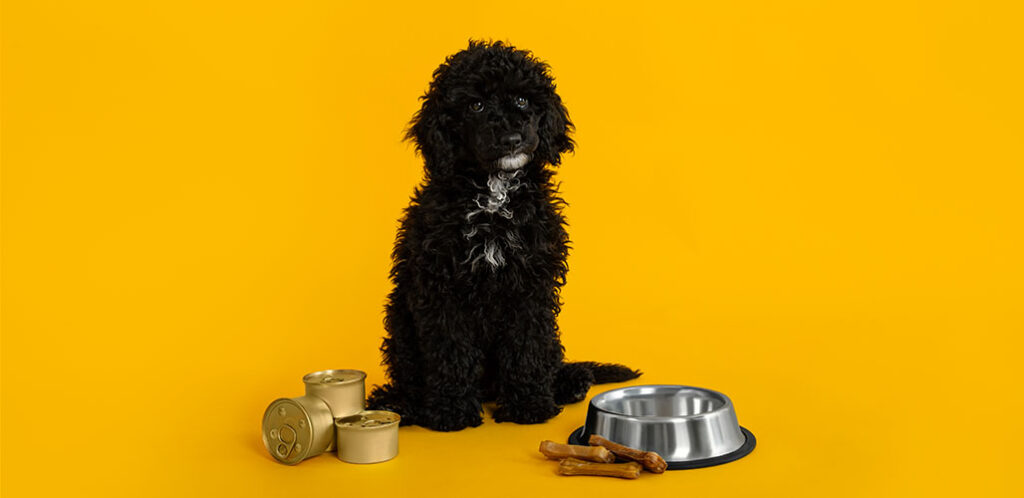 There aren't many things that can spike my anxiety like my pets acting out of character. I think it's probably because they can't tell me what the matter is, so I'm left guessing (and frequently catastrophizing) about the possibilities. A classic example of this is 'why is my Toy Poodle not eating?' Experience has taught me over the years that all kinds of things can reduce their appetite, from illness to stress. And there are a multitude of other possible causes that I haven't even encountered yet. So in this article I've gathered them all together in one place, and I hope it can help you out too!
Contents
Why Is My Toy Poodle Not Eating?
Toy Poodles thrive on a high quality, complete, and nutritious diet, which is appropriate for their age and size. 'Complete' means it isn't missing any of the vitamins, minerals or nutrients they need for normal health. In America, the AAFCO oversees accurate labeling of dog food as either complete, or complementary. If your pup has gone off their usual diet, there are several possible reasons to consider:
The food is not suitable for them
You're offering too much of it
Pain
Illness
Gastric blockage
Stress
Old age
They're bored of it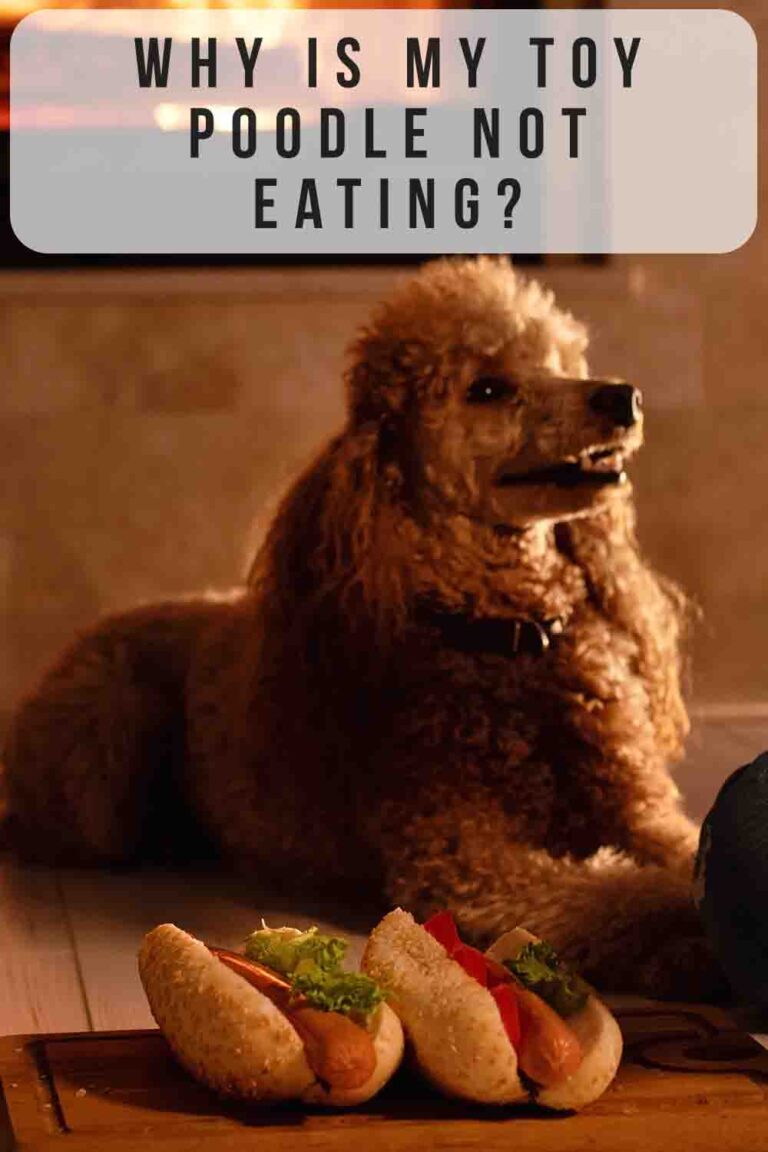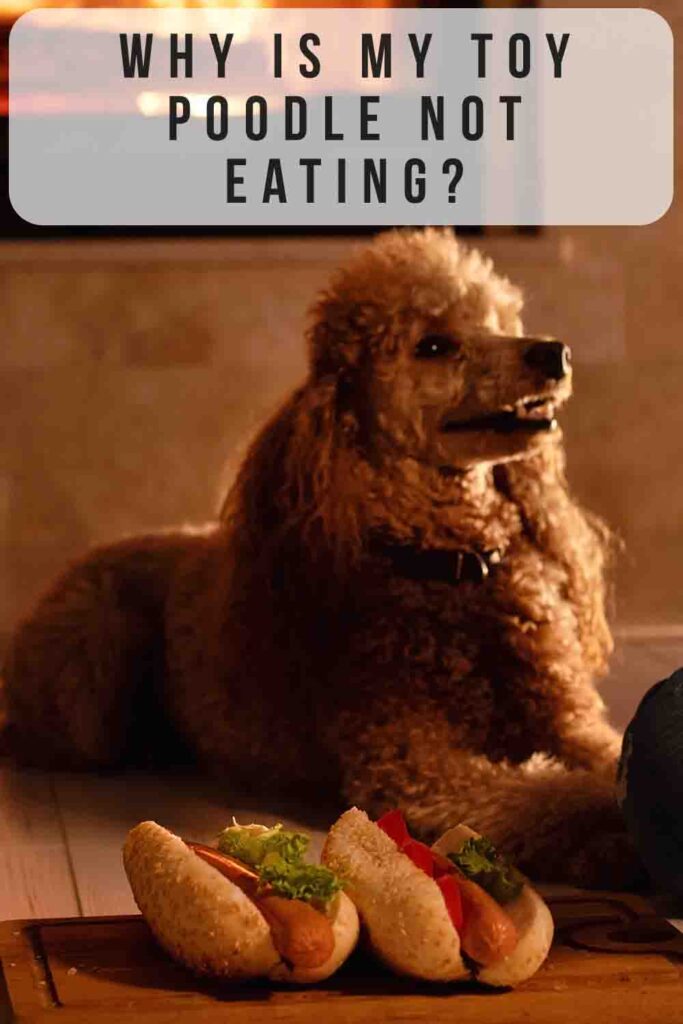 The food it not suitable for them
By this I mean, is it small and/or soft enough for them to eat? Kibble diets are made with pieces in a wide array of sizes and shapes. Kibbles with large pieces are ideally suited to big dog breeds, but your little Poodle might have difficulty breaking the pieces with his small jaws, and be put off eating more than the bare minimum. Luckily, most pet food packaging gives an idea of the actual size of the pieces inside it now. So next time you're at the store, take the time to compare a few, and try the smallest one.
Alternatively, a senior pooch might start having troubling chewing any dry foods. Soaking them in a little warm water or replacing the with foods can work here.
You're offering too much
Did you start off measuring your pup's meals meticulously, but now you're just eyeballing it? Could it be that the portions you're offering have gotten gradually bigger over time? It could be that your pet is leaving part of their meal simply because they're full. Try weighing out their meals, and check whether they're still eating substantially less than you put in the bowl.
Pain
Pain is a notorious appetite suppressant. In particular, dental pain can make mealtimes intolerable. And Toy Poodles are more than averagely prone to pain from periodontal conditions directly resulting from their size. For example overcrowding, rotation of teeth to fit, shorter tooth roots, and increased life span (small breeds consistently live longer – and subject their teeth to more years of wear – than larger breeds).
Illness
Just like for us people, loss of appetite goes hand in hand with lots of everyday illnesses for dogs, including coughs and colds or mild food poisoning. Feeling under the weather following routine vaccinations can also suppress their appetite. This kind of loss of hunger is usually temporary and passes after a couple of days, or when their other symptoms clear up too.
Owners also report decreased appetite alongside a diagnosis of allergies, arthritis, heart disease, gastrointestinal disease, and kidney disease, amongst many others. Sometimes, loss of appetite in these circumstances can be reversed with appetite stimulant medicines.
Gastric blockage
Another reason dogs go off their meals is if their digestive system is blocked. The culprit could be impacted feces (i.e. constipation) or a foreign body such as part of a toy or blanket. If you suspect either of these problems, arrange to see their vet urgently.
Stress
This is another situation that you and I can probably both empathize with. Stressful situations can put us off our food until we're ready to relax again. Stressful experiences which can knock a Toy Poodle's appetite include:
Moving house
Going on vacation
Getting another new pet
The arrival of a baby, or someone new moving into the home
Old age
If your senior pup (aged 10 or above) doesn't seem to be eating as much as he used to, this could simply be a natural part of aging. As dogs grow old, their metabolism slows down (i.e. they need fewer calories to maintain the same weight). They often get less active too, which means an even lower calorie demand. These are normal and natural reasons for eating less at each meal. However, as we touched on earlier, old age can also bring with it an increase in painful conditions such as tooth decay or arthritis, which reduce dogs' appetites. It's a good idea to take your senior pal for vet checks every 3 to 6 months, so that changes in appetite can be monitored, and corrected, if appropriate.
Boredom
Finally, dogs have flavor preferences just like we do. And they can get bored of eating the same meal, day-in, day-out, just like we can. If you've ruled out all other possible causes for losing interest in their food, maybe their food just isn't interesting to them anymore. Try shaking things up with something new.
Toy Poodle Eating Habits
As small dogs with fast metabolisms, Toy Poodles prefer small, frequent meals. They also have advanced palettes because they were bred from truffle-hunting Miniature Poodles. Some owners report that when this breed gets used to receiving table scraps will start holding out for more human food rather than eat what they're supposed to. You can pre-empt this by avoiding feeding table scraps and sticking to a thoughtful, varied high-quality pet diet instead.
What Do Toy Poodles Love to Eat?
Toy Poodles enjoy high-quality proteins, like chicken, beef, turkey, salmon, duck, rabbit, and lamb. Like most dogs, they tend to prefer wet food over dry food, but including at least some dry food is good for cleaning their teeth, unless you are a committed daily brusher. They also like easy-to-digest grains, such as oatmeal, quinoa, and rice. You can also offer small quantities of fruit and vegetables like blueberries, cucumber and carrot as low calorie treats too.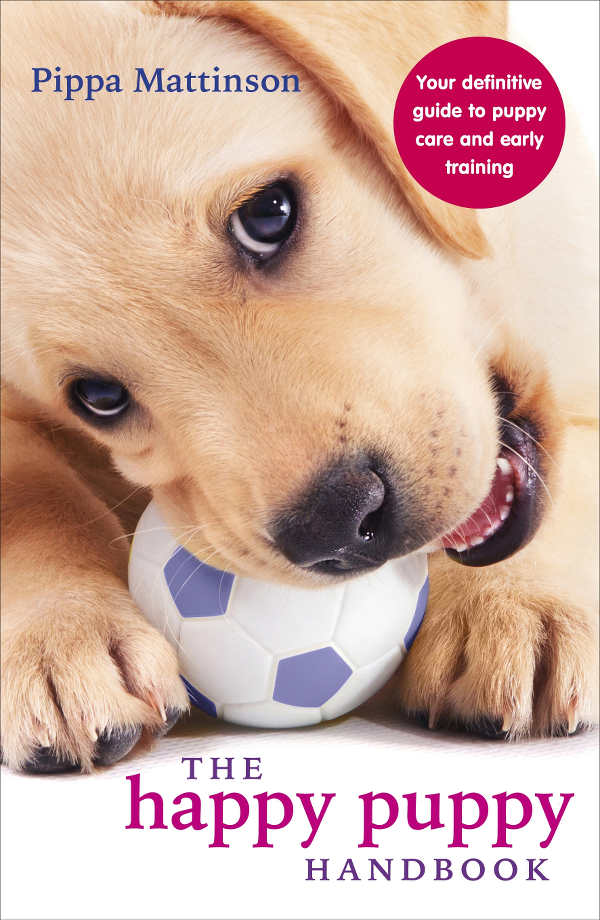 How Do I Get My Fussy Poodle To Eat?
Finally, here's a round up of all the best advice I've found for stimulating your little dog's appetite, or getting them back on a regular schedule of mealtimes.
Stop feeding your pup scraps and treats. If they think better food is coming, they will not eat their regular food. Plus, a tiny toy dog will not eat meals if they are full of snacks.
Keep a regular feeding routine. Dogs of all types thrive on routine, and feel most confident and relaxed when they know exactly what is expected of them. If you can built a habit of feeding them at regular times, their appetite will adjust to anticipate them.
Experiment with keeping them company, and giving them space. Each dog has their own individual preference for company or solitude while they eat – if you've only ever tried one, try the other!
Make meals more palatable by warming them a little, and serving them in a clean bowl. My dogs have the same kibble base for every meal, but a changing rotation of wet food on top, for variety.
Don't worry too much if your furry friend skips a couple of meals. But if they start losing weight, or don't eat for two whole days, make an urgent appointment with their vet.
Why Is My Toy Poodle Not Eating? Try Not To Worry!
If your Toy Poodle suddenly stops eating, don't jump to the worst. There are many possible causes for a dip in their appetite, and many of them are pretty benign. These little dogs can be famously picky eaters, and many just need their meals spruced up – or even time to adjust to a new environment or routine. If you cannot get your pup to eat for a couple of days, and you've tried everything, call the vet to ask for a check up.
Tell us how you have succeeded in boosting your Toy Poodle's appetite in the comments box down below!