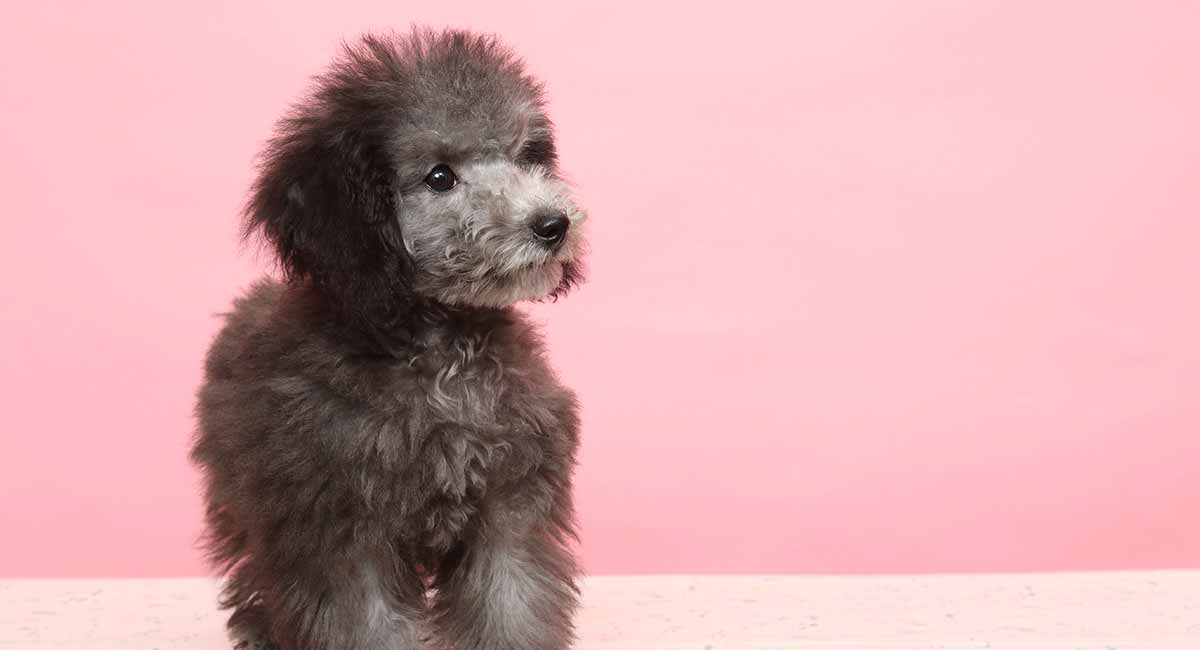 The teacup Poodle is intended to be even titchier than the smallest Toy Poodle.
But is this good for their health, temperament or lifespan?
Poodle Sizes
The Poodle comes in a range of sizes, from the Toy to Miniature, then Standard.
But some Poodle fans have started to breed them in an even smaller stature.
Many people adore this breed because of their loving, loyal, and mischievous personality.
Despite the Poodles regal appearance, they have a goofy streak and love to play.
They are also very fond of people and are eager to please.
The Teacup version of the Poodle is low maintenance but may require assistance to get around due to their smaller than average size.
The Appeal of the Teacup Poodle
Many people want a teacup poodle for a variety of reasons.
Firstly, the size of the dog makes them ideal for apartment owners or people who live in smaller spaces. This is because the miniature Teacup Poodle is tiny and does better in smaller areas.
Check out these other mini breeds
Many people choose this dog because they don't require much space and are perfect for space conscious owners.
Secondly, many dog lovers think that teacup dogs are super cute. These dogs are just so small and bring a lot of attention because of their miniature size.
Thirdly, if you travel a lot or must take your dog anywhere in cramped spaces, then these dogs are perfect. They do not take up much space and are easier to take care of.
Lastly, compared to bigger dogs, the Teacup Poodle won't destroy or make a mess like larger breeds. They shed less and have smaller accidents when potty training.

Where Do Teacup Poodles Come From?
Because of the popularity of teacup dogs, many breeders and puppy mills try to make them.
There are three ways to make a teacup dog: mixing with a smaller breed, introducing a gene for dwarfism, or repeatedly breeding from runts.
Each of these methods has their drawbacks and advantages. We will summarize and explain each way to create a teacup dog.
Mixing with a Smaller Breed
This is likely to be the easiest way to make a teacup breed. When combining a larger dog with a smaller dog, there is a possibility that the puppies will be smaller as well.
Many breeders prefer to make smaller breeds this way.
However, this way isn't guaranteed to give you a smaller breed. You never know which puppy is going to inherit which traits. This means a very random process.
This means that the dog could not be smaller at all. Or, they could not look anything like a Poodle.
Nevertheless, this doesn't make this way impossible. With a little trial and error, you will likely come out with a beautiful puppy that is smaller and looks just like a Poodle.
Also, this method is a lot safer and healthier than other options. Mixed breeds are often the healthier choice due to their diverse gene pool.
Here are some of the most popular mixed breeds labeled as Teacup Poodles:
Poodle Pekingese Mix
The Pekingese is a tiny dog that gets to the max weight of fourteen pounds. This makes them a great dog mix with a Poodle.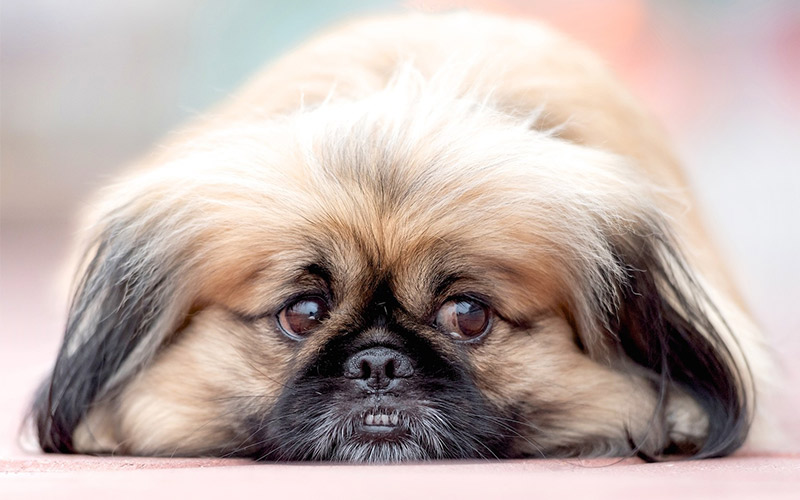 This breed is a few pounds smaller than the Poodle, so size could be random when mixing them. They also have a few health issues like: congestive heart failure and breathing issues.
Chances are they could be playful, loving, and friendly like a Poodle or stubborn, good-natured, and opinionated like the Pekingese.
Also, they could look completely different than a Poodle and take on more of the parent Pekingese traits.
There is a good possibility when mixing these two breeds that you will have a smaller dog that resembles a Poodle and still has an excellent temperament to them.
Poodle Maltese Mix
The Maltese is another excellent dog to mix with a Poodle because of their small size and affectionate personality.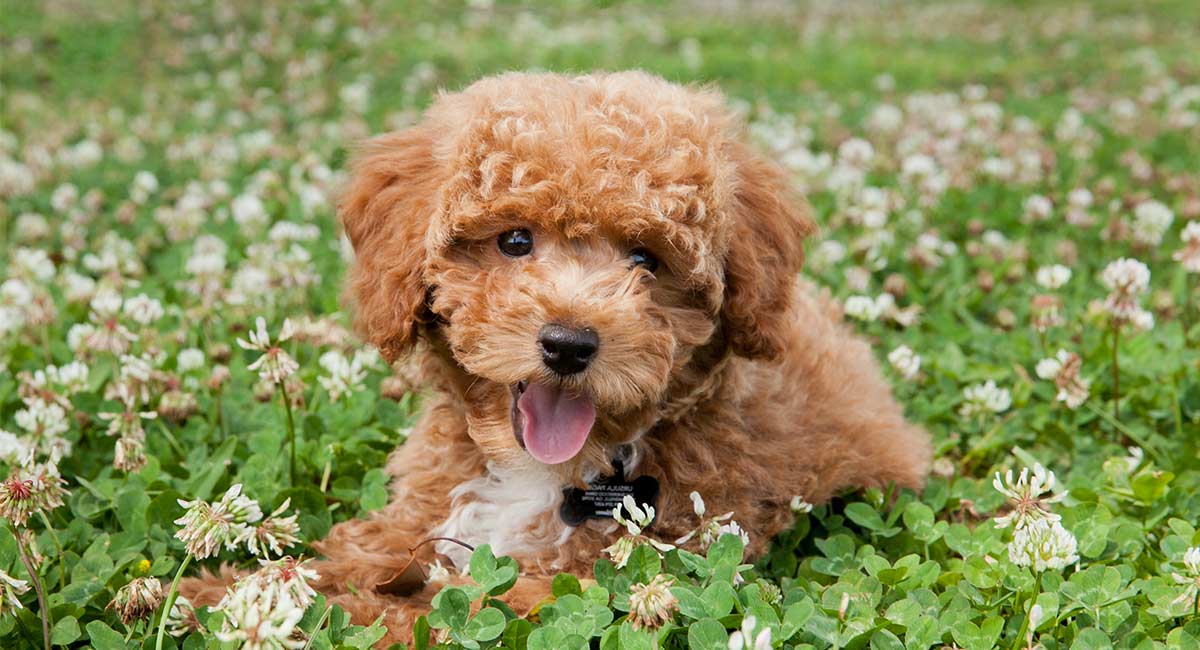 Also, they are active and charming like the Poodle. However, they suffer from Insulinoma.
This breed is smaller by around half the weight of a Poodle. This makes them an excellent choice for creating a Teacup Poodle.
However, the Maltese could differ from the Poodle. This is because of their snappish attitude and tendency to not do well around children.
Introducing the Dwarfism Gene
Many breeders may also try to introduce the dwarfism gene into a breed of dogs to make them smaller.
A lot like mixing two different breeds, this is still very unpredictable and not a guarantee.
To do this, the breeder has to bring the dwarfism gene into this breed or introduce a dog that already has it like the Corgi.
Another option is waiting for the gene to show up naturally in the Poodle.
The breeder can sometimes get lucky and discover a Poodle with the dwarfism gene already.
Dwarfism can cause the dog's body to be underdeveloped like making their limbs smaller.
For example, the Corgi and Dachshund have short stubby legs; this is due do a dwarfism gene.
If you were to introduce this gene into the Poodle, it could just make only their limbs shorter than average and nothing else.
Introducing this gene can also cause a multitude of health problems. Those with this gene usually suffer from: spinal, joint, and bone defects.
This can cause discomfort and pain on the dog.
Breeding From Runts
While runts are often portrayed as the smallest pups in the litter, it only makes sense to use them to breed smaller dogs. However, this can cause many unwanted health issues.
Since runts are smaller and weaker than the rest of the litter of puppies, they have several disadvantages like:
congenital abnormality,
cleft palates, and
heart defects.
These defects make it difficult for them to survive and if they do survive, they pass on the health defects.
Also, runts are less able to withstand a parasite load that siphons off nutrients. If you were to breed from runt Poodles, you could expect significant health complications.
Is A Teacup Poodle Right For Me?
The Teacup Poodle would make a perfect dog for the right person.
Since this dog is smaller in size, they are easier to groom. You will need to brush them a few times a week. Give them baths as required but not so much that they get dry skin.
The Teacup Poodle is a moderate energy dog that will need that from an owner. They may need daily exercise to keep their energy levels satisfied.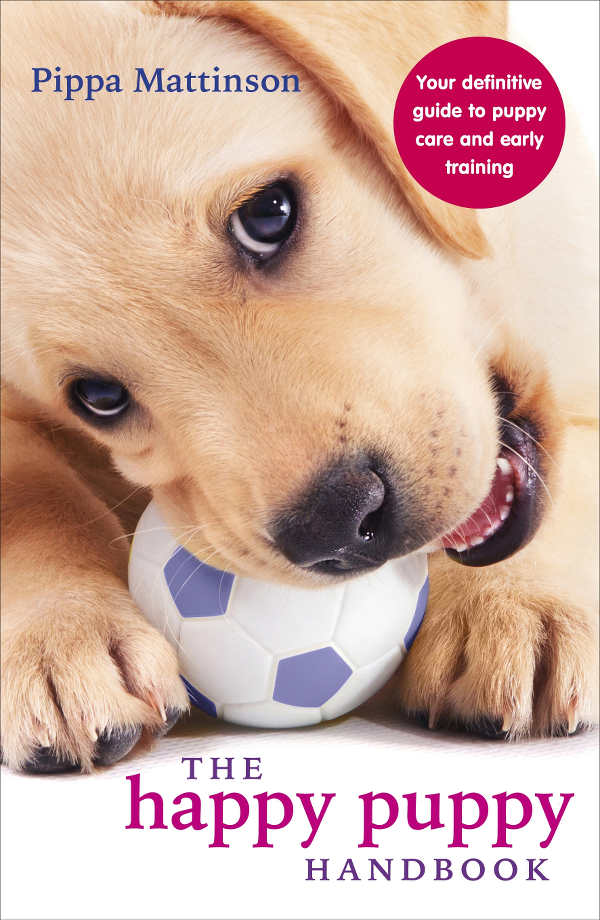 Though this dog is intelligent, it may be stubborn and quite demanding. You will need to be firm and consistent with them. They best respond to positive reinforcement.
The more exercise the Teacup Poodle gets, the easier they are to train.
This breed can be unsocial, so it is needed for them to be around as many other people or dogs as possible to better help them be social.
Like all dogs, this breed can be a very hyper dog that loves water. They should also get along with other animals if appropriately exposed and are somewhat independent.
The Teacup Poodle would do well in an apartment, but you need to be conscious of their ability to maneuver around.
This means that they would likely need help going up stairs, getting on and off furniture, and they would need their food somewhere accessible and low to the floor.
This dog would be a perfect lap dog or cuddle partner.
Finding A Teacup Poodle
While it is recommended to get all animals through rescue, it is okay to get a Teacup Poodle through a breeder. That is if they have any for sale.
The process of finding a Teacup Poodle can be somewhat of a struggle. We recommend getting bred from a smaller canine, as opposed to those produced through other methods.
You can most likely find a smaller sized Poodle through any Poodle breeder. Since no one is sure of what genes this breed may acquire, any litter can provide a small but healthy Poodle.
One of the best ways to go about finding a smaller Poodle is to call a breeder and let them know what you are looking for.
If you are worried about the size of this breed, we recommend getting an adult Poodle instead. This will ensure that you know what size the dog will be when fully grown.
Drop us a comment below with your thoughts on Teacup Poodles!
References and Resources
Frank W. Nicholas, 2016, "Hybrid vigor in dogs?" The Veterinary Journal.
So-Young Park, 2013, "A Case of Long-Term Management of Insulinoma in a Maltese Dog" Journal of Veterinary Clinics.
Rowena Mary Anne Packer, 2012, "Normal for the breed?" Royal Veterinary College.
Breit, 2012, "Osteological features in pure-bred dogs predisposing to thoracic or lumbar spinal cord compression." Research in Veterinary Science.
Fox, 1965, "The Pathophysiology of Neonatal Mortality in the Dog." Journal of Small Animal Practice.