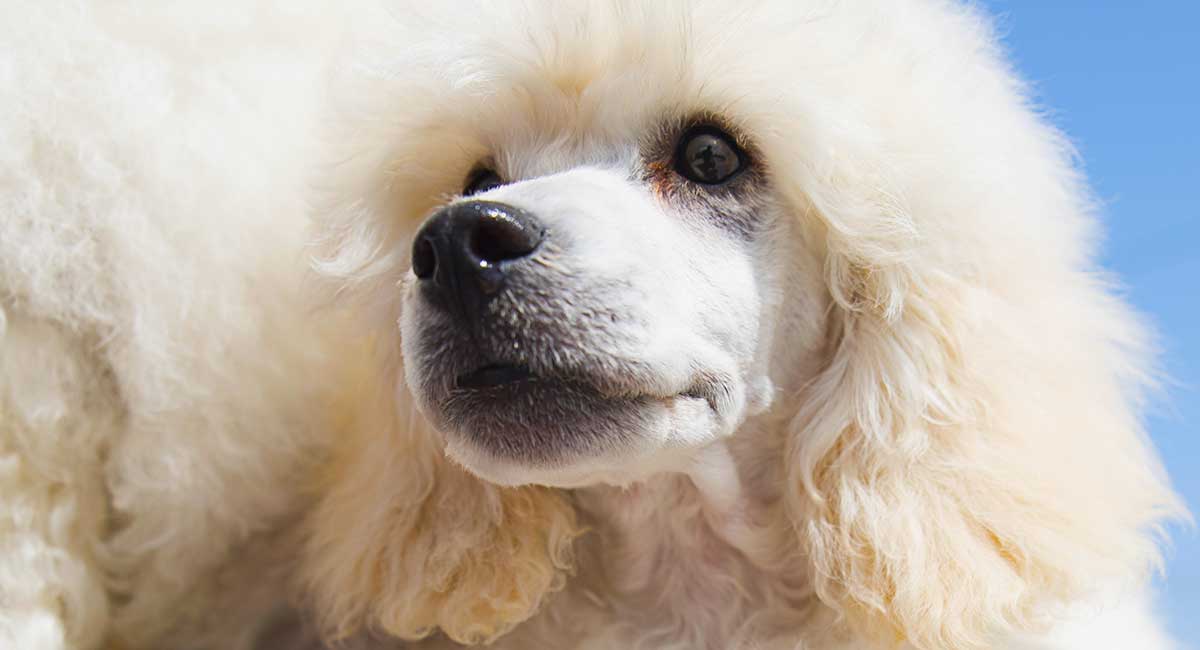 The white standard Poodle is a particularly striking and memorable coat color. They stand around 15 inches tall and weigh about 70lbs. This pale furred pup isn't albino, but instead as dark eyes reflecting the usual amount of pigment in their skin. And although white dogs are in general more likely to be deaf than other colors and occasionally have dermatological issues, their other predispositions to disease are the same.
The White Poodle Dog Breed
The Poodle is a magnificent and unique purebred dog breed.
Sometimes the white Poodle is called the white French Poodle, out of a mistaken idea that the Poodle hails from France. This dog was actually first bred in Germany! But the French people love Poodles and have chosen the Poodle as their national dog – hence the nickname.
Because of the Poodle's famously non-shedding coat (more about this topic below), the Poodle is a top choice for hybrid dog breeders who want to replicate this coat trait along with popular traits from a different purebred dog breed.
What Does a White Poodle Dog Look Like?
The Poodle is a remarkable sight in any coat color.
But there is just something about a white Poodle, especially a white standard Poodle done up in a full show clip complete with pompons!
A white Poodle is not an albino Poodle.
Albino dogs are actually quite rare, but many dogs have white coats.
You can easily tell the difference by looking at eye color.
Poodles nearly always have dark-colored eyes, and some light-coated Poodles will have amber eyes.
Other White Poodle Colors
White is one of the standard Poodle coat colors.
Other standard coat colors include silver, silver beige, red, gray, cream, black, brown, blue, and apricot.
Non-standard coat colors include bi-coated Poodles.
An example of a bi-coated Poodle might be white and silver or red and white.
About White Poodles and Deafness
Canine researchers have confirmed a link between white coat color and canine deafness.
This doesn't mean that all dogs with white coats will automatically be deaf.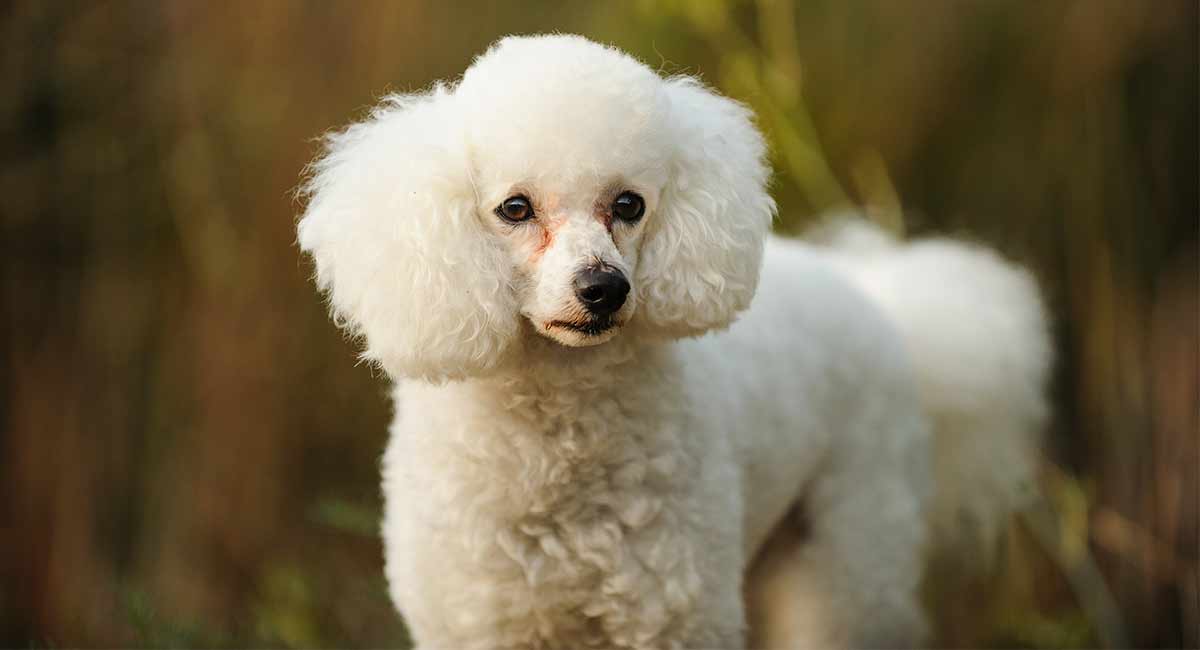 But it does mean that deafness is more likely to occur in white-coated dogs than in other dogs.
The Poodle (with or without a white coat) is one of an estimated 85 dog breeds prone to inherited deafness.
The current theories regarding heritable deafness linked to the white coat color include a possible recessive gene and a lack of pigmentation along the inner ear canal.
If your white Poodle does begin to lose hearing, don't despair!
Many deaf dogs and their owners live long and happy lives together with a little help from deaf dog training.
White Poodle Dog Shedding and Grooming
The white Poodle has the same enviable quality as Poodle dogs of different coat colors: a nearly non-shedding coat.
This has given Poodles a reputation as hypoallergenic dogs, although technically they still have the same allergy-triggering protein in their skin, urine, and saliva as do all other dogs.
Where the hypoallergenic label comes into play relates to the amount of contact that you, as a Poodle owner, can expect to have with this protein, which can be shed out along with falling fur.
The Poodle's thick, curly coat catches dead hair as it falls out, making it seem like Poodles don't shed.
This keeps your clean-up chores to a minimum and also minimizes your contact with fur-born protein allergens.
If you or someone in your family is sensitive to pet dander, a Poodle could be a good choice for a family pet.
Grooming Is Necessary
Because the Poodle's coat catches the shed-out hair, you will have more brushing and grooming duties to balance out less need for sweeping and vacuuming up shed hair.
The Poodle's coat can begin to form mats and tangles all too easily, and these in turn can abrade the skin and open the door to irritation and infection.
If you do not plan to show your dog, the easiest way to maintain your white Poodle dog's coat is to keep it in a short clip.
Even so, a daily brush will go a long way to keep tangles from forming while removing any trapped debris as well.
White Poodle Dog Size, Weight, and Height
A white standard Poodle can weigh up to 70 pounds and stand 15+ inches tall.
The white miniature Poodle can weigh up to 15 pounds and stand up to 15 inches tall.
The white toy Poodle will weigh four to six pounds and stand no taller than 10 inches.
A white teacup Poodle is the smallest Poodle, typically weighing between two and four pounds and standing no taller than eight inches. They are also known as micro Poodles!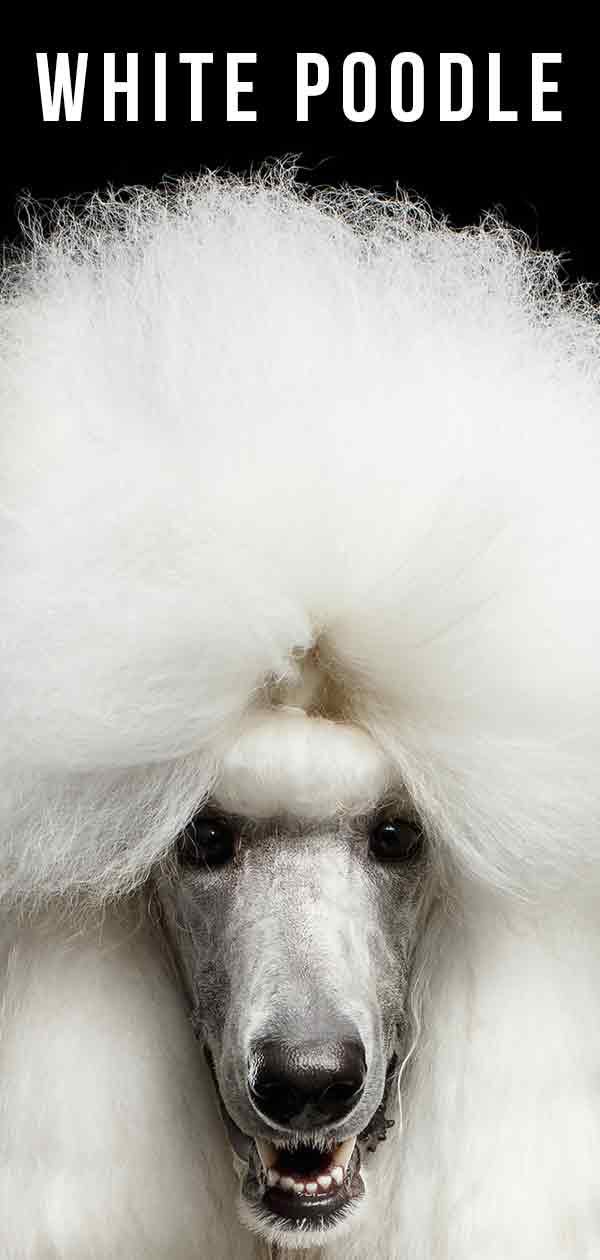 White Poodle Dog Temperament and Personality
To date, there is no confirmed link between the white coat color in Poodles and any differences in temperament or personality.
Rather, a white Poodle from a reputable, health-focused breeder will display the same loving, intelligent, and active personality that Poodles as a breed are known for.
Is the White French Poodle Good With Children?
The white standard Poodle is a top pick for families with young children.
The standard Poodle makes a great family watchdog and will be gentle and loving towards their family – children and adults alike.
However, a small white Poodle (miniature, toy, or teacup size) is not generally regarded as a suitable pet dog for families with small children.
Smaller Poodles can have a more anxious or high-strung temperament.
They tend to poorly tolerate rough play and can also be easily injured if they get underfoot.
Training and Socialization
The standard Poodle and smaller Poodles (miniature, toy, teacup) face different challenges during the training and socialization process.
This stems from their slightly different natures – the standard Poodle is typically calm and centered unless guarding duties indicate otherwise.
A white mini Poodle, white toy Poodle, or white teacup Poodle, on the other hand, may display more anxiety in the presence of strange people, animals, or situations.
A white Poodle of any size will benefit greatly from early and ongoing training and socialization, including exposure to unfamiliar people, animals, and situations.
This will help your white Poodle learn to be a happy, healthy, productive member of your family and local community.
Exercise
A white standard Poodle or white small Poodle is an active dog breed.
The Poodle breed first gained its start in Germany as a breed meant to assist human hunters with retrieving ducks.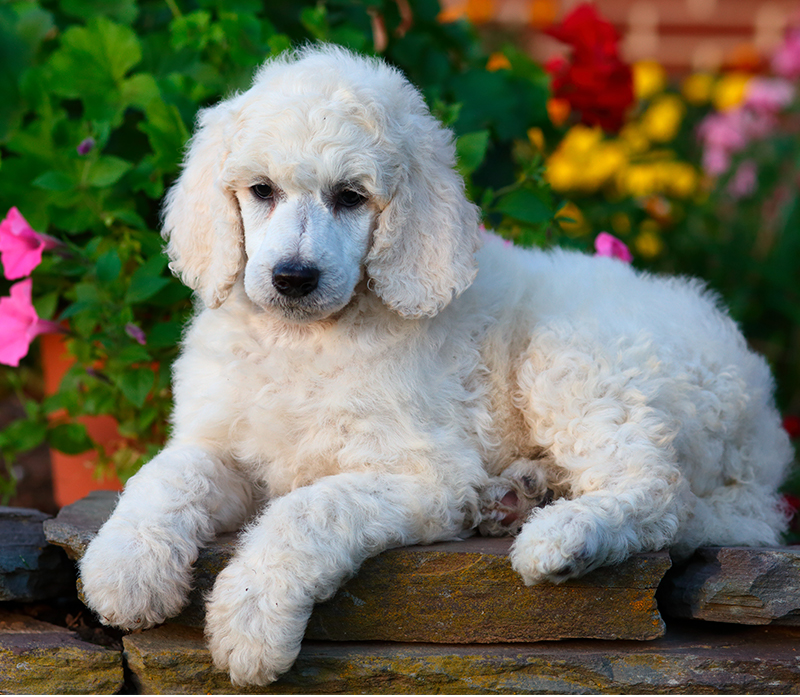 These dogs are great swimmers!
They are also all-around excellent athletes and excel at pretty much any type of canine sports, including dock diving, agility, obedience, tracking, and other sports.
Poodles also love to play, with games of fetch being a particular breed favorite.
A white Poodle of any size will thrive with lots of daily activity.
For smaller Poodles, be sure to modify activities to account for their shorter legs and smaller size.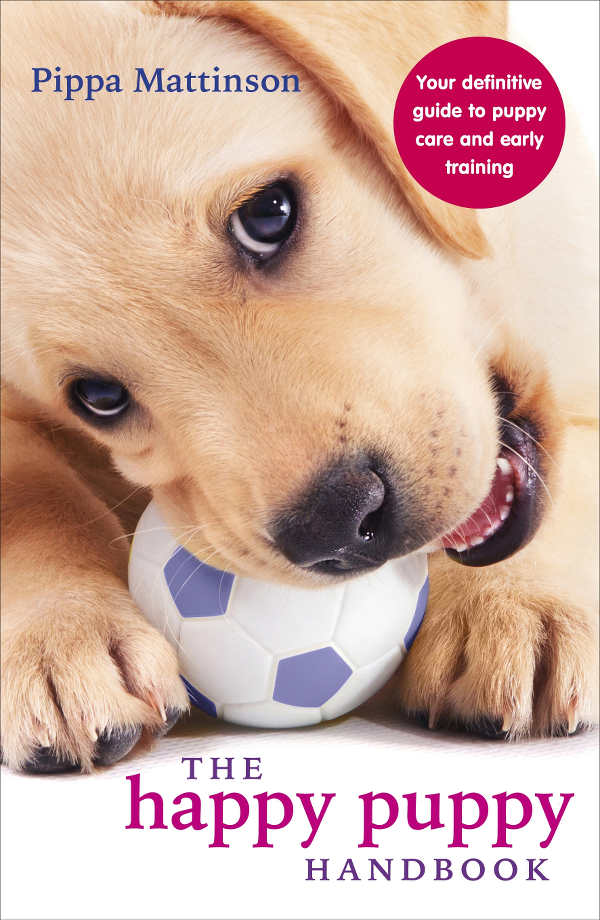 White Standard Poodle Health Issues
Not all known breed-specific health issues can be detected before you make a lifelong commitment to a white Poodle (or a Poodle with any coat color).
A white standard Poodle, like other large dog breeds that have deep chests, is at risk to develop bloat (gastric torsion).
Bloat occurs when the stomach twists, and it can quickly become fatal.
There is a simple preventative surgery your veterinarian can do, which is often done at the same time as spaying/neutering.
Smaller white Poodle dogs are not typically at risk for bloat.
Epilepsy, liver disease, Cushing's disease, sebaceous adenitis, von Willebrand's disease, Legg-Calve-Perthes, and Addison's disease can also impact Poodles.
Testing
The Canine Health Information Center (CHIC) recommends the following health tests for Poodles.
Standard Poodles should be tested for hip dysplasia and eye issues.
Cardiac and thyroid function tests are also highly recommended.
Standard Poodle Puppoes
Be prepared to make a substantial investment if you choose a white Poodle of any size.
Posted purebred Poodle prices at the time of this article ranged from $1,800 to $5,000+.
Choosing a White Poodle Puppy
The best approach when selecting your new white baby Poodle is to look for a healthy, energetic, curious, and friendly Poodle puppy.
Whether you are choosing a puppy from a litter of white standard Poodle puppies, or you have your eye on a white mini Poodle or white toy Poodle puppy, be sure the breeder you work with can show proof that all required genetic health tests and vaccinations have been done.
Resources