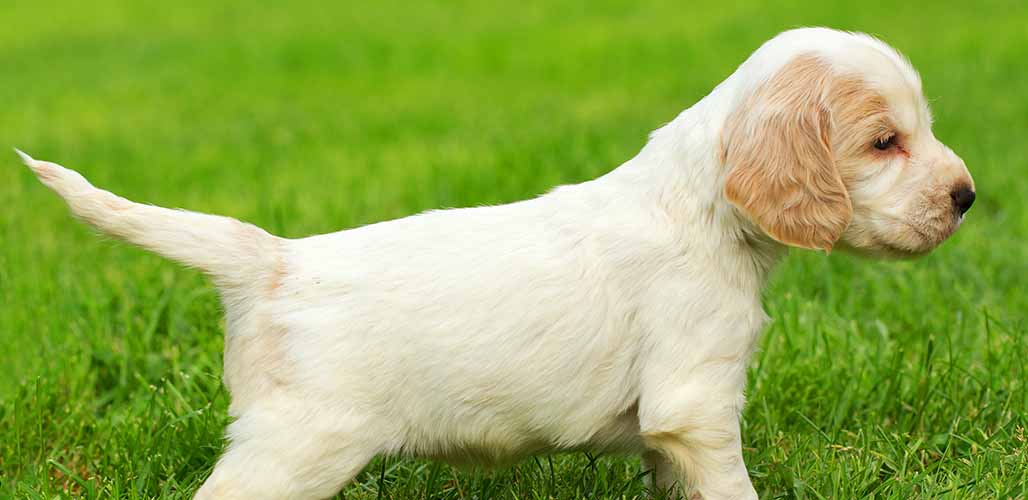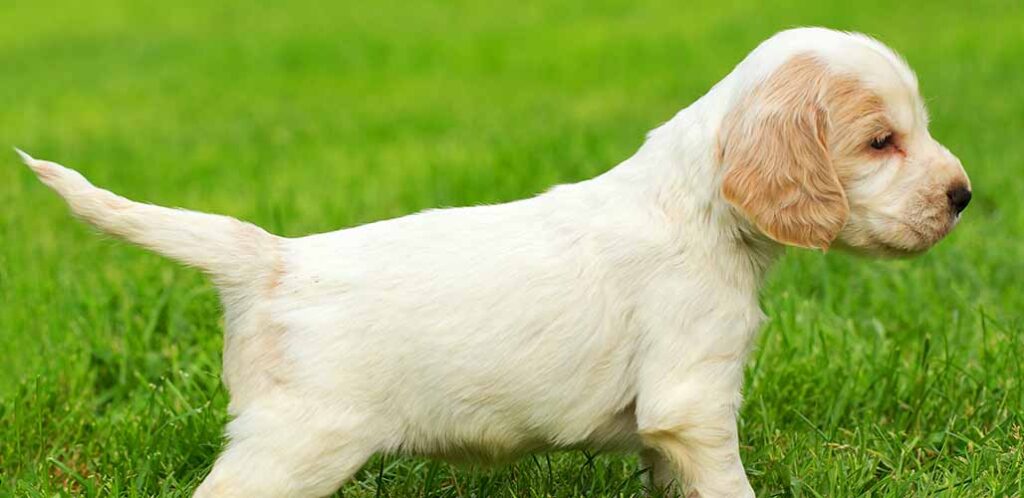 White Cocker Spaniel dogs have a crisp, pure white coat of fur. They have long, drooping ears, and a white face and paws. An all white Cocker Spaniel is rare, but Cocker Spaniels can be white with a second color in their coats. Today we'll look at finding a pure white Cocker Spaniel puppy, what their personality and behaviors are likely to be like, and how to care for a cool white Cocker Spaniel coat.
Contents
The Cocker Spaniel is an energetic, affectionate, and clever breed with its roots in hunting alongside people. Cockers have long, silky coats that come in a wide range of show-accepted shades. This includes solid colors close to white, like buff and cream, and bicolor options, like black and white or white and brown. This complete guide takes a closer look at white Cocker Spaniels, and whether this coat color can impact other traits, like temperament and health.
About the Cocker Spaniel
The Cocker Spaniel breed gets its name from the Woodcock bird, which it specialized in hunting in its original gundog role. Initially, only one Cocker breed was recognized, but in the 1940s, English, Canadian, and American Kennel Clubs all recognized two distinct varieties. These are the Cocker Spaniel, or American Cocker Spaniel, and the English Cocker Spaniel.
The Cocker Spaniel varies from the English variety primarily in appearance. It is shorter in height, with a shorter head and a more profuse coat. But, despite their differences, both varieties of this breed can have white in their coat.
Can You Get a White Cocker Spaniel?
A solid white Cocker Spaniel is not a common sight, partially because this is not an officially accepted color for the breed. In many cases, white fur is caused by the white spotting gene. It can cover any pigment, whether it comes from eumelanin or pheomelanin. The white spotting gene prevents affected skin cells from producing pigment, turning the skin pink and the fur white.
Though solid white is not an accepted color in Cocker Spaniels, it's common for Cockers to have some white fur. The extent of this can vary depending on the dog. But, many will have large amounts of white on their body, with patches of darker color. Some solid colors will have very small patches of white on their chest. And, all Cockers can have white markings.
Official Cocker Spaniel Colors
The Cocker Spaniel breed comes in a huge range of colors. They can have solid coloring, which means a single shade all over their body. Or they can have parti coloring. Parti coloring is two colors, one of which must be white. Here are some variations of parti colors that you may see in a Cocker Spaniel:
Black and white
Brown and white
Red and white
Sable and white
Buff and white
White markings in other shades are accepted, according to the breed standard, though not desired. Some solid shades may have a small white patch on their chest. You can also see roan Cocker Spaniels, which will have an even mixture of colored and white hairs over their coat.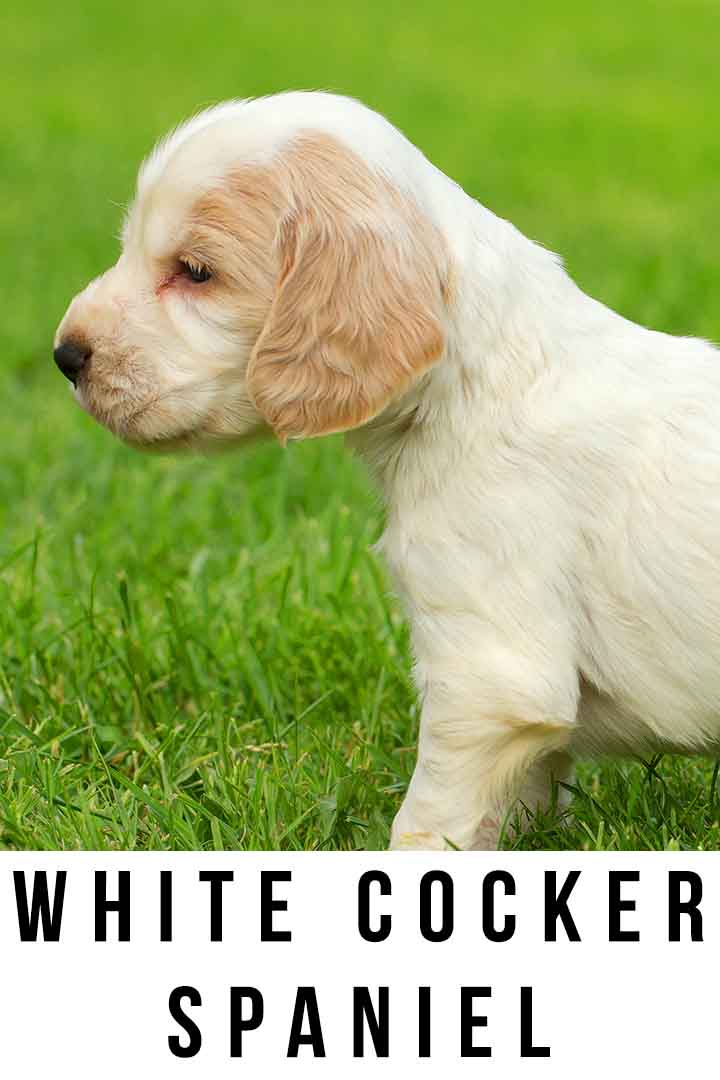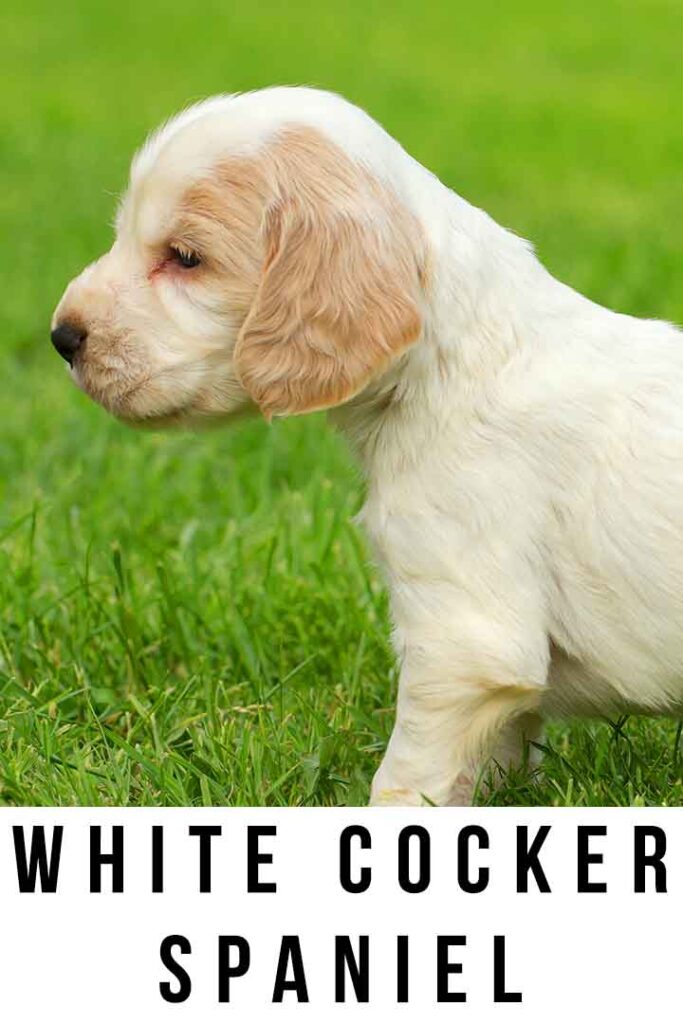 Black and White Cocker Spaniel
The black and white Cocker Spaniel is one of the most popular parti shades. Around half of the fur on their body will be white, and the rest black. But, the exact placement of pigmentation on every black and white Cocker Spaniel will be different. So, each one will be unique.
White and Brown Cocker Spaniel
Brown and white Cockers are the same as black and white versions, in that they have two colors on their coat. Also, like black and white Cockers, the exact placement and shape of their brown markings will vary from one dog to the next.
On top of this, the shade of brown will vary from one dog to another. Some may have very dark brown markings, whilst others can have lighter brown, closer to tan markings.
Are White Cocker Spaniels Friendly?
When trained and socialized well, most Cocker Spaniels will be friendly, playful, and intelligent dogs. They have plenty of energy and are best suited to families that spend lots of time outdoors. However, personality and temperament will vary from one dog to another. They take best to positive reward training, but owners should be careful to avoid weight gain from too many training treats.
Studies into canine aggression found that Cocker Spaniels scored around average marks for aggression towards other dogs and to strangers. However, they scored above average for owner-directed aggression. So, owners should work hard to build a strong bond with their Cocker. Socialize them well, and stick to positive reward training, avoiding any aversive or punishment-based methods, as these can lead to increased fear and stress in dogs, which in turn can lead to aggression.
Are White Cocker Spaniels Healthy?
Many coat colors won't impact a dog's health. But, white fur has been linked to some health issues. In some dog breeds, white fur (particularly when on the ears) is linked to congenital deafness and other hearing issues.
Cocker Spaniels with white fur will also be prone to the same health issues as any other Cocker. So, owners should familiarise themselves with common problems to ensure they can recognise the earliest signs. Some common Cocker Spaniel health issues include:
Hip dysplasia
Otitis externa
Eye problems
Ear infections
Taurine deficiency
Dilated cardiomyopathy
Choosing a reputable breeder and giving your white Cocker the healthiest lifestyle possible will go a long way to extended their lifespan and preventing major health problems.
Finding a White Cocker Spaniel Puppy
Parti Cocker Spaniels aren't too rare, so if you don't mind how much white is on your Cocker's coat and what other colors may be present, you shouldn't have too much trouble finding a puppy. However, if you are looking for a very specific shade as well as white, it could take a little longer to find your dream puppy.
More important than anything else is to choose a reputable breeder. They will only breed from the healthiest parents, will let you meet the puppies and mother, will raise and keep all of their dogs in the best conditions. They will socialize puppies to a family environment, and will be willing to take back any puppies that can no longer be kept, whether this is for health reasons, or something else.
Another alternative is to check rescue centers. Dogs in rescue centers will be cheaper than puppies from a breeder, but you may not know much about their early experiences. Work with rescue center staff to ensure your home is right for the Cocker you're considering. Let them know about any other animals and family members you have at home, and be realistic about how much time you can dedicate to training, socializing, and exercise every day.
The White Cocker Spaniel
A solid white Cocker Spaniel is pretty uncommon, and is not an officially accepted shade. But, it's much easier to find Cocker Spaniels with white fur and another color mixed in. White fur shouldn't impact your Cocker Spaniel's temperament, but it can be linked to health issues like deafness.
Do you have a white Cocker Spaniel at home? Or are you still trying to figure out if this is the right dog for you? Let us know your thoughts in the comments!
Readers Also Liked
Cocker Spaniel Lifespan – How Long Do American Cocker Spaniels Live?
References and Resources