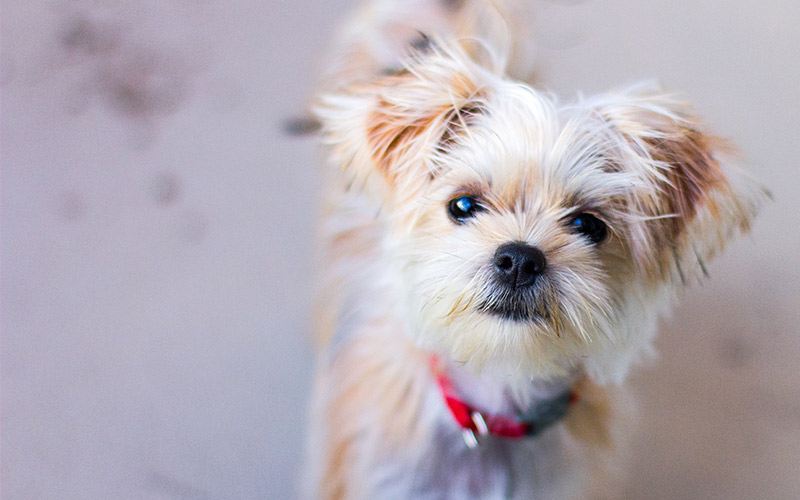 The Shorkie is a mixed breed, that originally comes from combining a purebred Yorkshire Terrier with a purebred Shih Tzu. However, in recent years you might also find second or even third generation Shorkies. Although their parent breeds are similar in size, they differ quite a lot in personality. Not to mention appearance and health. However in general Shorkie dogs are small, long haired, with a stocky body and happy face. They are active, energetic and loyal. These apartment pets can be good lap dogs, protective watchdogs and affectionate to their families.
Contents
The Shih Tzu Yorkie mix is a rising star in the mixed breed dog world. They combine two confident, bold pet breeds into one cute package. A good choice for new puppy owners if they are healthily bred, the Shorkie can be a good companion for kids, other dogs and adults alike.
Where Do Shorkies Come From?
To better understand this Shorkie Terrier mix, it would make sense to better understand the breeds it originated from.
The second most popular breed in the world, the "Yorkie" was one of the first 25 breeds registered with an official body. They descended from Great Britain (hence the name), where they were originally used to chase away rodents in people's homes. As a result, they have a personality to where they love to work for their owner and prove their mettle.
Rumored to be over 2,000 years old, the Shih Tzu is one of the most ancient breeds of dogs on record. They're believed to originate from somewhere in Tibet or ancient China and became very popular in the courts of Chinese nobility.
The common perception is that Shih Tzu's were "Chinese guard dogs," which is true to a certain extent. While they're very keen and aware of their surroundings, they're also much more likely to walk right up to a stranger, introduce themselves, and make a new friend.
It's only in recent years that these two breeds have been combined with the aim of creating a lively lapdog.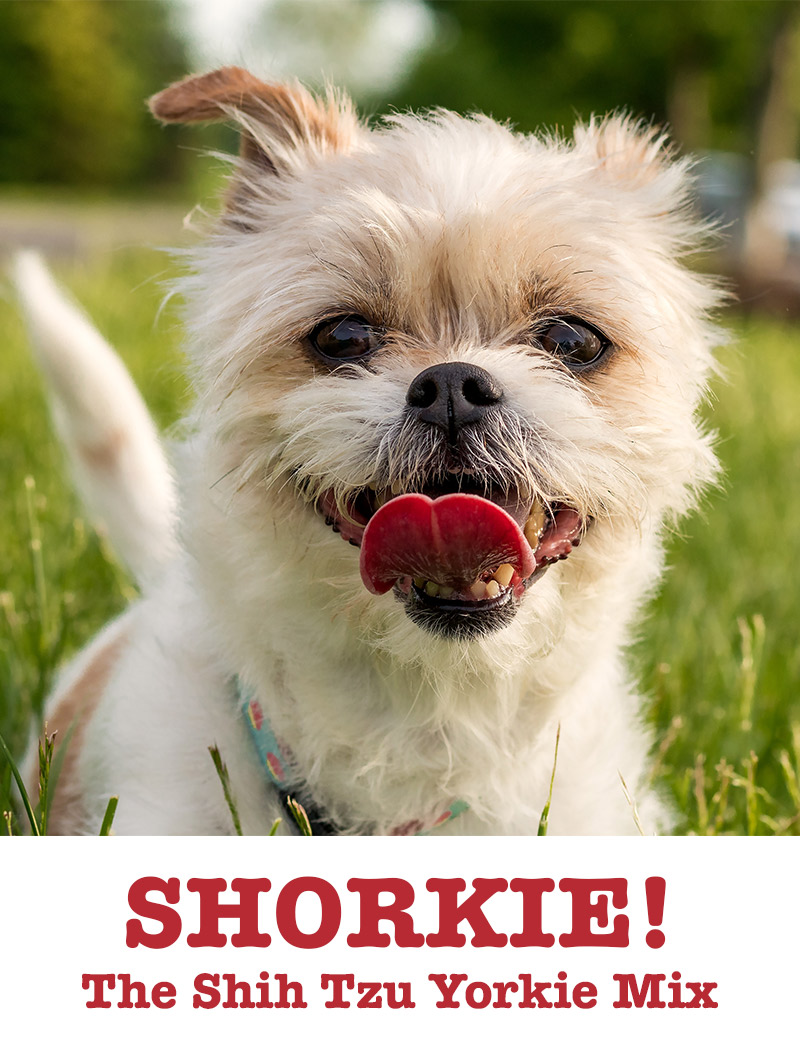 Shorkie Appearance
As a mixed breed, the Shih Tzu Yorkie mix can be a variety of colors. And you won't be able to predict the colors of a litter before they are born.
Whereas Yorkie colors are limited to black, tan, blue and gold, Shih Tzu colors come in an amazing array. Your Shih Tzu and Yorkie mix could have their mother or father's coat color, or something in between.
Coat Types and Grooming
Shorkies are famous for their fur, which is actually made up of two different coats. Their undercoat feels more like fleece, while the top coat has that flowy, silky fur that we usually associate with this breed.
But, as you'd expect with that type of fur, Shorkies need to be brushed regularly. Weekly, if not daily. This will ensure their fur doesn't start matting and probably need to be groomed a bit more often than the typical dog.
Do Shorkies Shed?
Shorkies are a fairly low shedding breed in general. But they do have long hair, which can be quite high maintenance. Grooming a Shorkie will depend on which one of their parents their fur is most like.
While there is some similarity between Shih Tzu grooming methods and grooming a Yorkie, they aren't identical methods. It's recommended that you get your Shorkie groomed at least every four-to-six weeks, depending on how fast their fur grows.
This will also be affected by the climate you and your Shorkie live in. The warmer the climate, the more often you should probably get your Yorkshire Terrier Shih Tzu mix groomed.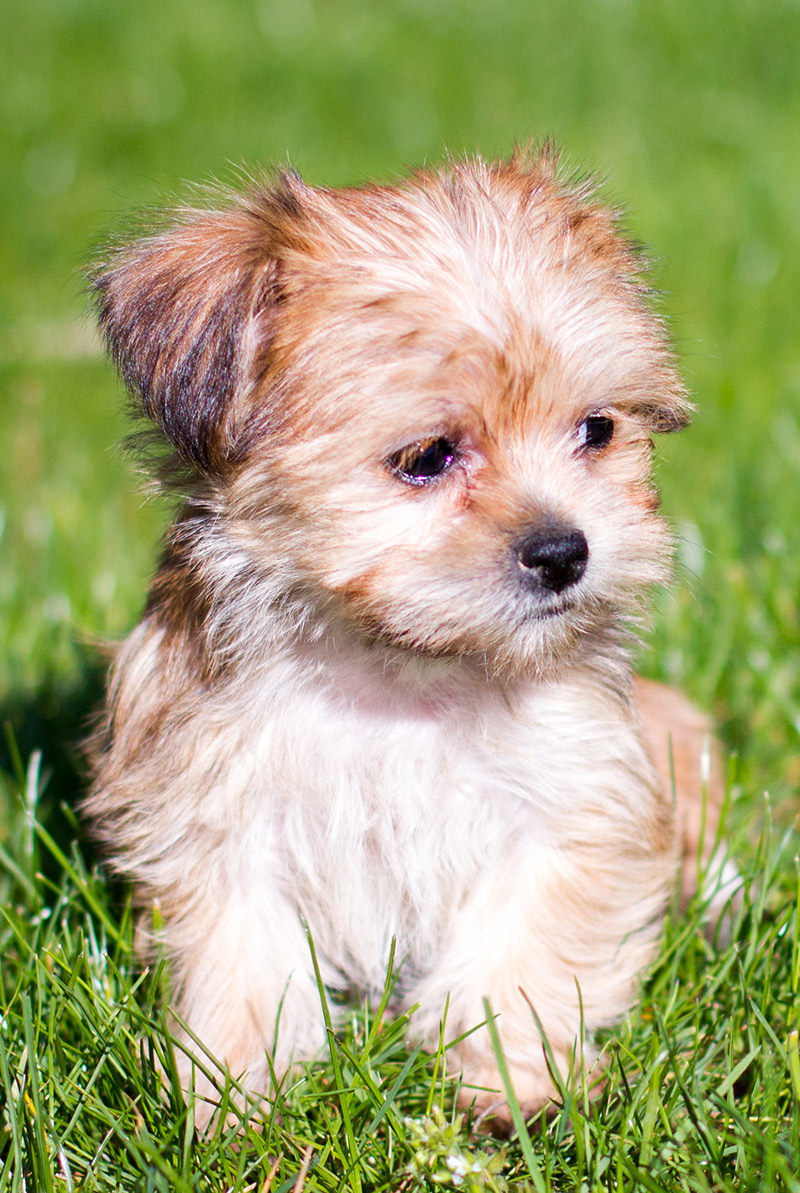 Are Shorkies Hypoallergenic?
The Shorkie is not a low shedding dog. They are likely to produce plenty of dander that sets off allergic responses in humans with this tendency.
Shorkie Haircuts
Many owners love to have groomers give their Shorkie a "puppy cut" or a "teddy bear cut". This not only trims the fur on their body but also accentuates the Shorkie's super-cute face. Making them look like a tiny version of Chewbacca (the popular characters from the Star Wars franchise).
From a practical standpoint, one of the benefits of getting this type of cut is that it helps ensure that any food or debris that they stick their nose in, doesn't stick to their face.
Shorkie Size
Given the two breeds of dogs they originated from, it makes sense that these are rather small dogs, even when fully grown.
As puppies, Shih Tzu Yorkie weight can be as little as two pounds by the time they're ready to be brought home from the breeder (at about eight-to-ten weeks old).
However, we recommend you avoid teacup Shorkies due to the health problems that come from both teacup Yorkies and teacup Shih Tzu.
Shorkie Full Grown
By the time they're fully grown, a Shorkie dog can range anywhere from seven pounds to a little over 15 or 16lbs. Most will be likely to fall somewhere within this bracket, but you could end up with one that's bigger or smaller depending upon their family tree.
Shorkie Temperament
From the moment you bring your tiny puppy home, they will quickly become a part of the family.
Both the breeds that make up the Shorkie are well-known for being extremely attached to their owners and family members, and eager to please them.
They are the type of dog that enjoys being part of its family so much so that they'll be visibly disappointed if you happen to go anywhere without them.
They are happiest when they're right by their owner's side. Whether it's sitting in their owner's lap during the day, or sleeping by their feet at night.
Natural Instincts
However, the Shih Tzu is prone to guarding behavior and can be a little intolerant of being pestered. Which is something you will need to take into account if you have kids or frequent visitors.
But, with the right training and rewarding motivation, they can learn and follow commands very quickly.
Shorkie Training
Training your little friend can be a very rewarding experience. Both Shih Tzus and Yorkies are extremely intelligent.
Despite their small size these are often independent dogs. So, you have to be willing and able to engage your puppy in a way that keeps them focused and motivated. Otherwise, they're going to focus on whatever they want to do.
Fortunately, using positive reinforcement training methods means this independence doesn't have to be an issue for you. Using only motivating techniques encourages a puppy to think of training as a great experience. And turns what could have been a chore into a wonderful bonding experience for you both.
Exercise
These are active and energetic dogs, but you must be careful not to push them too far. If your Shih Tzu Yorkie mix takes after their Shih Tzu parent you will need to be careful when you exercise them. They can become short of breath more easily than the average dog, and don't cope well in hot weather.
Shorkie Health and Care
As the Shorkie is a relatively new mix, there have not been any studies carried out looking specifically at their health. So to get a good picture, we need to look at their parent breeds.
Here are some issues you will need to be aware of with this mix, we'll look at a few in more detail below:
Brachycephalic Airway Syndrome – breathing difficulties caused by having a flat face
Luxating Patellar – loose kneecaps leading to lameness
Hypomagnesemia and Hypocalcemia – Low magnesium and low calcium
Kidney problems – renal dysplasia, where the kidneys are malformed
Liver problems
Eye problems – including glaucoma and Progressive Retinal Athrophy
Respiratory Issues
Shih Tzus are a brachycephalic breed. This means that they have a shortened muzzle, potentially causing them problems with breathing and temperature regulation. Shih Tzu Yorkie cross dogs can have tiny noses.
This can result in anything from harmless reverse sneezing, to various levels of obstructions that cause the dog to have a serious cough. Depending on the severity of the breathing troubles or tracheal obstructions, this could result in your Shorkie needing medications to help them with excessively labored breathing or coughing.
Small Dog, Big Problems?
Because of the compact nature of smaller dogs, many of them can have problems with their windpipes. Which isn't a good thing when you consider they may already have breathing problems due to their face shape.
Along similar lines, the tiny Shorkie has tiny bones and joints. A lot of toy breeds face issues with luxating patellas, where the kneecap moves out its normal location.
This is often the result of the dog taking a sudden impact to its legs. If it jumps from somewhere high up and onto the ground, causing a sudden, hard impact to its hind legs.
Most of the time, the dog will limp or avoid walking on that leg for a few moments, and shake the patella back in place while doing so. But issues around this, or too many instances of this happening, could force the need for surgery to fix the issue.
Avoiding Shorkie Health Problems
To give your puppy the best odds of good health, choose a healthy set of parents. This means they must both have health tests, no family history of the diseases they are prone to, and certificates to prove all of this.
The problem with a Shih Tzu mix is that their facial shape is a central part of their breed. To improve your odds make sure this parent has the longest muzzle possible, and wide clear nostrils which have never required surgery.
You can surgically widen a dog's nostrils to aid their breathing, but it's better to not require this option. Pick a puppy with a long nose and wide nostrils, but be aware that their nose will close slightly as they grow.
Sadly, the only way to completely rule out the potential for brachycephaly is to look at another breed or mix.
Shorkies Lifespan
Both the Yorkie and Shih Tzu are small dogs with lifespans of around 13 years. And mixed breed dogs in general tend to live a little longer than their purebred counterparts.
However, if they do inherit a brachycephalic face their life could be less comfortable than that of the average dog.
Do Shorkies Make Good Family Pets?
While Shorkies can make wonderful family pets, we don't recommend adding a Shorkie puppy to homes with small children.
Children often look at these cute dogs as "live toys" or stuffed animals, resulting in them feeling the urge to pick them up and carry them around. Because children don't necessarily understand their own strength, or how to be gentle in certain instances, this can lead to internal injuries to your Shorkie if they're held or squeezed in the wrong way.
Also, because a Shorkie's sometimes stubborn and independent nature, they can get a little feisty around children.
Supervision and education are key, but their small stature means they aren't ideally suited. They're well suited however to adult families looking for the perfect companion who wants nothing more than to stay by someone's side.
Rescuing a Shorkie
Rescuing an adult also means that you will have a better idea of whether the respiratory health problems of the Shih Tzu are going to be an issue for your Shih Tzu mix. When looking for a mix from a shelter you have lots of options.
Shorkie Puppies
Shorkie puppies should be confident and friendly. When you go to visit them for the first time at around six weeks old they should be alert and playful. Keen to say hello to you, with happy wagging tails.
The breeder should have had their puppies wormed and flea treated regularly, and have had them checked by a veterinarian and microchipped. Good breeders do not let new owners take their puppy home before 8 weeks of age.
A relatively new cross-breed, many breeders are looking to continue breeding Shorkies. This is because of the demeanor, intelligence, and visual appeal of these dogs. But for some it's also about money.
Shorkies are a designer dog breed, and therefore can come with a hefty price tag. This will vary depending upon where you are based, and you shouldn't just pick the cheapest puppy.
Finding the right breeder might be more expensive, but can save you a lot in terms of vets' bills and heartache further down the line. You can expect to pay anything ranging from $600 to $1,500 dollars.