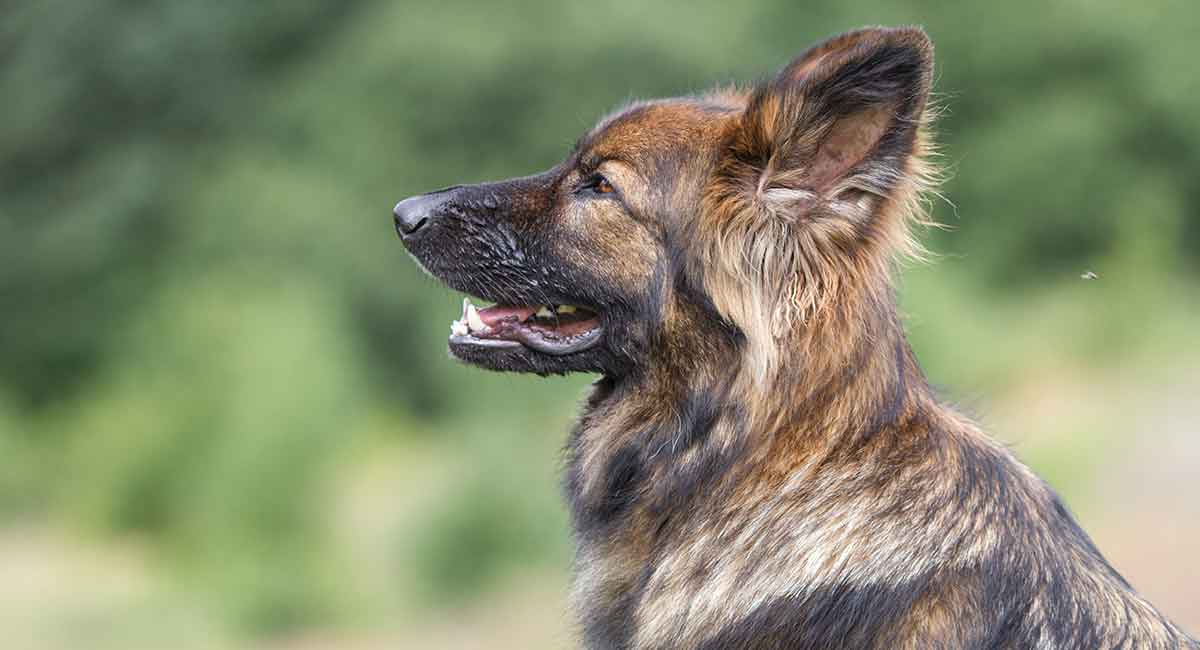 Sable German Shepherd dogs have a silver, grey or tan coats with black tips. They are smart, loyal and energetic. This natural guard dog have a protective streak that makes them an excellent watch dog. However there are mixed opinions when it comes to the German Shepherd's suitability to be a family dog. Today we'll look at whether a sable German Shepherd is the right fit for your kids or lifestyle. And show you how to raise a sable German Shepherd puppy to be a friendly family member and companion.
Contents
The most common German Shepherd pattern is sable. We'll show you why you see this color so often, where it comes from and what makes it such a great choice for a new German Shepherd owner.
What is a Sable German Shepherd Dog?
The sable German Shepherd is has a rather special color. "But I see sable German Shepherds all the time!" I hear you cry. And that's no surprise – genetically, sable is the German Shepherd's dominant coat color.
In fact, their coloring is very similar to that of some wolves. Though wolves are the common ancestor of all dogs, very few dog breeds still carry the genes that give wolves their two-toned hairs. German Shepherds are one of them!
Are sable German Shepherds unique from other German Shepherds in any other ways? In this article, we take a look at whether coat color can affect a dog's behavior and health.
German Shepherd Colors
The American Kennel Club breed standard allows German Shepherds in any color except white (although white German Shepherds do exist!) Strong, rich colors are preferred over pale colors. The most popular colors are
black
gray
black and tan
blue
red and black
black and silver
And of course sable!
Sable coloring is when individual hairs have distinct bands of color along their shaft. So sable German Shepherds have silver, gray or tan fur with black tips.
Sable German Shepherd Temperament
German Shepherds are very intelligent dogs, which is exemplified by their popularity as police dogs and service animals. They are loyal, affectionate, and loving toward family members, but may be aloof toward strangers.
Are Sable German Shepherds Aggressive?
GSDs can also be protective, so it's important to invest time in their training and socialization from a young age. Unfortunately, some studies have found German Shepherds to be more aggressive than other dogs. In one review, they were also one of the highest offenders of dog bites in children.
However, it's important to understand that different studies observe different breeds and sources of information to come to a conclusion. Some small breed dogs may be far more aggressive than German Shepherds, but since their bites don't typically require medical attention, they aren't reported.
Not all German Shepherds are aggressive, but it is important to be wary of the possibility and take the proper measures to prevent such behavioral issues. But does the sable coloring play a part in this?
Are Sable German Shepherd Behaviors Different?
Though there is still a lot of research yet to be done, scientists have found correlations between a dogs' coloring and their health. In some cases, color even seems to correspond to a dog's behavior.
Depigmentation (typically white coats or pale eye colors) seems to affect behavior and health in various types of animals. It makes them more nervous and can even be linked with neurological and other types of disorders. So that's a reason to stick with sable and not white German Shepherds, right? Or maybe not.
The links between coat color and health or temperament don't stop there. For example, certain colors of English Cocker Spaniels are more aggressive, and some shades of Labrador Retriever appear to have longer lifespans than others.
However, though these studies provide useful insight, they cannot be universally applied to every animal, or even every breed of dog at that. This is because dogs are incredibly varied, with 344 breeds being recognized by the Fédération Cynologique Internationale (English: World Canine Organization).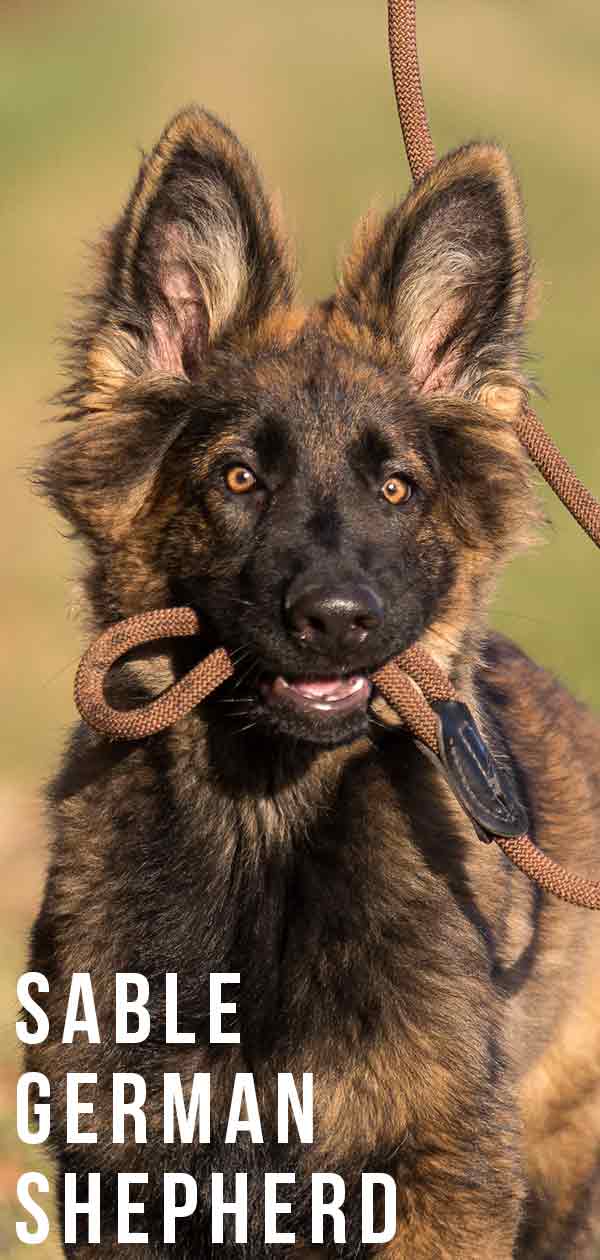 Sable German Shepherd Health
Unfortunately, there haven't really been any studies done about sable coloring in German Shepherds. Therefore, we have no evidence to suggest that sable German Shepherds are any different than other colors of German Shepherd, or that their coloring affects their health. However, scientists do know a bit about what causes the sable color in German Shepherd dogs.
Agouti German Shepherds
In German Shepherds, sable coloring is controlled by the Agouti gene. The Agouti gene has several variations, and while there may be some yet undiscovered, scientists know about four of them.
These four variations all code for wild-type black tipped hairs. Other genes also determine where on the body the shading appears.
Currently, the Agouti gene is not known to be related to any behavioral or health issues in dogs. So sable German Shepherds are exactly like every other color.
Sable German Shepherd Puppies
Scientists have come very far in their study of genetics, and have even been able to genetically map personality traits such as fear and aggression. However, your dog's behavior isn't just a product of genetics.
You've probably heard about the nature versus nurture argument a million times, and that's because of how truly relevant it is.
The best way to ensure that your sable German Shepherd puppy has a winning personality and a healthy life is to work with a responsible breeder and socialize your puppy.
Choose a litter of puppies from parents that are relaxed around strangers. Then from the day you bring your puppy home at 8 weeks old, make sure you have lots of visitors. And take them to visit every sort of place you might go with them when they are older. You'll need to carry them until they've had their jabs, but it'll be worth the effort.
The best breeders are passionate about promoting the welfare of the breed, and diligent about only using dogs with the most reliable temperaments to become moms and dads to the next generation.
Sable German Shepherds
Sable German Shepherds are intelligent dogs who are loyal and loving toward their family members. Their sable color from silver, gray or tan hairs tipped with black. At the time of writing, there is no evidence that their color affects their temperament or health.
What do you think? Does your sable German Shepherd have a personality which sets him apart from the rest of the pack?
Tell us in the comments box!
Readers Also Liked
Brindle German Shepherd
German Shepherd Corgi Mix Breed Information
German Shepherd Temperament – Great Guard Dog or Perfect Pet?
References
Beuchat, Carol, 2016, "Understanding the heritability of behavior in dogs." Institute of Canine Biology.
Blackshaw, Judith K., 1991, "An overview of types of aggressive behavior in dogs and methods of treatment." Applied Animal Behavior Science.
"Genetic Welfare Problems of Companion Animals – Dalmatian – Deafness", 2011, Universities Federation for Animal Welfare.
"German Shepherd Dog." American Kennel Club.
Grandin, Temple. "The Way I See It: The Dangers of Trait Over-Selection." Western Horseman, Aug. 1998, pp. 120-124. .
McGreevy, Paul D., et al., 2018, "Labrador retrievers under primary veterinary care in the UK: demography, mortality and disorders." Canine Genetics and Epidemiology.
Pérez-Guisado, Joaquín, et al., 2006, "Heritability of Dominant–aggressive Behavior in English Cocker Spaniels", Applied Animal Behavior Science.
Schalamon, Johannes et al., 2006, "Analysis of Dog Bites in Children Who Are Younger Than 17 Years".
Strain, George, et al., 2006, "Hereditary Deafness in Dogs and Cats", Congreso Internacional de Medicina.
Stritzel, S., et al., 2009, "A Role of the Microphthalmia-Associated Transcription Factor in Congenital Sensorineural Deafness and Eye Pigmentation in Dalmatian Dogs", Journal of Animal Breeding and Genetics.
"What is heritability?" US National Library of Medicine.
Zapata, Isain, et al., 2016, "Genetic mapping of canine fear and aggression." BMC Genomics.