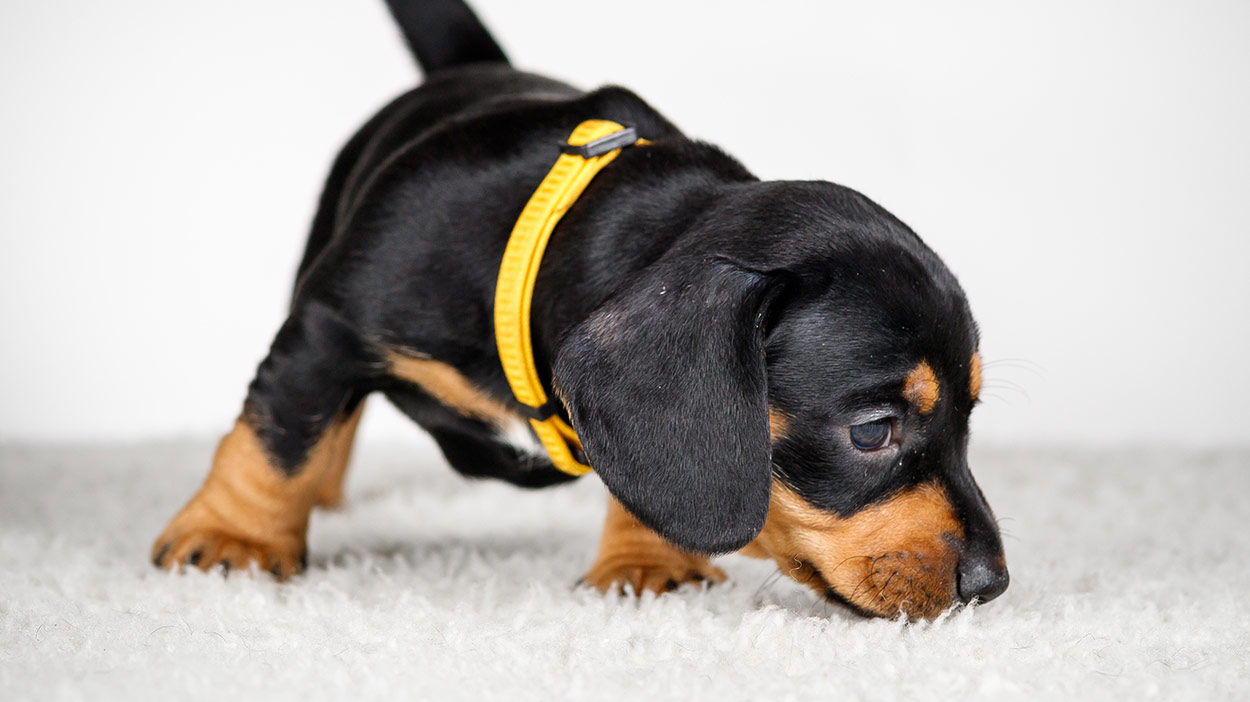 Welcome to our complete guide to the best puppy collars. Helping you to pick the right model for your pup.
There are a lot of factors to take into account when picking puppy collars.
For example, the size of your puppy will influence how durable and strong you need your new puppy collars to be!
If your new puppy is a dog breed with known neck or back issues, you will want to take special care in picking puppy collars that place no stress or tension on either area.
Also, if you are planning to work with your puppy in any special type of training, such as agility, therapy or service work, or in the show ring, the puppy collars you choose may reflect the special needs and requirements of that training.
As well, sometimes you just want to pick out some fun puppy collars for special events, like your pup's "gotcha" day or birthday, holidays, anniversaries, or a photo shoot!
We hope you enjoy this carefully curated selection of some of the best dog collars for puppies!
Products included in this article were carefully and independently selected by the Happy Puppy Site team. If you decide to make a purchase from one of the links marked by an asterisk, we may earn a small commission on that sale. This is at no extra cost to you.
Cute puppy collars
One of the really fun aspects of bringing home a new puppy is all the cuteness!
These puppy collars range from practical to quite simply cute!
Some feature adorable puppy bandanas, while others sport bows or bowties.
This way, you can find the perfect accent and color for your girl or boy puppy collar!
These are some tiny puppy collars.
Beirui Cute PU Leather Dog Collar with Adorable Flowers.*
These adorable puppy collars feature a double row of colorful leather flowers, each with a silver stud in the center.
There are two sizes and four base collar colors (black, pink, blue, red).
The collars are made from soft PU leather that is flexible and comfy for your puppy to wear.
The manufacturer also offers a 30-day money back guarantee.
This adorable spiked puppy collar comes in three sizes (sized by neck width) and five colors (black, brown, blue, pink, red).
The collar itself is a soft leather.
Designer puppy collars
Luckily, unlike most couture clothes for people, designer puppy collars can be affordable as well as posh and stylish!
Enjoy this fun collection of unique puppy collars!
The collar portion is nylon with plastic closures and adjustment points.
There are four colors/patterns: Uptown Chic, Stunning Diamonds, Pretty Picks, and Perfect Sky Blue.
These designer puppy collars come in four sizes (XS, S, M, L).
There are four sizes (XS, S, M, L) and five colors (pink, blue, red, black, purple).
The puppy collar and matching leash each feature a combination of durable nylon stitching and very soft leather with metal closures, D-ring, and latch.
Cutesy Pet | Dog Collar with Designer Bow.*
These designer yet surprisingly
cheap puppy collars
each feature a different color pattern with a matching bow.
Choose from five sizes (XS, S, M, L, XL) and five fun color patterns: Rainbow Leopard, Pink Leopard, Midnight Zebra, Purple Camo, or Gray Paws.
The collar itself is high-grade nylon and the bow is grosgrain fabric.
The buckle is plastic and the O-ring is nickel.
Safety puppy collars
You just can't get too serious about puppy safety, as these puppy collars clearly demonstrate!
Petsafe KeepSafe Break-Away Collar.*
This break-away puppy collar comes in five sizes (XS, S, M, L, XL), six widths, and four colors (blue, purple, red, black).
It also includes a D-ring to attach to a leash.
Personalized Dog Collar.*
These are some of the best dog collars for puppies because you can personalize the collar itself.
Write on the collar with up to 25 characters.
There are four sizes (XS, S, M, L) and five collar colors, plus 15 thread colors.
The collar is nylon.
Illumiseem LED Dog Collar – USB Rechargeable Dog Collar.*
This super practical and fun safety puppy collar comes in six sizes (XXS, XS, S, M, L, XL) and six neon colors (orange, green, yellow, blue, red, pink).
The USB rechargeable battery works for 5 hours before needing recharging.
There are three light modes (steady, fast flashing, slow flashing).
Puppy collar and lead set
Caring for a new puppy is fun, rewarding, memorable, and the experience of a lifetime—but one thing it sure isn't is inexpensive!
When you are shopping for puppy collars, it can just make sense to find puppy collars that come with a matching lead as a set.
By choosing a puppy collar and lead set you save time AND money!
Not Just Another Dog Leash (+ collar) – Gordon Wear.*
Choose from a black puppy collar and lead, a red puppy collar and lead or a blue puppy collar and lead with this popular set.
The soft nylon collar is comfy for your puppy and the padded leash handle is comfy for you!
There are three sizes (S, M, L).
There are two sizes (S, M) and three colors (red/black, black, and blue/black).
The entire set features durable heavy-duty nylon mesh with reinforced stitching, rust-resistant metal closures and D-rings, and two adjustment points for a customized fit.
Country Brook Design Martingale Collar & Leash – Paisley Collection.*
This Martingale collar and leash set gives you an alternative option to the traditional
chain collar for puppy
—it is made of lovely soft woven nylon and has no metal save for the adjustment points and the D-ring.
You can choose from four fun paisley patterns in a red, blue, pink, or purple base color.
There are six sizes, so you can find tiny puppy collars all the way up to big dog breed puppy collars (Mini, XS, S, M, L, XL).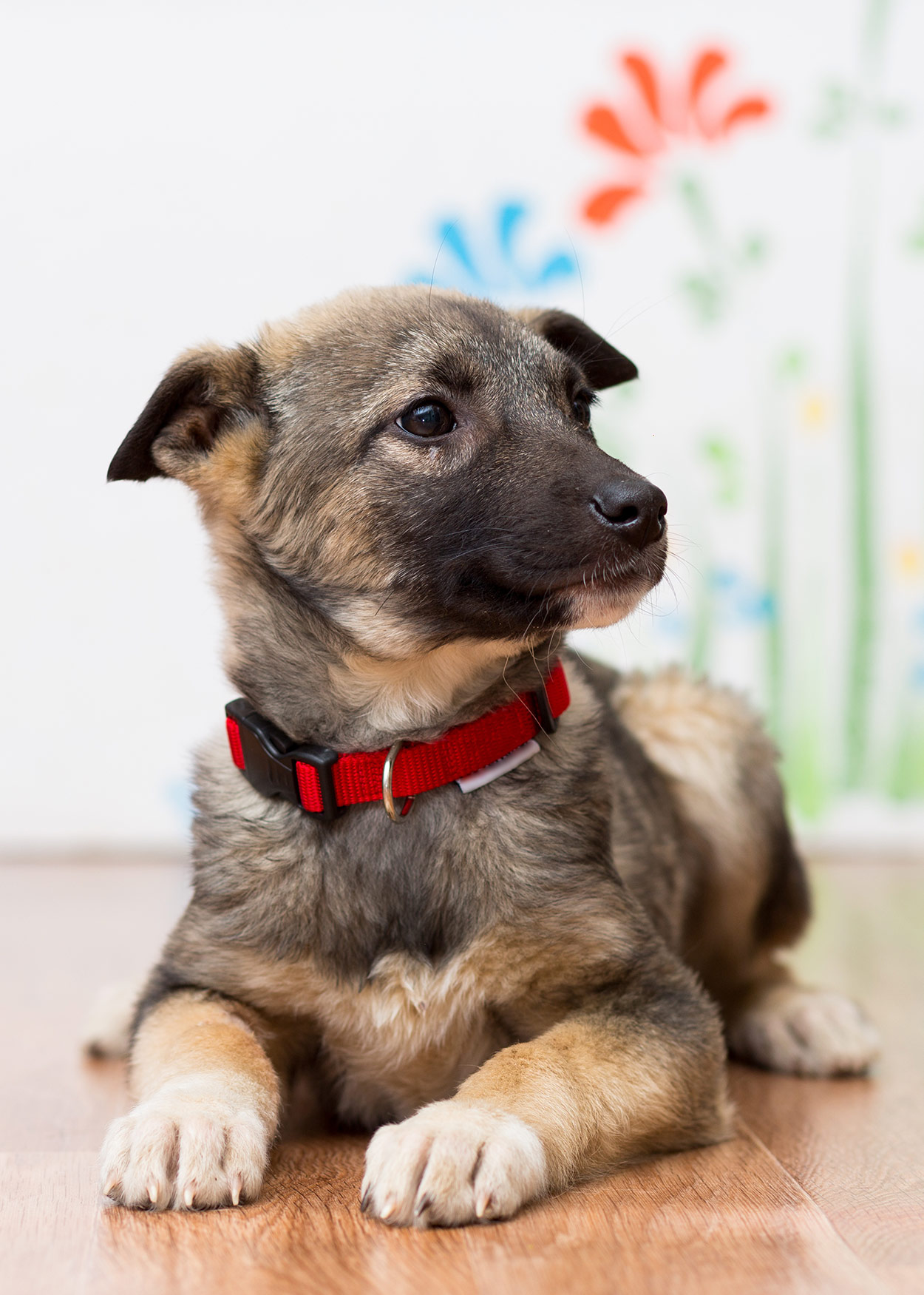 Blue puppy collar
While you certainly don't have to choose blue boy puppy collars, blue is a classic choice if you are indecisive about which color to go with!
All three of these puppy collars also offer a matching leash (sold separately) if you want to purchase a set.
Blueberry Pet Classic Solid Color Dog Collar Collection.*
This classic nylon webbed blue puppy collar comes in a wide array of sizes (and colors, if you are looking for a red puppy collar, a pink puppy collar, or some other color!)
The buckles are made from durable, eco-friendly plastic and the coated chrome D-ring is heavy duty.
Plus, it also has a matching Blueberry Pet leash.*
It's available in lots of fun colors, too!
There is also a red puppy collar, a pink puppy collar, and 3 other fun colors.
The adjustable part is via a soft Velcro closure (nylon/polyester).
The D-ring is nickel and matches perfectly with the matching Pupteck leash.*
The perfect accesory!
Sassy Dog Wear Adjustable Dog Collar.*
Take the basic blue puppy collar one step further, with adorable brown paw prints ringing the outer area of this nylon collar!
And if you have a little girl pup, check out the equally precious pink puppy collar with brown paw prints!
There are also two other color combinations.
For total cuteness overload, pair either collar with a matching Sassy Dog Wear paw print leash.*
It's also available in four fun colors.
Pink puppy collar
These pink puppy dog collar options are as unique as your puppy is!
From leopard print to leather to glow-in-the-dark, your little pup will be set up in style as she learns to wear a collar and leash!
Only this isn't just any old pink puppy collar and leash—it is a pink leopard-print collar and leash set!
The buckle is clear plastic and the D-ring is silver.
Pawtitas Pet Soft Training Adjustable Reflective Stitching Puppy / Dog Collar.*
This hot pink puppy collar features safety reflective stitching throughout and an adjustable, ergonomic fit for puppies just getting used to a collar and leash.
There are 13 fun colors in total, including a red puppy collar and a blue puppy collar.
You may also want to add the Pawtitas matching reflective leash.*
It's the perfect leash for pink-loving owners.
Lanyar Fashion Leather Pet Collars with Jingle Bell.*
This precious
leather puppy collar
features a little jingle bell to help you track your puppy's whereabouts both inside the house and outside on the lawn.
This can also be a great aid when you are trying to gauge how your housebreaking training is going!
Having the bell on small puppy collars will also be an extra safety feature to keep your puppy and your feet from getting tangled up.
There is also a cute blue puppy collar and 5 other fun colors to choose from.
Puppy choke collar
When you are training your puppy for the show ring or for obedience or service work, sometimes you need a puppy training collar with a little more, well, oomph.
Used correctly, a humane puppy choke collar can turn a rowdy and rambunctious pup into a lovely life companion.
This collar doesn't "choke" your puppy at all, but it does exert a gentle tightening pressure to reinforce training.
The collar itself is a durable nylon and the chain is iron.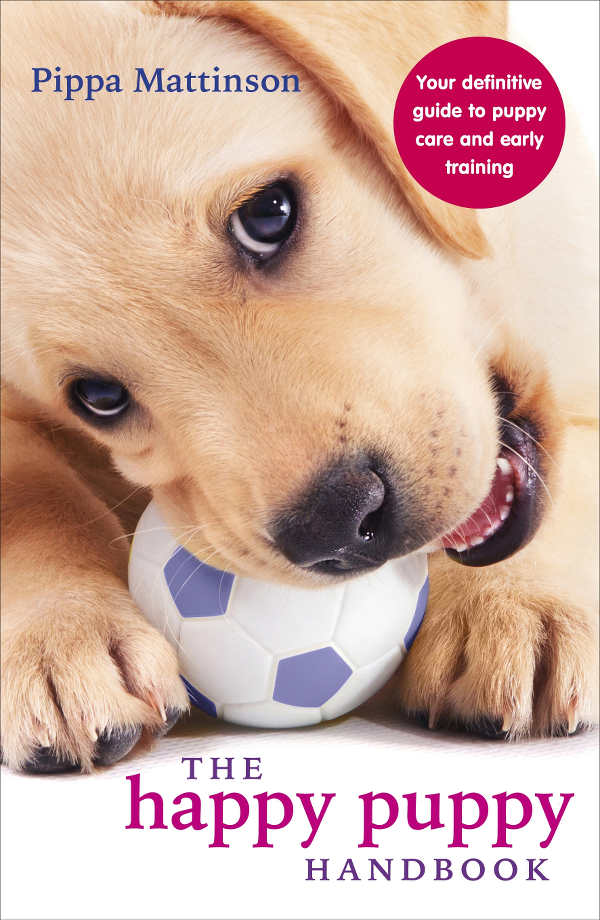 You may also want to purchase the Mighty Paw dual handle leash.*
This leash offers supreme control with it's double handle.
Max and Neo Stainless Steel Chain Martingale Collar.*
The Max and Neo humane Martingale puppy choke collar comes in four sizes (S, M, M/L, L) and four colors (blue, pink, red, black).
The company donates $1 for every collar sold to a dog rescue center.
The collar itself is a durable nylon weave and the chain and O-ring is stainless steel.
There is also a matching dual handle Max and Neo leash* you may want to purchase.
It's available in five fun colors.
There are two sizes (S, L) and four color/patterns (sky blue, rose red, sunflower, turquoise green).
You may want to also add the Dazzber heavy duty matching training leash*.
It's available in three great colors.
Best puppy collars
We hope you have enjoyed browsing through this curated collection of puppy collars for girl puppies and boy puppies of all sizes!
From puppy collar and lead sets to designer puppy collars, cute puppy collars, safety-first puppy collars, and more, you now have a wealth of options to consider.
Which puppy collars do you have your eye on?
When you make your decision, please drop us a comment and share the puppy collar you chose for your new addition!
Affiliate link disclosure: Links in this article marked with an * are affiliate links, and we may receive a small commission if you purchase these products. However, we selected them for inclusion independently, and all of the views expressed in this article are our own.
Sources
Salter, A.A., DVM, et al, "Leading Your Pet: How to Choose Your Pet Gear," Vaughn Road Veterinary Clinic, 2014.
Lane, L.E., DVM, "Equipment Options for Walking the Unruly Dog," White Oaks Vet Hospital, 2013.
Herron, M., DVM, "Behavior Guide for Your New Puppy," Veterinary Medical Center – The Ohio State University, 2018.
Ward, E., DVM, "Breeding for Dog Owners – Caring for Newborn Puppies," VCA Animal Hospital, 2016.