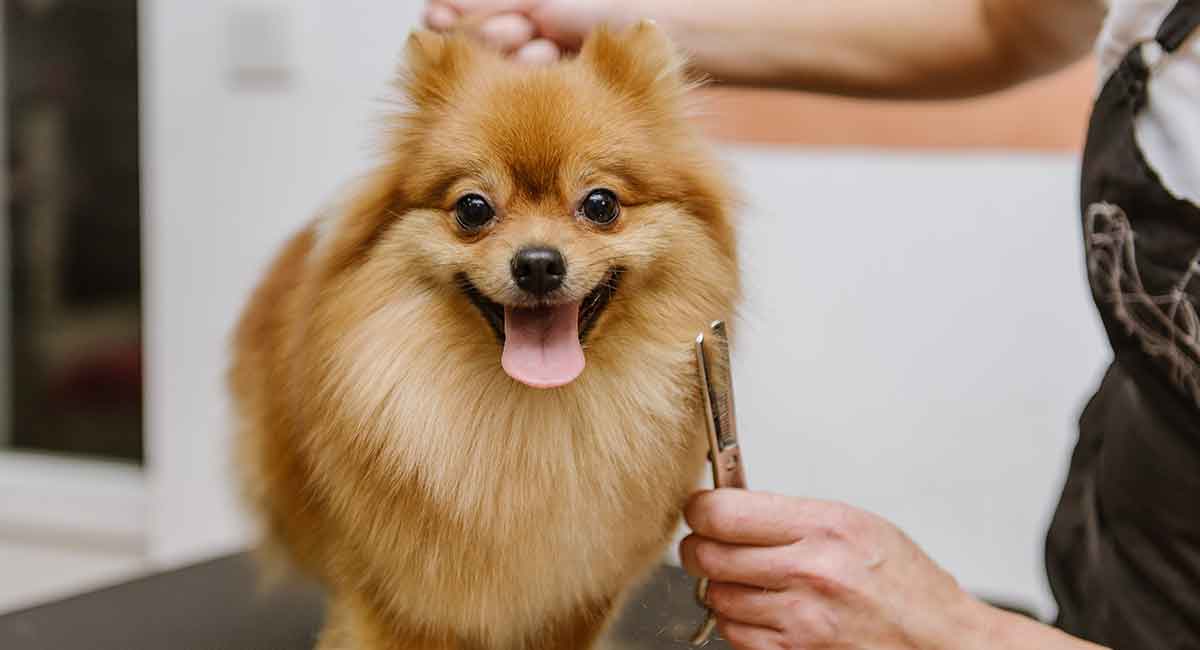 Pomeranian grooming is an essential part of their care. They will need a quick daily brush with a comb or bristle brush, as well as a more thorough weekly brush and monthly clip. Adult Pomeranians shed continually, but it really ramps up in the spring and summer. A good grooming routine will prevent matting, and avoid the skin problems that this breed can be prone to.
Contents
Pomeranian grooming has various daily, weekly and monthly tasks, from combing and brushing to clipping, haircuts and dental care. Today I'll share rules, guidelines, tool and tips for keeping your dog's coat shiny, thick and healthy.
What Types of Fur Do Pomeranians Have?
Pomeranians have a double coat, consisting of an undercoat and a top coat. The undercoat is made up of "ground hairs" that are soft, fluffy and dense.
The Pomeranian's top coat is made up of straight, coarse hairs called "guard hairs." The guard hairs are longer than the fur of the undercoat.
The function of the top coat is to protect the undercoat and the dog's skin from rain and snow during inclement weather and from the sun's UV rays in the summer.
Do Pomeranians Shed?
Pomeranians are a high shedding breed, and sadly no hypoallergenic.
The undercoat evolved primarily to keep the dog warm in the winter when he worked in the mountain regions of his original home. Pomeranians shed their undercoat twice a year, in spring and summer.
Grooming During the Shedding Season
Pomeranians experience two forms of shedding, first as puppies and then regularly as adults. The puppy shedding period is known by Pomeranian enthusiasts as the "puppy uglies." That's when your Pomeranian loses his puppy fur and grows his adult coat. Pomeranian pups shed more than usual during this period.
When Pomeranian puppies shed, their coats often change colors. Puppy shedding usually begins at four to six months. By the time your pup is 10 months old, he should have his full, adult coat.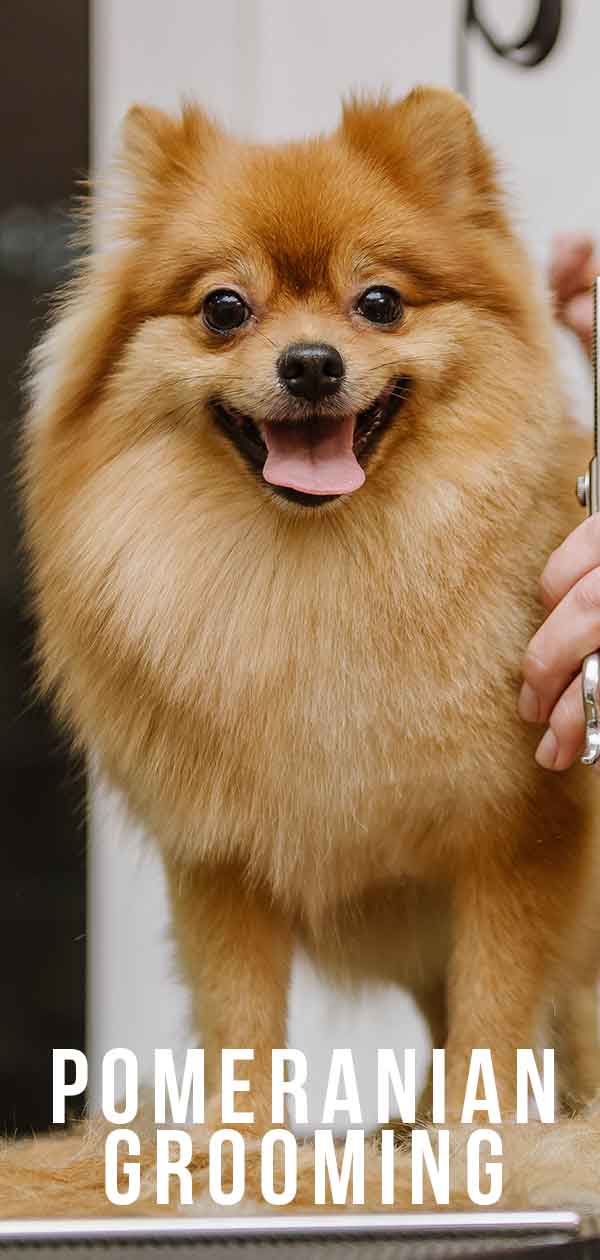 How Often Should you Groom a Pomeranian?
Ideally, Pomeranian grooming should take place every day. They'll also need regular baths to keep their skin healthy and to prevent buildup of the natural oils that can cause your pup to smell "doggy."
How to Groom a Pomeranian – 4 Easy Rules
If your pint-sized Pomeranian suddenly sounds worryingly high maintenance, don't worry. We've got some easy Pomeranian grooming rules to live by, so you never set a paw wrong.
Rule 1: The Right Number of Baths
You should bathe your Pomeranian every three weeks or so, unless your pup gets muddy and needs an extra bath. It's not advisable to bathe your dog more often than this as you could remove all your pup's natural body oils, leaving his skin dry and prone to flaking.
When you bathe your Pomeranian, always wait until his fur is completely dry before grooming him. You can speed up the drying process by using a high-velocity hair dryer. Be sure to blow the hair in the direction of growth. Avoid passing the dryer rapidly to and fro across the dog because this causes the coat to become tangled and could encourage mats to form.
The SHELANDY 3.2HP Stepless Adjustable Speed Pet Hair Force Dryer Dog Grooming Blower with Heater* is a best-seller on Amazon.
The dryer is fitted with a unique noise reduction system to prevent your dog from being alarmed or distressed by the noise. You also get four different nozzles included with the dryer and a one-year manufacturer's warranty.
Rule 2: Condition Your Pomeranian's Fur
To keep your Pomeranian's coat in tip-top condition, use a leave-in coat spray such as Nootie Daily Spritz Pet Conditioning Spray*.
This protects the coat from excessive friction that can be caused by grooming, which may weaken and damage the coat over time. Leave-in spray also helps to prevent the dog's coat color from fading or bleaching during the summer. Conditioning spray can help to stop static from building up in the underfur too.
Rule 3: Avoiding Matting in Pomeranian Fur
Address any mats or tangles in the coat. Mats form when strands of hair become twisted together to form a knot. To avoid creating mats when drying your Pomeranian after a bath, pat him dry with a soft towel rather than rubbing him.
Remove mats and tangles by using your fingers to work out the knot. Stubborn mats can be removed by using a de-matting tool to snip the mat away from the coat.
Brush the dog's fur in sections, starting with the chest, then the ruff, then the legs, then the flanks and back, ending with the tail. Between baths, you can keep your Pomeranian looking good by wiping him down with individual cleaning wipes.
Rule 4: Keep Your Pomeranian Clean From Top to Bottom
Wipe your dog's face after he's eaten to get rid of clinging bits of food. Tend to his eyes to prevent tear staining, and get rid of clumps of discharge. Clean your dog over after he's been playing outside to remove mud and dirt.
Wipe away urine splashes from areas where the coat has been soiled. Carefully wipe off small fragments of feces that may be clinging to the fluffy hair around your Pomeranian's bottom. For wiping down your Pomeranian, Earthbath Grooming Wipes* are excellent.
The wipes are biodegradable and made using all-natural ingredients to add shine to your dog's coat as well as effectively cleaning him.
Pomeranian Grooming Tools
So now that you know how to groom your Pomeranian, you'll need to put together a grooming kit for him. We've chosen a selection of the most popular dog grooming products. Here's what you'll need:
Metal Comb
Before you begin brushing your Pomeranian, you'll need to use a comb to check for any mats and tangles. A steel comb with wide-spaced teeth is ideal for this job. The Lil Pals Double-Sided Comb* is perfect for puppies and dogs under 10 pounds.
Use the wide side of the comb for grooming the dog's body, and the narrower side for the paws and face. If you have a larger Pomeranian that weighs more than 10 pounds, the Mangostyle Double-Sided Comb* is perfect.
Again, use the widest part of the comb for the body, and the narrow side for the paws and face. Both these combs are ergonomically designed for user comfort, and do a brilliant job of removing tangles and mats from your Pomeranian's coat.
De-matting Tool
De-matting tools have a double row of teeth that are designed to reach right down to the roots of the undercoat, teasing out mats and tangles before the main grooming process with a slicker brush begins. The Pat Your Pet Grooming Tool – 2 Sided Undercoat Rake for Cats & Dogs* has a 2-in-1 head.
One side has 17 teeth that thin the coat and help to trigger the de-shedding process. The other side has nine teeth that are designed to get rid of persistent mats and very bad tangles. The Pat Your Pet is a very well-made tool that does what it promises. The rake's size makes it ideal for use on small dogs such as Pomeranians.
Slicker Brush
As the Pomeranian is a moderate to heavy shedder, you'll need to go over the coat with a slicker brush, ideally every day. If loose hair is not removed, hairs fall back into the coat, becoming soaked with the dog's natural body oils.
When that happens, your pup begins to pong. Also, a coat that's clogged with dead hair blocks good air flow, potentially leading to overheating during warm weather. For small Pomeranians and puppies under 10 pounds, the Lil Pals Slicker Brush* is the perfect size for reaching every area of the coat, even grabbing loose hairs that are hidden deep in the undercoat.
If you have a larger Pomeranian, check out the Hertzko Slicker Brush*, a best-seller on Amazon.
Pin Brush
You'll use a pin brush as a finishing tool for your dog's grooming routine. This step in the grooming process is intended to add shine and texture to the dog's top coat once you've removed the shed hair. When choosing a pin brush, bear in mind that a Pomeranian has very densely packed fur, so you'll need a brush with pins that are well-spaced.
If you choose a brush with pins that are too close together, you'll have trouble pulling the brush through the coat. A good brush for adult Pomeranian grooming needs is the Chris Christensen 20mm Pin Brush*.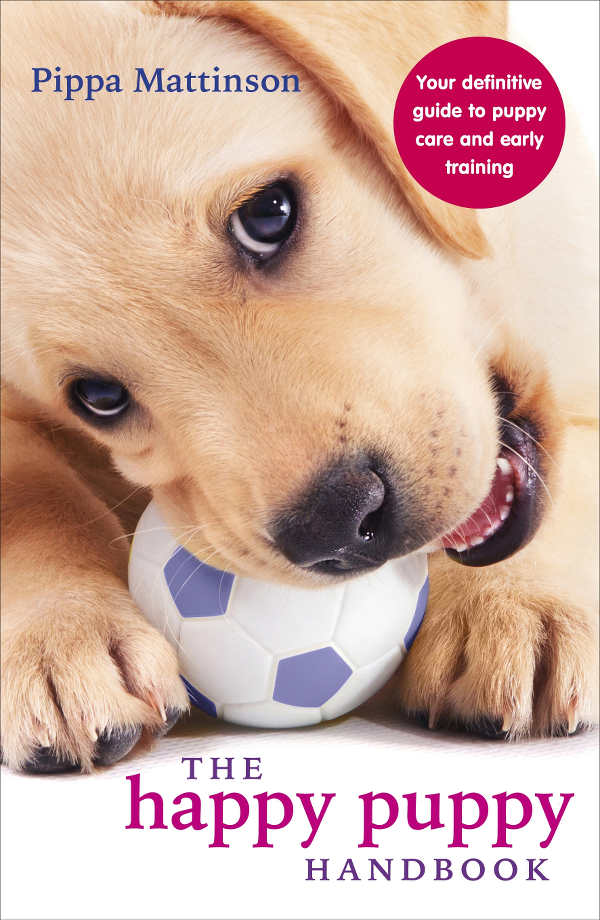 The pin tips are ground and polished for smoothness, so there's no danger of scratching your dog's sensitive skin while you're brushing him. The brush is made from solid beech wood. The pins are set into a firm, durable cushion. The handle is ergonomically designed for user comfort.
Pomeranian Grooming Scissors
From time-to-time, you'll need to trim some of the long, fluffy hairs on the back of your Pomeranian's legs, his tail, and his paws. Don't go mad. You only want to tidy your dog's look, not cut the fur too short. Pet Magasin Grooming Scissors* are made from super-sharp stainless steel that ensure no uncomfortable pulling on your pet's hair when you trim.
The scissors come in a pack of two. There's a long pair with smooth blades that you can use for trimming body fur. The smaller set with serrated blades is used for cutting the hair around your dog's face and paws. Both pairs of scissors have rounded tips for safety.
Pomeranian Grooming Video
If you want to see how the experts go about grooming a Pomeranian, check out this informative video.
Pomeranian Haircuts
Even though your Pomeranian is super fluffy and has a very thick coat, you should never shave your dog, even in hot weather. If you shave away the undercoat, it may never re-grow properly.
Also, the undercoat provides a valuable layer of insulation, keeping out the sun's UV rays and protecting your pup from the heat. If you remove this valuable defense, you risk leaving your dog vulnerable to heat stroke and sunburn in hot weather.
The only area of your pet that is beneficial to clip is the fluffy hair around his anus. Unfortunately, Pomeranians are somewhat prone to accumulating sticky bits of feces in this area that can become unhygienic if not removed.
Affiliate link disclosure: Links in this article marked with an * are affiliate links, and we may receive a small commission if you purchase these products. However, we selected them for inclusion independently, and all of the views expressed in this article are our own.