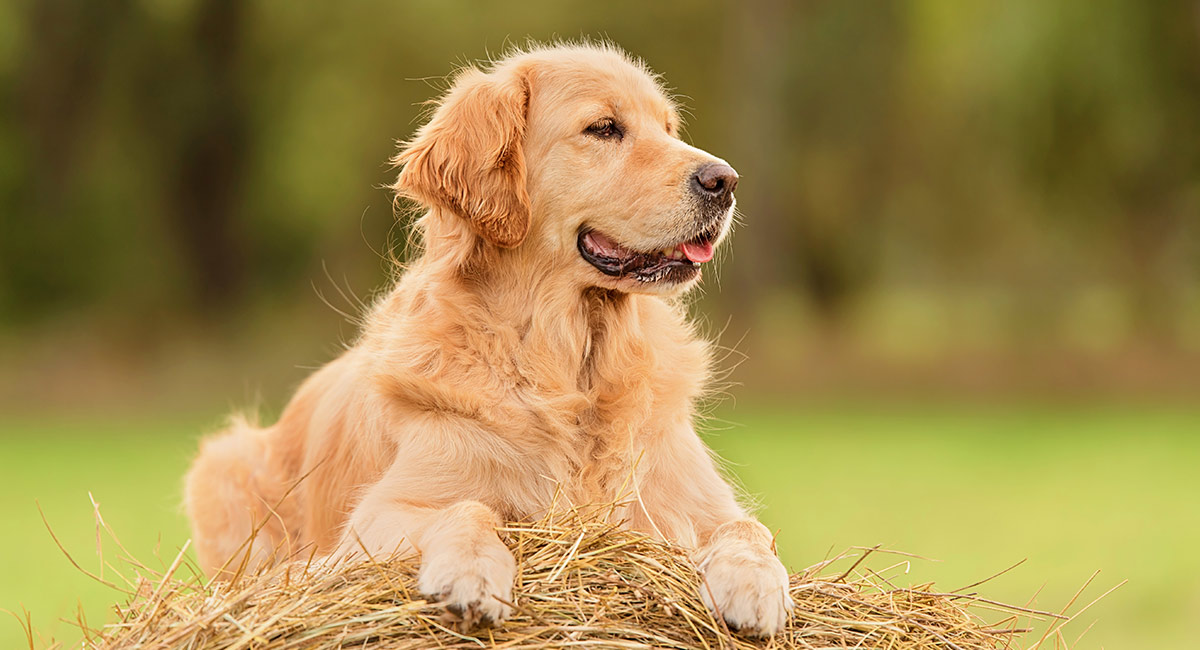 Pictures of Golden Retrievers are so much fun to look at. We've got pictures of Golden Retrievers from puppies to adults. Whether they're relaxing in the sun or playing in the dog park, Goldens love the luxury lifestyle! And we've got to photos to prove it! Today we share the best Golden Retriever pictures ever.
Contents
Golden Retrievers are incredibly popular dogs, and with very good reason. The breed is loving, loyal, kind and gentle. But they are also totally stunning. When you look at Golden Retriever photos, you can't help but smile. Pictures of Golden Retrievers are almost as head turning as the dogs themselves. Let's take a look at some of the very best pictures of Golden Retrievers, and find out what makes them so special.
Pictures of Golden Retriever Puppies
What could be cuter than pictures of baby Golden Retrievers? If you are on the fence about bringing home a Golden puppy, then you'd better look away now. These adorable Golden Retriever puppies' photos will end up making the decision for you!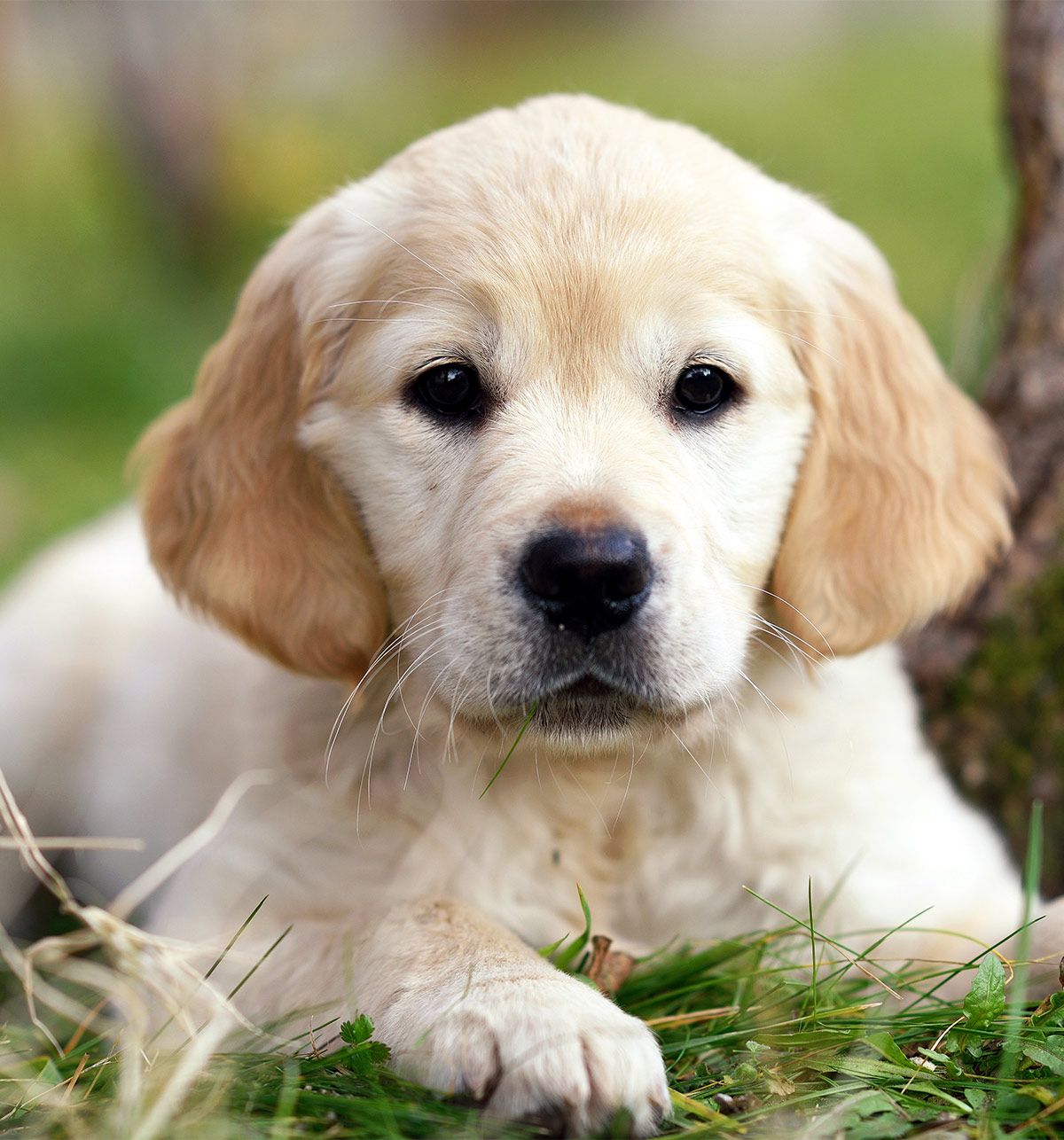 Cute Golden Retriever puppy pictures aren't hard to come by, but they are often blurry. Because Goldie pups are little packets of energy.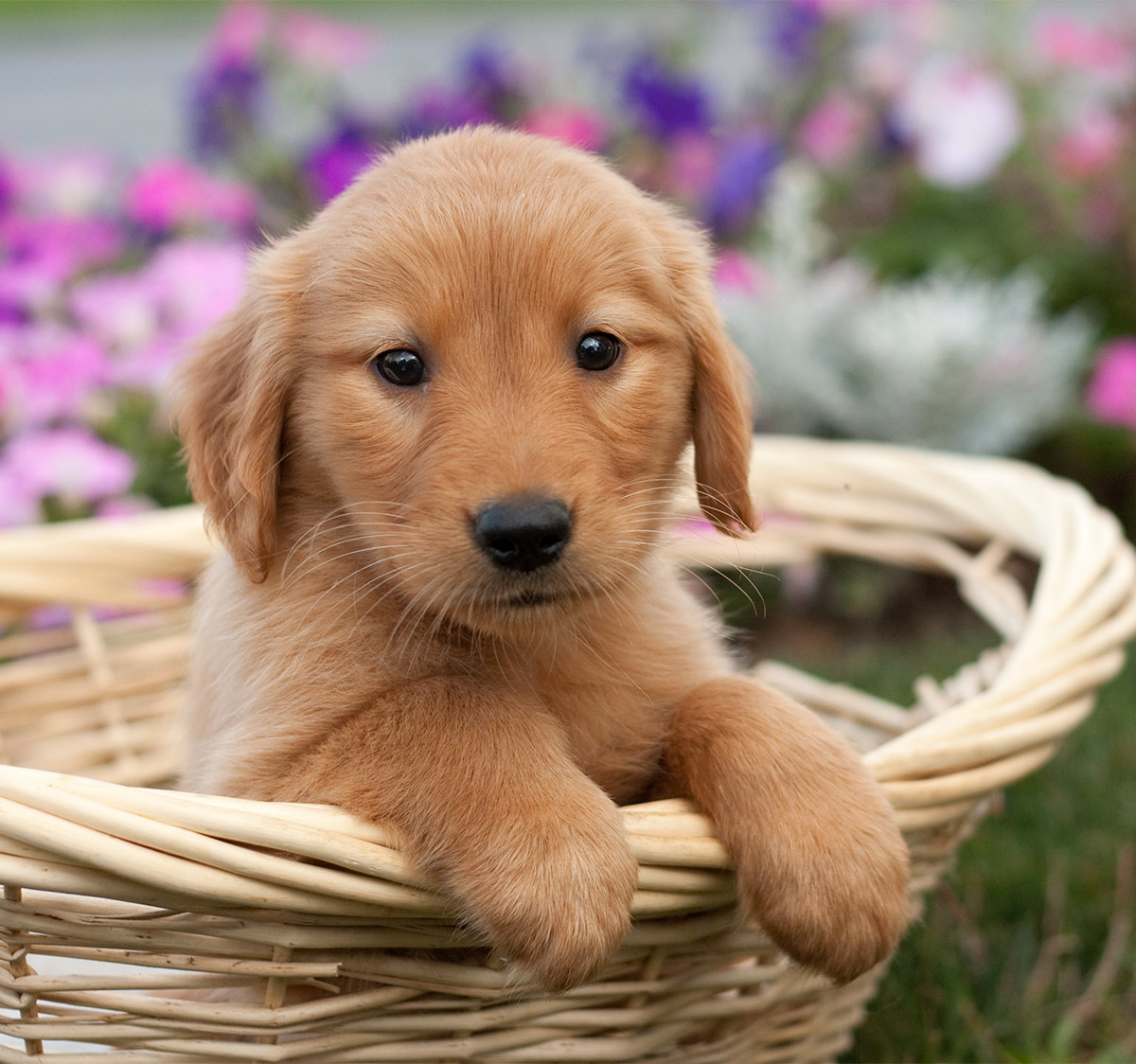 Fortunately, when they do slow down for a moment, they manage to get themselves into some seriously cute positions. As an originally working bred dog, the Golden Retriever has a few natural instincts that appear in puppyhood. Firstly, there is that all important 'retriever' part.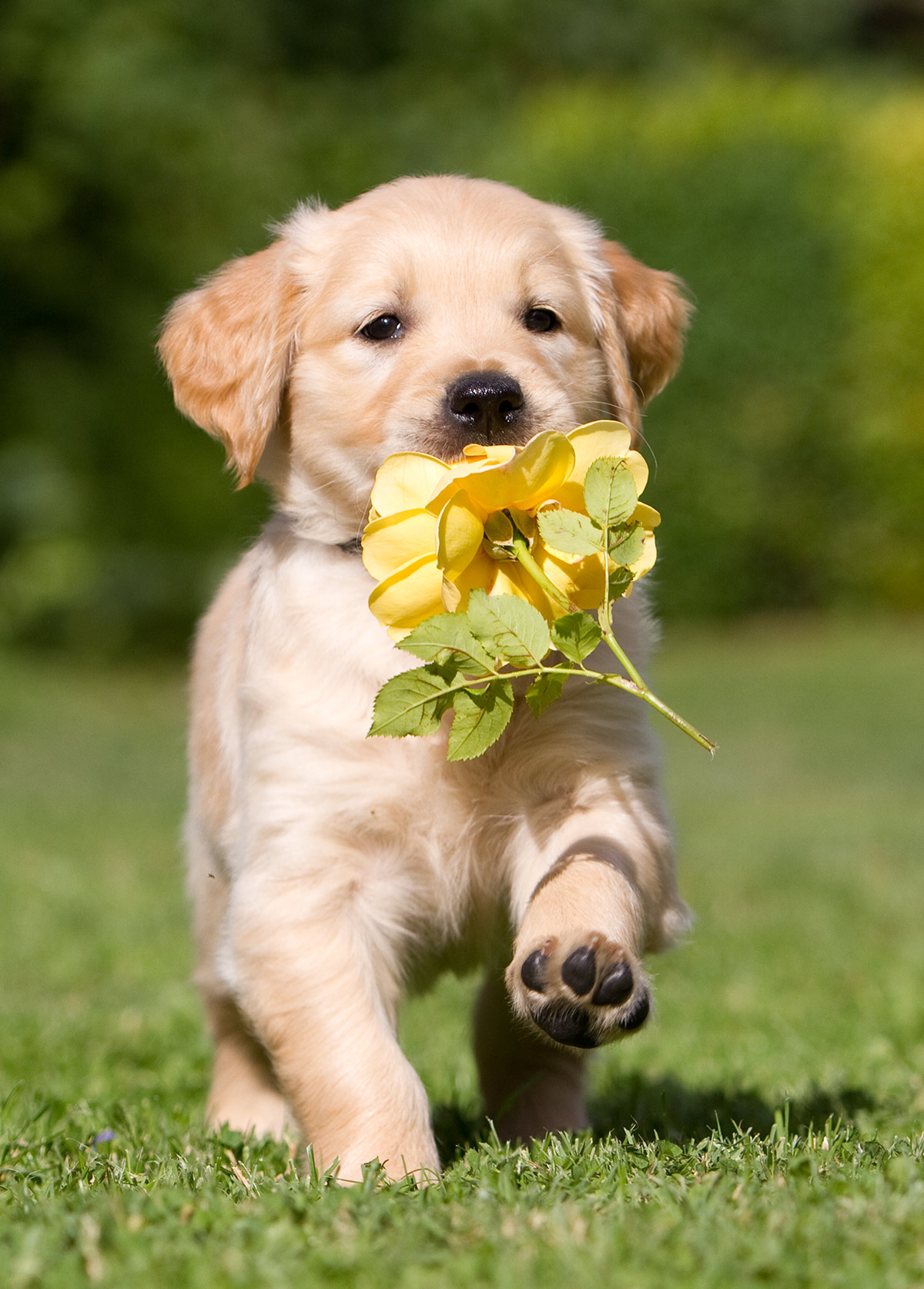 They just love to pick things up and carry them around. And they really don't care whether they are your things or there own. These inquisitive little cuties also love being outdoors. But that can manifest itself in helping out with the gardening – even if you don't want them too!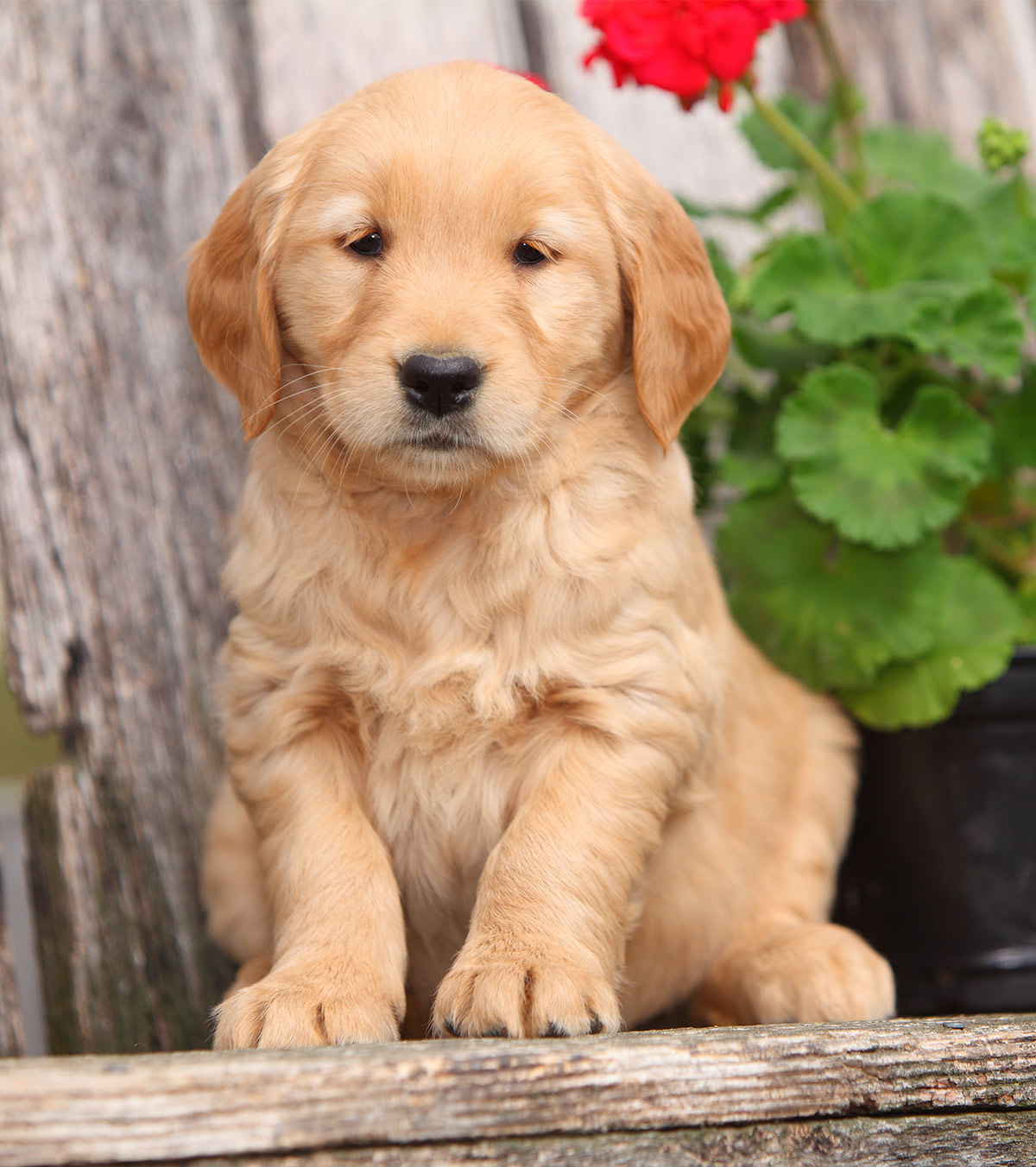 Older Puppy Pictures of Golden Retrievers
Bred for co-operation with their human partners, Golden Retrievers are very much family oriented. Wherever you go, they want to come too.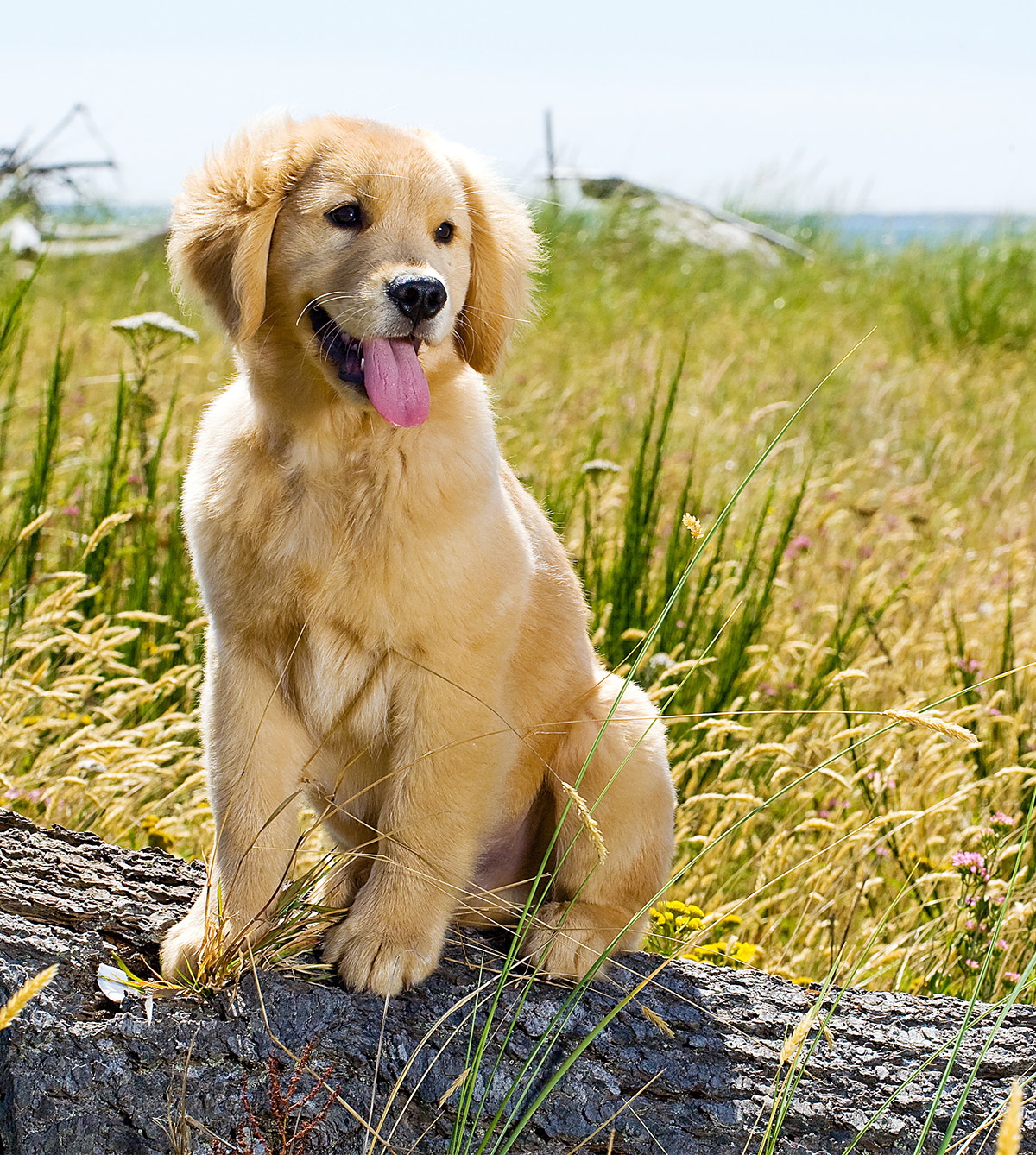 Which is fine when you're headed somewhere they can join in. But they might have a bit of a sulk if you need to leave them at home for half an hour when you pop to the shops.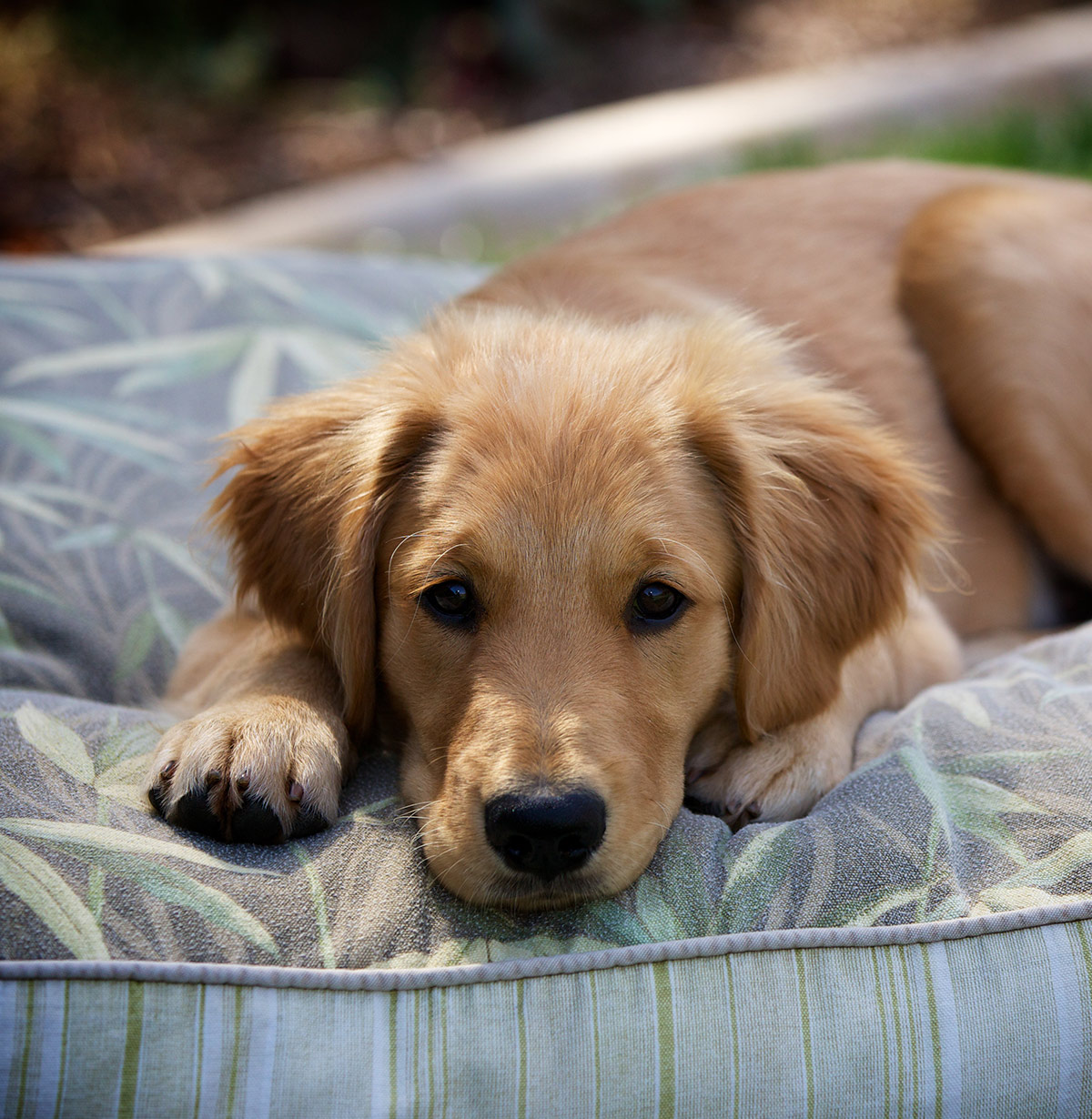 But don't worry, by building up time spent alone you'll soon be able to pop out occasionally without them batting an eyelid. Although it's important to take them with you as much as possible.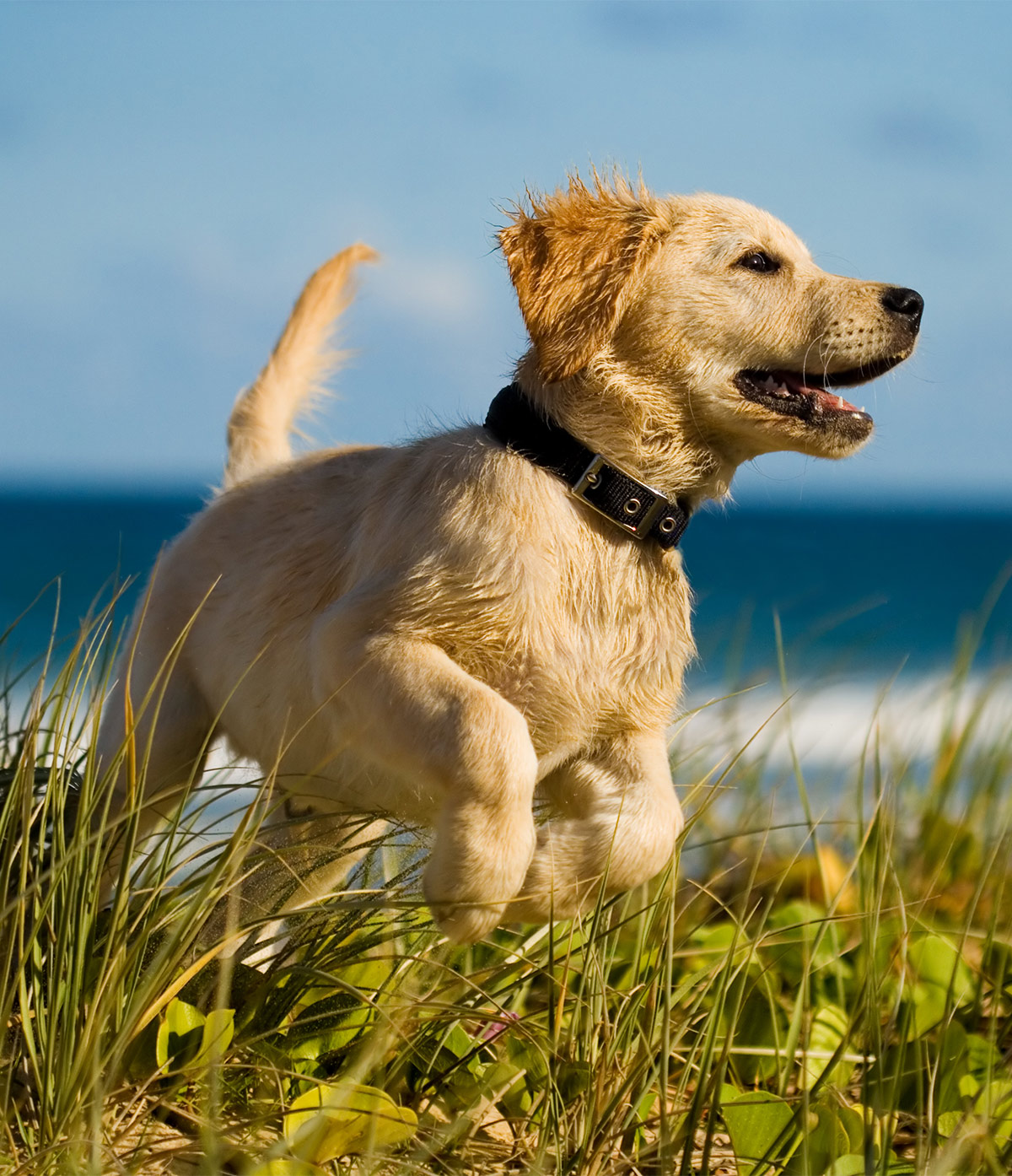 To help socialize them to anywhere and everywhere they might need to go when they grow up! They will also need plenty of playtime. Goldies aren't just lively pups, they are clever dogs too. And as such, they need training and activities to keep those big brains busy!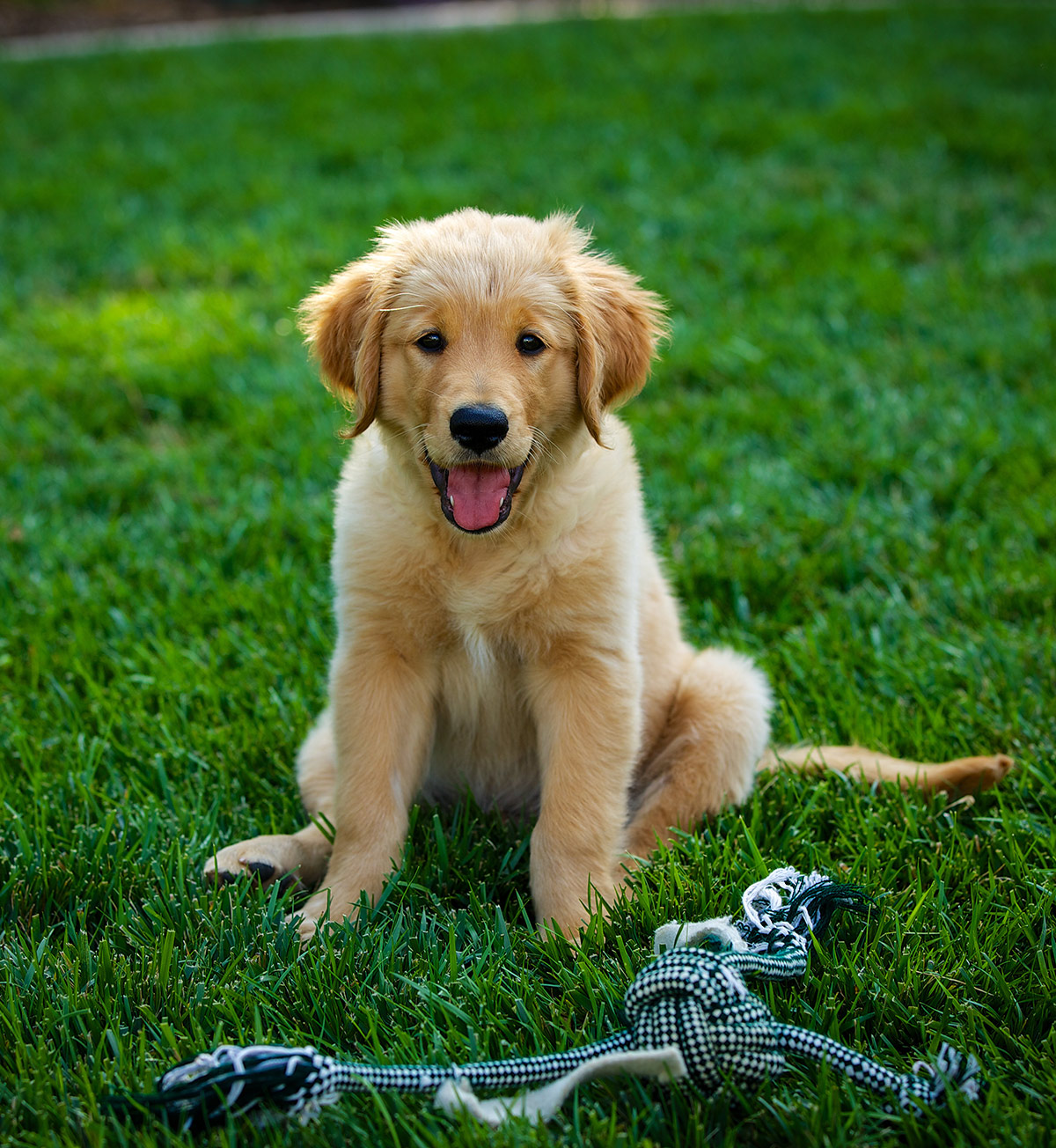 Tug games and fetch games are great fun for these intelligent retrievers.
1 year old Golden Retriever pictures can look a lot like adults, or still very puppyish.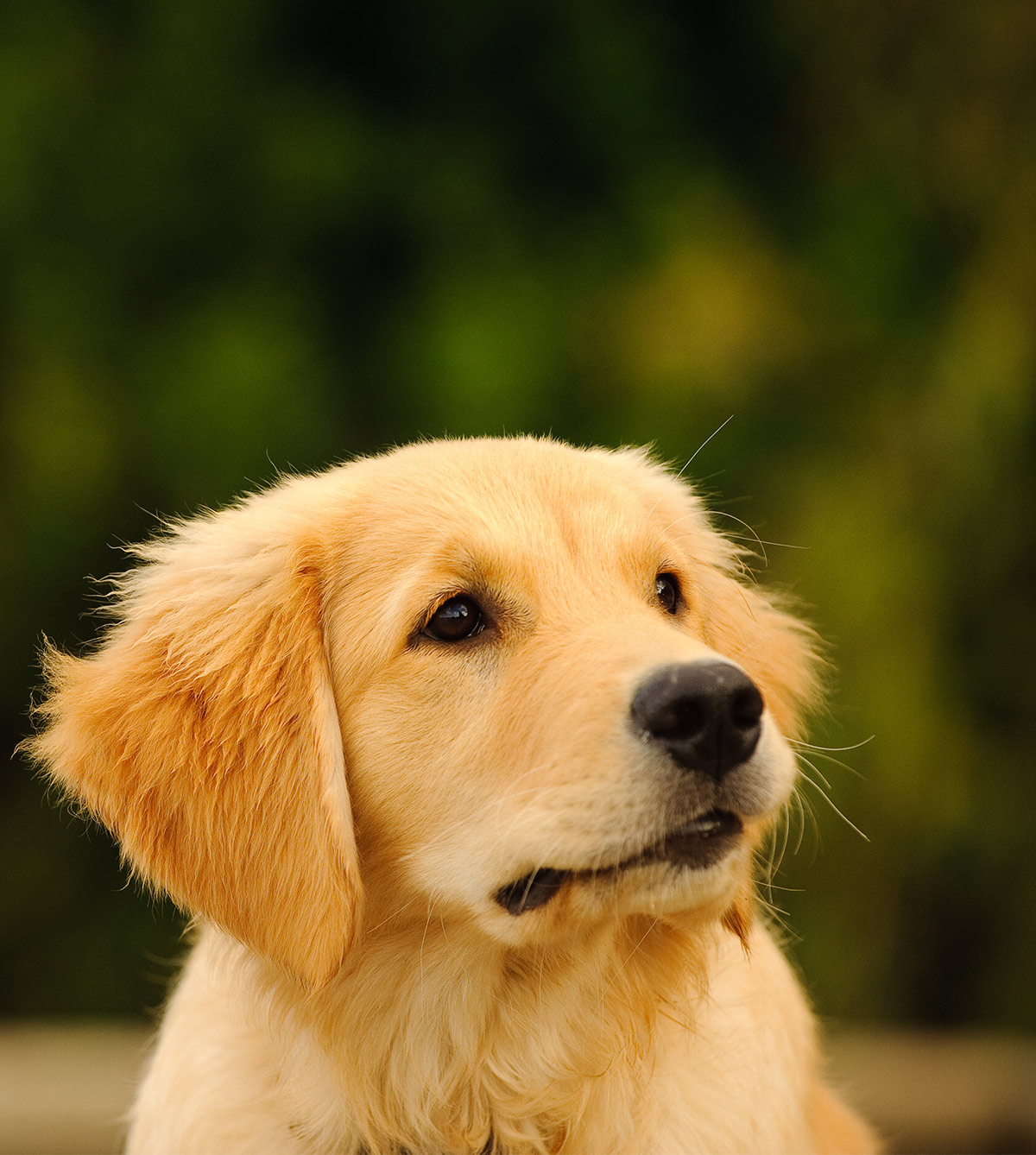 It's hard to place this little one on the age scale, but he's definitely coming out of puppyhood and approaching his adult size.
Golden Retriever Dog Pictures
Pictures of Golden Retrievers at different ages are all appealing. Although there is of course something insanely adorable about pupsters, the adults are equally amazing.
Because of the wonderful variation amongst this breed, we've grouped together Golden Retriever colors pictures for you.
Pictures of White Golden Retrievers
Not only is it fun to look at the range of Golden Retriever colors you can find, it can also be helpful if you are trying to think up Golden Retriever Names.
The very palest of Golden Retrievers can fairly be described as white. Did you know that most of the whitest Golden Retrievers are from what are referred to as show lines. Bred historically for the ring rather than the field, these Goldens are the exact same breed, but have a slightly different parentage.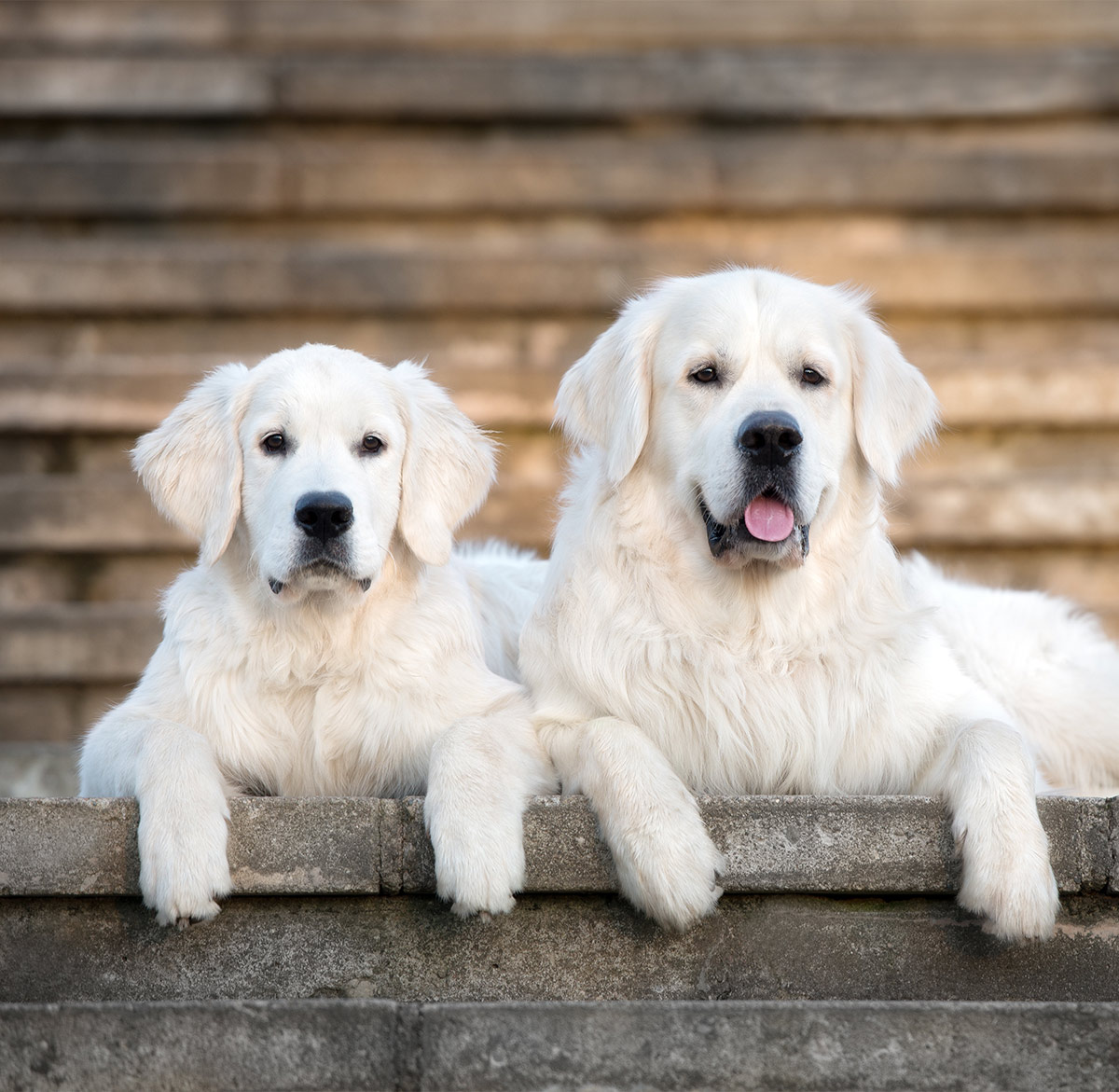 Their sleek coats look amazing in the snowy shade. And their coats can have no sign of color other than a little bit of a dark tone to their ears.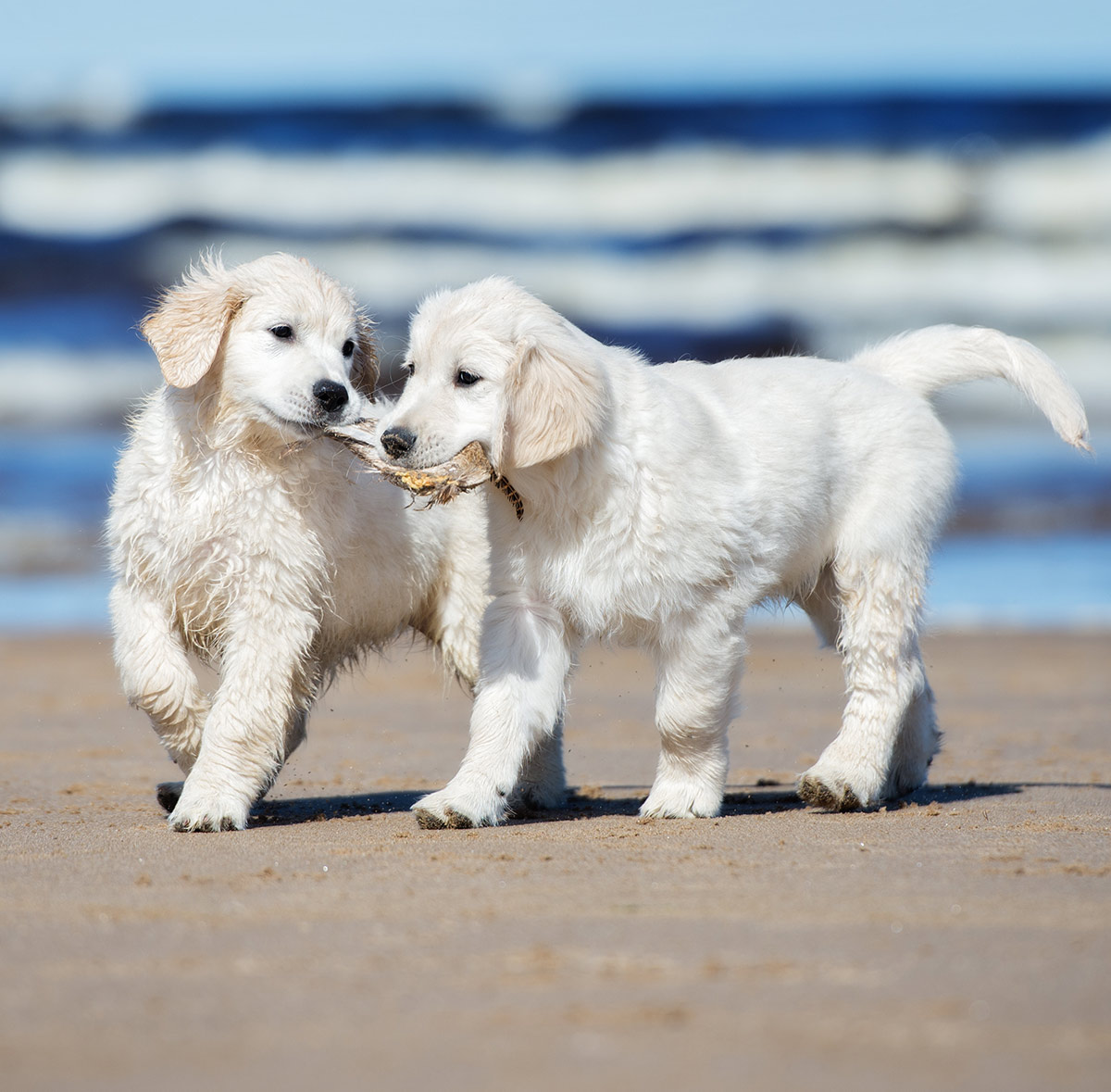 As the shade moves more into cream than white, they are still very pale dogs.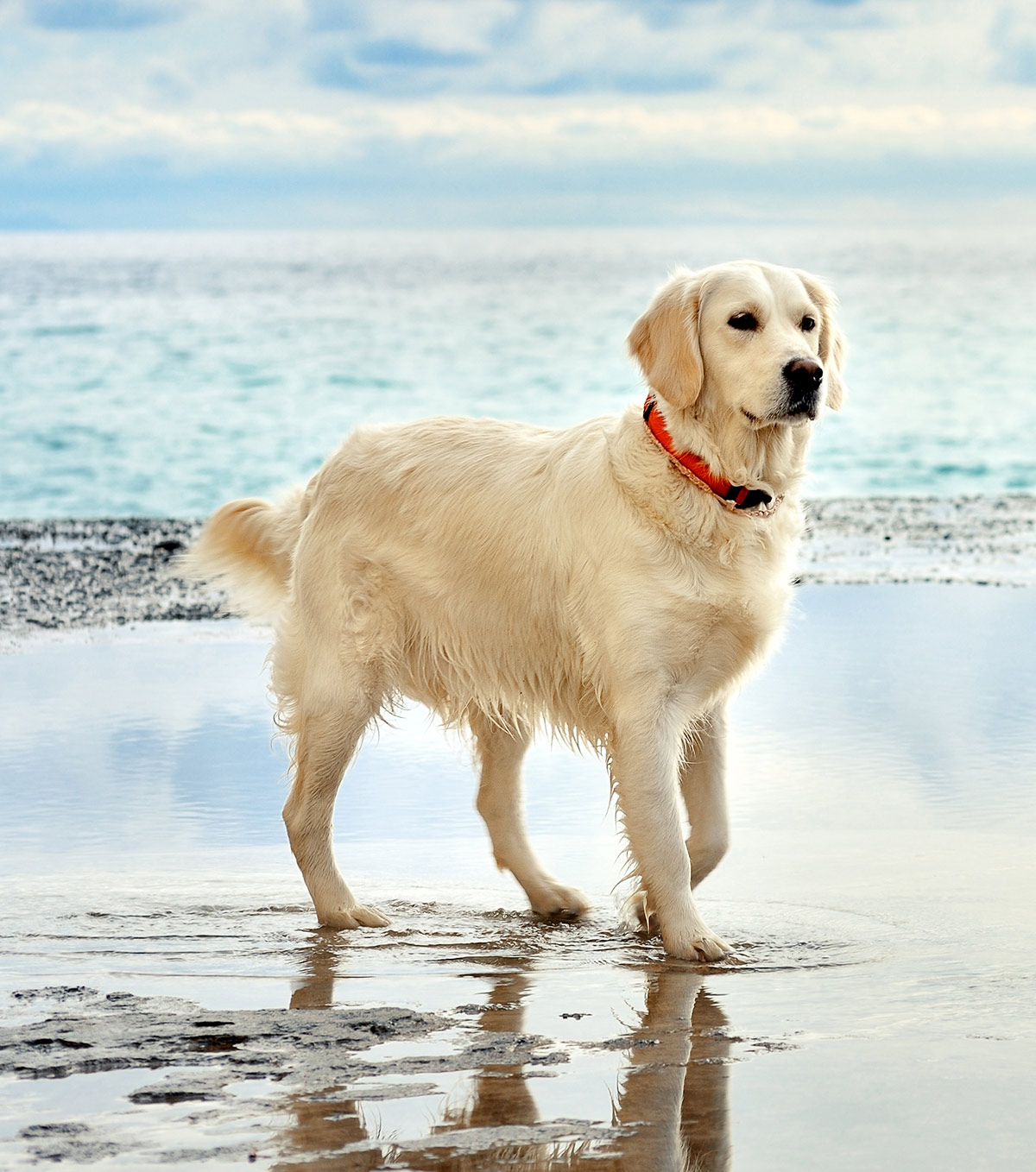 Like this chap with his favorite feline friend is demonstrating!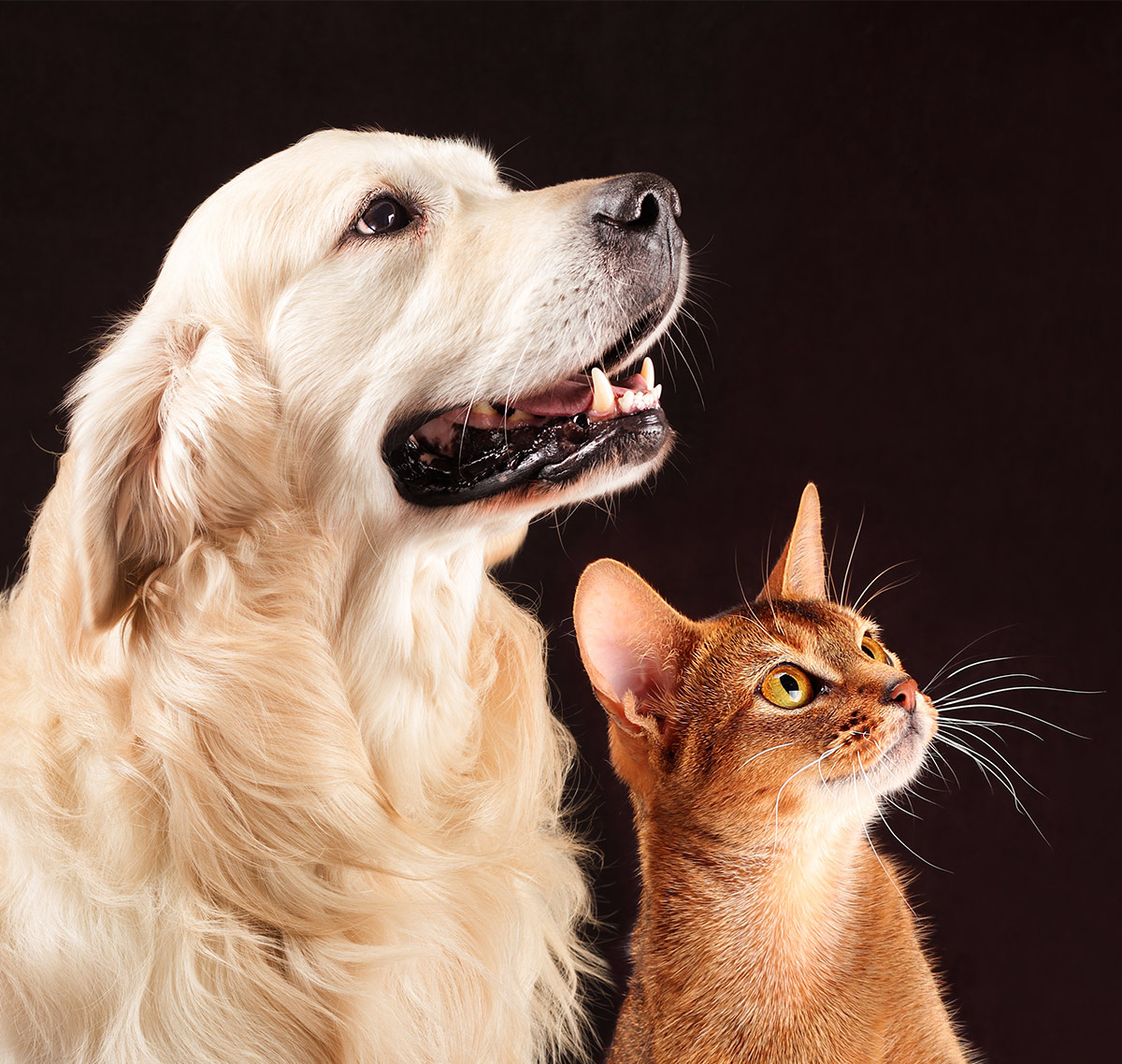 As the white moves to cream, we get closer to that namesake shade…
Pictures of Golden Retrievers
Of course Golden Retrievers are each technically golden, but we all know that some are closer to that shade than others.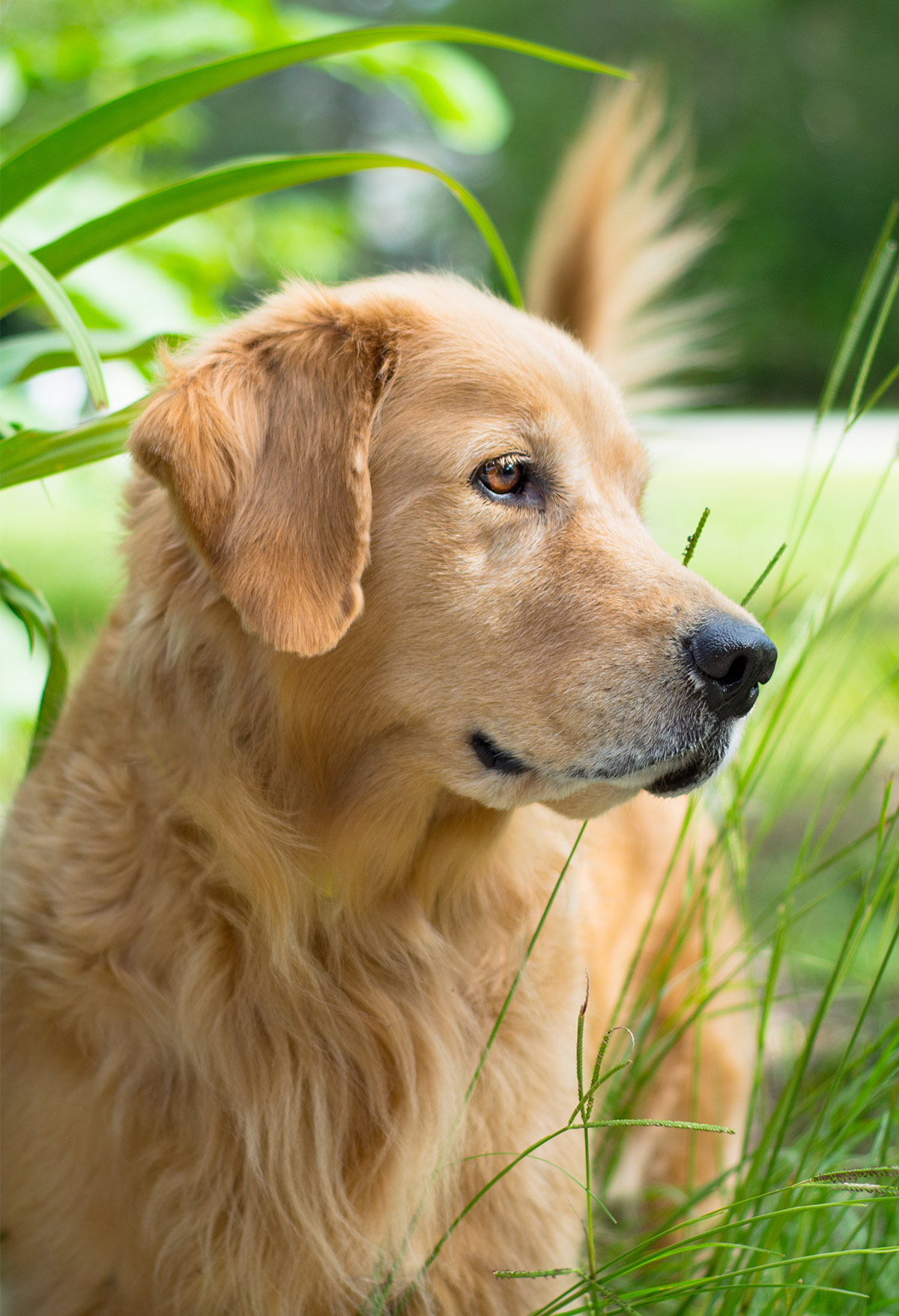 Although the Golden shade of coat can be similar in some of these dogs, they can have quite different face shapes and body structure. The dark rings around their eyes and the color of there noses can vary too. The dog above has a very dark nose, whereas the one below has a much paler tone.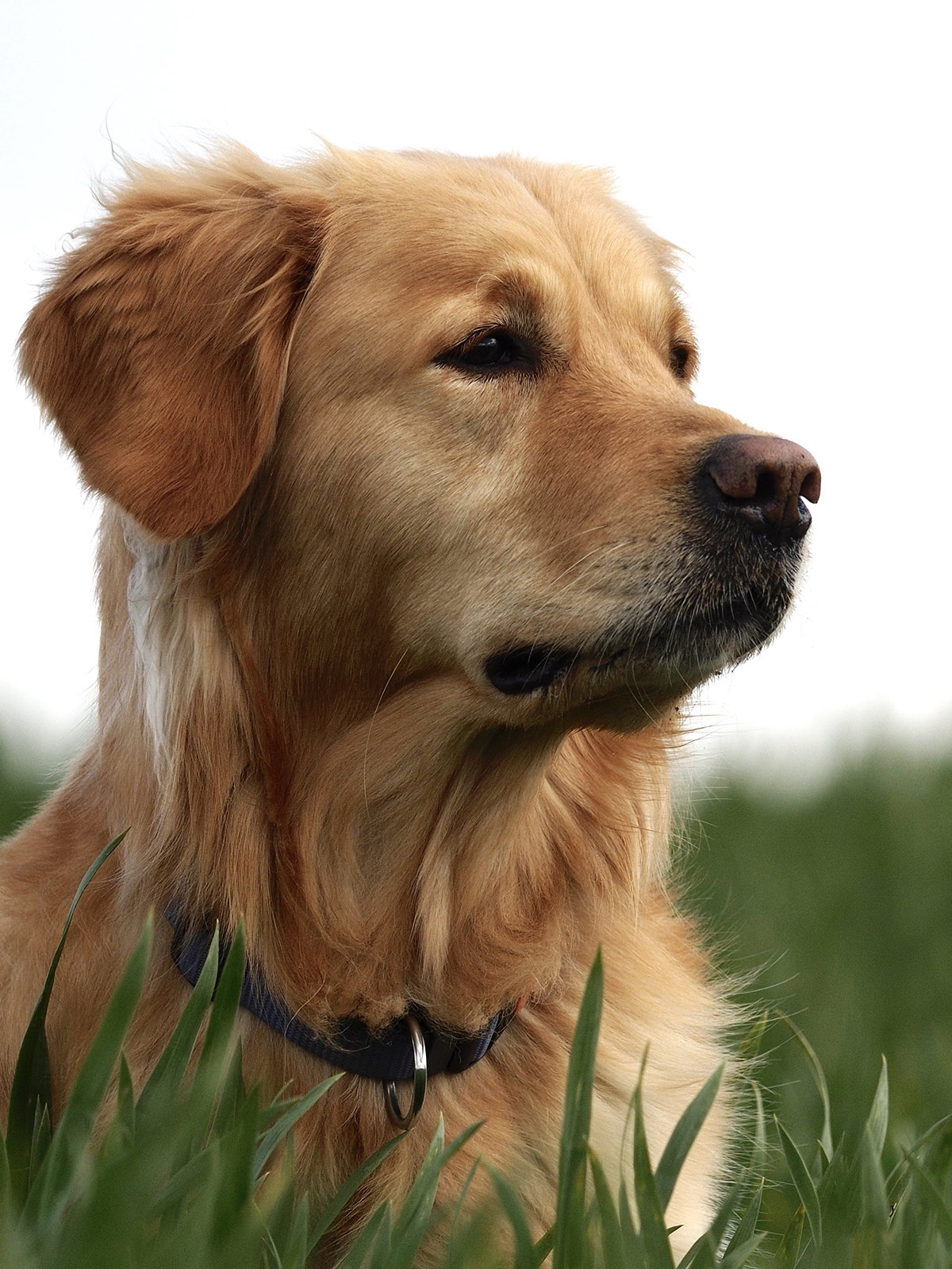 What is however universally true is that Golden Retrievers love spending time outdoors. Visits to the dog park or romps in the woods will never be the same again with this fabulous pooch.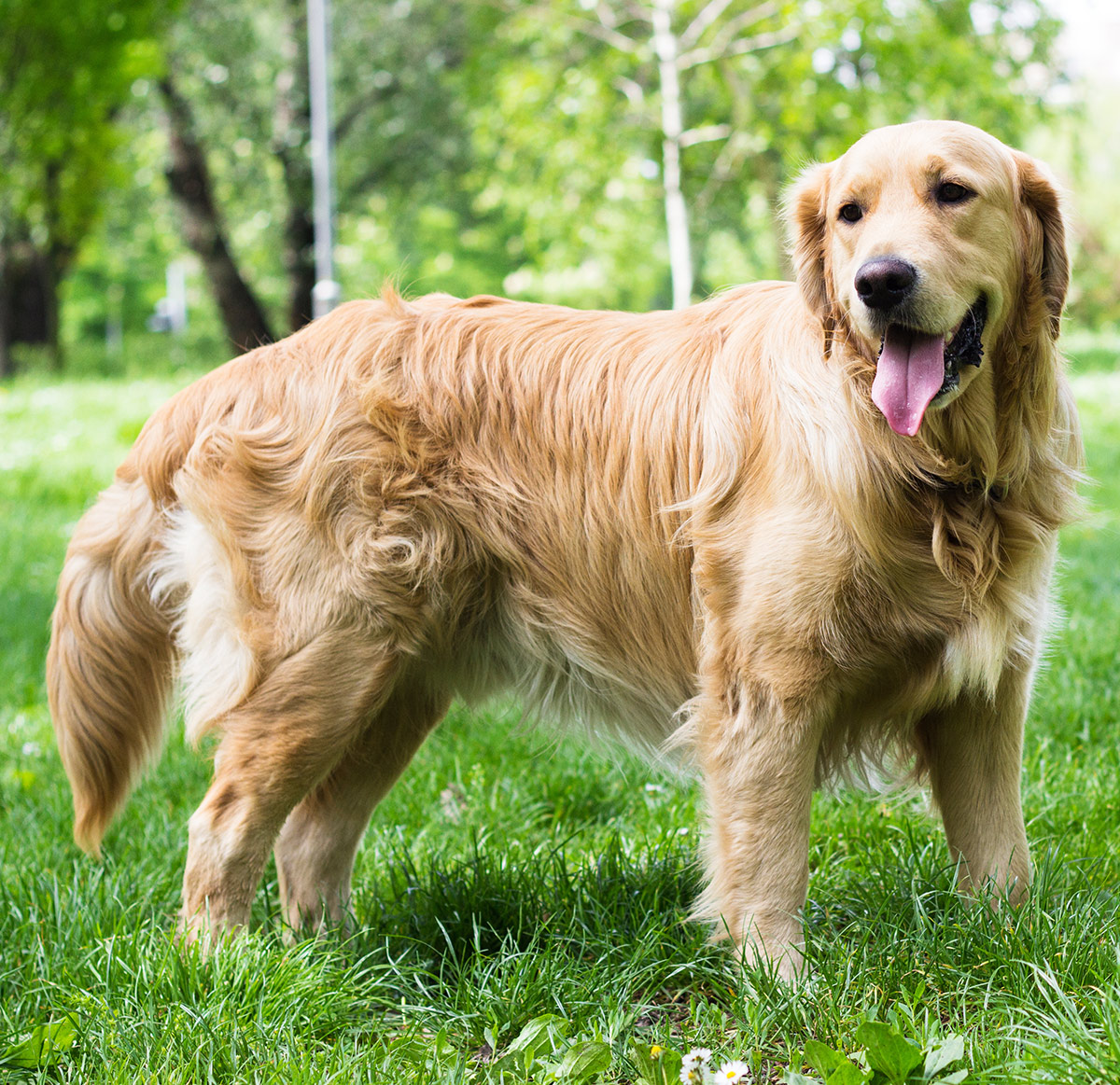 Glistening Goldens of any age are gorgeous, but there is something wonderful about pictures of Golden Retrievers in their twilight years. Older Golden Retrievers can require some additional care that their younger counterparts don't need. Such as softer orthopedic beds or ramps to climb in and out of the car.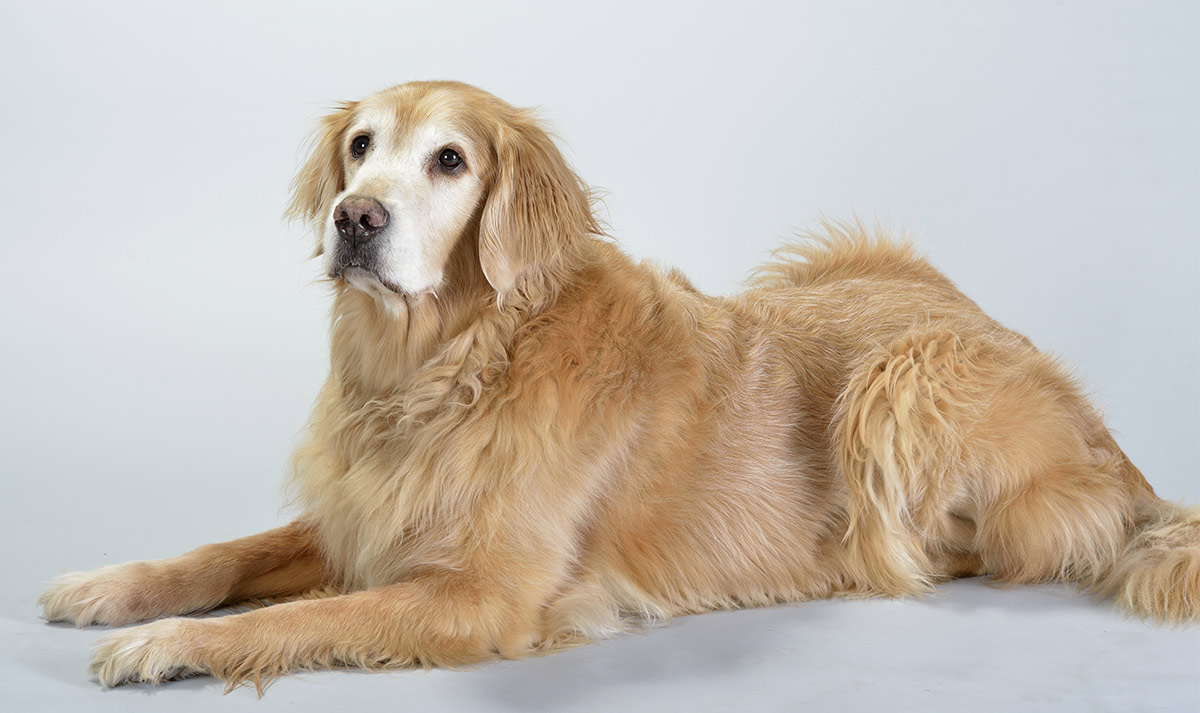 This beautiful older Golden Retriever has that adorable white face lightening which comes with age. But perhaps even more stunning is the dark shade that Golden Retrievers can be. Where gold goes so deep, it is almost red.
Dark Golden Retriever Pictures
Pictures of Golden Retrievers with nearly red fur can confuse some people who aren't as familiar with the breed, into thinking they are cross bred. But pedigree Golden Retrievers can indeed be this deep shade.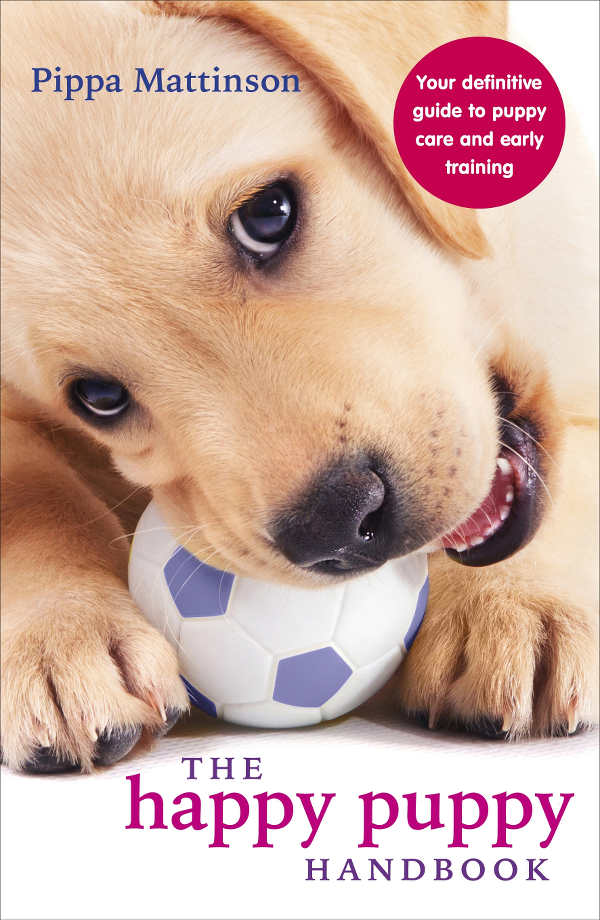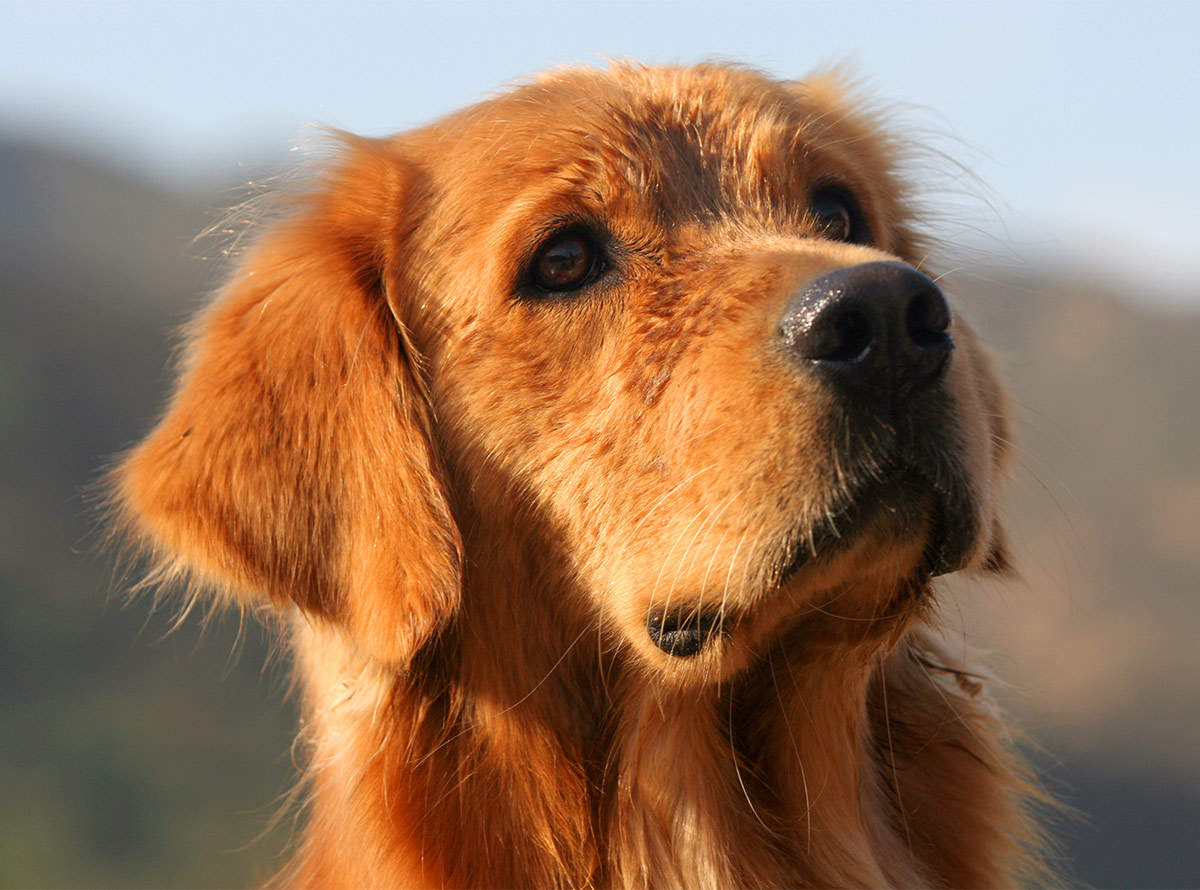 It's more commonly found in working bred Goldens, who are also often slimmer in body shape and have slightly narrower faces.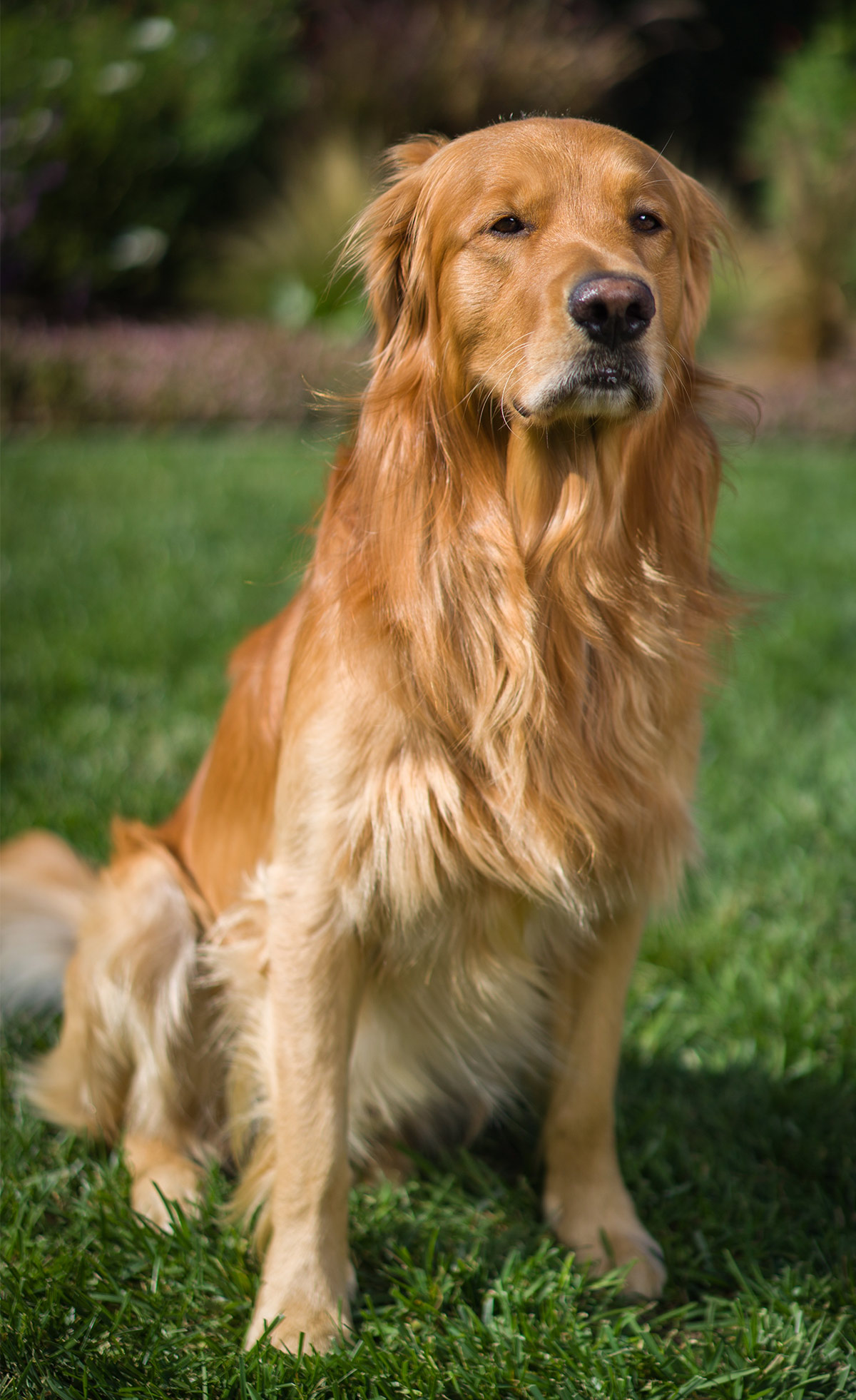 These gorgeous deep coats are the same texture as their whiter counterparts. They also need the same level of grooming, especially after a day playing around in the snow!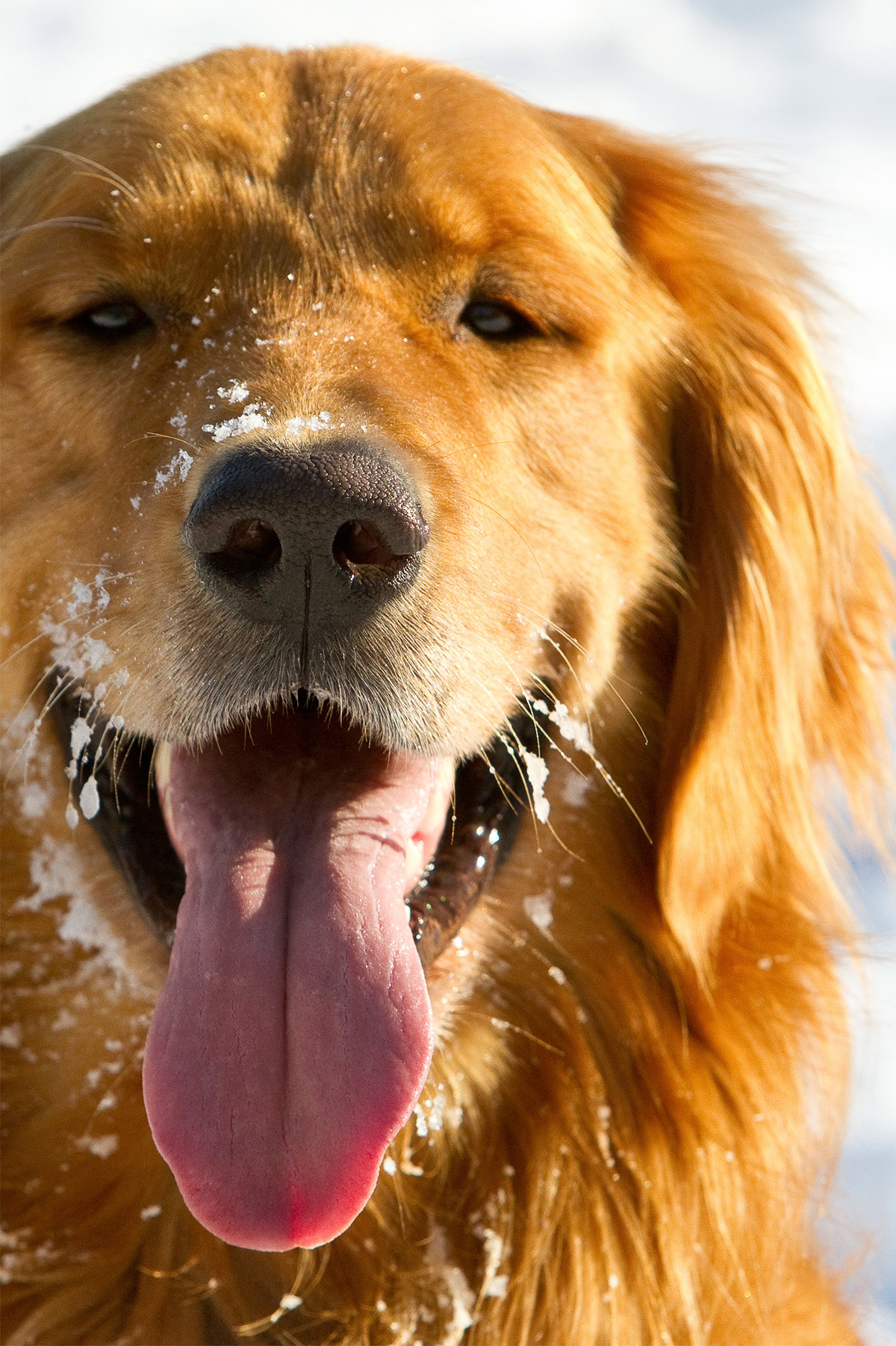 And with that thick furry rug to keep them warm, who can blame them for wanting to stay out even when it's cold!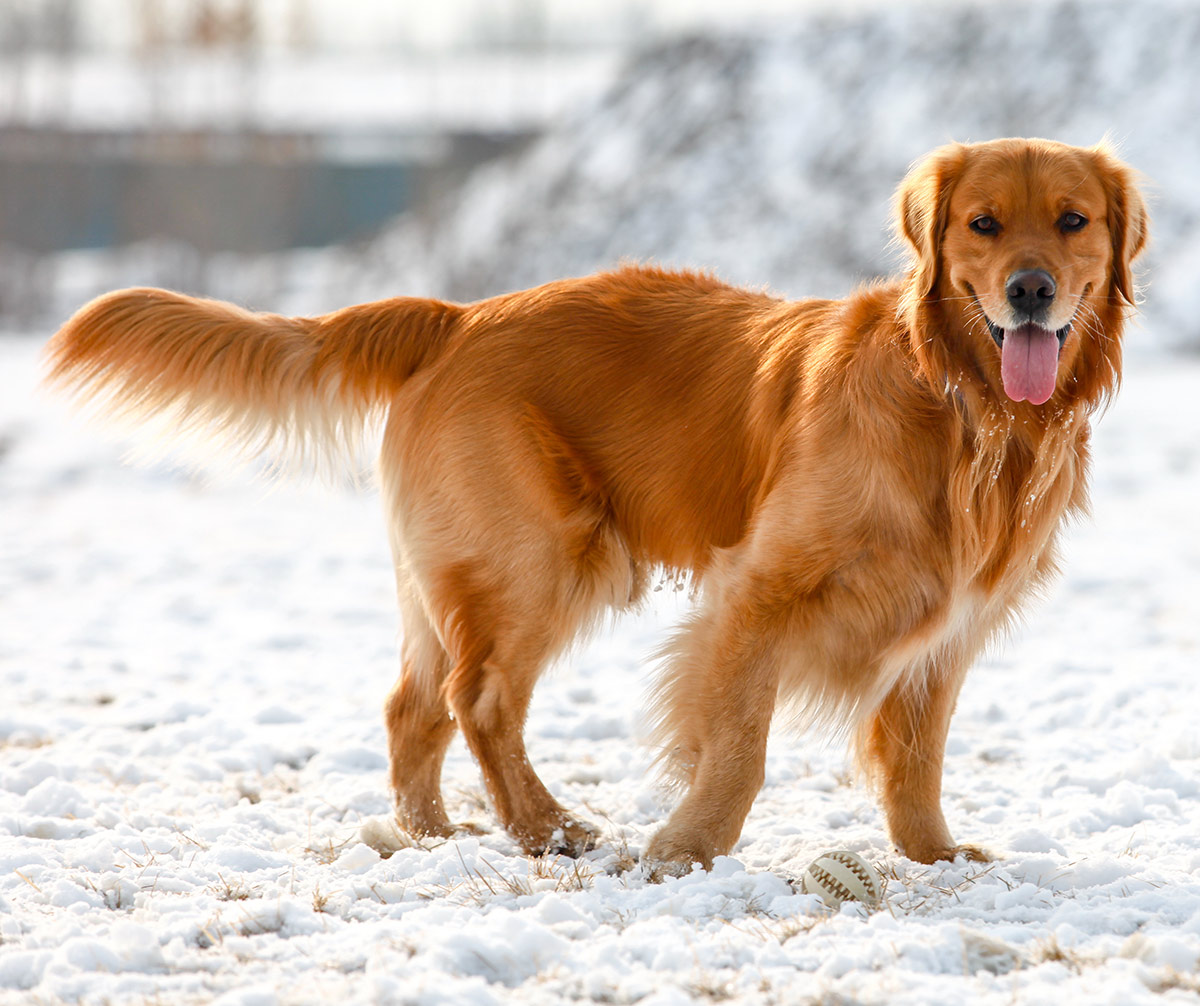 Black and White Golden Retriever Pictures
There are very few things in life that don't look better in black and white. Although we love showing off the beautiful range of colors in Golden Retriever pictures, we just wanted to leave you with something a bit arty.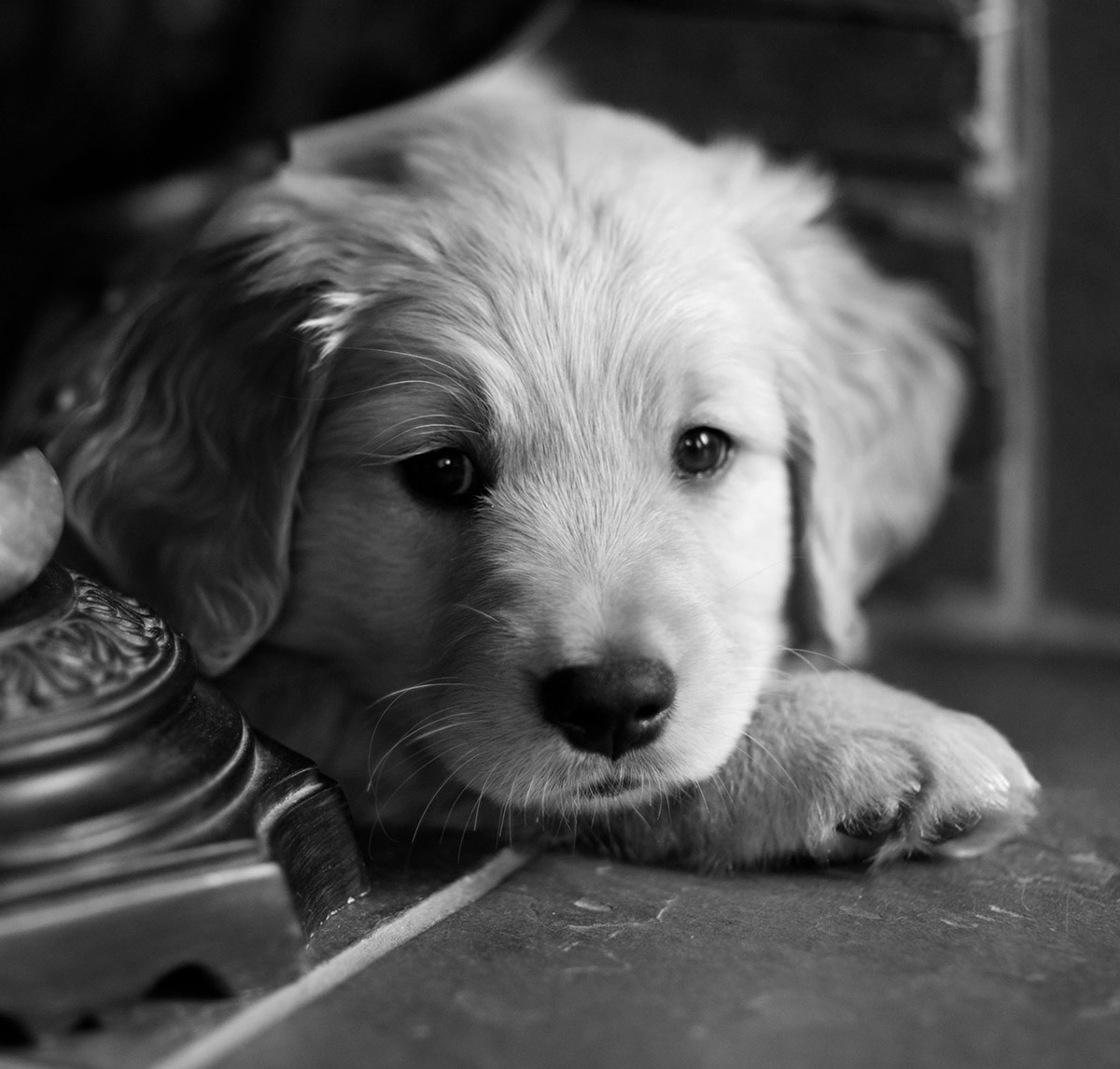 These black and white Golden retriever pictures can be quite solemn. Just look at this little pup's expression!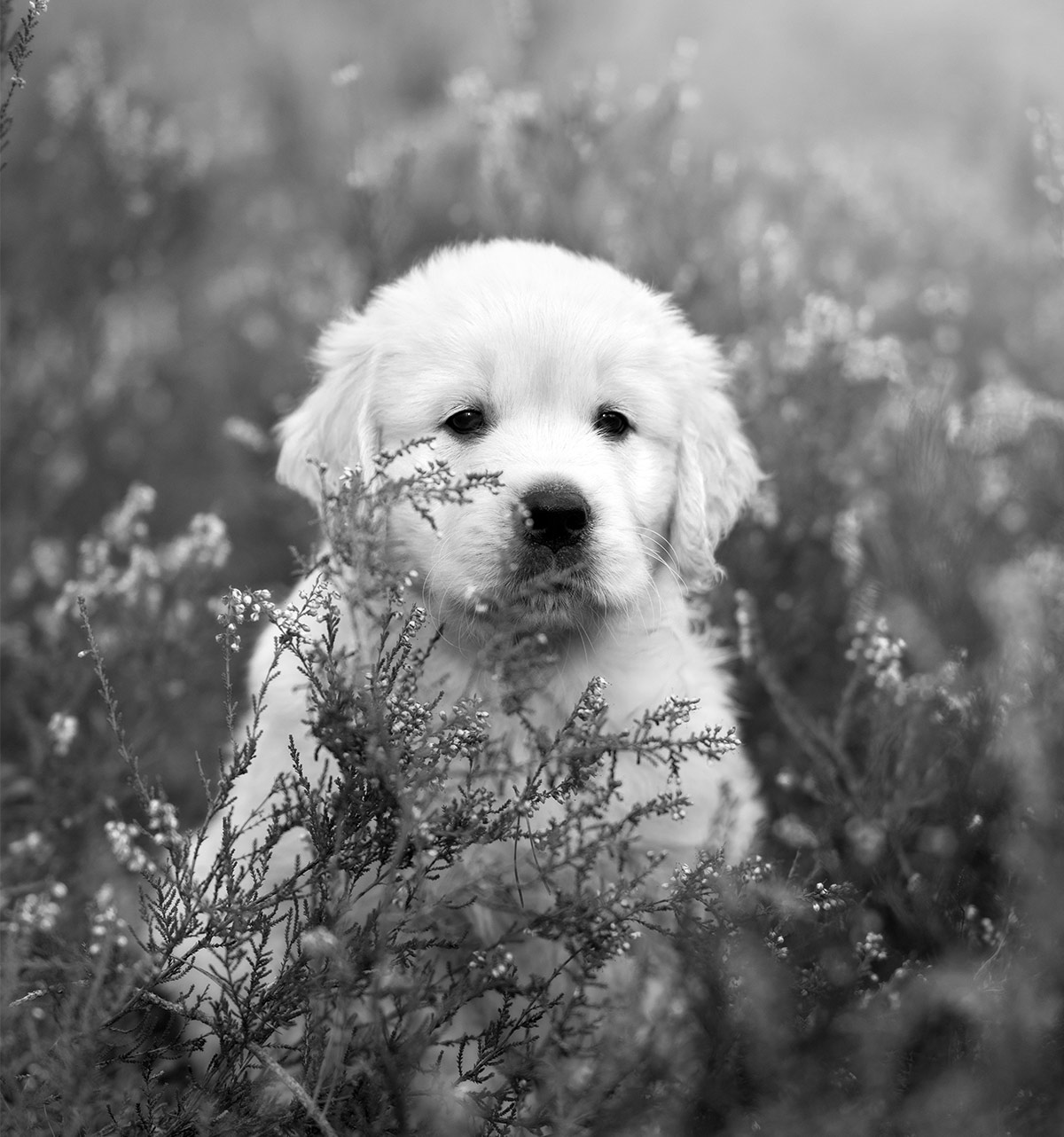 You can't beat a black and white photo if it's a mood piece you're after!
Best Golden Retriever Pictures
I hope you have loved looking at our gallery of the best Golden Retriever pictures as much as we have! These wonderful pups are truly brilliant pets, companions and friends. If you are thinking of bringing home a Golden Retriever, make sure you check out our complete breed guide here.