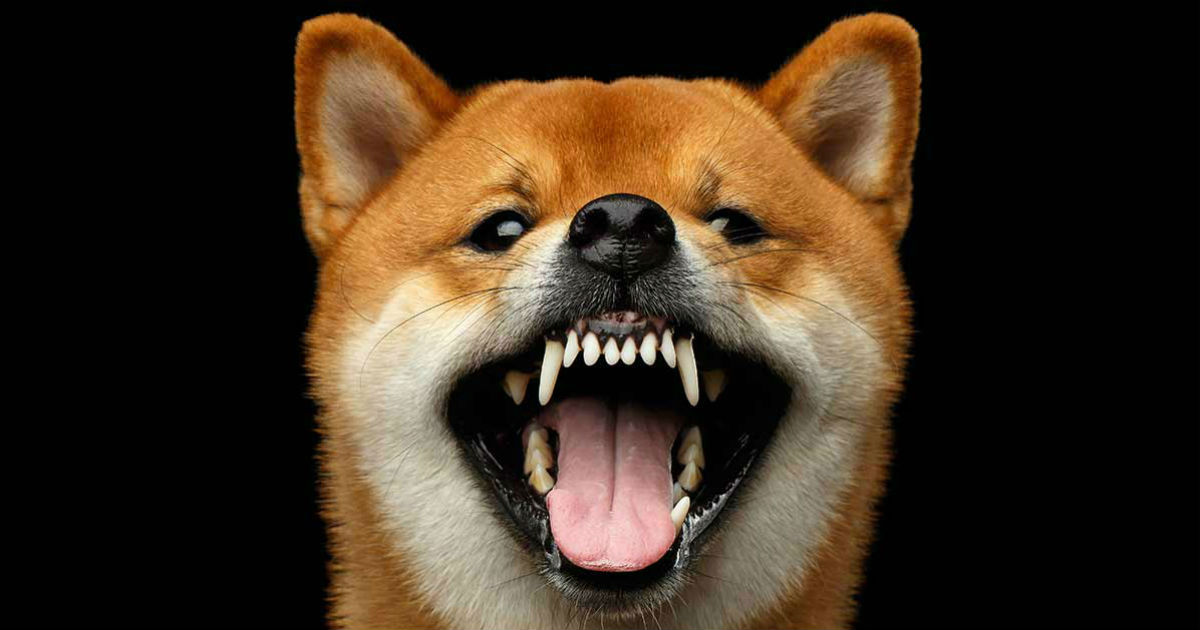 An overbite dog has top teeth that sit forward over the teeth on their bottom jaw. Some breeds are more likely to have an overbite than others, and it can vary a lot in severity. If you think your puppy has an overbite, we'll look at the signs, symptoms and issues that can come along with this condition. We'll share top tips for helping them to stay happy and comfortable, and let you know when to seek veterinary advice or treatment.
Contents
What Is an Overbite Dog ?
A dog with an overbite has misaligned teeth. If the top jaw is longer than the lower jaw, this misalignment is called an overbite. Dogs should not be bred for this trait, but it can occur in puppies. Whether it's a concern for your dog depends on the extent.
Healthy dogs' teeth fit together in what is called a scissors bite, where the upper incisors are located directly in front of the lower incisors.
When your dog's mouth is closed, all her teeth should fit together in a way that she can completely shut her mouth. The teeth are not so close they have contact, but not so far apart there are noticeable gaps. Unfortunately, misalignments can occur.
The Problem with Overbites in Dogs
Sometimes, this misalignment is minor and considered cosmetic. This means that the dog would not qualify as a show dog but should not suffer from any health problems due to the overbite.
However, you will need to allow a veterinarian to examine the dog to confirm whether this is the case. In fact, X-rays may be required to tell the true extent of the overbite, and if it's causing any problems. Unfortunately, in many cases, an overbite is a serious problem.
Overbite Dog Dental Problems
If a dog's teeth do not align well, it can be very difficult for her to eat. In addition, it can be painful for the dog to close her mouth and the lower teeth may even cause damage to her upper gums or soft upper mouth.
This can lead to bleeding, sores and infections. If serious damage is done, food could end up passing through the upper mouth and into the nasal cavity. This puts your dog at risk for additional infections and breathing problems.
An overbite or underbite can even create issues with a dog's posture and balance. Poor posture and balance can lead to further complications such as hip problems, ACL tears, arthritis and disc disease.
Dental Care for Overbite Dog Breeds
Overbites can also lead to other dental issues. For instance, dog breeds with an overbite have a higher risk of developing tartar and plaque.
A dog with an overbite may also have an increased risk of wear on her teeth and periodontal disease. The crowding and closeness of the teeth can make them hard to clean and trap food particles, which can lead to teeth and gum disease. Even if you regularly clean your dog's teeth at home, it can be challenging to avoid these issues for a dog with an overbite.
In fact, professional dental cleaning may be required to keep your dog's mouth healthy. In severe cases, when the upper and lower teeth, particularly the canines, are too close together due to the overbite, it can result in fractures or dental interlock.
Dental interlock is where the lower teeth become trapped by the upper teeth. The lower teeth would need to be removed to solve the problem.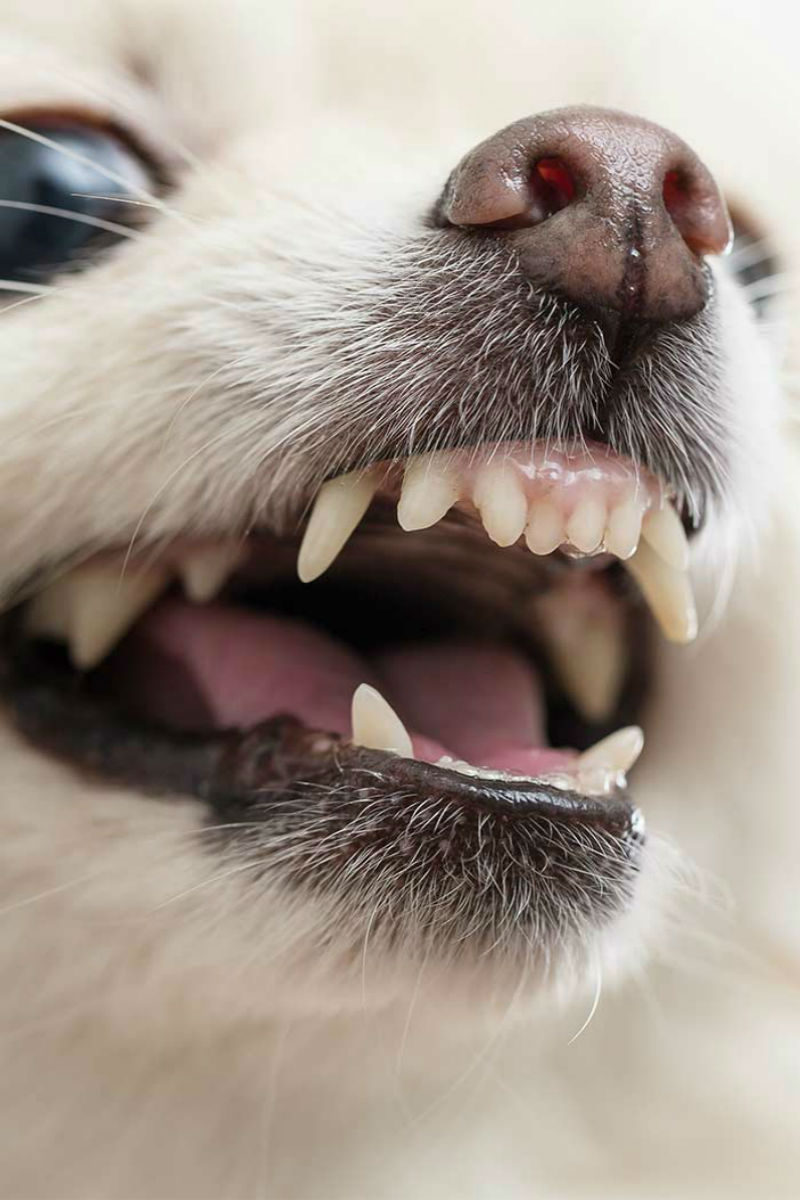 What Causes an Overbite for a Dog?
In most cases, when a dog is found to have an overbite, there is a hereditary history of the problem. This means that if either parent has an overbite, the puppies are more likely to have one as well. Be aware that this is not true in all cases. Even if both parents have perfect teeth, a puppy could still end up with an overbite. However, due to the role genetics play, some breeds are much more likely to suffer from overbites.
Dog Breeds with Overbites
There are three general head sizes for dog breeds. Dogs in the middle of the scale are the most likely to have a healthy, normal bite.
The Dolichocephalic Overbite Dog
Dogs with a long and narrow muzzle are more likely to have an upper jaw longer than a lower jaw, resulting in an overbite. Dogs with this face structure are referred to as dolichocephalic dog breeds. These breeds include:
Afghan hounds
Airedale terriers
Basset hounds
Bloodhounds
Borzois
Bull terriers
Cirneco dell' Etnas
Collies
Dachshunds
Doberman pinschers
German shepherds
Great Danes
Irish wolfhounds
Italian greyhounds
Manchester terriers
Peruvian hairless dogs (Xoloitzcuintli)
Poodles
Rough collies
Russian wolfhounds
Salukis
Scottish deerhounds
Scottish terriers
Shetland sheepdogs
Siberian huskies
Whippets
These dogs are not bred to have an overbite, which means there are plenty of dogs within these breeds that have perfectly formed teeth. However, due to their face shape, they are more likely to have the problem.
The Brachycephalic Overbite Dog
At the other end of the scale are dogs with a short face and wide muzzle. These dogs are more likely to have a lower jaw longer than an upper jaw, resulting in an underbite. Dogs with this face structure are referred to as brachycephalic dog breeds. These breeds include:
Boston terriers
Boxers
Bulldogs
Cavalier King Charles spaniels
Dogue De Bordeauxs
French bulldogs
Lhasa apsos
Maltese
Pekingese
Pugs
Shih tzus
Overbite vs Underbite
If you hear someone referring to an English bulldog overbite or a bulldog overbite, what they're talking about is an underbite. However, this is just as problematic and serious as a bulldog with an overbite would be.
An underbite is still a misalignment of the teeth, and it can cause the same problems. The only difference is that now the upper teeth are behind the lower teeth. In other words, the tongue and bottom of the mouth are more likely to suffer injury, not the top of the mouth.
Underbites are accepted in the breed standards of Brachycephalic dogs, making it a much more common problem, compared with overbite dog breeds. Not only that, Brachycephalic dogs have multiple other problems related to their shortened muzzle. Some of these issues are:
Brachycephalic Airway Syndrome
Eye problems
Lack of temperature control
Stenotic Nares
My Puppy Has an Overbite, What Should I Do?
If you look at the teeth of a very young dog, you will likely notice a puppy overbite. Puppies are naturally born with a longer upper jaw to allow them to nurse.
The lower jaw develops slower and typically goes through a growth spurt around the time a dog starts eating solid food. If you're checking out a dog older than four weeks and you still see an apparent overbite, there may be an issue.
First, you should ask to see the parents and ask about their history to understand if they currently have an overbite or had one in the past. You should also have the puppy checked out by a veterinarian as soon as possible. They will be able to tell you if it is a mild overbite or a serious cause for concern.
Puppy Overbite Correction
You may be wondering, "Will a puppy overbite correct itself?" In some cases, it will. Remember that most dogs are born with an overbite, which will go away by the time they are four to six weeks old.
Dogs that still have an overbite after six weeks of age may have it resolve naturally as they grow, particularly if it is a mild case. However, for dog overbite correction to be successful, it is critical to act while the puppy is still young.
If you wait too long, hoping for the problem to resolve itself, it may become too late to do anything to help your pet. Early identification and input from a veterinarian is critical. They can advise you about whether it is safe to wait or not.
Puppies Up to 16 Weeks
If a puppy's teeth come in too soon, she may lock the jaw growth in place, as the lower teeth will not be able to move forward with the upper teeth in the way.
If this is diagnosed early, before 16 weeks of age, a veterinarian may be able to remove the lower puppy canines to allow the lower jaw to continue growing. After the procedure, it's possible the overbite will resolve itself, although it is not a guarantee.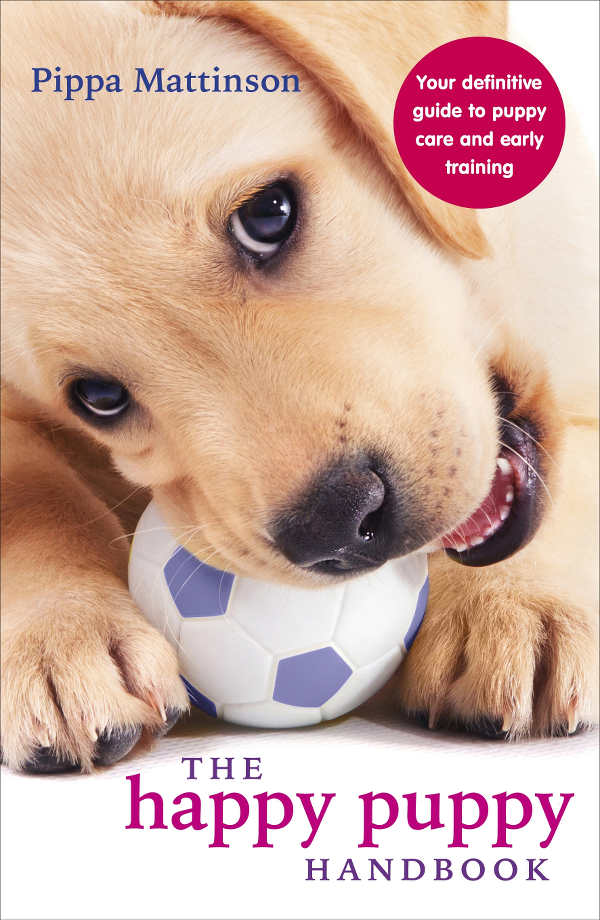 Puppies 16 Weeks to Seven Months
If a dog has overbite issues between 16 weeks and seven months of age, a possible solution is dog braces. Another possibility is a special plate fitted in the mouth, like a human dental retainer.
In severe cases, tooth shortening may be required. At this age, it is unlikely to resolve the issue, but it can stop the bottom teeth from hitting and injuring the roof of the dog's mouth.
Puppies Older Than Seven Months
After seven months of age, treatment becomes increasingly difficult. Braces and tooth shortening may still be possible, although they become more difficult for the dog to undergo.
In some cases, the only option at this point is removing teeth. If you realize your dog may have an issue, please talk to your veterinarian about how to help a dog with an overbite.
Helping Your Overbite Dog To Live Happily
If a puppy is older than four weeks and appears to have an overbite, it is cause for concern. You should carefully consider buying a breed that is well-known for suffering from teeth misalignment, even without a visible overbite.
Brachycephalic dogs have been bred to have an underbite. Many of them will have it, even if it's not yet apparent. The only way to avoid the health problems associated with overbites and underbites is to avoid breeds of dogs known for them.
Although a medium-sized muzzle could develop an overbite, it is much less common, particularly with healthy parents. Please think long and hard before you buy a dog with an overbite or an underbite, particularly a brachycephalic dog. These dogs must endure many discomfort, and their lives are unfortunately filled with many health problems. Life for them may be an uphill struggle.
Learn More About Health Problems In Dogs
References