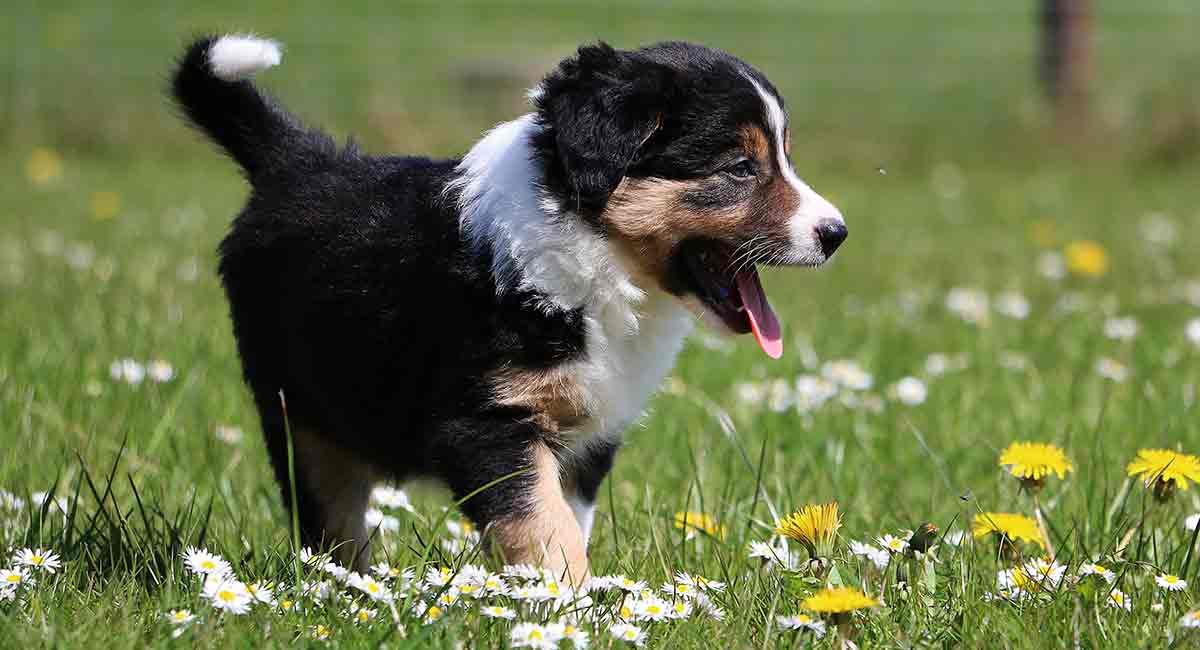 The mini Bernese Mountain Dog is a smaller version of the powerful, loyal giant Bernese Mountain Dog breed. Bred by mixing the Bernese with a smaller breed, introducing the dwarfism gene or using small purebred parents, these dogs are under 25 inches tall and less than 80lbs as adults. They are intended to pack the friendly, affectionate, loyal character into a more manageable body. But today I'll share whether it's possible to create a truly micro Bernese Mountain Dog puppy. To turn an active, intelligent, giant dog breed into the perfect lapdog or apartment pet.
Contents
The full size Bernese Mountain Dog is known for its affectionate nature and its silky, tri-colored coat. One factor that may stop some from adopting one of these loyal companions into their home, however, is their size. Standing at around 26 inches at the shoulder, these are very large dogs. As a result, we have seen a spike in interest in miniaturising this beautiful big breed.
Standard vs Mini Bernese Mountain Dogs
Bernese Mountain dogs are huge. These dogs are capable of pulling many times their weight, thanks to their strong hind quarters. Despite its great strength, as a pet, these dogs are happy living inside as long as they get a good half hour of exercise, at least, each day.
The standard sized giant Bernese Mountain Dog can be 27.5 inches tall and weigh up to 115lbs. Which is a lot to handle, even with their lovely temperament. To be a mini version the adult dog must not reach either this weight or height.
Breeding a Mini Bernese Mountain Dog Breed
There are generally three ways in which miniaturization is achieved in the dog breeding world. Crossbreeding, dwarfism and breeding from runts.
Mini Bernese Mountain Dog Mixes
In the case of the Bernese Mountain Dog, miniaturization is usually achieved through crossing it with a smaller dog that looks similar.
While there are many breeds that can be crossed to produce a smaller dog which resembles a Bernese, two breeds that are commonly crossed with the Bernese Mountain Dog are the Cavalier King Charles and the miniature or toy Poodle.
Cavalier King Charles can have very similar coloring to the Bernese Mountain Dog. Thus, the resulting cross breed looks very much like the full-size dog, only smaller.
Bernedoodle Dogs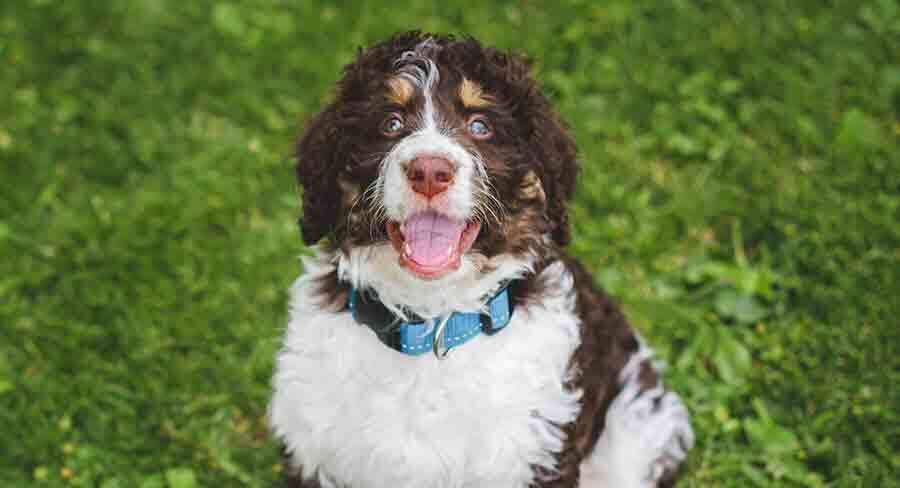 When the Bernese Mountain Dog is crossed with a miniature Poodle, the result is a Bernedoodle. This has become quite a popular crossbreed.
Because the Bernese Mountain Dog and the Poodle share many personality traits in common, the temperament of these dogs is fairly predictable. And much like that of the Bernese Mountain Dog as we discussed above.
Dwarf Mini Bernese Mountain Dog Breeds
Miniaturization of dogs can also be a result of dwarfism, scientifically known as chondrodysplasia. Dwarfism is in fact a genetic condition which not only results in shortened limbs, but other health problems as well.
There are different syndromes associated with dwarfism. The degree to which the bones are affected can vary, as can the other health problems associated with dwarfism.
Some of these other health issues include eyesight problems, joint problems, and mobility issues. Dwarfism can also result from a tumour or other problems with the pituitary gland. In these cases of dwarfism, growth can be stunted while the dog remains in proportion. This tends to affect some breeds, such as the German Shepherd, more than others.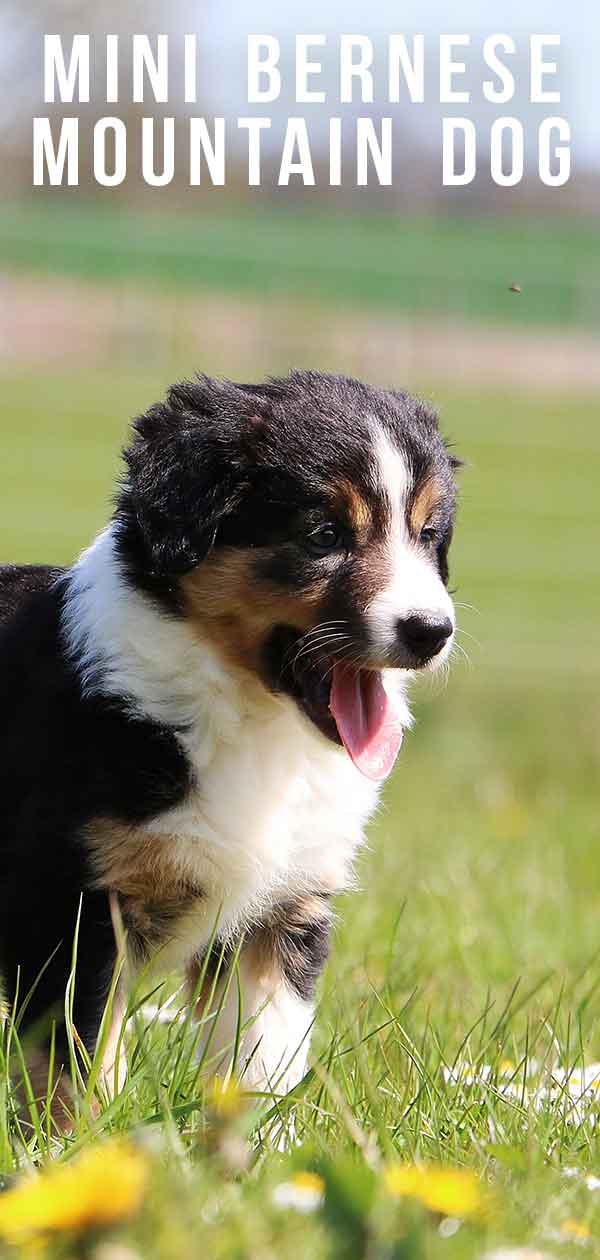 Dwarf Bernese Mountain Dog Health Issues
Dogs that are born with dwarfism still deserve to live out full and enriching lives. They can do so with proper care. However, the ethics of deliberately breeding dogs with the condition is seriously questionable. Especially when the dog stands to suffer as a result.
A responsible owner of a dog with such a condition also takes on any extra costs. The owner may need to make adjustments to their living arrangements to accommodate a dog with special health care needs.
Thankfully, the Bernese Mountain Dog is not known to be prone to dwarfism. It is rare to see dogs suffering with dwarfism being sold as micro or toy Bernese.
Purebred Mini Dogs
Just like us, dogs come in all shapes and sizes, even within their breed types. Therefore, even though Bernese Mountain Dogs are big dogs, some will just be smaller.
A smaller mother and father can be bred to produce smaller offspring. A responsible breeder would be careful to ensure that the smaller stature of the parents is not the result of a genetic condition or malnourishment.
Naturally small dogs will not suffer the same health issues that dogs with dwarfism experience. But they will also not be hugely different in size to an average dog of that breed. It cannot be expected that these dogs will be toy size for example.
Breeding From Runts
The biggest difference comes when breeding with smaller dogs that were in fact runts of the litter. These much smaller than average puppies will often grow into smaller adult dogs, but come with numerous health issues as a result of their stunted growth.
These dogs are often reffered to as teacup Bernese Mountain Dogs. But they are still not even near to teacup sized as adults, and have a full sized load of health issues too!
Mini Bernese Mountain Dog Puppies
Most mini Bernese Mountain dog puppies are actually a Bernese Mountain Dog mix. As such, there will be a level of unpredictability in the outcome of such a combination. This is especially true in first generation crosses. Make sure you know what the Bernese Mountain Dog has been crossed with, and do some research into the two original breeds. This will give you some insight into what to expect as far as size, personality and potential health problems.