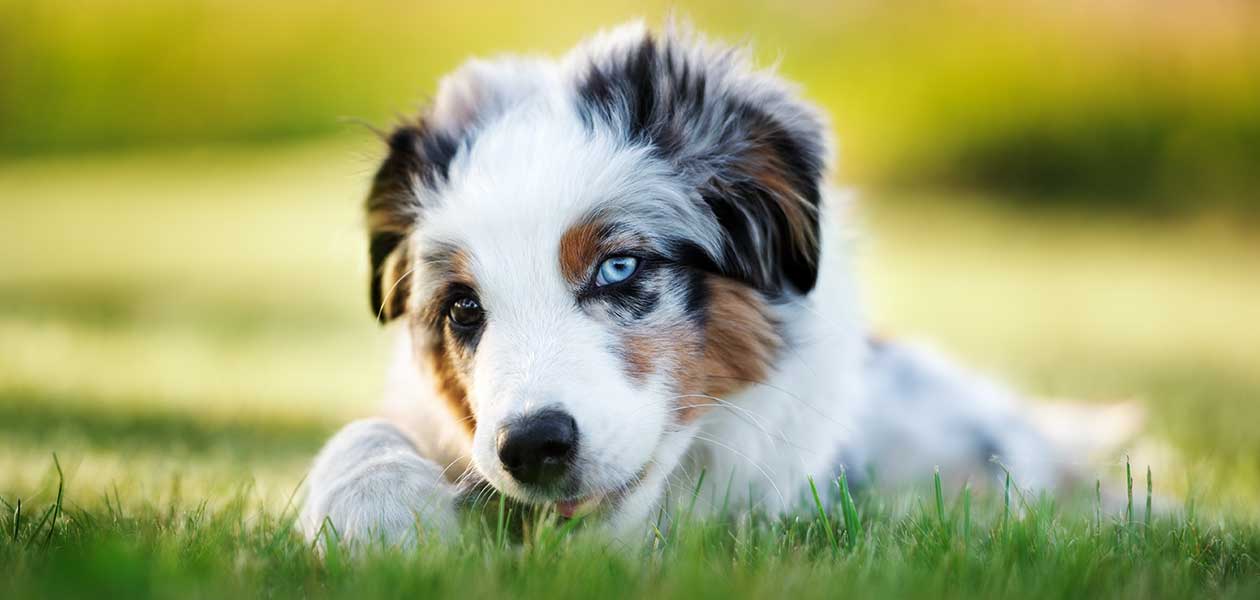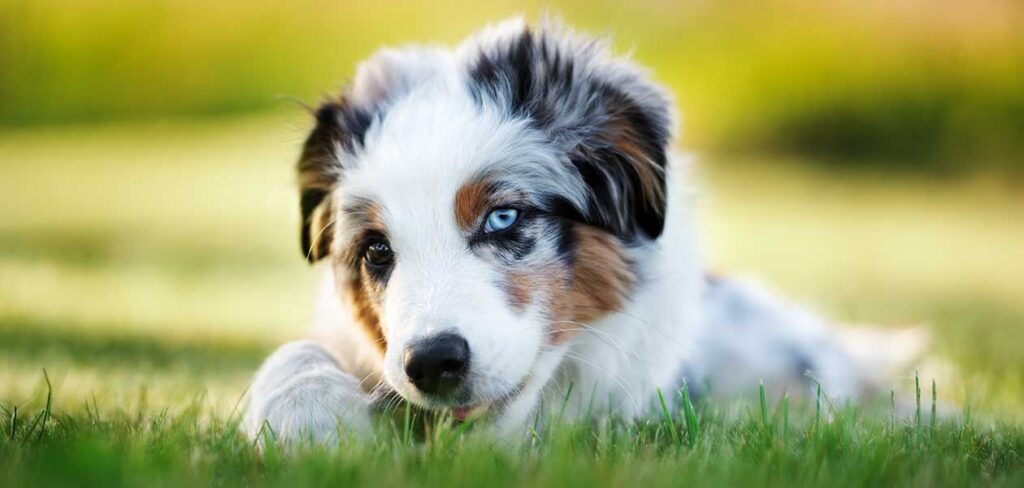 The Mini American Shepherd breed weighs up to 40 pounds, and can grow to be anywhere from 13 to 18 inches tall.
It was originally bred as a smaller version of the standard Australian Shepherd. But, it is now accepted as its own breed.
Just like the Australian Shepherd, the Miniature American Shepherd is a loyal, active farm dog.
It has a natural instinct for herding.
Read on to find out if this breed will suit your family.
What's In This Guide
Mini American Shepherd FAQs
Here are some of our readers' most frequently asked questions about the mini American Shepherd. If you can think of any others, leave them in the comments for us to answer.
Let's start with some quick stats.
Breed At A Glance
Popularity: 34 out of 196 AKC breeds
Purpose: Herding dog
Weight: 20 to 40 pounds
Temperament: Intelligent, active, loyal.
Take a look at everything we will cover in this guide next.
Mini American Shepherd Breed Review: Contents
Click the links to jump to a section. Or, read on to learn about where this breed comes from.
History and Original Purpose
Compared to some, the Mini American Shepherd is quite a recent dog breed.
Their history began in 1960s America, where the smallest Australian Shepherds were bred over generations to achieve a mini version of the breed.
The aim was to produce a small Australian Shepherd, but keep the same appearance and temperament.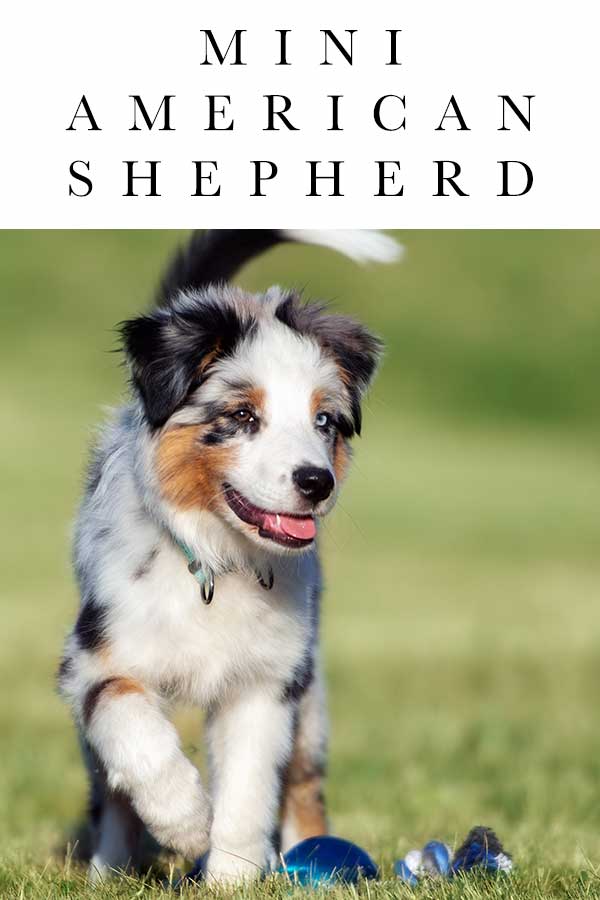 This new breed was originally called the Miniature Australian Shepherd, but the name was changed.
In 2015, the Miniature American Shepherd became the 186th breed to be officially recognized by the AKC.
Their smaller size and great working temperament made these small dogs popular companions for equestrians.
Fun Facts About Mini American Shepherds
The Miniature American Shepherd fits in with recent trends to own smaller dogs. They're popular with people who have less space, and less money to spend on general care.
You might see advertisements for a mini Australian Shepherd when looking for a puppy.
But, it's important to investigate this before buying. As, it might not actually be a purebred Miniature American Shepherd.
Mini Americans have been bred and standardized over the last 60 years. But many modern breeders use other methods to quickly create small dogs.
This includes introducing dwarfism and mixing breeds.
Real Miniature American Shepherds won't be bred using these methods.
Mini American Shepherd Appearance
In its general appearance, the Miniature American Shepherd will look a lot like the Australian Shepherd.
It has alert, almond-shaped eyes that can come in a variety of colors. They have triangular ears, and a well proportioned muzzle.
The texture of this dog's coat can be wavy or straight, but is always waterproof. It is most often short on the head, medium on the rest of the body, and has moderate feathering on the dog's legs.
There's a broad spectrum of colors and patterns that the Mini American Shepherd dog is available in.
This includes blue merle, red merle, black, and red, with white or tan markings.
Mini American Shepherd Size
The size of the Mini American Shepherd is the main area that the breed differs from the Australian Shepherd.
An adult will grow to be between 20 and 40 pounds. They usually reach from 13 to 18 inches in height.
Males tend to be larger than females, as is the case with the standard Aussie breed.
Mini American Shepherd Temperament
Just like its appearance, the temperament of the Miniature American Shepherd is very similar to that of the Aussie breed.
Mini Americans are known for being intelligent, motivated, and active. These dogs have a natural talent for herding, and are known for getting along well with other animals, particularly horses.
Their intelligent natures mean they are happiest when they have a job to do. These dogs can get easily bored, which can lead to destructive behaviors.
They will form strong bonds with their owners, and are likely to be affectionate.
Natural Instincts
Mini American Shepherds are natural herding dogs. But, this often extends to their life as a family pet.
You may find that a Mini American Shepherd tries to herd other family pets, or even kids. It may do this by nipping at heels.
So, it's important to watch this breed with small kids. Generally, they will get along well with children, but should always be supervised.
As a smaller breed, this is for the dog's benefit as much as the kids'! It's important children are taught exactly how to interact with a dog to make sure no one gets hurt.
Socialization
The Mini American Shepherd generally has a friendly temperament. But, it will depend partly on how well the dog is socialized as a puppy.
Puppies need to be socialized to as many different people, places, and things as possible before they are 16 weeks old.
This process should continue after this age, but 12 – 16 weeks is when the main socialization window closes.
A well socialized puppy will be friendly, confident, and less likely to act aggressively out of fear when they are an adult.
So, it is a really important process for owners of the Miniature American Shepherd.
Training and Exercising your Mini American Shepherd
Mini American Shepherds are a herding breed, just like the Australian Shepherd. They are intelligent and alert.
So, with the right training methods, they will pick up new tasks really easily and quickly.
It's important to use positive reward based training to get the best results. Harsh training methods could lead to your Mini American shutting off from you.
Training will offer your Mini pup some mental stimulation. But, it is also a great way to provide your little active dog with some exercise.
Exercise Needs
Even though this newer breed is smaller than the traditional Australian Shepherd, it still has very high exercise needs.
Mini American Shepherds are active, and can get bored and stressed if they don't get enough exercise.
Training will offer a little of this. But really, this breed needs the opportunity to run and ideally to work every single day.
This means they are not well suited to living in small apartments. They are happiest in homes with gardens or lots of land for them to explore and run on.
Just bear in mind their natural instincts when letting them run in non-enclosed spaces.
Mini American Shepherd Health and Care
Like all dogs, there are some health conditions that the Miniature American Shepherd is naturally prone to.
Going to a reputable breeder can help to minimize the risk that your dog inherits these. But, if you're considering the Mini American dog, it's important to learn about the following:
Hip and elbow dysplasia
Progressive retinal atrophy
Multidrug Resistance (sensitivity to certain medication)
Generally, like Aussies, Mini American Shepherds are healthy dogs. But, make sure your reputable breeder tests for these issues regardless.
Double Merle
Merle is a popular pattern in the Mini American Shepherd. But, this pretty coat coloring can bring with it additional health problems.
Merle dogs have a higher chance of being deaf and blind.
This coloring has also been linked to problems with the immune system in dogs.
Try to avoid breeders who breed from two merle dogs, as inheriting a double merle gene can make these problems worse.
Do Mini American Shepherds Make Good Family Pets?
For the right family, the Miniature American Shepherd can make a great pet and companion.
They are usually good with children and other animals, but may try to herd them.
These dogs need families that can provide them with enough mental and physical stimulation. Without this, they can easily become bored and depressed.
They also need families that can dedicate plenty of time to training and socialization, especially when they are puppies.
If you think you can provide all of this, then the Miniature American Shepherd could be a great dog to bring home.
Rescuing a Mini American Shepherd
If you don't mind what age your dog is when he comes home, you might want to consider rescue as an option.
Bringing home a rescue dog can be very rewarding. It can also offer an older dog a loving home.
Rescue center dogs are often cheaper than puppies. But be prepared to answer lots of questions to ensure your home is suitable.
We've left a list of rescue centers at the bottom of this page to help you start your search.
Finding a Mini American Shepherd Puppy
When searching for a puppy, make sure you choose a reputable breeder. Proper breeders will only breed from the healthiest dog, to give your puppy the best chance at a healthy life.
These dogs may cost a little more up front, but the cost is worth the lower vet bills in the long run.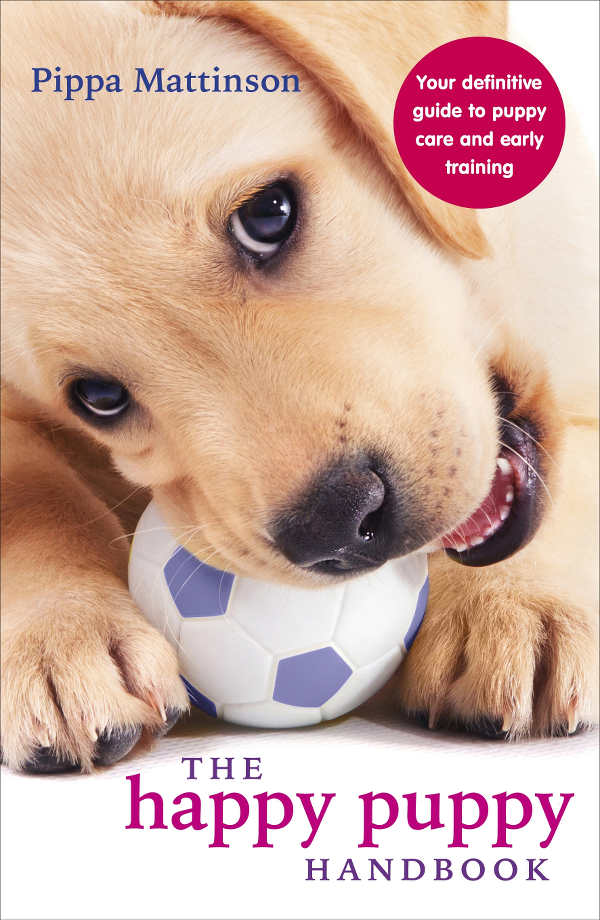 Generally, you should expect to pay anywhere from $600 to $2000 for this smaller breed. But, prices will vary depending on location. Show dogs are often more expensive than pet dogs.
Make sure to see any health certificates, and, if possible, meet the parent dogs.
Avoid puppy mills at all costs. These dogs may be cheaper, but they are often less healthy.
If you see a puppy advertised as a mini Australian Shepherd, make sure to clarify how this smaller size has been achieved. It may not be a genuine Miniature American Shepherd.
Raising a Mini American Shepherd Puppy
Caring for a vulnerable puppy is a big responsibility.
There are some great guides to help you with all aspects of puppy care and training. You'll find them listed on our puppy care page.
You should also take a look at our online puppy parenting course for more help.
Comparing the Miniature American Shepherd with Other Breeds
We've got a guide that goes into more detail about the differences between the Mini American Shepherd and the Australian Shepherd.
Make sure to read it to know exactly which version of the breed is right for you.
Similar Breeds
If you don't know whether the Mini American Shepherd will suit your home, take a look at the following breeds.
Pros And Cons of Getting A Mini American Shepherd
There's a lot of factors to help you decide whether or not this is the right breed for your family.
Cons
Merle coat dogs have a higher risk of certain health problems
High energy needs
May try to herd small children or other pets
Pros
Easy to train
Needs less space than the Australian Shepherd
Relatively healthy breed
Do you think this is the right breed for you?
Mini American Shepherd Products and Accessories
Take a look at our following guides if you're preparing for the arrival of a new Miniature American Shepherd
And if you're thinking of rescuing one, take a look at the links below.
Mini American Shepherd Breed Rescues
Follow these links to start your search in finding a Miniature American Shepherd.
If you know of any good rescue centers we haven't included in this list, let us know in the comments so we can add them.
References And Resources
Gough, A. (et al), 'Breed Predispositions to Disease In Dogs and Cats', Wiley Blackwell (2018)
Strain, G. 'Deafness Prevalence and Pigmentation and Gender Associations in Dog Breeds at Risk', The Veterinary Journal (2004)
Adams, V.J. (et al) 'Results of a Survey of UK Purebred Dogs', Journal of Small Animal Practice (2010)
Howell, T. (et al), 'Puppy Parties and Beyond: The Role of Early Age Socialization Practices on Adult Dog Behavior', Veterinary Medicine (2015)
White, A. (et al), 'Genotypic Analysis of the Canine Multidrug Resistance 1 (ABCB1) Gene in Miniature American and Australian Shepherds', Biology Posters (2017)
Strain, G. (et al), 'Prevalence of Deafness in Dogs Heterozygous or Homozygous for the Merle Allele', Journal of Veterinary Internal Medicine (2009)
'Merle M Series', Dog Genetics