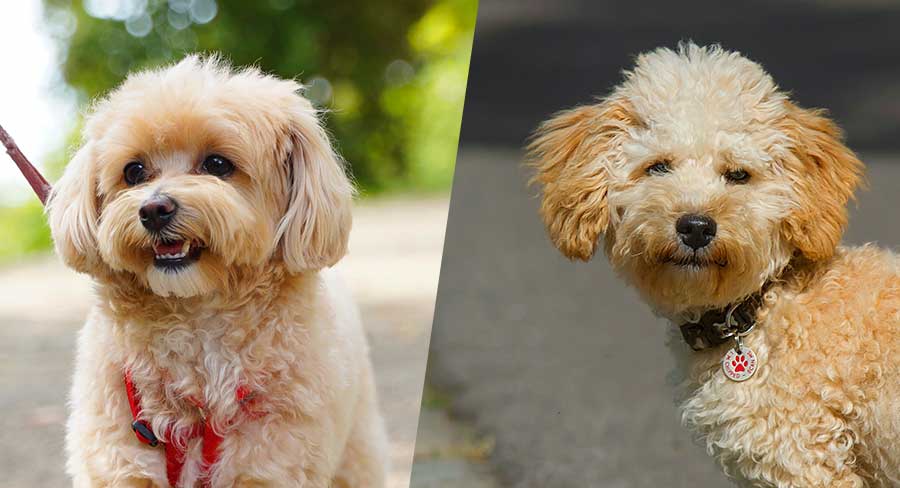 If you're struggling to choose between a Maltipoo vs Cavapoo, this comprehensive comparison will help you choose one over the other in no time.
Maltipoos and Cavapoos are both small Poodle crosses, usually created using either a Miniature or Toy Poodle. The 'other' parent is either a Maltese, or a Cavalier King Charles Spaniel, respectively. Both mixes have the potential to be great pets, but small differences between them are likely to make one a more suitable choice over the other for you specifically.
Choosing Between A Maltipoo Vs Cavapoo
Poodles of all sizes are one of the most popular breeds used for designer mixed breed dogs. Besides the well-known Goldendoodle and Labradoodle, Poodle ancestry can also be found in smaller mixed breed dogs, like the Maltipoo and the Cavapoo. Coming up, we're going to compare Cavapoos vs Maltipoos for
We'll sum up which kind of home is best for each dog, and even suggest some alternatives if ultimately neither is quite right for you. But first, here are some basic facts about each dog.
The Maltipoo
Maltipoos are a cross between a Maltese and a Toy or Miniature Poodle.
Maltese are a toy breed famous for their long, flowing white coat. A true companion animal, this little lap (or purse!) dog is also known for its affectionate and cheerful personality. Maltipoo crosses weigh between 4 and 15 pounds, depending on the size of their Poodle parent. They're a popular and well known designer dog breed, and their size makes them an appealing proposition for people who live in cities or apartments.
The Cavapoo
The Cavapoo is a cross between the Cavalier King Charles Spaniel and either a Toy or Miniature Poodle.
The Cavalier King Charles Spaniel is a toy dog breed, famous for its gentle and affectionate personality, silky coat, and sweet face. Full sized spaniels were originally hunting dogs, but the toy Cavalier was bred as a devoted companion animal. Combined with the smart and lively Poodle, the Cavalier King Charles Spaniel adds a soft touch to the Cavapoo mix. Since Cavaliers have a very high frequency of hereditary diseases, lots of people are interested in whether the Cavapoo is a healthier dog with a similar personality.
Maltipoo vs Cavapoo Size
The Maltipoo is a small dog. Maltese weigh just 6 or 7 pounds. Maltipoos from a Toy Poodle parent weigh 4 to 7 pounds, and Maltipoos from a Miniature Poodle parent can weigh 6 to 15 pounds.
Cavaliers are larger than Maltese, and that is reflected in Cavapoo size. Cavaliers weigh 13 to 18 pounds. Cavapoos from a Toy Poodle parent can weigh 4 to 18 pounds, and Cavapoos from a Miniature Poodle parent can weigh 10 to 18 pounds.
Size is most predictable when parent dogs are equally matched. So a Maltese Toy Poodle cross is reliably very small indeed, and a Cavalier Miniature Poodle cross is almost certain to be three times bigger! So if size is important to you, getting the right parentage is going to be an important part of choosing between a Cavapoo or Maltipoo.
Maltipoo Appearance
Maltese coats are long and silky. Combined with a Poodle's long curly coat, the results can vary between individuals. But the coat usually has some degree of wave or curl. You can certainly expect a coat that requires frequent brushing and regular clipping!
What about color? The Maltese is a solid white dog, but the Poodle comes in a variety of coat colors and patterns. Shades of white, cream, and light brown are often seen in Maltipoos, but they can inherit any Poodle coat color, such as grey, red, and black. Their coats can also have combinations of colors.
Maltese are a very flat-faced dog breed, whereas Poodles verge on being rather long-nosed. Where a full grown Maltipoo falls on this scale will vary, depending upon exactly which combination of Poodle and Maltese genes they inherit.
Cavapoo Appearance
The Cavalier has a silky, wavy, medium length coat. So Cavapoos generally have wavy or curly medium to long coats. There are many possible coat colors and patterns in the Cavapoo. The Cavalier has four possible coat patterns, and the Poodle has even more. Many are bi- or tricolored, but they can be solid too. Popular Cavapoo colors include apricot, cream, red, black, and tan…often mixed with white.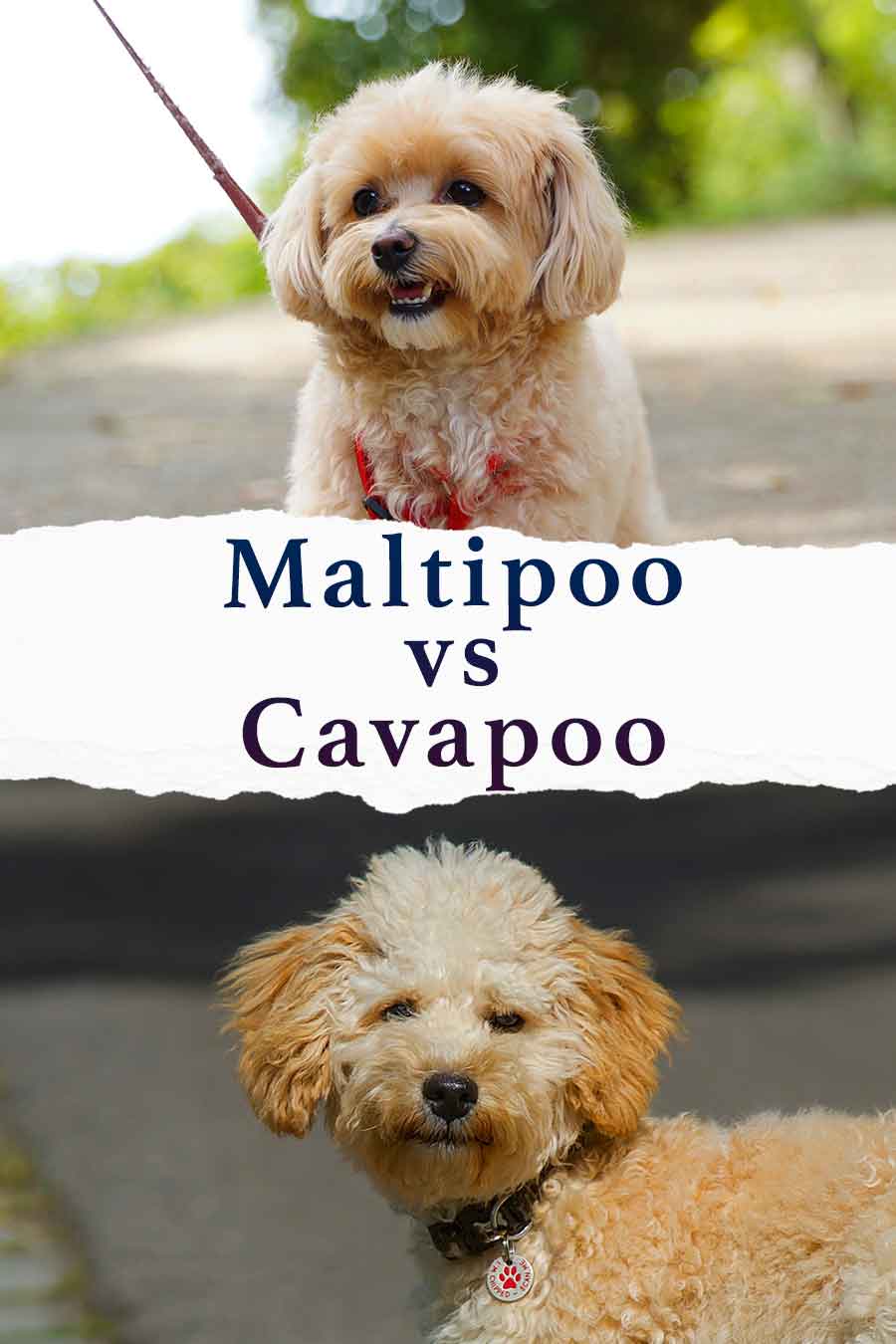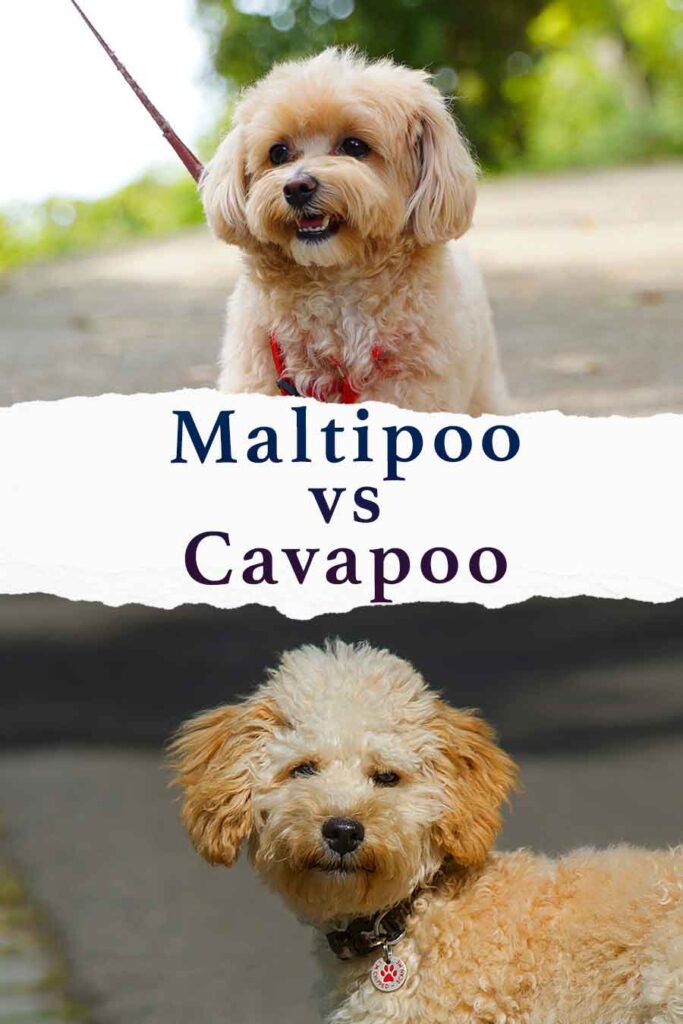 Let's look at Maltipoo vs Cavapoo personality next.
Maltipoo Temperament
The Maltese is a gentle yet playful dog, and the Poodle has a lively, confident personality. Will your Maltipoo be more of a lap dog or always ready for action? As far as their innate personality traits go, they could end up anywhere between these two possibilities. But of course, the personality of a dog depends on more factors than just breed. A dog's environment and training also play large roles in temperament.
Maltipoo owners and admirers love this mix's affectionate and cheerful personality. They are fun loving and smart, which can make training easier. Since the Maltese, Toy Poodles and Miniature Poodles were all developed as companion dogs, they have a strong desire for human company. This makes them devoted little companions, but they can also struggle to cope with being left alone, if they don't have enough opportunity to get used to it gradually.
Cavapoo Temperament
The Cavalier King Charles Spaniel, like the Maltese, also has a long history as a gentle and loving companion animal. Combine this with the feisty Poodle, and the Cavapoo personality is quite similar to the Maltipoo.
What do Cavapoo fanciers say about their temperament? Most report that they have a sweet and loyal nature, with a little bit of that famous Poodle spirit. A typical Cavapoo enjoys both cuddles and play sessions with its humans. They are good with children and may be calmer than some other small Poodle mixes.
Common Cavapoo behavior problems are also usually related to separation anxiety. Cavaliers and Poodles both crave a close relationship with their human family. So the Cavapoo mix might get bored, frustrated, or distressed at spending too much time alone.
What should you know about caring for a Maltipoo vs a Cavapoo? Let's look at health next.
Maltipoo vs Cavapoo Health
When it comes to health issues, it's important to keep in mind that most purebred dogs are vulnerable to at least a few genetic health conditions which can be passed onto their offspring. Including mixed breed offspring. The health of all purebred dogs can benefit from responsible breeding, but some breeds have fewer inherited health problems than others. Looking at the Maltese vs the Cavalier King Charles Spaniel, the Maltese generally has fewer health problems than the Cavalier.
Maltese health
The main inherited health problems seen in the Maltese are:
hip dysplasia, an orthopedic disease of the hip joint.
luxating patella, a knee joint problem seen in many small dog breeds.
patent ductus arteriosus, an inherited birth defect of the heart that can be fatal unless corrected surgically.
and thyroid disease.
Cavalier King Charles Spaniel health
Cavaliers carry a higher frequency of inherited health conditions, and therefore potentially a greater disease burden to pass onto their puppies. Besides luxating patellas like the Maltese, approximately 1 in 7 Cavaliers also have hip dysplasia.
They also have higher than average frequencies of:
deafness
the neurological condition degenerative myelopathy
dry eye curly coat syndrome
episodic falling
syringomyelia, a painful developmental condition
and eye problems including retinal dysplasia and cataracts.
Significantly, Cavaliers also appear to carry a faulty gene which causes early onset mitral valve murmur (a type of heart disease) at a much higher frequency than most dog breeds. This has important repercussions for their life expectancy.
Poodle Health
The Miniature Poodle can suffer from both hip dysplasia and luxating patellas. The Toy Poodle is more prone to luxating patella than hip dysplasia.
Both can inherit eye disorders, including a degenerative eye disease called progressive retinal atrophy.
There is a fairly long list of some serious inherited health problems seen in all 3 Poodle varieties, however not all of them are seen t high frequencies. The Poodle Club of America maintains a list of these conditions on their website.
Responsible Maltipoo and Cavapoo breeders will screen for Poodle, Maltese, and Cavalier inherited health disorders in their breeding stock.
Whether you choose a Maltipoo or a Cavapoo, be sure to ask your breeder for all relevant health information.
Which dog lives longest?
All 4 breeds that contribute to Maltipoo and Cavapoo litters have relatively long lifespans, compared to the all-dog average of 11 years.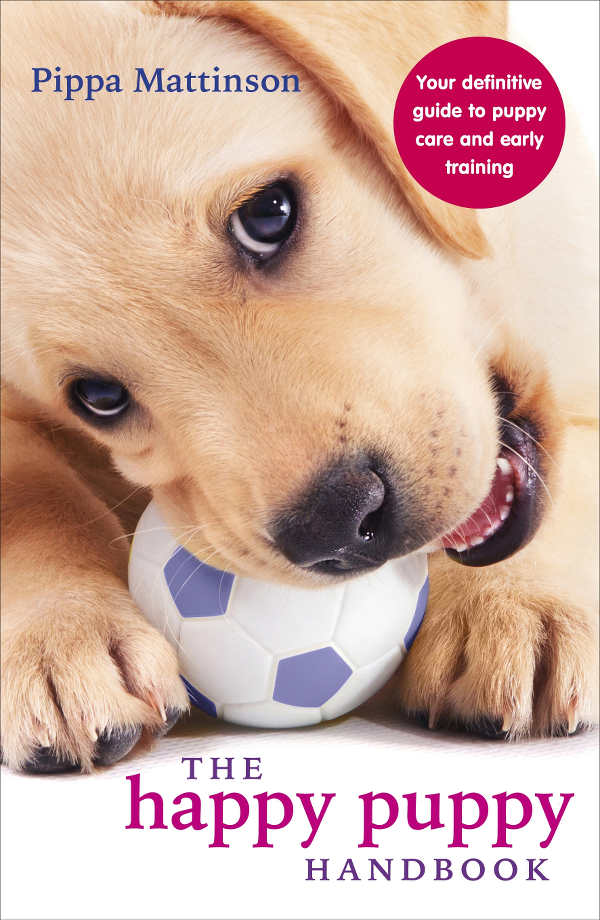 Toy Poodle 14 – 15 years
Miniature Poodle 13 – 14 years
Maltese 12 – 13 years
Cavalier King Charles Spaniel 11 – 12 years
Bear in mind these figures are averages – one study estimated that half of Cavaliers die before their 10th birthday due to heart disease. Their average lifespan is a product of this, combined with unaffected dogs living much longer than 10 years. Choosing a Cavapoo puppy from a health-tested Cavalier parent, with no family history of heart disease is the best way to end up on the right side of this equation!
Depending on their exact ancestry, whether they come from health tested parents, and factors such as lifestyle and good luck, a Cavapoo or Maltipoo will usually live between 10 and 18 years.
Which dog is right for you?
Both the Maltipoo and Cavapoo make excellent family pets and canine companions. With their cute, teddy bear looks and endearing personalities, it can be hard to pick a winner.
As a smaller dog, the Maltipoo can be suitable for apartment and city living. They can be a good choice for seniors, and they generally do well in families with children, although supervision is always important with young children and small pets, especially a delicate toy breed puppy.
The Cavapoo tends to be the slightly larger dog. They can be a good companion dog for seniors. They are smart and easy to train, and their calm nature makes them a good choice if you're looking for a therapy or service dog. Due to the health problems of pedigree Cavaliers, a Cavapoo might be an appealing choice for someone who wants to capture a bit of Cavalier personality in a mix with better odds of staying fit.
If you're still struggling to decide, you might also be interested in a Cavalier King Charles Spaniel Maltese mix dog. Or one of these curly mixes:
Dogs similar to Maltipoos
Dogs similar to Cavapoos
Remember, it is not a good idea to purchase a puppy sight unseen from online ads. Choose a reputable Maltipoo or Cavapoo breeder to ensure that your dog is healthy and well-socialized.
Have you already made your choice between the Cavapoo vs Maltipoo? Let us know which owns our heart in the comments box down below!
References and Further Reading