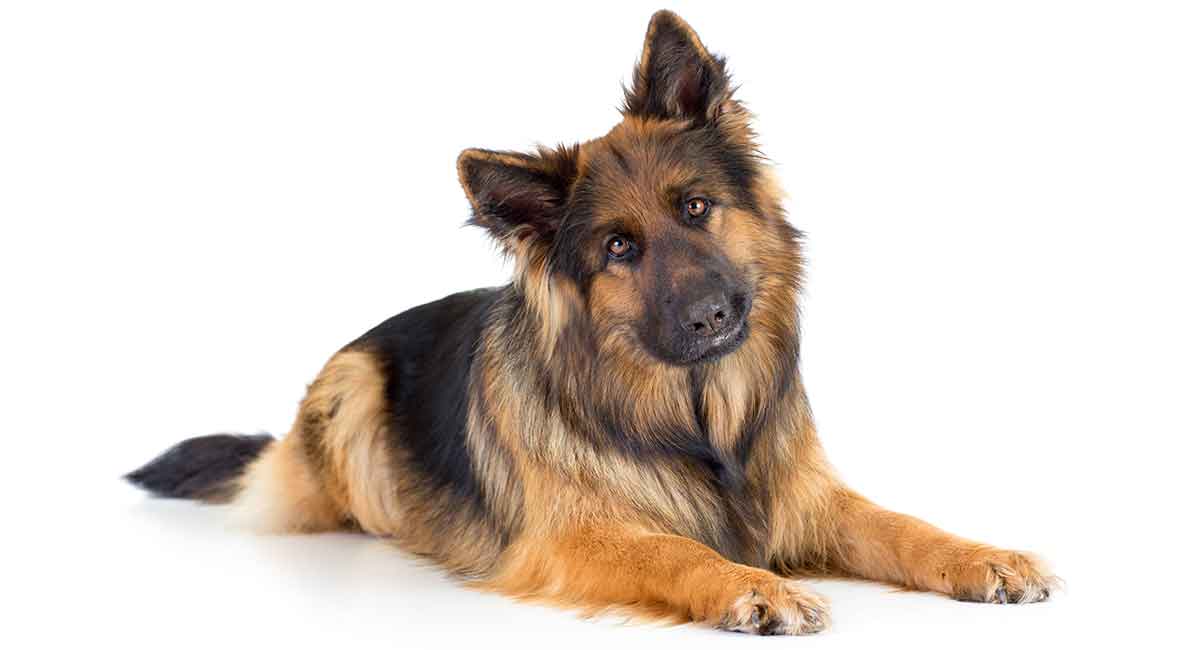 Long haired German Shepherd dogs are intelligent, trainable, affectionate and loyal. A less common German Shepherd type, the long haired German Shepherd has a flowing, silky coat. Despite looking like show dogs or companions, they are just as active and cooperative as herding and guarding bred short haired Shepherds. They are rare because long fur comes from a recessive gene, but their colors are the same as the standard German Shepherd, coming in blue, black, white and even red tones. Today we'll look at long haired German Shepherd grooming, haircuts, shedding and potential for allergies. As well as their basic characteristics and temperament traits. We'll also compare standard short haired German Shepherd dogs with their fluffy friends.
Contents
A Long Haired German Shepherd has a distinctive look, which sets them apart from other German Shepherds. But, what are the main differences between a long haired German Shepherd, and other types? In this article, we'll take a look at the increased grooming requirements of having a long haired dog and share some tips and advice on the best way to groom them. We'll also explore if there are any differences in the health or temperament between long and short haired German Shepherds.
What is a Long Haired German Shepherd?
The only difference between a long haired and a short haired German Shepherd is the length of their coat. The breed standard specifies that the "ideal" German Shepherd has a double coat of medium length. But German Shepherds that are not destined for the show ring will often have coats much shorter, or longer, than that ideal.
The majority of German Shepherds have a double coat – meaning that underneath the tough and dense outer coat, is a layer of much softer fur. Some German Shepherds, of both the long and short haired varieties, have a single coat only.
So, if you choose to bring a long haired German Shepherd into your life, then you will find that their grooming requirements are significantly higher than some other breeds. And that can be especially true of the long haired dogs.
Long Haired German Shepherd Grooming
A long haired dog of any breed is going to require more frequent grooming than their short haired counterparts. But due to their large size, grooming a long haired German Shepherd can be a serious undertaking.
You should be prepared to give your long haired German Shepherd a quick grooming session between three to four times a week. Every fortnight, set aside a little more time to give their coats a really good going over.
And when it comes to shedding season, you may need to spend more time grooming, in an attempt to help your dog shed their seasonal coat.
Remember, the more fur you remove when grooming, the less there will be around your house! Long haired German Shepherds shouldn't need bathing too regularly. So, as long as they haven't rolled in something nasty, they should only have a bath when strictly necessary.
German Shepherd Grooming Tools
If you're bringing a long haired German Shepherd puppy home soon, you may first want to think about assembling a grooming kit. Selecting the best products for your dog's specific coat will make your job much easier.
Here's a small choice of products you might like to consider.
Another essential tool you'll probably be considering if you have a long haired German Shepherd is a vacuum which is specifically designed for dealing with pet hair. No matter how effective your grooming regime, you'll likely still end up with dog hairs around your house. Selecting a vacuum which can remove these hairs from both floors and furniture is a great investment.
German Shepherd Grooming Video
If you're not quite sure where to start with grooming your German Shepherd dog, there are lots of videos online that can help. Take a look at some videos online to get a better visual idea of how to use the tools we spoke about above.
Are Long Haired German Shepherds Hypoallergenic?
The long haired German Shepherd dog is a high shedder, and sadly not a good match for allergy sufferers. This isn't a hypoallergenic dog, their dander, shed fur and saliva will all cause an allergic reaction in
Long Haired German Shepherd Haircuts
You might be tempted to think that it's a good idea to give your long haired German Shepherd the occasional haircut. But, this isn't a good idea, for a variety of reasons.
While some dog breeds have fur or hair that's suitable for clipping, any dog which has a double coat doesn't fall into this category. And as we've already discussed, the long haired German Shepherd has a thick, lustrous double coat.
This coat serves to both keep your dog warm when it's cold but also protects them from the harsh sun, and UV rays, in the summer. Removing this coat leaves your dog unable to regulate their body temperature effectively. Of course, there may be times when a long haired German Shepherd needs a haircut. But these are certainly the exception to the rule.
A rescue dog may have extreme matting and need shaving in order to remove these painful knots of hair. If a dog needs a surgical procedure, then of course shaving the affected area will be necessary. But in the majority of cases, it's best to leave this beautiful dog's coat as nature intended.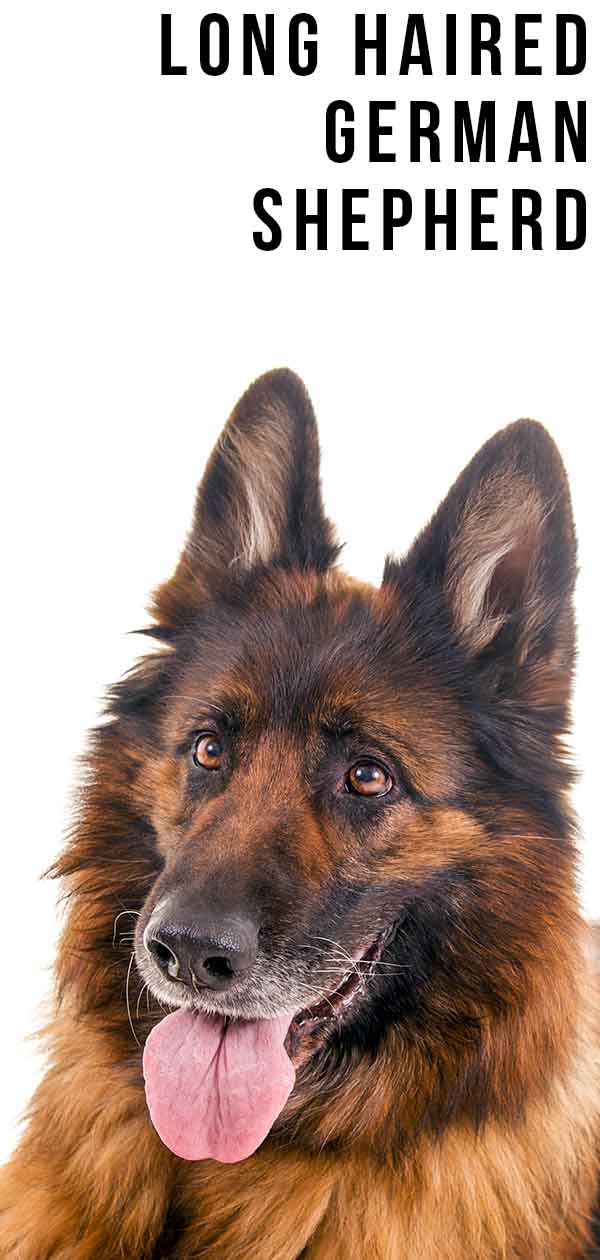 Long Haired German Shepherd Temperament
As your long haired German Shepherd is essentially the same as any other German Shepherd, you can be fairly confident that they will inherit the same traits as any other German Shepherd. As one of the most popular breeds in the US, German Shepherds are known for their fierce intelligence, and protective instincts.
They're highly trainable, leading them to be a popular choice for working dogs. They're often used as police dogs, search and rescue, service dogs, and many more jobs where a dedicated and intelligent breed is required.
German Shepherds are very loyal and need socialization as young puppies to ensure they are well mannered when meeting strangers.
As an active breed, they require plenty of exercise. Plus, remember to combine physical exercise with mental stimulation as both are equally important to the German Shepherd. Without sufficient exercise, German Shepherds can quickly become bored and frustrated.
Potential Health Problems
The health of your long haired German Shepherd will be no different to a German Shepherd with any other length coat. And within this breed, there are some health concerns which need to be discussed. It's important to consider these while making the decision whether or not to buy a long haired German Shepherd.
Any reputable breeder will be more than happy to talk you through the health conditions that are common in the German Shepherd, but here's a brief summary.
This breed is known to suffer from hip and elbow dysplasia. Breeding dogs should have been given a score for this. The higher the score the better. So when looking at puppies, ask to see the scores of both parent dogs.
Many German Shepherds have now been bred to have an extreme slope to their backs. This can have a negative impact on their health and welfare. The most common health issues which affect German Shepherds are:
Degenerative myelopathy
Exocrine pancreatic insufficiency
Bloat
Osteochondrotis dissecans (OCD)
Von Willebrands disease
Long Haired German Shepherd Puppies
When searching for a long haired German Shepherd puppy, it's best to spend some time visiting local breeders. Ask to see both parent dogs, and see what sort of temperaments they have. Puppies from working parents may not be suited to a family home, so be sure to discuss this.
Long haired German Shepherd puppies are less common than short haired. This is because, in German Shepherds, the gene which codes for short hair is dominant, and the gene which codes for long hair is recessive.
This means that short haired German Shepherds can also carry the gene, without expressing it in their coats. Some breeders consider the long hair of some German Shepherds to be a "genetic fault".
This is probably because the breed standard mentions a medium length coat. We can't find any scientific evidence to suggest the long haired gene could be labeled as faulty.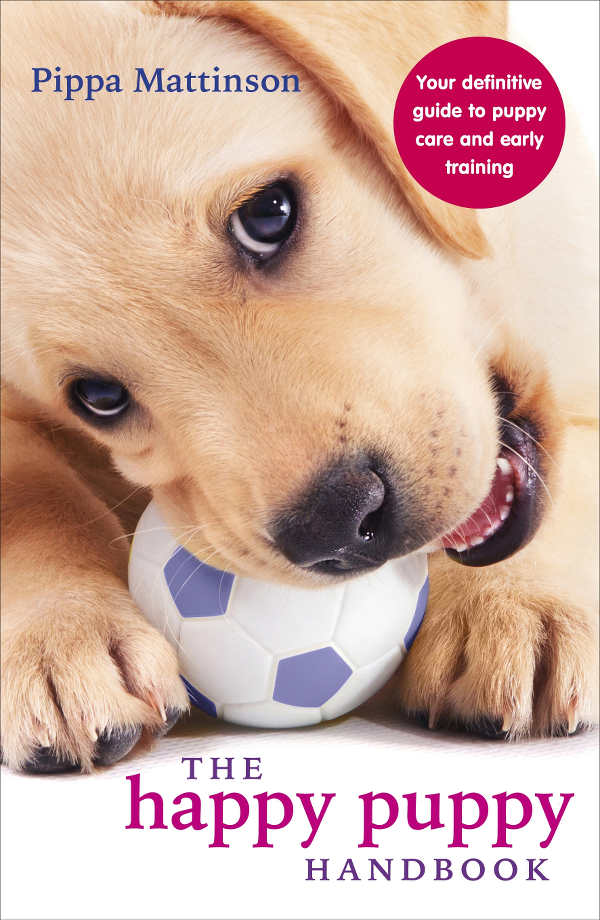 So perhaps, with respect to German Shepherds being specifically bred for the show ring, it would be more accurate to call it undesirable.
Despite this, some show dog breeders may still decide to breed two dogs together, which both have the recessive gene for long hair.Some of the resulting puppies may have long haired coats. Other breeders specifically choose to concentrate on breeding long haired German Shepherds. Either way, there are plenty of long haired German Shepherd puppies out there awaiting their forever home.
How Much Do Long Haired German Shepherds Cost?
Long haired German Shepherd price varies from $275 to $1800. In contrast, short haired puppies range from $250 to $4495. So, while the starting price of both types are similar, the top price for a long haired German Shepherd puppy is much more reasonable.
Your Long Haired German Shepherd
Long haired German Shepherds are stunning dogs.
While they might not be favored in the show ring, they have many fans elsewhere.
Their temperament and health is the same as that of a short haired German Shepherd. However, their long coat does require some fairly regular grooming session to keep it in check.
Once you've got into a routine with your long haired dog, it will soon become second nature.
If you've got a long haired German Shepherd, or have any grooming tips you'd like to share, please leave us a message in the comments section. We'd love to hear from you!
Find Out More About German Shepherd Dogs