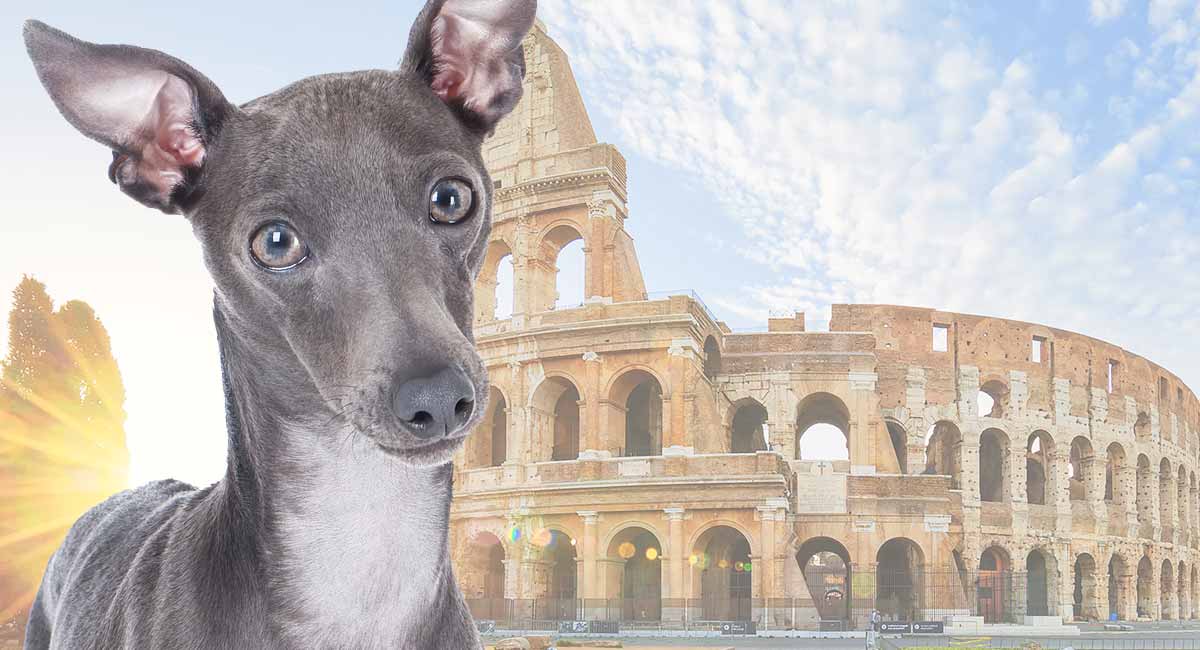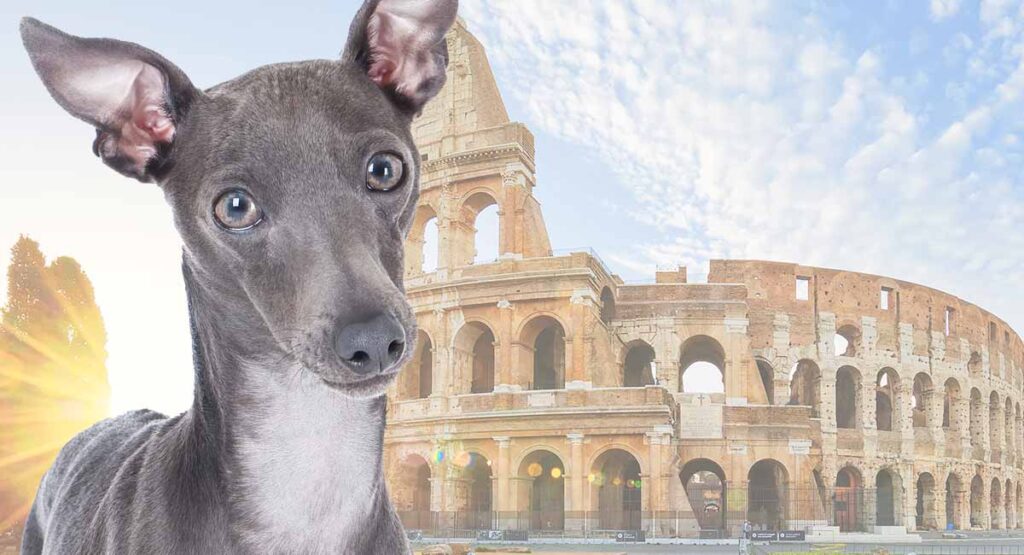 Italian dog breeds include a range of dogs of different shapes, sizes and temperaments. These puppies from Italy are intelligent, hard working and include some great guard dogs and hunting dogs too. We'll be looking at the qualities and characteristics of some of the most popular Italian dog breeds. We'll talk about lifespan, exercise, grooming and training, and share our tips on finding your favorite Italian dog breed puppy.
Italian Dog Breeds
If you love Italy, Italian culture, or just want to broaden your puppy horizons, then the Italian dog breeds are a must-see for you. Some of them are rare, while others have a broad noble ancestry that goes back centuries.
Let's take a look at these breeds in more detail. Finding out a bit more about their temperament, personality, health and lifespan.
Bergamasco Sheepdog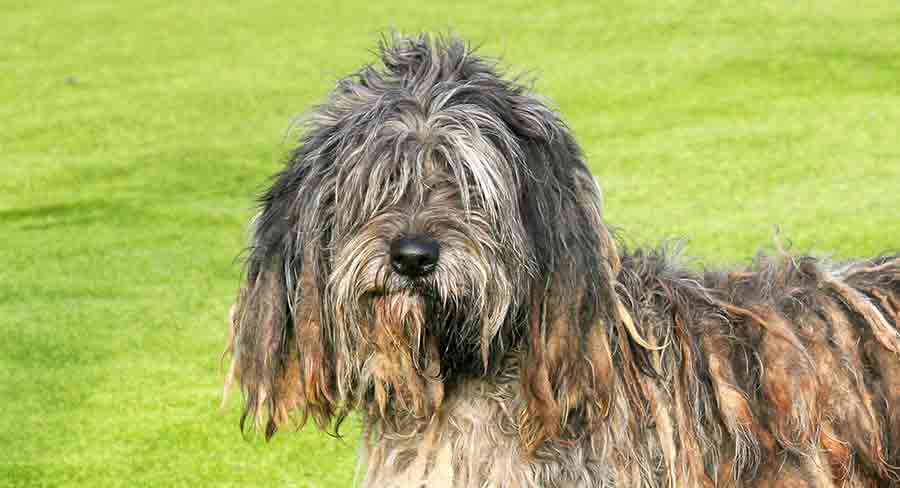 The Bergamasco Shepherd is a true Italian dog breed. It comes from the Italian Alps near Bergamo, and people originally bred them as a herding dog.
They were best at watching over cattle and sheep. These bold dogs could be released with the livestock and trusted to bring them back again without any human supervision.
Characteristics of the Bergamasco Shepherd
This Italian herding breed has a unique coat that naturally develops thick mats. This distinctive look has helped to protect them from the environment and predators. Their felting is normal and natural, so you'll need a specialist groomer who knows how to work with them.
Bergamasco Sheepdogs are intelligent dogs who are alert, observant, and patient. Thanks to these qualities, they have a good reputation with children too.
They have a few known health issues, including hip dysplasia, bloat, and eye problems. The Bergamasco Shepherd has an average lifespan of 13 to 15 years.
Fun Facts About Italian Dog Breeds
Historians have dated this member of the Italian dog breeds back about 2000 years and believed they originated in Persia
Their unique coat develops into dreadlocks in adult dogs while the fur of the puppies does not
Their shaggy hair falls over their eyes but still allows them to see fine. It protects their eyes from the sun and the glare off of the snow
Bolognese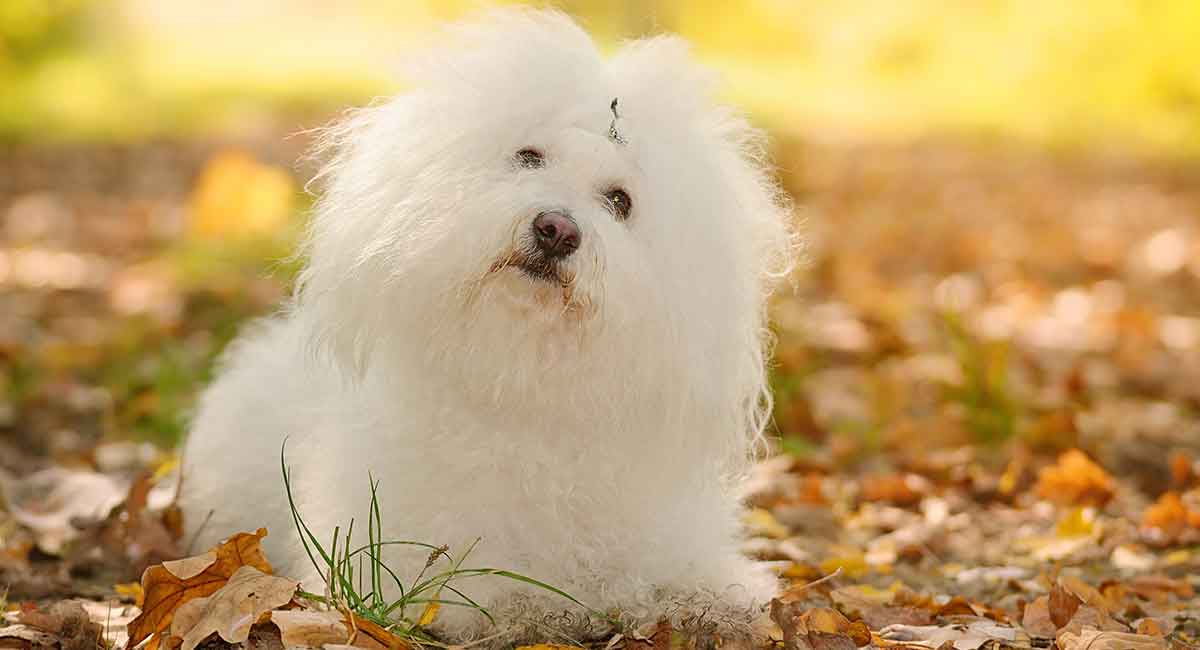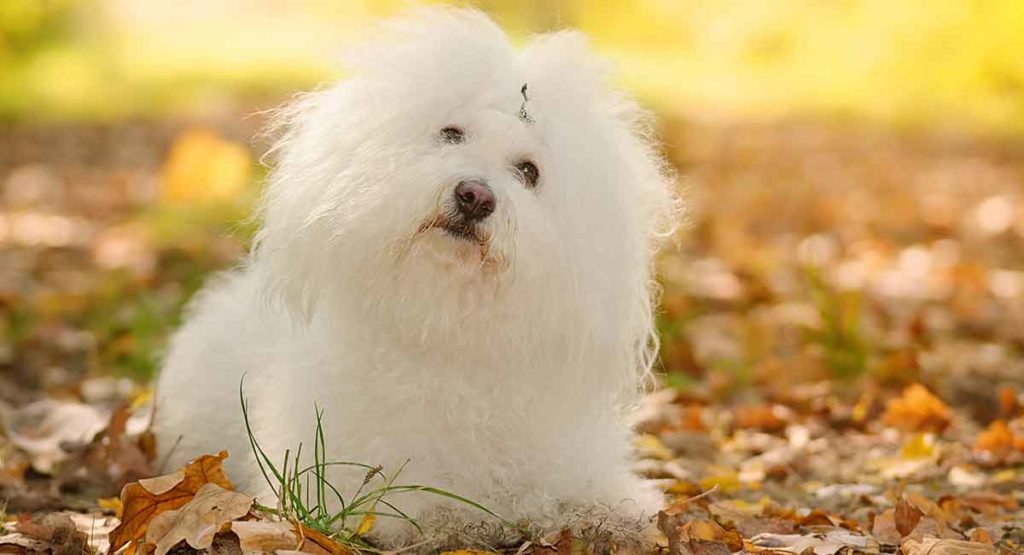 The Bolognese is a small toy breed in the Bichon family. The breed is named after a city in Northern Italy called Bologna. They're an ancient Italian breed with noble roots tying them to the Italian nobility.
You can trace the Bolognese's existence back as far as the 17th century where they can be seen depicted in early tapestry work. Royalty used this breed primarily as a companion dog due to their small size and adorable appearance.
Characteristics of the Bolognese
They love attention and make a wonderful companion dog. They develop a very strong bond with their family members. This is a very active and social Italian breed that gets along well with other dogs of all shapes and sizes. And you should know that the Bolognese acts puppy-like up to old age, which is a plus for active families.
Low Allergen
The Bolognese has a white coat that is fluffy and slightly curled, and they are a low shedding breed. This sometimes makes the Bolognese a tolerable companion for allergy sufferers.
It does depend on the sufferer though, and if you have serious allergies you should not bring home a Bolognese unless you have spent some time with the breed without problems.
Health
The Bolognese is a relatively healthy member of the Italian dog breeds, with an average lifespan of 12 to 14 years. But because they are a bichon-type dog, prospective owners should watch for issues such as:
Chronic allergies
Ear infections
Cataracts
Progressive retinal atrophy
Luxating patella
Epilepsy
Heart disease
Urinary stones
Pancreatitis
Diabetes
Fun Facts About Italian Dog Breeds
This Italian dog breed's closest relative is the Maltese, who is also small and white and an Italian native
They have a single coat, unlike most breeds, which have a double coat.
The Bolognese is believed to date back in the Mediterranean region for 200 years
Bracco Italiano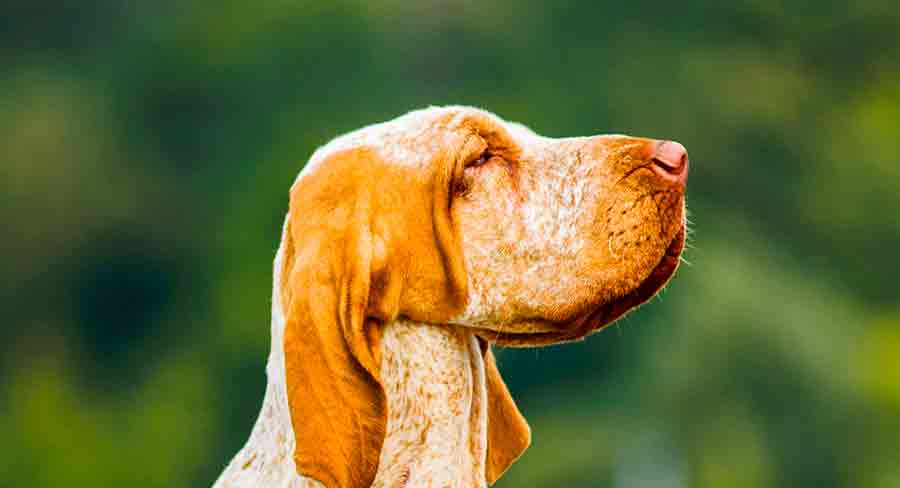 The Bracco Italiano may be one of the oldest pointer breeds in Europe. Their exact origins are unknown. However, these dogs date back to about the 4th century B.C.
They are thought to be a mix between the Segugio Italiano and the Asiatic Mastiff. And there are two variations of the Bracco breed.
One originates from the Piedmont region, which is lighter in color. The other variety comes from the Lombardy region, is of a sturdier build, and has a darker brown coloring. The Italian nobility often used these dogs for hunting during the renaissance.
Characteristics of the Bracco Italiano
These are athletic dogs with deep chests, angular heads, and long ears. They have a short, dense coat that requires a moderate amount of maintenance. Their coat can come in white, white and chestnut, or white and orange. They range in average sizes from 50 to 90 pounds and 21 to 17 inches tall.
This Italian dog breed are powerful and determined hunters. However, away from the hunt, they are calm and gentle dogs. They are patient with children and loyal to their owners. These dogs love being in the company of their family and will generally be found lying quietly nearby.
The Bracco Italiano has several hereditary health conditions, however, this is a relatively healthy dog with an average life expectancy of 10 to 14 years.
Hip and elbow dysplasia
Kidney disorders
Cataracts
Entropion
Ectropion
Bloat
Fun Facts About Italian Dog Breeds
Frescos and tapestries dating back to the 4th and 5th centuries BC depict the Bracco Italiano dog
The Medici family bred Bracco Italianos during the renaissance
They are also known as Italian Pointer dogs
Cane Corso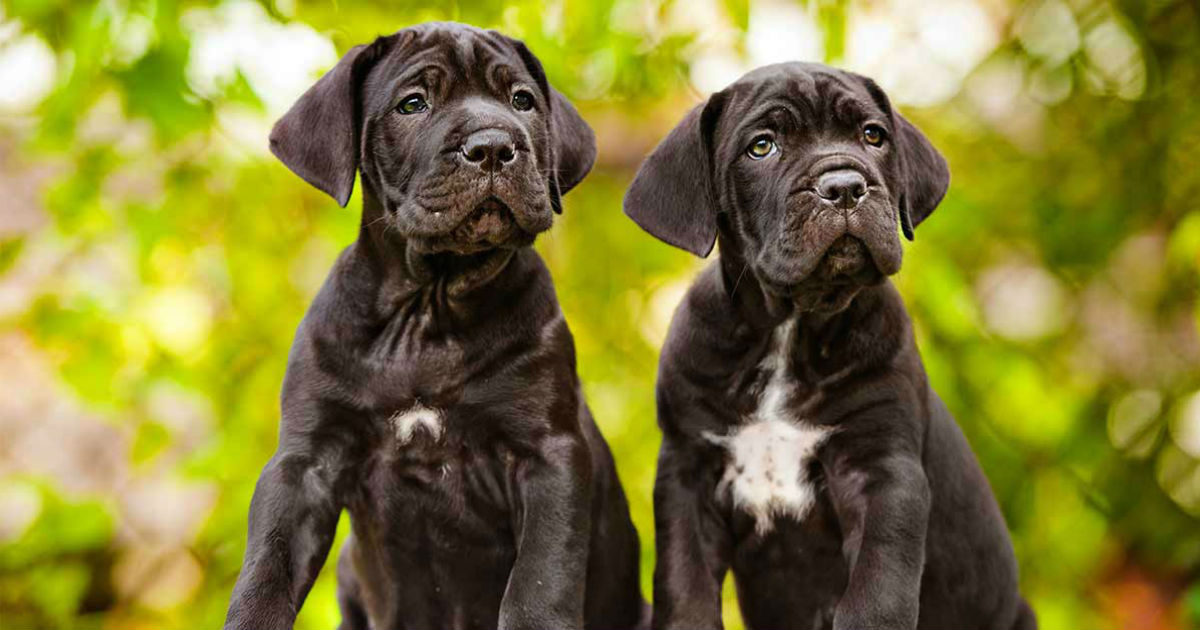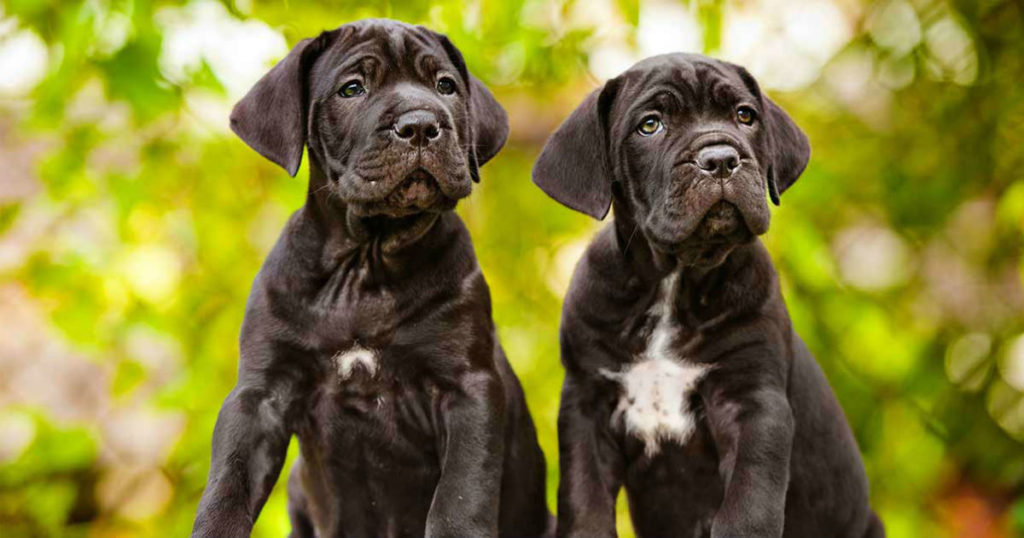 You may know this card-carrying breed of large Italian dog as the Italian Mastiff dog. They are a renowned guard dog. You could originally find this breed on rural farms where their primary job was to guard property, livestock, and their family members.
The Cane Corso became uncommon around the twentieth century as life on farms began to change and their services were no longer required. Fortunately, a group of Cane Corso fans was able to recover the breed and rescue it from near extinction.
Characteristics of the Cane Corso
This is a very large Italian Mastiff dog, with males weighing as much as 110 pounds! Although they are muscularly built, they are less bulky than most other mastiff breeds. Naturally, the Cane Corso has floppy ears like those of a Labrador. They have shorter hair that lays down flat and sheds seasonally.
The Cane Corso is intelligent and eager to please. They are a reserved, calm, and a rather quiet part of the Italian dog breeds. This all makes them easy to train.
But you need to remember that because this dog was bred for guarding, they can be naturally possessive, territorial, and dominant. And they may also be wary of strangers. Still, this intelligent breed does well with families as long as their training and socializing are implemented early on.
The Cane Corso has an average lifespan of 9 to12 years. Like all large breeds, they can be prone to hip dysplasia. The breed is also vulnerable to:
Entropion
Ectropion
Demodectic mange
Bloat
Fun Facts About Italian Dog Breeds
Cane Corso are related to the Neapolitan Mastiff, another breed of Italian Mastiff dog
The Cane Corso used to go by the Roman name, Canis Pugnax
The Romans used these dogs against large animals, like lions, in arena-games
Cirneco dell'Etna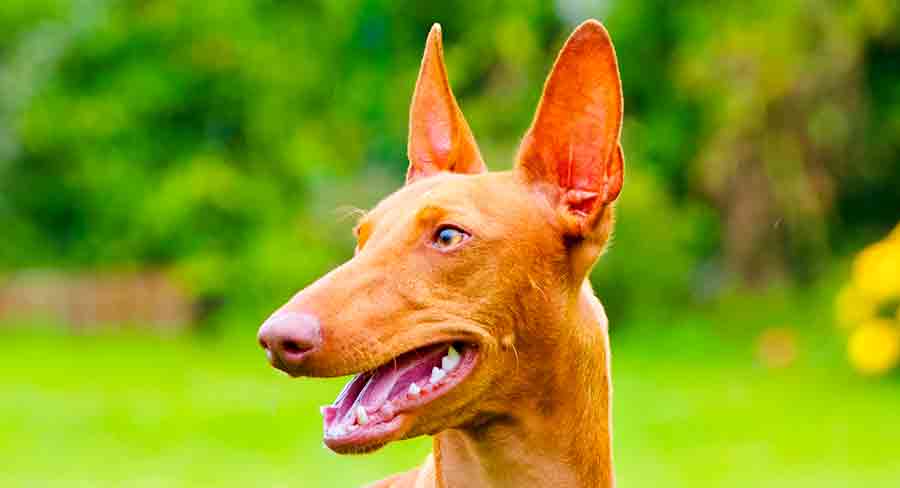 While it's likely this breed may have originated in Cyrene, some people believe that the Cirneco dell'Etna existed in Sicily dating back 3000 years.
This breed is rough and rugged and was used in the Mt. Etna region to hunt game birds and rabbits. These dogs stalked their prey silently and were able to sneak up on birds.
The Cirneco dell'Etna nearly went extinct in the 1930s. It was the work of Dr. Maurizio Migneco that saved this member of the Italian dog breeds over a twenty-six-year effort. The Italian Kennel Club recognized this breed in 1939.
Characteristics of the Cirneco dell'Etna
Cirneco dell'Etnas have a narrow head and a long muzzle. Their eyes are expressive and they have distinctive, tall, pointy ears.
They are smaller hounds that only weigh, on average, between 22 and 26 pounds. And they stand at an average height of 17 to 20 inches. Their short coats range in color from tan to chestnut brown. And they are also quite easy to maintain with just a weekly brushing.
They're swift, intelligent, and hardworking dogs. So, they require lots of exercise. On the other hand, they are gentle and affectionate too. Therefore, they love to be with people. Plus, dog owners consider them easier to train than most hounds.
Due to their speed, agility, and need for exercise, this breed can suffer musculoskeletal injuries and toe injuries. They are also prone to mange, skin allergies, and because of their lean build, anesthesia sensitivity. But overall, these are hardy and healthy Italian dog breeds with a life expectancy of 12 to 14 years.
Fun Facts About Italian Dog Breeds
Cirneco dell'Etnas are both excellent jumpers and diggers. Therefore, you will be challenged to keep them in a fenced yard. If they don't jump over the fence they may just burrow under it!
People originally knew them as just Cirneco. Italians added the "dell'Etna" part in the 1930s, and it refers to the mountain region where they were used
This is believed to be one of the oldest dog breeds. Some coins show the image of a Cirneco dog dating to the 5th and 2nd centuries B.C.
Italian Greyhound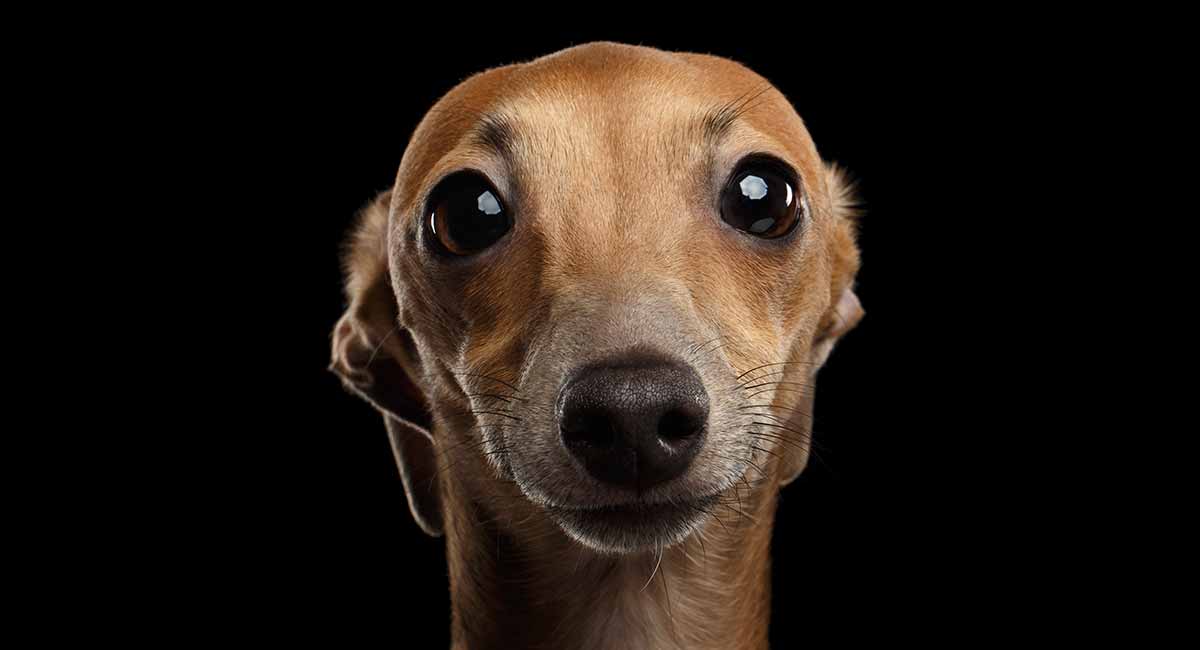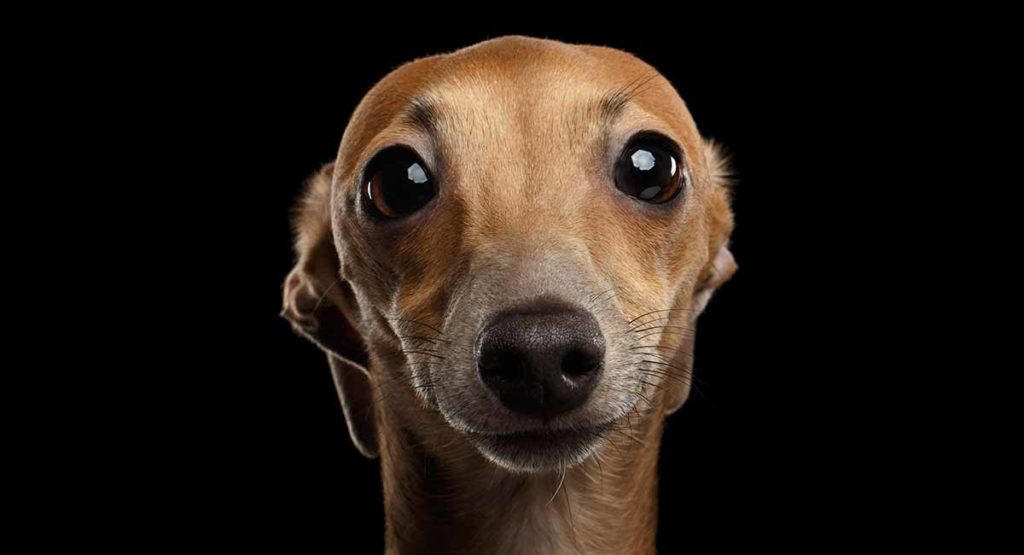 This Italian Greyhound, also known as the miniature Greyhound, belongs to the sighthound family. They originated in early Greece and Turkey more than 2,000 years ago!
Although the Italian Greyhound was used for hunting purposes, royalty coveted them as a companion dog. They were a favorite breed of Italians during the 16th century. And they were in such high demand that overzealous breeders began attempting to make them smaller by breeding them with other dogs.
Unfortunately, this practice caused major deformities and health issues in the breed that lead to their near extinction! Luckily, a small group of breeders was able to come together and bring the Italian Greyhound back to their normal, healthy standard.
Characteristics of the Italian Greyhound
The Italian Greyhound has a short, shiny coat that does shed occasionally. And they are the smallest of the sighthounds. Because they are extremely small and fragile, they are not recommended for households with smaller children.
The Italian Greyhound enjoys running. They are quick, dexterous, and athletic. Because of the Italian Greyhound's sighthound genetics, they have a very high predator drive. You should know that they take-off at lightning speed to chase after small animals, such as rabbits and squirrels.
The Italian Greyhound has an average lifespan of 12 to 15 years. Health concerns most commonly reported in the breed are:
Epilepsy
Legg-Perthes disease
Patellar luxation
von Willebrand's disease
Progressive retinal atrophy
Color dilution alopecia
Leg breaks
Cataracts
Vitreous degeneration
Hypothyroidism
Fun Facts About Italian Dog Breeds
You may know these speedy Italian dogs by other names such as The Italian, "IG," or Iggy for short
They're receptive to the tone of your voice and these intelligent and perceptive dogs can tell how you feel from the tone of your voice
Italian Greyhounds are great jumpers, able to jump several feet, therefore, a fence at least four-feet high is recommended to keep them in your yard
Italian Spinone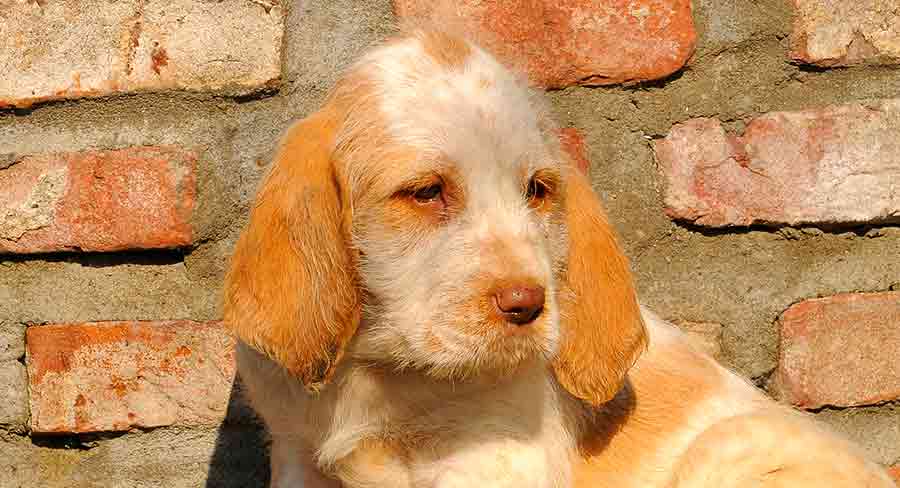 You can trace the Spinone, an ancient Italian dog breed, as far back as 500 BC in the Piedmont region of Italy. More recently, breeders bred the Spinone Italiano to be a versatile sporting dog. And they were one of the first hunting dogs in existence.
Characteristics of the Italian Spinone
This member of the Italian dog breeds is medium to large. And they have a wiry coat that lies close to their body. Spinone lovers save the most compliments for their eyes, which they describe as "human" in their expressiveness.
This is an easy-going Italian dog breed that enjoys both people and other dogs. They have a calm, loving, and loyal disposition. And they also do very well with children, as they are extremely patient and rarely aggressive.
The Spinone Italiano can be prone to ataxia and hip dysplasia. They have an average lifespan of 12 to 14 years.
Fun Facts About Italian Dog Breeds
Italian Spinone are very versatile hunting dogs as they can be both pointer and retriever
The Ducal Palace in Italy has renaissance frescoes depicting this breed of dog
They used to be called Bracco Spinoso, which translates into, "prickly pointer." It is thought that this name was associated with their coat
Lagotto Romagnolo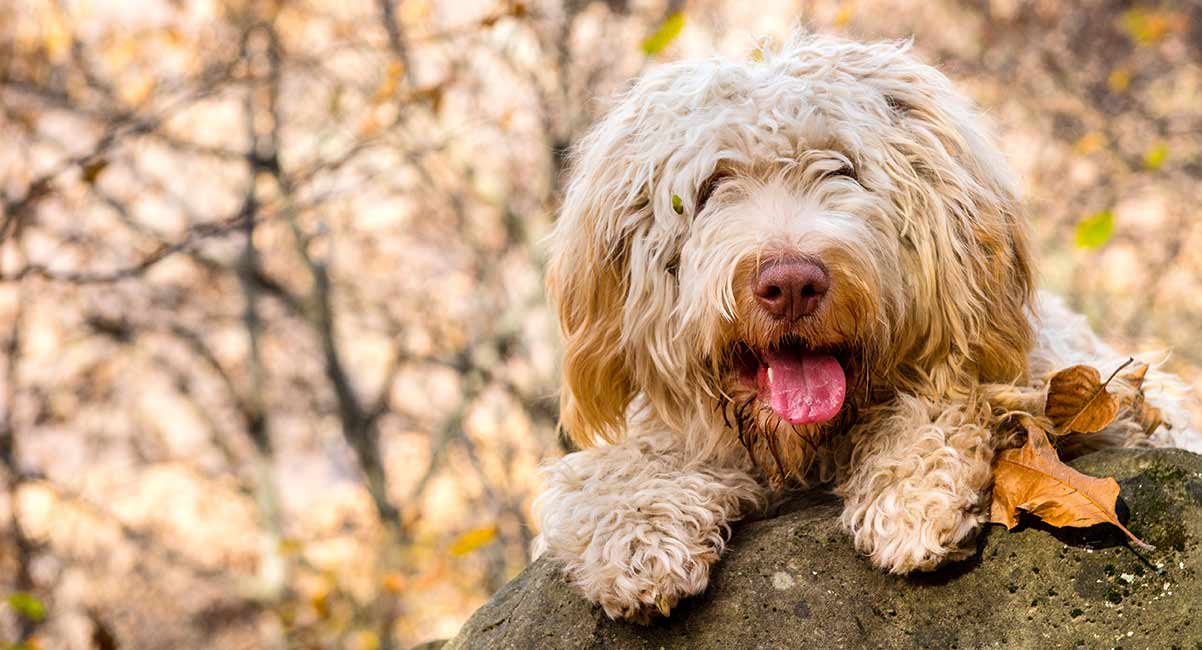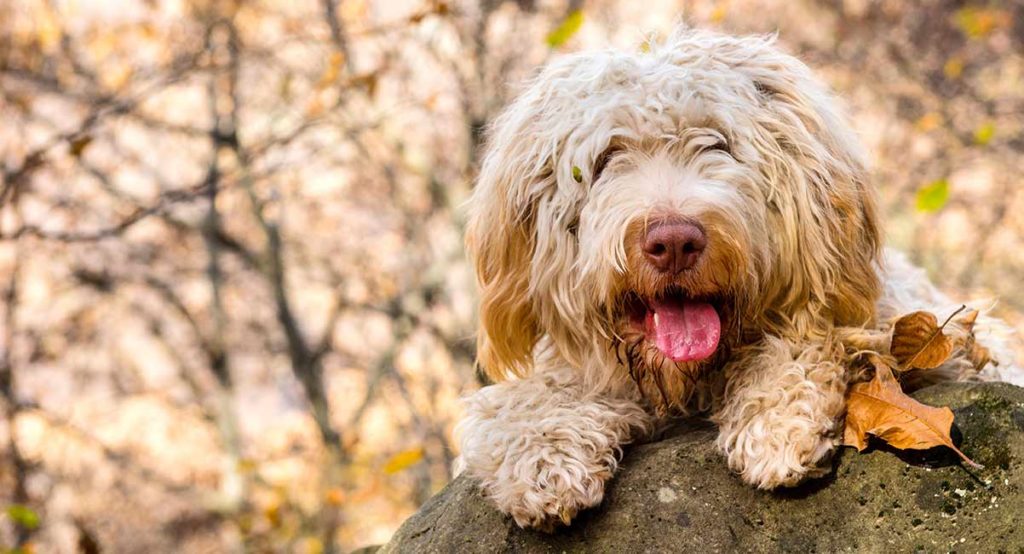 This Italian water dog is known as the Romagna Water Dog or the Water Dog of Romagna. One of the medium Italian dog breeds, it dates back to medieval times.
This is a working dog who was bred mostly for water retrieving. But people also used them for their keen nose to seek out truffles on a variety of rough terrain. It's also believed that the modern water retrieving dogs descended from this particular Italian water dog breed.
Characteristics of the Lagotto Romagnolo
The Lagotto Romagnolo can be small to medium in size and has a varied appearance. They have floppy ears, large eyes, and a thick coat that is excellent for protecting them in cold water. As an Italian Water Dog, this protection from the cold serves them very well. Their coat can be curly or flat and is low or non-shedding. They're intelligent dogs that are easy to train.
They are an attentive, loyal companion who is affectionate and playful. However, they can be wary of strangers, so early socialization is key. They have very few health problems but can be prone to hip dysplasia and juvenile epilepsy. The Lagotto Romagnolo has a lifespan of 15 to 17 years.
Fun Facts About Italian Dog Breeds
These former truffle hunters love to dig, so some owners even give their pups a sandbox to dig in
There are Etruscan artifacts that show a dog resembling a Lagotto Romagnolo that date the dogs back to somewhere between the 8th and 2nd century B.C.
In the Italian Romagna dialect, Lagotto Romagnolo means "water dog"
Truffle hunting Lagottos can fetch a very hefty price as puppies.
Maltese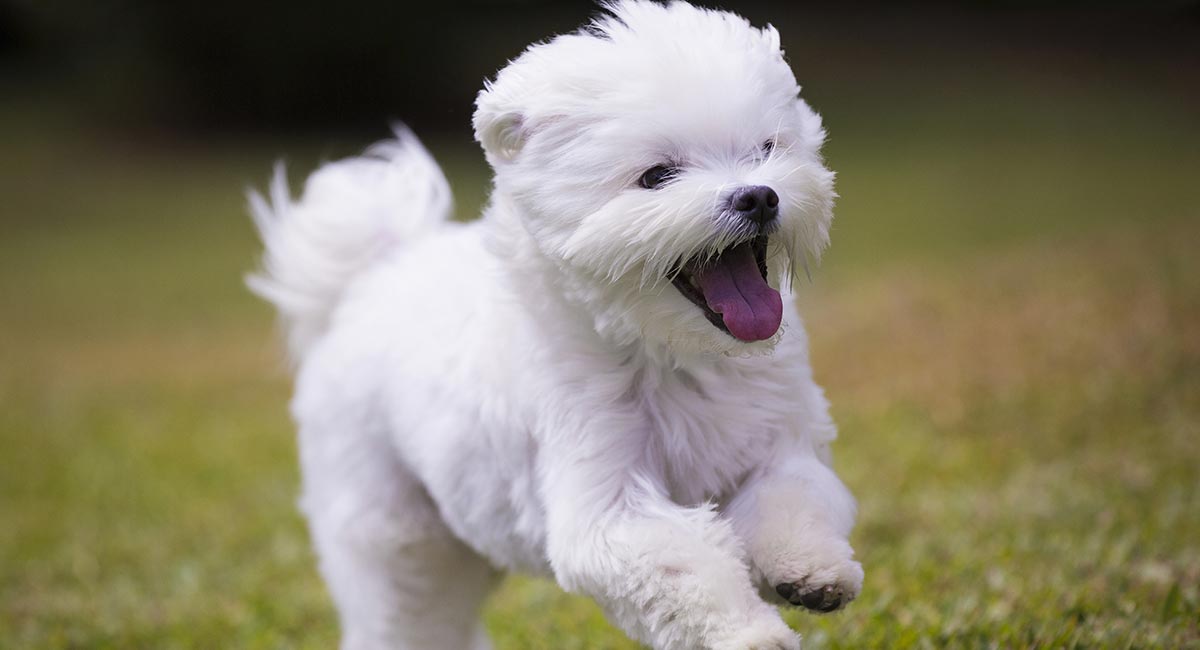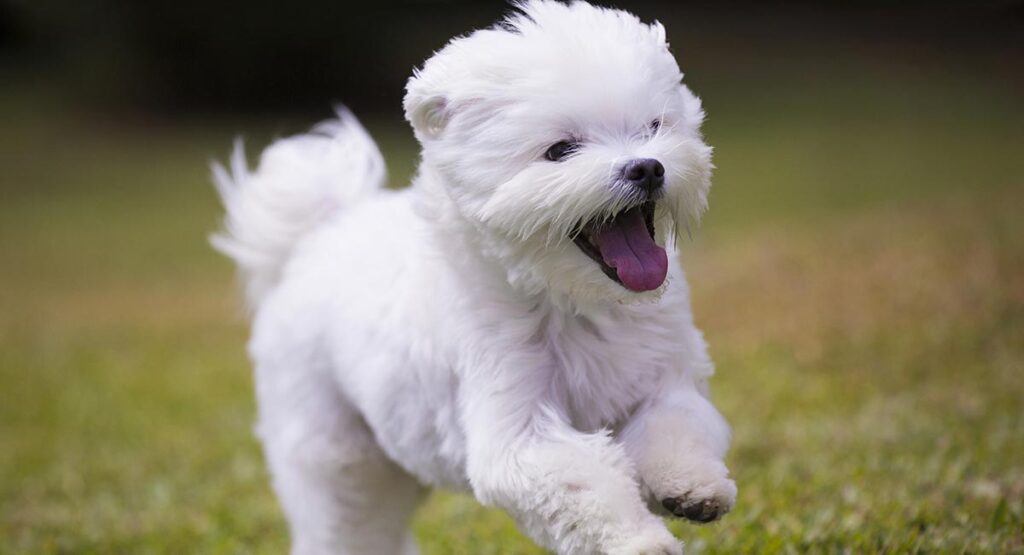 The Maltese are an ancient breed, specifically bred for their small size. But they can't claim pure Italian blood. Their ancestry includes dogs from Switzerland and across the Central Mediterranean Area, including Italy, and of course, their namesake, the island of Malta.
Interestingly, many believe this dog was once used for rodent control. But that was before its appearance and companionship became coveted by noblewomen.
Characteristics of the Maltese
The Maltese are a small white dog with a silky coat that can grow out very long if properly brushed and maintained. Their coat can sometimes be curly or wavy, especially if left short.
People bred the Maltese primarily as a companion dog. So, they tend to be excellent with families and stay lively and playful even as they grow old.
This is a dog who loves to be with its human family all the time! Therefore, they love their human family members and will offer up a lot of affection. With that being said, the Maltese can suffer separation anxiety. So, be mindful of this when leaving them alone for long periods.
They are a relatively healthy dog with an average lifespan of 12 to 15 years. The Maltese are more prone than average to white shaker dog syndrome that's a serious neurological disease. They can also be predisposed to:
Deafness
Hypoglycemia
Collapsing trachea
Pyloric stenosis
Liver shunt
Fun Facts About Italian Dog Breeds
Despite being such small Italian dogs, Maltese are excellent jumpers
They have gone through several name changes over the years: Maltese Lion Dog, the Melitaie Dog, the Maltese Terrier, and the Spaniel Gentle
They sunburn easily because their white coat and fair skin are prone to sunburn just like humans
Neapolitan Mastiff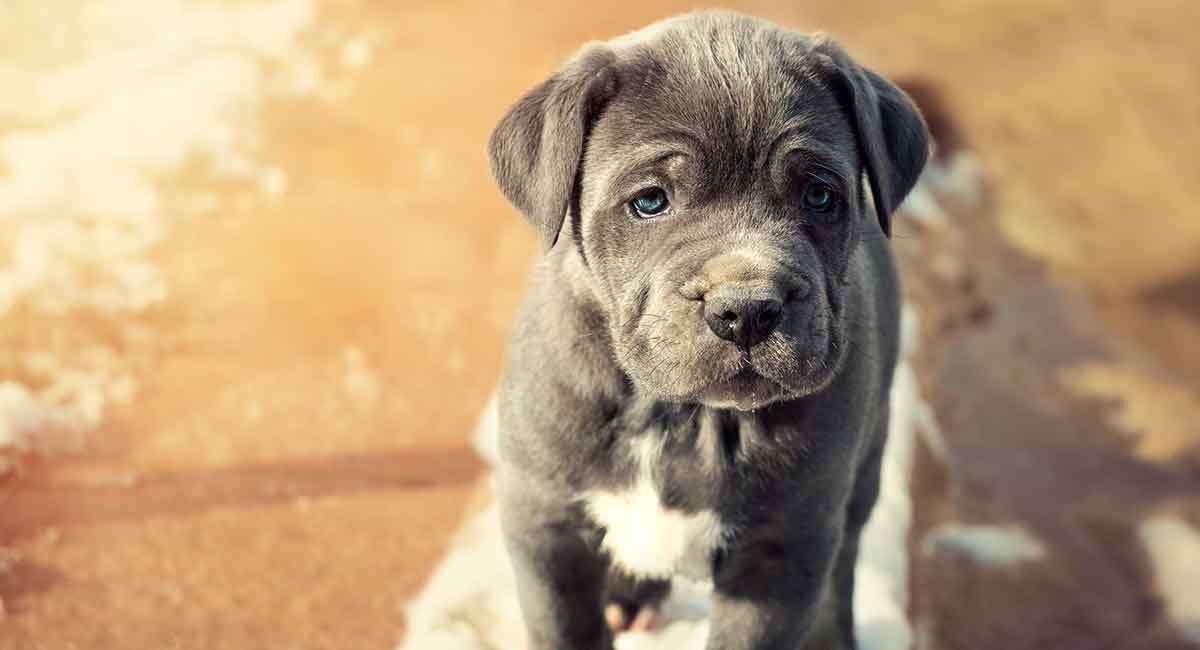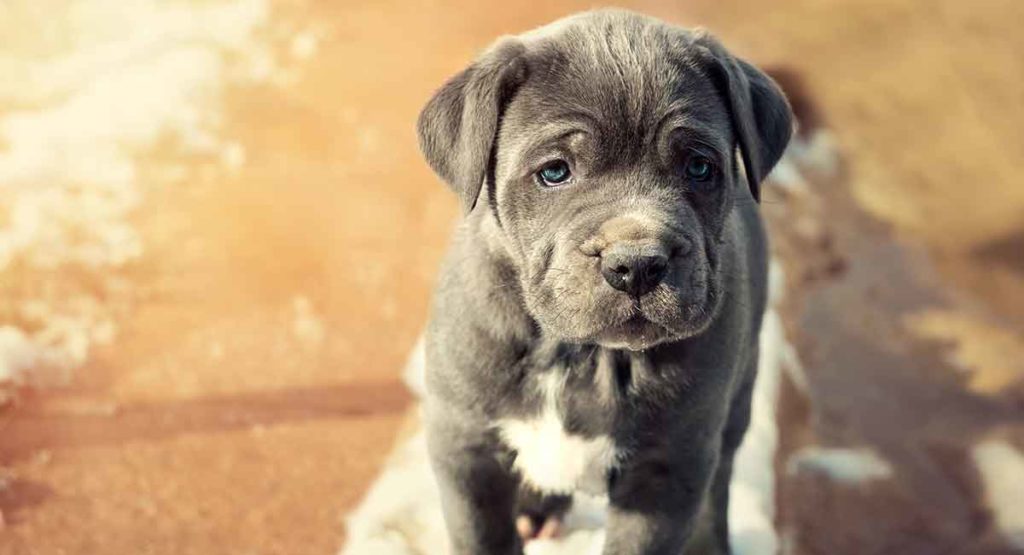 The Neapolitan Mastiff is a big and powerful dog, renowned for its daunting appearance and large head. They have loose skin with a short-haired, shiny coat. This large Italian dog breed is closely related to the Cane Corso. And they are another guard dog of the Mastiff type.
Like many Italian dog breeds, this is an ancient dog known best for defending its family and property. They were extremely popular in Italy but were nearly lost as a breed during World War ll.
Characteristics of the Neapolitan Mastiff
One of the most massive Italian dog breeds, they can weigh as much as 150 pounds. So a potential owner should prepare for a lot of dog and a lot of drool! They have loose jowls and they salivate when excited or after drinking.
Although these Italian dog breeds may be fierce in appearance, they will only bark if provoked. They are stubborn, and very protective. But they are intelligent and are fast learners if properly motivated.
This Italian dog breed has an extremely high pain tolerance. So, they benefit from regular veterinary checks to identify problems they might not be letting on about.
Like most large breeds, the Neapolitan Mastiff has a shorter lifespan averaging 7 to 9 years. This Italian mastiff breed is prone to some specific health issues including:
Cherry eye
Hip dysplasia
Ectropion
Entropion
Elbow dysplasia
Sebaceous adenitis
Progressive retinal atrophy
Hypothyroidism
Cardiomyopathy
Bloat
Skin infections
Fun Facts About Italian Dog Breeds
The Mastiff were once used in bear, bull, and jaguar baiting in Roman arenas
The police and army often use this dog for their services in Italy
This breed is banned in the country of Singapore
Maremma Sheepdog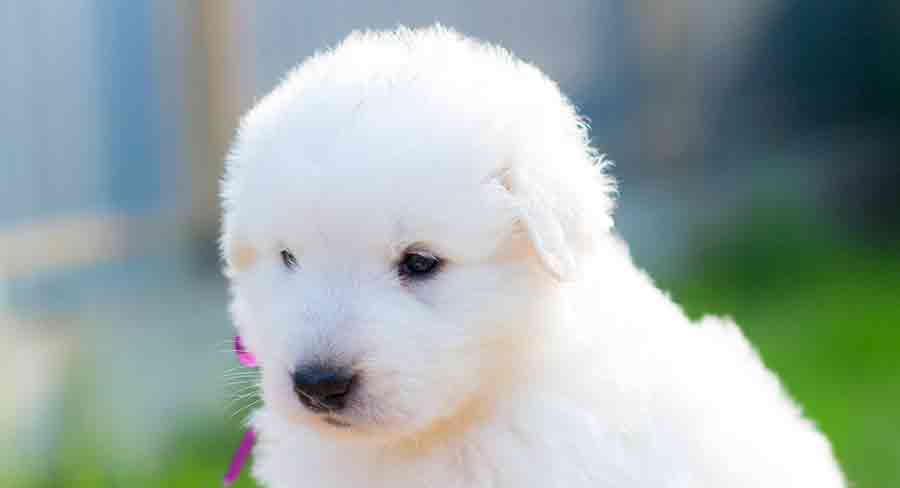 This large Italian dog was bred to guard livestock in the Abruzzo and Maremma region of Tuscany and Lazio. True to their name, farmers used them to guard sheep against wolves.
This breed is incredibly loyal and has a dignified persona. Consequently, they do become very attached to their family members and can make a wonderful family pet.
Characteristics of the Maremma Sheepdog
This dog joins the very largest Italian dog breeds, with a muscular build and a thick white coat that is typically solid white and rough to the touch. And the Maremma Sheepdog can weigh as much as 100 pounds.
This Italian sheepdog can be aloof with strangers, but early socialization can help with this. They are also very intelligent, making training a breeze.
The Maremma Sheepdog can be prone to hip dysplasia, achondroplasia, and slipped patellas. They have an average lifespan of 11 to 13 years.
Fun Facts About Italian Dog Breeds
The Maremma breed are thought to be over 2000 years old
The Santa Maria church in Florence depicts a Maremma in a 13th-century painting
They are related to the French Pyrennes Sheepdog and the Hungarian Kuvasz
Volpino Italiano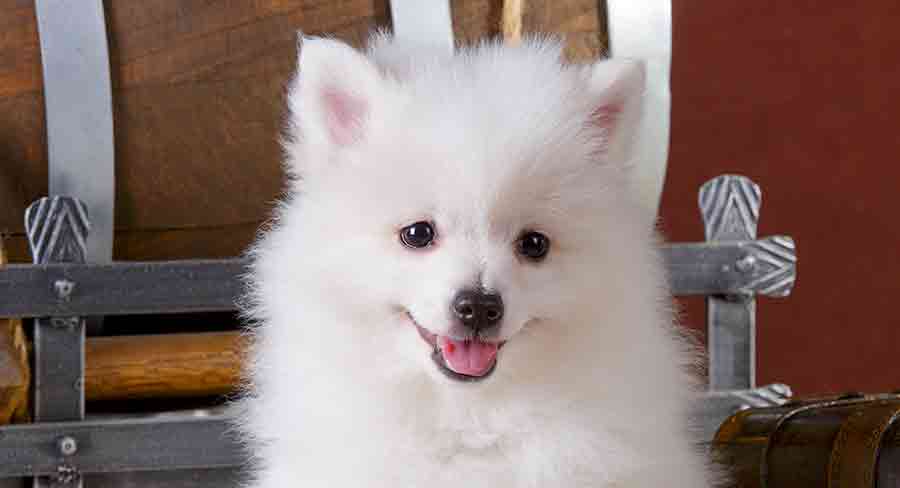 The Volpino Italiano is an old Spitz-type Italian dog breed. This dog is small in size, but they are courageous. People originally used them as a guard dog, alerting the larger dogs of trouble.
One of the small Italian dog breeds, this was also a companion dog, adored for centuries by Italian noblewomen.
Characteristics of the Volpino Italiano
This is a small Italian dog breed with a long, thick white coat and fox-like features. The Volpino Italiano isn't well known in America at all, which means they're more likely to be mistaken for an oversized Pomeranian.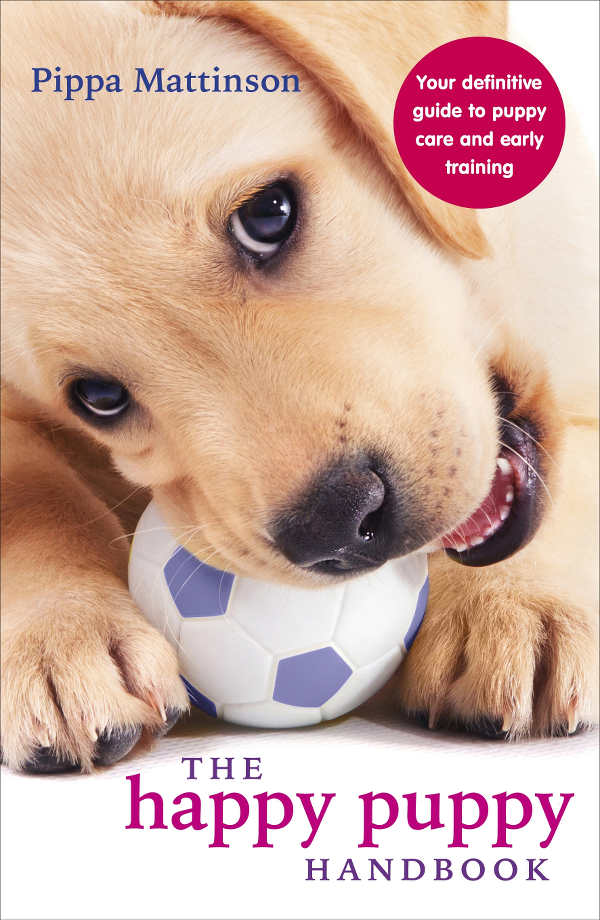 Their snowy white coat needs quite a lot of grooming to keep it immaculate. But luckily, you shouldn't get much of a fight from these happy lapdogs whenever one-to-one attention is involved.
They are good-natured, intelligent, affectionate, playful, and active. These dogs are also very vocal and enjoy using their voice. This is probably due to their guard dog roots.
The Volpino Italiano is predisposed to two health issues: primary lens luxation, patellar luxation. They have an average lifespan of 14 to 16 years.
Fun Facts About Italian Dog Breeds
Volpino Italiano also go by a few other names: Cane de Quirinale, Florentine Spitz, and Italian Spitz
It is believed that the painter Michelangelo may have had one of these dogs as a pet
The breed was disappearing in 1965, however, efforts made in the mid-1980s revived the Volpino Italiano
Italian Guard Dog Breeds
Two of the Italian dog breeds listed above are particularly prized for their guarding ability. Both are large Mastiff type dogs, the Neapolitan Mastiff, and the Cane Corso.
Owning such a large and powerful dog as a guard and protector for your family is a great responsibility as such dogs are not always able to discriminate between a legitimate visitor, and an intruder.
Guarding breeds need extensive and very thorough socialization to help them be safe and confident canine citizens and it's important to get a breed specialist to help you with this if you have never raised a guard dog before.
Italian Hunting Dog Breeds
Italy has a long and noble tradition of producing quality hunting companions. And some of the breeds on our list are fine examples.
From the ancient Bracco Italiano dog breed, a pointer with hound like good looks to the ever popular Italian Spinone, a beautiful rough coated versatile pointing breed. And not forgetting the Lagotto Romagnolo the loyal Italian Water Dog. If you are looking for a hunting companion one of these three breeds may suit you very well.
Puppies from the Italian Dog Breeds
Finding Italian dog breeds from a reputable source is of the utmost importance. As always, we recommend doing plenty of research before you decide where you get your Italian dog.
We've tried to give you an idea of the health problems most commonly diagnosed in our favorite Italian dog breeds.
A good breeder will be happy to talk candidly about them with you, including any family history of health problems and what screening tests they have undertaken.
Adopting Italian Dog Breeds
Although shelters carry all types of breeds, you'll find that certain Italian dog breeds are harder to find. It will depend on what dogs are available at the time you are looking.
Many shelters do incur adoption fees, but they are often a fraction of what most breeders charge. Another benefit of adopting from a shelter is that shelters usually cover the initial vet fees, ensuring your Italian dog breed is adaptable and ready for his forever home!
Is One Of The Italian Dog Breeds Right For You?
Italian dog breeds include some of the smartest working breeds, steadfast guarding dogs, and most devoted companion pups.
Whatever kind of lifestyle you want to enjoy together, Italy has a great dog for you. Some, like the Maltese, already have an international reputation as popular pets.
Remember, there are no shortcuts to finding a healthy, well-raised pup. So, it might take a little patience to bring home one of the less common Italian dog breeds on our list. But we think any one of them would be worth the wait.
Readers Also Liked