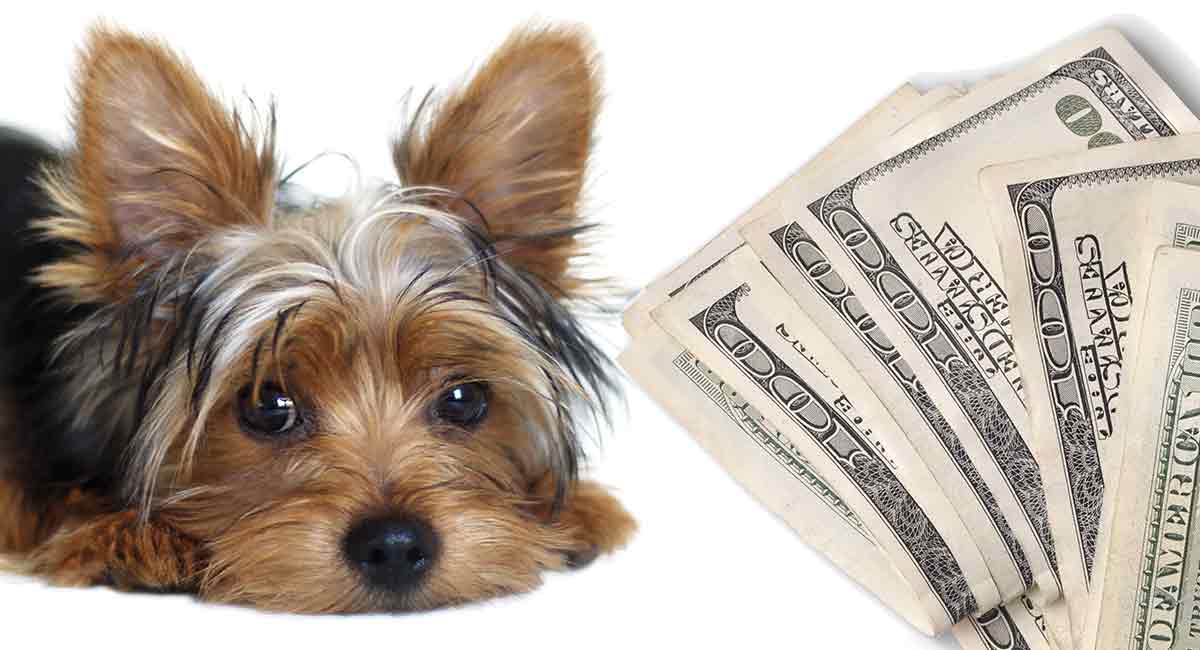 How much is a Yorkshire Terrier puppy? What's the best way to start your search? If you've fallen in love with the Yorkshire Terrier breed, you may be looking at bringing a tiny Yorkie puppy home to join your family. The Yorkshire Terrier is certainly a popular choice. They're currently ranked 9th most popular breed in the US. Before you take the plunge and buy a puppy, it's important to consider the financial implications. Not just of buying your puppy, but of the long term costs associated with their ongoing care.
In this article, answer the question how much is a Yorkshire puppy? We'll explore the difference between prices and what sort of ongoing expenses you can expect with this breed. We'll also take a quick look at rescuing a puppy or older dog and why this can also be a great option.
Calculating The Cost For A Yorkshire Terrier Puppy
Once you start looking at Yorkshire Terrier puppy breeders, you're likely to find a wide range of prices. Puppies destined for the show ring will cost a lot more than others. But, every breeder will calculate the cost of a puppy, in order to both cover their costs, and (sometimes) make a bit of profit.
This price will include a portion of the expenses incurred in the process of breeding and raising each little of puppies. As Yorkshire Terriers are such tiny dogs, they often have small litters. This means the price per puppy is often higher than some other breeds which have larger litters.
How Much Does It Cost To Raise A Litter?
It might seem reasonably straightforward to raise a litter of puppies and then sell them on, but when we break down the costs, it's easy to see that as well as taking a lot of time and effort, breeding puppies is not cheap.
For example, breeders with a litter of 6 puppies will likely spend around $2300 breeding a normal, healthy litter of puppies, with no complications. Here's a breakdown of the costs involved:
Pre-breeding expenses for female dog
Eye exam $25
X-rays to check for hip dysplasia $200
Brucellosis test $50
Progesterone test $150
Heart worm exam $50
Thyroid panel $120
DNA test $40
Pre-breeding exam $40
Breeding expenses
Stud fee $600
Transport costs $75
Pre-whelping expenses
Vet check for female pre-delivery $130
Supplies for puppies $125
Litter expenses (6 puppies)
Vet check $120
Vaccinations and worming $180
Food for female and puppies $100
Heart worm treatment $60
Litter registration $65 +
Supplies for puppies $50
Puppy packs for new owners $150
All these expenses are taken into consideration when the breeder decides how much a Yorkshire Terrier puppy will be. If there were complications, such as the mother dog needing an emergency C-section, or puppies requiring additional care, then the price may be higher to reflect those extra costs.
Expensive Puppies Vs Low Price Puppies
At the time of publication, we found Yorkie puppies for sale ranging from $500 – $3500. Why is there such a large price difference between Yorkie puppies? It all comes down to the type of breeder.
Let's take a look at the variety of breeders you may find advertising Yorkshire Terrier puppies, as well as which of those to avoid. We'll also take a brief look a breeders who offer Yorkie pups of various unusual colors, as well as those who advertise 'teacup' Yorkies.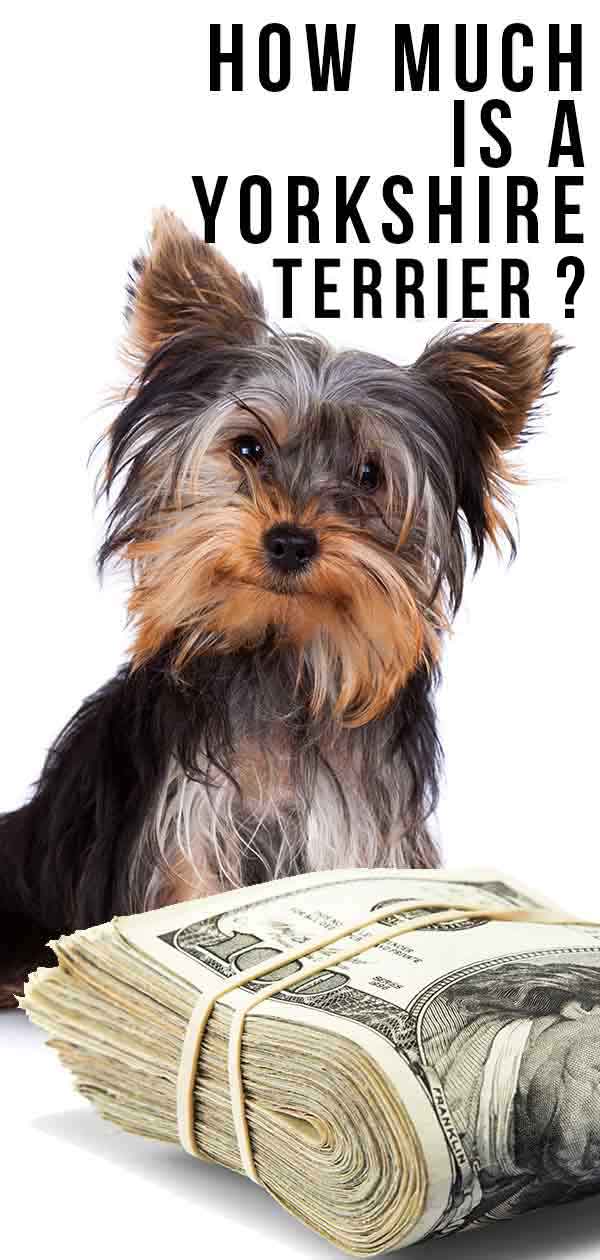 Showline Yorkshire Terrier Breeders
Yorkshire Terriers who are destined for the show ring will, as a general rule, be the most expensive. They might not even be advertised through the usual channels. Puppies whose parents and grandparents are title holders for prestigious shows can cost as much as $10,000.
Purebred Yorkshire Terrier Breeders
While some of these puppies may not be destined for showing classes, their breeders will still spend plenty of time and effort in matching suitable bloodlines to produce the healthiest puppies.
Purebred Yorkie breeders are generally passionate about the breed. They place the health and welfare of their dogs above making a profit.
Typically, they will consider health tests, genetics, and temperament when selecting parent dogs.
Speak to a few purebred Yorkie breeders and you'll start to get a good idea of why they charge the price that they do, and whether or not that fits within your expectations.
It's a good idea to ask to see both parents of any puppies you're interested in, as well as asking any questions you may have about health testing, training, and temperament.
Many of these breeders will be more than happy to stay in contact with you once you've taken your puppy home.
Backyard Breeders
These breeders may take more of a casual approach to breeding. Perhaps they have a friend with another Yorkshire Terrier, and decide to breed them both together. Or a gate has been left carelessly open, and now their female dog is pregnant to an unknown male.
Puppies from backyard breeders may look like Yorkies, but might not be purebred. If they are purebred, there's a high chance that the parents haven't been health tested.
Puppy Mills
Last of all, is the puppy mill. Puppy mills primary concern is making profit. Here, money comes before the welfare of the dogs.
In the US, a staggering 2 million puppies are bred in mills every year. Each mill can hold between hundreds of dogs, to thousands. The conditions in these mills can be truly shocking. Puppies and their mothers can be kept in wire cages, with little or no veterinary care. Health tests won't be available for these pups.
Most puppies that can be found in pet stores are from puppy mills. Others are advertised on the internet. While the cost of puppies from these operations may seem affordable at the outset, buying a puppy this way allows the puppy mills to keep operating.
Taking an active interest in the ethics of any breeder, and asking questions about the health of both parents as well as the puppies, is the best way to ensure the welfare of the dogs.
Rescuing a Yorkshire Terrier
If none of the options for breeders of Yorkshire Terrier puppies appeal to you, there's another option. Rescuing a puppy or older dog is a great way to find the perfect dog for your family.
Unusual Colors And Teacup Yorkshire Terriers
You might have seen some Yorkie puppies of unusual colors while doing your research. As well as tiny puppies advertised as micro, mini, or teacup Yorkies. With both these situations, we advise you to proceed with caution. The only colors approved by the American Kennel Club for Yorkshire Terriers are:
Black and Gold
Black and Tan
Blue and Gold
Blue and Tan
Any other color, such as golden, or parti, will not be bred by reputable breeders.
Teacup Yorkies have surged in popularity recently, and come with a big price tag to match.
We also recommend caution when considering purchasing a Teacup Yorkie. They're not recognised as a separate breed by the American Kennel Club.
Yet these tiny pups can command sky-high prices.
While Teacup Yorkies may look cute, they can be prone to additional health issues due to their small size. You can read more about those in our full review.
What Is The Cost Of A Yorkshire Terrier Puppy
When we looked at prices of Yorkshire Puppies in the US at the time of publication, we found the cheapest puppies advertised at $500, and the most expensive at $3500. However, be aware that some high priced pups, such as teacup Yorkies, or those with unusual colors, are not necessarily a good choice.
Are There Other Costs With A Yorkshire Terrier Puppy
As with any puppy breed, your costs will definitely not end once you've handed over the money to your Yorkie breeder, and taken your puppy home.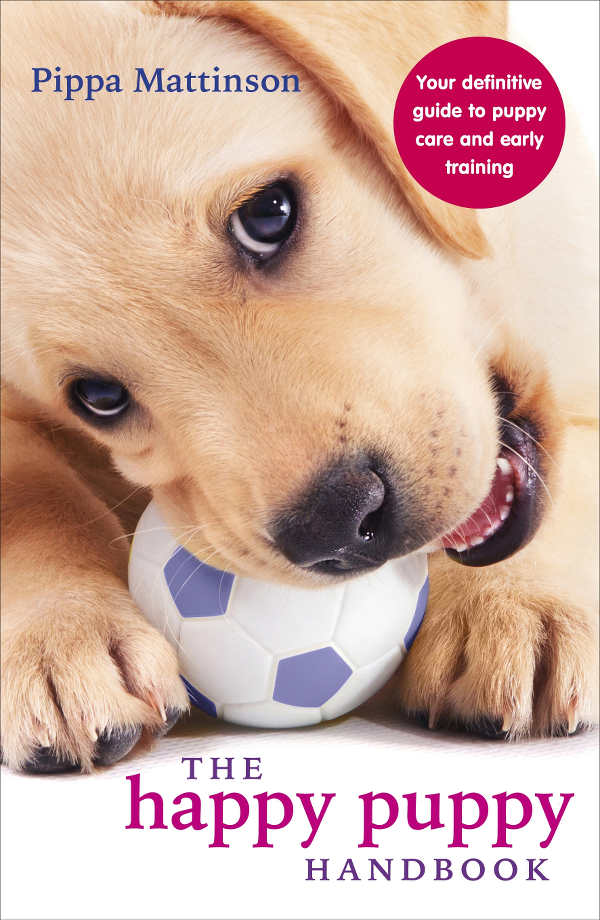 You'll need to factor in a range of expenses, which can include:
Feed
Microchipping
Flea and tick prevention
Worming
Bedding and crates
Training
Veterinary trip for vaccination boosters, and health checks
Spaying/neutering
Food and water bowls
Toys
Leash, collar, and harness
Some of these expenses will be one-off purchases. Others will need purchasing more frequently. It's possible to set up monthly deliveries of feed, plus certain medications such as flea treatments.
Many veterinary practices offer a loyalty program, where for affixed price per month you will get supplied with treatments tailored to your dog's needs. Some websites also offer a similar service.
As Yorkies are small, they only need around half a cup of food per day. A 5 pound bag of top-rated kibble for small dogs costs around $10, and contains 16 cups of feed.
How Much Is A Yorkshire Terrier
As you can see from the details about the different types of breeders, the puppies which are more expensive generally tend to generate less profit for their breeders.
This is because they put the health and welfare of their dogs above making money.
Take the time to get to know any breeders you find, and ask a range of questions.
If you're the new owner of a cute Yorkie pup, or a breeder with advice to those searching for their perfect pup, please let us know in the comments below.
References and Resources