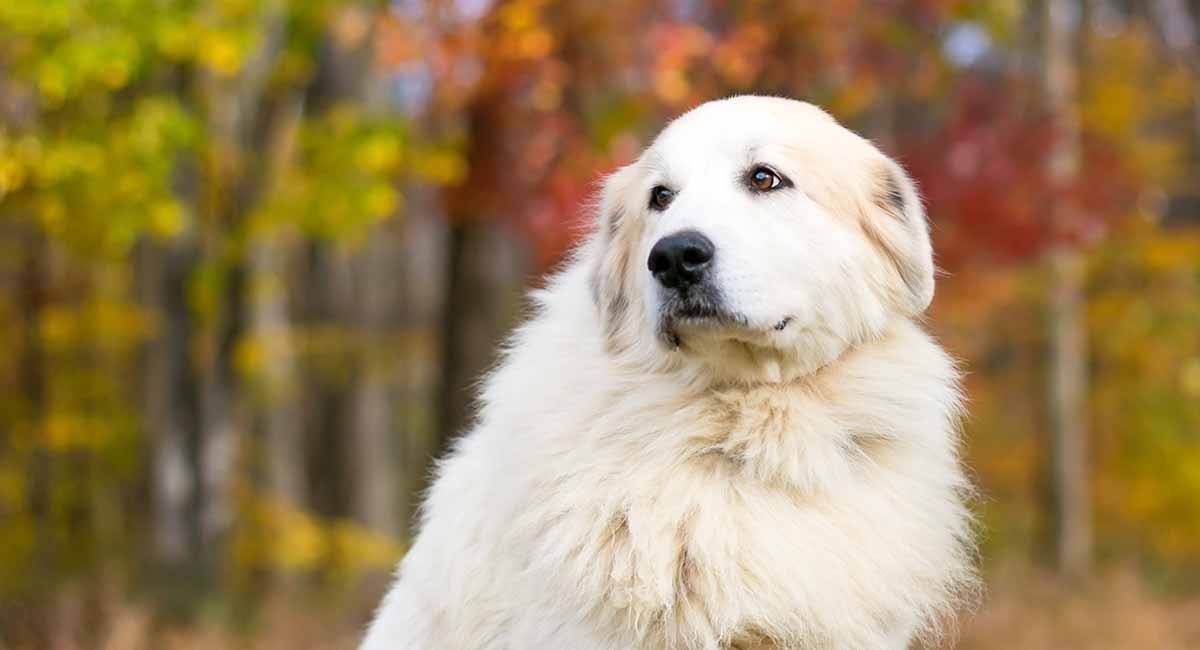 The Great Pyrenees dog breed is famous for its large size, thick white coat, and calm, loyal, personality. Also known as the Pyrenean Mountain Dog, or Pyr, this powerful breed is named for the mountains where it originated as a livestock guardian.
A devoted companion, the Pyr belongs to the Working Dog group, and needs plenty of socialization to ensure guarding traits don't lead to aggression. They are well suited to the more experienced owner and with the right training and committment can make a great family dog.
We're going to be talking about the history, appearance and behavior, of the Great Pyrenees. And we'll look at lifespan, and health. We'll also share our tips for feeding and grooming, and for finding and caring for one of these intelligent and affectionate giants.
Contents
Great Pyrenees do shed, but their coat isn't as high maintenance as you might expect. Here's a Pyr getting his six weekly shampoo and blow dry.
History of the Great Pyrenees Dog Breed
The Great Pyrenees takes its name from the Pyrenees mountains in southwestern Europe. It is believed that the breed originated as early as 3,000 B.C.! These dogs were originally used by shepherds to guard their flocks from mountain predators.
Eventually, they became popular in other spheres, such as with French royalty in 1675 and with Queen Victoria of Britain in 1850. However, their numbers dwindled between the late 1800s and early 1900s. Predators vanished from the Pyrenees mountains, so livestock guard dogs were no longer a necessity.
Luckily, efforts were made to revive the breed. By 1927, a single club was formed by a group of Frenchmen, who created a breed standard and followed it when mating Great Pyrenees.
In 1931 the first serious (and successful) effort to launch the breed in America began. The Great Pyrenees was officially recognized by the American Kennel Club in 1933.
Great Pyrenees Physical Characteristics
Great Pyrenees have dark brown eyes and floppy, triangle-shaped ears. Their chests are somewhat broad, and deep enough to reach the elbows.
The Great Pyrenees' large frame and long fluffy coat make it unmistakable in its looks.
Did you know that not all great Pyrenees are plain white? Some have markings, though typically, these markings do not make up more than one-third of the body. They are grey, reddish-brown, badger, or tan.
The coat tends to be thicker in the neck and shoulder region, which makes some Pyrs (usually males) reminiscent of lions.
This beautiful coat is weather-resistant and double layered. The outer coat is long, thick, and flat, and the undercoat is fine, dense, and wooly.
Great Pyrenees Size
Great Pyrenees are large dogs, with females weighing 85 pounds and up and males weighing 100 pounds or more.
Measuring at the withers, male Pyrenees are between 27 and 32 inches tall, and females are between 25 and 29 inches tall.
In fact, these dogs are said to be about the same size as the European grey wolf!
Great Pyrenees Temperament and Behavior
Great Pyrenees are typically described as placid, intelligent, and loyal.
They are calm inside the home, but they were bred to be guard dogs and may exhibit tendencies such as patrolling the house or being protective of family members.
However, they are smart and can understand the difference between an invited and uninvited guest.
They are not attack dogs, but can be very intimidating, using growling or barking. It's important to be responsible in managing a Great Pyr's protective instincts.
The Great Pyrenees dog was often left alone to guard his shepherd's flock. As such, Pyrs are typically more independent than your average dog.
This independence means that they are not likely to be the most obedient dog and can sometimes be rather willful.
Still, they enjoy spending time with their families and do well with children. You will just want to monitor play as the Great Pyrenees is a very large dog, and if overly excited may be too much for a small child to handle.
Grooming a Great Pyrenees
Despite their thick coats, Great Pyrenees don't need much in the way of grooming.
Typically, brushing them once a week for about 30 minutes is enough to keep their coat tangle-free and to help manage Great Pyrenees shedding — which happens a lot.
Their teeth should be brushed often and their nails clipped as needed. Their ears should be checked for wax buildup and infection regularly.
Great Pyrenees Health Risks
The Great Pyrenees is at risk for the following health issues:
Bloat (gastric dilation volvulus)
Glanzmann's thrombasthenia (Type I)
Subaortic stenosis
Congenital deafness
Hypothyroidism
Neuronal degeneration (NDG)
Spondylosis
Sebaceous adenitis
Addison's disease
Degenerative myelopathy
Cancers including hemangiosarcoma, osteosarcoma, lymphosarcoma, and mast cell tumors
Ophthalmologic issues such as cataracts, persistent pupillary membrane, progressive retinal atrophy (PRA), and canine multifocal retinopathy
Orthopedic problems including elbow dysplasia, hip dysplasia, patellar luxation, osteochondritis dissecans (OCD), and panosteitis
Though we can't go over each health risk, there are a couple we would like to elaborate more on.
Health Risk Specifics – Glanzmann's thrombasthenia
Glanzmann's thrombasthenia is most commonly associated with Great Pyrenees, though it has been seen in some other breeds.
In a nutshell, Glanzmann's thrombasthenia is when blood platelets are inefficient at forming clots, which are vital in the body's ability to close wounds.
As a result, those affected may exhibit spontaneous hemorrhages and are at high risk for hemorrhage after surgery or injury.
Warning signs may include excessive gum bleeding as teeth grow in, nose bleeds, and spontaneous superficial bleeding of the skin.
Health Risk Specifics – Osteosarcoma
Great Pyrenees are also among the handful of giant breed dogs that have the highest risk to develop osteosarcoma, a type of bone cancer.
Tumors form within the bone and have a high chance of spreading, most commonly to the lungs. In fact, 80% of dogs with osteosarcoma die due to tumors spreading to the lungs.
Osteosarcoma is most commonly seen in middle aged to senior dogs, though it has occasionally been found in younger dogs as well.
Signs of osteosarcoma may include lameness (sudden or eventual) and swelling or lumps (usually in the legs).
Learning about the health risks of any given breed is often a worrisome experience. Luckily, there are many health tests available to help identify health issues in parent dogs.
You should only buy a puppy from a breeder who has performed health tests on their dogs and can discuss the results with you.
Great Pyrenees Lifespan
The Great Pyrenees' life expectancy is 10-12 years. This is typical for such a large dog.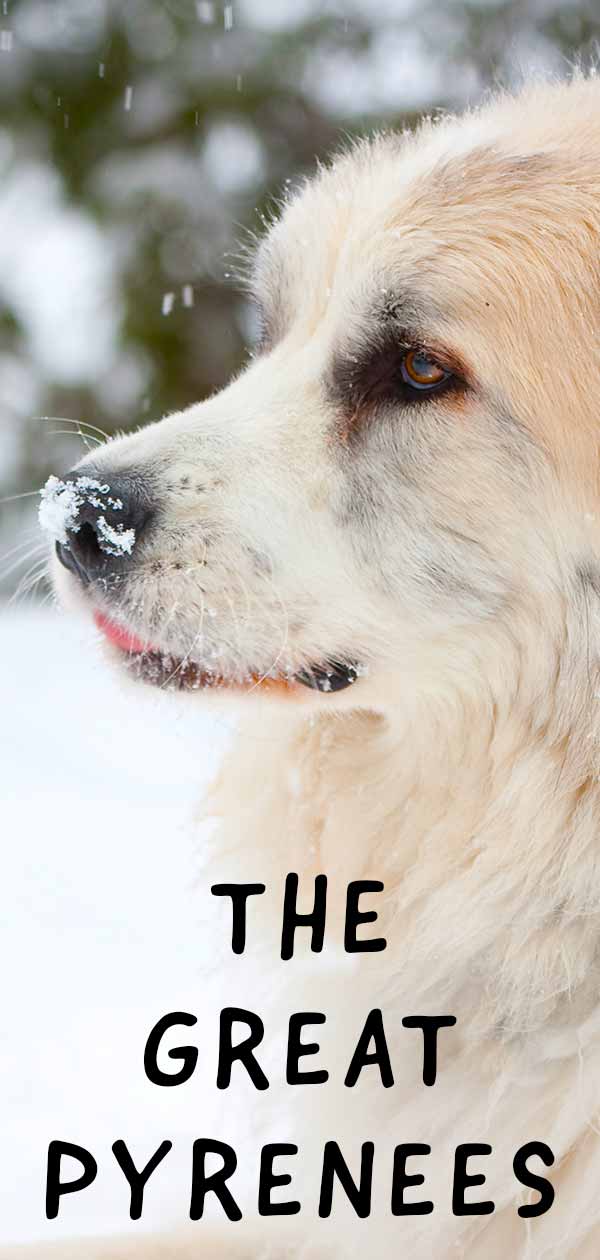 Great Pyrenees Exercise and Training Needs
Despite their large size, Great Pyrenees need less exercise than you might expect. In fact, a daily walk is often enough.
When it comes to training, Great Pyrenees are not known to be the most obedient dogs, so you will need to work harder to teach this skill.
You might consider taking your puppy to obedience classes. Basic obedience is vital not only in raising a well-mannered dog, but also in keeping it safe.
Training can start the moment you get your puppy. However, keep sessions short and fun. Puppies do not have long attention spans, and this is especially true for Pyrs.
They are intelligent and learn quickly, but this means they get bored quickly, too. Therefore, you'll want to switch up your training routine regularly to avoid too much repetition.
Using positive reinforcement training methods works best because it is rewarding, which will help keep your puppy motivated to learn.
Furthermore, Great Pyrenees are tough, so they will not respond to physical punishment or other such negative correction methods.
Because Great Pyrenees puppies will grow to be large and strong, leash training should begin from day one. Do not wait until your puppy is stronger than you.
Otherwise, it will be much more difficult to take your dog for his daily walk. It is essential that your Great Pyrenees has good leash manners.
Pyr Socialization
Aside from basic training, Great Pyrenees should spend an ample amount of their youth being socialized. You should introduce your dog to a variety of people and pets.
Not only that, you may want to take extra care to socialize your Pyr to people who are wearing or carrying different objects, like glasses, hats, or umbrellas.
Because it is in their nature to be protective, proper socialization can keep your pup from becoming overly wary of other people or dogs.
In general, socialization decreases fearful or aggressive behaviors and teaches your pup to be confident when interacting with other people and dogs.
Ideal Home for a Great Pyrenees Dog
Because of their size, the Great Pyrenees is not a good fit for apartments or any small or cramped living spaces.
Furthermore, they have a tendency to bark, so you may want to consider your proximity to your neighbors before adopting a Great Pyrenees.
A house with a fenced-in yard is best. A Pyr will instinctively patrol a very large area, so if you do not have a fence, they will likely patrol beyond the borders of your yard. Your Pyr should never be off-leash when not fenced in.
Despite being rather independent, Great Pyrenees should not be left alone for long periods of time. They may become bored, which can lead to destructive behaviors. This is even more true during their youth.
If you work full-time or are otherwise preoccupied for most of the day, you may want to reconsider if a Great Pyrenees is the right dog for you.
You could also consider hiring a dog sitter or sending your pet to a doggy daycare while you are away.
Finding a Great Pyrenees Puppy
There are a few places you can look if you're interested in getting a Great Pyrenees. For starters, you will want to check out your local newspaper and look around online.
There is also a national organization called the National Great Pyrenees Rescue that rescues Great Pyrenees and adopts them to suitable homes.
State-based rescue organizations for Great Pyrenees exist as well, so if you're interested in rescuing, you can check if there are any in your state.
Pyr Breeders
If you plan to get your puppy from a breeder, there are a few things you should do. First of all, research any breeder you are interested in. Visit their web pages, look at pictures, and read reviews.
If you're still interested in that breeder, the next step is to visit. This will allow you to get a sense of the space where your puppy will be kept, and you can also see the parent animals.
Pay close attention to the behavior and overall look of the parent dogs, as it will give you a sense of the type of care the breeder has given it.
Are they clean? Is their hair matted? Do they seem vigorous or sluggish?
You should not expect Pyrs to greet you with exuberance the way, say, a Golden Retriever might. After all, the Great Pyrenees is a guard dog.
However, they should not show any hostility. A well-trained Great Pyr will not mind a visitor who is welcomed onto the property.
It is important to ask to see the health tests the breeder has had performed on the parent dogs.
There are a number of health tests that can be performed on Great Pyrenees, and you can find more information on the Great Pyrenees Club of America's website.
Because some health risks, such as osteosarcoma, cannot be tested for, it's also a good idea to ask the breeder about the general health histories of their dogs.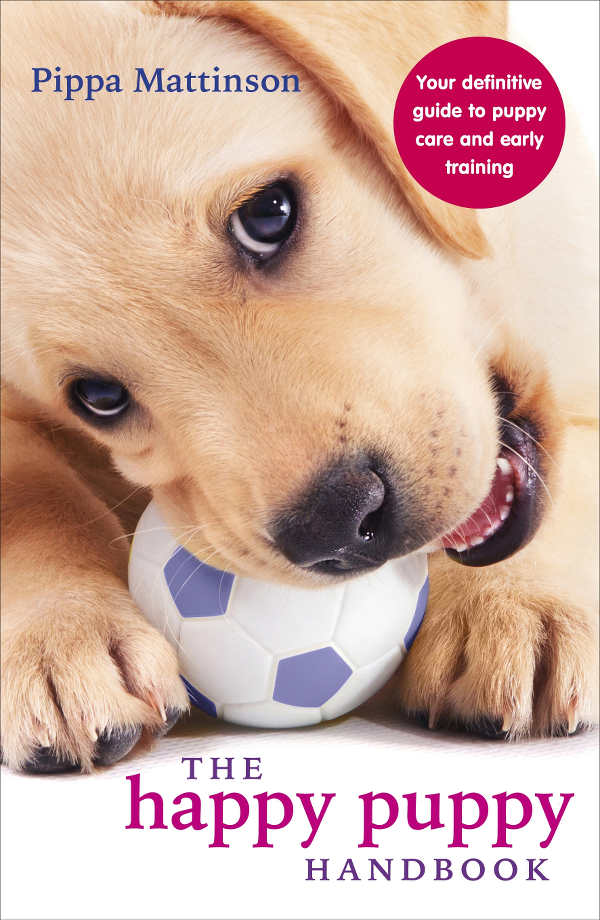 Your Great Pyrenees
Originally guardians of shepherd's flocks in the Pyrenees mountains, Great Pyrenees are calm, loyal, and good with children, but they're not the most obedient of breeds.
They have a beautiful coat which doesn't require much grooming, but they shed a lot.
They excel as watch dogs, but because of this, they bark a lot. You must also be responsible in training a Great Pyr so that it doesn't become overprotective.
Great Pyrenees are at risk for a number of diseases, so you should never buy from a breeder who hasn't health tested their dogs.
Of these diseases, Great Pyrenees are on the list of giant breed dogs that are at the highest risk for developing osteosarcoma. Any lameness or swelling should be evaluated by a vet immediately.
A Great Pyrenees should never be off-leash, and a home with a fenced-in yard is best.
Consider the size of your living space and whether or not it can accommodate such a large dog. Apartments are usually not a good fit.
With all this in mind, do you think the Great Pyrenees is the right dog for you?
References
Beuchat, Carol. "The 10 most important things to know about canine hip dysplasia." The Institute of Canine Biology. 11 Dec. 2015.
Boudreaux, M K, et al. "Type I Glanzmann's Thrombasthenia in a Great Pyrenees Dog." Veterinary Pathology, vol. 33, no. 5, 1 Sept. 1996, pp. 503-511.
"Canine Osteosarcoma (OSA)." WSU Veterinary Teaching Hospital.
Cargill, John and Susan Thorpe-Vargas. "Hypothyroidism: A Highly Inheritable Canine Health Hazard." Dog World, vol. 83, no. 1, Jan. 1998, p. 20.
"Examining Elbow Dysplasia." Orthopedic Foundation for Animals.
"Great Pyrenees." The American Kennel Club.
Great Pyrenees Club of America
Szewczyk, M, et al. "What Do We Know about Canine Osteosarcoma Treatment? – Review." Veterinary Research Communications, vol. 39, no. 1, 26 Nov. 2014, pp. 61-67.
WARGO, MEREDITH. "Beware of BLOAT." Dog World, vol. 96, no. 7, July 2011, p. 40.