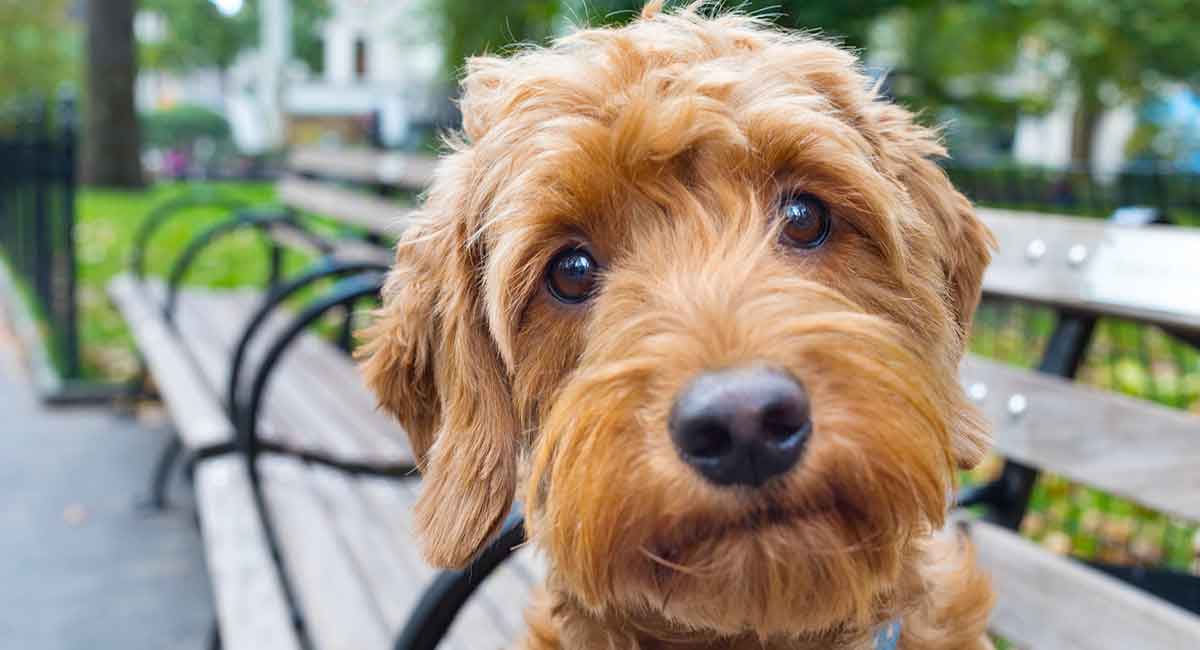 Goldendoodle grooming is an important part of their care, despite their low shedding coat. A Standard Poodle Golden Retriever mix, their coat comes in several different types, that need managing in different ways. Today we'll help you to decide the best method to brush, groom and give haircuts to your Goldendoodle puppy or dog. We'll also share the top slicker brushes, combs, clippers and scissors for your Goldendoodle's fur and size. And some great Goldendoodle grooming videos too.
Contents
Do Goldendoodles Need Grooming?
Those cute curls or waves look amazing, but without proper management they can quickly get out of control. All dogs need grooming, and some breeds' coats need more attention than others. Goldendoodles are real outdoor-loving dogs.
There's nothing your pup will enjoy more than romping through muddy fields and hunting for a ball in bushes and brambles. Unfortunately, all of this can bring havoc on his coat! Grooming your Goldendoodle is important because:
It keeps the coat in excellent condition and prevents it from tangling and becoming matted.
The time spent paying close attention to your dog is an opportunity to spot skin problems, lumps, bumps, etc.
And best of all, it builds a bond between your dog and you!
Goldendoodle Coat Types
How you groom your Goldendoodle will depend a little on the type of coat they have. Most Goldendoodle coats will fall somewhere in between their Standard Poodle and Golden Retriever parents'. But occasionally you will find a dog with either one or the other. If you have an F1b Goldendoodle (one Poodle parent and one Goldendoodle parent) you can expect a much curlier coat.
If your pup has a classic Golden Retriever's coat, you can find out how to groom him in this article.
For more information on how best to groom a classic Poodle coat, check out this article.
What Type of Fur Do Goldendoodles Have?
Goldendoodles have three coat types: wavy, curly and straight. There's no way of predicting what kind of coat your puppy will have. Puppies' coats do change as they grow up, so be wary of choosing a puppy based purely on his apparent coat type.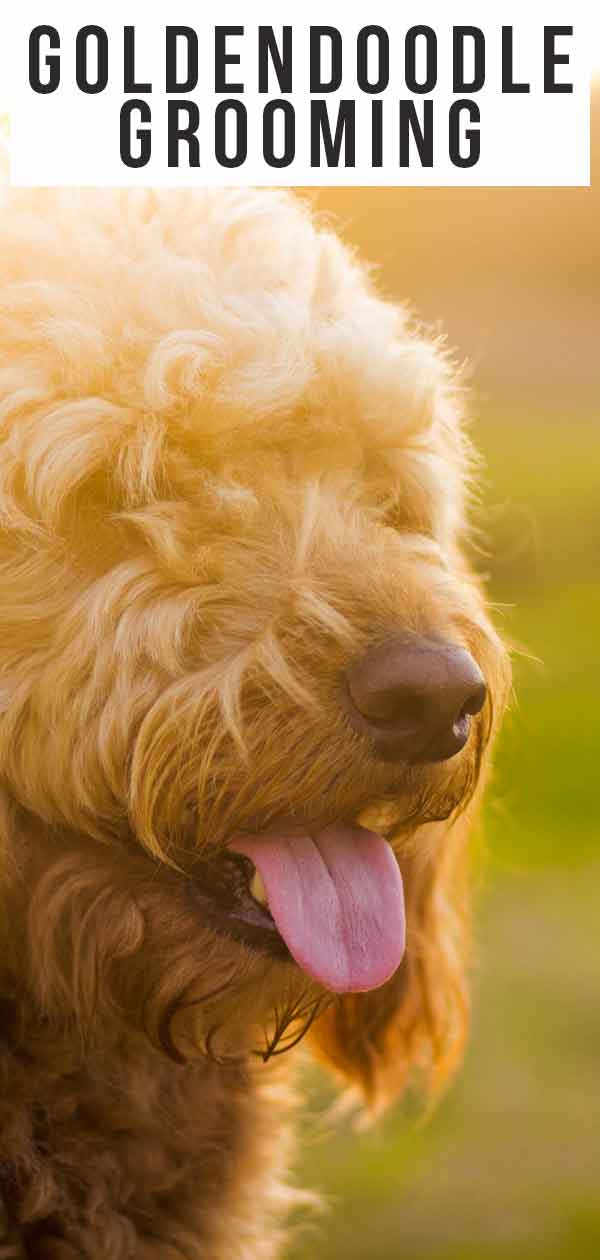 Wavy Coated Goldendoodles
The wavy or shaggy coat is the most commonly seen Goldendoodle coat type. This type of coat is the easiest to look after. However, you'll need to set aside some time for grooming your Goldendoodle once a week as a minimum.
Areas of high friction such as under the collar or around your pup's ears might need more frequent attention. The wavy coat is typically very low-shedding, although not hypoallergenic as some claim. Some wavy-coated Goldendoodles don't shed at all.
Curly Coated Goldendoodles
Curly coats are also pretty common in Goldendoodles, but the length and tightness of the curls will depend on the parental lineage. Curls vary from loose ringlets to tight kinks, just like a poodle would have.
This coat type is quite demanding to maintain and needs brushing daily to prevent matting. If you prefer a maintenance-free coat, you could opt to have your Goldendoodle professionally clipped. The curly coat is typically non-shedding.
Straight Coated Goldendoodles
The straight coat is much less often seen in Goldendoodles. This coat type is usually referred to as the "Golden Retriever Coat." Straight coats are easy to maintain, requiring only minimal brushing. However, this coat type doesn't give you the renowned "teddy bear" look that Goldendoodles are famous for. This coat type produces low to moderate shedding.
Goldendoodle Puppy Coats
When your Goldendoodle is a puppy, it's really hard to tell what his coat type will be once he's fully grown. You can get a clue to your adult dog's coat type by looking at the fur around the pup's face and muzzle, rather than his body.
If your pup has waves or crimping in his muzzle hair, he'll usually develop a wavy or curly coat, although you can't tell which will prevail until he's older. A smooth muzzle and face points toward a straight Goldendoodle coat type in adulthood.
Goldendoodle Grooming Frequency
The frequency of grooming your Goldendoodle will depend on his coat type, whether he's shedding and what activities he's been enjoying.
If you have a wavy or curly coated Goldendoodle, you'll need to groom him thoroughly at least once a day to prevent mats from forming.
Straight coats should be groomed once a week, and this is usually a quicker process than grooming a curly coat.
Goldendoodle Grooming During the Shedding Season
As a rule, Goldendoodles don't shed much. However, you will still need to groom your Goldendoodle more frequently during shedding season.
This will help to keep him mat-free and to prevent your home from becoming covered in fluffy undercoat. However, a daily once over is usually sufficient to keep the average Goldendoodle looking good.
How to Groom a Goldendoodle
Regardless of your Goldendoodle's coat type, you'll need to brush him.
Start by going over your dog's coat with a slicker brush. That will make the dog's coat fluffy and soft.
Brush the coat in "lines" (check out the video later in this article), working from the bottom to the top.
Remove any mats from the coat, using a metal comb or grooming rake.
A metal comb works best on curly coats, and a grooming rake is best for wavy coats.
If a mat proves stubborn, use thinning shears or blunt-tipped scissors to remove it.
A mat detangler is also a very useful tool for this job if the mats are small.
Although the trademark curly fringe is a Goldendoodle "thing," too much of a good thing can cause problems.
Goldendoodle Grooming Equipment
Use thinning shears to trim excess hair from around your dog's eyes. Goldendoodles can be prone to getting small "cling-ons" around their rear end. Use blunt-ended scissors to snip away these unwanted guests. Trimming tasks should be carried out every four to eight weeks or as required.
You will probably find it simplest to have a little box with your Goldendoodle grooming kit in it. Somewhere it's out the way, but not too far so it's hard to dig out each day.
Slicker Brush
To begin, you'll need a slicker brush.
Hertzko Slicker
The Hertzko Self-Cleaning Slicker Brush*(paid link) is the best-selling slicker brush on Amazon.
The brush is ideal for removing loose hair, tangles and knots. The bristles are fine, bent wires that are designed to penetrate deep into the fur without scratching the dog's skin.
When you've finished grooming, simply click the button on the brush to remove all the hair, leaving it ready for next time. The brush has a comfort grip to prevent wrist and hand strain, ensuring a comfortable grooming experience for both owner and pet.
Pro Quality Slicker
The Pro Quality Self-Cleaning Slicker Brush for Dogs*(paid link) is a self-cleaning slicker brush with fine wire bristles that are gentle on your dog's skin yet effective at removing tangles and dirt from the coat.
As a bonus, you get a free dog grooming ebook and a five-year manufacturer guarantee when you buy one of these brushes.
Combs
You'll also need a metal comb or a grooming rake, depending on the length of your pet's coat. The GoPets Dematting Comb with 2 Sided Professional Grooming Rake*(paid link) is a great tool for getting rid of stubborn mats and tangles. This professional grooming tool is also a best-seller
The double-sided comb is designed for use as a dematting rake on one side. On the other side, it is a detangler, undercoat rake and de-shedding tool. The rake's teeth are sharp so that they move smoothly through the coat without pulling. The non-slip, silicone gel handle ensures a secure, comfortable grip for the groomer.
Undercoat Rake
The Pet Grooming Tool – 2 Sided Undercoat Rake for Cats & Dogs*(paid link) is perfect for removing mats and tangles. And for grooming your dog while he's shedding.
The rake's teeth are designed with rounded ends to ensure that your pet's skin doesn't get scratched, but they are sharp enough to remove mats easily and without pulling. The tool's handle is non-slip and ergonomically designed for user comfort. Finally, you'll need some good-quality thinning shears and a pair of blunt-ended scissors for trimming and tidying up your dog's facial and trouser hair
Professional Scissors
Equinox razor edge scissors*(paid link) are professional-grade shears that are made from high-quality Japanese stainless steel.
The shears are ergonomically designed with a thumb grip to prevent them from slipping while you're using them. These shears won't become blunt, even under heavy use. They cut hair quickly and efficiently without pulling, making trimming your Goldendoodle effortless.
Yogo Pet Scissors
The Yogo Pet Grooming Scissors Kit*(paid link) gives you three pairs of scissors designed for trimming and thinning your pet's facial and body hair.
Each tool has rounded ends for safety, and the handles are designed for user comfort. This trimming set is recommended as a good quality product that's excellent value for money.
Goldendoodle Grooming Video
To see how to groom your Goldendoodle with the tools you've bought for your grooming kit, take a look at this helpful video.
Goldendoodle Haircuts
If you don't like the idea of spending hours brushing your Goldendoodle, you could choose to have him clipped. Clipping is the dog equivalent of a haircut for your pet.
You can clip your Goldendoodle at home or take him to your local professional groomer if you prefer. Check out this video to see what a Doodle looks like when he's been professionally groomed and clipped.
You'll need a very good quality set of clippers if you want to do the job yourself. Always buy the very best product you can afford, and be sure to have the clipper blades sharpened regularly.
If the blades become blunt or the clipper motor is not powerful enough, the blades will pull on the hair, making life very uncomfortable for your pet. Also, the clippers won't cut the hair evenly.
Wahl Clipper Pet-Pro Pet Clipper Kit
The Wahl Clipper Pet-Pro Pet Clipper Dog Grooming Kit*(paid link) is a brilliant product that includes professional quality clippers and a range of blades.
U.S.-made, Wahl clippers come with blade guards for safety, a storage case, cleaning brushes, oil, a styling comb, four guide combs and a mirror. The clippers are designed to cut the thickest coat with 30 percent more power than other comparable devices. The blades are self-sharpening and cut precisely with no uncomfortable snagging on your pet's fur.
Grooming Your Goldendoodle
The Goldendoodle can have a curly, wavy or straight coat. Whichever coat type your pet has, you'll need to groom him regularly to keep him mat-free and looking great. Be sure to put together a grooming kit comprising good quality products such as those we've mentioned in this article.
For more recommendations, take a look at this article on the best brushes for Goldendoodles. If you prefer, you can have your dog's coat clipped. You'll still need to groom your Goldendoodle, but you won't have to worry so much about his curly coat becoming matted.
Do you have a Goldendoodle?
If you do, we'd love to hear about them! Tell us how you keep your pet's coat in great condition in the comment section below.
Affiliate link disclosure: Links in this article marked with an * are affiliate links, and we may receive a small commission if you purchase these products. However, we selected them for inclusion independently, and all of the views expressed in this article are our own.