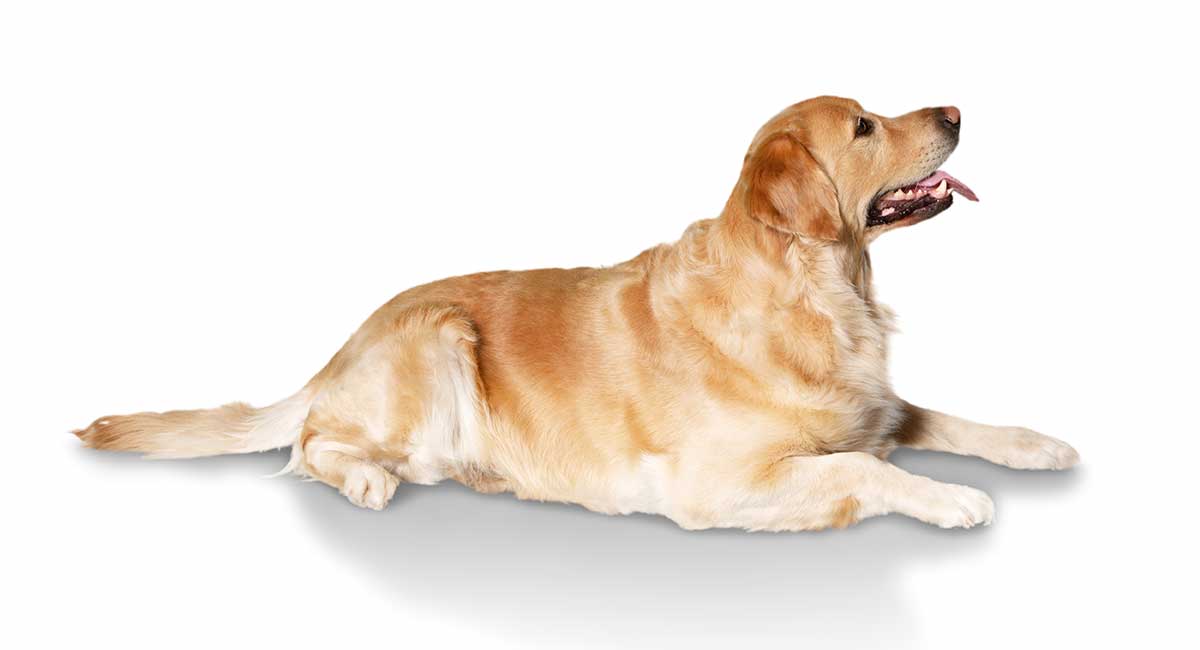 Average Golden Retriever size is 55–65lb for an adult female and 65–75lb for an adult male.
It takes about 18 months for a Golden to reach their full adult weight – as an eight-week-old puppy, the average Golden Retriever size is just 10 pounds when they're ready to leave mom.
After that, puppy growth is influenced by sex, genetics, neuter status, and lifestyle.
Golden Retriever Size
Are you thinking about adding a Golden Retriever to your family but wondering how big that adorable bundle of fluff will get when fully grown?
We'll tell you all you need to know about Golden Retriever size, including height, weight, and puppy growth rate.
Before we get started, let's take a quick look at the Golden Retriever breed first!
The Golden Retriever
Few dog breeds are as popular and adored as the Golden Retriever.
The Golden is famous for its friendly, cheerful, and devoted temperament.
Intelligent and very trainable, the Golden has long been a favorite family pet.
The breed originated in the Scottish Highlands in the 1800s, when a yellow Wavy-Coated Retriever was crossed with a Tweed Water Spaniel (a now-extinct breed).
The first few generations of Golden Retrievers worked as the gun dogs of hunters and gamekeepers in the region.
Their reputation quickly spread, and they became popular as both working dogs and companion animals in the UK, US, Canada, and throughout the world.
A handsome dog, the Golden is known for its dense, lustrous golden coat that gives the breed its name.
Potential Golden owners should be prepared for a good amount of shedding from that famous coat, which does require regular brushing.
Now that we've looked at the Golden in general, let's talk about Golden Retriever size. First up, Golden Retriever puppies!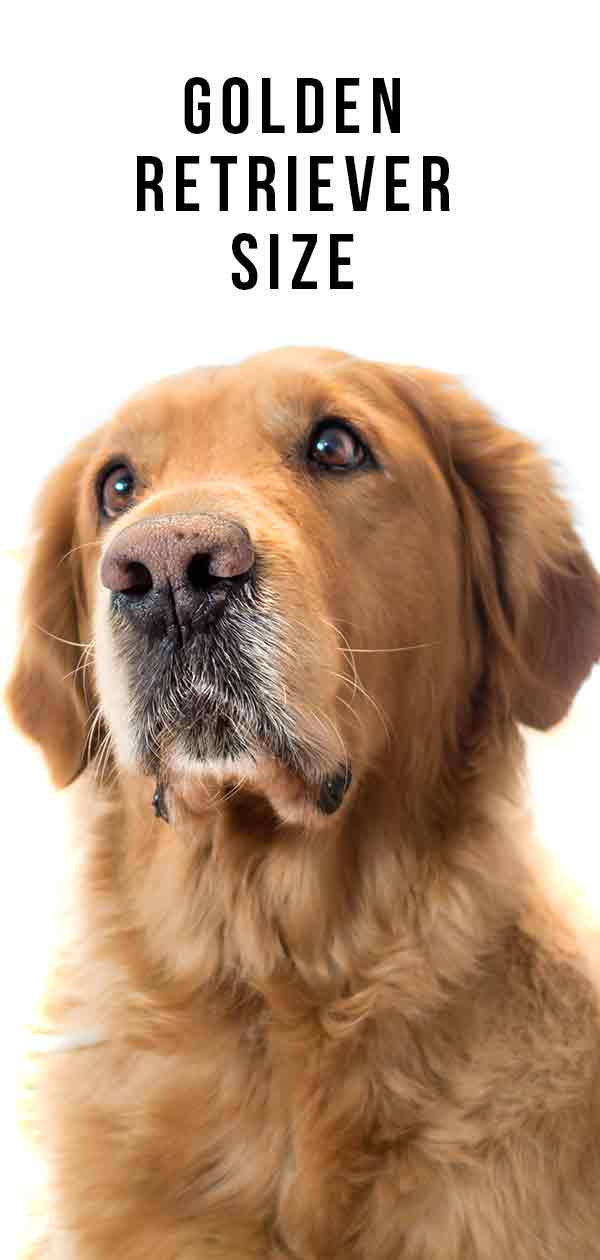 How Big Are Golden Retriever Puppies?
All dogs are individuals, including Golden Retriever puppies.
Keep in mind that your puppy could be above or below the average size and still be within a healthy range.
If a puppy falls well below the small end of the typical size range, it could be the runt of the litter.
While it's easy to fall in love with a runt, be aware that small size could come with some health issues, including a fatal condition known as fading puppy syndrome.
Normal Puppy Size
Generally, a newborn Golden Retriever puppy weighs around 14 to 16 ounces.
How big will your puppy be when it is ready to leave its mother and go home with you?
Eight weeks is usually the earliest a puppy will be allowed to go to a new home.
At this age, a Golden puppy will be around 10 pounds.
By the time your puppy is four months old, its weight will be around 30 pounds.
At eight months, your adolescent Golden Retriever could weigh 50 pounds or more.
Golden Retriever Growth
It's a fact, your Golden Retriever puppy won't be a little fuzzball for long!
Golden puppies have a fairly fast growth rate, growing anywhere between 5–10% larger each week.
Expect your puppy to reach its full adult height between 9 and 12 months of age.
Your puppy will continue to fill out after this and reach its full size at around 1½ years of age.
Your puppy's growth can be influenced by many things, such as genetics, sex, and age at spay/neuter.
As a responsible owner, you can encourage healthy growth in your Golden Retriever puppy too!
Owner Responsibilities
Proper feeding and exercise are key to healthy growth and development in Golden Retriever puppies.
Appropriate nutrition and exercise are especially important in large and giant breed dogs.
Some experts recommend not overfeeding or overexercising large and giant breeds in order to prevent joint problems.
Goldens are medium-large sized dogs, but they can still be prone to the orthopedic problems known as hip and elbow dysplasia, even while they are still puppies.
It's a good idea to talk to your veterinarian about diet and exercise if you have concerns about orthopedic issues.
Swimming can be a good option for dogs that develop dysplasia at a young age.
What Is the Average Golden Retriever Size?
How big will your Golden be when fully grown?
Golden Retrievers are sturdy but elegant medium to medium-large size dogs.
Golden Retriever size can be influenced by genetics, whether your dog is male or female… and even where you live!
Did you know that there are some small size and body type differences between English and American Golden Retrievers?
Because they have been bred from different lines, English Goldens tend to be slightly stockier than the taller American Goldens, but these variations are minor.
Sex differences are linked to size in Golden Retrievers, with males being 1–2 inches taller and around 10 pounds heavier than females.
Size-based sex difference in animals is known as sexual size dimorphism.
In dogs, these differences tend to be more noticeable in larger breeds (like the Golden Retriever) than in small or toy breeds.
Let's look at specific height and weight ranges for Goldens next!
Golden Retriever Height
According to the American Kennel Club's breed standard, a healthy adult male Golden Retriever will stand 23–24 inches tall at the shoulder (also called the withers).
Female Goldens stand between 21½–22½ inches tall at the shoulder.
You can expect an English male Golden to stand around 22–24 inches tall and a female to be around 20–22 inches tall.
Golden Retriever Weight
The AKC weight range for an adult male Golden is 65–75 pounds.
The weight range for an adult female is 55–65 pounds.
The UK Kennel Club does not set a weight range for English Golden Retrievers.
Most dog breed size charts place the Golden Retriever size in the medium-large range.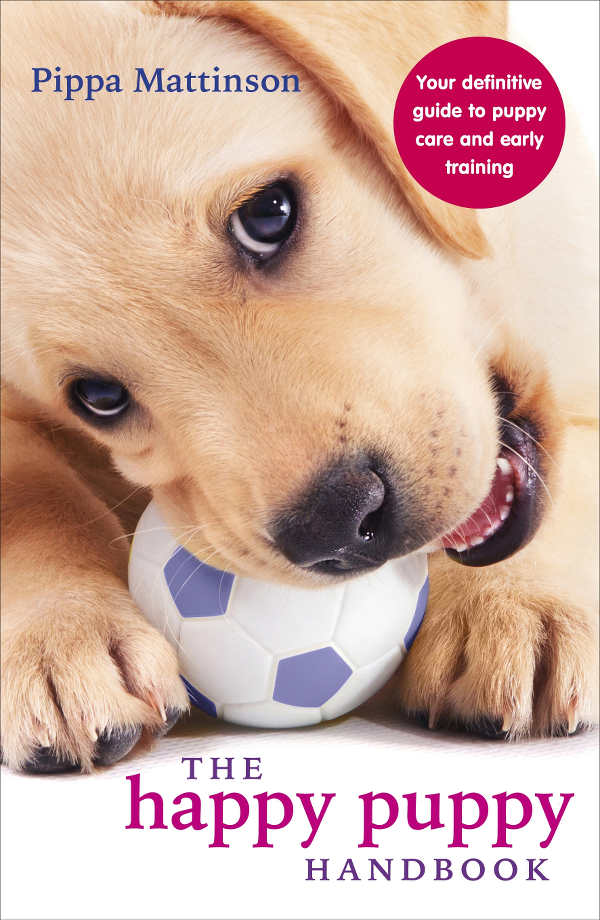 This makes the Golden comparable to such breeds as the Bernese Mountain Dog, Standard Poodle, Labrador Retriever, and Siberian Husky.
Golden Retriever Size
As we've seen, Golden Retriever size can fall into a fairly wide range.
A dog on the high or low end of this range is perfectly normal.
Golden Retriever size depends on many factors, including an individual dog's overall health, genetic background, and sex.
Your new Golden puppy will be around 10 pounds when it is ready to leave its mom and come home with you.
Golden puppies grow quickly, reaching their adult height by 12 months and full body size by 1½ years.
So based on these height and weight ranges, a healthy male adult (American type) stands 23–24 inches tall and weighs 65–75 pounds.
A healthy female will be between 21½–22½ inches in height and weigh between 55–65 pounds.
As most Golden Retriever fans will gladly tell you, a Golden is pretty much the perfect size for hugs and cuddles!
References and Resources
Ward, E. Fading Puppy Syndrome in Dogs. VCA Hospitals, 2009.
Larsen, J.A. Nutrition and Exercise for Growing Puppies. Veterinary Partner, 2018.
Diagnosing Hip Dysplasia in Puppies. American Veterinarian, 2018.
Frynta, D., Baudysova, J., Hradcova, P., et al. Allometry of Sexual Size Dimorphism in Domestic Dog. PLoS One, 2012.