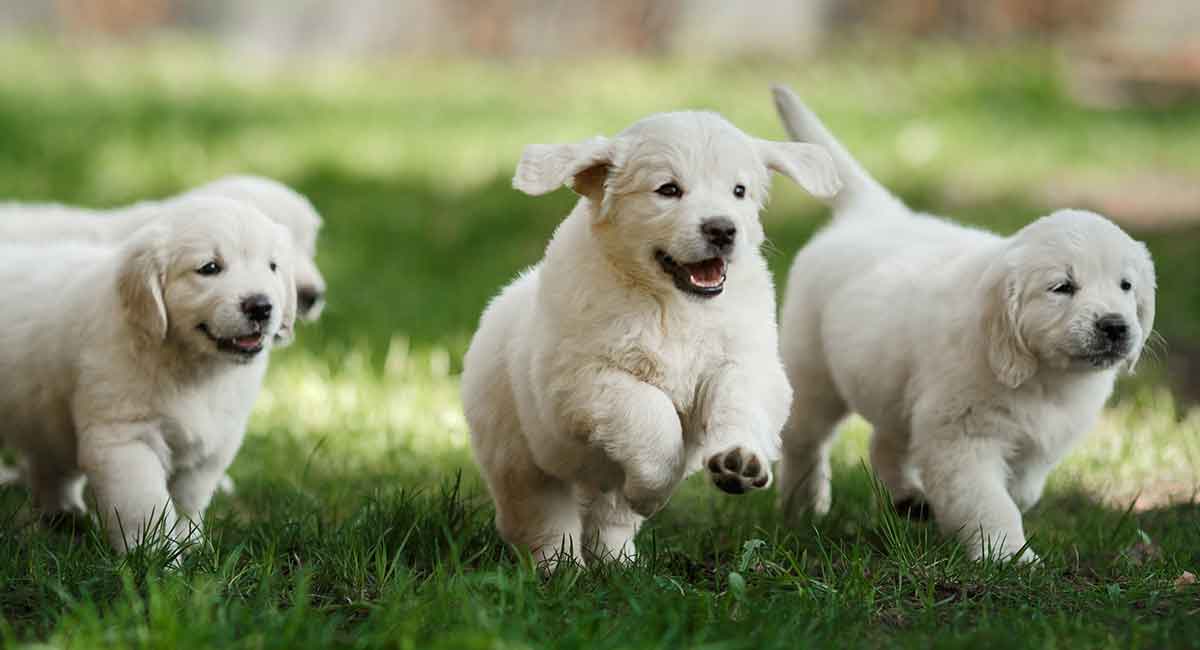 Typically it will take approximately 18 months for your Golden Retriever to become an adult dog. Even though they can reach their full height at anywhere from 9 to 12 months, it will usually take them longer to fill out to their full weight. Remember that there are wide variations in size within the Golden Retriever breed. Don't be too concerned about your puppy's weight unless they're way off the average.
Content
In this article, we'll take an in-depth look at Golden Retriever puppy growth from 8 weeks to adulthood. We'll look at how much a Golden Retriever puppy should weigh and the impact of nutrition on puppy growth. And also cover how you can determine if your Golden is too fat or too thin to ensure your puppy is as healthy as possible.
When Do Golden Retrievers Stop Growing?
If you're a proud new Golden Retriever owner, this is an exciting time. Your new furry friend has a lot of growing to do, and you probably have a lot of questions.
Your Golden Retriever puppy will go through a number of developmental stages throughout their first twelve weeks. When they're 12 to 16 weeks old, they'll look less puppy-like and start to resemble how they'll appear as an adult. From 3 to 6 months, your pup will grow so quickly, it may seem like he's changing every single day. This period of rapid growth will slow down by the time they're 6 months old.
Male Golden Retrievers generally weigh between 65 and 75 pounds and stand from 23 to 24 inches tall. Females are generally smaller, weighing between 55 to 65 pounds, and will grow to stand 21.5 to 22.5 inches tall on average.
Differences Between Individuals
At 4 months, your Golden Retriever puppy will reach about half their adult height. By the time they're 6 months, they'll be approximately two-thirds of their adult weight.
Golden Retrievers typically reach their full height by the time they're one year old. However, they may not fill out and reach their full weight until they're roughly 18 months of age. When it comes to mental development, it can take even longer than that before the Golden Retriever is fully mature. However, every puppy is a unique individual, and these are merely milestone guidelines.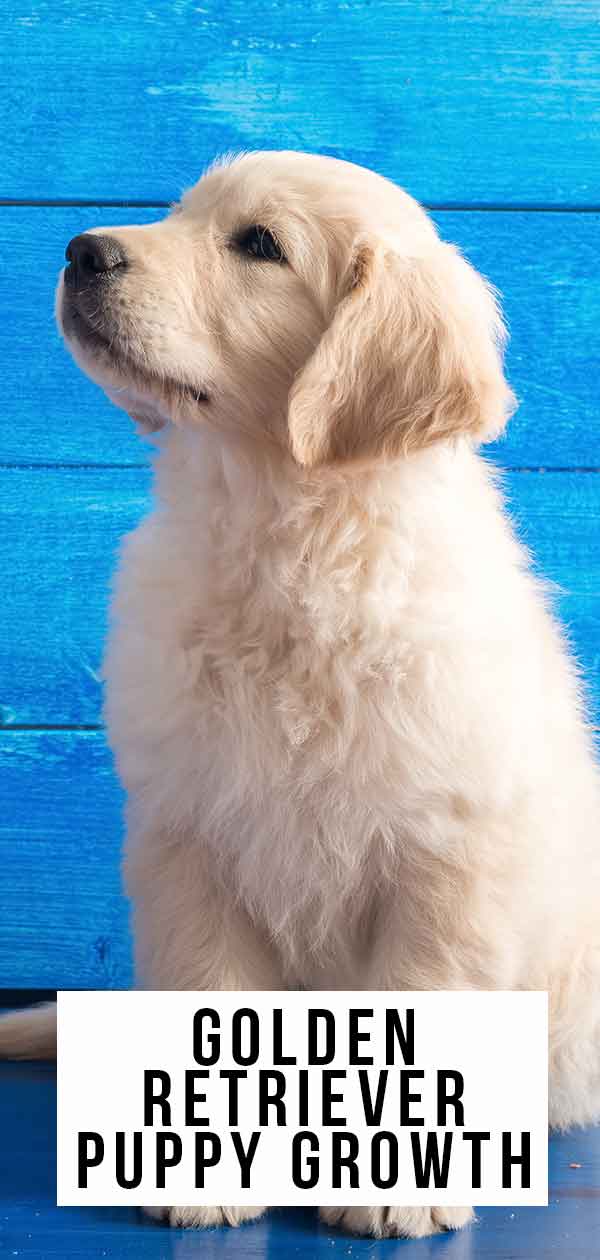 How Much Should My Golden Retriever Puppy Weigh?
Since there can be wide variations in size from puppy to puppy, there's no precise answer to this question. Each dog will vary in their growth rate as well as in how much they'll eventually weigh as an adult. Disparities exist between the working and show Goldens, as well as between males and females.
Golden Retriever puppy growth can also be quite sporadic. However, it's important to monitor your puppy's weight to ensure he's not growing too quickly or too slowly. As an overall average, many Golden Retriever puppies will weigh just approximately 1.5 pounds for each week of age. This means at 3 months, your puppy could weigh about 22 pounds, and at 6 months, they could weigh roughly 44 pounds.
Golden Retriever Puppy Growth Chart
| | |
| --- | --- |
| 8 weeks | 10 pounds |
| 9 weeks | 12 pounds |
| 10 weeks | 15 pounds |
| 11 weeks | 17 pounds |
| 3 months | 22 pounds |
| 4 months | 30 pounds |
| 5 months | 40 pounds |
| 6 months | 44 pounds |
| 7 months | 48 pounds |
| 8 months | 55 pounds |
| 9 months | 57 pounds |
| 10 months | 62 pounds |
| 11 months | 65 pounds |
| 1 year | 68 pounds |
Remember that there can be wide weight variations within any breed. It's most important to know your dog well so that you can tell when he's happy and healthy and when something isn't quite right.
Different Growth in Golden Retriever Types
Golden Retrievers are classified as a sporting breed, and these dogs are often divided into those bred for show and those meant for work. Overall the physical differences are slight. However, the body of the show Golden is typically larger, taller, heavy-boned, and fuller in the chest. If your puppy comes from a working-type background, then don't be surprised if their weight falls a little below average.
Small Parents
Like people, puppies inherit physical traits from their parents. So if your puppy had small parents, there's a good chance he'll be smaller than average throughout his life. However, it's not only genetics that play a role in how big your puppy is. And even puppies from the same litter can vary in size. Neutering, diet, level of care, and overall health can also influence your puppy's size.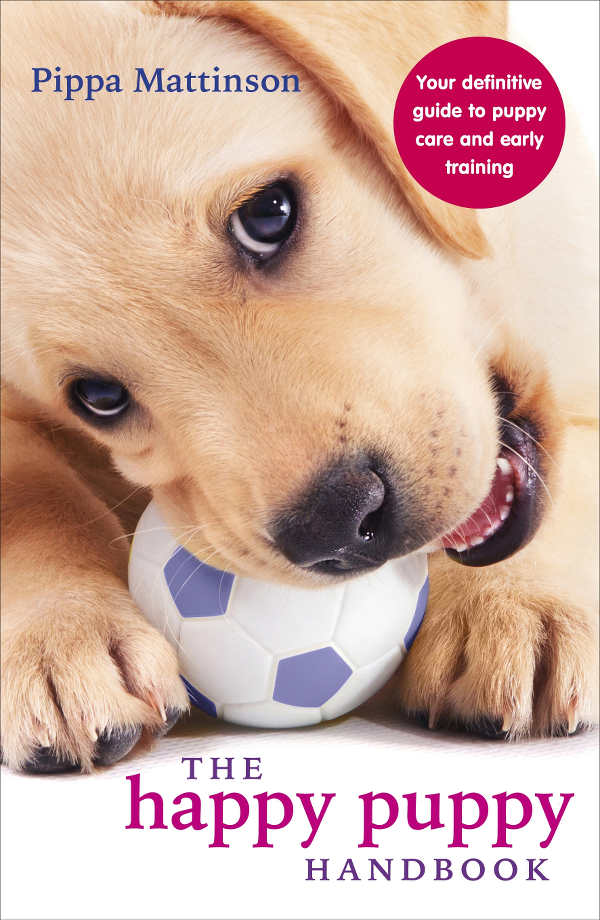 Impact of Nutrition on Breed Puppy Growth
Puppies that don't get enough to eat or are fed a low-quality diet may not grow properly. However, in developed countries, it's far more likely that a dog is being overfed. Neither of these scenarios is healthy for a puppy.
Is My Puppy Too Thin or Fat?
The best way to determine if your puppy is too thin or too fat is by how he looks and feels. When looking at your puppy from above, he should have a noticeable waistline. Another way to tell is by putting your hands on either side of his ribcage. You should be able to feel his ribs using a gentle pressure.
If you can't feel them at all, your Golden Retriever puppy could be overweight. But if his ribs are visible, he could be underweight. Obesity is a huge problem for many dog breeds. And almost 63% of adult Golden Retrievers are considered overweight or obese.