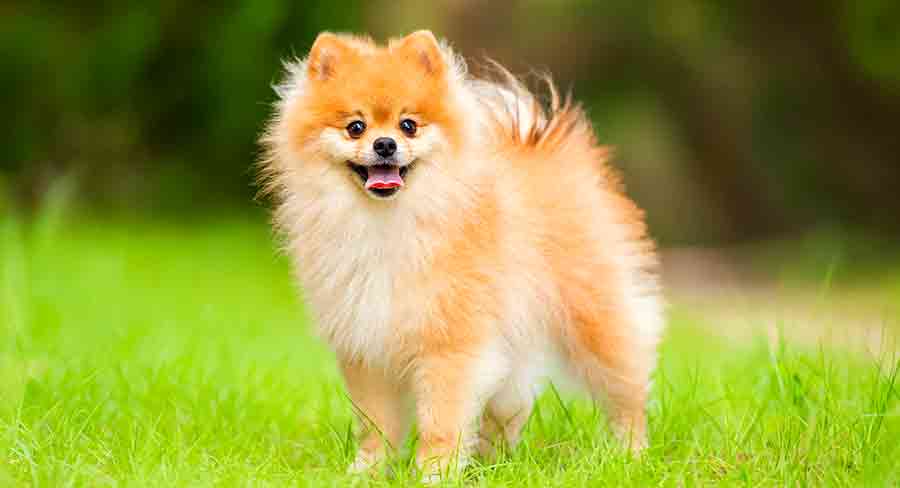 The full grown adult Pomeranian is still a seriously small dog. One that will easily fit into the smallest lap. Today we are going to help you to work out how big your Pomeranian puppy will grow, and how to tell when they've reached their full grown adult height and weight.
Full Grown Pomeranian Puppies
The ultimate fluffy laptop, a newborn Pomeranian puppy starts life at an incredibly tiny 2-5oz. Not much more than a handful! Small breeds of dog tend to grow up relatively quicker than their larger breed cousins.
You can expect your Pomeranian to be at their adult height by the time they are a year old. Although they will probably be a little slimmer and more leggy at this stage. Once they are 18 months old they are likely to hit their final height, and ideally the weight they will stay at for the rest of their lives.
But life isn't always that simple, is it!
Pomeranian Size
By the time a Pomeranian is fully grown they will be no more than 7lbs at a healthy weight. And no more than 7 inches tall! But some Poms will be considerably smaller than this, and that's not necessarily a good thing.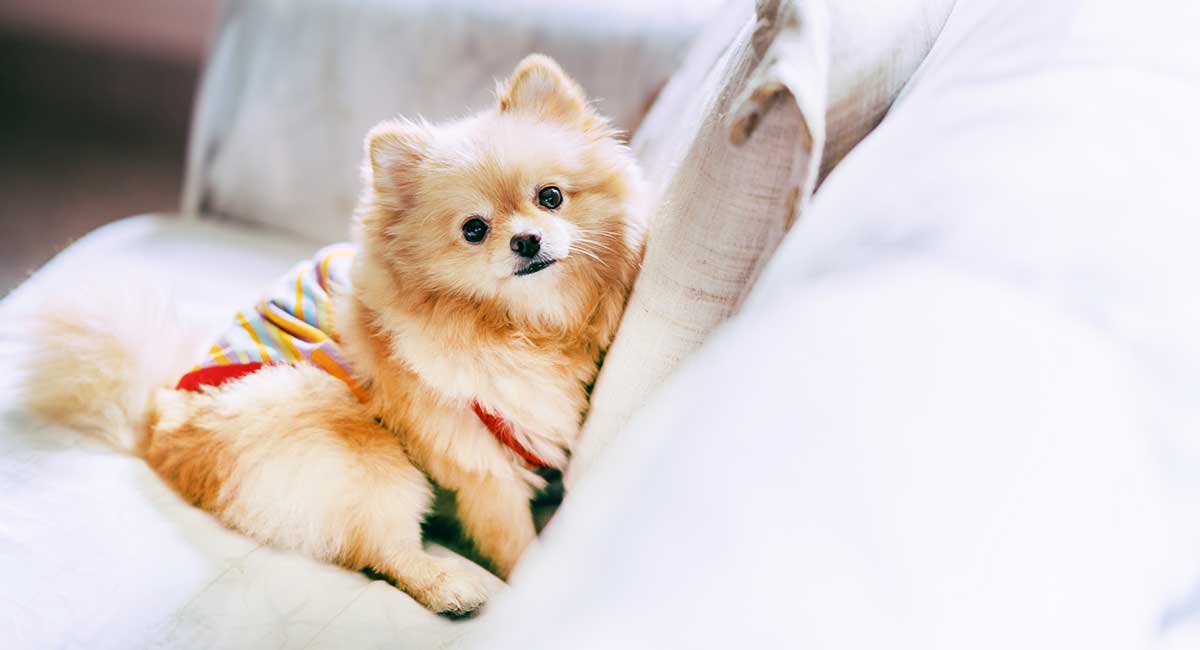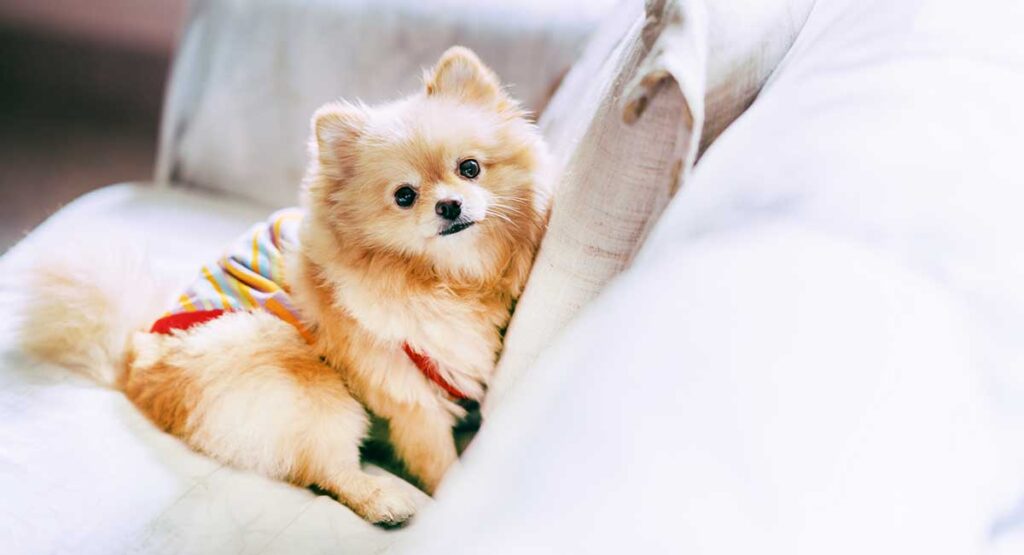 Teacup Pomeranian Adult Size
An adult teacup Pomeranian might be 5 inches tall or even shorter when fully grown, and could weigh less than 5lbs. But a tiny dog like this, although adorable, is just not built as well as their bigger brothers and sisters.
There is a real trend for miniaturising even the naturally smallest of dogs at the moment. And although they might be unbelievably cute, they are sadly riddled with health issues. Even the tiny stature of the regular Pomeranian comes with some health problems as a side effect of their size. Including loose knee caps, and issues to do with the shrunken size of their skull. Dentals problems are rife, and even some nasty neurological issues can rear their heads from time to time.
We strongly feel that the super small size of even a full grown teacup Pomeranian does not bode well for their future health. Teacup breeders are best avoided, and breeders that only use for the healthiest adult Pomeranians to breed from are the way to go.
Adult Pomeranian Weight
Most full grown Pomeranians weigh somewhere between 3 and 7lbs. But the best way to tell whether your pup is over or underweight is to look at them and feel their ribs. Due to their fluffy coat it can be hard to gage their size when dry, so it's best to do this when they are wet!
Looking from above their waist should go in before the hips. Not dramatically but with a graceful curve. When you run your hands down their sides you should be able to feel where the ribs are, but they shouldn't be jutting out. Ribs should not be visible to the eye.
If you are worried about your dog's weight, or they have suddenly lost or gained weight, then get a checkup with your veterinarian. Make sure to rule out any health issues before you go forwards with a weight loss or gain plan.
Training and Exercising
Fitness is an incredibly important part of an adult Pomeranian's care. Although they are small, they still need regular exercise just like a bigger dog does. Just keep in mind that their tiny legs need to work a bit harder to keep up.
Despite exercise being important to your dog's overall health, keeping them at the right weight is best achieved through diet.
Diet and Feeding
It's easy to overfeed toy breeds of dog, because the portions they need are proportionately smaller than your average pup. If your adult Pom is starting to gain weight then first cut out any snacks or treats they have between meals.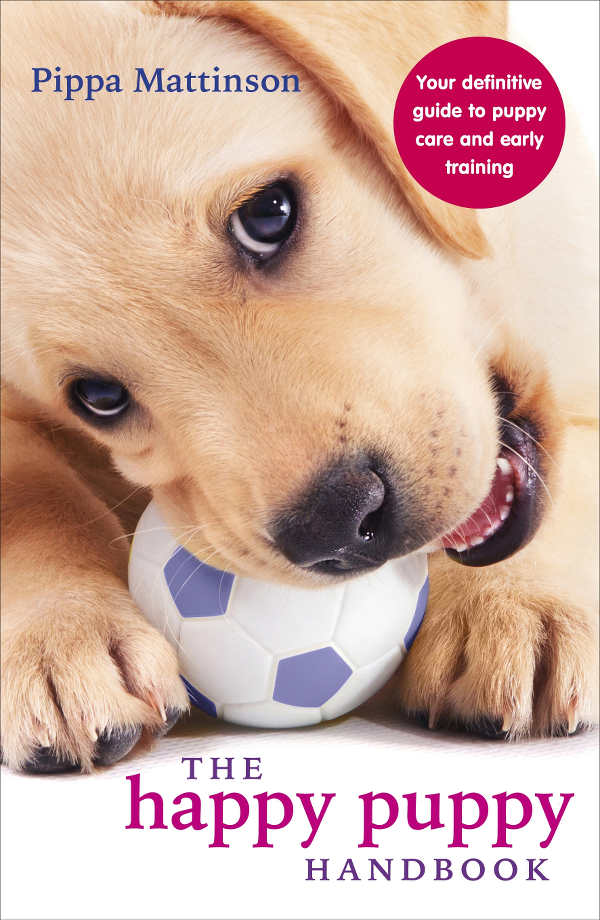 Once these are eliminated if their weight continues to climb then you'll need to reduce their daily kibble rations. Try cutting it by a third each day, until you start to see your dog slim down. Once they are at the right weight or build, you can gradually add back a little food each day until it stablizes at the size they need to be to stay healthy.
How big will my full grown Pomeranian get?
When your Pomeranian is full grown she will be no more than 7 inches tall and 7lbs in weight. She will fit perfectly in your lap for her entire lifetime, provided that's where she wants to hang out!
Although it's tempting to treat tiny dogs like Pomeranians as though they were more of an accessory than a bigger dog, do try to remember that your little friend is still a canine. My favorite Pom (the aptly named Handsome) is a wonderful character. Brilliant at fetch and loves being together, but he'd like it ever so much if you didn't try to put him on your lap. Or in a handbag!