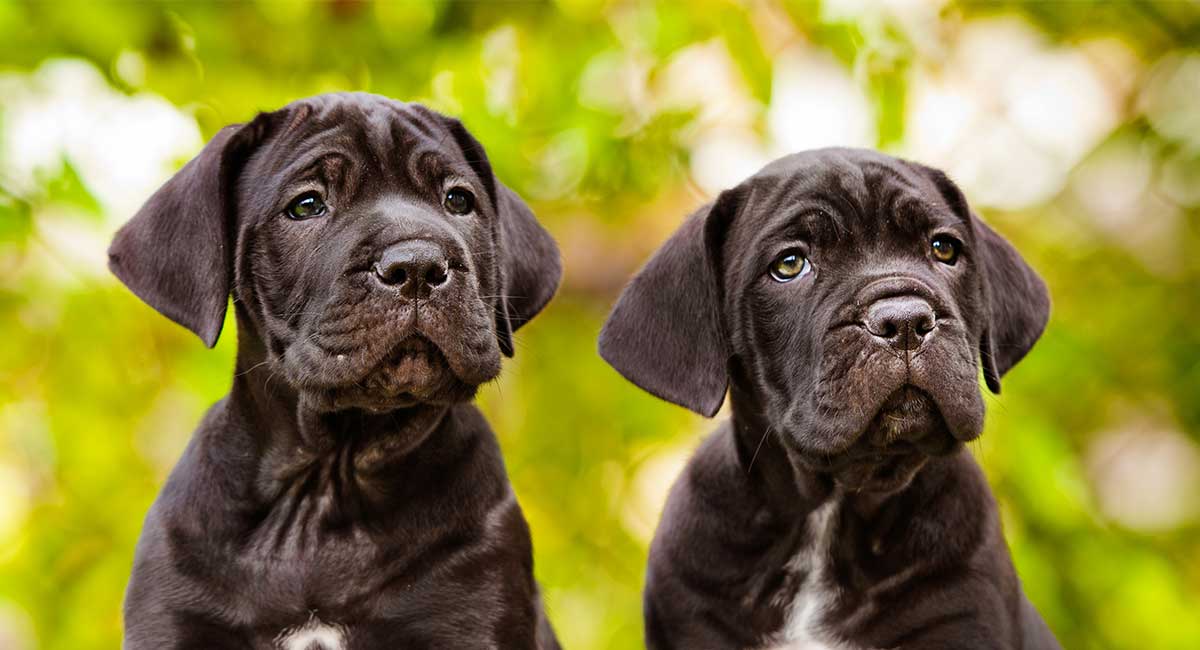 The Cane Corso dog breed is known for its protective instincts and noble appearance. A large, powerful and confident dog, from the working dog group, the Corso can make a loyal bodyguard. In some homes these dogs can be family pets too. An intelligent dog, the Cane Corso responds well to positive training methods. Due to its size and strength, thorough socialization and a knowledgeable home are essential. Today we'll look at the traits and needs of this physically imposing breed. We'll talk about exercise, grooming, and raising a Cane Corso puppy, and help you to decide whether the magnificent Cane Corso is a good fit for your lifestyle.
Weighing in at over 100 pounds, and 27 inches tall, Cane Corso dogs usually grow up to be stronger than their owners. And they need to be trained with modern positive reinforcement methods. You can see an excellent example in the video below, though we recommend a harness and leash, rather than a sliplead.
Cane Corso Dog Breed
Popularity: No. 37 on the AKC Most Popular Breeds list
Purpose: Guarding
Weight: Up to 110lbs
History and Original Purpose
This breed was a dog of war in Ancient Rome. In the years after the Roman Empire, Italians used them for lots of jobs. These included hunting, guarding and livestock droving. They were bred to protect livestock.
Always rare, the breed almost became extinct at one point! Luckily, some dog lovers worked to re-establish them. The first Cane Corsi arrived in the United States as recently as 1988.
So the breed has a long history.
Fun facts
Many people think of the Cane Corso as a Mastiff. But it isn't really. Technically, it is what's called a "molossus" dog. So, not a true Mastiff. The molossus is an ancient type of dog. The ancestor of Mastiffs, Saint Bernards and the Bernese mountain dog. Molossers often work as livestock and property guard dogs.

Cane Corso Appearance
Let's start with size. The Cane Corso is a large breed dog. Males stand 25 to 27.5 inches tall at the shoulder. Females are 23.5 to 26 inches tall.
Size and weight
Their weight should be in proportion to their height. What does that mean when it comes to pounds? Generally, an adult male will weigh between 99 and 110 pounds.
How big does a female Cane Corso get?
A female can weigh between 88 and 99 pounds. Dogs can vary of course. Whatever his height and weight, the Corso should be an athletic, large boned and muscular dog.
Cane Corso Colors and Coat
Their coat is short, dense and glossy. They come in black, light and dark grey. You can also find them in red and in fawn shades. Any of these colors can be brindled. A brindle coat has subtle darker stripes of color over a light base tone.
Cani corsi can also have white patches on the chest, neck and feet. Their coat has two layers. A dense top coat and an undercoat. A Corso's appearance is unmistakable, but what about its personality?
Cane Corso Temperament
This clever pup has a serious nature. He is happiest when he has a job to do. Temperament matters when choosing a family pet. The Cane Corso is very loyal and protective of his family. He is often not such a fan of strangers. If he is not socialized properly he could confuse your guests with intruders. Some Cane-Corso can be aggressive.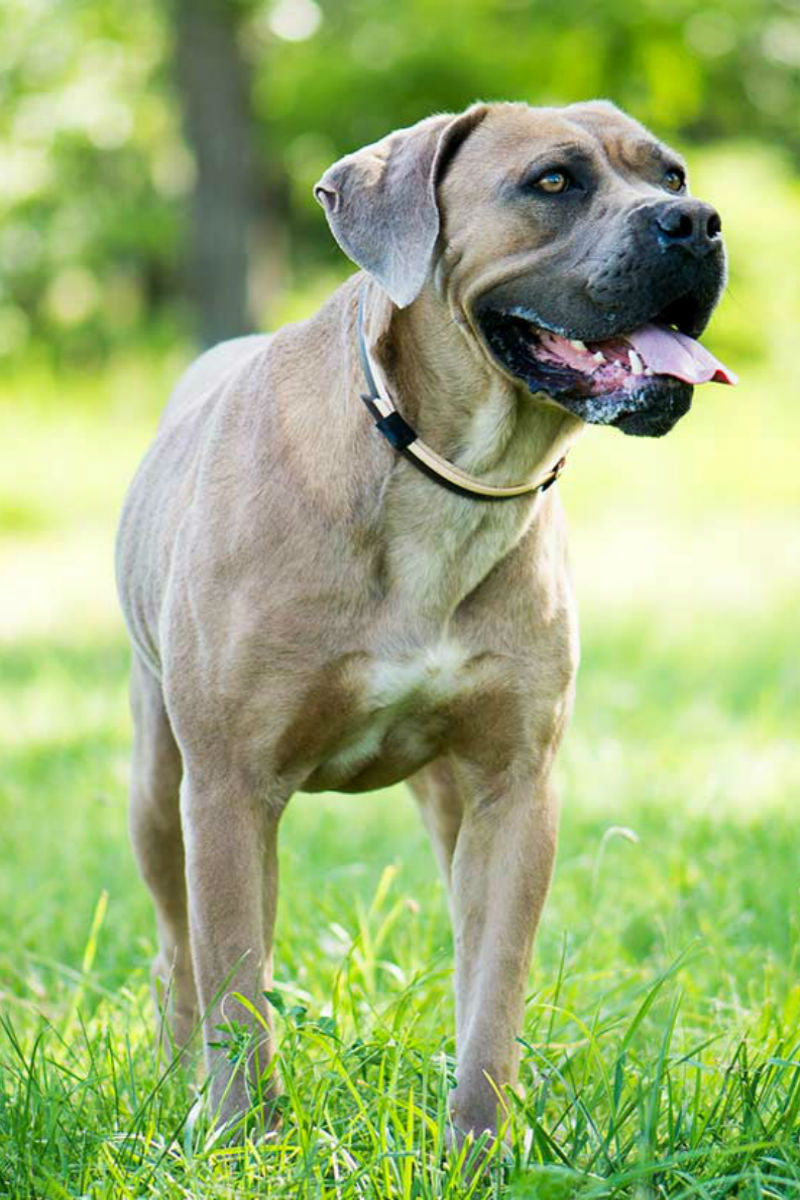 Is a Cane Corso Likely to Bite Strangers?
Because the Cane Corso is quite rare, dog attack studies don't generally include this breed. However, it has been involved in several high-profile attacks. Some leading to deaths, due to the breed's size and strength. The incidence of Cane Corso bites seems to be on the increase.
Improve your odds of having a friendly dog breed by getting him used to having lots of visitors from a young age. Visit lots of place with him, and help him to think of strangers as friends.
Good socialisation and training is vital.
Training and Exercising
Positive reinforcement is essential so that you don't get into conflict with your pup. Reward good behavior. Make sure you use lots of treats and fun toys. Be consistent with praise and reinforce good behavior.
Despite that tough exterior, this guarding dog breed is a sensitive and perceptive dog . He is eager to please you and win your love. Always use positive reinforcement training methods. Don't forget good socialisation is particularly essential for Cane Corso puppies. Socialisation is vital in helping your puppy to become a safe companion when he grows up.
Cane Corso Health and Care
Like most purebred dogs, this giant dog does have some inherited health problems. The breed can suffer from hip dysplasia. One study found that 59.7 percent of Cani Corsi suffer from this painful joint condition. Make sure your puppy's parents were hip scored. Ask the breeder to see proof of their great results.
Seizures
The breed can also be prone to epilepsy. Seizures can start in dogs as young as nine months. The Cane Corso Association of America is working with the University of Missouri Canine Epilepsy Project on this serious health issue. Do not buy a puppy from a parent with a history of seizures.
Mange
A skin condition called demodectic mange, which is caused by mites, can be common too. Dogs prone to this are thought to inherit an immune system defect.
Eye conditions
There are three eye problems common to the breed. They are caused by their wrinkles and loose skin. Cherry eye, entropion and ectropion are things you need to learn about. Make sure neither parent has had surgery on their eyes. Choose parents with tight skin on their faces.
Bloat
Like other large breed dogs, they can also be prone to gastric torsion, or "bloat."
Cane Corso Life Expectancy
Most dog experts put their lifespan at between nine and 11 years. One interesting study on Cane Corso lifespan found a link between coat color and length of life. Black brindle dogs of this breed may live a little longer.
Do Cane Corsos make Good Family Pets
This is a breed that can be a loving companion and devoted protector for the right family. But it is not the ideal pet for most homes. Not only are they prone to guarding, they have a lot of health problems.
Several of these are linked to their loose skin. These are therefore hard to avoid when looking for a puppy.
If you are set on a Corso one way to reduce the chance of these problems may be to take on an adult dog from a rescue organisation.

Rescuing a Cane Corso
There are a number of rescue centers specialising in Cane Corsos. Here are a few. If we've missed yours out, please let us know in the comments below.
Finding a Cane Corso Puppy
Choose your Cane Corso breeder with care. There's lots of helpful tips in our Puppy Search guide. Remember that the Corso is a guard dog, not a fighting dog. So be wary of breeders who boast about the very large size or "toughness" of their dogs.
Take the time to research caring small-scale breeders and visit them in person. Be sure to ask questions about the breeder's knowledge and experience with the Cane Corso breed.
Questions your breeder should ask
This is a guard dog breed and not suitable for novice owners, so your breeder should also ask you searching questions. They may want to know about your background with training dogs generally. And will need to know about your experience handling dogs like this.
These big puppies are adorable. But before you fall head over heels in love, it's important to talk to breeders about health. Be sure to ask if your breeder health tests their breeding stock for hip dysplasia and other inherited health problems.
Checks you need to make
Ask to see the health records of your puppy's parents. Remember to ask if the breeder has tested for temperament. Good breeders will work hard to ensure that your puppy is a good match for your home and family.
If you are interested in adopting a cane corso rescue dog, be sure to check out breed specific rescue organizations. There are several groups dedicated to rescuing and placing cani corsi with the right families. Experience rehabilitating poorly socialized dogs is a requirement for many Corso rescues.
Cane Corso Price
Adoption fees for Cane Corso rescue dogs can vary. The price you will pay may depend on the age of the dog and whether it is purebred or mixed breed. As a broad guide you can expect to pay in the $200-$500 range for a rescue dog.
What is the price of a purebred Cane Corso puppy from a reputable breeder? This is an expensive breed. Caring breeders can charge anywhere from $1,500 to $4,000, depending on whether the dog is pet quality or show quality. So beware of breeders that price Cane Corso puppies in the $500 range. This could be a sign that your puppy comes from a mill. Or an inexperienced "backyard" breeder who lacks knowledge about health, temperament and socialization.
Costs of care and feeding your puppy
The cost of your puppy dog goes beyond its price as a puppy. Remember that large breed dogs eat more food than small dogs, and that your pup may also require professional training, which can be costly.
Another factor is the possibility that your dog may develop a health condition that requires expensive ongoing treatment. Routine health care for large dogs can cost more than small dogs.
Raising a Cane Corso puppy
Caring for a vulnerable Cane Corso puppy is a big responsibility. There are some great guides to help you with all aspects of puppy care and training. Why not start by checking out our What Do I Need For A Puppy and Best Food for Cane Corso Puppies pages.
Similar Breeds and Mixes
We recommend checking out the Rottweiler, German Shepherd, Keeshond or Belgian Malinois as alternatives to the Cane Corso.
Mixed breed dogs are increasingly popular. Take a look at our articles on some mixes of these similar breeds to Cane Corso.

Popular Rottweiler Mixes
German Shepherd-Rottweiler Mix
Pros and Cons of Getting a Cane Corso
This loyal dog requires lots of socialisation and training using positive reinforcement only, so they become safe adult dogs. They have a number of inherited health problems and are likely to live just 9-11 years. They are not suited to life as family pets, and can potentially be aggressive. However, in the right, knowledgeable hands these big beautiful dogs are loyal and therefore dedicated to their owners.
Cane Corso products and accessories
Related Articles
Amazing Italian Dog Breeds
References And Resources