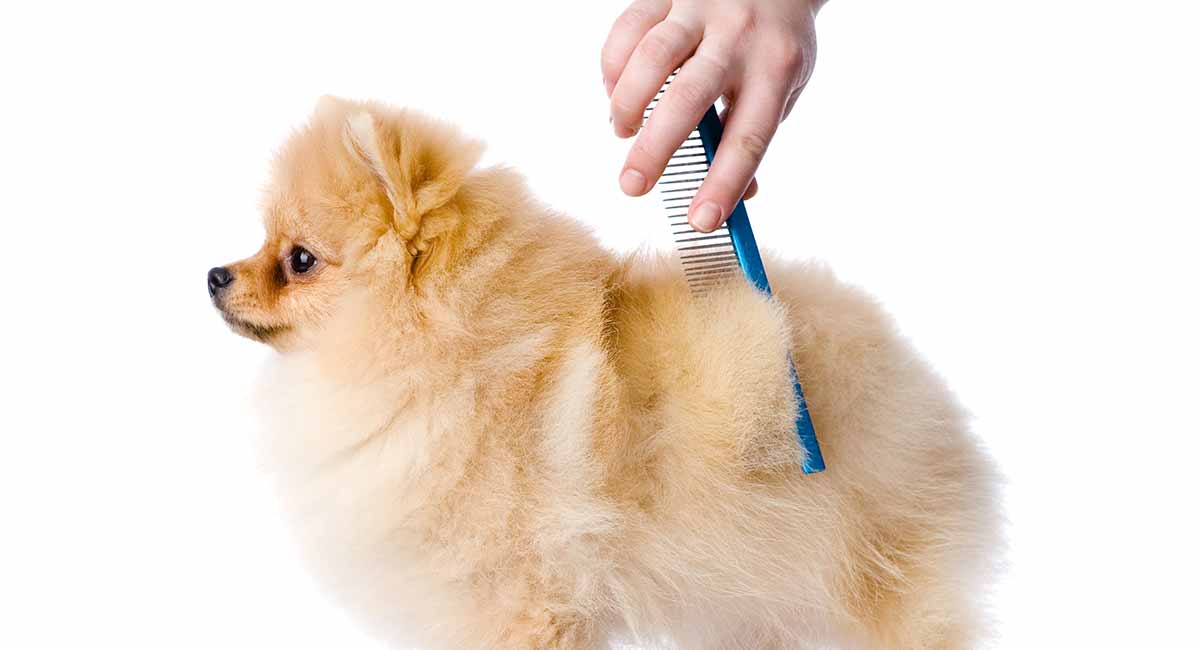 Do Pomeranians shed? The quick answer is that all dogs shed — but there's more to it than that.
Pomeranian dogs are known for their profuse coats. So it may come as no surprise that these little dogs are big shedders.
But just how much do Pomeranians shed and what does their shedding mean for a prospective owner?
Let's find out!
Do Pomeranians Shed?
All dogs shed.
Wait, that can't be right. What about hypoallergenic dogs?
Yes, even breeds that are considered "hypoallergenic" shed. So, what is the difference between hypoallergenic dogs and shedding dogs?
Do Hypoallergenic Dogs Exist?
To tell the truth, there is some debate over the term "hypoallergenic." In all actuality, there is no such thing as a truly 100% hypoallergenic dog.
But there is a difference between fur types for breeds.
"Hypoallergenic" dogs also produce less dander-producing allergens than other, heavier-shedding breeds like German Shepherds and Huskies.
The Pomeranian, while small, has a profuse double-layer coat that sheds heavily and produces quite a bit of dander, which isn't the greatest news for allergy sufferers.
But why do dogs shed at all? Keep reading!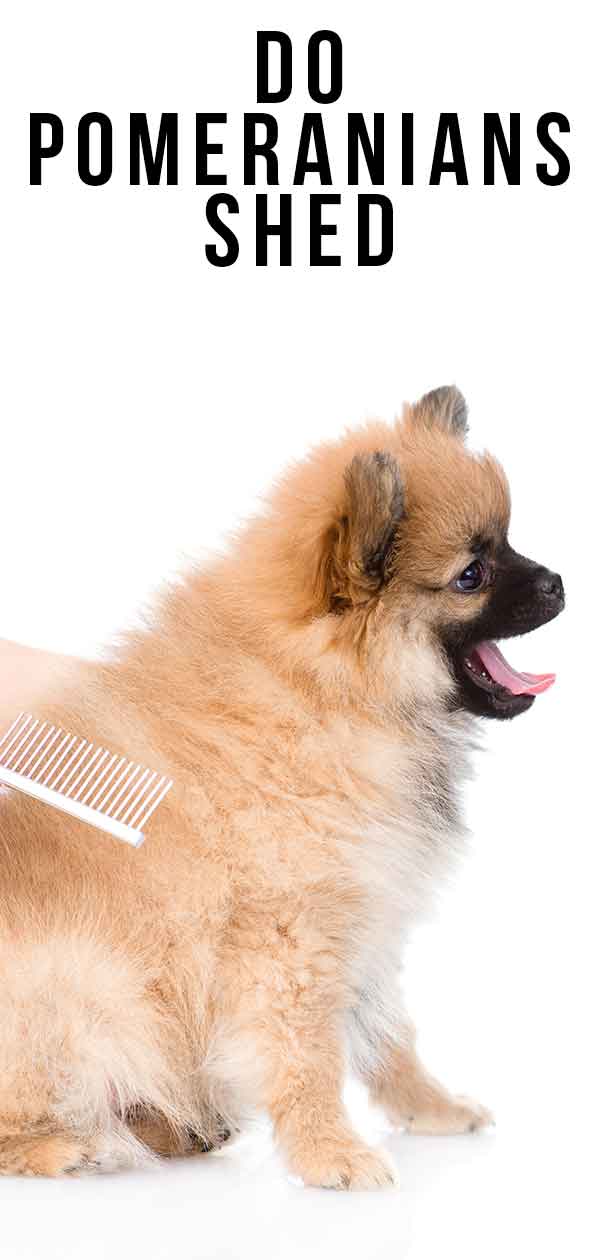 Why Do Dogs Shed?
As we mentioned above, all dogs shed, even dogs who are considered to be hypoallergenic. But why dogs shed is actually pretty interesting.
Depending on their breed, age, size, and even health, different dogs shed at different rates and for different reasons.
However, the one thing all dogs have in common is that shedding is a normal, natural part of dog-hood.
Dogs shed loose, dead, or damaged hair to help regenerate new fur, which is a natural process that helps them to keep their skin and coats healthy.
Do Dogs Shed All the Time?
All dogs shed all year around. However, some breeds shed so moderately you may not even notice it.
On the contrary, there are other breeds that shed so heavily you may wonder how they have any fur left on their bodies after a brushing session!
And dogs who are heavy shedders typically shed more profusely during the fall and spring months, which are considered shedding seasons.
Dogs that shed during shedding season do so as a natural defense against the weather and its elements.
But what about Pomeranians? How much do Pomeranians shed, and are they seasonal shedders like Huskies and Labs?
How Much Do Pomeranians Shed?
Pomeranians are itty bitty dogs with big, profuse coats. Their gorgeous, colorful coats are what they're most known for.
These coats have even earned them the reputation of a teddy bear dog!
This breed is actually a descendant of a very large, very powerful arctic sled dog. Their size has dwindled through breeding. But their profuse coats, which kept their ancestors warm on those frigid sled-pulling days, have stayed intact.
The Poms' double-layer coat is woolly underneath and thick and harsh on top. They shed often. Brushing two to three times a week helps keep their skin and coat healthy and all that loose hair under control.
Pomeranians are also seasonal shedders. This means they will shed heavier twice a year during shedding season in fall and spring.
So, how do you deal with all that shedding? Keep reading to find out!
Dealing With Pomeranians Shedding
Pomeranians are beautiful dogs that require quite a bit of upkeep. This is not the breed for the faint of heart or for those who are not prepared for what it takes to groom them.
Grooming is an essential part of keeping any dog breed healthy, so grooming your Pomeranian routinely is a practice that cannot be missed.
Plus, routine grooming for your Pomeranian will help to keep loose hair under control and off of your clothing and furniture.
Aside from going out and buying a couple of lint rollers, a prospective Pom owner should also look into finding a good groomer or learning how to groom their Pom at home.
Most experts recommend that the Pom be brushed regularly with a slicker brush and deshedding tool every three to four days.
The Pom will also need to be groomed professionally every three to four weeks.
Bathing Your Pomeranian
Bathing your Pom can also help keep their coat and skin healthy. Be careful not to bathe your Pomeranian too much or too little.
Overbathing your Pom can cause stripping of their natural oils and damage their fur and skin. However, not bathing your Pom enough can cause a buildup in these oils.
This can lead to odor, skin infections, and damaged fur.
Since the Pom does not produce very much natural oil, it is best not to bathe them too often. In fact, Poms can go anywhere from one to six months without a bath.
Experts recommend a bath every two to three months.
Best Products for Pomeranian Care
Like all dogs, a Pomeranian dog should be bathed with a high-quality dog shampoo that will not harm his sensitive skin or strip it of natural oils.
So, what else can cause heavy shedding in dogs aside from their natural shedding process? Do Pomeranians shed for any other reasons?
Other Reasons For Shedding
A dog's skin and coat can tell you a lot about how they are feeling and their overall health.
In fact, excessive shedding in dogs, even in dogs who are heavy shedders in general, can be a sign of health issues.
If you feel your Pomeranian is shedding heavier than he should be, some of the reasons could be:
Low-quality shampoo
Improper grooming practices
Not brushing frequently enough
Bathing too often or too little
Stress
Low quality or imbalanced diet
Skin issues
Are you worried that your Pomeranian is shedding more than he should be? If so, it may be time to contact your veterinarian and set up a visit.
Pomeranian Haircuts
Now we've answered the question 'do pomeranians shed?', we can look at ways to control this shedding!
Since Pomeranians are heavy shedders, some owners opt to give them special haircuts to help reduce shedding and keep their skin and coats healthy.
Pomeranian haircuts can also help with the overall maintenance of your dog.
Still, it is important to research any haircuts you may want to give your Pom ahead of time to make sure it is good for their skin and coats.
We should also note that certain haircuts can damage your Pom's coat and are not recommended for them.
Haircuts to Avoid
Most experts suggest steering clear of the "Shaved Lion" haircut, which calls for a shaved bottom half of your Pom while leaving his upper half full, so he resembles a lion.
While this haircut is cute and trendy, it can leave your Pom's fur growing back uneven and patchy, and it can take quite a while for your Pom's coat to look right again.
With that being said, we should mention that any haircut calling for your Pom to be shaved down is not recommended by experts.
Shaving your Pomeranian down could leave him susceptible to hypothermia during the colder months, and sunburn and heat stroke during the warmer months.
Still, there are some super cute Pomeranian haircuts we totally love for this breed that won't leave them vulnerable to health issues!
Some of the best Pom haircuts, according to groomers, are:
The Fox Cut
Pomeranian dogs already look like little foxes, and this cute cut enhances the look. The Fox cut is perhaps the most popular Pom cut available.
The Teddy Bear
Made famous on Instagram by Boo the Pomeranian, the Teddy Bear cut will leave your Pom looking like a real live stuffed animal. Too cute!
The Paw Cut
Quite similar to the Fox Cut, the Paw Cut pays special attention to the Pom's paws and keeps them carefully trimmed.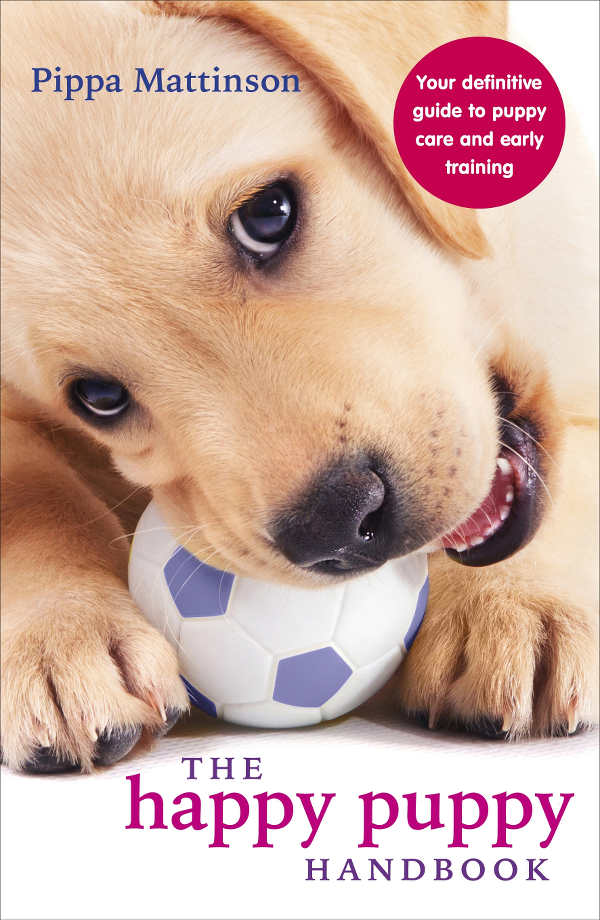 The Half and Half Cut
This cute and practical Pom haircut keeps their belly area trimmed down and their upper body full and long, helping to keep their fur free of dirt and debris between bath time and grooming sessions.
The Little Lion Cut
The Little Lion Cut is a toned-down version of the Shaved Lion Cut, offering the same cute effect without shaving your Pom's fur down to his skin.
By trimming him shorter on his bottom half instead of shaving him, he is not left vulnerable to health issues and can still walk around looking like the little lion he is.
Do Pomeranians Shed Too Much?
So, do Pomeranians shed too much, or can they still make good family pets?
Pomeranians are naturally heavy-shedding dogs, so they really aren't the best dogs for those who suffer from allergies.
However, the good news is that they are small. While they do shed often, the amount of hair you will find around your home, clothing, and furniture will be limited.
Still, and as we mentioned above, if you have a Pomeranian that is shedding more frequently than you feel he should be, this could be a sign of health issues and it may be time to make an appointment with your veterinarian.
Of course, so long as you utilize proper grooming, a healthy diet, and plenty of exercise, love, and attention, your Pom's shedding should be simple to keep under control.
What haircut have you chosen for your Pom? Tell us in the comments!
Related Articles
References
The AKC Staff, Fluffy Dog Breeds, The American Kennel Club
Doris W. Vredegoor BSc, Ton Willemse PhD, Martin D. Chapman PhD, Dick J.J. Heederik PhD, Esmeralda J.M. Drop PhD, "Can f1 Levels in Hair and Homes of Different Dog Breeds: Lack of Evidence to Describe Any Dog Breed as Hypoallergenic"
Ahmed Butt, MD, Daanish Rashid, Richard F. Lockey, MD, "Do Hypoallergenic Cats and Dogs Exist?" Annals of Allergy, Asthma & Immunology
Nathan B Sutter and Elaine A Ostrander, "Dog Star Rising: The Canine Genetic System," Nature Reviews Genetics, Volume 5, pages 900-910
D.N. Irion A.L. Schaffer, T.R. Famula, M.L. Eggleston, S.S. Hughes N. C. Pedersen, "Analysis of Genetic Variation in 28 Dog Breed Populations With 100 Microsatellite Markers," Journal of Heredity, Volume 94, Issue 1