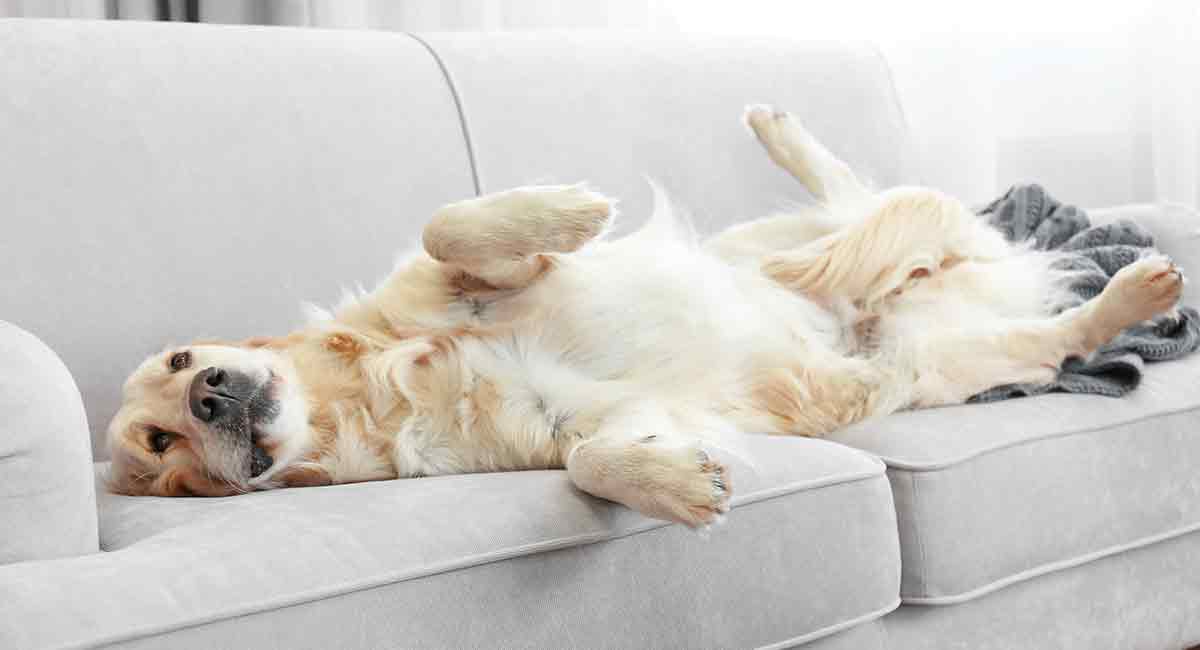 Do Golden Retrievers shed?
Perhaps you have just introduced a bouncy Golden Retriever pup into your family, or you are planning to do so.
The short answer to this question "Do Golden Retrievers shed?" is yes. They shed a lot.
Let's discuss the answer in more detail.
Do Golden Retrievers Shed More Than Other Dogs?
All dogs shed. Even the ones that are labelled "non-shedding."
While these non-shedding dogs still lose fur, some breeds will shed less than others.
In the case of dogs with a curly coat, the lost hairs often get stuck in their curls, meaning they don't end up on your clothes or all over your couch.
Some people's interest in a non-shedding or low-shedding dog is because they do not want to constantly clean up dog hairs, which is important to consider.
Others, however, are interested in how much a dog sheds as they have allergies.
How Dog Fur Affects Allergies
Allergies are not actually caused by the lost dog hair itself. They are the result of inhalation of protein molecules in dander.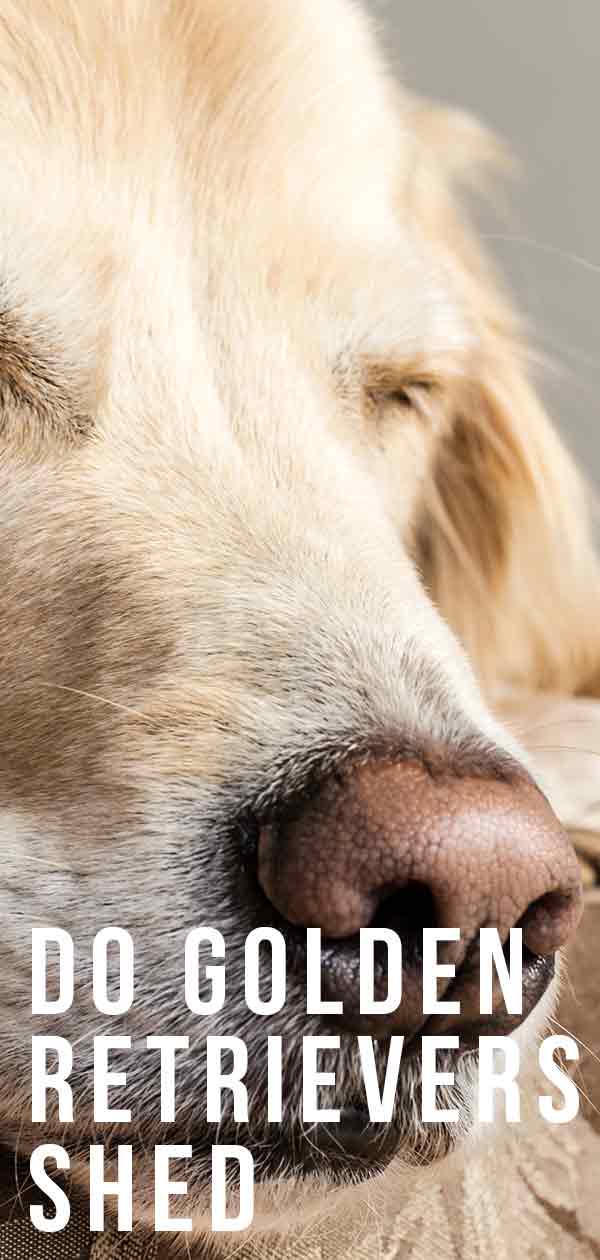 Scientific studies show that there is actually no such thing as a truly hypoallergenic dog breed because all dogs lick themselves, leaving these protein molecules behind.
However, all is not lost. We are all unique, as are all dogs.
Dogs are less likely to trigger allergies in some individuals—and the reasons why all come down to our particular chemical makeup.
Similarly, regularly washing and grooming your dog can help reduce the number of allergens in the air.
However, a dog that has less fur will be less work to brush and wash, so this keeps dander to a minimum.
But a low-allergy dog for you might not be for the next person. You really have to spend some time with the individual dog to find out.
To find out more about non-shedding and so-called hypoallergenic dogs, check out this article.
Do Golden Retrievers Shed All Year Round?
Dogs lose a small amount of hair all year. But around spring and fall, your dog will lose more hair.
Why do Golden Retrievers shed?
Hormonal changes dictate these periods of increased shedding. These hormones are affected by changes in daylight hours.
As the days lengthen in the spring, the heavy winter coat falls out to make way for the lighter summer coat.
In autumn, the summer coat falls out to make way for the heavier winter coat.
When do Golden Retrievers shed the most?
Some dog breeds have a thick undercoat in addition to their outer coat. This is called a double coat.
The outer coat sheds once a year, while the under coat sheds twice a year.
At times, both the outer coat and their under coat shed at the same time—a perfect storm of shedding.
Generally, the shedding process takes anywhere from three to eight weeks.
It is logical, then, that dogs with a shorter coat, and without this double coat, don't shed as much as other dogs who possess these characteristics.
Do Golden Retrievers shed when they shouldn't?
If your dog starts losing fur in big clumps, which leaves behind bald patches, then this could be a little more than just normal shedding.
This could be the result of a health problem.
Similarly, if your dog starts to shed more than normal, it is worth taking them for a checkup.
This could also be a sign of other issues.
How Much Do Golden Retrievers Shed?
Do Golden Retrievers shed more than other breeds? And why?
Golden Retrievers have a double coat. Their outer coat is medium length with some longer feathering around the tail, neck and legs.
As we mentioned earlier, a Golden Retriever sheds quite a bit.
Thanks to all this fur, a Golden Retriever loses some hair all year.
Additionally, due to their double coat, they shed heavily twice a year, around spring and fall.
At times, they may "blow a coat," or shed both their outer and under coat at the same time.
When this happens, the fur will fall out in big clumps, especially if you don't keep on top of brushing them.
You can expect to be kept busy cleaning up after your dog when this happens.
But there are ways of dealing with all this fur loss, which we will talk about now.
Dealing with Golden Retrievers Shedding
There are plenty of products on the market tailored to meet the needs of your Golden Retriever when they shed.
Having said that, most grooming experts do not recommend being heavy handed when grooming your Golden Retriever.
Of all the tools available, a good slicker brush, a steel comb, scissors and thinning shears should be all you need to keep your Golden Retriever looking her best.
While she will need some extra attention while shedding, the key to keeping your Golden's coat looking healthy and mat free is maintenance.
Grooming your Golden Retriever
Brush your dog regularly, and the job won't become overwhelming.
The American Kennel Club (AKC) recommends brushing your Golden Retriever once or twice a week with a slicker brush while she isn't shedding.
Once she begins to shed, you may have to brush her daily.
Bathing your Golden Retriever occasionally will also help loosen dead hairs and keep dander to a minimum.
Just make sure you dry off your dog before you brush her.
Some hygiene-conscious dogs even enjoy being vacuumed.
Of course, you would need to check with your dog first because this could seriously traumatize a dog who doesn't "dig" it.
But if she enjoys it, why not vacuum your dog while doing your housework?
If you would like more information about how to groom your Golden Retriever, check out our article "How To Groom A Golden Retriever."
Golden Retrievers Haircuts
Unlike the flashy Poodle, Golden Retrievers are known to wear their hair in a more natural and free-flowing style.
Think of the doggie version of Woodstock hair.
While some owners and groomers will occasionally thin out and trim some of the longer, more feathery fur, it is not recommended by professional groomers that Golden Retrievers are shaved or clipped.
They need their double coat all year round.
During winter, the undercoat keeps them warm.
In the summer, the outer coat protects them from the harsh summer sun.
Natural Style
Golden Retriever haircuts maintain the natural shape of the dog and their hair growth—thicker around the neck with some feathering and a longer tail.
The longer fur that grows around the ears and between the toes may be trimmed to look neater and prevent foreign bodies becoming entangled, which can potentially cause infections in their ears.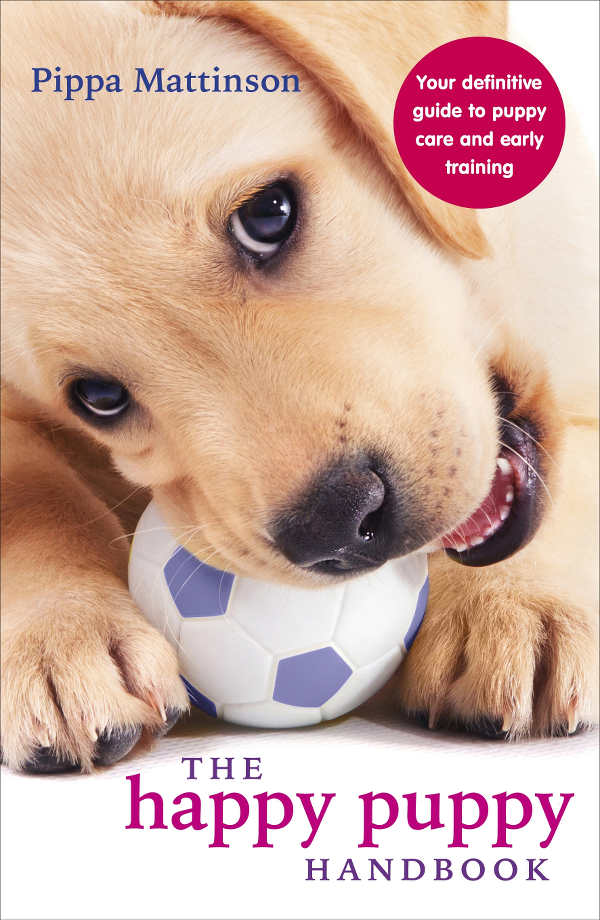 You may want to thin the hair of the tail a little, or trim it so it looks neat and tidy.
However, the tail should retain its natural form.
Of course, if you plan to show your dog, you will need to be more particular about how to trim your pooch.
But for your everyday Golden, the trimming does not need to be too technical.
Keep in mind that trimming your Golden Retriever's fur will not significantly reduce the amount of shedding—it will just make your dog look neater and might help reduce matting.
No matter how or why you trim your Golden, a practical tip is to brush and trim your dog outside.
Do Golden Retrievers Shed Too Much?
A Golden Retriever only sheds too much if you aren't up to the task of grooming and brushing a large dog with a double coat.
If you are short on time, have terrible allergies or want a low maintenance dog, then perhaps you should consider looking at some breeds with a shorter, curly coat.
Bear in mind that if you have allergies, the only way to know if a dog is going to cause you problems is to spend time with her before you commit to bringing her home for good.
If you can commit to a schedule of regular brushing, occasional trimming and washing, and plenty of vacuuming, get ready for the joy of having a beautiful Golden Retriever as a member of your family.
But remember, you can't just clean the floor. Your dog will need to be clean too.
References and Further Reading:
Bukowski, J.A., "Description and Physical Characteristics of Dogs," MSD Veterinary Manual
Goldens, Morningsage, 2001, "Grooming Your Golden," The Golden Retriever Club of America
"It's Winter. Why is my Pet Shedding So Much?" American Animal Hospital Association
Nicholas, C.E., et al., 2011, "Dog Allergen Levels in Homes with Hypoallergenic Compared with Nonhypoallergenic Dogs," American Journal of Rhinology and Allergy.