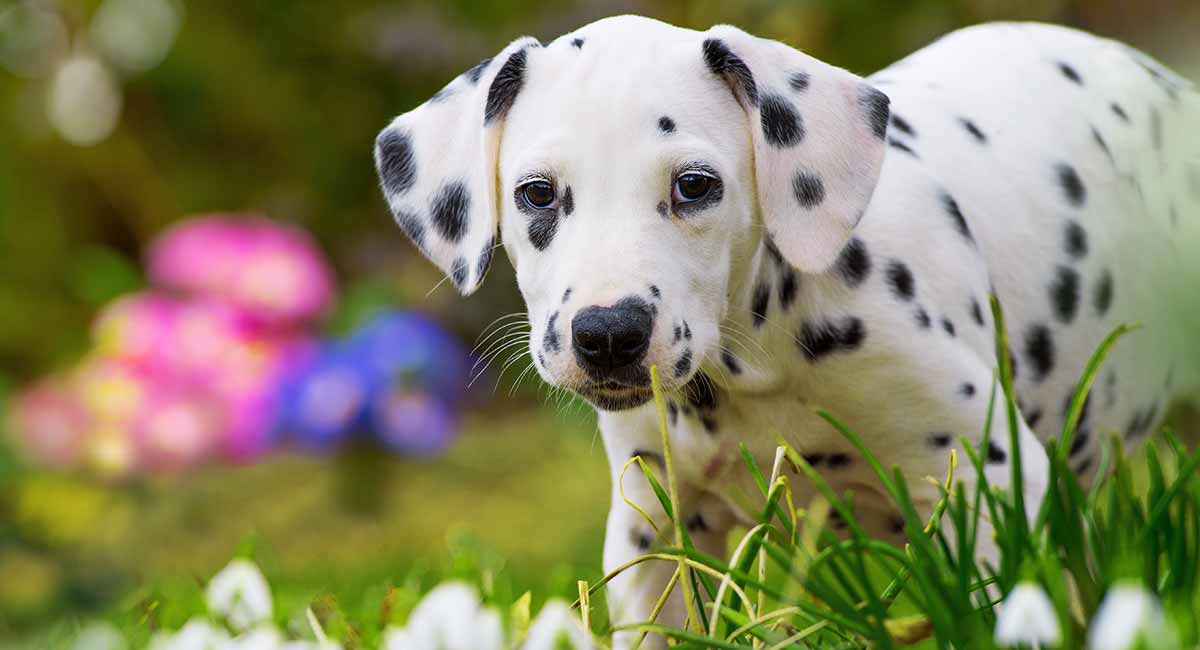 The Dalmatian dog has a long and noble history as a guard dog for royalty – both human and equine. In days of old, they were frequently found standing steadfastly while guarding royal coaches and their horses. But as regal and reserved as these dogs can be around strangers, just watch what happens when a Dalmatian's favorite people enter the room! Suddenly, all that reserve melts away to reveal the most boisterous and loving companion canine – no wonder owners love this breed so much.
I am excited to share our collections of Dalmatian names with you! If you have a spotty pup arriving soon you'll find heaps of inspiration here, to help you find the perfect name.
Contents
The Dalmatian dog is just one of those dogs nearly everyone recognizes. Thanks to a certain Disney film and the 101 Dalmatian puppies featured in it, the breed's own iconic appeal is secure. And to own a Dalmatian is to bask in the glow of a real canine celebrity.
This can feel pretty great – except when you are trying to select a name for your new Dalmatian puppy or rescue dog. Many new Dalmatian owners really feel the pressure to select the perfect name. Thankfully you don't have to find names for one hundred and one Dalmatians, and we're here to help!
101 Dalmatians Names
If you wondering what the names of those 101 cute Dalmatian puppies were, sadly only five are named in the book. And they are
Lucky
Cadpig
Patch
Roly Poly
Gay
The rest are left to our imagination. And we'll be using that imagination and creativity to gather up some really good Dalmatian names for you to choose from.
Naming Tips
Be sure to pick a name that is short or can be easily shortened since you will likely be saying it a lot. Remember you may need to say your dog's name out in public at the dog park or among strangers, so pick something that won't leave you red-faced!
Once you have your shortlist of Dalmatian names picked out, try pinning the list up in a prominent place in your home, for a few days. Then start crossing off the ones you like the least, until you are left with your favorite.
Best Dalmatian Names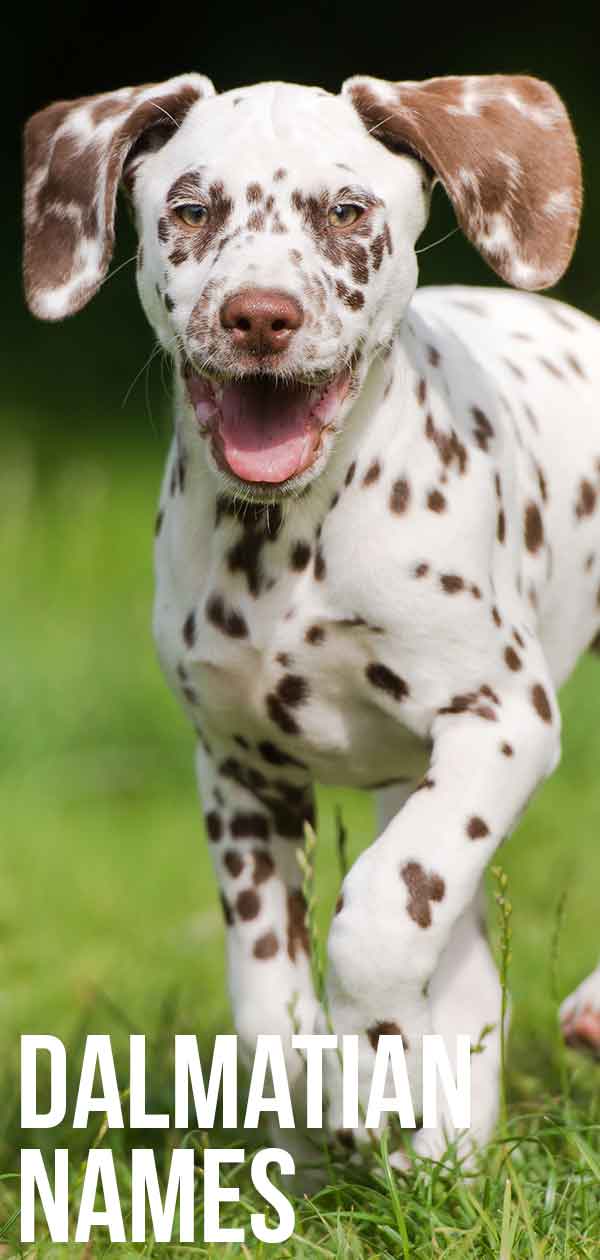 Some of the best Dalmatian names come from creative name-matching with your pup's signature black and white coat colors. Many of these names are inspired by actual Dalmatian firedogs who are working in firehouses around the country today.
Freckles
Jot the Dot
Pinto
Polka Dot
Galaxy
Star
Blaze
Dapple
Ember
Hoser
Sparky
Chief
Rookie
Osha
Ashes
Jake
Cinder
S'more
Flash
Brooklyn
Smokey
D'Artagnan
Athos
Aramis
Porthos
Musketeer
Lukas
Stripes
Siren
Crystal
Female Dalmatian Names
We have several collections of names for female Dalmatian puppies. The first has a celebrity theme
Celebrity Names For Dalmatian girls
These female Dalmatian names take inspiration from celebrities who have Dalmatian dogs – you will find the names of well-known singers, rulers, actresses, artists, writers, designers and many more.
Valerie (Bertinelli)
Ingrid (Bergman)
Paula (Abdul)
Annabella (Power)
Gloria (Estefan)
Beatrix (the Queen of the Netherlands)
Sarah (Ferguson, the Duchess of York)
Melanie (Griffith)
Barbara (Hale)
Melissa (Joan Hart)
Susan (Hayward)
Edith (Head)
Marcella (Howard)
Wynonna (Judd)
Natassja (Kinski)
Mary Ann (Krupsak)
Maureen (O'Sullivan)
Dorothy (Parker)
Kim (Oondatje)
Rosa (Ponselle)
Connie (Sellica)
Patricia (Sheridan)
Ginny (Simms)
Vera (Salaff Newman)
Mary (Leakey)
Girl Dalmatian Names with a flower theme
We just love flower names for female dogs. Here are a few that are perfect for Dalmatian girls.
Bluebell
Poppy
Petal
Petunia
Verbena
Rosie
Violet
Pansy
Sweet Pea
Daisy
Classic female names for Dalmatian dogs
Mabel
Lucy
Laura
Vicky
Holly
Lizzie
Molly
Mandy
Jennie
Suzie
Sally
Bella
The 101 Dalmatian puppies Mom was called Missis. And at one time was quite a popular choice for a girl Dalmatian puppy. Find more top names for female puppies and dogs here.
Male Dalmatian Names
The 101 Dalmatians dad was called Pongo, but if that name doesn't appeal, we've plenty more ideas. These male Dalmatian names are inspired by famous owners, including actors, athletes, scientists, singers, designers, inventors and even military generals.
Marlon (Brando)
Kurt (Adler)
Cecil (Aldin)
Mack (Bing)
Martin (Block)
Dennis (Brown)
John (Davidson)
Dizzy (Dean)
J. Paul (DeGrasse)
Wesley (Dennis)
Arthur (Fiedler)
Michael (J. Fox)
Benjamin (Franklin)
Greer (Garson)
Matt (Frenette)
Robert (Frost)
Rock (Hudson)
Roy (Rogers)
Waylon (Jennings)
Don (Johnson)
Marc (Jacobs)
Bradley (Knowles)
Brian (Wilson)
George (C. Marshall)
Sparky (Lyle)
Darrin (McGavin)
Louis (Leakey)
Pablo (Picasso)
Wolfgang (Puck)
Bobby (Short)
A great way to get ideas for dog names is by thinking of a topic that interests you and brainstorming words associated with it. The topic can be anything: a sport, hobby, science, etc. It could be anything you passionate about from the wilderness to cooking.
Names For Dalmatians With A Musical Theme
Music themed names can range from rock stars to classical composers, or even musical terms, or the names of your favorite songs. It's a great way to find more unusual Dalmatian names. Here are some of our favorites
Bono
Elvis
Dido
Snoop
Clapton
Bowie
Shakira
Elton
Hendrix
Buckley
Jagger
Gershwin
Presley
Cool Dalmatian Names
Did you know that black and white animals can gain certain evolutionary advantages from this color combination? No wonder the Dalmatian makes such expert protectors.
These cool Dalmatian names are inspired by both nature and culture: from cool black and white animals to equally cool human-made black and white inventions, you will have plenty of ideas to brainstorm after reading this list!
Panda
Orca
Zebra
Tapir
Skunk
Lemur
Colobus (Monkey)
King (Snake)
Penguin
Holstein
Oreo
Checkers
Soccer
Puffin
Piano
Pirate
Domino
Dice
Mickey
Raccoon
Snoopy
Zorro
Sundae
Chess
Magic 8-Ball
Umpire
Eclipse
Moon Pie
YoYo
Harlequin
Cute Dalmatian Names
What could be cuter than naming your Dalmatian dog after a famous pup from that all-time classic, '101 Dalmatians.' Enjoy these cute Dalmatian names that come straight from the story itself!
Pongo
Missis
Patch
Lucky
Cadpig
Roly Poly
Patch
Rolly
Penny
Perdita
Pebbles
Prince
Freckles
Pepper
Jewel
Latch
Jolly
Lenny
Dot
Yoyo
Corky
Disco
Spotter
Puddles
Tiger
Scooter
Wags
Nosey
Sleepy
Swifty
Spark
Funny Dalmatian Names
These funny Dalmatian names feature even more fun puppy names from '101 Dalmatians' and also share a selection of real-life Dalmatian owners' creative name choices.
Madame Moose
Pongo
Copyright
Dobber
Odin
Smits
Spots
Itchy
Spook
Fidget
Wizzer
Dipstick
Two-Tone
Tripod
Dingo
Pickle
Playdoh
Polly
Ham
Hoover
Lugnut
Lumpy
Lipdip
Dizzy
Diesel
Dash
Pointy
Pokey
Hoofer
Speedy
Unique Dalmatian Names
These unique and fun Dalmatian names reference popular sweets, games, cartoons, culture and another one-of-a-kind black and white things.
Cocoapuff
Junior Mint
Almond Joy
Milky Way
York Peppermint Patty
Licorice
Whirlypop
Hershey
Marshmallow
Rocky Road
Tootsie
Dove
Godiva
Truffle
Pocky
Tuxedo
Bullseye
Seagull
Cupcake
Pitbull
Sylvester
Pepe Le Pew
Salt-n-Pepa
Felix
Daffy
Betty Boop
Tom
Bugs
Minnie
Mr. Magoo
Tough Dalmatian Names
Dalmatians specialize in keeping things cool and calm, whether it is a nervous horse, a smoking house or an intruder up to no good. These Dalmatian names reference some of the coolest fictional and real-life firefighters who tackle the tough jobs to protect others.
For names inspired by real firefighters, full names are included in case you like a name and want to learn a bit more about the firefighter behind it.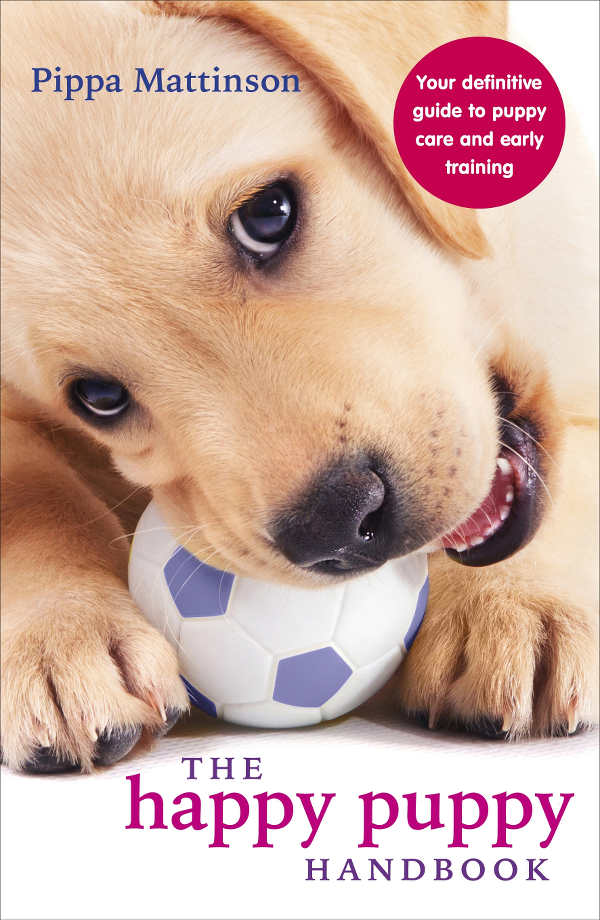 Jack Morrison ("Ladder 49")
Tommy Corn ("I Heart Huckabees")
Charles Levine ("I Now Pronounce You Chuck and Larry")
C.D. Bales ("Roxanne")
Michael O'Hallorhan ("The Towering Inferno")
Vince Gillian ("Trespass")
Wayne Grey ("Evolution")
Guy Montag ("Fahrenheit 451")
Frank Sullivan ("Frequency")
"Bull" McCaffrey ("Backdraft")
Gordy Brewer ("Collateral Damage")
Kristin Scott ("Trial by Fire")
Cindy Fralic ("Firefighter")
Steve (Buscemi)
Erron (Kinney)
Jack (McGee)
Robert (John Burke)
Marina (Betts)
Molly (Williams)
Rosemary (Cloud)
Bonnie (Beers)
Brenda (Berkman)
Judy (Brewer)
Shelia (Hunter)
Willa (Ortega)
Camilla (Howard)
Raemona (Williams)
Angie (Romero)
Sabrina (Daniels)
Lauren (Howard)
Fun Facts about Dalmatian Names
Dalmatians are many things to many people. To firefighters, the Dalmatian is a powerful mascot!
In the 18th century, people noticed that when Dalmatians hung around nervous horses, the horses calmed down. This was especially important during an era when horses pulled fire engines.
So Dalmatians began to run alongside the horses and easily segued into guarding both horses and engines. Their barking also served as the first "sirens" to let people know the fire truck was coming through.
Many famous people have chosen to keep company with Dalmatians. One of these was the very first President of the United States, George Washington, who chose to name his Dalmatian dog 'Madame Moose.'
Congratulations on welcoming home your new Dalmatian puppy or rescue dog! We hope these lists of Dalmatian names have inspired your own creativity so you can find the perfect name for your new pup.
When you do choose your Dalmatian's name, please drop back by to share your choice.