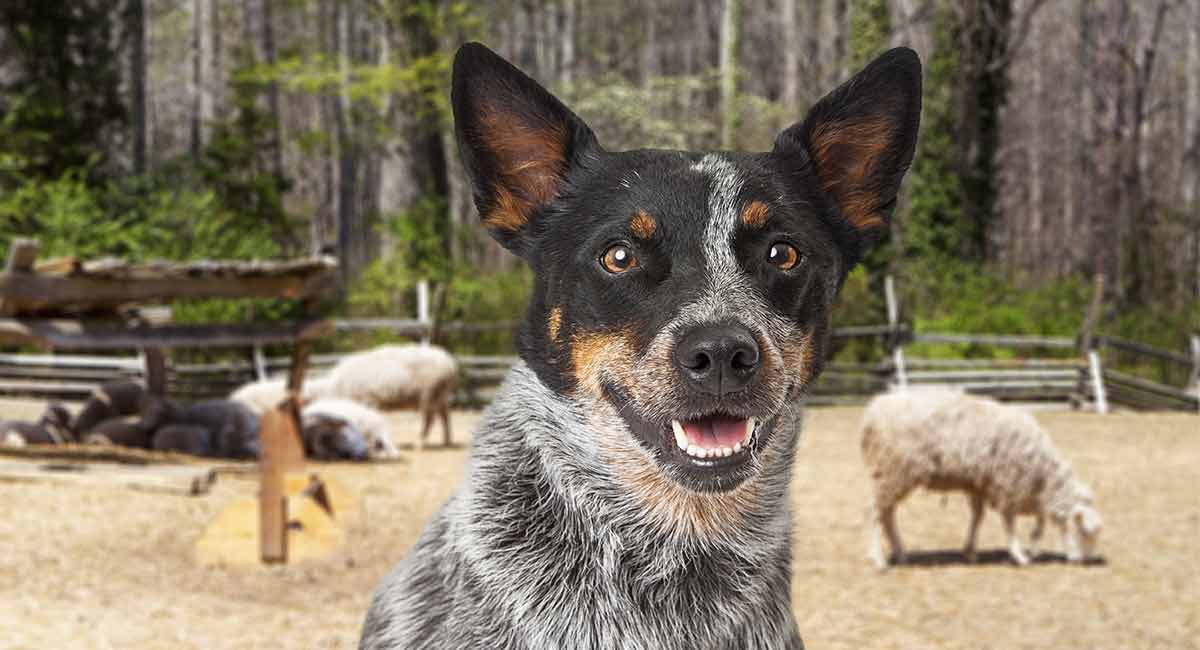 Cattle dog breeds are renowned for their intelligence, their work ethic, and their trainability.
It's no wonder these dogs are amongst the most popular pets around.
Read on to see our list of the coolest cattle dog breeds who continue to play a vital role in modern-day working society.
No 1: The Shetland Sheepdog
His Past
Sometimes called the Sheltie, the Shetland Sheepdog is a herding dog who hails from Scotland.
As his name suggests, this dog- like other cattle dog breeds- had the primary role of herding sheep through very harsh conditions all over the Shetland Islands.
His Present
Today, many Shetland Sheepdogs still enjoy the farm life and doing what they do best—herding sheep.
But as previously mentioned, their patient and docile nature make for a wonderful family pet.
The Shetland Sheepdog is also known to make a great therapy pet, working best as an emotional support animal for those who have suffered trauma.
His Qualities
The Shetland Sheepdog is a highly intelligent and spirited breed with lots of stamina. He's pretty popular, according to the American Kennel Club (AKC), ranking at number 24 out of 194 on the registry for most popular dog breeds.
He weighs 15-25 pounds and stands 13-16 inches tall.
He's easy to train but he likes to bark, making him a great watchdog! This is a sensitive dog who can be distant around strangers, but he's excellent with family, especially children!
Health Issues and Lifespan
The Shetland Sheepdog has a lifespan of 12-14 years and can be prone to a few health conditions such as Collie eye anomaly, cataracts, progressive retinal atrophy, Coloboma, eyelash abnormalities, corneal dystrophy, epilepsy, and heart disease.
No 2: The Australian Shepherd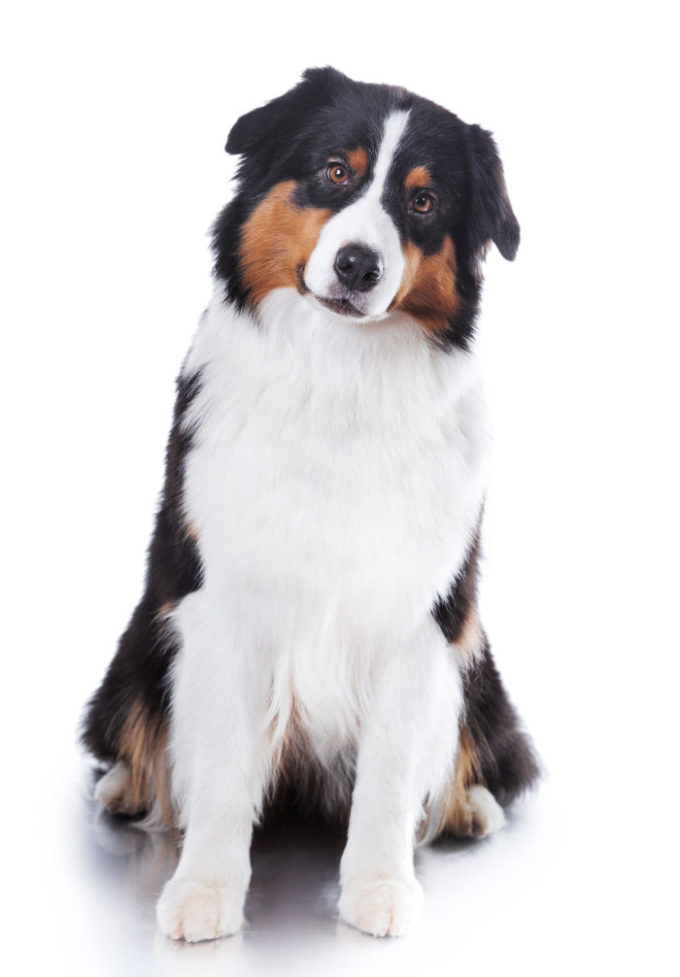 His Past
With a misleading name, the Australian Shepherd is a dog with American roots, whose lineage is traced back to the wild west, where he roamed farms and ran alongside cowboys through rough mountain ranges.
The 'Aussie', as enthusiasts sometimes call him, is excellent at herding and is said to be remarkable in the fact that he seems to suffer no adverse effects from the high altitude of the Rocky Mountains.
His Present
The original cowboy companion, the Aussie makes a wonderful family pet, but he's also still one of the most popular herding dogs on the market.
And just like the Shetland Sheepdog, the Aussie is a top choice for those seeking a sensitive, attentive therapy pet.
His Qualities
The Aussie is a working dog whose brains, beauty, and stamina unite to make him the full package!
Ranking in at 16 out of 194 on the AKC's registry of most popular dogs, the Australian Shepherd weighs between 40 and 65 pounds and is between 18 to 23 inches tall.
Health Issues and Lifespan
The Australian Shepherd lives from 12-15 years.
Although he's said to be a healthy dog, he can still be prone to hip dysplasia, eye diseases, drug sensitivity, and epilepsy.
No 3: The Old English Sheepdog

His Past
The Old English Sheepdog is a cattle dog breed who was established in England from a very old, very rustic style of dog.
There are no real records on the Old English Sheepdog, but he is believed to have worked primarily as a 'drover', meaning he drove sheep and cattle across rough terrain to the marketplace.
Back in his working days, the Old English Sheepdog was excused from taxation due to his position as a drover. In fact, to verify that their sheepdogs were working dogs, shepherds would often remove their tails, thus leading to the nickname, 'Bob-Tailed Sheep-Dog'.
His Present
Due to his unique look and patient demeanor, the Old English Sheepdog does quite well in show.
He also makes for a fabulous family dog, doing excellently with children and other household pets.
His Qualities
If allowed, the Old English Sheepdog's coat can grow to be very long and shaggy, with his fur often covering his face.
He is an easy-going dog with a very friendly spirit and sweet disposition. He can weigh up to 100 pounds and can grow to over 22 inches.
Health Issues and Lifespan
This large cattle dog breed has a lifespan of 10-12 years.
The inheritable conditions to be aware of are deafness, cataracts, gastric torsion (bloat), otitis externa, progressive retinal atrophy, cerebellar ataxia, retinal detachment, hypothyroidism, and hip dysplasia.
No 4: The Border Collie

His Past
Although believed to be a distant relative of a Collie from the British Isles, most present-day Border Collies can be linked to several Collie-type lineages throughout history.
He is considered one of history's most talented cattle dog breeds, excelling at herding and droving on the farms on which he was raised.
Amazingly, many sources claim the Border Collie was so adept at this work that he could easily take on the labor capacity of three humans!
His Present
It's no surprise that the Border Collie is still being used as a herding dog. His talent and intelligence make him a top choice for farmers looking to lighten their workload!
The Border Collie has also found use in airports and on golf courses, chasing away wild birds who would otherwise wreak havoc.
Although this cattle herding dog makes for a good family pet and does well with the kiddos, he is a bit of a commitment. He needs consistent training and exercise to stay mentally and physically fit.
His Qualities
The Border Collie is a very loving breed whose intelligence and energy will keep you on your toes!
He is a medium-sized cattle dog who weighs 30-55 pounds and stands 18-22 inches tall.
It's important to keep in mind that this is a true working dog, and without a 'job' to do, he could be prone to destructive behaviors and depression.
Health Issues and Lifespan
The Border Collie lives about 12-15 years and can be predisposed to seizures, progressive retinal atrophy, osteochondritis dissecans, lens luxation, hypothyroidism, patent ductus arteriosus, Collie eye anomaly, and hip dysplasia.
No 5: The Cardigan Welsh Corgi
His Past
Not to be confused with the tailless Pembroke Welsh Corgi (discussed further down on this list), the 'Cardi', as he is called, is a cattle breed who is said to be amid the oldest of all cattle breeds.
In fact, documentation places him in Wales as early as 1200 BC.
The Cardi was originally used to guard farmsteads, but his tenacious spirit led him to take on the roles of a cattle drover and herding dog.
In spite of being bred as a guard dog, the Cardi's small size made him an excellent herding dog as his low-to-the-ground stature protected him from any wayward kicks from the cattle he was driving.
His Present
The Cardi is still a highly used cattle dog today, but he is also just as valued as a family companion.
He also enjoys competing in doggie sports like sheepdog trials and agility.
His Qualities
This little dog packs a big punch! For a cattle dog weighing a mere 25-38 pounds and standing at only 10.5-12.5 inches, the Cardi is full of love, courage, and intelligence.
Although some Cardis can attach to one specific family member, a well-socialized Cardi will get along with just about anyone.
Lifespan and Health Issues
The Cardi has a lifespan of 12-15 years and can suffer from degenerative myelopathy, canine hip dysplasia, progressive retinal atrophy, and urinary stones.
No 6: The Malinois Dog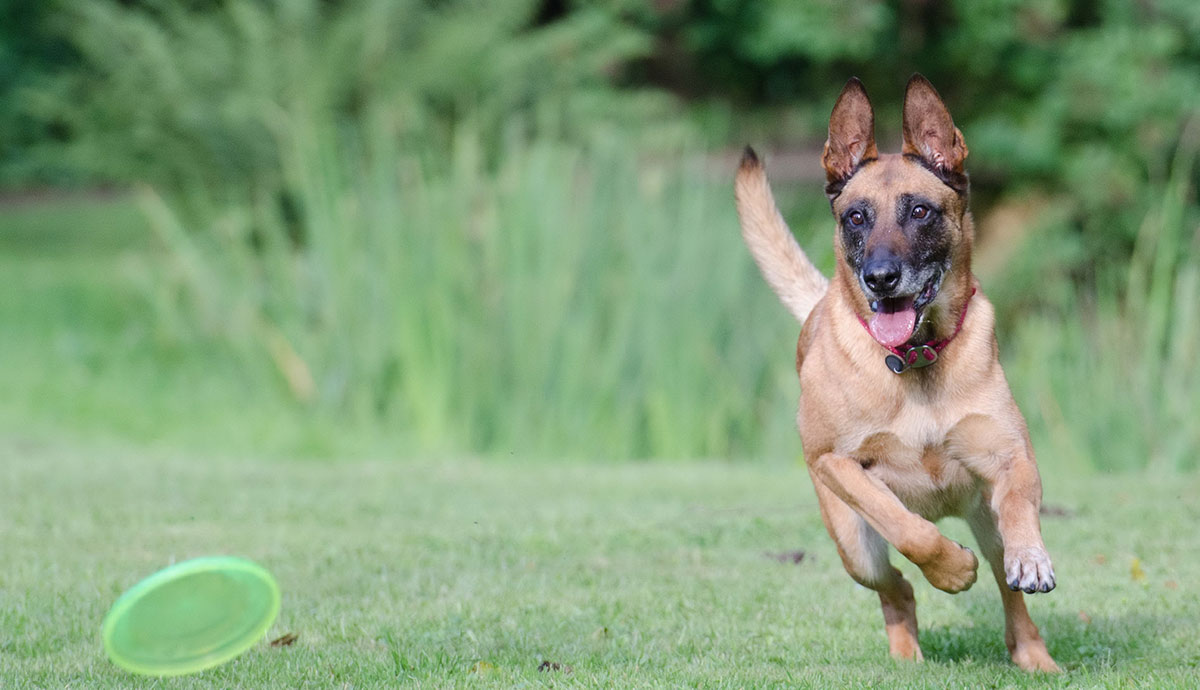 His Past
Also known as the Belgian Malinois, this cattle breed hails from Belgium, where his primary use was to herd sheep.
However, his muscular build and naturally protective nature made him an excellent guard dog for property as well as people.
His Present
Though he can make a good family pet when properly socialized and trained, the Malinois is a working dog through and through. While he can still be found herding, this cattle breed's keen sense of smell and intelligence has taken him far beyond the pastures.
The modern-day Malinois is famous for working in K-9 units all over the world, excelling in narcotics and explosive detection, and helping police track down bad guys.
Impressively, the Malinois has ranks that go all the way to the top! He even helps to guard the White House!
His Qualities
Weighing in at 40-60 pounds and standing 22-26 inches tall, the Malinois is an intelligent, assertive dog who enjoys hard work as much as he enjoys a playful romp in the yard with his human.
He is said to be incredibly affectionate, forming a strong bond with his human counterpart, especially when working closely with one person in law enforcement.
Health Issues and Lifespan
The Malinois lives from 14-16 years and can be prone to elbow dysplasia, pannus, progressive retinal atrophy, hemangiosarcoma, and cataracts.
No 7: The Australian Cattle Dog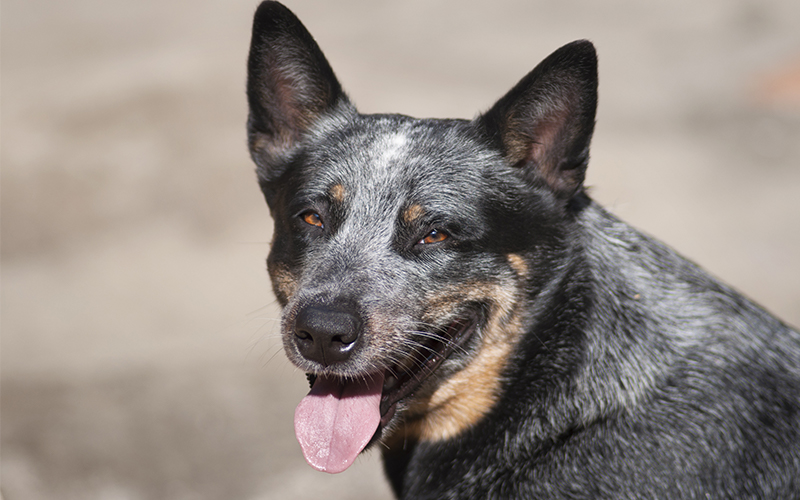 His Past
This is a true dog from Down Under! The Australian Cattle Dog was bred for herding and is believed to be a distant relative of Australia's wild dog, the Dingo.
His Present
The Australian Cattle Dog is a very common farm dog today, so don't be surprised if you see one out in the fields nipping at the heels of cattle and sheep.
He is also another one of the cattle dog breeds that makes a great companion, though he is said to be so intelligent that he has been known to easily outwit his owners.
His Qualities
Famously smart and extremely energetic, this cattle breed will need lots of exercise and mental stimulation throughout his life to keep him healthy and happy.
He weighs about 35-50 pounds and can grow up to 20 inches tall.
Lifespan and Health Issues
With a lifespan of 12-16 years, the Australian Cattle Dog has a few genetic health issues to be aware of, such as progressive retinal atrophy, hip dysplasia, elbow dysplasia, deafness, and Osteochondritis Dissecans.
No 8: The Rough Collie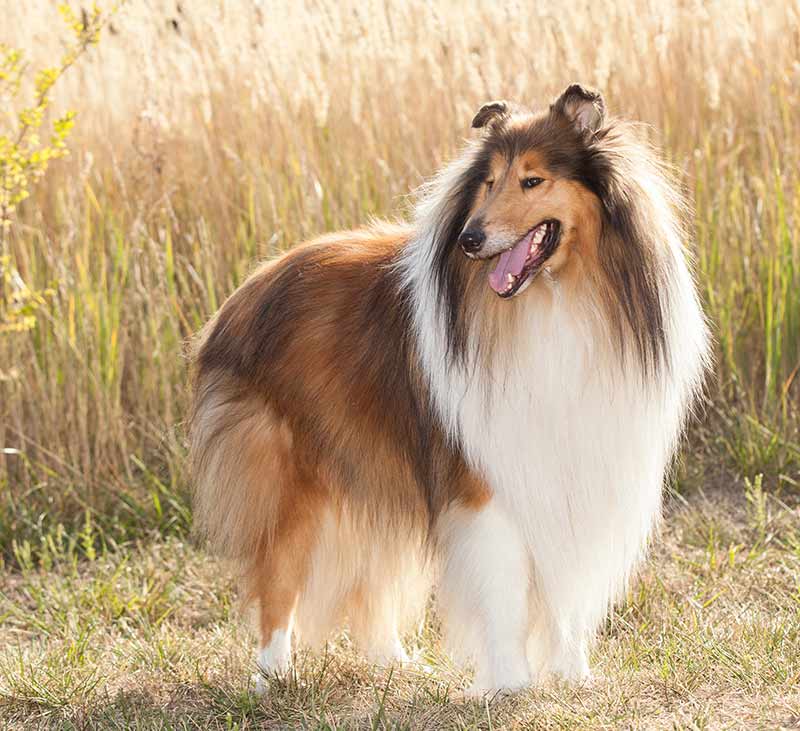 His Past
Another one of the herding cattle dog breeds from Scotland, the Rough Collie is said to have worked as a drover in the highlands, where he primarily drove sheep and goats.
However, the Rough Collie breed went from a working breed to royalty as soon as Queen Victoria got her hands on one.
His Present
These days, the Rough Collie finds more use as a companion dog than a herding dog, although you can still find him from time to time in the pastures.
He is truly regaled for his intelligence and he is known to excel in dog sports and shows.
His Qualities
This faithful, intelligent dog is perhaps one of the world's most recognized cattle breeds thanks to Eric Knight's 1940's character Lassie.
He is elegant, beautiful, and incredibly brainy, making him an excellent companion.
He weighs 50-75 pounds and stands 22-26 inches tall.
Lifespan and Health Issues
The Rough Collie lives 12-14 years.
He is most prone to Collie eye anomaly, progressive retinal atrophy, cataracts, corneal dystrophy, persistent pupillary membranes, allergies, pyoderma, demodectic mange, nasal solar dermatitis, epilepsy, heart disease, hypothyroidism, and inherited deafness.
No 9: The Pembroke Welsh Corgi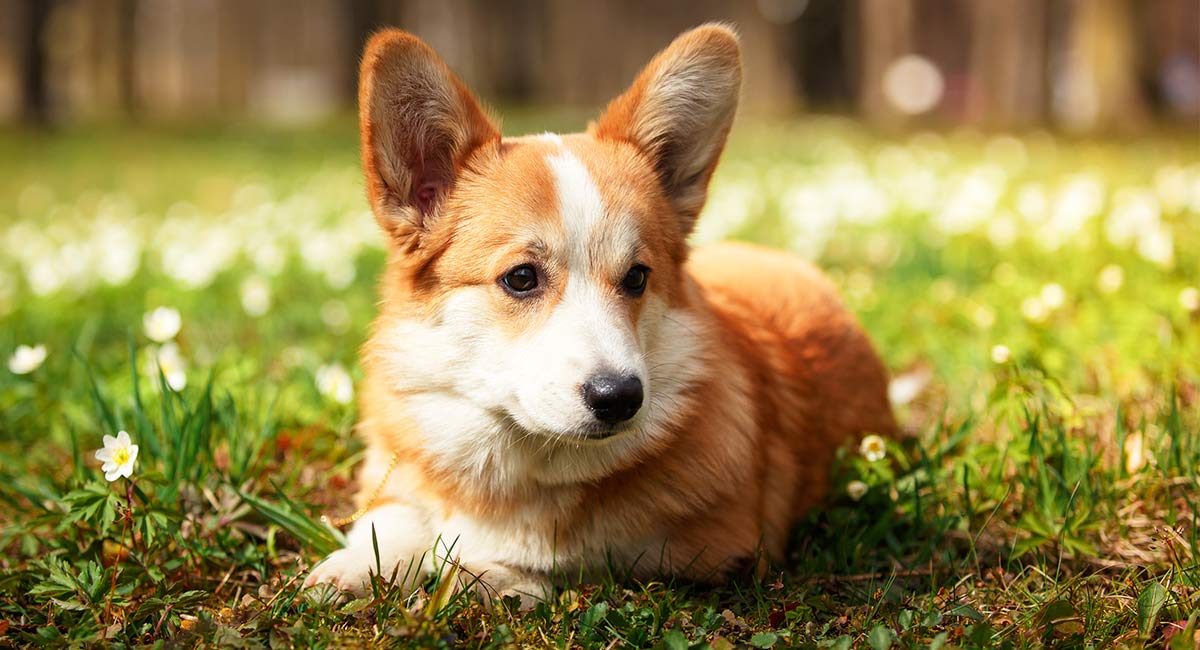 His Past
This short-legged cattle dog hails from Pembrokeshire, Wales. The second of the two Corgi breeds (the other being the previously covered Cardigan Welsh Corgi) has no tail.
Like the Cardigan Welsh Corgi, the Pembroke Corgi is one of the smallest of the herding breeds.
Outside of herding, the Pembroke was also beloved by British Royalty. In fact, Queen Elizabeth II is said to have owned more than thirty Pembroke Corgis during her life.
His Present
Ranking in at number 18 out of 194 on the AKC's list, this is a very popular companion dog today.
Still, don't be surprised if you see this spirited little breed out in the pasture, as he is considered one of the world's most popular herding breeds!
His Qualities
Adoring of his family members and quite clever, the small but mighty Pembroke Corgi weighs 28-30 pounds and stands 10-12 inches tall.
He is easy to train, makes a great watchdog, and is a joyful pet to have around.
Lifespan and Health Issues
Living approximately 12-13 years, the Pembroke Corgi's health issues include intervertebral disc disease, hip dysplasia, epilepsy, and degenerative myelopathy.
No: 10 The Finnish Lapphund
His Past
One of the most majestic cattle dog breeds, the Lapphund is actually a reindeer herding dog from north of the Arctic Circle, where he worked alongside the indigenous Sami People.
His Present
This may be the first you're hearing of the Finnish Lapphund, as he is still a relatively new breed to much of the world. In fact, the first Finnish Lapphund litter wasn't even born in America until 1988!
Despite being fairly unknown to the rest of us, the Lapphund is rather popular in his homeland, where he is still used as a gifted reindeer herder. He also makes a delightful companion dog.
His Qualities
Also called the "Lappie", this cattle dog can weigh up to 53 pounds and grow as tall as 21 inches.
Approachable and very compassionate, he has a lush coat suitable for herding livestock through freezing conditions.
Perhaps one of his most unique characteristics is his natural 'startle reflex', which is the result of years of dodging rogue reindeer antlers.
Lifespan and Health Issues
The Lappie has a lifespan of 12-15 years and can be prone to progressive retinal atrophy, cataracts, glaucoma, hip dysplasia, and elbow dysplasia.
How Can I Find Cattle Dog Breeds?
If you have your sights set on one of the cattle dog breeds, we're not surprised! These are amongst some of the smartest, most loyal dogs you'll ever have the luck of owning.
The key to finding yourself the happiest, healthiest cattle dog, whether you plan to go through a shelter or a breeder, is to always do plenty of research.
Make sure you are seeking reputable, responsible sources, and keep in mind that breeders should always have certificates proving their dogs have been health screened.
When going through a breeder, don't be afraid to ask questions, including whether there have been any temperamental or health issues with previous litters or parent breeds.
We hope you enjoy your cattle dog breeds as much as we think you will.
Good luck!
References and Further Reading
James Serpell, The Domestic Dog: Its Evolution, Behavior and Interactions with People

Kenth Svartberg, Bjorn Forkman, Personality Traits in the Domestic Dog (Canis Familiaris), Applied Animal Behavior Science, Official Journal of the International Society for Applied Ethology 
Kijas et al. Genome-Wide Analysis of the World's Sheep Breeds Reveals High Levels of Historic Mixture and Strong Recent Selection, PLOS Biology, 

Charlotte Schwartz, A Kennel Club Book, Australian Cattle Dog, Chapter 9 –

History of the Australian Cattle Dog

Coates et al. Clinical Characterization of a Familial Degenerative Myelopathy In Pembroke Welsh Corgi Dogs, Journal of Veterinary Internal Medicine
Indrebo et al. A Study of Inherited Short Tail and Taillessness in Pembroke Welsh Corgi, Journal of Small Animal Practice 
Steven Steinberg, VMD DACVIM Thomas Van Winkle, VMD, DACVP Jerold S. Bell, DVM Alexander de Lahunta, DVM, PhD, DACVIM, Cerebellar Degeneration in Old English Sheepdogs, Journal of the American Veterinary Medical Association 
Vila et al. Phylogenetic Relationships, Evolution, and Genetic Diversity of the Domestic Dog, Journal of Heredity,