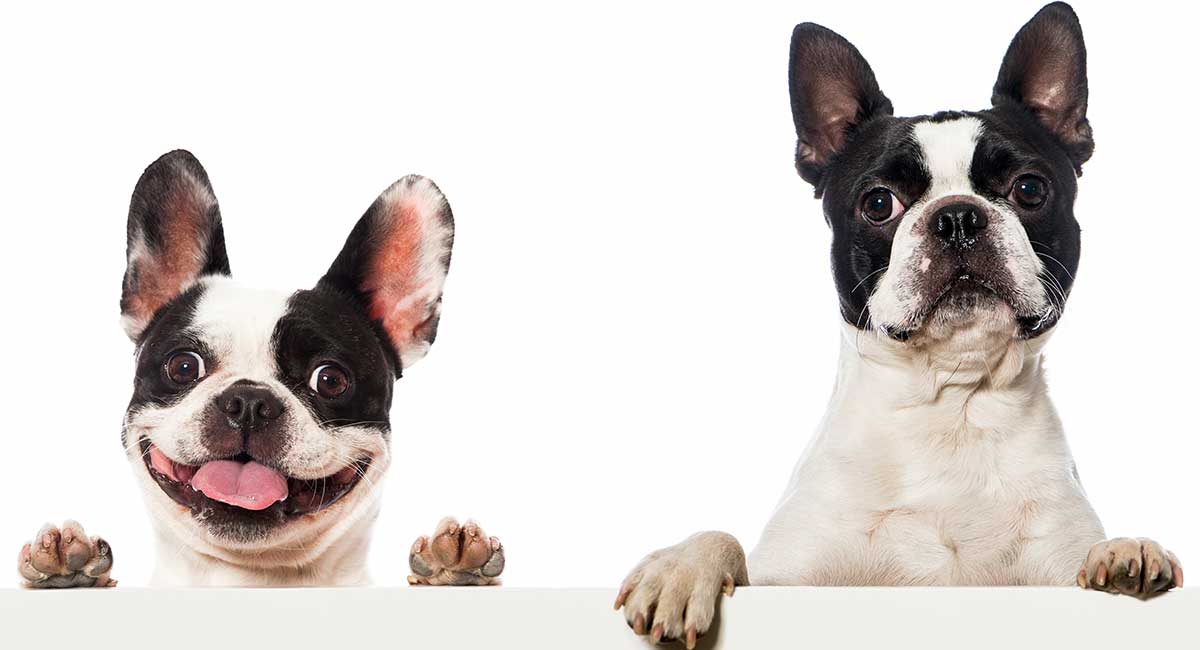 Boston Terrier vs French Bulldog – what are the differences between these similar pups?
Friendly, playful, smart, and undeniably adorable.
At a glance the Boston Terrier and the French Bulldog might appear to be quite alike.
But these are two entirely different breeds.
Their similar physical traits can be attributed to a common ancestor.
Both the Boston Terrier and the French Bulldog are descendants of the English Bulldog.
This is where their large, square heads, flat faces and compact bodies come from.
But they aren't even close to identical.
Boston Terrier vs French Bulldog – which one am I looking at again?
There are definitely some distinctive differences when comparing the Boston Terrier vs French Bulldog.
Despite their shared lineage.
We'll take a look at the variances in their size and temperament.
And most importantly we'll examine the health problems associated with both of these breeds.
Still trying to decide between these two dogs?
Here's a complete Boston Terrier vs French Bulldog comparison to help you make the right choice for you.
Boston Terrier vs French Bulldog – which is better?
The AKC currently ranks the Boston Terrier as the 21st most popular dog in America.
The French Bulldog is right near the top, ranking 6th.
Both make great companions in terms of personality, but they equally have real drawbacks.
Namely in the health department.
Doing a thorough comparison is the best way to find out which breed you'll be more compatible with.
Boston Terrier vs French Bulldog size and appearance
The Boston Terrier stands 15 to 17 inches with a weight that ranges between 12 and 25 pounds.
The French Bulldog, though shorter in stature at 11 to 13 inches, has a stockier build.
Often weighing around 25 pounds.
Both breeds have short, sleek coats, so that grooming is fairly minimal.
Boston Terrier vs French Bulldog temperament
Both of these breeds are generally known to be well-behaved and get along just fine with everyone.
Including children and other pets.
Their small size makes either of them suitable to apartment living.
Both of these dogs love people and attention.
Neither breed likes to be left alone for long periods of time.
They can develop separation anxiety if on their own too much.
If no one is home for most of the day, you might want to consider another breed entirely.
Being honest about your lifestyle is a crucial factor to consider before bringing any dog into your home.
Difference between Boston Terrier and French Bulldog
Activity levels and trainability are areas where there are some differences when comparing the Boston Terrier vs French Bulldog.
While some Boston Terriers are very active and love to run or chase a ball, others are happy with a daily brisk walk.
French Bulldogs are often referred to as "low energy dogs."
That being said, they still require short daily walks to keep them in shape.
The Boston Terrier wants to please and this makes him very trainable.
The French Bulldog is known to have a stubborn streak.
This can make training more of a challenge.
However, positive reinforcement should do the trick.
Boston Terrier vs French Bulldog health
Many purebred dogs suffer from inherited health problems due to a restricted gene pool.
Some of these health issues can be avoided by ensuring your puppy's parents have been health tested and cleared for certain problems.
Unfortunately for the Boston Terrier and the French Bulldog there are serious problems embedded into the structure of these breeds.
Boston Terrier vs Bulldog French brachycephaly
The adorable baby-faces associated with these dogs are referred to as 'brachycephalic'.
They come at a high price in terms of health and well-being for the animal.
Brachycephalic syndrome refers to the numerous negative effects of airway obstruction.
And decreased airflow due to this facial formation.
When the throat and breathing passages are compromised, it causes severe chronic breathing problems and other associated health issues.
All brachycephalic dogs have trouble breathing to some extent.
But the French Bulldog is one of the most harmfully impacted.
There are those who consider the Frenchie's extremely flat face a desirable quality.
As the breed has increased in popularity in recent years, some breeders have deliberately produced dogs with shorter and shorter muzzles to the detriment of the breed's health.
Boston Terrier vs French Bulldog screw tails
Screw tail is a disease in which bones of the spine are abnormally formed, causing spinal deformation called hemivertebrae.
It can cause weakness of the limbs, incontinence, and in severe cases, paralysis.
Brachycephalic breeds are genetically predisposed; the French Bulldog in particular.
You can find out more about screw tails by reading this article.
Boston Terrier health
The round, soulful eyes of the Boston Terrier are an engaging characteristic of the breed.
However, this protrusion leaves them susceptible to injury and numerous eye diseases.
Cataracts, glaucoma, and corneal ulcers are some of the eye problems Boston Terriers are prone to.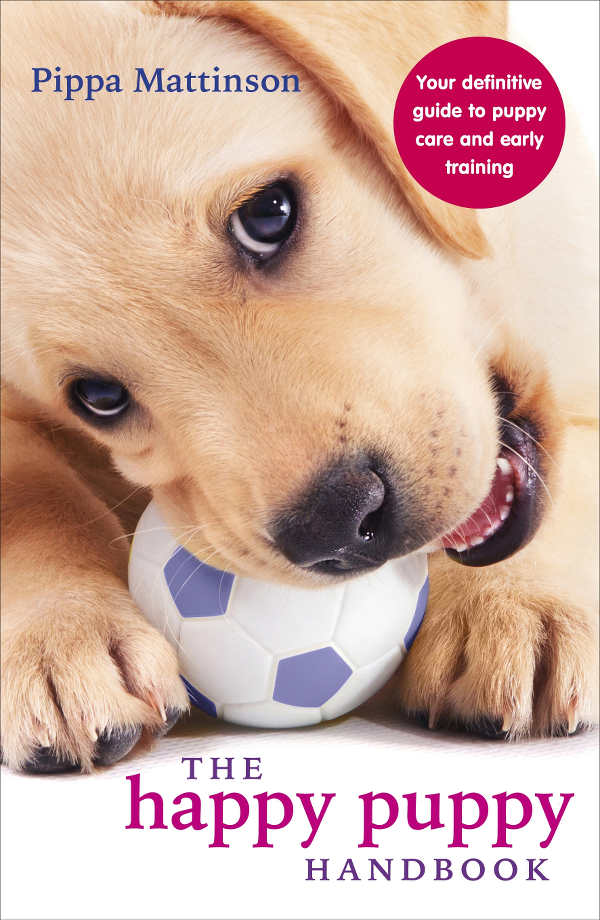 To protect their eyes, it's a good idea to avoid extreme weather conditions.
Use saline eyedrops to wash away dust and other irritants.
Deafness and joint problems like patellar luxation.
This is a hereditary condition in which the kneecap is dislocated.
French Bulldog health
Chondrodystrophy is a problem that affects all French Bulldogs.
This is a form of dwarfism characterized by short limbs and causes a number of vertebral malformations.
When choosing this breed you must be prepared for the fact that they are highly susceptible to gait problems and back pain.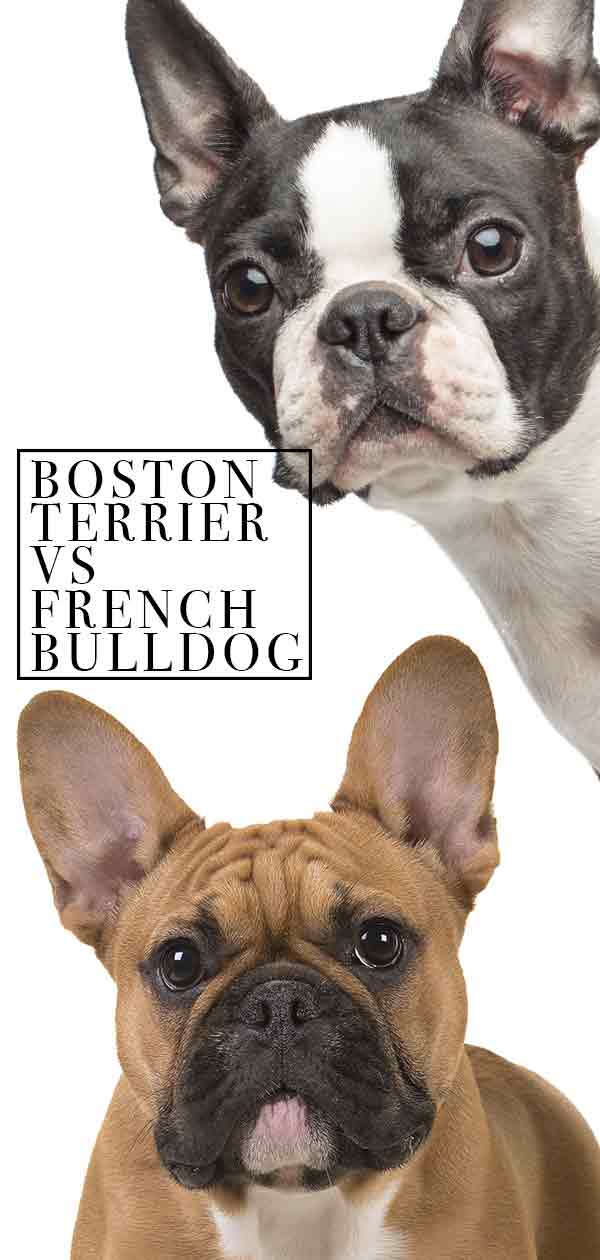 Boston Terrier or French Bulldog – which do I choose?
Choosing between similar breeds is never easy.
When it comes to Frenchie vs Boston Terrier, either of these dogs has a great personality.
But sadly they are not healthy.
When buying any breed it's important to get a puppy from a breeder who has done extensive health testing.
Looking at dogs who have as many health concerns as the Boston Terrier and the French Bulldog, it is vital.
We strongly recommend considering an older rescue dog or an alternative breed.
Here are some similarly friendly breeds with a much better chance at a happy life:
References and Further Reading
Farrell, LL, et al. 2015. "The challenges of pedigree dog health: approaches to combating inherited disease."

 Canine Genetics and Epidemiology.

De Lorenzi, D., et al. 2007. "Bronchial abnormalities found in a consecutive series of 40 brachycephalic dogs."

Melersh, CS., et al. 2007. "Mutation in

HSF4

Associated with Early but Not Late-Onset Hereditary Cataract in the Boston Terrier."

Journal of Heredity

.

Brown, EA, et al. 2017. "

FGF4

retrogene on CFA12 is responsible for chondrodystrophy and intervertebral disc disease in dogs."

Proceedings of the National Academy of Sciences of the United States of America.

KURICOVÁ, M.,et al. 2017. "Vertebral Malformations in French Bulldogs".

Papazoglou, VC. 2016. "Surgical management of screw tail and tail fold pyoderma in dog."

Journal of the Hellenic Veterinary Medical Society.