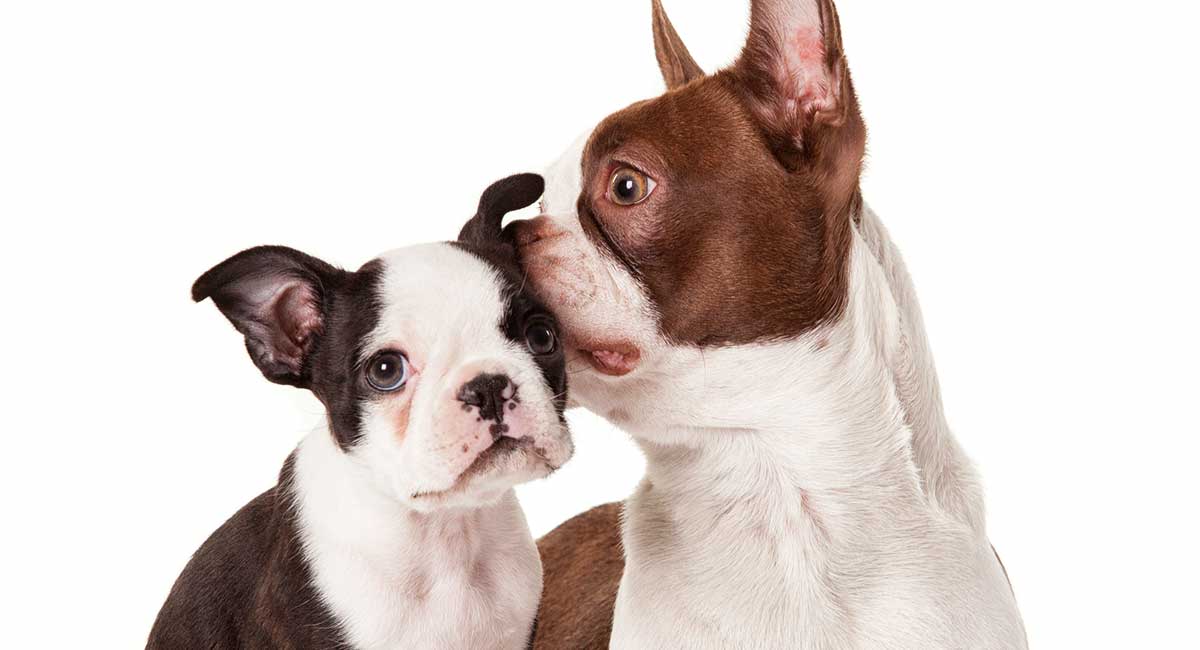 The traditional Boston Terriers colors of white, and black or brown coats have given way to detailed modern breed standards. Most of these cute pups have distinctive white markings on a background of black, seal or even brindle fur. Although there are rarer colors to be found in the breed, these can come with some health problems attached.
Contents
The Boston Terrier, with his distinctive and distinguished Boston Terrier colors and tuxedo coat, has earned himself the moniker of the "American Gentleman." Not only is the Boston Terrier the official dog of Massachusetts, but this dog has also served as Boston University's official mascot for nearly a century! Today, the Boston Terrier is found in loving homes all over the world. They are prized not just for their sensitive spirit, but also for their people-loving personalities.
A Brief History of Boston Terrier Colors and Coat
Many modern Boston Terrier fans don't realize that their favorite dog actually came to America from across the pond. The Boston Terrier can trace her origins all the way back to England! The forefather of today's Boston Terrier was a dog named Judge. Judge was a cross between a White English Terrier and an English Bulldog.
Judge was sold to an American, William Hooper, who soon renamed him "Hooper's Judge." It wasn't long until Hooper's Judge, with his dark brindle coat and white facial splash, was making new friends in his new country. These friends include a pretty white lady dog owned by Edward Burnett, who named her "Burnett's Gyp."
Modern Boston Terrier Colors Explained
The traditional Boston Terrier colors are white, brindle and black/brown colors. They are found in the earliest official AKC (American Kennel Club) breed standard. However, no colors are specifically excluded in the first breed standard either. Later, in 1914, Boston Terrier breeders became more specific. They rewrote the breed standard.
In this newly revised breed standard they excluded certain colors, including solid (self) black, tan and black, liver (red) and mouse (blue). The all-white coat plus predominantly white coats were also disqualified from the show ring.
Fast forward to the current reigning Boston Terrier colors as per the breed standard, and we discover that Boston Terrier breeders are more specific still – a lot more specific!
Today, there is a new Boston Terrier color pattern, seal (a black color with a red cast to it). Solid black is still a no-no, and now solid brindle and solid seal with no white markings are disqualified as well. Gray and liver (red) colors are also disqualified.
The best places for Boston Terriers to display their signature white markings are as a chest splash, a blaze between the eyes and a muzzle band. It is acceptable (but not ideal) to show white on the collar and legs (hocks).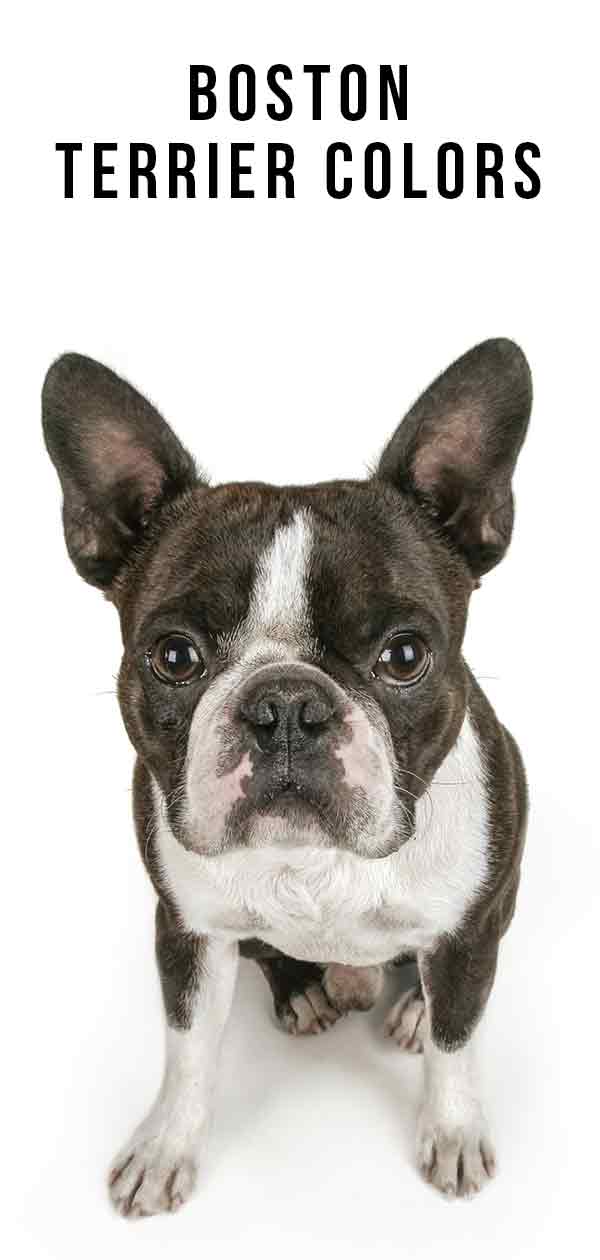 Common Boston Terrier Colors
When most people think of Boston Terrier colors they automatically think of the classic black and white "tuxedo" coat.
Black & White Boston Terriers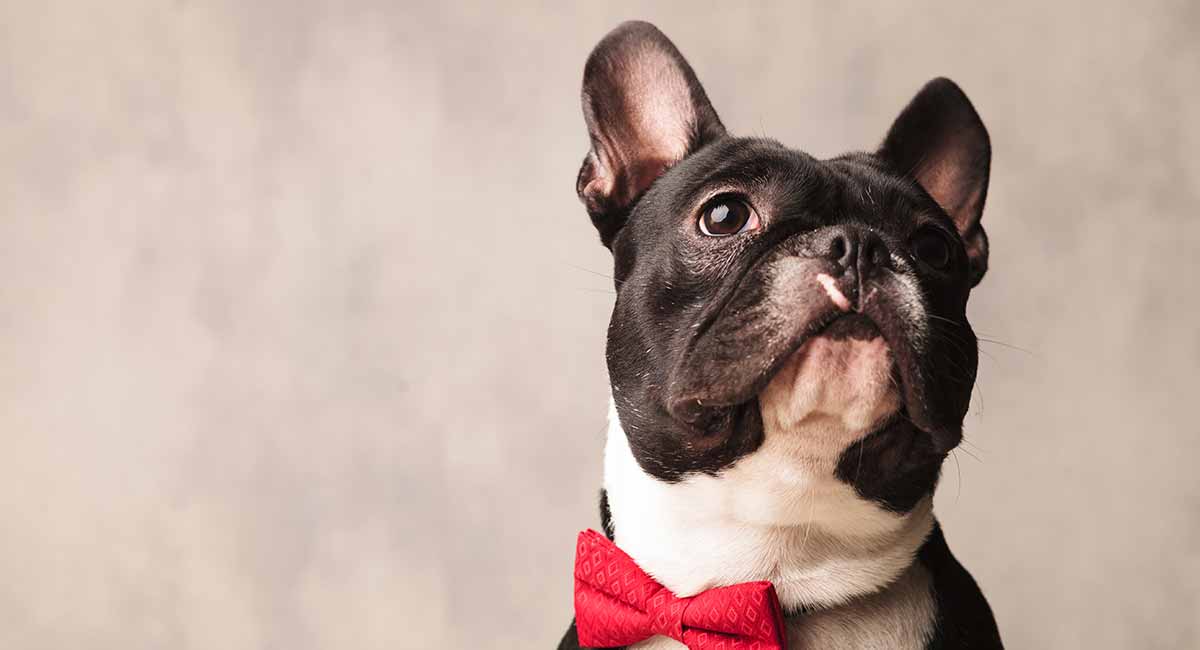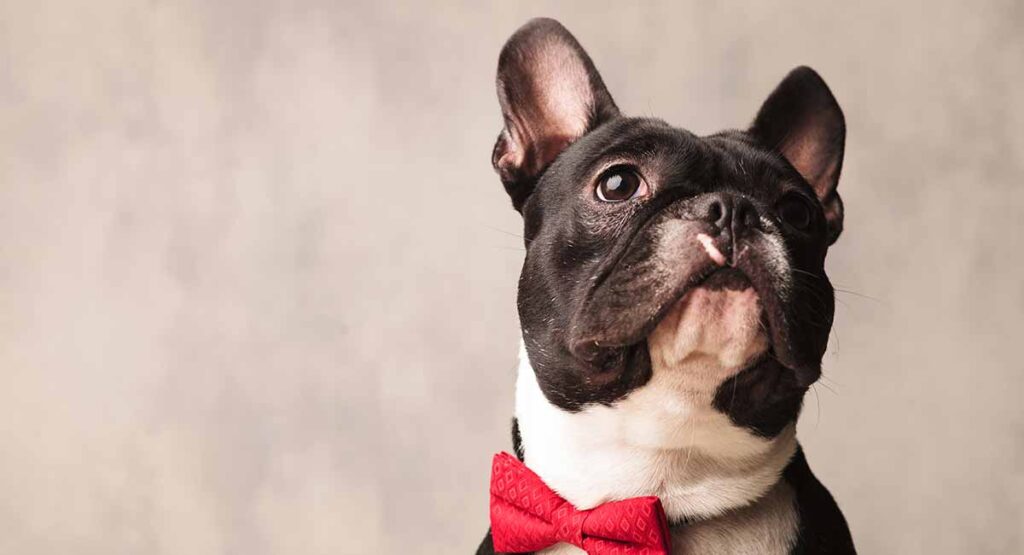 The "signature" color combination of theBoston Terrier is the black and white coat. This is the coat color that gives the Boston Terrier that dignified "tuxedo" look responsible for the breed's nickname of "American Gentleman."
With this coat color, black predominates and white is an accent color. In order to be true Boston Terrier colors black & white, the eyes will be dark brown and the nose will be black.
Brindle & White Boston Terriers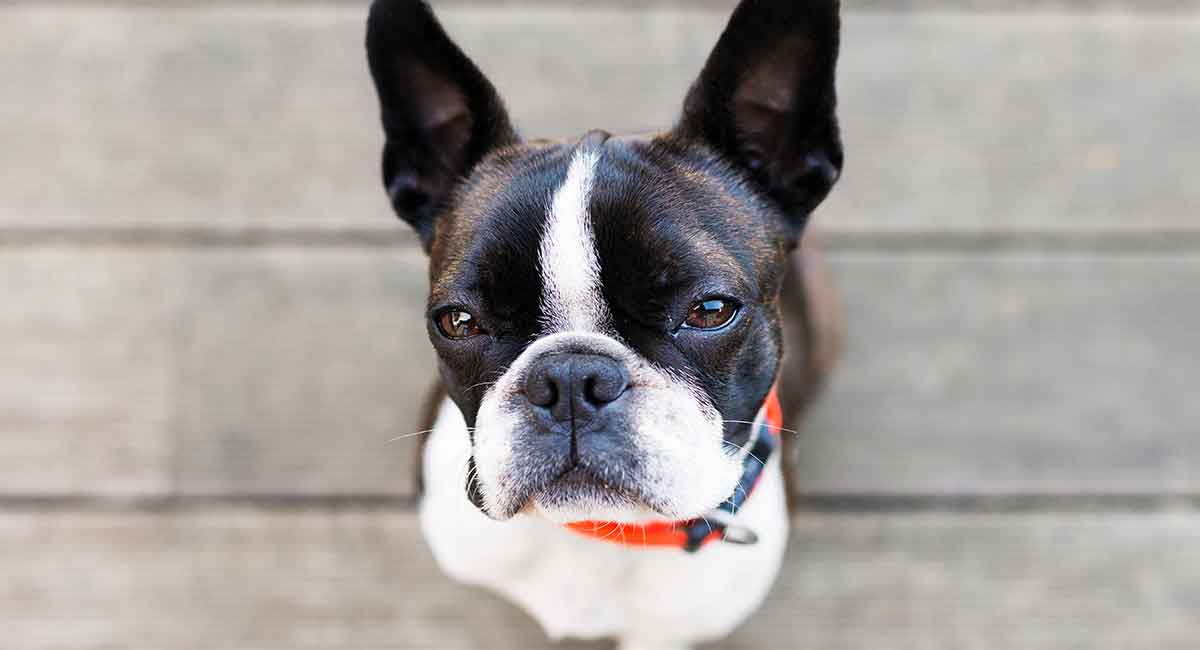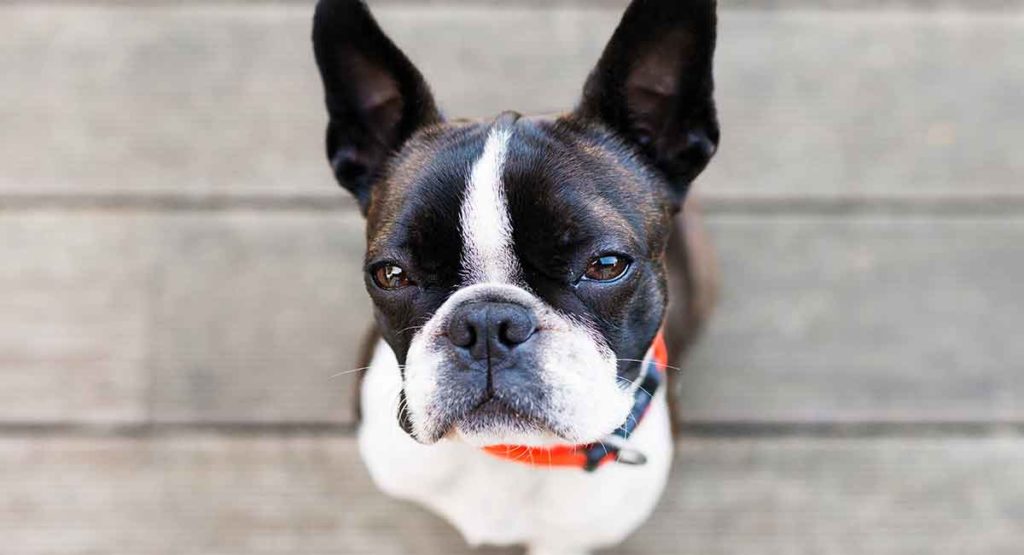 The brindle coloration is technically a pattern of markings rather than a solid (self) coat color. Brindle can vary from dark to light and the base can be dominant or dilute.
A dilute color is a recessive form of a dominant color such as black or brown. For example, a dilute black might appear to be blue or lilac. A dilute brown might appear as red.
It is important to know that true Boston Terrier colors, brindle & white, will also have dark brown eyes and a black nose.
Seal & White Boston Terriers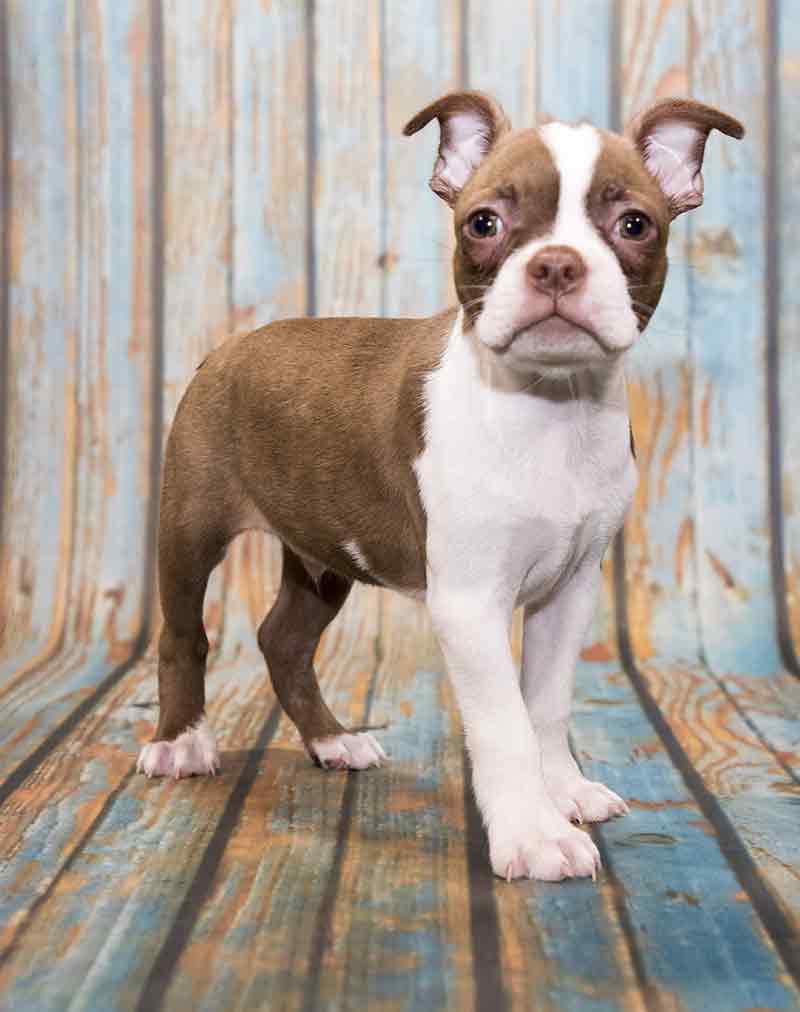 The seal and white coat color is often referred to as brown and white. This is an acceptable Boston Terrier coat color if you want to show your dog or breed to AKC show standards in the future.
Seal can be a difficult color to pinpoint for those who are new to the Boston Terrier breed. This color looks solid black until the light hits it in a certain way to bring out red undertones.
A true seal and white Boston Terrier will also have dark brown eyes and a black nose.
Be aware that other Boston Terrier colors brown & white may not be acceptable in the show ring. These include brown shades called liver and fawn.
Rare Boston Terrier Colors
Reputable Boston Terrier breeders caution against falling prey to claims that a Boston Terrier puppy is displaying "rare Boston Terrier colors." This is often a euphemism for an undesirable mating that has produced puppies with unusual or disallowed coloration. For unscrupulous so-called "backyard" breeders or puppy mills, this can be a method to charge higher prices to unwitting puppy shoppers.
The AKC breed standard disallowed colors of red (liver), brown, solid black, blue (gray), champagne (pale red), solid white and blue-eyed or pink-eared Boston Terriers. These are examples of so-called "rare" Boston Terrier colors.
They can result when the breeder is careless or not knowledgeable about breed lines. Sometimes these puppies may not even be purebred Boston Terriers – especially those that have markings more characteristic of other dog breeds such as bulldogs or boxers.
Standard vs Miniature Coat Colors
The standard size Boston Terrier ranges from 12 to 25 pounds. Modern Boston Terriers are bred in two sizes, standard and miniature (sometimes called "teacup"). This is not an official, recognized size difference, however. It is simply a choice some breeders have made to reduce the size of the Boston Terrier dog for a variety of reasons.
For the purposes of Boston Terrier colors, however, there is no real difference between the standard and miniature Boston Terrier.
Color Genetics vs Health
Boston Terriers as a breed are facing some significant health issues today. Some are genetically linked to Boston Terrier colors. You can find out more about the general Boston health issues here. But in short the Boston Terrier is prone to problems related to his physical structure. These can cause pain, distress, and shortening of his life, so it is important to make sure you are fully informed of the possible health implications if you are considering taking on a Boston Terrier.
White Coats and Deafness
Boston Terriers with predominantly white or all-white coats have a higher incidence of unilateral (single ear) or bilateral (both ears) deafness.
Blue eyes with a white coat carry a special risk of puppies being deaf.
Albino Boston Terriers
Albinism is not a coat color, per se. Rather, it is a lack of pigmentation that produces a white-appearing coat. In Boston Terriers, albinism may produce the characteristic pink eyes or eyes may appear to be neutral or a very light blue-green.
More research is needed to understand the health implications of albinism in Boston Terriers. Breeders report these dogs can have a higher rate of skin allergies and irritations. They also cannot go into the sun without sunscreen because of the risk of sunburn.
Merle Boston Terriers
Merle, sometimes also called harlequin or dapple, is a controversial Boston Terrier color pattern. It is controversial because the same gene that controls this coat color can produce eye and ear disorders.
When a breeder mates two merle-coated dogs, some of the puppies are born "double merle." Double merle Boston Terrier colors can carry even more extreme health issues. These include smaller than normal eyes, abnormal eye or iris shape, missing eyes and deafness in one or both ears.