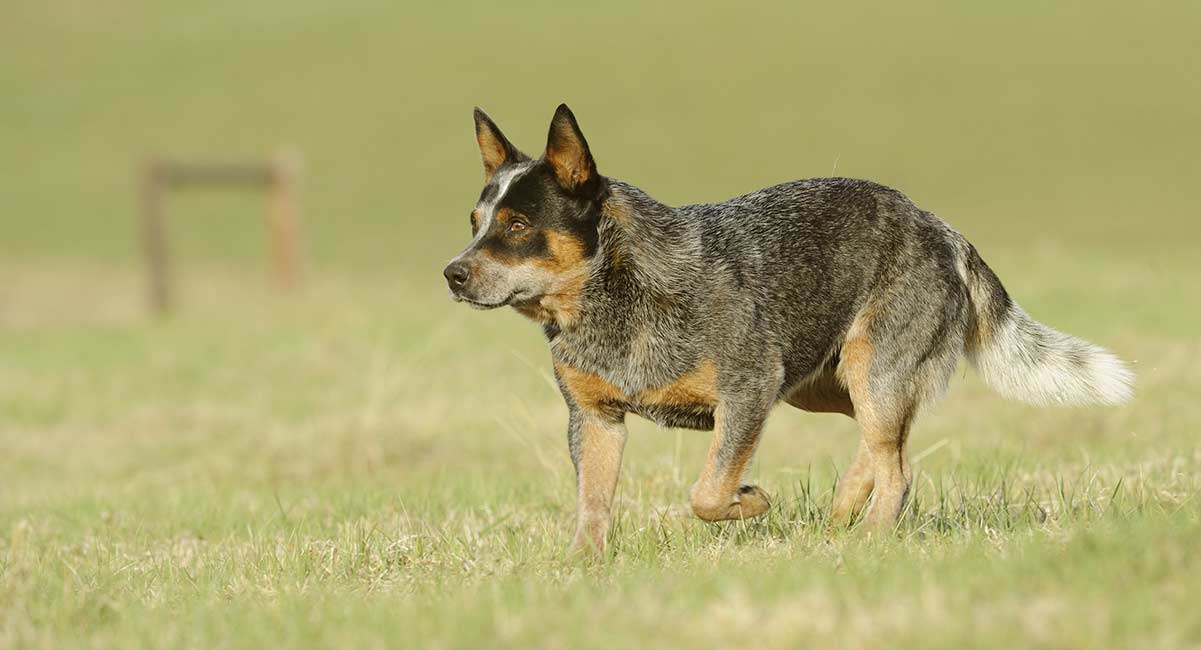 The Blue Heeler is a popular pet today, but the Blue Heeler origin lies in hard work over tough terrain in the Australian outback.
Today's article is about the history of the Australian Cattle Dog (the Blue Heeler's 'official name).
We'll be travelling back over a hundred years where to find out where our story starts. We also have plenty of other information on the Blue Heeler so don't forget to visit our complete guide to this great breed
Headers vs Heelers
It's possible to divide dogs that 'herd' livestock into two groups. Header and heelers
Headers are dogs that have an inherent tendency to drive livestock back towards their handler. Many of our familiar herding breeds are 'headers'. Including breeds like the Border Collie and many other sheepdogs.
Heelers have an inherent tendency to drive livestock away from the handler. An invaluable trait if you are needing to move livestock over long distances. Which is what 'droving' is all about.
The Blue Heeler was a originally a drover's dog.
Bred to drive cattle over long distances in open country.
And Blue Heeler history is an interesting one!
The first Blue Heelers
Many of Australia's settlers in the 1800s were livestock farmers. Herding cattle in Australia requires a dog that is capable of coping with the heat and unforgiving terrain, as well as hard work.
The Australian cattle farmers also preferred a dog that is willing to bite at the heels of large animals who would rather stay put than walk to market.
And they preferred a dog that would work silently.
The sheepdogs they bought with them were great at herding sheep, but they didn't meet these requirements.
It appears that these immigrant farmers found a clever solution in a dog that had spent centuries adapting to the Australian climate, and that rarely barks.
Let's find out what happened
Australian Cattle Dog History: The first 'Heelers'
A cattle farmer named Thomas Hall is credited with creating one of the foundations of the Australian Cattle Dog breed
Hall's father, George, established two significant cattle stations in New South Wales the early 1800s.
Hard working cattle droving dogs that could cope with the tough environment were needed to move the cattle to market.
Thomas Hall is said to have created his distinctive line of working dogs by crossing sheepdogs with Dingos. That's right, Dingos!
Blue Heeler history: Cross breeding with Dingos
Although Dingos are often thought of a wild dogs their history in Australia is complex and they probably arrived there with human settlers some three to twelve thousand years ago.
The Dingo became established in the wild in the intervening centuries. But it's probably more accurate to describe them as 'feral' rather than wild.
It's likely that Hall captured some Dingo pups and tamed them, before breeding them with his father's sheepdogs.
The 'Heeler' nickname for Australian Cattle Dogs dates right back to the very beginning. Thomas Hall's dogs were known locally as Hall's Heelers, and were firmly established as a 'type' by the 1840s
George Elliot and Blue Heeler origin
Hall was not the only farmer experimenting with Dingo crossbreeds.
Over in Queensland, a cattle farmer named George Elliot had made the same decision and in 1873 he reported that his part Dingo cattle dog was working well, and working silently.
Dalmations and Bull Terriers
Various other dog enthusiasts have been credited with adding different breeds in to the mix to create the Blue Heeler breed that we know today.
Back in NSW the Bagust brothers mated a Dalmation to a Hall's Heeler.
A mating which was to influence the coat color and pattern of the breed, as according to the American Kennel Club this changed the 'merle' of the collie into the 'speckle' of the cattle dog
They may also have brought some Kelpie into the mix. While another enthusiast Alex Davis is said to have included a bit of Bull Terrier blood into the breed.
Blue heeler breed history: Robert Kalesky
While Hall may have been the forefather of the Blue Heeler, and several others were involved, it was a man called Robert Kalesky who really put this dog on the map
Robert Kalesky was a fascinating character, born in New South Wales in 1877.
Kaleski's parents were immigrants, his father a Polish mining engineer and academic, was married to an English woman, and their son Robert was born in their new homeland of Australia
Kaleski abandoned a promising career in Law in his early twenties and took to exploring, undertaking practical work (including as a drover) and travelling the wild and newly farmed land.
Acquiring considerable knowledge of bushcraft and Australian natural history during his lifetime, Robert Kaleski's very special passion was dogs and Dingos.
He wrote a book called the Australian Settler's complete guide, and founded his own line of Heelers using the descendents of Thomas Hall's original dogs.
The Cattle Dog Club of Sydney
Robert Kaleski was one of a group of men who founded the Cattle Dog Club of Sydney and they named their new breed of dogs Australian Cattle Dogs.
Yet the name 'Heeler' was to stick permanently. And the Australian Cattle Dog is frequently known as the Blue Heeler or Queensland Heeler today.
Blue Heeler breed standard
Kaleski drew up the breed standard for the dog that is now formally known as the Australian Cattle Dog in 1902, keeping the conformation of the Dingo firmly in mind.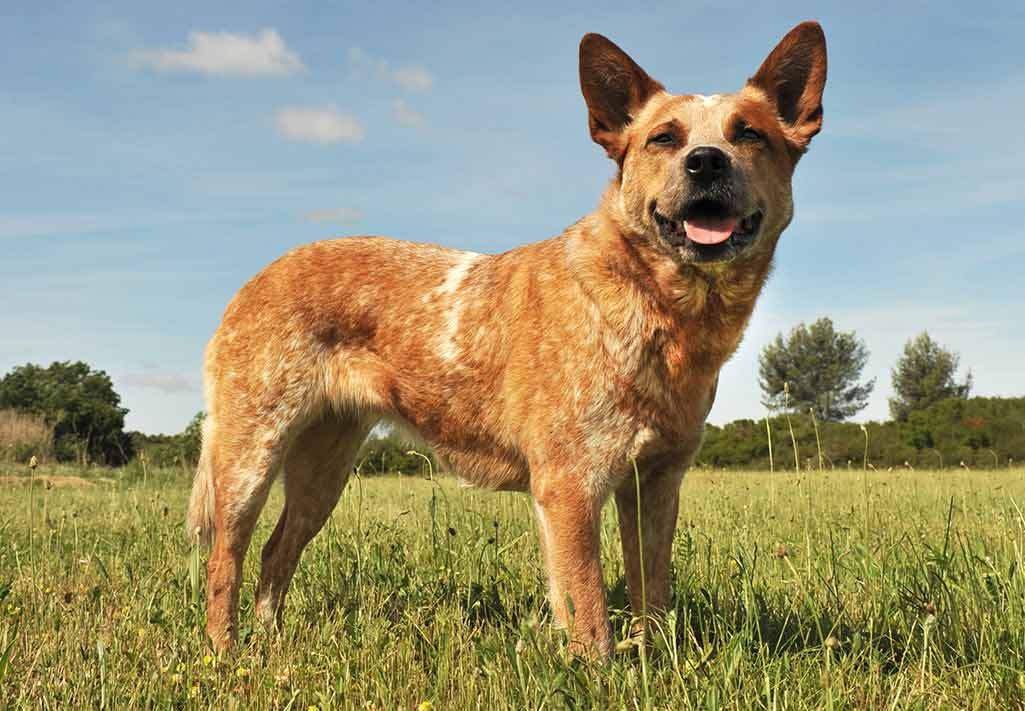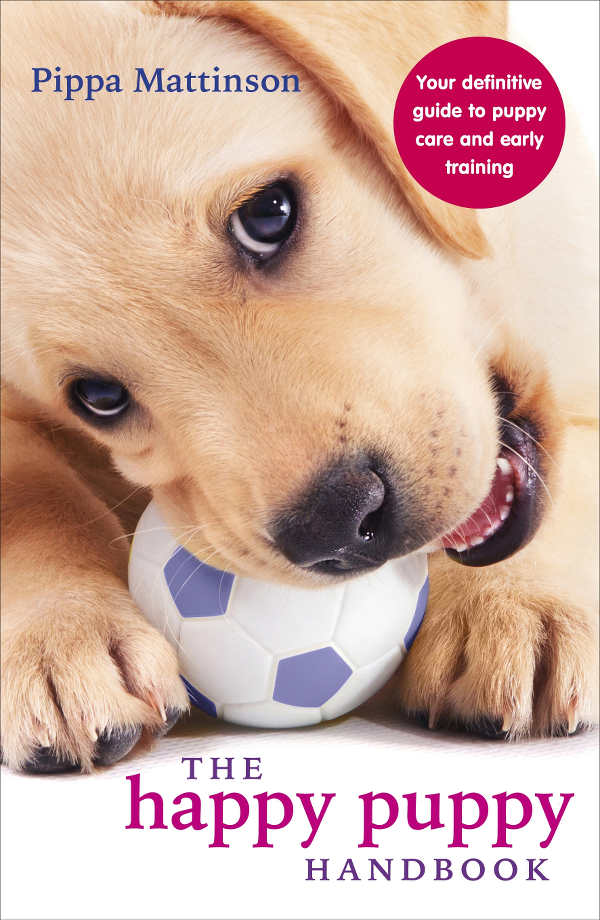 The speckled coats of these striking dogs were either predominantly blue or predominantly red, but the blue it seemed was much more popular.
The Kennel Club of NSW accepted this breed standard in 1903 and the breed was originally named the Australian Heeler. This was changed later to the Australian Cattle Dog

AKC registration of Blue Heelers
Although the Blue Heeler has come to be one of the most popular dogs in Australia, the breed was not recognized by the American Kennel Club or the Canadian Kennel Club until 1980
It was listed in the miscellaneous category in the 1930s but the AKC required a parent breed club be set up before the breed could be recognized. And that didn't happen until 1969
Elsewhere, it took time for the breed to become established. The Blue Heeler didn't reach the UK for example until 1979
Blue Heeler origin – a summary
Despite their slow start, popularity of this loyal and hard working dog has grown steadily
Interest in the Blue Heeler origin and suitability as a pet is increasing and you may well be considering bringing one of these lovely dogs into your life.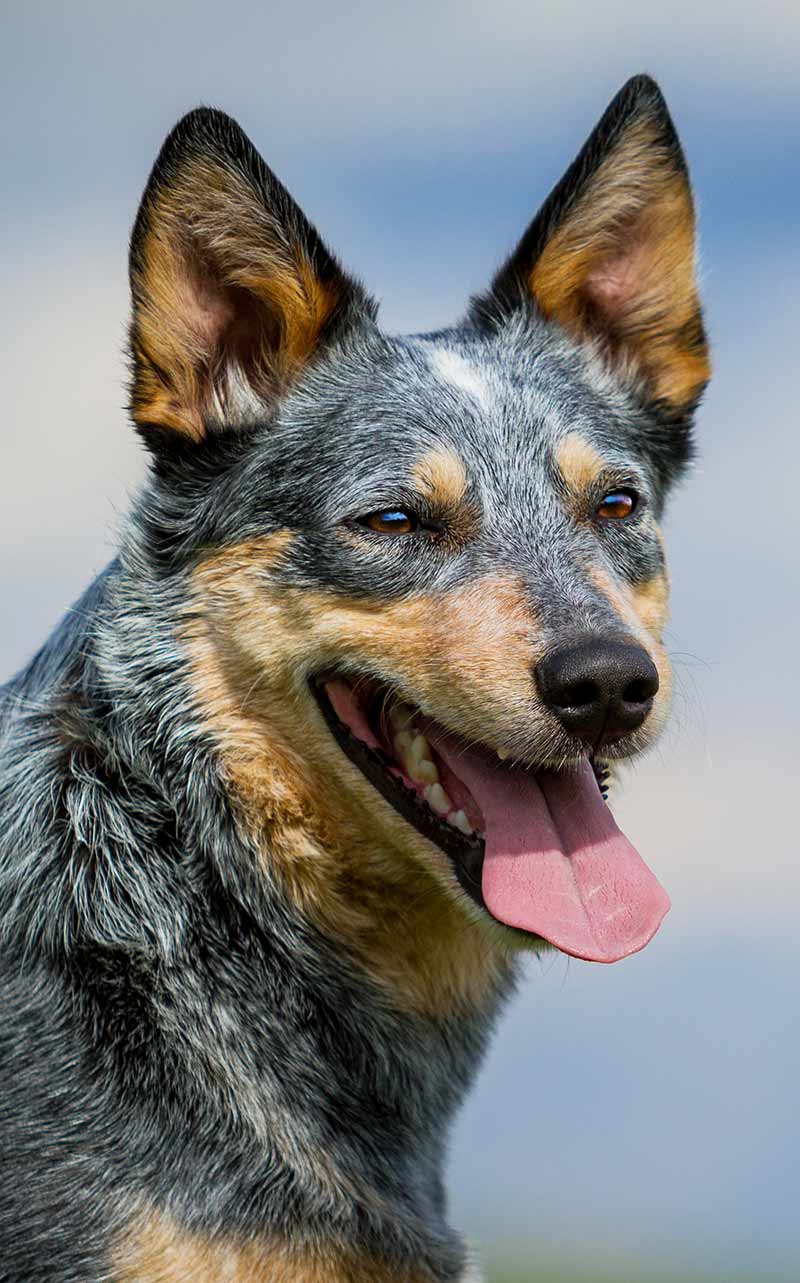 It's important the you can meet your Blue Heeler's needs if you decide this is the dog for you. Remember to check out our complete guide to the Australian Cattle Dog before taking the plunge and getting a puppy!
Related Articles
Blue Heeler References and further reading
Monty Hamilton-Wilkes. Kelpie and Cattledog: Australian Dogs At Work Angus and Robertson 1982
Russell Mackenzie Warner. Over-Halling The Colony: George Hall, Pioneer Australian Documents Library 1990
Narelle Robertson. A New Owners Guide To The Australian Cattle Dog. T.F.H.Publications 1999
Cheryl Ann Edwards. Australian Cattle Dogs: Old Timers
Robert Kaleski. Australian Barkers and Biters. The Endeavor Press 1914
Newsome and Corbett. The Identity of the Dingo II. Hybridization with Domestic Dogs in Captivity and in the Wild. Australian Journal of Zoology 1982
Wally Butler. Using Stockdogs For Low Stress Livestock Handling
Grandin, T. and M. J. Deesing. Genetics and behavior during handling, restraint, and herding. Genetics and Behavior of Domestic Animals. Academic Press. 1998.