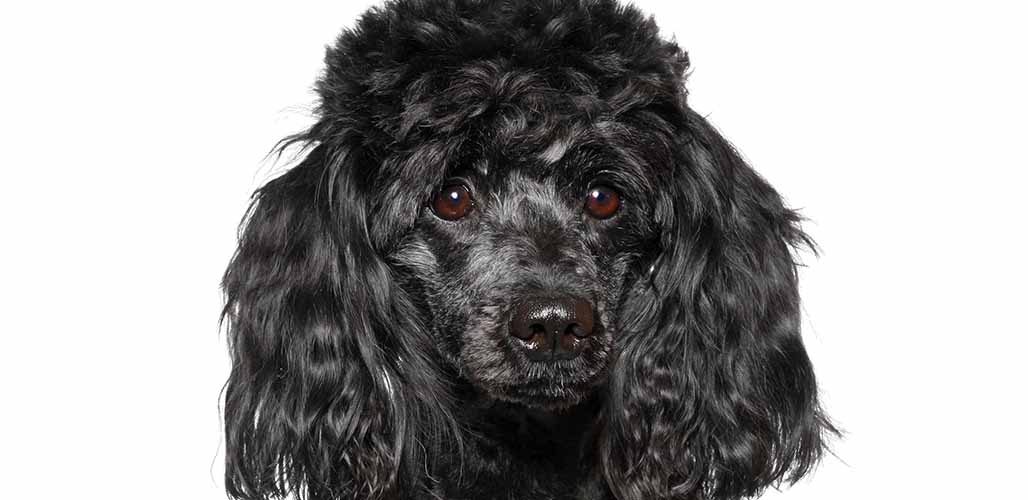 Our complete black Poodle guide takes a closer look at the genetics behind black Poodle fur, as well as how temperament, care, and health can differ in these dogs.
A black Poodle will have solid coloring over their entire bodies. These Poodles are not a distinct breed, but black is an officially recognised color in Standard, Miniature, and Toy varieties. Poodles can also have black fur with another color present. Some black Poodles will fade prematurely to grey or silver. But, all types of black Poodle will be intelligent, playful, and loving.
About the Black Poodle
The Poodle dog breed comes in three distinct, official varieties: Standard, Miniature, and Toy. Standard Poodles are the largest, and Toys are the smallest. But, all three varieties can have black fur. Black fur can either be all over your Poodle's body, or can show up alongside another color.
The genes that cause black fur won't impact a Poodle's health or temperament. These Poodles, like all other dogs in the breed, descend from water-retriever dogs. They have a history of working alongside humans, and as luxurious companions.
Black Poodle Appearance and Genetics
As we know, the black Poodle can come in all three size varieties. Their exact height and weight will vary depending on which category they fall in. Standard Poodles will be anything over 15 inches tall, weighing between 40 and 70 lbs. Miniatures will be between 10 and 15 inches tall, weighing between 10 and 15 lbs. And Toys will be anything under 10 inches tall, weighing between 4 and 6 lbs.
Despite the variety in height and weight, all Poodles will have a slim, muscular body shape. They have long muzzles and either curled or corded fur. Both of these fur types are extremely high maintenance. Poodle owners will spend a lot of their time caring for their dog's coat. All three varieties come in a wide range of colors. So, let's dive into the genetics behind black fur.
What Causes Black Fur?
There are two pigments that control all canine coat colors. These are: eumelanin (black) and pheomelanin (red). Black fur is decided by genes at the K (dominant black) locus. The KB gene causes solid eumelanin expression, and is dominant over other genes at this locus. So, a Poodle only needs one KB gene for a potentially black coat. As long as these Poodles also have at least one dominant gene at the B (brown) locus, they will have solid black fur.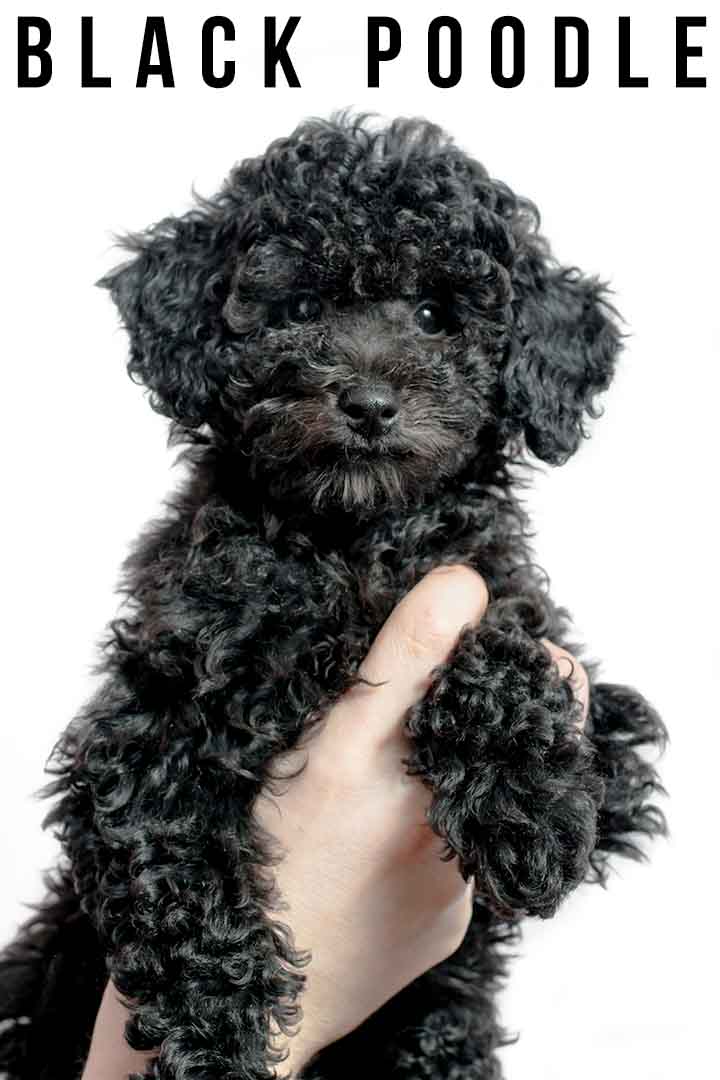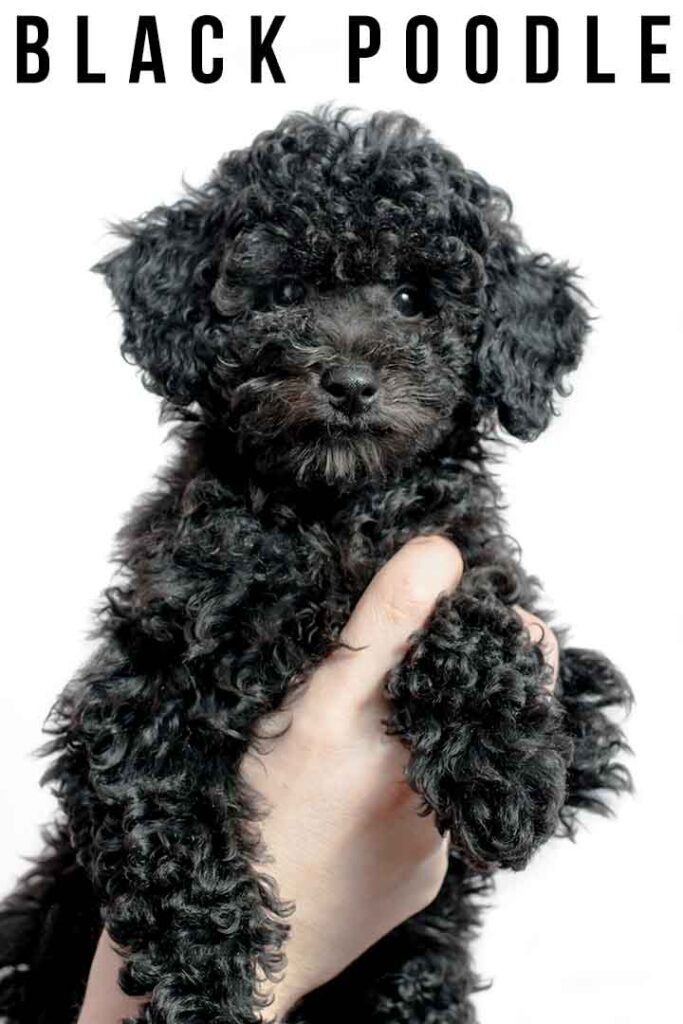 Are Silver Poodles Born Black?
Whilst we're looking at genetics, it's worth considering silver Poodles, and Poodles with the progressive greying gene. Poodles can be silver or grey from birth. But, some Poodles will be born black and their fur will prematurely fade to grey. This process will take several months.
True black Poodles will eventually start to grey, but this will not happen prematurely. Instead, you will see a gradual change in color as they change from an adult to a senior dog. This greying will not necessarily happen all over their body. But, for instance, you might see greying around their muzzle, which can extend elsewhere on their bodies.
Are Black Poodles Friendly?
Your Poodle's black fur won't impact their temperament, but it could impact the way people perceive your dog. Studies have found that people will automatically assume black dogs are less agreeable, friendly, and approachable than lighter colored dogs. But, this isn't necessarily true!
Good breeding, training and socialization are the best way to get a black Poodle with a wonderful, friendly temperament. You must make sure your Poodle is getting adequate amounts of exercise and mental stimulation every single day. All Poodles are intelligent and energetic dogs, but this means they can become easily bored. Bored Poodles are more likely to make their own fun, but this can be through barking, chewing, digging, and other destructive habits.
Some Poodles may be wary around strangers. So, you must socialize your Poodle well before they reach 12 weeks of age. Introduce them to new people, animals, noises and places, both inside and outside of the home. You may need to start from a distance and move closer over time. Keep experiences calm and positive for the best adult temperament.
Caring for a Black Poodle
Black Poodle care won't be different to that of any other shade. But, it can be harder to notice dirt and tangles in darker fur. So, don't put off grooming or bathing your Poodle simply because their fur looks fine at a glance. Many Poodle owners choose a short haircut to make their dog's fur more manageable. Poodles will need daily grooming to remove any tangles, and a regular trip to the groomers, if you aren't trimming their fur at home.
They will need a balanced, nutritious diet. Poodles are slim-build dogs, so keep an eye on your Poodle to ensure they aren't becoming overweight. Subtract training treats from your Poodle's daily calorie allowance to prevent excess weight gain.
Poodles are intelligent and energetic dogs. So, you will need to dedicate plenty of time each day to exercise and mental stimulation. Training will provide some of this, but you may also need to invest in some interactive dog toys. Poodles are not a low maintenance breed!
Black Poodle Health
The genes that cause a solid black coat on Poodles are not linked to any major health issues. But, black Poodle dogs may be at risk of the same hereditary health issues as other shades. So, you should investigate the health problems most commonly seen in Poodles to know early signs of diseases. Here are some of the most common Poodle health issues to help you get started:
Hip and elbow dysplasia
Sebaceous Adenitis
Addison's disease
Progressive Retinal Atrophy
Patellar Luxation
Dental issues
Heart problems
Some health conditions can vary in likeliness depending on the size variety your Poodle is. So, when researching, make sure you're specific about whether you have a Standard, Miniature or Toy variety.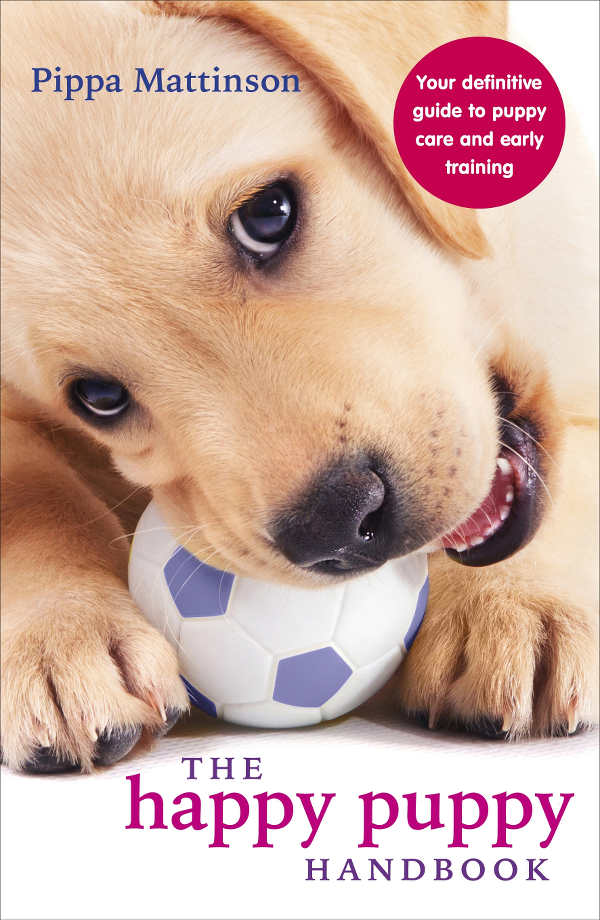 Finding a Black Poodle Puppy
Black is one of the most common Poodle colors because the genes required are all dominant. So, it shouldn't be too hard for you to find a true black Poodle. However, it is important that you are choosing a reputable breeder. The best breeders may have waiting lists, particularly since they won't always have litters available.
Do plenty of research when finding a breeder. Avoid puppy mills, pet stores, and backyard breeders, as dogs and puppies from these places are more likely to be kept in poor conditions. These disreputable breeders will breed for a quick profit, but puppies are more likely to have health and behavioral issues.
Reputable breeders will be happy to let you meet the puppies and their mother in person, so you can ensure they are friendly and well cared for. They will also provide evidence of health testing.
Do You Have a Black Poodle at Home?
If you own a black Poodle puppy, we would love to hear from you in the comments! What are your top tips for keeping their coat looking its best?
Readers Also Liked
References and Resources