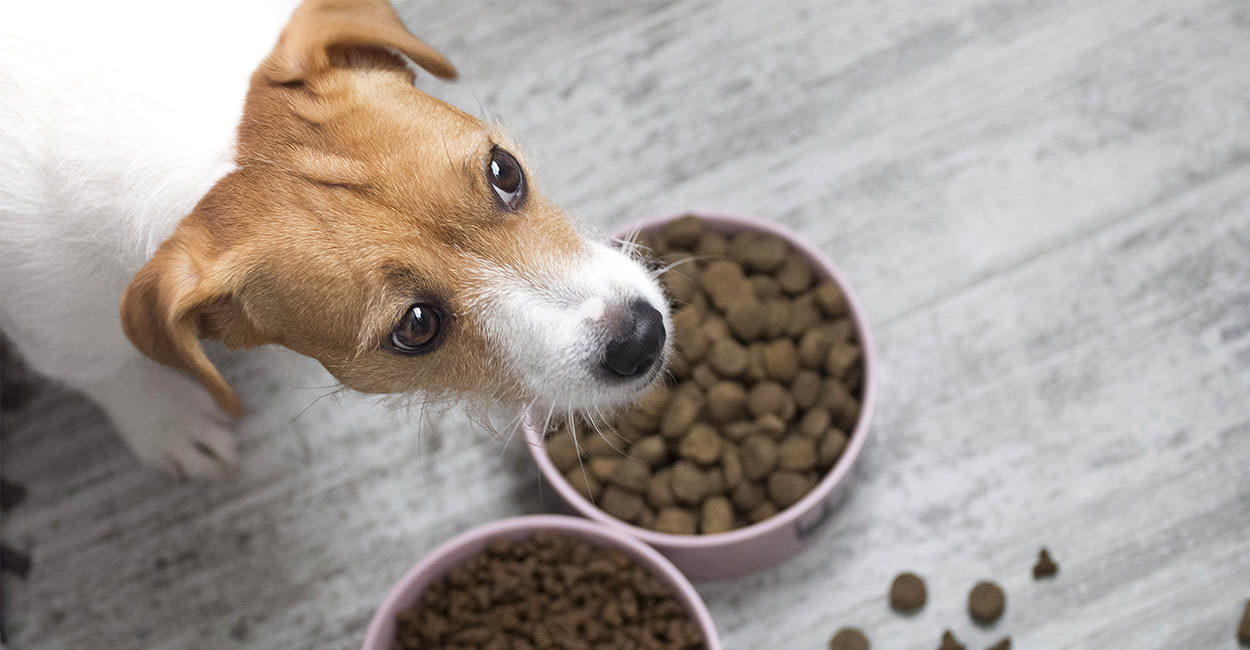 Welcome To Our Complete Guide To The Very Best Puppy Food!
Helping You To Pick The Right Type Of Food For Your Furry Friend.
From Organic To Natural, Grain Free To Size Specific, There Are So Many Options To Choose From!
But Don't Worry, We Are Going To Make That Decision Super Simple.
Let's Find Out What The Best Puppy Food Brand Is Going To Be For Your New Pet.
If there is anything more smile-worthy than a cute wriggling puppy, we sure can't think of what it might be!
The truth is, snuggling a soft, fuzzy puppy in your arms just makes you want to do your utmost to make sure your precious new canine addition has the best and healthiest start in life!
Plus, the puppy phase of life is so short and so critical!
Your puppy needs the right care at the right time to bolster his young immune system.
He needs plenty of love and rest and training to be a productive and happy part of your family.
Most importantly, he needs the perfect healthy puppy food to help him grow up strong and vibrant and healthy!
In this article, we tackle this topic head-on, taking a look at the best good puppy food you can buy!
Your puppy is counting on you to make each of these vital decisions for him, and we are going to help you find the perfect puppy food by introducing you to some amazing puppy dog food brand choices!
What is the best puppy food?
The best puppy food for one dog breed may not be the best puppy food for another dog breed.
There is no one-size-fits-all puppy food that will meet the needs of all puppy breeds equally, which means you need to choose your puppy's food with great care!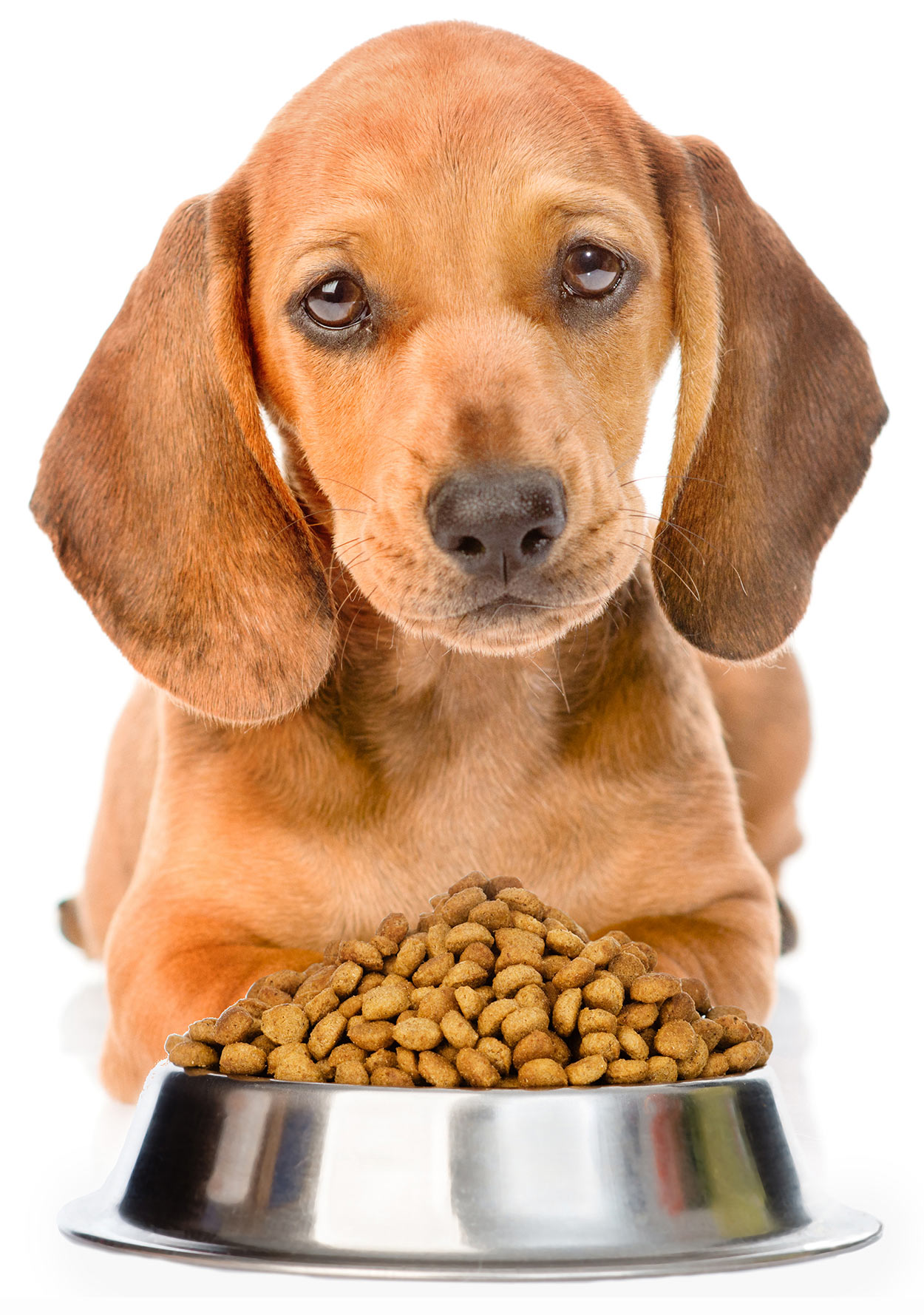 For general purposes, newborn puppies typically require up to two times as much caloric energy as they will when they become adult dogs.
But the number of daily calories needed can vary tremendously between small breed puppies and large breed puppies!
For this reason, the best small breed puppy food will be formulated to support a puppy that will grow to reach her full adult size quite quickly – typically within the first 12 months of life.
In contrast, the best large breed puppy food will be formulated to support a puppy that may take longer to reach his full adult size, which can sometimes take up to two or even three years.
Here, one of the main dangers is in feeding your puppy too many calories, thinking too much food is better than too little food. This is a very common but dangerous new puppy owner mistake!
Puppy growth
Chronic overfeeding during the puppy months can result in an obese puppy or young adult dog.
It is vital to pick a good puppy food that offers a balanced nutrient intake comprised of carbohydrates, fats and protein so your puppy will sidestep the risk of canine obesity in adulthood.
What determines how fast a puppy grows?
Adult size, coat thickness and length and temperament are all known influences in determining puppy growth rates.
A toy-size puppy may reach full adult size and weight as early as 9 months, while a giant puppy may take 15 months or longer to achieve the same.
It is always a good idea to work closely with your veterinarian to be sure the puppy food you are offering results in balanced nutrients and a healthy growth rate.
To this end, your puppy should have regular checkups to be sure she is growing at a healthy rate (neither too slow nor too fast) and that her nutrient levels are meeting her daily growth needs.
Puppy nutrition basics
In total, your puppy needs six categories of nutrients to thrive: water, protein, fat, carbohydrates, minerals and vitamins.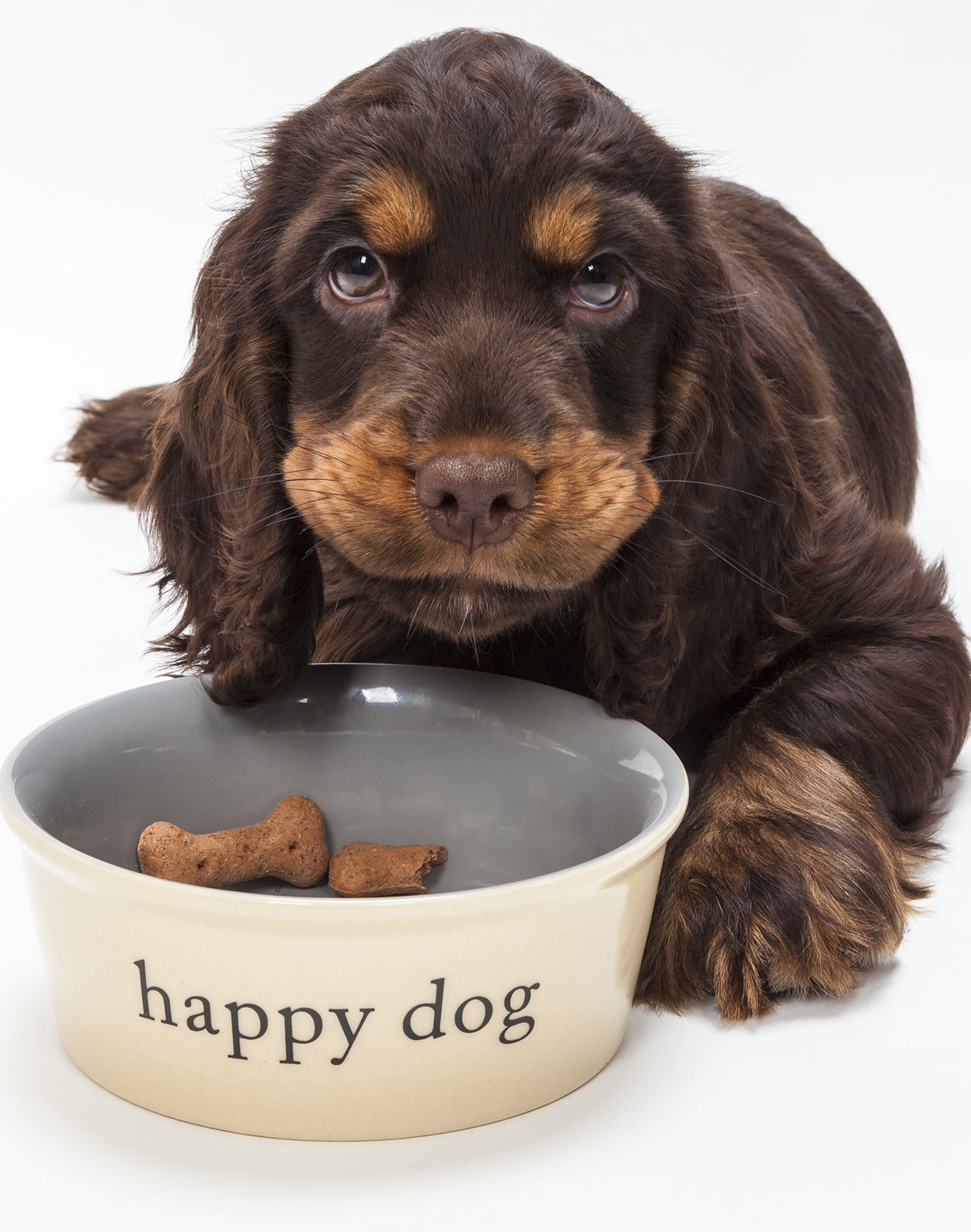 Puppies also need more of these nutrients than same-breed adult dogs to ensure they grow up into healthy adult dogs.
Ratios between each nutrient must also be complementary for your puppy's growth to progress smoothly.
Protein is one of the most essential nutrients for your puppy's healthy growth.
Too little protein intake can impact how well your little pup's skeleton grows. This is because protein contains all 10 of the essential amino acids your puppy needs but can't manufacture on his own.
However, your puppy also needs sufficient Vitamin D to metabolize these essential amino acids, so simply focusing on protein intake won't be sufficient to ensure a healthy adult dog.
Omega-3 and Omega-6 fatty acids, which are largely derived from animal protein, play an essential role in developing eyesight, memory and other functions.
Having sufficient fatty acids is vital so your puppy is able to absorb and use the various vitamins and minerals necessary for her development.
For this reason, puppyhood is not a time to put your pooch on a low-fat diet, although you should also be wary of over-feeding dietary fats.
Carbohydrates are the most readily available source of energy for your puppy. Excess carbohydrate calories will be stored in the body as fat reserves.
Your puppy also needs a variety of different vitamins and minerals in specific quantities to ensure proper growth and development.
Calcium, phosphorus, sodium, chloride, potassium and magnesium are among the most important minerals. Vitamins A, D, E, K, C and B-complex are some of the most critical vitamins.
Why not just feed your puppy adult dog food?
Puppies have special dietary requirements that are quite different from what adult dogs require to stay healthy.
Because your puppy is growing so quickly and using up so much energy each day to do so, she won't be able to get everything she needs from an adult dog food formula.
When in doubt, ask your veterinarian for puppy food guidance.
Feeding a vet recommended puppy food can ease your mind about your puppy's health as she grows.
Wet vs dry food for puppies
Is the best puppy food wet or dry?
This is such a common question that new puppy owners have!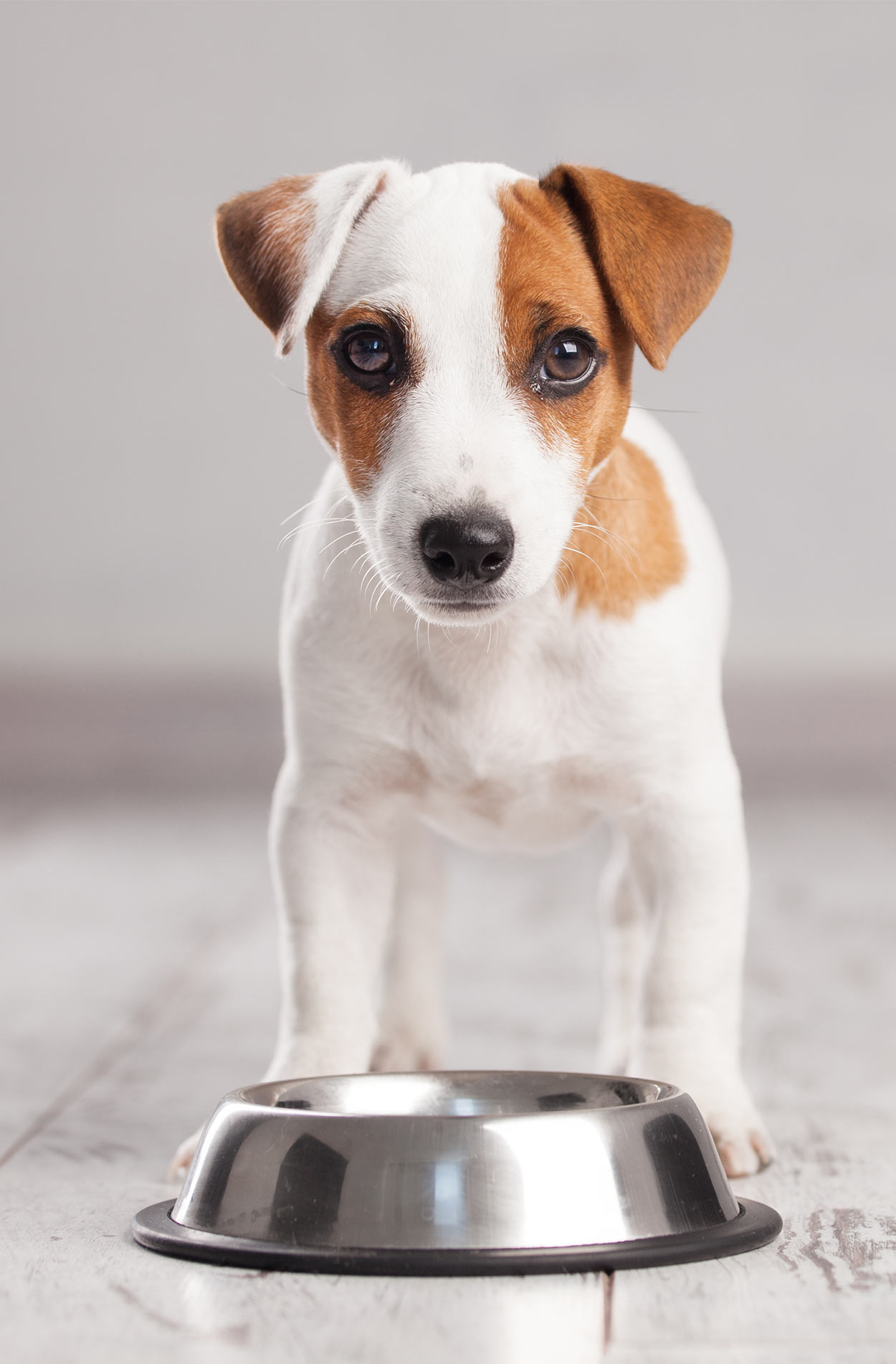 And while it is easy to notice that you have a choice between wet vs dry food for puppies, it is far less easy to figure out which one you should choose. Or whether you should offer both types of food to your puppy.
Let's take a look at the pros and cons of each type of food and find out!
Dry puppy food: pros and cons
Is the best puppy food in kibble form?
In a typical weaning process, dry kibble puppy food will be what your puppy eats first, so it can serve as something familiar as your puppy adjusts to his new life with you.
Kibble dry food is also great for training and interactive dog toy games, because it isn't messy and you can transport and store it easily.
And dry kibble is safe to leave out all day for free-feeding, although you should dispose of any uneaten kibble at least once daily.
Kibble also tends to be the most economical puppy food choice when compared ounce for ounce with wet puppy food.
A bag of kibble will definitely last longer once opened than a can or pouch of wet food.
But kibble puppy food also contains far less moisture (even if moistened) than wet puppy food, so if your puppy isn't drinking enough water, feeding dry food won't help keep him hydrated.
And crunching on kibble can be a bit painful during teething, which may cause your puppy to be less eager for meals.
However, kibble can help with keeping puppy teeth clean, and some puppy kibble is even designed to clean teeth while your puppy chews.
Kibble can spoil over time, even with the addition of preservatives, so it is important to pay attention to the expiration date on all dry puppy food.
Finally, kibble often contains higher levels of carbohydrates, which act as a binder to hold all the ingredients together but aren't as beneficial to your puppy's nutritional needs.
Wet puppy food: pros and cons
How do they compare? Is the best puppy food actually in cans or pouches?
The typical wet puppy food is loaded with moisture – as much as 80 percent with some brands.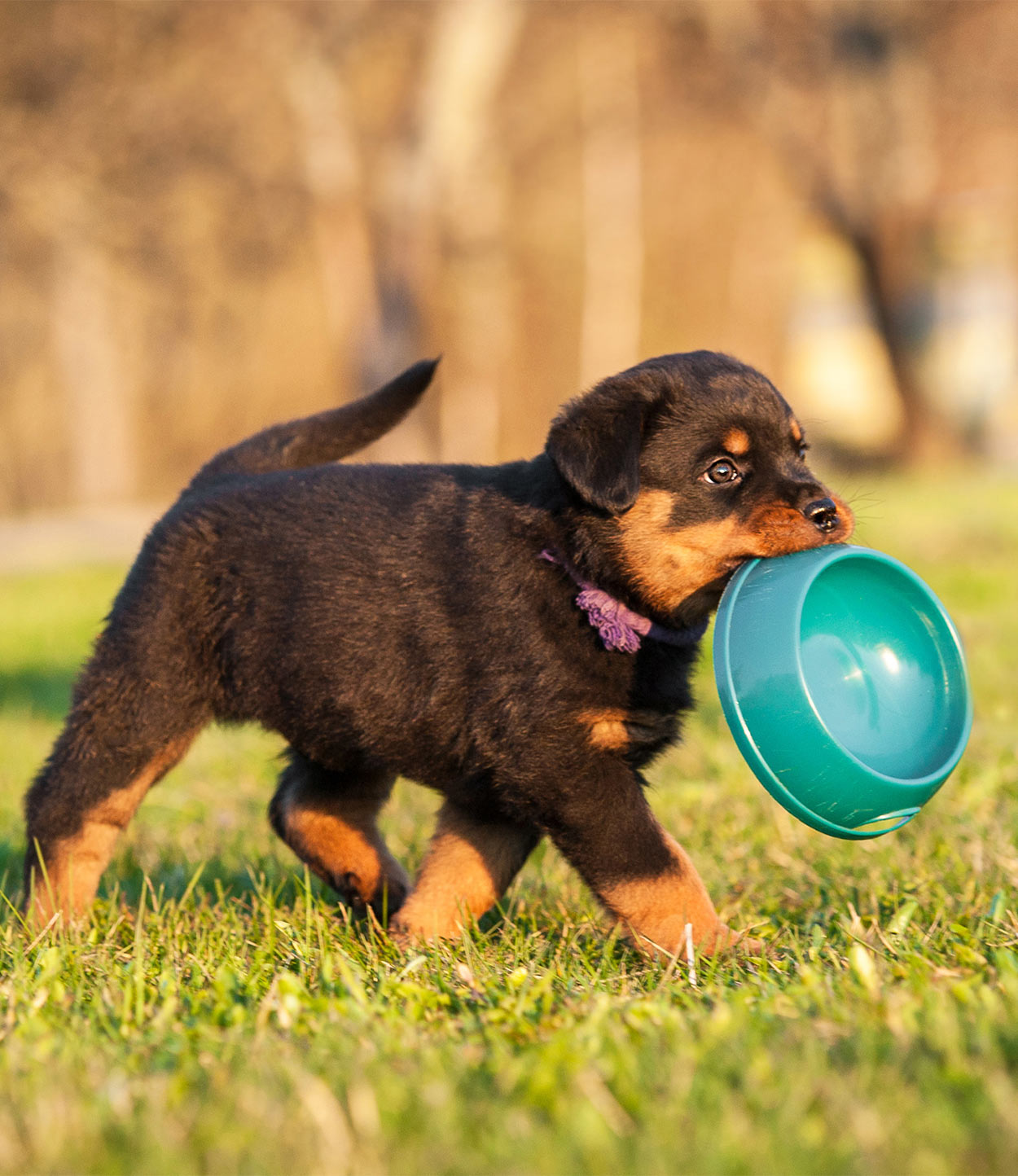 So a major wet food benefit here is simply keeping your growing puppy hydrated – wet food can almost seem like food and drink in one serving!
Another major benefit to wet puppy food is that it is extremely easy to eat, which can be a blessing when your puppy's teeth and gums are sore from teething.
However, this can also be a drawback, because not only will wet food do nothing to help with teeth cleaning, but it is easy to wolf down a serving of wet puppy food and look for more.
Worried puppy owners can assume their puppy is still hungry and so they offer another serving.
Then the puppy goes to the vet for his next weigh in and voila – an overweight puppy!
Wet puppy food tends to be pricier than dry kibble, all else being equal, and it also needs to be consumed more quickly to avoid spoilage.
This makes it harder to stock up when prices are good.
Finally, wet food can contain a higher sugar content than dry kibble, because the sugar helps act as a binding agent with gelatin or other ingredients to hold the food together in a palatable form.
Sadly, there isn't an easy answer. The best puppy food for your little friend could be wet, dry or both!
So how do you decide?
Types of puppy food
There are six basic types of puppy food.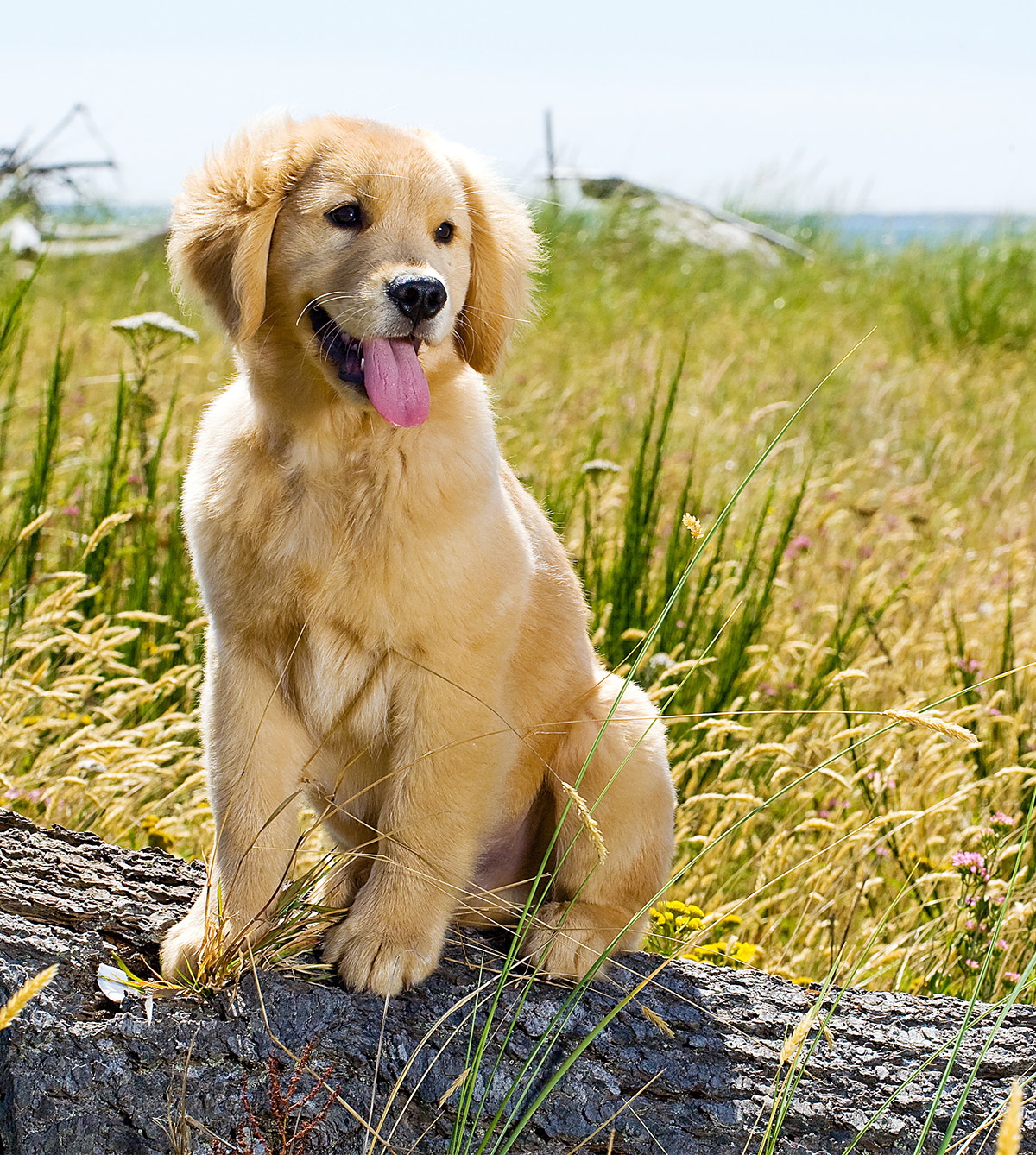 Each can have its place in your growing puppy's life depending on your puppy's breed, health issues, growth chart and veterinary recommendations.
Dry kibble puppy food
Dry kibble is considered a staple puppy food, and typically is offered daily.
Canned wet puppy food
Canned wet puppy food may be used to supplement dry kibble or on its own if your puppy isn't drinking enough water.
Semi-moist puppy food
You will usually find semi-moist puppy food offered as treats for training or to be stuffed into interactive feeding toys. This type of food isn't designed to be a daily staple for meeting your puppy's nutrition needs.
Vet recommended puppy food
As the name suggests, this type of food has been designed by veterinary nutritionists to comply with very specific dietary health needs. You should only choose this food if your vet recommends it.
Home prepared puppy food
Making your own puppy food is becoming much more popular today. Because your puppy has such specific nutritional needs during the short "puppy phase" of life, preparing puppy food at home from scratch can come with some expense and a steep nutritional learning curve.
Raw puppy diet
Raw meat, organ meat and uncooked meat bones are all part of a raw puppy diet.
But here again, it is best to work with your vet to guard against possible food poisoning from spoiled meat, dental hazards from bone splinters and missing nutrients your puppy needs.
Regardless of which puppy food type you decide to feed your puppy, you should plan to take an initial weigh-in and then weigh your puppy weekly to make sure his weekly weight gain is on track for your puppy's breed, age and vet recommendations.
Now let's take a look at some of the best puppy food you can buy to feed your sweet puppy!
Best dry puppy food
Finding the best dry puppy food brand is one part recipe and one part taste.
Short of tasting your puppy's kibble before you serve it, the best way to make sure you hit a home run on both is to purchase dry puppy food in smaller quantities until your puppy picks a favorite.
PEDIGREE Complete Nutrition Puppy Dry Dog Food
Pedigree puppy food is a trusted name in puppy food, with a recipe that reflects the unique caloric and nutrient needs of puppies.
This food includes calcium, phosphorus, Omega-3 DHA and plenty of high quality protein to keep your puppy strong and healthy.
EUKANUBA Puppy Growth Puppy Food
This Eukanuba puppy food includes the brand's proprietary fiber blend of prebiotics and beet pulp to support your puppy's still-developing digestive system.
The recipe includes Omega-3 DHA from natural fish oil and plenty of vitamins and minerals.
Eukanuba also offers specific small breed puppy food and large breed puppy food recipes.
Royal Canin Puppy Dry Dog Food (Medium)
Royal Canin puppy food has taken puppy food science to a new level with a variety of dry puppy food recipes for mini to maxi size puppies, adjusted in vitamins, minerals and nutrients for the unique nutritional needs of each dog breed.
Best wet puppy food
Canned puppy food can make up an important part of your growing puppy's diet, whether you plan to serve this food daily or occasionally.
Wellness Complete Health "Just for Puppy" Natural Wet Canned Dog Food
This Wellness puppy food has a very simple ingredients list: just natural protein, easily digestible fruits and veggies and vitamins and minerals.
Hill's Science Diet Wet Dog Food Puppy
This Hill's Science Diet puppy food is designed so you can transition your puppy seamlessly to the adult version at the age of one year.
This recipe is formulated to help your puppy maintain ideal body weight all throughout puppyhood.
NUTRO Ultra Puppy Wet Dog Food
This pate-style Nutro puppy food has three yummy proteins, antioxidants, plenty of essential fatty acids and vitamins and minerals to give your puppy strong overall health and immune function.
Large breed puppy food
It is a common misconception that large breed puppies need more of everything (and especially more protein) in order to grow up healthy.
But large breed puppies don't need more, they just need a large breed puppy food recipe that is specifically designed to meet their daily caloric and nutrient needs.
Hill's Science Diet Large Breed Dry Dog Food
This premium puppy food is vet recommended for large breed dogs that are projected to reach at least 55 pounds when fully grown.
This Science Diet puppy food is designed to meet the calcium, vitamin, mineral and caloric needs of large breed dogs and also contains glucosamine and chondroitin to help develop strong muscles, ligaments and joints.
IAMS Proactive Health Puppy Dry Dog Food for Large Breed Puppies
This IAMS puppy food recipe is called "Smart Puppy" and is fortified with brain-healthy Omega-3 fatty acids to prove it.
This food is suitable for large breed puppies up to 24 months old, which reflects the slower growth rate of large breed dogs.
Purina Pro Plan Focus Puppy Large Breed Dry Dog Food
Pro Plan puppy food for large breed dogs is packed with nutrients, vitamins and minerals to help large breed puppies grow at an optimal rate for their adult size.
Small breed puppy food
Finding the best small breed puppy food means tackling two tasks.
First, finding a puppy food designed for small or toy puppy breeds' nutritional needs, and two, finding a food your small puppy really enjoys!
Here, it can be good to alternate a few different small breed puppy food brands so your puppy gets used to different tastes, textures and choices as she grows up.
This will make it much easier to feed her later in life if you need to change her food for any reason.
Hill's Science Diet Small & Toy Breed Dry Dog Food
Hill's Science Diet puppy food is formulated precisely for the dietary needs of small and toy breed puppies.
It is offered in a 4.5-pound and a 15.5-pound bag.
The kibble is made smaller to make it easy to chew for small and toy breed puppy mouths. The recipe was created by veterinary nutritionists to meet the needs of puppies.
IAMS Proactive Health Puppy Dry Dog Food for Small and Toy Breeds
This IAMS puppy food recipe is called "Smart Puppy" and it earns the title honestly.
There are no artificial preservatives or ingredients, no fillers, and no potential allergens like soy or wheat.
The recipe includes plenty of antioxidants and Omega-3 DHA for brain development, immune function and overall healthy development.
Purina Pro Plan FOCUS Puppy Small Breed Chicken & Rice Formula Dry Dog Food
This Purina puppy food is chock-full of vitamins, minerals, fatty acids and nutrients to help your small breed puppy grow.
Grain free puppy food
While it is not always necessary to feed your puppy a grain-free diet, if your vet recommends it or your puppy seems to have a sensitive tummy, grain free puppy food can be a great option!
It is also closer to the diet that their wolf ancestors would have naturally had.
So what is the best puppy food without grains?
Wellness Complete Health Natural Grain Free Dry Dog Food
Feeding your puppy a grain free puppy food like Wellness puppy food is a great way to ensure your pup gets the purest possible protein-rich diet.
Orijen Puppy Formula
This Orijen puppy food is grain free puppy food designed to offer a limited ingredient diet to support puppies' still-developing digestive systems.
NUTRO Grain Free Natural Dry Dog Food for Puppies
This Nutro puppy food recipe is designed to go down easy for your puppy's still-evolving digestive system.
The recipe also includes lots of vitamins and minerals and essential fatty acids to support healthy puppy growth.
Natural puppy food
Natural puppy food and organic puppy food are two terms that are sometimes confused.
Organic puppy food means that the puppy food recipe contains some or all organic ingredients.
Natural puppy food can mean different things so be sure to read the manufacturer's notes on the specific food to learn more.
Diamond Naturals Dry Food for Puppy
This Diamond puppy food has plenty of antioxidants, Omega-3 DHA and vitamins and minerals to help your puppy grow.
Purina Puppy Chow Natural Plus Vitamins & Minerals Dog Food
This Purina puppy food recipe focuses on providing your puppy with the natural ingredients, vitamins and minerals she needs to grow up healthy and strong.
Hill's Ideal Balance Natural Chicken and Brown Rice Recipe Dry Dog Food for Puppies
This Hill's puppy food recipe includes eggs for natural fatty acids, brown rice for natural fiber and chicken for natural protein.
The rest is vitamins and minerals to give your puppy the best start in life.
Best puppy food
Finding the best puppy can be hard.
But we hope the information in this article has helped lessen your "new puppy learning curve" and helped you find the perfect puppy food – wet or dry or both – for your precious puppy!
Remember, by offering your new puppy more than one brand of puppy food, you can help her become comfortable with trying different foods throughout her life.
This will come in handy if she needs a special diet at any time, or if her "favorite" food suddenly becomes unavailable.
Here's to happy puppyhood, and lots of tasty puppy food for your precious young pup to snarf up and enjoy!
And please let us know which the best puppy food choice is your home!
Resources