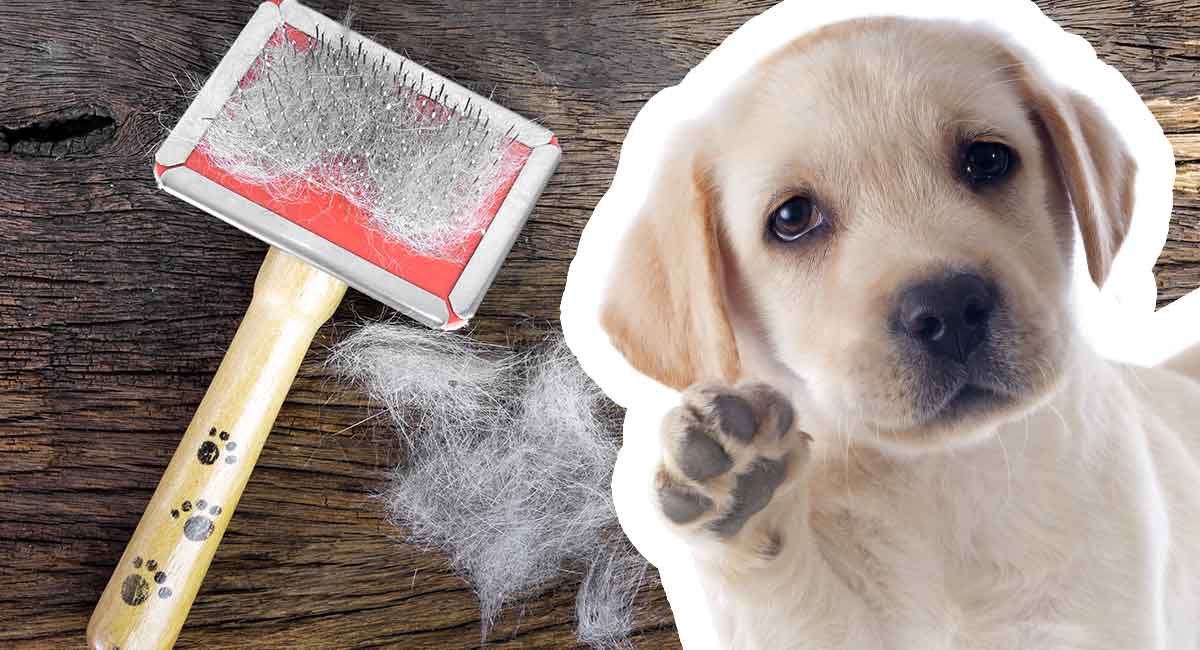 If you have landed here in search of the best brush for Labs, we have so much great information to share with you!
Whether you are looking for a deshedding brush for Labs, a pin and bristle Labrador brush, a good grooming brush for Labs, or you need all these tools for your new pup.
This carefully curated review article will give you the scoop on the best brush for Labrador puppies and adult dogs!
Labrador Coat Care Basics
According to veterinarians, routine bathing and grooming is an important part of routine preventative healthcare for dogs.
Bathing and grooming give you regular opportunities to check your Lab's skin and coat from head to toe and notice if anything seems amiss.
Veterinarians say that once-monthly bathing is often sufficient, although if your Lab rolls in something especially wonderful (to him) and stinky (to you), more frequent baths might be in order!
Lab Coat
The Labrador Retriever coat is unique in the dog breed world, in that it looks like it should be low-maintenance but is really high-maintenance.
Yes, the hair is fairly short and close.
But there is a LOT of it!
In fact, your Lab has a double-layer coat, with an upper coarse water-repelling layer and then a softer insulating under layer.
Both layers must shed out and be replenished periodically… or all year long, depending on your particular Lab's shedding patterns.
Lab Skin
Labradors can also be more prone to certain genetic skin conditions as well as environmental skin allergies, including canine atopic dermatitis, which affects an estimated 10+ percent of Labs.
This skin condition causes itching, raw skin, irritation, and redness that can lead to infection.
Whether or not your Lab is affected by dermatitis or similar conditions, as you are brushing and grooming your Labrador, you will need to be quite gentle with your Labrador shedding brush to remove the dead hair without abrading the skin, which can lead to injury or infection.
Choosing A Good Dog Brush For Labs
Choosing the best brush for Labs is not a decision to make lightly.
After all, you are going to be using your dog brush a lot!
According to veterinarians, your Lab will annually shed out approximately 70 whopping pounds of dog hair.
Wow!
So you definitely want to choose a brush that is comfy to hold and maneuver.
Something that fits your hand size and doesn't make you work too hard to brush your Lab.
You also want to select a durable, well made brush that will hold together with frequent ongoing use.
You can't go wrong if you choose one of the Labrador products you find here.
Each product in this article meets these four basic criteria.
Durable
Sturdy
Well made
Ergonomic
Coat Color And The Best Brush For Labs
There are four basic coat colors for Labs: yellow, black, chocolate and silver.
Depending on whom you ask, some owners will swear that Labs with certain coat colors shed more than Labs with other coat colors.
To date, canine researchers have not found evidence to support that.
What may be true, however, is that certain colors of hair show up more prominently depending on whether your Lab's hair blends in with your furnishings or stands out.
For example, if everything in your home is light wood and light fabrics and you have a yellow Lab, you might not notice the shed hair quite so much as you would if your Lab had black hair!
Here, we treat Labs with all coat colors equally in selecting the best brush for Labs for puppies and adult dogs.
Best Deshedding Brush For Labs
The best brush for Labrador shedding is going to be a brush that can penetrate through your Lab's short but thick, dense, double-layered coat to remove shed hair from both coat layers.
If you are a first-time dog owner and you've already been hunting around for dog brushes for your Lab, you might be wondering what the difference is between a deshedding brush and a slicker brush.
The main difference between the two types of brushes is one of brush surface area.
A deshedding brush is more narrow and almost like a comb in how it works, while the slicker brush has a wider surface area more like a traditional brush.
If you have never used a deshedding brush before, it is best to start out very gently, so you don't accidentally abrade your dog's skin by using too much pressure.
FURminator
We love the Furminator deShedding Tool for Dogs. This shedding brush for Labs is a top choice with breeders, owners and groomers across the board.
For a Lab, you will want to pick the large size for short hair.
One of the nicest features is the one-push cleaning button to push out the collected hair right into the trash!
HappyDogz
The HappyDogz Pet Grooming Shedding Brush is another great option. This popular and highly rated deshedding brush for Labs states it can reduce shedding by up to 95%.
You will want to choose the Medium/Large brush size for Labs.
SleekEZ
The DeShedding Brush by sleekEZ looks very classy. This unique wood-handled deshedding brush gives you maximum control over hand movement and brushing pressure.
Get the MD1 size for a Lab.
Owners say it works very well even on very thick-coated pups like Labs.
Best Slicker Dog Brush For Labs
For many owners and groomers, the hands-down best dog brush for Labrador Retrievers is a slicker brush.
The modern slicker brushes you will meet here are also self-cleaning, which just adds to their appeal.
A slicker brush is an essential tool to keep your dog's coat maintained and detangled every few days.
You may only use the deshedding brush (see previous section) once a week or so, but you can use a slicker brush daily if need be.
Hertzko
The Hertzko Self Cleaning Slicker Brush works wonders. This is one of the best dog brush for Labs options for daily and weekly brushing sessions.
When you are finished, just click the self-cleaning button to eject collected hair.
Safari
We love the Safari Self-Cleaning Slicker Brush. This neat curved self-cleaning slicker brush follows the contours of your dog's body, collecting shed hairs and then neatly ejecting them with the push of a button.
Get the Large size brush for a Lab.
Bonve
The Bonve Pet Grooming Brush is an amazing option. This highly rated, popular slicker brush has a thumb rest and soft grip handle.
The brush pins are rounded and flexible yet durable for extended use.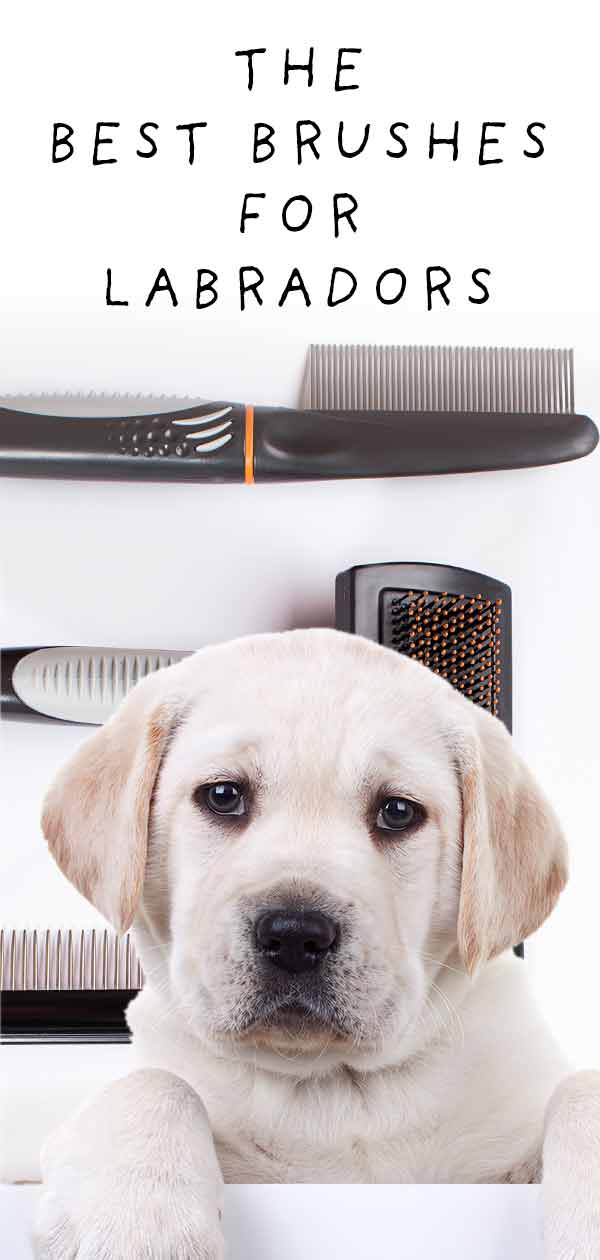 Best Pin And Bristle Labrador Hair Brush
Another contender for the best grooming brush for Labs is the pin and bristle brush.
There are two types of pin and bristle brushes: the two-sided brushes (which have the pin brush on one side and the bristle brush on the other side) and the combo pin and bristle brush which acts like a groomer and a smoother in one.
If you've never used a pin and bristle brush before, most owners will use the pin side first to gently work out tangles and mats and then use the bristle brush side to smooth the coat and add shine.
GoPets
The GoPets Professional Double Sided Pin & Bristle Brush works really well. This pin and bristle brush features rounded steel pins on one side and a bristle brush on the other side.
Owners say it is a durable, sturdy and effective brush.
The handle is a soft silicone gel for comfortable brushing sessions.
AtEase
AtEase's Natural Bamboo Eco Friendly Pin and Bristle Brush gets great reviews. This lovely bamboo-handled pin and bristle brush features rounded steel pins on one side and a soft but sturdy bristle brush on the other side.
Owners say the brush really does hold up well under repeated uses.
Safari
The Safari Pin & Bristle Brush is a solid option. This popular and highly rated wood-handled pin and bristle brush has rounded-tip pins and sturdy bristles.
It is easy to use and durable for long brushing sessions.
Best Grooming Brush For Labrador Retrievers
A Labrador grooming brush will put the finishing touches on your pooch, smoothing the coat and adding shine.
A good grooming brush will also give your Lab's skin a gentle massage to stimulate circulation and relax your dog.
Kong
The Kong ZoomGroom is a unique brush.
It is handheld with plastic bristles that can remove shed hair while providing a skin-stimulating and safe massage.
Delomo
Delomo Pet Grooming Gloves are great. These grooming gloves are also unique, in that you wear them rather than holding a traditional brush.
These can give you more precise control.
Even the fingers have plastic grooming tines to work on the ears, face, muzzle, and paws safely.
Conair
Conair PRODog Pet-It. This palm brush has a short, curved handle that fits right over your hand, allowing you to cradle the grooming brush in your palm and work it over your dog's coat.
Best Brush For Lab Puppy
The best hair brush for Labrador puppy dogs is a simpler choice.
You usually only need one brush to keep your Lab's thinner, finer puppy coat brushed and groomed.
These are some of the best brushes for Labs as puppies.
Hertzko
We love the stylish Hertzko Soft Pet Brush.
This soft plastic, anti-slip, round-tipped pin brush is a great choice to get your puppy used to being brushed and groomed.
FURminator
We're huge fans of the Furminator Curry Comb. This palm-held, rubber-tined curry comb is also a great choice for a young puppy who is just getting used to being brushed and groomed.
The brush is curved to fit into your palm.
Bodhi
The Bodhi Dog Grooming Pet Shampoo Brush gets some great reviews. This is another excellent choice for puppy's first grooming and bathing experiences.
This brush can work well during and after baths.
Additional Labrador Grooming Tools
In addition to picking out the best brush for Labs, you may also want to invest in a steel round-tipped grooming comb and a good detangling spray.
Labrador Grooming Comb
A grooming comb can give you greater control over difficult mats and tangles, especially in smaller areas like muzzle and ears.
FURminator
The Furminator Finishing Dog Comb is a powerhouse. You will want to get the Large size comb for Labs.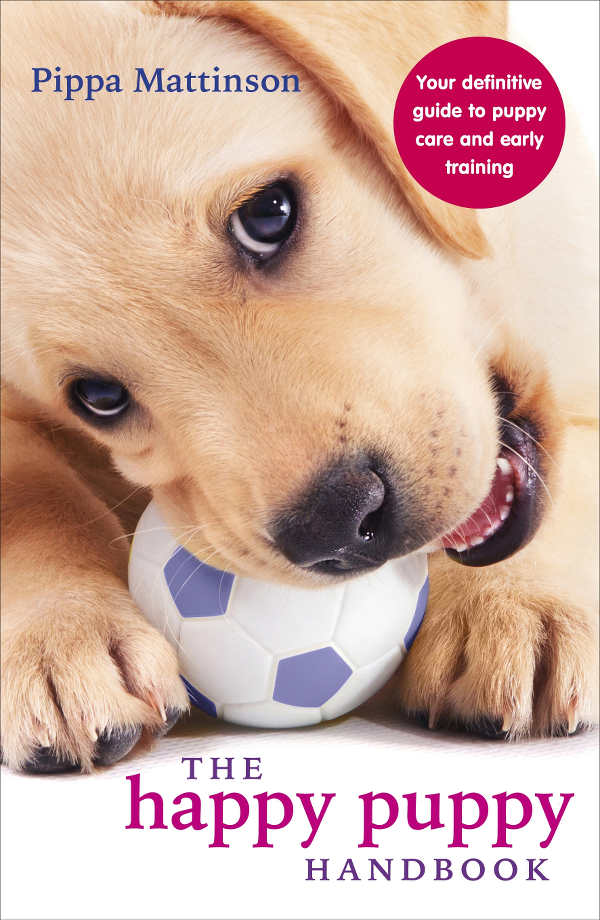 The Perfect Companion For Life With A New Puppy
This round-pin comb can rotate up to 360 degrees to make it easy to detangle your dog's coat without any painful tugging or pulling.
Andis
Look no further than the Andis Premium Pet Grooming Tools. We recommend the 7.5 inch steel comb.
This easy-to-use rounded-tip comb features a handle that spans the length of the pins for maximum control over the comb direction and pressure.
Evolution
We love the Evolution Shedding Comb with Rotating Teeth. This comb features alternating round-pin lengths.
The longer pins rotate to protect your dog's skin from pulling or tugging.
Labrador Detangling Spray
Detangling spray is a handy product to have if your Lab has had a good romp outdoors and is sporting some serious dirt, debris, and mats that you need to work out right away!
Lillian Ruff Pet Dog Leave In Conditioner & Detangler Treatment Spray works great!
This lovely leave-in spray conditions your dog's coat, nourishes dry skin, and helps you work out tangles quickly and painlessly.
GloCoat
Top Performance GloCoat Pet Conditioner and Detangler will have your dogs coat detangled in no time.
This leave-in spray is made from human-grade ingredients and also naturally repels dirt, debris, odors, and urine.
BarkLogic
BarkLogic Leave In Calming Conditioner & Detangling Spray also does an amazing job.
This lovely calming formula leave-in conditioner and detangler contains lavender and aloe to soothe skin and nourish your Lab's coat.
Best Brush For Labs
We hope you have enjoyed reading this article on the best brush for Labs!
Have you found the perfect new brush for your precious pup?
Please drop us a line to let us know how you like it!
Sources
Bukowski, J., DVM, MPH, PhD, et al, "Routine Health Care of Dogs," Merck Veterinary Manual, 2018.
Pugh, C.A., et al, "Dogslife: A cohort study of Labrador Retrievers in the UK," Science Direct, 2015.
Godfrey, R., BVetMed MRCVS, et al, "Labrador Retriever – Canine Atopic Dermatitis," United Foundation for Animal Welfare, 2011.
Hohenhaus, A., DVM, "70 Pounds of Labrador Hair?," Animal Medical Center-New York City, 2011.
Tomlinson, D., "Best Labrador Colour: does coat make a difference?," Atlanta Lab Rescue, 2016.