The best brush for Goldendoodle dogs should make grooming an easy, painless process. These cool hybrid pups are known for their thick, often curly hair. Their brushes must be sturdy and long-lasting. However, the Golden Retriever Poodle mix may take more after one parent than the other, which means a wide range of fur types. So the choice for best tool may vary from pup to pup.
Contents
Our Five Favorite Goldendoodle Brushes
Goldendoodle brushes aren't difficult to find. In fact, it's the sheer amount of grooming tools that can sometimes be the problem?
Delmo Pet Grooming Gloves
These brush gloves* are the perfect way to get your puppy used to being groomed, and build the bond between you. We definitely recommend them for grooming puppies, and they're likely to be popular with dogs of all ages!
HaloVa Professional Pin And Bristle Brush
This pin and bristle brush* has a great heft to it.
Hertzko Self Cleaning Slicker Brush
This slicker brush* was designed for dogs with heavy grooming needs.
Furminator DeShedding Tool
Also created for dogs with lots of hair,this slicker brush* is hardy and tough.
Wahl Large Bristle Brush
This popular pin and bristle brush* features a soft ergonomic handle. This means that grooming time is easy both on your pet and on you.
Coat Variety
Your pup could favor her Poodle parent and have a thick, wiry, curly, short, low-shedding coat. Or they could take after her Golden Retriever parent and have a thick, long, high-shedding coat.
For this reason, if you plan to invest in professional quality brushing and grooming tools for your Goldendoodle, you may want to wait until your puppy's adult coat has begun to grow in and you see what coat type your puppy has inherited! But either way, it's important to find the best brush for Goldendoodles — specifically your own!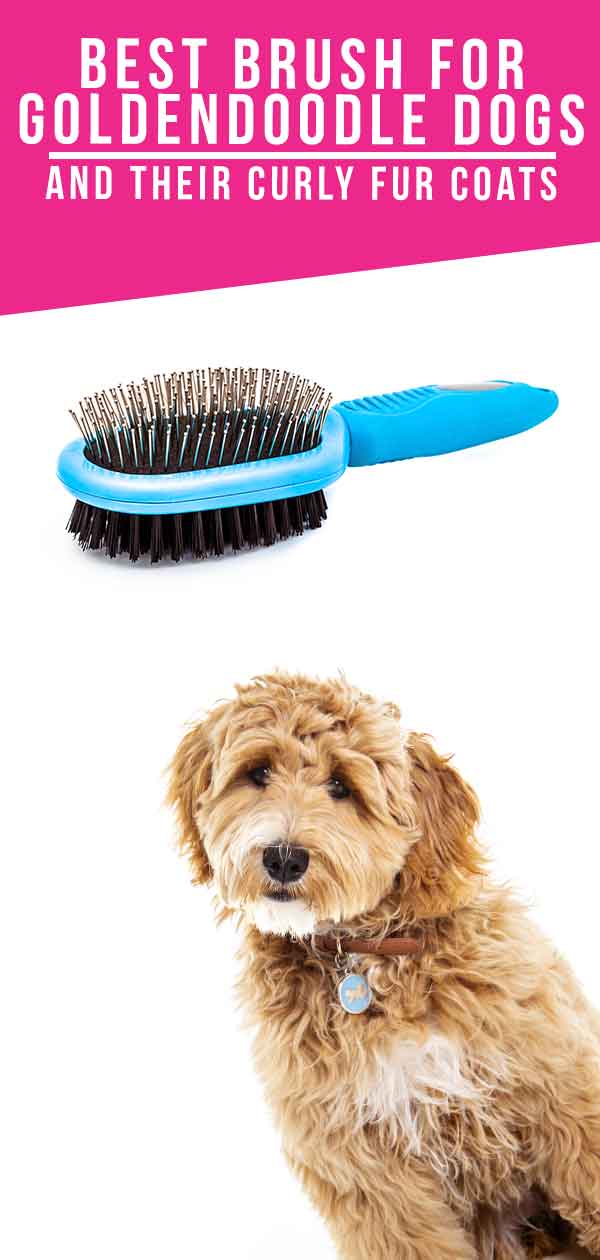 How To Groom A Goldendoodle At Home
Goldendoodle grooming typically includes a basic full-dog brushing every other day to remove trapped dirt, debris, and pests from your active dog's coat.
Because the Goldendoodle's ears are floppy and can keep the inner ear canal from receiving adequate air circulation, it is also important to check and clean the ears each time you brush your dog.
Brushing and grooming at home can take time, so many Goldendoodle owners balance grooming Goldendoodle dogs at home with professional grooming.
Basic brushing and trims can often be done at home.
But it can be nice to have a professional groomer take care of more intensive Goldendoodle grooming needs such as bathing, nail clipping, periodic trims, and haircuts.
Grooming Tools
Learning how to brush Goldendoodle dogs starts with making sure you have the right tools. For brushing, you will need a comb and brush that will penetrate your dog's thick coat without causing abrasion or injury to the skin.
You will need (at minimum) a steel round-tipped comb, a slicker brush, and shears. You may also want to select a detangling spray to spritz on if you find any tangles or mats in your Goldendoodle's coat while grooming.
Choosing The Best Brush For Goldendoodles
Your hand size, arm strength, grip preferences, and other factors may influence which brush you favor. Overall, look for the following attributes in any Goldendoodle brush you consider investing in:
well-constructed and durable
gentle with rounded-end tips
ergonomic
easy to clean
Your choices include a bristle brush, a slicker brush, a pin and bristle brush, or all three.
Best Bristle Brush For Goldendoodles
A bristle brush is a classic dog grooming tool. The most basic entry in dog grooming, it's hard to keep a dog properly groomed without one!
Of course, you may find that, based on the thickness of your Goldendoodle's coat, other types of brushes work best for your pet. But a bristle brush is a good launching place, if you're unsure about which tool to use.
Burt's Bees Bamboo Bristle Brush
Well-known company Burt's Bees* offers this sturdy bamboo bristle brush. It does feature short pins on the other side, as well, making it more versatile. This brush has a unique shape and a good heft to it, making it a pleasure to use.
Bamboo Groom Palm Brush With Bristles
This palm-held dog brush* offers greater control over your brush strokes, especially in regards to controlling how hard you are brushing. It is backed with bamboo and has an elastic band to ensure your own comfort as you groom your dog.
Best Slicker Brush For Goldendoodles
A slicker brush is a wide, flat brush, usually rectangular. It has thin wire bristles that are crowded together to trap hair.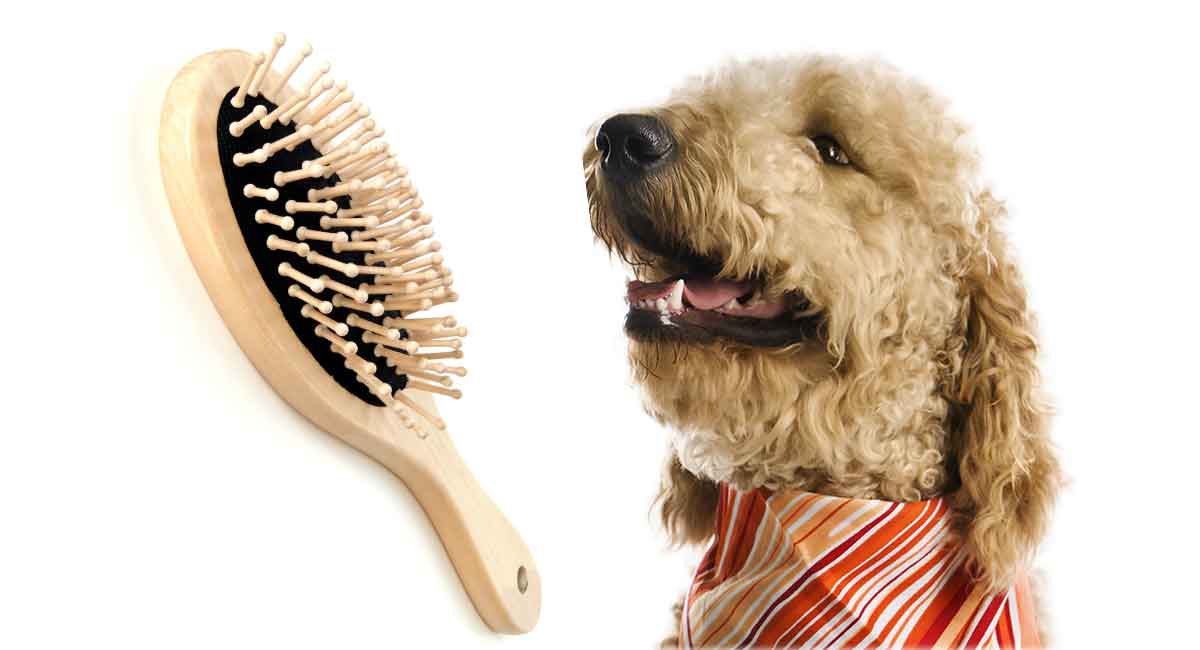 Furminator DeShedding Tool For Dogs
The Furminator* is a top pick that gets rave reviews from owners of dogs with intensive grooming needs like the Goldendoodle. This brush is near perfect for Goldendoodles that favor their Golden Retriever parent. One of the best aspects is the one-push self-cleaning brush button located at the top of the brush handle.
Hertzko Self-Cleaning Slicker Brush
Another wildly popular slicker brush* for intensive dog grooming needs is the Hertzko. This brush also features a self-cleaning one-push button – after all that brushing and grooming, it can be so nice when brush cleanup is a breeze!
Self-Cleaning Slicker Brush For Dogs
This uniquely shaped self-cleaning slicker brush* is designed to smooth and de-mat your dog's thick coat without pulling or tugging on the skin at all. The ergonomic design pulls through the hair easily and the one-push button retracts the bristles for easy cleaning.
Best Pin And Bristle Dog Brush For Goldendoodle
For other owners, the best brush for Goldendoodles is a pin and bristle brush.
On one side it has thick bristles. On the other side, it has thin wire pins something like a slicker brush. With its all-inclusive comb and brush-like action that penetrates through the thick coat, you can work out tangles while smoothing the hair.
HaloVa Professional Bristle Brush
This bamboo handle pin and bristle brush* gives you a handy all-in-one tool to easily comb out mats and tangles and then add smoothness and shine to your dog's coat. The pin side has rounded ends to make sure your dog's skin is protected.
At Ease Accents
This bamboo eco-friendly pin and bristle brush* features sturdy construction with a comfortable handle and round-tipped pins to protect your pup's skin. It is durable and well made and works great even on thick-coated pups like the Golden Retriever.
Wahl Large Pin And Bristle Brush
This highly rated and popular pin and bristle brush* features a soft ergonomic rubber grip handle to make brushing time easier on your hands. The pin side has rounded ends, and the bristles are sufficiently long to work well on longer or denser coats.
Best Brush For Goldendoodle Puppies
The best brush for Goldendoodle puppy dogs is often a simple bristle brush, such as was mentioned earlier in this article. This brush is the most like the one you probably use on your own hair.
However, we've found some unique and interesting options that you'll likely want to consider as a candidate for the best brush for Goldendoodle puppies. It's also important to know how to use these tools.
How To Brush A Goldendoodle Puppy
A Goldendoodle puppy coat is usually quite easy to take care of! Especially with the best brush for Goldendoodle dogs. The coat is naturally finer, thinner, and shorter than an adult Goldendoodle's coat, regardless of which parent dog your puppy happens to most favor.
When you first begin to bathe and groom your Goldendoodle puppy, don't be surprised if your puppy seems a little nervous. This is normal.
Puppy Grooming Tips
Even with the best brush for Goldendoodles, grooming can be tough! As you groom your pup, speak soothingly and offer lots of love and pats. It can also help to have some favorite treats on hand!
Move slowly and gently from one task to the next. This can help your puppy get used to being bathed and groomed and even come to enjoy it! As you begin the grooming process, it is always a good idea to finger-comb (run your fingers through your puppy's coat) before you start using your steel comb or slicker brush.
For young puppies' finer, thinner coats, sometimes a nice finger-combing is all you will need to do. Then you can brush out your puppy's coat. Be sure the brush you choose is gentle enough for your puppy's sensitive skin.
Delmo Pet Grooming Gloves
This soft and gentle grooming brush glove* is a great choice for your puppy's first experiences being brushed and groomed.
These gloves (you get a pair) follow the movement of your hands and make your pup feel like she is being petted rather than brushed. And you can really feel your puppy's body contours and learn to control brushing pressure in different body areas.
The gloves come with an adjustable wrist strap so you get a customized, ergonomic fit.
Conair Pro Boar Bristle Brush
We definitely suggest the Conair Bristle Brush* This brush is hand-held with a curved palm handle to give you more control over your brush strokes.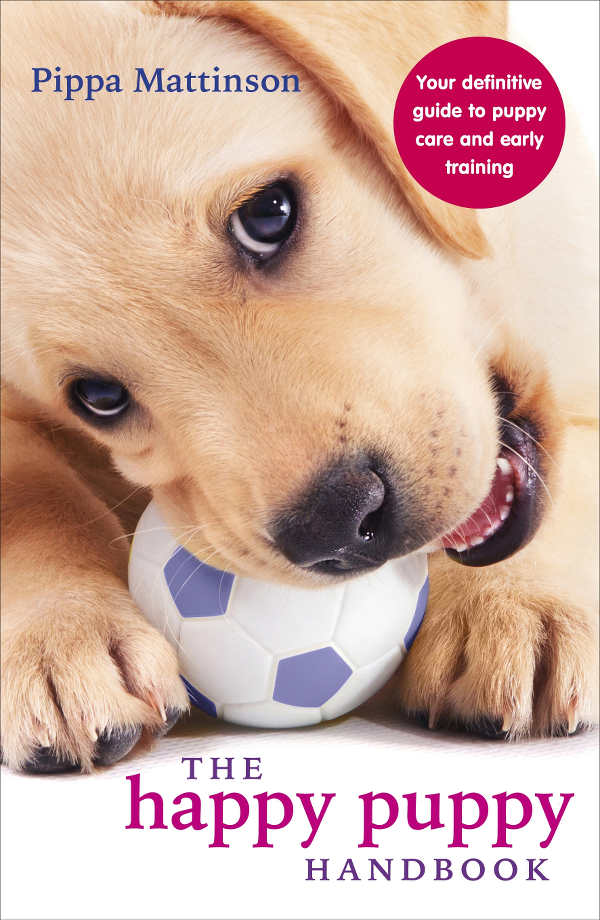 KONG Zoom Groom Brush
This KONG dog brush toy* is a unique entry on this list. The rubber puppy brush is another great choice for your puppy's first experiences with grooming. It looks more like a toy than a typical brush. The soft rubber bristles stimulate your dog's skin and growing coat, giving a gentle massage while you brush.
Goldendoodle Grooming Comb
The best brush for Goldendoodle dogs is definitely an important part of grooming. However, sometimes you need a little extra help, usually in a different shape.
Andis 2 Inch Steel Comb
Start off with this option* from Andis. This highly rated and popular grooming comb features both wide and narrow grooming tines with rounded tips to help work out tangles and mats gently and effectively.
Hertzko Pet Combs
This offer from Hertzko comes in a small and large comb set.* You may prefer to use different combs for different areas. And this set of one small and one large steel rounded-end grooming combs will help you work closely on different areas of your dog's coat.
Safari Pet Products DeMatting Comb
This specialized steel round-tip comb* helps you work closely on tangles and mats to quickly untangle them. The soft ergonomic handle helps ease hand tension as you work.
Detangling Spray For Goldendoodles
With thick, curly-coated, active pups like the Goldendoodle, tangles and mats sometimes just come with the territory. Even the very best brush for Goldendoodle dogs can struggle!
Choosing a good detangling spray can really make a difference in both the time you spend working out tangles and your dog's comfort level during at-home grooming.
Cowboy Magic Detangler
The Cowboy Magic Detangler and Shine* is a great place to start. This brand is specifically recommended by breeders, owners, and groomers for use with Goldendoodles to remove mats and tangles.
Tropiclean Mat Pet Tangle Remover
This detangler* states it can cut grooming and brushing time by half. It works very well to remove deep mats and tangles, even on thick-coated pups.
Affiliate link disclosure: Links in this article marked with an * are affiliate links, and we may receive a small commission if you purchase these products. However, we selected them for inclusion independently, and all of the views expressed in this article are our own.