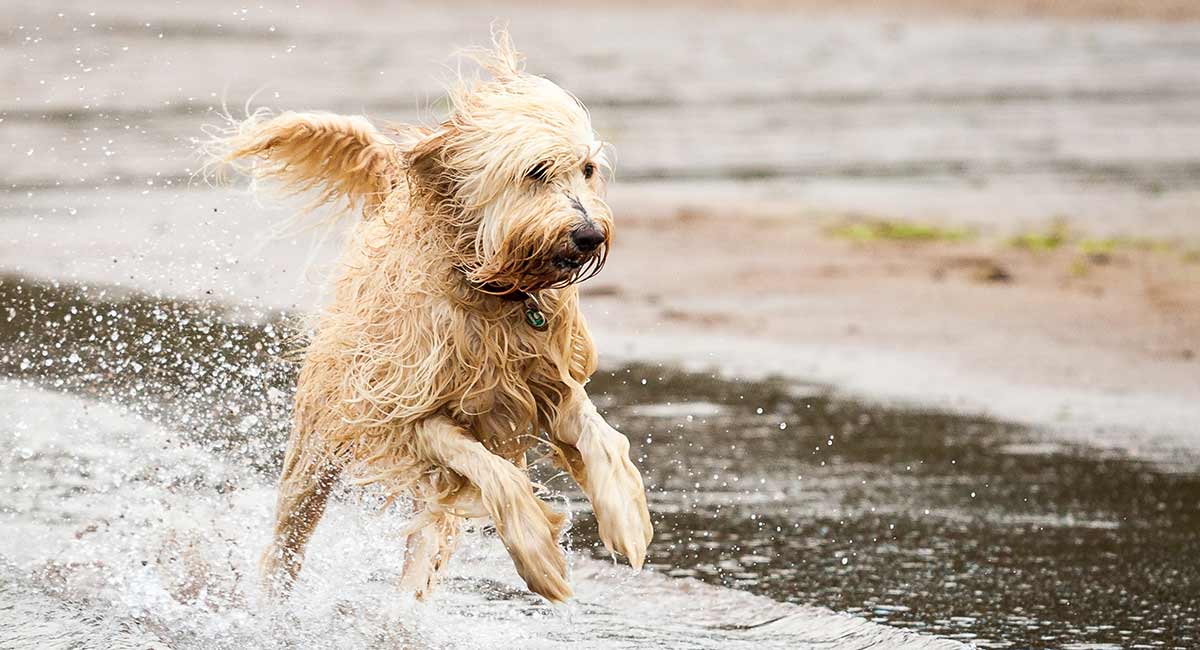 We help you choose the best brush for a Labradoodle and give you some great tips for keeping your Labradoodle's coat in perfect condition.
If you own a Labradoodle, then you know just how special this cross breed between a Labrador and a Poodle can be.
The Labradoodle, also known as a Labrapoodle and a Labradorpoo, was originally bred to create a dog that exhibited what some consider to be the best traits of each breed.
In the case of the Labradoodle, the goal was to create a dog with the low shedding, hypoallergenic coat of the poodle, and the placid, loving temperament of the Labrador.
Products included in this article were carefully and independently selected by the Happy Puppy Site team. If you decide to make a purchase from one of the links marked by an asterisk, we may earn a small commission on that sale. This is at no extra cost to you.
Labradoodle fur
The Royal Guide Dogs Association of Australia originally bred the first Labradoodles with the aim of developing a hypoallergenic, or low allergen-producing, guide dog.
Today Labradoodles are immensely popular due in part to their hypoallergenic potential. With many owners seeking out Labradoodles in the hopes of owning a pet that doesn't cause an allergic response.
In reality no animal is capable of producing zero allergic reaction in 100% of the population.
And, because the Labradoodle is a cross breed, the qualities of any given pup's coat cannot be guaranteed.
A cross breed can be expected to exhibit certain qualities from each parent, but it's impossible to predict in what combination these traits will be expressed. A Labradoodle may inherit the poodle's soft, curly coat, or it may inherit a coat more in line with the dense-haired, double-coated Lab (albeit with less of a "doggy" smell!).
Although it's not fur-sure, the chances are good that the Labradoodle's unique coat is one of the reasons why you chose this magnificent cross breed! And along with that hypoallergenic potential comes a lot of fur! Often in the form of long curls.
The importance of a Labradoodle grooming routine
Long curly coats are not the easiest type to manage. And it helps to have the right equipment.
Picking the best brush for a Labradoodle coat is a key part of that. But it is also very important to establish a grooming routine for your best friend.
Labradoodle coats can become matted in a matter of days if not regularly combed through, and matted fur can get out of control very quickly.
It's best to groom your dog every day. It isn't the end of the world if you miss a day, but a daily routine will help keep on top of things and get your dog accustomed to the process.
Most dogs enjoy it if grooming is started from an early age, so don't hesitate to groom your small puppy, even if her coat doesn't seem to need it.
Grooming your Labradoodle's coat is an important part of keeping your dog healthy and happy. But what kind of Labradoodle brush is best for your pup? Is there even such a brush available?
In order to demystify the process of Labradoodle puppy grooming, we've reviewed the best brushes for you to use when taking care of your precious dog's coat.
These include brushes that work well with poodle hair, brushes that work well with Lab hair, and brushes that can handle a mixture of both types of hair. You'll find our reviews and tips below.
How to groom a Labradoodle
Before we delve into the brush types that work well on Labradoodle fur, let's take a look at the properties of each breed's fur.
Understanding the type of fur that your fur baby might inherit will help you to choose the ultimate grooming tool to meet her needs.
Labs sport a dense coat of short fur, one that is also weather resistant. You will see Labrador coats in three colors: yellow, black, and chocolate.
As we mentioned, Labs have a double coat. This means that they have two layers of hair, with the outer layer best described as stubby. The layer underneath this provides "insulation" and as such is thicker.
This layer of hair can become trapped as it is shed and a specialized brush for "dead" hair is recommended.
Poodles come in a multitude of beautiful colors including black, white, cream, sable, gray, and apricot. Unlike the Lab, poodles do not have an undercoat.
Poodle hair resembles a curlicue, which although this is as cute as can be, can cause an issue as it sloughs off. Instead of falling straight off the dog, curly poodle hairs can become entwined with one another as they shed, resulting in mats.
A hybrid dog's features and traits can be a mixed bag of surprises, some pleasant, and some not so pleasant. The Labradoodle's coat is definitely a characteristic that can cause consternation among owners.
Although the Labradoodle is sought after in part because of the desire for a low-shed coat, there is no guarantee that your pup will have a low maintenance, or hypoallergenic coat.
Labradoodle grooming styles
What kind of coat does your Labradoodle have? There are three main groups of Labradoodle fur, falling into the low to average shedding categories.
One type is termed "fleece" and is known for its wavy, flowing, and soft texture. Another type is called "wool" and although it also is soft, it is more in line with the poodle's tightly wound curls.
A "hair" coat more closely approximates a Lab's straight, stubby fur, although it can have a bit of a curl or be straight.
In addition Labradoodle's come in a variety of colors (and coat patterns) including black, white, cream, gold, apricot, and chocolate.
Whatever type of fur coat your four-legged baby is wearing, you have the choice of maintaining it yourself, or having it professionally groomed.
If you are DIY'er, there are many types of specialized brushes and tools that will help you to get the job done when it comes to making sure that your little one is always looking his best.
You can use these specialized grooming tools to modify your dog's appearance in one of two general ways: leaving her with a fuller, longer coat, or cropping her coat into a shorter cut.
In order to keep your Labradoodle looking her best, our reviews cover a variety of brushes and grooming tools including the very best slicker brushes and rake brushes for detangling long hair and eliminating mats, as well as tools for trimming facial and ear hair.
Grooming Labradoodle face
It should go without saying, but the hair around your pooch's eyes needs to be kept trimmed so that he can see! The hair on the nose should also be kept short and muzzle hair should hang evenly at about a one inch length.
If you're wondering how to groom a Labradoodle face, the answer is very carefully!
Luckily, an inexpensive pair of safety scissors or a lightweight, handheld trimmer will successfully keep stray hair and wispy fur at bay.
Conair PRO Dog Round-Tip Shears


The coated, 5-inch blades feature rounded tips for safety and are perfect for trimming facial and ear hair.
The Conair Pro scissors* come in 5, 6, and 7 inch versions.
Wahl Professional Touch Up Trimmer


Cordless and lightweight, this trimmer this clipper is designed for touch ups, rather than an overall body clip
This small clipper* is perfect for ridding your pooch of nuisance facial as well as ear hair. And for tidying up small areas such as paws
Conair Palm Pro Battery Powered Micro-Trimmer


This ergonomic hand held trimmer* is quiet, battery operated and the perfect small size for trimming excess facial and ear hair.
Labradoodle ear grooming
A Labradoodle's ear hair can find its way into the ear canal if not properly cared for.
In addition this uninvited hair can become a convenient place for dirt and wax to settle, possibly leading to ear infection or unwanted buggies.
How can you avoid this sticky (pun intended!) situation? You should very gently trim the excess hair inside of the ear using a pair of scissors or trimmer like those recommended above, and/or pluck the excess hair.
If your Labradoodle needs to have her ear hair plucked, you can take her to the groomer, or do it at home with a dog grooming tool designed for the job.
These are usually called pet grooming 'hemostats' or 'hair-pullers'
The names sound gruesome, but they are simply a more effective advanced type of tweezer! Here are a couple:

PetEdge Stainless Steel Straight Mosquito Pet Hemostat


This small, stainless-steel tool features a locking ratchet with a narrow, serrated nose for an excellent gripping ability.
The PetEdge hemostat* is an economical choice, and especially well-suited for smaller dogs.

Straight Non-Locking Hairmostat Hair-Puller


This high quality tool* comes with vinyl coated handles for a secure grip, and is suitable for most breeds.
How to groom a Labradoodle with fleece coat
For some owners, a fleece coat is a blessing. Fleecy fur is usually silky soft and waved rather than tightly curled, making for an easier comb out.
If a longer coat is desired, a fleece coat is easier to maintain than a wool coat.
A slicker brush is an excellent tool for dogs with fuller coats as they feature fine wire bristles able to detangle mats.
Long pins ensure that the brush reaches through the tangles, and does not simply skim over mats and tangles.

Hertzko Self Cleaning Slicker Brush


This highly rated ergonomic slicker brush will make short work of tangles and knots, while reaching down to the skin. Plus the Hertzko Slicker Brush* has a one touch button that makes getting rid of all that excess fur on the brush as easy as it was getting if off your pooch!
It is also the most popular slicker brush with our readers.
HappyDogz Pro Slicker Brush for Dogs and Cats


You can buy this ergonomic slicker in two sizes, one for small dogs and another for medium to large dogs.
The HappyDogz slicker brush* works well on both short and long haired dogs, and the bristles are designed for sensitive skin.

Li'l Pals Slicker Brush


This plastic-tipped brush* is an excellent choice for smaller dogs and puppies.
The flexible wires allow for precision grooming by contouring to your dog's curves.
Australian Labradoodle grooming
There is a distinction made between Australian Labradoodles that are bred in Australia and Australian Labradoodles bred in the US.
The former is being bred with the intent of developing a purebred dog while the latter is a cross breed of the Labrador and the Poodle.
According to the Australian Labradoodle Club of America's website, "Australian Labradoodles are wonderful, intelligent dogs with lush coats that are more reliably low to non-shedding and allergy friendly than other types of Labradoodles such as first generation Lab/Poodle crosses, or first generation crosses bred back to Poodles."
In general, you can use any of the reviewed Labradoodle grooming brushes for either American or Australian Labradoodles.
Grooming a Labradoodle puppy
The best way of getting your fur baby accustomed to being brushed is by starting when she is young.
As with most species, puppies are much more flexible and open-minded than their mature counterparts!
Brushing is a great way to bond with your puppy, while also getting him used to being groomed and handled.
While brushing should be a mainstay of your pup's grooming routine, bathing is not in the same category. Your Labradoodle will most likely be free from that pesky "doggy" smell, and too much bathing can leave the skin dry and scaly.
Best brush for Labradoodle puppies
Anywhere between nine and fourteen months old, your fur baby's coat will transition into an adult coat. This means that the fur grows in thicker and is more prone to matting and tangling.
Until then a soft, gentle brush will get your pup used to being groomed and handled, and maybe even treated to a light massage at the same time.
Besides feeling oh-so-good, studies have shown that gentle massage can increase blood circulation and promote healthy skin and hair.
Let's look at the best brush for a Labradoodle puppy.  There are two great choices.
Li'l Pals® Bristle Brush


This diminutive little brush is guaranteed to not intimidate your tiny pup!
The soft bristles of the Li'l Pals Brush* gently lift off loosened fur from sensitive skin and can be used to provide a gentle massage at the same time.

Goldpets Professional Brush for Dogs Puppy Cats & Rabbits


Soft tiny balls cover the dozens of tip ends on this tidy little brush*, keeping your dog's skin safe from rough bristles.
A one-touch button dismisses the accumulated hair for easy clean up.
Labradoodle grooming tools
In addition to slicker and rake brushes that are specially designed for detangling and dematting fur, several additional grooming tools will help to keep your pooch looking her best.
First off, if you are not able to remove stubborn mats or tangles with a slicker brush, you may need to remove the problem hair with a dog shaver such as this highly rated option:
Wahl Pet-Pro Dog Grooming Clipper Kit


You really can't go wrong with this versatile grooming kit. The self-sharpening blades work on most types of fur, including thick coats.
The Wahl grooming kit* comes with four cutting combs, a styling comb and scissors.
After a thorough grooming, a wide toothed comb will go a long way toward confirming that your brushing session was successful at eliminating tangles and mats.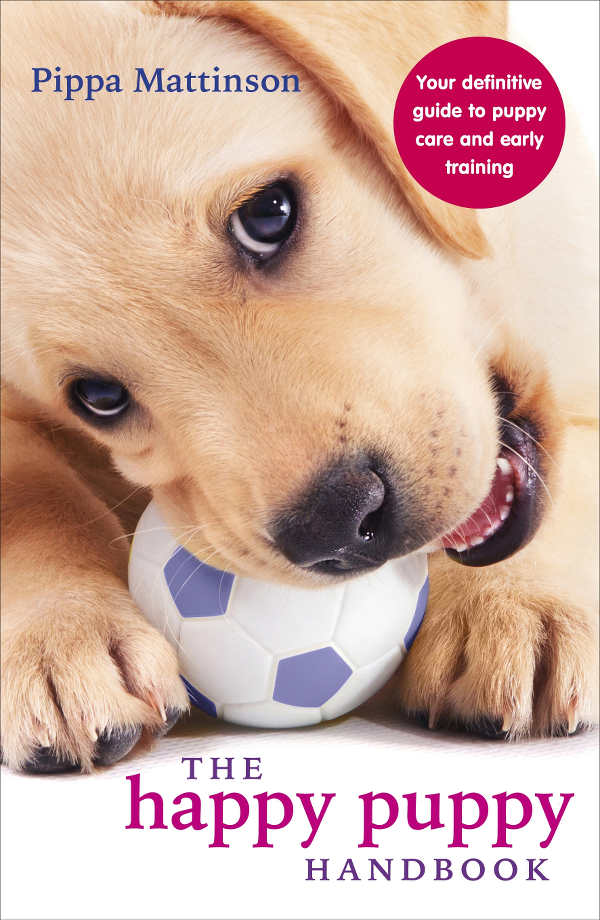 The following comb has received top marks from countless owners and is highly rated:
Pettom Pet Stainless Steel Grooming Tool Poodle Finishing Butter Comb


This handy comb is perfect for fluffing poodle fur and works for all sizes of pooches and pups.
The lightweight comb* will not only detangle mats, it provides a gentle skin stimulation as well.
Best brush for a Labradoodle
In addition to slicker brushes that can reach down to a dog's coat to de-mat fur, rake brushes are an excellent choice for maintaining your Labradoodle's luscious locks.
While the extremely useful slicker has rows of wiry spiked bristles, a rake has curved, sharp teeth which are also able to reach down to the skin and detangle mats.
Pat Your Pet Pet Grooming Tool – 2 Sided Undercoat Rake


A convenient design provides one side for removing mats and tangles and a finishing side perfect for thinning thick coats.
This stainless steel, ergonomic, tool* works well on medium to long coats, and delivers a gentle skin massage while it's in use.

GoPets Dematting Comb with 2 Sided Professional Grooming Rake


A double sided design provides sharp teeth and rounded ends to ensure that tough tangles are dispatched with ease, while also keeping sensitive skin safe.
The dematting comb* comes complete with an ergonomic, gel-filled handle that is easy to hold with minimal hand fatigue.
Rosmax Dematting Tool For Dogs, 2 Sided Undercoat Rake


You can use this dematting rake* on dogs of all sizes and with all types of hair.
The stainless steel teeth are sharper on the inside where they're needed, and rounded on the outside for safety. It comes with a 6 month warranty and a 30 day money back guarantee.
RUBOLD Dematting Tool for Dogs


Double sided teeth distinguish this versatile grooming tool* that is an excellent choice for medium to long coats as well as curly and coarse coats.
Over a thousand satisfied customers have given this brush top marks, but if you're not pleased with the results, it comes with a 100% unconditional lifetime guarantee.
Mat Remover by Hertzko


If you have a small dog, or a small job, this little gadget* will make short work of tangles, mats and knots. It has a comfort grip handle and works well with all types of fur.
Best Brush For a Labradoodle – Summary
Grooming a dog with a thick and often curly coat can be a daunting task! But it is a whole lot easier with the right equipment and the right routine.
Many of the curlier coated Labradoodles will benefit from a full body clip every four to six weeks. And all will be kept tidy and free from mats with regular grooming sessions using a quality brush and comb.
At one time, the tools you'll find on this page were only found in a professional groomers kit box.  But today, you can if you wish, take good care of your dog's coat at home.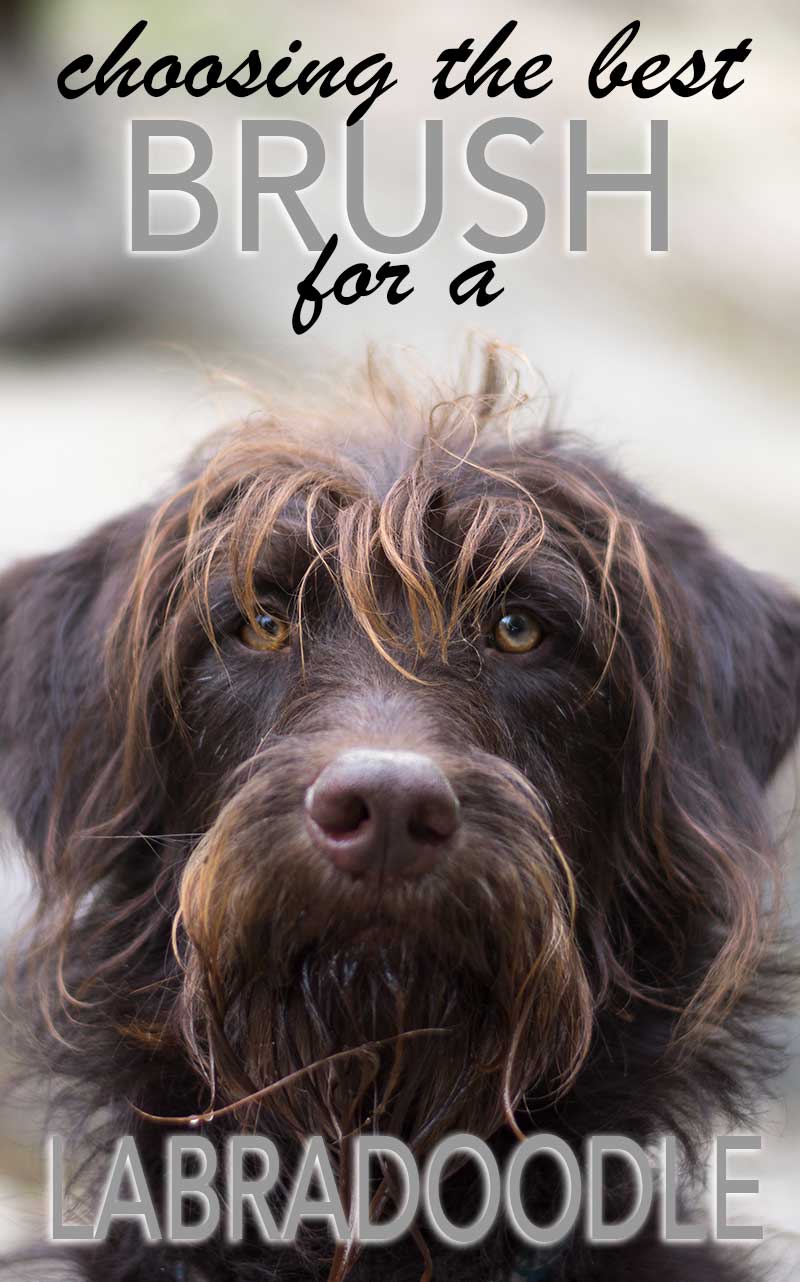 We hope you've enjoyed our reviews and tips, and now have a better idea of which brush for Labradoodle coats is best.
Do you have a brush or tool that you recommend? Let us and our readers know in the comments section below!
If you love Labradoodles, make sure to also take a look at our guide to the mini Labradoodle.
Affiliate link disclosure: Links in this article marked with an * are affiliate links, and we may receive a small commission if you purchase these products. However, we selected them for inclusion independently, and all of the views expressed in this article are our own.
Sources
American Kennel Club
Corti, L., Massage Therapy for Dogs and Cats, Topics in Companion Animal Medicine, 2014
Lockey, R.F., The myth of hypoallergenic dogs (and cats), Journal of Allergy and Clinical Immunology, 2012
Vredegoor, D.W., et al, Can f 1 levels in hair and homes of different dog breeds: Lack of evidence to describe any dog breed as hypoallergenic, Journal of Allergy and Clinical Immunology, 2013
http://www.thelabradorclub.com/
http://www.poodleclubofamerica.org/
http://www.australianlabradoodleclub.us/