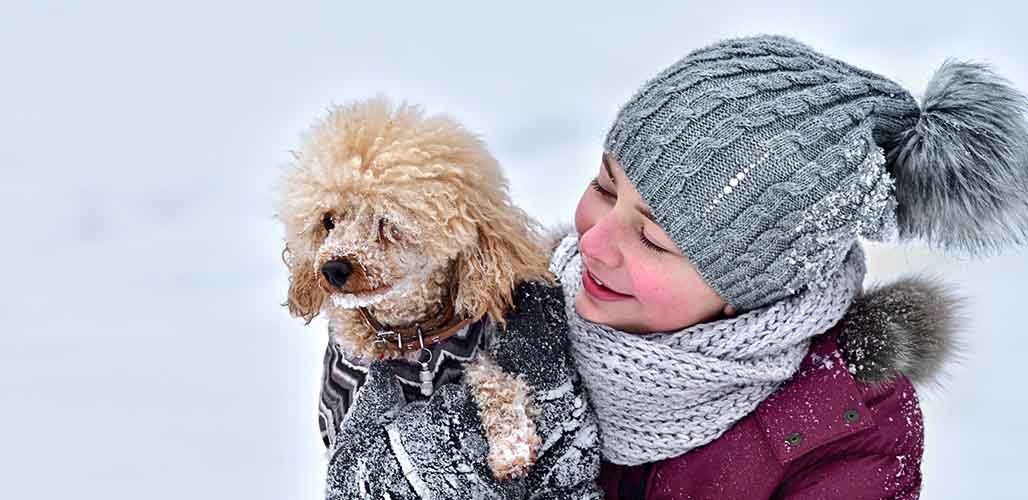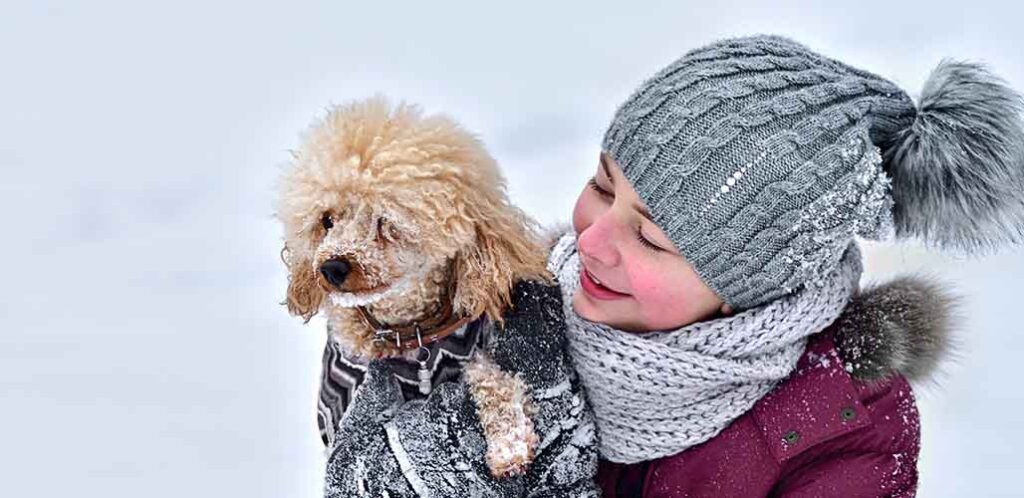 They are loyal and fun companions for city-dwelling adults, but are Toy Poodles good with kids? I have a personal interest in this question – my daughter is 8, and my first dog has just turned 3. So now feels like a good time to get a second dog, and my daughter would love one of the toy breeds (probably because she's fed up with being sat on by our existing medium-sized dog!). I love larger Poodles for their intelligence, but I'm not convinced a Toy Poodle is a good choice right now, for several reasons relating to their size and temperament. In this article, I'll take a look at all the good things this little dog has to offer, and what the potential drawbacks of raising them around kids is. I'll also share with you some of the other small breeds I'm considering instead!
Contents
Toy Poodle Facts
Let's start with some important attributes of Toy Poodles, which are going to be relevant to how well they get along with kids:
They are one of the smallest toy dogs, weighing just 4-6 pounds. Owner surveys suggest that most are under 5lbs in fact.
Miniature Poodles were created first, by breeding down Standard Poodles, and Toy Poodles were created in early 20th century America by breeding down Miniature Poodles still further.
Unlike their larger counterparts, Toy Poodles have never been used for working roles – they were developed as charismatic companion dogs for sophisticated urbanites.
Despite never having to work to earn their keep, this tiny breed is famous for being smart. They are also very people-focussed and attention seeking.
Are Toy Poodles Good With Kids?
Toy Poodles are not a breed we readily recommend for households with children. It's not a universal rule – I know one family with two elementary school age children and three happy Toy Poodles, and it's working out great. But there are some really important things to consider before raising this this breed alongside kids:
Their size puts them at greater risk of injury.
They are more likely than larger dogs to be fearful or anxious.
There's going to be competition for your attention.
They are hard work as puppies.
Their size puts them at greater risk of injury
Toy Poodles' size and delicate frame mean that they are also very fragile, and easily hurt by a clumsy moment in a high-energy game. Statistically, Toy Poodles are more likely than most dogs to die from traumatic injuries too. Young children pose a risk to these little dogs if they play too roughly, lose their balance and fall on them, or pick them up and drop them.
They are more likely than larger dogs to be fearful or anxious
Toy Poodles score highly for fearfulness and anxiety in behavioral surveys. Researchers have speculated that this might be directly linked to their size. Nearly all small and toy dog breeds possess a specific gene mutation which reduces how much insulin-like growth factor 1 (or IGF-1) hormone they produce. Reduced levels of IGF-1 have also been linked to increased anxiety in separate controlled studies. Raising a dog with a high predisposition to anxiety takes a lot of patience and effort, and can be difficult to balance against the demands of a young family.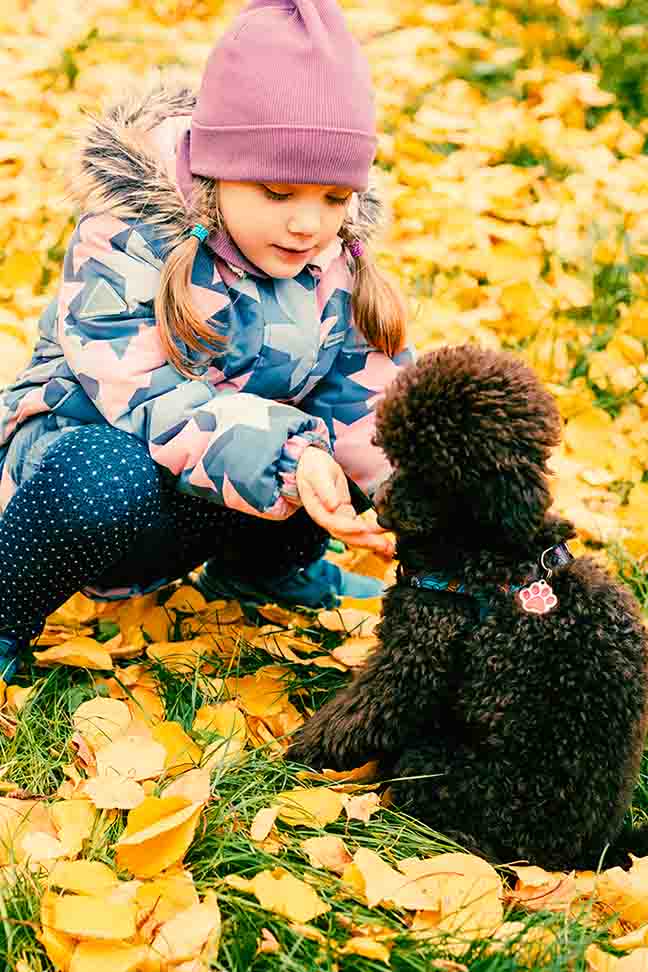 There's also a greater risk of children accidently creating sources of anxiety. For example by startling their Toy Poodle with a loud, sudden noise. This isn't a problem borne out of malice, it's just that children tend to be loud and boisterous, and this dog breed often has a low emotional tolerance for that. (On a happier note, reduced IGF-1 levels have also been linked to greater longevity, and is thought to explain why the smallest dog breeds also live the longest).
There's going to be competition for your attention
Toy Poodles score very highly for attention seeking behaviors, relative to other breeds. Anecdotal wisdom suggests that they have a high likelihood of becoming one-person dogs. In other words, they specifically want the attention of one special person, and they may be aloof or even hostile towards other people.This was a desirable trait when they were first developed – what's the point of a companion dog who doesn't want to hang out with you, or who will run off with your best mate? But it can become a source of jealousy and friction if you also have children who want your attention, or the attention of their pet.
They are hard work as puppies
All puppies are hard work, but some definitely require more patience and determination than others. A classic example of this is toilet training. Very small dogs inevitably have very small bladders too, which means they can take longer to complete toilet training. Since they are more prone to fearfulness and anxiety, it may also take much longer to get them used to being alone. If you're also trying to juggle a hectic schedule of running your kids to school and sports practice etc as well as meeting the needs of your young puppy, you could easily start to wish that you hadn't picked this particular breed at this particular time.
Is Another Poodle Better?
Obviously, a logical alternative to a Toy Poodle is one of their Miniature or Standard sized cousins. These larger dogs are physically more robust. Since they do have a working history, they still like to be physically active, which makes them well-suited to running around outdoors with children. They also like playing games of fetch learning simple tricks, which are easy ways for children to engage with their pet and build a rewarding bond of their own. They still have a tendency to be reserved around strangers, but they are more likely to bond equally with all of their immediate family and enjoy cuddles with everyone, rather than attaching themselves solely to one person. So yes, we think a larger Poodle is better with kids than a Toy Poodle.
How to Train Poodles and Kids
Regardless of your Poodle's size, you need to make sure that they are in the right condition, both mentally and physically, to be around your child. And that your children understand the right ways to interact with their dog!
Look for a puppy from a breeder who can start socializing them around children before you even bring them home. A puppy who has lots of positive experiences of being gently handled by children will grow up more willing to engage with kids when they're older.
Young puppies bark, lunge, growl, bite and tug as part of normal play. It's all well and good when you have a fur coat to protect your skin, but not much fun for us! Your puppy is likely to recognize playfulness in your human children, but you'll need to teach them how to play appropriately. Don't punish them for natural play behaviors, but redirect them to appropriate toys which they can bite.
Teaching Kids to be Good With Poodles
As well as teaching your pup patience with children, you'll need to teach your children to be respectful of your dog. This includes things like:
How to approach a dog without frightening them.
Understanding canine body language, and recognizing the signs that their dog is uncomfortable or wants to be left alone.
Where on their body it's ok to pet them.
Not disturbing a sleeping dog, or trying to pet them while they eat.
How to play without encouraging a puppy to bite, or risking injuring them.
Remember, young children should alway be supervised around dogs of any age or breed.
Some Different Small Dogs To Consider
Shih Tzu. Small but sturdy for their size, Shih Tzus are one of the most successful family dogs in the Toy group, and they are also non-shedding.
Bichon Frise. Another small but sturdy dog which enjoys living with families, and doesn't shed. This one looks uncannily like a snowball.
Australian Terrier. Cheerful and robust, this lesser known terrier breed is celebrated for being one of the best to raise with kids.
Border Terrier. Affectionate, tough as old boots, and with easily enough energy to play all day, Border Terriers are another great fit with young families.
Cocker Spaniel. Refined and elegant like a Poodle, but gentle and sweet with almost everyone they meet, American Cocker Spaniels are a slightly larger option (weighing 20-30lbs) but a great family dog.
Are Toy Poodles Good With Kids? Summary
There are few hard and fast rules about whether one dog breed or another is always completely unsuited any particular type of home. On balance, a lot of the Toy Poodle's attributes and qualities make them better suited to adult-only households. They are physically delicate and fragile, and their temperament doesn't always complement that of young children. But nonetheless, lots of these little dogs do live happily with families of all age groups. So perhaps it's more important that you're fully informed about the kind of pet you're getting, and prepared to meet their needs.
If you already have a Toy Poodle, we'd love to hear how they get on with kids in the comments section down below.
More About Toy Poodles
References
Bonnett et al. Mortality in over 350,000 Insured Swedish dogs from 1995–2000: I. Breed-, Gender-, Age- and Cause-specific Rates. Acta Veterinaria Scandinavica. 2005.
Greer et al. Connecting serum IGF-1, body size, and age in the domestic dog. AGE. 2011.
Hall & Wynne. The canid genome: behavioral geneticists' best friend? Genes, Brain & Behavior. 2012.
Serpell & Duffy. Domestic Dog Cognition and Behavior. Dog Breeds and Their Behavior. 2014.