Frenchie numbers are growing year on year. But, potential owners find themselves asking: are French Bulldogs smart?
French Bulldogs are not generally seen as quick or easy to train.
They are instinctively successful at providing companionship. But they can be difficult to motivate in obedience training.
They can be taught basic manners using positive reinforcement techniques.
However, the patience needed to train them isn't the most significant reason Frenchies are best overlooked as pets.
Are French Bulldogs Smart?
Frenchies are the 4th most popular dog breed in the U.S.
And in 2018 they even toppled Labrador Retrievers to take the number one spot in the UK.
With interest in them growing, more and more prospective puppy parents are considering the practicalities of owning one.
Common questions include:
"How easy are they to train?"
"Will they understand boundaries set for them inside the home?"
"Can they be taught good manners so they won't embarrass us in public?"
The answers aren't purely a matter of intelligence – but that isn't much consolation when you're struggling to make yourself understood!
So let's start by looking at the ways Frenchies can be smart, and not-so-smart.
What Is The IQ Of A French Bulldog?
Intelligent Quotient, or IQ, is a popular way of guesstimating how 'generally smart' people are.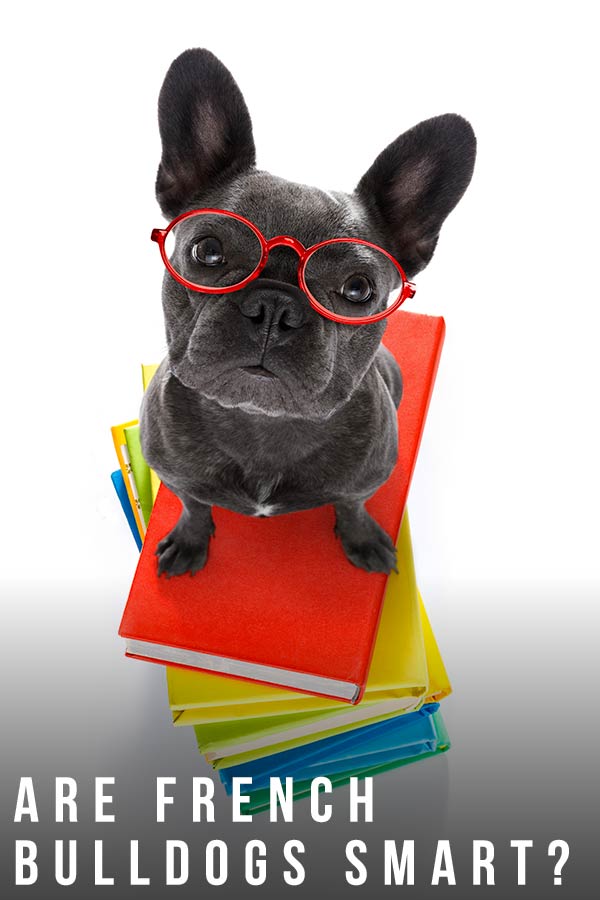 It's not a perfect system. Partly because it focuses on skills like identifying and predicting patterns, but overlooks qualities like emotional or creative intelligence.
Some researchers think that it might also be possible to measure general intelligence in dogs.
But there isn't a widely accepted way of testing it yet. And the results wouldn't be equivalent to human scores anyway.
So we need to be more creative about the ways we measure Frenchie intelligence.
Measuring French Bulldog Intelligence
Intelligence in dogs is partly hereditary, and there are multiple genes which can contribute to it.
Breeding choices by humans over the ages have shaped the genetic makeup of every dog breed. And consequently what kinds of things they are naturally good at too.
French Bulldogs are the product of 200 hundred years of refinement by breeders to create their ideal companion dog.
Historically, they didn't have to complete any particular task, besides keeping their owners company.
Modern Frenchies
New generations of Frenchies were created by choosing the most entertaining, amenable and affectionate individuals for breeding.
This has made many modern Frenchies instinctively good company. They have an built in drive to seek out human company, they're good natured, and they're not typically noisy.
But on the other hand, they seem to lack much intrinsic talent for obedience training.
Compared to most other breeds, it takes them longer to learn new commands. And once learned they perform them less reliably.
How Smart Are French Bulldogs?
Besides genetics, there are other factors which shape our impression of how smart French Bulldogs are:
Context
How clever Frenchies appear to be depends partly upon what we ask of them.
With all the training in the world, their performance in obedience or agility trials is likely to be mediocre compared to the competition.
But they may have a natural talent for Pets As Therapy roles.
Lifestyle factors
Furthermore, not all intelligence is predetermined. Some French Bulldogs turn out smarter than others due to lifestyle factors.
For example, research shows that dogs who take part in lots of training games have better problem solving skills than dogs who receive little or no training.
So we'll look at how to improve a Frenchie's brain power and raise a smart dog in a moment.
Age
A dog's age is also significant.
Young dogs are better at remembering objects and where they are located. In senior dogs, this kind of intelligence starts to fade.
Recent research indicates that problem solving skills and trainability in dogs declines in old age regardless of lifestyle factors like training history and diet.
Are Frenchies Smart Compared To Other Dogs?
With so many factors to take into consideration, how can we compare Frenchie intelligence to other dog breeds?
Perhaps one of the best known attempts to rank dog breeds by how smart they are is Professor Stanley Coren's The Intelligence of Dogs.
In his list, the French Bulldog ranks 109th out of 127 dog breeds for working or obedience intelligence, according to surveys of obedience trial judges.
It's not an impressive position to hold, but the list isn't a perfect system for ranking canine intelligence either – it is very context specific, for example.
However it is an interesting perspective on how good Frenchies are at learning from humans, compared to other breeds.
Small and stupid?
More recently, a detailed survey of over 8,000 pet dog owners found that the shorter a dog is, the more likely they are to display undesirable behaviors.
Such behaviors include
humping people or objects
soiling inside the home
separation anxiety
and reactivity.
At just 11-12 inches tall, the Frenchie's compact size is a selling point for lots of people. But they are one of the smallest breeds, and therefore also among most likely to present unwanted behaviors.
Whilst none of these behaviors, nor any difficulty overcoming them, are caused by lack of intelligence, our frustration at the situation can make it feel that way.
Which leads us neatly onto training!
Are French Bulldogs Hard To Train?
We all want our dogs to achieve a minimum standard of training, in order to share our homes with us.
For example, we want them to use the toilet outdoors, respect our possessions, and greet guests politely.
All dogs can learn these lessons with force free training, patience, and consistent rewards for getting it right.
That includes French Bulldogs.
However, they can be somewhat slow on the uptake, and hard to keep motivated.
Raising An Intelligent Frenchie
Positive reinforcement training is the best way to teach puppies and older dogs what is expected of them.
It focuses on rewarding good behavior rather than punishing 'bad' behavior
In fact, using positive reinforcement improves a dog's ability to learn. So you can accumulate training successes quicker than by any other method, regardless of dog breed.
Our training articles and Dogsnet Training courses only use positive reinforcement.
Are French Bulldogs Good Pets?
There's more to making a good pet than just answering the question 'are French Bulldogs smart?
Unfortunately, we can't recommend the French Bulldog as a pet. But it's not because they're hard to train.
It's because relentless pursuit of a very extreme body shape has made them very unhealthy.
Approximately one third of Frenchies suffer hip dysplasia.
1 in 20 have luxating patellas – knee joints which slip loosely out of the kneecap and need expensive surgical correction.
Furthermore, 35% of Frenchies have painful spinal deformities as a result of their characteristic screw tail.
And 28% suffer from some kind of allergies.
Flat faces
Worse still, all French Bulldogs are affected to some degree by Brachycephalic Airway Obstruction Syndrome (BOAS).
BOAS is caused by the soft tissues in the muzzle blocking the airways. It's a result of people producing dogs with flatter and flatter faces, and the soft tissues having nowhere else to fit.
BOAS causes a lifetime of discomfort, and carries an increased risk of fatal heat exhaustion during exercise.
Expensive surgery can help, but the condition itself also increased the risk of dying under anesthesia.
Does BOAS affect intelligence?
As far as we're aware, a link between Frenchie's flat faces and their intelligence hasn't been studied.
However we know that in humans oxygen is vital for learning and memory formation. When we're deprived of oxygen, our ability to learn new information suffers.
BOAS means that Frenchies are almost always deprived of oxygen to some degree.
Perhaps it is possible that this also makes them less capable of acquiring intelligence than other dogs.
Are French Bulldogs Smart? Summary
French Bulldogs are not terribly smart or easy to train compared to other dogs.
They are instinctively good at providing companionship, but they are slow to pick up on obedience training.
Frenchie owners should use positive reinforcement and patience to train their Frenchie.
Do you have a clever Frenchie?
What do you think is the real answer to: are French Bulldogs smart?
Tell us their best trick, and your top French Bulldog training tips, in the comments box down below.
References And Further Reading