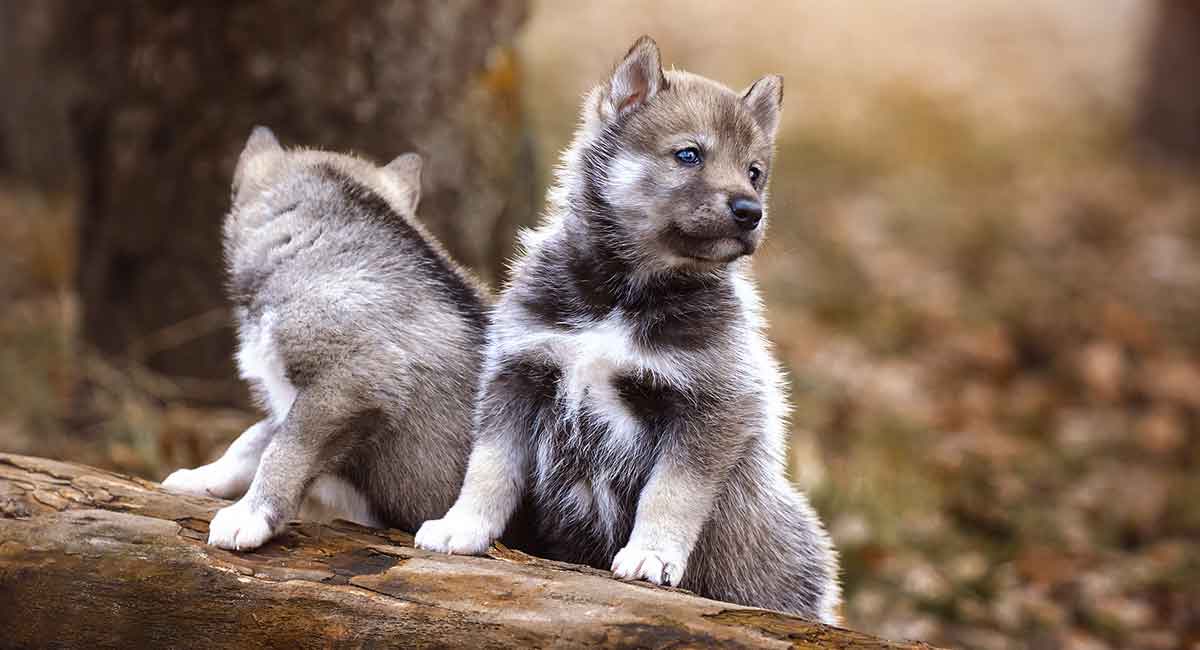 Wolf names are a great choice for the coolest dog breeds and mixes, including dogs that look like wolves and the amazing wolf hybrids. Whether your new wolf cub is a German Shepherd, Samoyed, Husky, Malamute or Czechoslovakian or Saarloos Wolfdog puppy, these names will suit them perfectly. They're even a great match for dogs that look nothing like their powerful, loyal gray wolf ancestors, but have that classic wolf personality or just love to howl!
Contents
The call of the wild, and your dog's wolf ancestry are a great source of inspiration. Whether you want to name a dog in minecraft, or the dog on your hearth, we have some really cool wolf names to get you started. The right name for your best friend can sometimes just come to you, out of the blue. But we're not going to take any chances, we'll show you how to put your brain into creative wolf name mode, with some quick brainstorming sessions.
Brainstorming around a theme is a great way to come up with good wolf names, and we'll be using themes from nature, mythology, and wolflike characteristics! Let's start with our top forty favorite wolf dog names
Top Wolf Names
Wolves are incredible, noble, and truly wild creatures. It's awesome to think that our dogs are directly descended from these superb animals. And we can find inspiration in that nobility and in the wilderness that wolves call home. Our forty favorite ideas for wolf dog names are:
Moon
Connery
Raksha
Mowgli
Torak
Angelina
Zuni
Drum
Lobo
Akela
Cayden
Tewa
Navajo
Totem
Aleu
Sif
Kazan
Baree
King
Silver
Singer
Fang
Kavik
Midnight
Kiba
Toboe
Blue
Holo
Moro
Cami
Connor
Sebastian
Montana
Eskimo
Gunnolf
Lowell
Odolf
Rafe
Woolsey
Ulrich
When finding wolf puppy names or naming or rescue dog, you will want to take special care. Your goal is likely to choose a name that sounds unlike the training commands you want your new pup to learn. Also, be sure you pick one that is easy to say (or a shorter nickname you can use in place of the long formal name you favor).
Names That Mean Wolf
We hunted around and found a few ideas that mean wolf in other languages for this category. Additionally, we took the liberty of adding a few other words with meaning containing the world "wolf." Now your pup can be linked to their identity even by name with these names that mean wolf. Feel free to use these as female wolf names or male wolf names.
Gonzalo – Wolf (Spanish)
Beowulf – Intelligent wolf (English)
Channing – Young wolf (Irish)
Okami – Wolf (Japanese)
Boris – short for Wolf (Russian)
Onai – Wolf (Tamil)
Amoux – Eagle wolf (French)
Vilkas – Wolf (Lithuanian)
Gorg – Wolf (Iranian)
Adalwolf – Noble wolf (German)
Nashoba – Wolf (Choctaw)
Rodolfo – Famous wolf (Spanish)
Lupo – Wolf (Italian)
Volk – Wolf (Slovenian)
Adolph – Noble wolf (German)
Lupus – Wolf (Latin)
Adolfo – Noble wolf (Latin)
Bardawulf – Ax wolf (English)
Lelou / Leloo – Wolf (Chinook)
Accalia – She-wolf (Latin)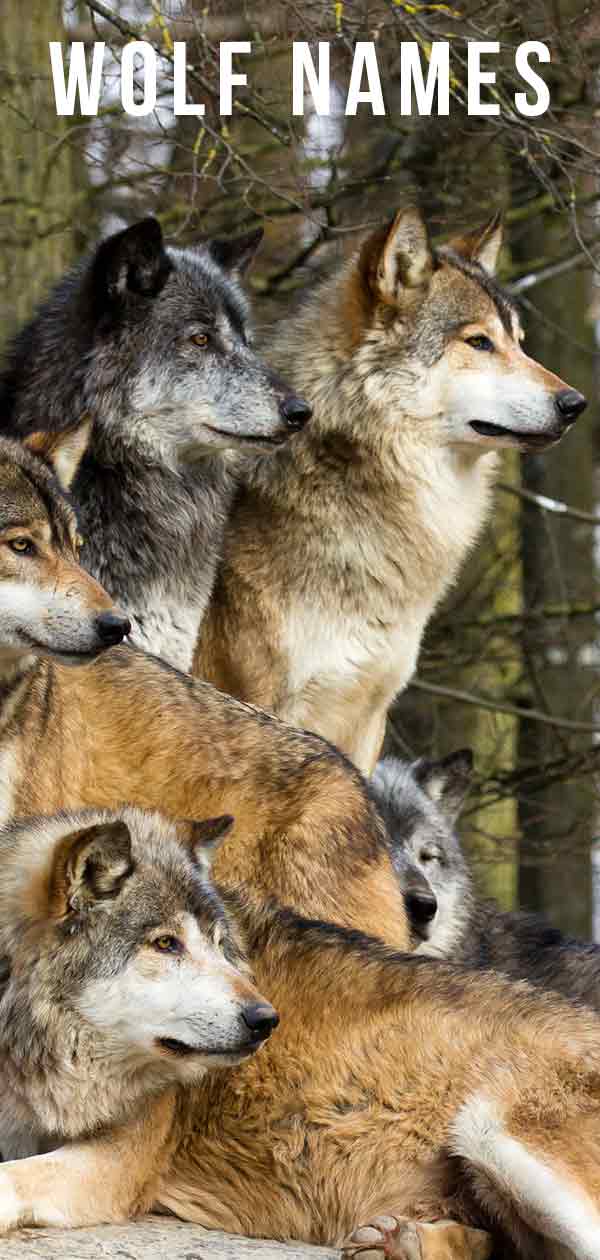 Female Wolf Dog Names
Girl ideas should be well chosen. A lady wolf pup deserves a suitably dignified, strong and regal name that she can grow up into. Perhaps you will find your new name in this list of female wolf names!
Nina
Katniss
Destiny
Shaba
Akili
Silvi
Mikumi
Ernesta
Margarita
Hope
Anna
Madre
Abby
Rogue
Carolita
Cedar
Sibi
Vera
Isabella
Rachel
Arizona
Spirit
Belinda
Daisy
Fiesta
Vida
Linda
Valeria
Dillon
Asa
Artemis
Cinder
Juneau
Zahrah
Arthina
Meiko
Pepper
Rogue
Bella
Areesa
Male Wolf Dog Names
Boy wolf names should be stoic, noble, and worthy of your pup. A dog who resembles (in body or spirit!) a male wolf deserves a name fit for a king among canines. So something that captures the strength, beauty and bravery of the wild wolf will do.
Maybe one of these ideas derived from wolf species names and captive wild wolves will be the perfect fit for your wolfish pup!
Boy wolf names should be stoic, noble, and worthy of your pup. A dog who resembles (in body or spirit!) a male wolf deserves a name fit for a king among canines. So something that captures the strength, beauty and bravery of the wild wolf will do.
Randolph
Bailey
Arctos
Rocky
Gray
Tundra
TimberNopal
Swift
Don Mack
Paco
Kai
Selous
Lazarus
Hawk
Prietito
Laredo
Bobby J
Perkins
Largo
Francis
Mack
Amigo
Wesley
Benny
Grenville
Lucky
Lindbergh
Tsavo
Dogo
Lightening
Maybe one of these ideas derived from wolf species names and captive wild wolves will be the perfect fit for your wolfish pup!
Cute Wolf Dog Names
No matter how they make you feel when they grow up, a wolf cub is the very picture of cuteness! So we think wolf names can be adorable too. Just ask these ideas!
Wolfgang
Kenning
Bug
Noble
Finn
Gael
Twilight
Ziva
Coyote
Monkey
Turki
Ginger
Tanzania
Denn
Ivory
Sirius
Star
Alvis
Smoke
Aurora
Freya
Snow
Thor
Crystal
Hopi
Aspen
Mishka
Mali
Paz
Tala
Lago
Gunner
Vlad
Scar
Remus
Spartan
Howl
Echo
Xerxes
Smoke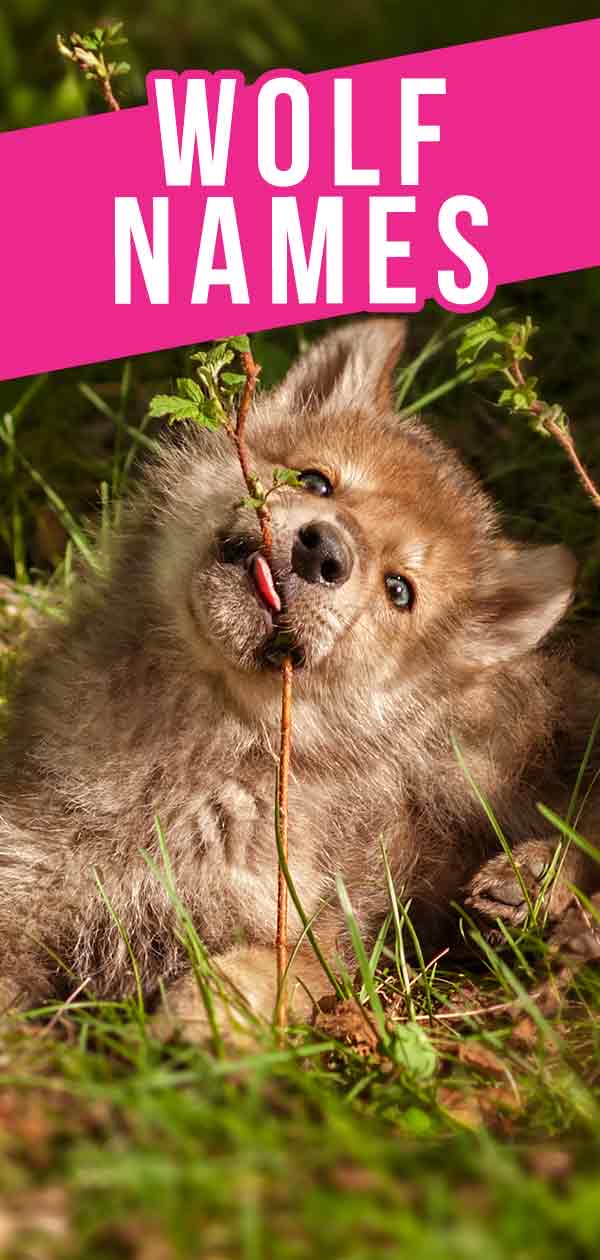 Cool Wolf Names for Dogs
Is there anything more calm, composed, courageous and cool than the steady gaze of a wolf? Some of these choices are drawn from stories about ancient divine and human wolf encounters.
Augusta
Inuit
Alexandria
Martius
Sumeria
Anubis
Bau
Kitsune
Inari
Zenko
Aztec
Xolotl
Lupa
Rae
Accalia
Hati
Skoll
Vivian
Lyall
Wepwawet
Eyolf
Convet
Okwaho
Jinja
Roman
Embla
Magni
Rune
Saga
Vali
Gandalf
Waya
Czar
Cobalt
Alaska
Taima
Kodiak
Tutanka
Comet
Lightning
Mythical Wolf Names
Not everyone is lucky enough to be able to keep company with a wolf every day. But your domestic companion still deserves a unique wolf name too! We love these, which are drawn from wolves in mythology:
Earl
Ruslana
Lark
Rock
Mars
Odin
Lycaon
Diana
Leto
Skadi
Morrighan
Artemis
Titan
Leo
Apollo
Lycia
Badh
Macha
Nemain
Winter
Edda
Arcadia
Geri
Freki
Mars
Loki
Cailleach
Morrigana
Asena
Amarok
Tough Wolf Names
There is no doubt that wolves can be tough – their innate wild nature demands it! Powerful, brave, persevering, tender – these tough wolf names pay homage to the call of the wild inside your canine companion!
Hugo
Boss
Hutch
Shiro
Sabre
Boxer
Lance
Lara
Sierra
Terra
Zylo
Thane
Durga
Blizzard
Scar
Devil
Nikita
Alpha
Nashoga
Marta
Kali
Feli
Yuga
Frost
Yori
Mathias
Night
Metal
Nora
Stealth
Funny Wolf Names
Your wolfy sidekick may have a commanding presence. However, there are those comic moments that just make you laugh at your pup's singular antics! These funny wolf names strive to highlight your canine's light-hearted moments!
Ruff
Big
King Kong
Brewsky
Howl
Dire
Foxy
Junior
Wall Street
Bond
She Wolf
Duran
Lone
Peter
Little Red
Virginia
Cub
Gravy
Meat Loaf
Bam Bam
Wyatt
Pelo
Dwayne
Paw
Shark
Vladimir
Sparky
Wolverine
Bear
Dozer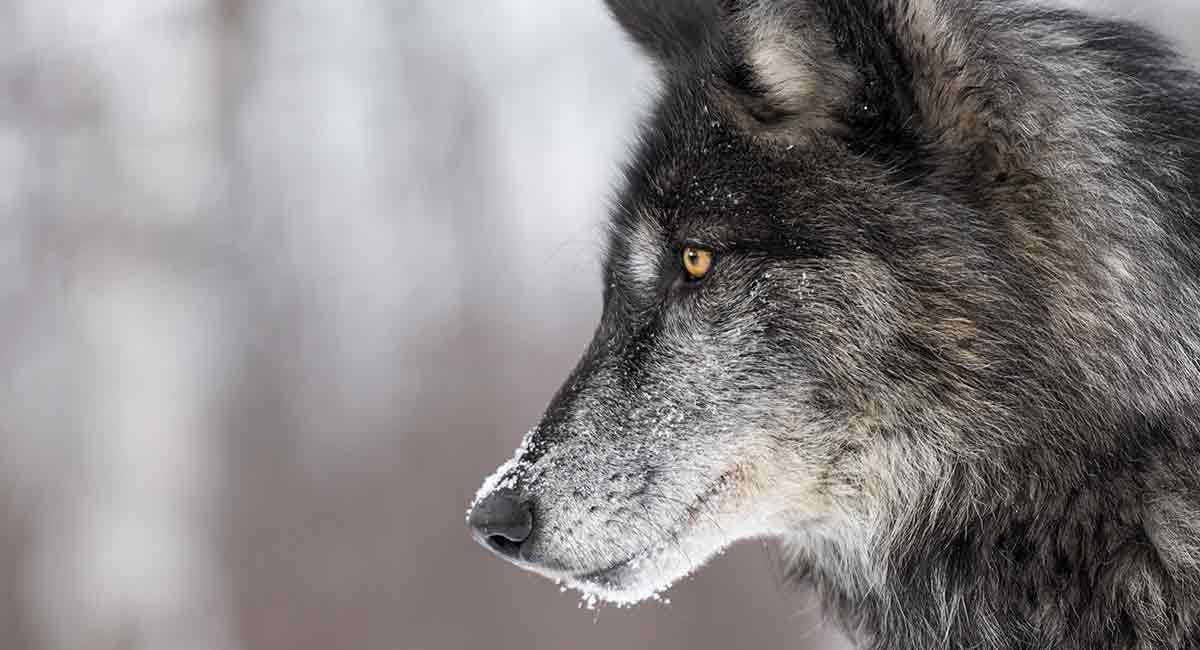 Wolf Names After Trees
Naming pets is after trees is something one of our readers has tried. So for this category, we found tree names that would suit a magnificent wolf dog. We had fun coming up with these wolf names! These names can either serve as female wolf names or male ideas.
Maple
Oak
Pine
Banyan
Neem
Peepal
Tulsi
Amla
Mahogany
Rosewood
Sal
Willow
Walnut
Cedar
Hazel
Hawthorne
Chestnut
Cherry
Cypress
Alder
Fun Facts About Wolves
Wolves are truly amazing animals! Far too few people today get the chance to observe wolves in their natural wild environment. But these fun facts about wolves can help you visualize your own pup's wild roots. Plus, it can perhaps spark more great name ideas!
Wild Wolves Live in Packs
Canis familiaris, the modern dog, has evolved to live with people. However, Canis lupus, the wolf, has evolved to live with other wolves in family units, or packs. Often young adult wolves will stay with their parents for two or three years before leaving to start their own pack or join a different pack.
Wolf Hybrids Are Quite Common
More than 300,000 wolf hybrids are currently living in North America alone! A wolf hybrid can be tamed and trained to socialize with people. Yet, it will never be fully domesticated.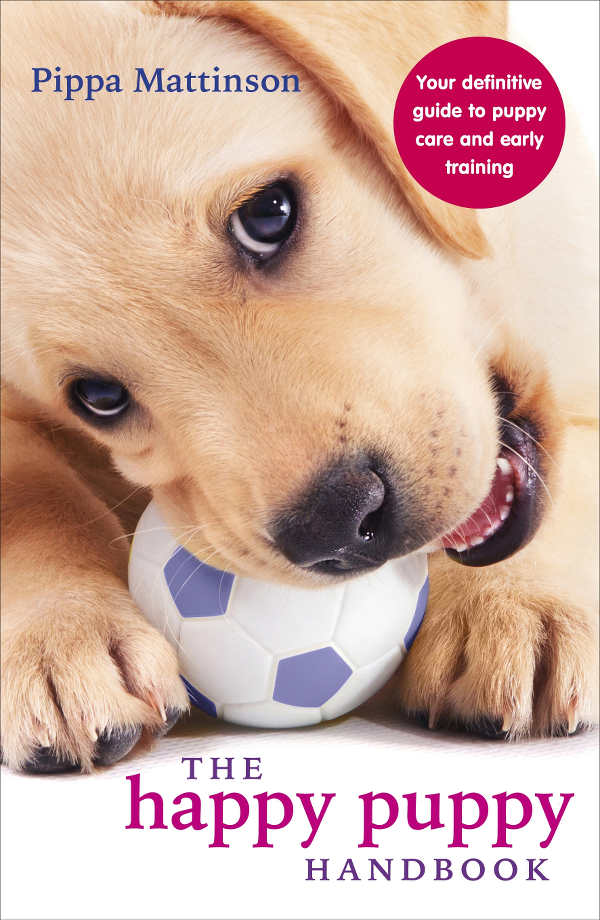 For Growing Wolf Pups, the Sense of Smell is All-Important
One study followed the development of young wolf pups and dog puppies. They were looking for developmental similarities and differences. The critical socialization period for wolf pups happens at just two weeks old and lasts just four weeks.
At that stage, a wolf pup is still blind and deaf, so smell is the primary sense a wolf pup relies on. It this the main way they explore the world and learn what is safe and what is scary.
Wolves Are Differently Socialized
Even very well-socialized wolf pups never lose their essential reservation around people. In contrast, dog puppies begin exploring their world at four weeks old, when they can smell, see and hear. By eight weeks old, with appropriate socialization within their litter and with people, a puppy is set. They're nearly ready to go to a forever family and bond closely with all members.
Finding the Best Names for Wolf Dogs
It can take some time to choose the right name for your special new wolf or wolf hybrid pup! We've shared female wolf names, cool ideas, and even names that mean wolf among many others. Hopefully, you've found one you like.
What's your dog called? We'd love to hear your wolf dog name ideas. Let us know in the comments below!
More Names For Wolf Dogs
References and Further Reading
Mech, L.D. PhD, 1998, "Who's Afraid of the Big Bad Wolf?," International Wolf Center.
Busch, V. 2018, "Wolf Hybrid Information," Endangered Wolf Center.
Morgan, C. 2018, "Wolf Ecology and Behavior," Western Wildlife Outreach.
Heberlein et al, 2016, "A comparison between wolves, Canis lupus, and dogs, Canis familiaris, in showing behavior towards humans," Journal of Animal Behavior.
Latrhop, 2013, "UMass Amherst Study May Explain Why Wolves are Forever Wild, But Dogs Can Be Tamed," UMass Amherst.
Howell, 2018, "FAQ" Wolf Conservation Center.
Canfield, 2018, "Wolf Gods and Goddesses," The Otherworldly Oracle.
Chalquist et al. 2002, "Norse and German Mythology," TerraPsych.