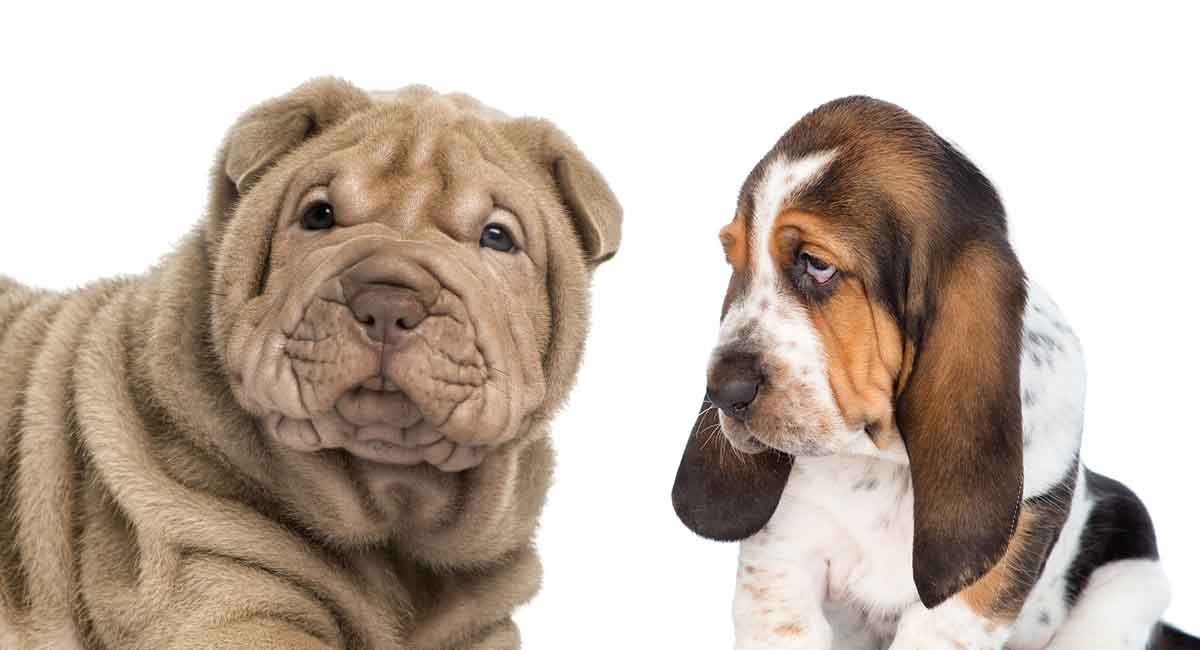 Walrus Dog is the name given to the Basset Hound Shar Pei mix, and once you've met one in person you'll see why. They really do resemble that adorable ocean mammal with their rumpled skin and short legs. But although this appearance has bags of appeal on paper, the reality is that both wrinkles and the dwarfism gene come with pretty hefty health problems for the dog.
Contents
What Do They Look Like?
A Walrus Dog will likely have a short, harsh coat, and the loose skin and folds of his parent breeds. His coat can be a range of colors, including golden, brown, white, black, cream, chocolate, or fawn.
The Basset Hound gene causing dwarfism will be expressed to some extent in mixed offspring. This generally results in a lower stature. Like their parent breeds, they have large, squarish heads- the distinctive 'hippo' muzzle- and expressive eyes.
Walrus Dogs are likely to stand around 10-13 inches high. They generally weigh anywhere between 30 and 50 lbs.
Shar Pei Basset Hound Mix Temperament
A Walrus Dog will likely be a loyal, protective companion. They are fairly independent but still bond strongly with their families. However, they may be standoffish with strangers, and are likely to chase small animals.
It's very important training and socialization begin early. And as the Walrus Dogs may be prone to separation anxiety, they can be prone to howling to express discomfort.
Do Walrus Dogs Make Good Family Dogs?
Loyal, intelligent, and generally good with children, Walrus Dogs have the potential to be good family pets. Although medium sized, this mix can cope with apartment living with sufficient daily exercise.
Walrus Dogs may have a stubborn streak. They are also likely to chase smaller animals, and may be wary when encountering unfamiliar people and animals.
A consistent program of training and socialization from an early age is vital. Keep this in mind if you are considering bringing a Walrus Dog into your family.
Training Your Walrus Dog
When they're not tracking, Basset Hounds have a laid-back temperament. However, Shar Pei can be stubborn and more prone to aggression.
The Walrus Dog will likely inherit a stubborn streak. He is also likely to want to chase after small animals. Thus, it's vital you commit to a thorough training and socialization program from an early age.
Studies show that positive, rewards-based training is the most effective. Avoid punishment-based training, as this can backfire.
Walrus Dogs require a moderate amount of exercise- around 30 minutes daily. Ensure you can commit to this level of activity.
Shar Pei Basset Hound Mix Health
Mixed-breed enthusiasts often point out that mixed breeds can benefit from 'hybrid vigor.' Research suggests that purebred dogs are more likely to experience inherited disorders as a result of limited gene-pools and in-breeding. However, mixed breeds are not exempt from inherited disorders.
Indeed, if parent breeds suffer from particular health issues, they may well pass them onto mixed-breed offspring. Therefore, it's important to learn about health issues affecting parent breeds so you understand potential problems a mix can face.
Unfortunately, Basset Hounds have been found to be one of the breeds with the highest incidence of conformation-related disorders. Their long back and short legs make them prone to joint problems, back issues and obesity due to their sedentary nature. They also often suffer from eye disorders as a result of their loose eyelids.
These include respiratory problems, cardiovascular and gastrointestinal issues, immune-related conditions, certain cancers, and musculoskeletal issues. Like Basset Hounds, Shar Pei also suffer from a number of eye conditions.
With both parent breeds at risk of health problems, unfortunately, Walrus Dogs can also experience medical issues.
The Basset Hound parent of potential puppies should have an ophthalmology examination, a gonioscopy, and thrombopathia testing. The Shar Pei parent must have a hip, elbow and patella evaluation. They should also have a thyroid assessment and ophthalmology examination.
Risk of Infection
Walrus Dogs may also develop bacterial skin infections as moisture collects between folds of skin. Infection can spread easily to ears or eyes. Brush your Walrus Dog twice a week. Also, make sure his eyes, ears, and skin are checked regularly.
Care should be taken to ensure treats come from your pup's daily food allowance to reduce the risk of him becoming overweight.You You can expect Walrus Dogs in good health to live approximately 8-10 years.
Shar Pei Basset Hound Mix Puppies
There are a lot of potential health problems that come with both the Basset Hound and Shar Pei breeds, so I can't in good conscience recommend buying a Walrus Dog puppy. And believe me, I get the appeal, but these cute features just come with too high a health price tag attached.
What About Rescue?
The best way to get a puppy from a breed or mix with lots of structural health issues is to look for an older rescue dog. Bringing them home won't add to the trade in unhealthy dogs and encourage their breeding. You'll also know lots more about the extent to which they suffer from some of their potential issues, and get a good idea of what you're letting yourself in for.
The shelter will talk you through basic hygiene and medical care, and of course you'll be giving a lovely home to a pup that really deserves your help.