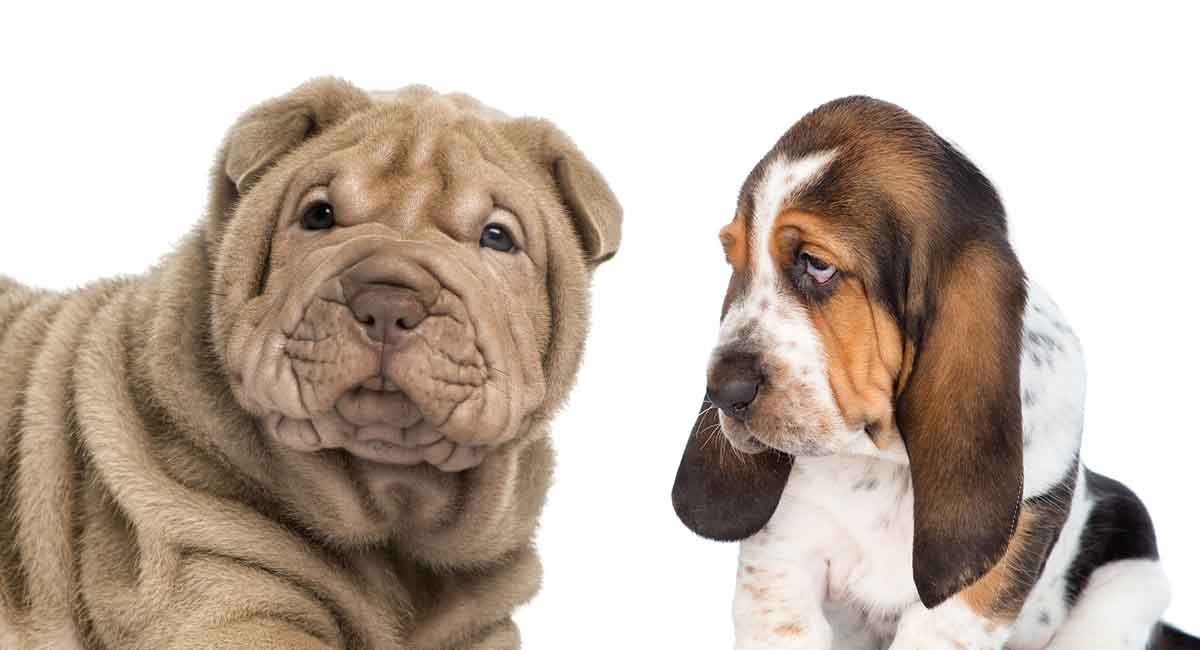 A Walrus Dog is the result of mixing the lovable Basset Hound with the regal Shar Pei.
The result is a cute pooch with wrinkles and folds reminiscent of a walrus!
However one Walrus Dog may be very different from the next, because it's impossible to predict how each will inherit their temperament from each parent.
If you're intrigued by this unusual mix, read on to discover more about the pros and cons of this distinctive dog.
Where Does The Walrus Dog Come From?
The Walrus Dog, or Shar Pei Basset Hound mix, is thought to have originated in the United States in the 1990s.
Let's look at where each parent breed came from.
Chinese Shar Pei History
The Chinese Shar Pei can trace his ancestry back 2000 years to the Han Dynasty. Originally deemed a 'peasant's dog', Shar Pei were developed to be versatile, and were employed as herders, hunters, and guardians of livestock.
China established its People's Republic in 1949. Under the Communist regime, dog ownership was discouraged. As a result, great numbers of purebred dogs were slaughtered.
Luckily, a few purebred animals survived in Hong Kong and Taiwan.
In 1973, a breeder from Hong Kong, Matgo Law, appealed to the US to help save Shar Pei from extinction. The American public responded enthusiastically, and the breed has been popular ever since.
Basset Hound Origin
Basset Hounds originated in France and Belgium. Their name is derived from the French word Basset, meaning 'low.'
Friars of the Abbey of St. Hubert are thought to have developed the breed.
They aimed to produce low-built hunting dogs with a powerful tracking ability. The breed became popular among the French aristocracy.
Fun Facts About The Walrus Dog
George Washington reportedly owned several Basset Hounds. Lafayette gifted them to him following the revolution.
Basset Hounds have extremely powerful noses! They are second only to Bloodhounds in their tracking ability.
Walrus Dogs are known by several names! Some people refer to these dogs as a Ba-Shar or a Sharp Asset as well as Walrus Dog.
Walrus Dog – Shar Pei Basset Hound Mix Appearance
While it's impossible to completely accurately predict how features of two different breeds will combine, looking at parent breeds can give us an idea of the potential characteristics of a mix.
Basset Hound Appearance
The Basset Hound is known for his low stature. This is because the breed has a disproportionate prevalence of dwarfism, resulting in shortened limbs.
Basset Hounds have a large head and long ears. Their wrinkled brow and expressive eyes give a rather solemn look.
Shar Pei Appearance
The Shar Pei has a characteristic 'hippopotamus' head, which is squarish and large in comparison with his body.
In addition, Shar Pei have other distinctive features, including a blue-black tongue, tiny, triangular-shaped ears, and, of course, famously loose, wrinkled skin.
This pup also possesses a harsh, rough-feeling coat, similar to sandpaper. Indeed, his coat gives him his name: Shar Pei translates as 'sand-skin.'
Walrus Dog Mix Appearance
A Walrus Dog will likely have a short, harsh coat, and the loose skin and folds of his parent breeds. His coat can be a range of colors, including golden, brown, white, black, cream, chocolate, or fawn.
The Basset Hound gene causing dwarfism will be expressed to some extent in mixed offspring. This generally results in a lower stature.
Walrus Dogs are likely to stand around 10-13 inches high. They generally weigh anywhere between 30 and 50 lbs.
Like their parent breeds, Walrus Dogs are likely to have large, squarish heads- the distinctive 'hippo' muzzle- and expressive eyes.
Walrus Dog – Shar Pei Basset Hound Mix Temperament
Basset Hound Temperament
Basset Hounds are known to be intelligent, loyal, and fairly laid-back.
Relaxed at home, they become extremely focused when exploring new surroundings, due to their superior scenting abilities.
Shar Pei Temperament
Shar Pei are independent, intelligent, and loyal.
This dog can be wary of strangers and other dogs, and may exhibit aggression if poorly socialized.
Also, Shar Pei can be stubborn.
Walrus Dog Mix Temperament
Therefore, a Walrus Dog will likely be a loyal, protective companion. Generally good with children, this mix could make a great family pet.
However, Walrus Dogs may be standoffish with strangers, and are likely to chase small animals.
As a result it's very important training and socialization begin early.
Walrus Dogs may be prone to separation anxiety, and may howl to express discomfort.
Training Your Walrus Dog – Shar Pei Basset Hound Mix
When they're not tracking, Basset Hounds have a laid-back temperament. However, Shar Pei can be stubborn and more prone to aggression.
The Walrus Dog will likely inherit a stubborn streak. He is also likely to want to chase after small animals. Thus, it's vital you commit to a thorough training and socialization program from an early age.
Studies show that positive, rewards-based training is the most effective. Avoid punishment-based training, as this can backfire.
Walrus Dogs require a moderate amount of exercise- around 30 minutes daily. Ensure you can commit to this level of activity.
Learn more about puppy training here.
Walrus Dog – Shar Pei Basset Hound Mix Health
Mixed-breed enthusiasts often point out that mixed breeds can benefit from 'hybrid vigor.'
Research suggests that purebred dogs are more likely to experience inherited disorders as a result of limited gene-pools and in-breeding. However, mixed breeds are not exempt from inherited disorders.
Indeed, if parent breeds suffer from particular health issues, they may well pass them onto mixed-breed offspring.
Therefore, it's important to learn about health issues affecting parent breeds so you understand potential problems a mix can face.
Basset Hound Health
Unfortunately, Basset Hounds have been found to be one of the breeds with the highest incidence of conformation-related disorders.
Basset Hounds have a low-slung stature.
This breed standard is not without problems. Basset Hounds are likely to experience patellar luxation, canine hip dysplasia, and foreleg lameness.
This breed is also at risk of intervertebral disc disease (IVDD), a condition which can lead to lameness and even paralysis.
Basset Hounds can be lazy, which can put them at risk of becoming obese. Obesity increases the risk of developing IVDD, as well as bloat, which can be potentially life-threatening.
In addition, Basset Hounds are prone to a range of eye disorders, including entropion eyelids, glaucoma, dermoid cysts, ulcerative keratitis, and 'cherry eye', a condition which leads the third eyelid to become inflamed and swell.
Basset Hounds can also experience canine thrombopathia, an inherited disorder causing problems with blood clotting. Although dogs with this condition can lead normal lives, they are at risk from potentially life-threatening bleeding if they incur an accidental injury or require surgery.
Shar Pei Health
Shar Pei are also at risk of a range of disorders.
These include respiratory problems, cardiovascular and gastrointestinal issues, immune-related conditions, certain cancers, and musculoskeletal issues.
Like Basset Hounds, Shar Pei also suffer from a number of eye conditions.
This breed may develop entropion, a condition causing the eyelid to fold inwards. This can be very uncomfortable for the animal, and, left untreated, may cause damage and scarring to the cornea, leading to blindness.
Primary Lens Luxation
Recent research suggests that Shar Pei may inherit primary lens luxation.
This is a condition known to be heritable in particular breeds, including types of terrier, Border Collies and Welsh Corgis.
Primary lens luxation can lead to inflammation and glaucoma, both of which are painful and can lead to blindness.
SARDS
Shar Pei may be at risk from SARDS (Sudden Acquired Retinal Degeneration Syndrome).
This is a rare disease which generally affects middle-aged dogs. Mixed breeds have been found to be more susceptible to SARDS.
This condition causes sudden blindness. At present, the causes of SARDS are still unknown, although it is thought to be immune-related.
Unfortunately, at this time, many veterinarians consider this condition to be untreatable.
Retinal Dysplasia
Shar Pei may also suffer with retinal dysplasia. This is an inherited disorder in which the retina is malformed. It can lead to retinal detachment and, hence, blindness.
Cataracts and glaucoma can also occur as a result of retinal dysplasia.
Retinal dysplasia varies in severity. It may be limited to blind spots or problems with spatial awareness, or it can be more serious and lead to blindness.
Shar Pei Basset Hound Mix Health
With both parent breeds at risk of health problems, unfortunately, Walrus Dogs can also experience medical issues.
Parent breeds should be tested for certain conditions.
Basset Hounds should have an ophthalmology examination, a gonioscopy, and thrombopathia testing.
It is recommended that Shar Pei have a hip, elbow and patella evaluation. They should also have a thyroid assessment and ophthalmology examination.
Risk of Infection
Walrus Dogs may also develop bacterial skin infections as moisture collects between folds of skin. Infection can spread easily to ears or eyes.
Brush your Walrus Dog twice a week. Also, make sure his eyes, ears, and skin are checked regularly.
Care should be taken to ensure treats come from your pup's daily food allowance to reduce the risk of him becoming overweight.You
You can expect Walrus Dogs in good health to live approximately 8-10 years.
Do Walrus Dog – Shar Pei Basset Hound Mixes Make Good Family Dogs?
Loyal, intelligent, and generally good with children, Walrus Dogs have the potential to be good family pets.
Although medium sized, this mix can cope with apartment living with sufficient daily exercise.
Walrus Dogs may have a stubborn streak. They are also likely to chase smaller animals, and may be wary when encountering unfamiliar people and animals.
A consistent program of training and socialization from an early age is vital. Keep this in mind if you are considering bringing a Walrus Dog into your family.
Rescuing a Walrus Dog – Shar Pei Basset Hound Mix
There are lots of benefits to rescuing a dog. You can give an older a pup a new lease on life for a start. Also, you might like this option if you would rather avoid breeders.
Bear in mind that it may not be possible for shelters to provide comprehensive health and/or behavioral histories.
Ensure you spend time with a potential rescue before taking them home.
Finding a Walrus Dog – Shar Pei Basset Hound Mix puppy
If you intend to buy a Walrus puppy, it's important to locate a reputable breeder who can provide evidence of the health history of breeding pairs. This is due to the incidence of inherited disorders in both parent breeds.
Pet stores are not a good place to buy puppies.
Many obtain dogs from puppy mills. Conditions and breeding practices in such mills are often poor, leading to suffering and potentially immune-compromised pups.
Raising A Walrus Dog – Shar Pei Basset Hound Mix Puppy
While we don't have specific guide for raising a Walrus pup, we do have lots you can read about raising a puppy.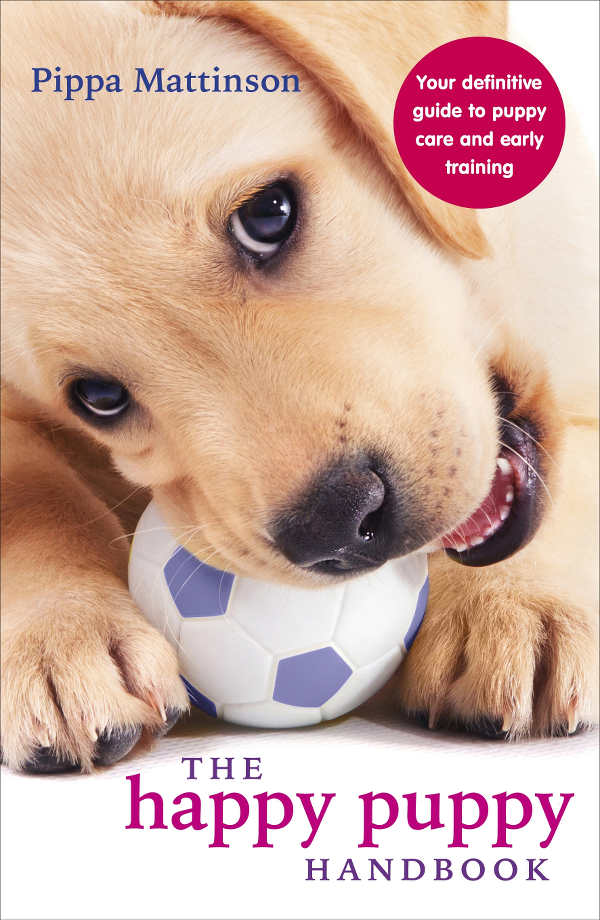 Raising a puppy is rewarding but it takes a lot of work.
Make sure you read our collection of puppy training guides.
Walrus Dog – Shar Pei Basset Hound Mix Products and Accessories
Pros and Cons of Getting A Walrus Dog – Shar Pei Basset Hound Mix
Cons
Likely to experience health problems as both parent breeds have high rates of inherited disorders
Relatively short lifespan of 8-10 years
Can be stubborn and standoffish with strangers. They will require consistent training and socialization from an early age
Likely to chase smaller animals and so may not be suitable for households with other pets
Walrus Dogs experience separation anxiety so are not suitable for owners who spend a lot of time out of the house.
Pros
Walrus Dogs are likely to be loyal, intelligent, and good with children
Their exercise requirements are moderate (approximately 30 minutes daily) and they can cope with apartment living
Similar Walrus Dog – Shar Pei Basset Hound Mixes and Breeds
The Australian Shepherd Basset Hound (Aussie Basset)
This mix weighs in around 40-65 lbs, and has a lifespan of 12-15 years.
Aussie Bassets combine the high trainability and people-pleasing nature of the Australian Shepherd with the laid-back attitude of the Basset Hound.
American Eskimo Basset Hound mix (Baskimo)
This fluffy combination combines the high energy levels of the American Eskimo with the relaxed Basset Hound temperament.
Baskimos are around 25-65lbs, and live 12-15 years. With thorough training, you can expect a people-pleasing pup with moderate activity needs.
Shar Pei Labrador Mix
We all know Labradors for their easy-going, lovable temperaments.
Hence, this mix is the most popular of all Shar Pei crosses.
Shar Pei Labs are likely to be intelligent, playful, loyal dogs.
However, Shar Pei are more stubborn than Labradors, and it's quite possible the mix will inherit this temperament.
More Mixes
Make sure that you socialize and train any Shar Pei mixes. This will alleviate any undesirable behaviors.
Read more about popular Basset Hound mixes here.
Read more about popular Shar Pei mixes here.
Walrus Dog – Shar Pei Basset Hound Mix Rescues
Here are some places to start your search for a Walrus dog.
USA
Basset Hound Rescue California
Pei People Shar Pei Rescue (US)
UK
Basset Rescue Network of Great Britain
Shar Pei Rescue Scotland
Shar Pei Rescue UK
Do you know any great rescues for either of these breeds? Let us know in the comments.
Is A Walrus Dog – Shar Pei Basset Hound Mix Right For Me?
Can you commit to training and socialization from an early age, plus daily exercise and interaction? If you've answered yes, a Shar Pei Basset Hound mix may be right for you!
Are you the proud owner of a Walrus Dog?
Share your experience by commenting below.
References and Resources
American Kennel Club
Asher, L. et. al., Inherited defects in pedigree dogs. Part 1: Disorders related to breed standards, The Veterinary Journal, 2009
Barnett, K.C. Inherited eye disease in the dog and cat, Journal of Small Animal Practice, 1988
Basset Hound Club of America
Beuchat, C. Health of Purebred dogs vs. Mixed Breed dogs: the actual data, Institute of Canine Biology, 2015
Beuchat, C. The myth of hybrid vigor in dogs…is a myth, The Institute of Canine Biology, 2014
Johnstone, I.B., An Inherited Platelet Function Defect in Basset Hounds, The Canadien Veterinary Journal, 1979
Lazarus, J.A. et al., Primary lens luxation in the Chinese Shar Pei: clinical and hereditary characteristics, Veterinary Ophthalmology, 2002
Martinez, S., Histopathologic study of long-bone growth plates confirms the basset hound as an osteochondrodysplastic breed, Canadian Journal of Veterinary Research, 2007
Orthopedic Foundation for Animals
Stafford, K.J., Opinions of veterinarians regarding aggression in different breeds of dogs, New Zealand Veterinary Journal, 2011
Young, W. M., et al., Clinical therapeutic efficacy of mycophenolate mofetil in the treatment of SARDS in dogs–a prospective open‐label pilot study, Veterinary Ophthalmology, 2018