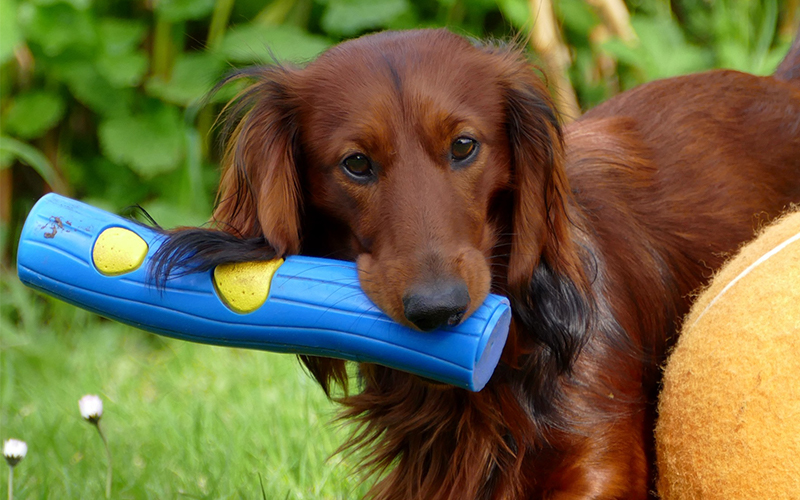 Welcome to our complete guide to Interactive Dog Toys. Giving you reviews of the best interactive dog toys. Along with top tips on how to choose the right ones for your pup.
Interactive toys are great for dogs of any age and any breed.
Not only can they be used to stimulate your dog's intelligence, but they can also be a great way for your pet to entertain itself. If you don't have time to play with her that day, or if you need the odd break from her ability to tirelessly play games like fetch!
Interactive toys for dogs come in lots of different shapes and sizes. Meaning you'll have a huge scope of variety to find the perfect ones for your dog.
These toys often involve food, but can also include puzzles to complete. They might have sounds to explore, or other ways for your dog to occupy itself, for example with exercise.
Because there are so many different types of interactive dog toys, it can be hard to narrow down the selection.
Different toys have different benefits. And certain types of interactive toys can be better for some dogs than others. For instance, puppies may enjoy different interactive toys to older dogs.
This article will provide you with a brief look at some of the many interactive dog toys you could get!
Products included in this article were carefully and independently selected by the Happy Puppy Site team. If you decide to make a purchase from one of the links marked by an asterisk, we may earn a small commission on that sale. This is at no extra cost to you.
Interactive dog toys for large dogs
Bigger dog breeds, from Great Danes to Labradors, often need tougher toys. As they're a lot stronger than smaller dogs.
However, bigger dog breeds aren't all brawn. These pups are also intelligent and can really benefit from the mental stimulation that interactive dog toys can provide.
Interactive toys allow these intelligent dogs to exercise their brains as well as their muscles. But their strength means it is important to get good quality toys that won't be destroyed ten minutes after you buy it!
Swirl Interactive Dog Toys
A choice for larger dogs that love to chew is the Kong Swirl range*.
These toys come in various shapes with bright swirling colors and feature a squeaking noise that dogs love to investigate during play.
The unique shapes of the Swirl toy paired with its rubbery plastic material mean that it bounces in unpredictable directions. Keeping your dog alert and focused on the next move.
Kong is a great brand if you're looking for durable toys, and are known for making tough, resilient playthings for our pets!
Buster Food Cube
Another great interactive toy for large dogs is the Buster food cube*.
This toy can come in a variety of colors and sizes, so your large dog won't be stuck with a toy designed for smaller or medium sized dogs.
There is a detachable treat dispenser inside this toy, which allows for easy cleaning and easy refills when your dog manages to get all of the treats out!
This toy is made from a tough plastic which challenges strong jaws. This hard material can be loud on hard floors, but if your dog loves noisy toys, it's sure to be a winner.
Interactive puppy toys
Larger dogs aren't the only ones who need robust toys.
Puppies are known for their playful natures, and their tendency to chew on anything and everything to ease teething pains and explore the exciting new world around them.
A great interactive puppy toy is the PetSafe Twist and Treat*.
It's natural rubber is soft and gentle on your puppy's teeth.
The adjustable settings mean you can make it more challenging once she gets the hang of it. Not to mention keeping her thoroughly entertained.
Outward Hound's Hide Treat Toy
Toys with different textures and sounds are great for puppies, as they encourage the development of a pup's natural curiosity. And so are toys with food at their heart like Outward Hound's Hide Treat Toy*.
This toy is designed to keep your pup playing longer. With six treat-hiding cups, scent guides and sniff and lift action.
Mini Interactive Treat Hiding Puzzle Toy
A third example that can be a great choice for new puppies are these Mini Interactive Treat Hiding Toys.*
Ideal for small breeds and young pups, this high quality interactive dog toy is small but packs in plenty of action.
Interactive dog games
Dogs, like humans, can get bored very easily!
Interactive games are a great way to keep your dog entertained either by itself or with some input from you!
Most interactive dog games involve food – your dog must complete a task to receive a treat from the toy!
Tulip Strategy Game
The Trixie tulip strategy game* is a great example of this!
This game features a board with rubber feet to prevent sliding, and a plastic, tulip shaped centerpiece.
The head of the tulip contains treats that your dog can only access by gently maneuvering and bending the top until they fall out.
Games like this are great for intellectual dogs, as they require thought rather than just physical strength to receive treats.
Most dogs also love games like fetch that require lots of exercise, but it is easy to get tired of repeatedly throwing the same toy over and over again.
Nerf Dog Stomper Toy
The Nerf Dog Stomper Toy* can solve this problem quickly, providing a way to easily launch a ball into the air without getting a tired arm!
This still requires an input from you, but automatic ball launchers are also available if you're willing to pay a bit more!
These games allow your dog to burn energy, but do require a lot of open space, which isn't always available at home.
Games that include puzzles for your dogs to solve, similar to the tulip game mentioned above, are also available – these will be covered in the following section!
Interactive puzzle dog toys
Puzzle toys require your dog to use its brain to get rewards, like dog treats.
A well known name in the dog-puzzle business is Nina Ottosson, who has created many different puzzles for our beloved pets to solve.
Nina's dog toys tend to be easy to clean, and vary in difficulty depending on the type you choose.
If you're looking for a slightly easier one for dogs that haven't tried puzzle toys before, you might want to try her Tornado dog toy*.
This toy has compartments for treats to be hidden in, which your dog has to find by moving each section around.
This puzzle toy is great for dogs new to puzzles, as it is relatively simple and has a great reward for them, however, its simplicity means that your dog may easily learn exactly how to get the treat.
Dog Finder Activity Toy
A more difficult puzzle toy by Nina Ottosson is the Dog Finder Activity toy*.
This toy has plastic bones that you can hide treats underneath, which your dog must slide around the board to find the treats.
You can also change where the treats are hidden, adding some variation each time.
Puzzle toys are great for dogs, they keep them entertained and give their brains a workout. However most dogs tend to remember how to solve puzzle toys after they have done it a few times.
This isn't necessarily a bad thing, as your dog will likely still enjoy the toys, even though they don't remain as much of a challenge!
Interactive dog feeders
Many dogs have trouble with eating food too quickly, and interactive dog feeders are a great way to solve this problem.
One solution are dog bowls or mats that feature a maze-like pattern, such as this bowl by Maxipaws.*
This slows your dog down because it has to maneuver around the maze walls to reach the food inside.
Another popular choice is the Wangstar slow eating dog bowl*.
This features obstacles which your pup has to eat around, preventing it from just gulping food down quickly.
These interactive feeders can really help dogs with problems like indigestion, or obesity.
Dog treat toys interactive
Dog toys that dispense treats can keep dogs entertained for hours as they figure out ways to get all of the treats out.
The Petsafe Busy Buddy Waggle* is a great example of toys like this.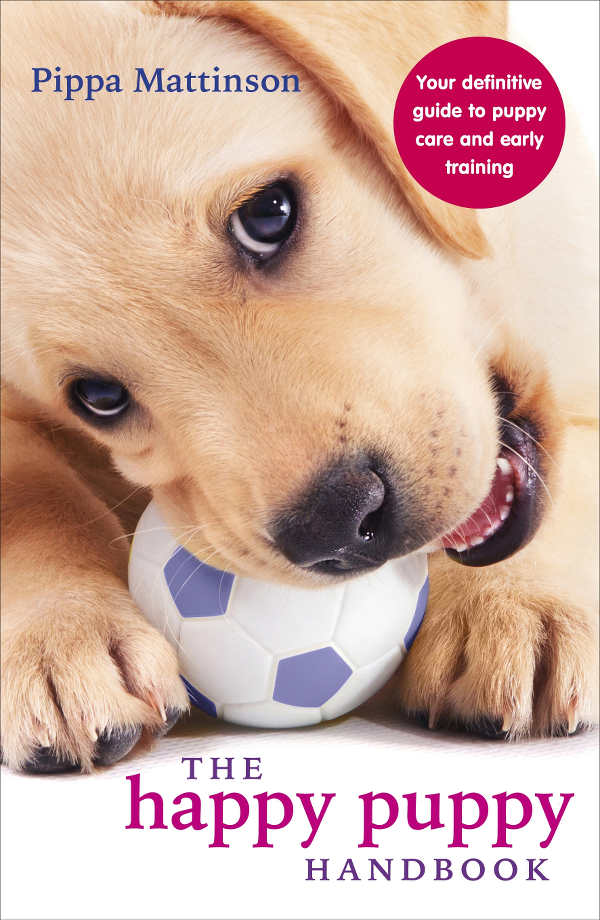 This toy will dispense treats you put inside as your dog plays with it, allowing for minimal boredom when your dog is around the house!
A similar toy is the Starmark Bob-A-Lot*.
This also releases treats as your pup plays and chews on the toy, encouraging your dog's natural curiosity and keeping it occupied.
This toy can also be used for your dog's meals, rather than just treats, if you're looking for more ways to slow your pup down, just like the bowls in the previous sections.
Interactive dog balls
Popular interactive dog balls usually involve a way to dispense treats, or noises to keep your dog entertained.
There are toys like the Rosewood maze ball.*
These can be filled with treats and are made of tough plastics that are hard to chew through.
Best interactive dog toys
Choosing the best interactive dog toy will depend on the type of dog that you have, and the type of toy that they enjoy playing with – whether it's one that gives them treats, or one that has interesting sounds for them to activate.
Some of the best dog toys contain lots of noise and different textures for your pet to play with, keeping its interest for longer.
Others will use tasty treats, hiding holes and puzzles.
Every dog will love different types of toys, so what doesn't appeal to one dog may be a favorite for another!
What's your dog's favorite interactive toy?
Does your dog love any interactive toys that haven't made our list?
Let us know what sort of toys your dog loves to play with, or if you've tried and tested any of the toys we've mentioned!
Affiliate link disclosure: Links in this article marked with an * are affiliate links, and we may receive a small commission if you purchase these products. However, we selected them for inclusion independently, and all of the views expressed in this article are our own.