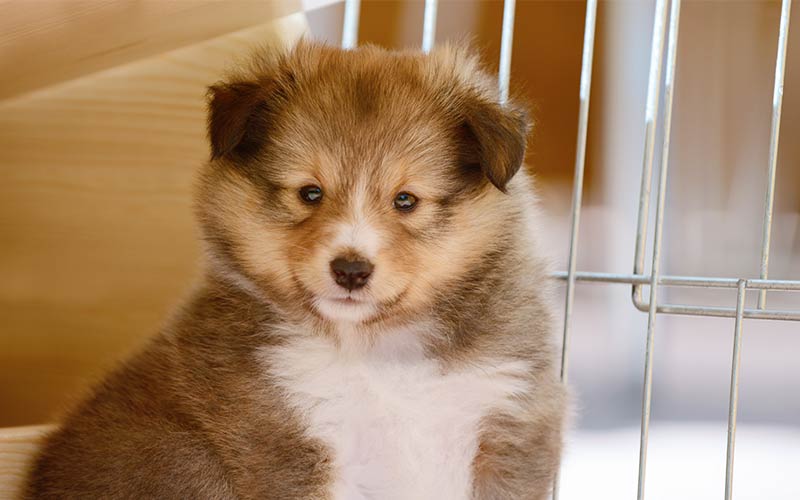 The best indoor puppy playpens are practical, effective and suit your home as well as your dog.
If you have ever raised a puppy before now, you already know that a sturdy puppy playpen is a "must have" item.
We have scoured the available research to discover the "best of the best" in each playpen puppy category.
Read on to find the best puppy exercise playpen for your new puppy.
All of these products were carefully and independently selected by The Happy Puppy Site team. If you decide to make a purchase from one of the links marked by an asterisk, we may earn a small commission on that sale. This is at no extra cost to you.
What is a puppy playpen?
So first things first – what exactly is a puppy playpen? How is a puppy playpen different from a crate, a carrier or an exercise pen?
There are some similarities but there are also some important differences.
Whether you choose an indoor puppy pen or an outdoor puppy playpen, the ultimate goal is the same.
A puppy playpen will keep your puppy safely confined while offering more space to play and roam than a puppy crate can provide.
Right about now, you are probably already grasping the reason why puppy owners love puppy playpens so much.
They are roomy yet totally safe for your puppy during times you can't provide 100 percent supervision.
Best of all, a puppy playpen can ensure your puppy is able to stay near you throughout the day in a totally safe way.
This simple proximity can greatly reduce anxious puppy behaviors like whining, scratching, barking and crying. 
They also allow you to focus on the day's to-do list without worrying about what your puppy may be up to!
Why should I use a puppy playpen?
Whether you choose a small or a large puppy playpen, the basic function of the puppy play pen itself remains the same.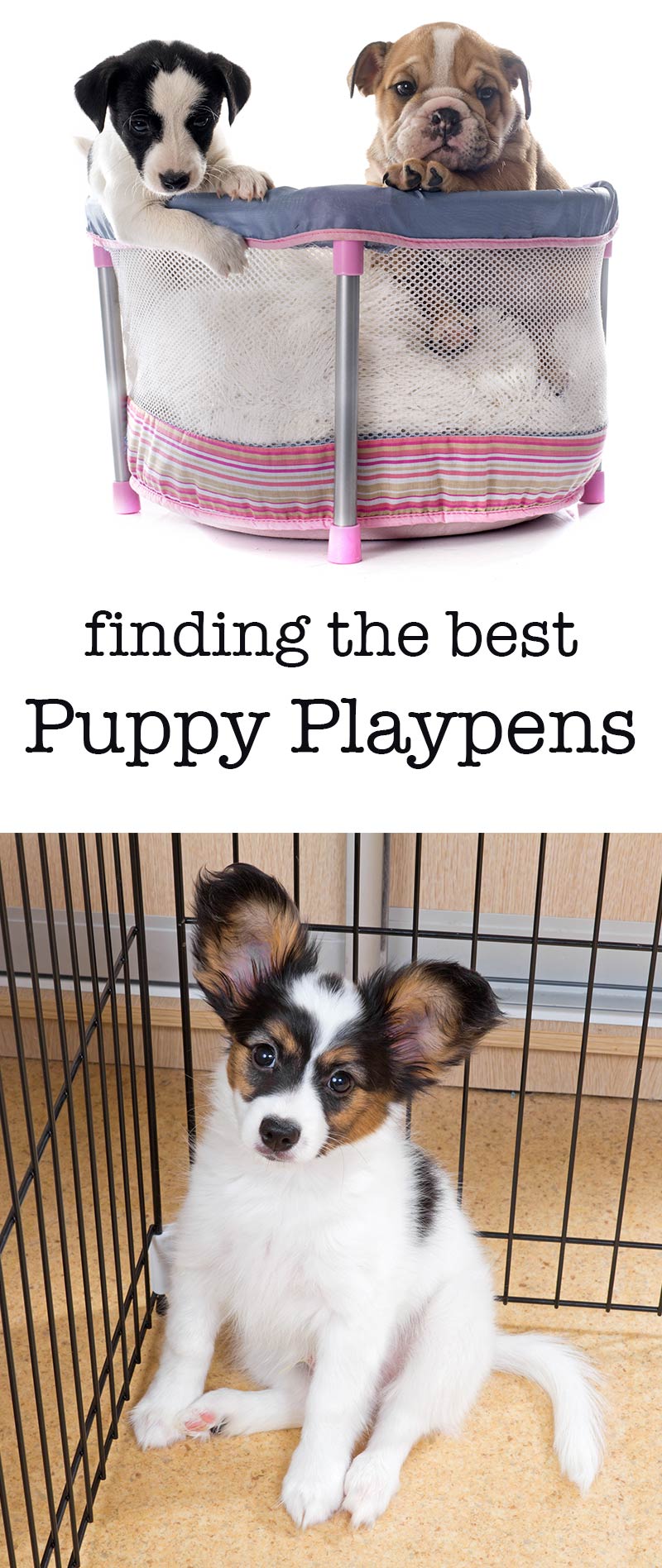 The best puppy pen will offer each of these perks and more. It will…
Keep your puppy safely confined without restricting movement.
Give you and your puppy line-of-sight contact with one another throughout the day.
Offer a chance for play, snacks and exercise in a safe space.
Be sufficiently durable and rugged to withstand puppy chewing and teething.
As well as being easy to clean and maintain.
Ideally, it will also be travel-friendly so your puppy always has a safe and familiar space to retreat to when away from home.
Some puppy pens indoor and outdoor can also expand by simply removing or adding puppy pen panels as your puppy's growth indicates.
This type of puppy playpen can do your budget as well as your growing puppy a big favor!
Indoor puppy playpens
Puppies, like all young animals, crave regularity in their surroundings and daily routine.
Providing a puppy playpen indoor right from the start can help to lessen your puppy's developmental anxiety.
Once your puppy is able to recognize that the small puppy pen is "hers," she will be able to find comfort through spending time there.
Regularly filling her dog puppy pen with her favorite blankets, toys and food/water dishes will increase that comfort even further.
She can stretch her fast-growing little legs, gnaw and chew to her heart's content, play and jump, snack and snooze in comfort inside the safety of the puppy pen walls.
As you can tell, we are huge fans of the indoor puppy playpen.
In particular, we really love these puppy indoor playpen options and hope you will too!
Perfect Fit Pet Gate
This lovely and versatile indoor pet gate/pen* can be used in either capacity.

There is a built-in door for your puppy to go in and out.
With six panels, you can arrange this puppy pen into multiple shapes or stretch it out to confine your puppy to one area in the house.
The color is painted wood with steel, making it an attractive addition to any décor.
Petyard Passage Small Puppy Playpen
You can choose from a 4-panel, 6-panel or 8-panel design for this easy, foldable portable puppy pen*.

This pen is a great choice for a small puppy pen since the door is petite in all three sizes. There is also an extra 2-panel attachment that is sold separately that you can use to expand the pen.
It comes with a carry handle and non-slip floor pads.
Iris Exercise Panel Indoor Puppy Playpen
IRIS* is an incredibly popular and trusted name in puppy and dog playpens.

This roomy modular 6-panel playpen comes with an extra 2-panel insert sold separately.
It is offered in various colors to suit the décor in any room. The playpen is rust-proof, durable and rounded for safety.
It can be attached to a second playpen for additional space as your puppy grows.
Marshall Puppy Playpen
This expandable playpen* is a great choice for small breed puppies and offers 9 square feet of play space.

A 3-in-1 cover and carry case are sold separately. No tools are required. The color is white. It can also be used outdoors.
Large puppy playpen
If you've had your puppy for more than five minutes, you already know just how critical "puppy proofing" can be to your new fur baby's safety…and your sanity.
One of the basic core essentials of puppy proofing and puppy safety is to match the size of the puppy playpen to the size of the puppy.
The next two sections will focus on puppy playpens specifically made for large breed puppies and for small breed puppies so you can check this task off your puppy-proofing to-do list.
Allmax Metal Puppy Playpen
This popular metal puppy playpen* can be set up in moments in a variety of interesting configurations for different play and exercise needs.

The finish is rust resistant for indoor/outdoor use.
For tiny puppies, you can even separate the panels into two completely separate playpens.
The playpen comes in frustration-free packaging.
Confidence Metal Puppy Playpen
This roomy, large puppy playpen* features eight portable panels that can be folded flat to store or travel with.

There are five sizes (24 X 24, 24 X 30, 24 X 36, 24 X 42, 24 X 48).
The material is rubber-coated metal for durability.
Small puppy playpen
Like the large puppy playpens we just reviewed, these small puppy playpens are multi-functional, versatile and highly rated by puppy and dog owners.
Pink Puppy Playpen for small puppies
This small breed puppy playpen* comes in two sizes (45-inch, 56-inch) and folds down flat for travel or storage (it also comes with a matching carry bag).

The windows are mesh and the top and bottom can be zippered off for cleaning.
The material is durable Oxford Cloth.
Iris 24 inch Indoor Puppy Playpen
This 24-inch portable puppy playpen* features four panels in a simple design that is ideal for small to medium breed puppies.
This super-popular playpen comes in a wide range of colors and can easily be extended by adding on another playpen.
Portable puppy playpen
As all puppy owners know, a rambunctious and playful puppy can as quickly transform into a yawning, snoring puppy.
This makes a portable puppy playpen a "must have" in your puppy care toolkit.
When you are out and about, a portable puppy playpen can set up quickly for a park pit stop.
When you are at home, a portable puppy playpen can as quickly set up for a timely snooze in a quiet out-of-the-way room.
Pop N Play Portable Playpen
This wonderfully designed Pop N' Play Portable Playard infant-safe portable play yard is designed to fold in like an accordion – very similar to how some portable travel chairs fold up.
It even has the same type of travel bag with a convenient shoulder strap for carrying.
The durable weather resistant material is built around a metal frame and attached to an easy-clean canvas floor.
You can choose a play yard with a canopy or without.
Pop up puppy pen
Pop up puppy pens come in a wonderfully vast assortment of materials, shapes, sizes and configurations.
Whether your puppy's needs run more towards a pen/fence or a true modular playpen, these unique and innovative playpens should fit the bill!
Zipper Sealed Portable Puppy Playpen
This sleek and good-looking portable foldable pop-up puppy playpen* comes in four sizes (26-inch, 36-inch, 46-inch, 52-inch).

It also features a black and red color scheme. The sides are breathable mesh and the top and bottom can zipper off. The bottom is waterproof.
Ruff and Ruffus Popup Puppy Playpen
This pop up puppy pen* is simple to set up and equally simple to take down.

It comes with a handy carry bag, is water resistant and has a removable cover too.
Puppy pen flooring
If there is one thing you can count on as you parent your young puppy, it is this: accidents happen.
At first, they may happen daily, and even many times in a day.
Later, as your puppy masters potty training and finally gains more complete control of her elimination functions, the number of accidents will steadily diminish.
But during the "accident months," one of your best friends will undoubtedly be the puppy pen floor.
As you can see here, there are lots of options, from real grass to fake grass to absorbent training pads to mats and more.
Fresh Patch Disposable Dog Potty
If you are trying to teach your new puppy to recognize grass as a suitable place to do his business, you will probably love this option forpuppy pen flooring!*.

Originally introduced on the hit show Shark Tank, now this grass is commercially available to puppy and dog owners everywhere.
The grass is grown hydroponically (with water) and the roots naturally absorb odors and urine while emitting a fresh grass scent.
Doggie Lawn Potty
This is another variation on real grass* for the purposes of potty training your puppy.

It is sized at 24.75 X 16 inches, which will fit smaller puppy playpens to a "T."
The manufacturer also offers free training via consultation if you are brand-new to using doggie grass.
Unlike the Fresh Patch, this pad is fully disposable after each use.
Midwest Puppy Flooring Grid
Yet another puppy playpen flooring option* to consider is this floor grid, which keeps your puppy and his mess safely separated.

The grid is coated with vinyl so it is sanitary and easy to clean.
Puppy owners say it is very sturdy. You can find styles to fit multiple sized pens.
Puppy Pads
If you are looking for an indoor/outdoor puppy playpen* and just need some type of protective cover for indoor use, these affordable and popular puppy pads might be just the thing.

You can choose three sizes (50 count, 100 count, 150 count).
A big part of the appeal of these pads is that they have a plastic lining to prevent any leakage or damage to your flooring when used indoors.
Heavy duty puppy pen
Just as no two puppies will ever look exactly identical, even if they come from the same litter, so too will no two puppies' chewing habits or jumping or digging habits ever be exactly alike.
In other words, some puppies live to jump, others live to dig and still others live to chew (and some live to do all three!).
In these cases, what you need is a heavy duty puppy pen. These nearly jump-proof, chew-proof and dig-proof pens will keep your puppy contained despite his most vigorous efforts otherwise.
BestPet Heavy Duty Puppy Playpen
This heavy duty pet playpen* is robust enough to grow with your puppy as he grows up.

It comes in three sizes (24-inch, 32-inch, 40-inch) and you can actually connect multiple playpens together for a much roomier adult dog playpen.
It comes in black and features steel panels with a latch locking system.
Metal puppy pen
There is no single definitive opinion regarding whether a metal or a plastic puppy pen makes for a better choice during your puppy's growing up months.
However, where you plan to locate the puppy pen, how often you will want to set it up or take it down.
Whether you want to travel with it and your puppy's chewing habits can all inform your decision of whether to opt for metal versus plastic.
Here are a couple of our favorite metal puppy pens.
Carlson Convertible Pet Yard
This six-panel all-metal puppy playpen* is 28 inches high and made of durable steel.

The manufacturer states it is chew-proof. It can also be converted into a gate or a room/yard barrier as needed.
There is an easy-release door lever for you to enter and exit. This metal puppy pen quickly folds down for travel.
Plastic puppy pen
Like their metal counterparts, these popular and highly rated plastic puppy pens will stand you in good stead as you strive to offer your puppy the safest and most enriching environment to grow up in.
Kousi Plastic Puppy Pen
This innovative plastic puppy pen* is made of near-transparent plastic panels to offer a great line-of-sight visibility between you and your puppy.

The solid panels offer no risk of climbing or chewing and the metal connectors are secure and durable.
You can also configure the panels into different shapes and sizes or fold them for storage and travel.
Summer Secure Playard
You can't get any better or safer than an infant-safe summer playpen*, and that is exactly what this product offers.

The six-panel play yard comes with an optional two-panel extension sold separately. This playpen is super portable, light and easy to carry.
The door is a walk-through design with secure latches.
You can choose from four sizes (6-panel, 8-panel, 10-panel, 12-panel). It comes in a light taupe color.
Fabric puppy playpen
At first glance, you might think it would be unwise to try to contain a growing puppy in a fabric puppy playpen.
But these playpens are not made of just any ordinary fabric.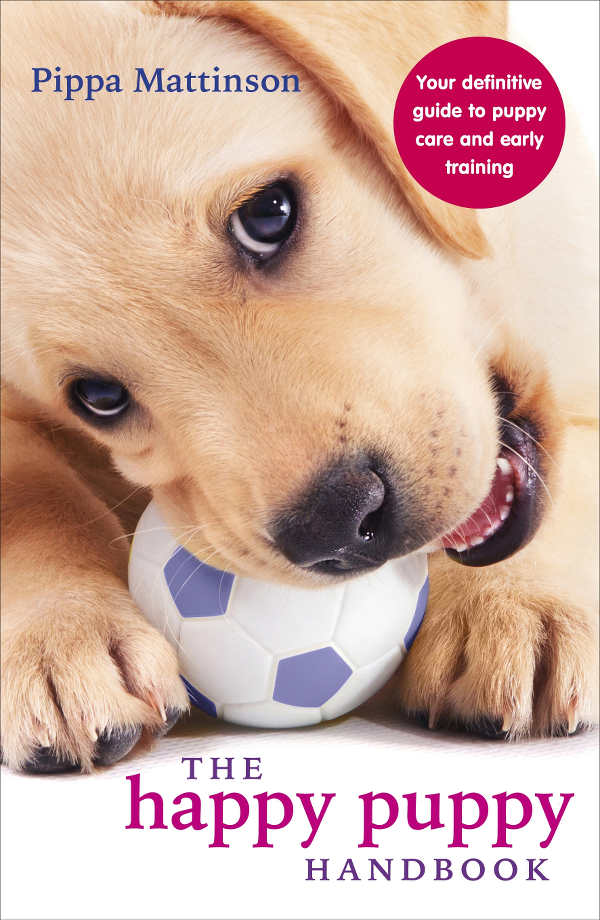 The fabrics used to make these puppy pens are durable, water-resistant, sanitary, easy to clean and reinforced against wear and tear (not to mention sharp puppy teeth!).
Best of all, a fabric puppy playpen is really easy and lightweight to carry and store for a day at the park or a road trip.
ESK Blue Puppy Playpen
The Esk Collectino Blue 45″ Pet Puppy Dog Playpen Exercise Pen Kennel* is made of 600d Oxford Cloth.
If you are looking for a fabric puppy playpen, Oxford Cloth is a great choice of material.
This lightweight, water-resistant, easy-clean, durable and breathable material is highly functional for indoor and outdoor use and allows maximum ventilation for your puppy's comfort.
This stylish fabric puppy pen comes in three colors (blue, red, black).
EliteField Soft Puppy Pen
This versatile soft fabric puppy pen* comes in eight different sizes and a wide variety of colors.

One unique feature about this playpen is that it has two zippered doors and the zippers lock for security.
On the outside, there are pockets for a water bottle and supplies.
The floor and ceiling of this puppy pen with base zip off for easy, quick cleaning. The manufacturer offers a two-year warranty.
Zampa Fabric Puppy Playpen
This great fabric playpen* comes in three sizes (small, medium, large) and four colors (red, black, blue, pink).

It features an 8-panel layout made of durable mesh, reinforced seams and waterproof fabric. The manufacturer offers a one-year money back guarantee.
Puppy pen panels
The ideal puppy pen is one that will grow with your puppy as he grows.
Sometimes this can be as simple as purchasing a second puppy playpen and attaching the two together to form one large playpen.
In other cases, manufacturers may sell extender panels that you can add on to an existing puppy pen to enlarge the play space.
Some puppy pens also double as gates and vice versa so you can get multiple uses out of a single playpen.
These puppy pen panels offer you this wonderful type of modern multi-functionality, complete with attractive and classy designs to complement your existing décor.
Regalo Super Wide Puppy Pen
This unique puppy pen and room divider* will be an instant hit if you find you need to confine your puppy to a certain part of the room, such as when you have guests in your home.

This play gate can be expanded to a full 192 inches in length and has a middle gate with a safety latch so people can pass through easily and securely.
There are eight panels total that can be added or removed as needed.
Best puppy playpen
After reading through this comprehensive list of puppy playpen choices, we can bet your brain is probably spinning from so much information!
You may even be feeling genuinely overwhelmed – there are so many pens to choose from! How will you ever make up your mind?
Ask yourself some questions to help you make the choice.
Do you want to travel with the playpen or is it just for home use?
Would you prefer something that is lightweight and easy to carry or do you want something sturdy and permanent?
Once you have made your choice, we would love to hear which pen you select and why.
Resources
Reisen, J., "Exercise Pens: Playpens for Dogs," American Kennel Club, 2017.
Luescher, U.A., et al, "Canine Behavioral Development," Fondation-Barry, 2012.
Baker, A., "10 Tips for Puppy Proofing Your Home, Inside and Out," SafeWise, 2017.
Hubrecht, R.C., "Correlates of pen size and housing conditions on the behavior of kennelled dogs," Science Direct: Applied Animal Behavior Science, 1992.
Wilson, F., et al, "Prevention of dog bites: Evaluation of a brief educational intervention program for preschool children," Journal of Community Psychology, 2002
Affiliate link disclosure: Links in this article marked with an * are affiliate links, and we may receive a small commission if you purchase these products. However, we selected them for inclusion independently, and all of the views expressed in this article are our own.