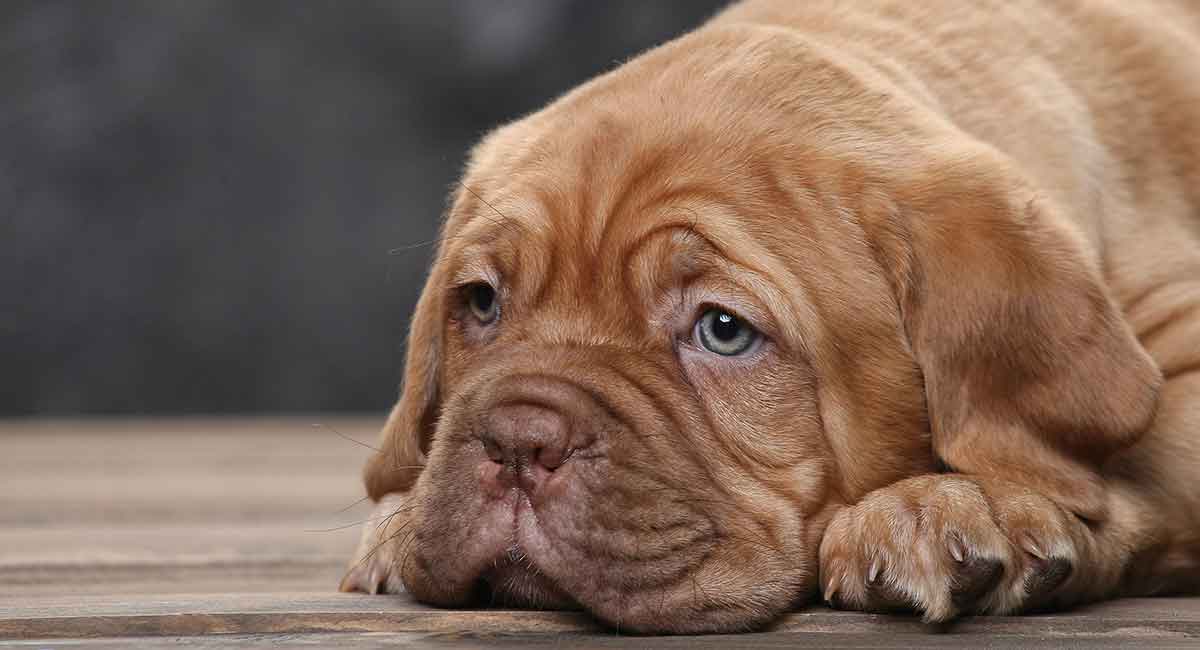 Once you've brought a new puppy home and it's almost a certainty that you will be facing puppy diarrhea, or a runny tummy in the first couple of days. Also from time-to-time while he's growing up.
Diarrhea in puppies is much more serious than in older dogs. The effects can range from keeping them from gaining weight to severe dehydration and death.
So the big question with puppy diarrhea is whether it's a mild upset that will pass or whether you need to take your pup to the vet.
With this guide we'll try and help you to decide on the right course of action. We'll have a look at the causes of puppy diarrhea, what you can do. We also discuss when you need to get your pup to the vet.
The first few days
Your pup has spent the first 8 weeks of her life in one place. A cosy den with mom and siblings.
Every day they'll have been fed at the same time, on the same food, with the same water. They'll have had time in the garden and cuddled up together at night. Life will have been very set and ordered.
Although they've learned to eat solid food, they were probably still suckling as well. Besides providing nutrition, breast milk boosts the pups immunity against all sorts of germs.
Studies have found that around 25% of puppies develop a runny tummy after weaning and there are many reasons for this.
Change of environment
One of the reasons is the stress of the changed environment that usually goes with weaning.
From the moment you pop a new pup in their cage in into your car to take them home the life they've gotten used to changes dramatically.
To start with, the car is a loud, bumpy experience. Full of new sites and smells. Away from their family and in the company of a person they don't know.
The pup then arrives at the new home. There's a large new area, a new bed, a new outdoor area and a whole new bunch of people and pets.
As you can imagine, those first few days will make your pup feel very stressed. We all know that stress can have all sorts of effects – even our own "movements".
Add into the mix that the mild bugs and germs that live in your neighbourhood will be different to the ones your pup was exposed to in his limited time with his mum. It doesn't take much to leave you dealing with puppy diarrhea!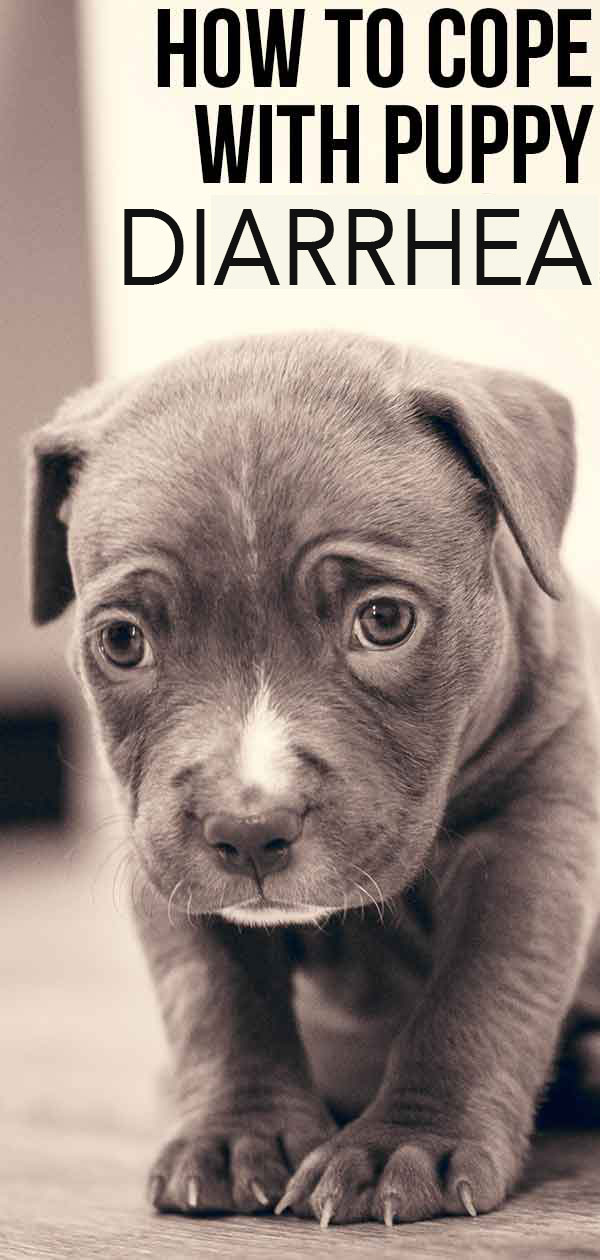 Another major factor causing upset stomachs in the early days is different food.
Change of diet
Firstly, your pup will no longer have the protective effect of breast milk.
To minimise the effect of a changed diet your breeder should have provided you with a pack of kibble. Depending upon how generous your breeder is, this could be enough for several weeks or just for a few days.
Before you bring your puppy home ask your breeder which brand they use. And also what quantity they'll be supplying you with. If in doubt, buy a great stack of it.
Puppies should be transitioned to new food very gradually. If you don't, it could cause puppy diarrhea.
Changing the kibble based diet
For the first few weeks your puppy is with you, you should keep them on the diet that they're used to. Enough in life is changing without adding something else into the mix.
When your pup is firmly settled in you can start introducing a new food if you have a preferred brand. This will be at around 12 weeks old.
Rather than simply switching foods from one meal to the next, add a few pieces of the new kibble to the old. At about a ratio of 25%. If their stools seem firm after that meal, then the next time you can up it to 50%. Continuing in that pattern.
If your pup starts to have issues with their tummy you can reduce the amount of new food again. Keep it at that point before raising it again after a few days.
Consider sticking with the original brand if the stools keep getting loose when you give the new food. One of the reasons could be that your pup is intolerant or sensitive to one of the ingredients in the new brand.
In the first weeks of their life, a puppy also gets a lot of medication and this can cause a tummy upset.
Medication
From a few weeks old, beginning with the breeder, your puppy will be wormed regularly. He will also have his first vaccinations.
Both worming and vaccination can cause upset tummies in young puppies. Vomiting and diarrhea are however not among the common side effects and could be an allergic reaction.
So if your pup gets an upset stomach shortly after worming or a vaccination you should get hold of your vet right away.
Once your pup has settled in for a few weeks, the reason for puppy diarrhea will probably no longer be stress or a change in their diet.
Unless, of course, you over fed your dog on treats. Or there was a new reason for stress – even excitement, although positive, is stress.
After the first week or two at their new home, puppy diarrhea is usually linked to an infection or another condition. Most often it's caused by something your pup gets in through their mouth.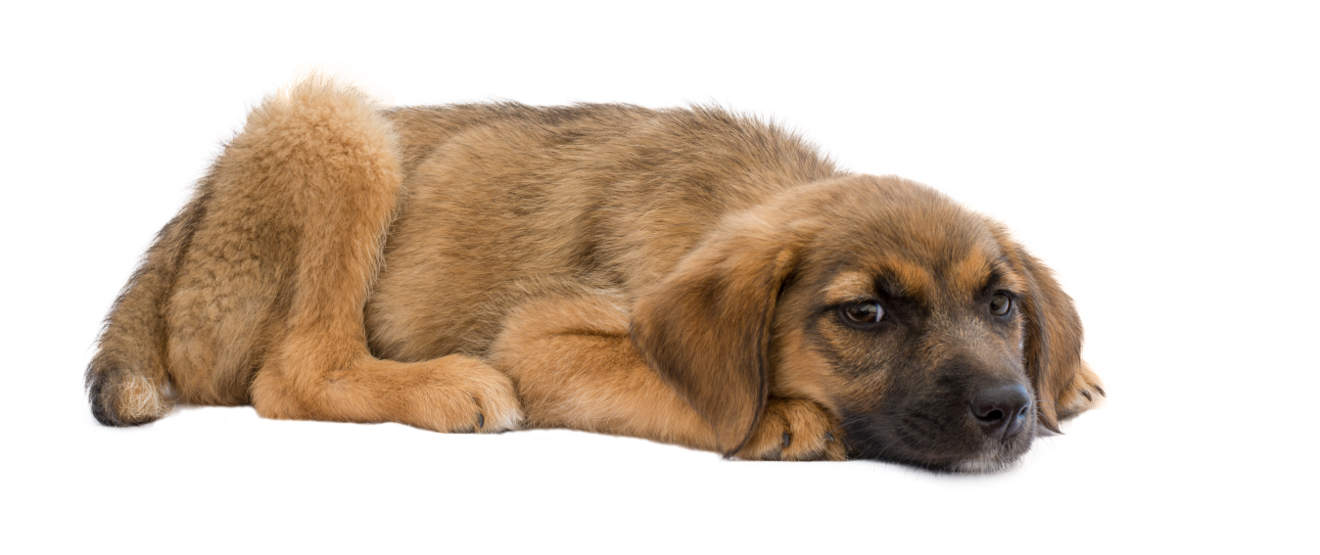 Ingesting things
Pups younger than 6 months get diarrhea far more often than adult dogs. This is because their immune systems are not fully developed. They can't always fight off all the tummy bugs they come into contact with.
And where do most of these tummy bugs that cause puppy diarrhea come from? Just like human toddlers, puppies will lick, chew, bite and even swallow anything and everything they can get their mouths on.
During the first while you watch your pup like a hawk to get on top of his toilet training. He probably also has limited access to your home at large. He sleeps a lot and spends the rest of the time with the family.
As the weeks pass, you'll probably become a bit more relaxed and your puppy will spend more time doing their own thing. Puppies can prove themselves to be far more agile than you would expect their stumpy legs to allow them to be!
My neighbour came into the kitchen to find her short, fluffy cockapoo puppy head first in the bin. If you don't get to your pup before they find a tasty morsel in the garbage they can end up getting stomach problems by eating mouldy or inappropriate food. Some dogs even eat their own poop, with similar effects!
Besides garbage there are the objects in the house that puppies chew on that are covered in germs. They sometimes even swallow stuff that end up blocking their intestines. Once outside you pup encounters poisonous plants, poop from other animals, and a lot more.
So if there's no obvious reason for your pup to be having tummy trouble, then you need to consider an infection or another condition as the cause.
Illness as the cause of puppy diarrhea
Normal puppy poop is brown in color and log-shaped. Any change from this can be a sign that something is wrong. So keeping your eye on your puppy's poop is always a good way to monitor his general health.
Puppy diarrhea is usually caused by an infection with micro-organisms like bacteria and viruses, or by worm infestation. Even if your pup has been dewormed. The medicine only kills adult worms and eggs can take up to three weeks to develop into worms.
Diarrhea can also be a sign of another disease or condition.
You needn't run to the vet for a single soft poop. But it does mean that you need to keep an eye on your pet.
If your pup is still active and playful, and the diarrhea is mild, you can try and deal with it at home.
One way, suggested by vets, is to feed them a few smaller meals of a bland diet of rice with a chicken or vegetable broth. But not for longer than two days. You can also add some yogurt to supply good bacteria to the gut.
If the loose bowel movements carry on, or become more frequent and/or are very watery, you need to get hold of our vet.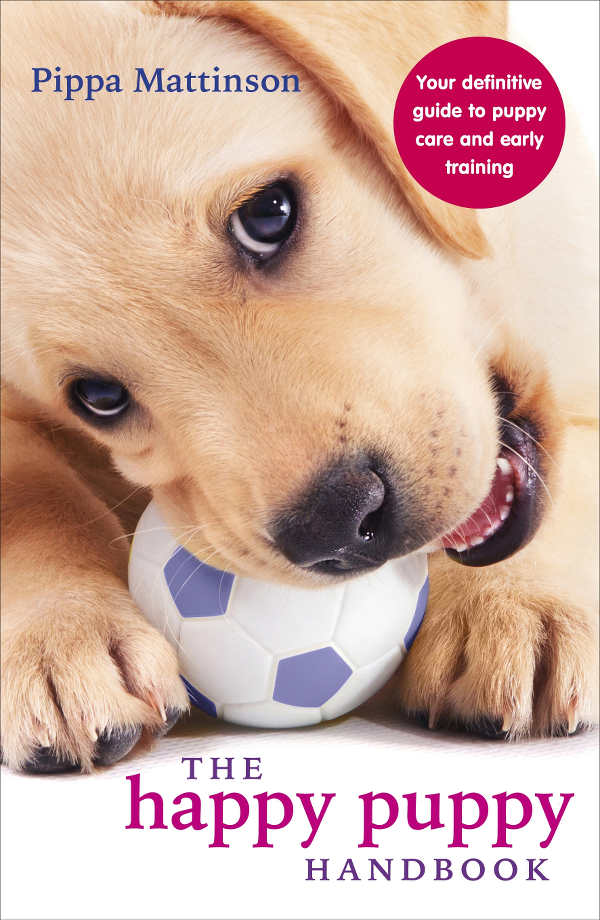 Always remember that puppies can quickly become severely dehydrated – even from a mild diarrhea. Until you can get to the vet it's a good idea not to feed your pup anything. But make sure that he gets plenty of water to drink.
It's also always important to look out for other signs that our pup isn't well.
Signs that puppy diarrhea might be serious
Contact your vet right away and discuss the situation with him if you see any of the following signs.
Refusing to eat or to drink
Vomiting
Fever
Weak and sleepy
Pain
Excessive gas
Pale gums
Blood in his stools
Other changes in the color of his stools – black like tar, yellow streaks, greenish tinge
Also tell your vet if you think your pup might have eaten or swallowed something he shouldn't have.
Carefully follow your vet's instructions on how to treat the puppy diarrhea. Get hold of them again if your pup's upset stomach is not better after about four days.
Or if it starts up again as soon as the medicine is finished or you reintroduce a normal diet. You dog might need further examinations and/or treatment.
Puppy diarrhea – summary
Tummy troubles are very common in puppies, especially in the first few days of being with you. There are a number of possible reasons for this, many of them totally harmless and normal.
You should have I good idea now how to cope with puppy diarrhea.  The most important is that if your pup's loose stools persist or are severe you should always get hold of your vet. Also if there are other signs that they are ill.
Puppy diarrhea can become serious very quickly. Pop down to your vet and have your puppy checked over if you have any concerns about their health. Remember, it's better to be safe than sorry!
If you want more guides to puppies, take a look at this article on puppy bath time! 
This article has been extensively revised and updated for 2019.
References
AMVA. What to expect after your pet's vaccination. American Veterinary Medical Association.
Burke, A. 2016. The causes, treatment and symptoms of puppy diarrhea. American Kennel Club.
Grellet, A. et al. 2016. Influence of Breed Size, Age, Fecal Quality, and Enteropathogen Shedding on Fecal Calprotectin and Immunoglobulin A Concentrations in Puppies During the Weaning Period. Journal of Veterinary Internal Medicine.
Leo's Pet Care. When to take a dog with diarrhea to the vet. Leospetcare.com.
Paul, M. 2015. Dog diarrhea. When is it serious and how do I stop it? Pet Health Network.
Williams, K. & Ward, E. 2018. Diarrhea in Dogs. VCA Hospitals