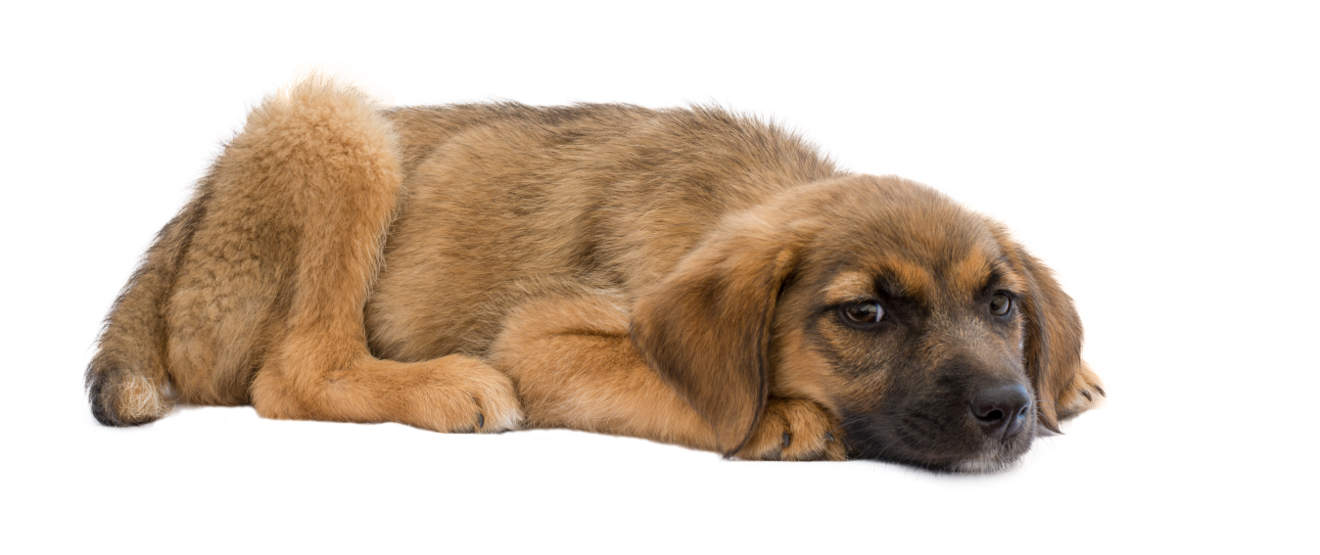 Bringing home your new puppy is a time of excitement, change, challenges and new experiences. Not just for you, but for your puppy too.
The first of many introductions you will have in the world of dog ownership, will come in a runny splat of puppy diarrhea on your floor.
It will definitely be messy. It will definitely be smelly. It will probably stick to your puppy as well as whatever surface she happens to be squatting on at the time. And it will almost certainly happen when you bring a new dog home.
In fact, having a puppy with a runny tummy is so common as to be almost a certainty. At some point in the first couple of days with you, you will have occasion to ask "why has my puppy got an upset stomach"!
The First Few Days
Your pup has spent the first 8 weeks of her life in one place. A cosy den with her mother and siblings. Every day she will have been fed at the same time, on the same food, with the same water. She will have had time in the garden, at the same times of day, for the same periods.
Life will have been very set and ordered for her. Until you arrived to take her home. Those first few days with you will make her feel very stressed, for a number of reasons that are absolutely not your fault. Just an evitable part of your pup's life changing transition.
Change of Environment
From the moment you pop your new little girl into your car and take her home, things will be changing dramatically. If she has ever been in a vehicle before, it will have only been a short trip to the local vet for her check-up.
It's a loud, bumpy experience. Full of new sites and smells. In the company of a person or people who she has probably only met once or twice before, and may not even remember.
She will then arrive at her new home. Be introduced to a large new area, a new crate, a new outdoor area and a whole new bunch of people and pets.
Even the most confident pup in the world will feel overwhelmed. As I'm sure you know, stress can have all sorts of effects on your 'movements'.
When you add into the mix that the mild bugs and germs that live in your neighbourhood will be different to the ones your pup was exposed to in his limited time with his Mum. It doesn't take much to leave you dealing with puppy diarrhea!
Change of Diet
Another major factor in early day upset stomaches is a change of diet.
When you bring your puppy home with you, your breeder should provide you with a pack of kibble. Depending upon who your breeder is, how generous their feeling or whether they have a deal with a manufacturer, this could be enough for several weeks or just for a few days.
Before you bring your puppy home ask your breeder not just the brand they use, but what quantity they will be supplying you with. If in doubt, buy a great stack of it.
It's much easier to transition your puppy's tiny tummy to something new gradually.
Changing Her Kibble Based Diet
For the first few weeks your puppy is with you, I would recommend keeping her on the diet that she is used to. Enough in her life is changing without adding something else into the mix.
When she is firmly settled in, around 12 weeks old, you can start to introduce a new food if you have a preferred brand.
Rather than simply switching one mealtime, add a few pieces of the new kibble to the old. At about a ratio of 25%. If her stools seem firm after that meal, then the next time you can up it to 50%. Continuing in that pattern.
If she starts to have issues with his tummy you can reduce the percentage again and keep it at that point before raising it again after a few days.
If the issues persist when you change again, you may want to consider sticking with the original brand, trying another or even switching to raw!
A Few Weeks Later
In these early days with your puppy, you can totally understand their worries giving them an upset tummy. Even in your wonderful, kind home.
However, puppy tummy troubles are not limited to this period of obvious change, and yet it is not uncommon for runny poos to arrive again when your pup has been seemingly settled with you for a few weeks.
So what is happening? Is your puppy stressed again?
Let's have a look at the other factors at play.
Eating Rubbish
In the first few days your pup is at home, you will need to watch him like a hawk in order to get on top of his toilet training. He will also have limited access to your home at large, and lots of time with the family.
As the weeks pass, you will probably become a bit more relaxed. You will have moments where your eyes aren't firmly fixed on him, and times when you leave the room or even the house on an errand and he is unsupervised.
At these times, puppies can prove themselves to be far more agile than you would expect their stumpy legs to allow them to be. My neighbour came into the kitchen just last week to find her short, fluffy cockerpoo puppy head first in the bin.
The little darling was swiftly removed, and the bin swapped for one with a closing lid. But if you don't get to your pup before he finds a tasty morsel he can end up giving himself stomach problems by eating mouldy or inappropriate food.
If you think this might be the case, it's best to pop down to the vet for a quick checkup to be on the safe side.
Medication
Regardless of exploits into the bin – in the first few weeks of their life, a puppy has a lot of medication! From a few weeks old, beginning with the breeder, your puppy will be wormed regularly. He will also have his first vaccinations.
Both worming and vaccination can cause upset tummies in young puppies. This is something to discuss with your vet when they are administered, so that you can know what to expect.
Illness
If there are not obvious reasons for your pup to be having tummy trouble, then you need to consider illness as the cause.
And in fact, regardless of the possible reasons for your pup to be having an upset tummy, you need to be aware that illness is always a possible factor.
For this reason it's a good idea to keep your eyes peeled for other tell-tail signs that your pup might be unwell.
These can include one or all of the following symptoms:
Changes in behaviour
Sleeping more
Lethargy
Trouble walking
Vomitting
Refusal to eat or drink
Weight loss
Bloody stools
Straining to go to the toilet
If you see any signs of the above, call your vet immediately. They would always rather be bothered for something that is no big deal, than miss seeing your pup when she is in genuine need.
Summary
Tummy troubles are very common in puppies, especially in the first few days of being with you. There are a wealth of potential reasons for this, many of them totally harmless and normal.
If you have any concerns about your puppy's health, the best course of action is always to pop down to your vet and have him checked over.
If your pup's tummy trouble persists for more than one day you should always take him to the vet, however confident you are of the reason for it. Remember, it's better to be safe than sorry!