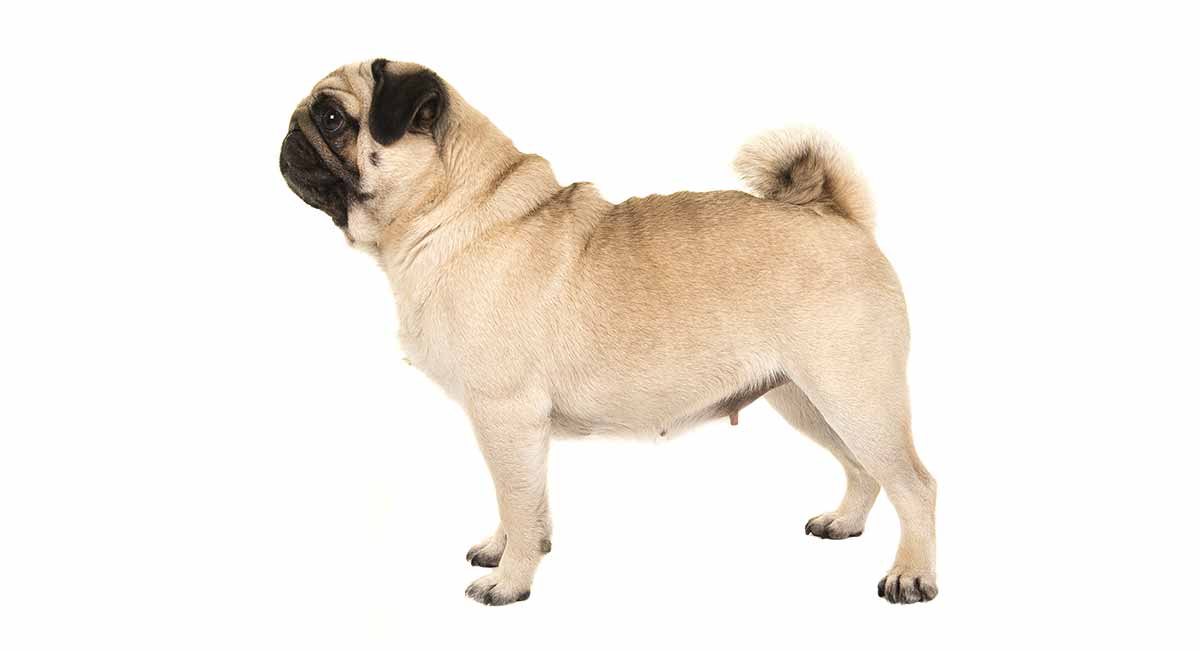 If you've been considering buying a Pug, you might be trying to decide whether to select a male or female Pug puppy.
Some people believe that female Pugs may be smaller than their male counterparts, or that they could be easier to train.
We'll take a look at those questions and more to see if there's any scientific facts to support them.
We'll also look at the health of the Pug breed to help you decide if a female Pug could be the right dog for you.
Female Pug Size
For many breeds, the only visible difference between male and female dogs is their size. Males are often somewhat bigger than females, even if only slightly.
This isn't necessarily the case for the Pug.
According to the breed standard, both female and male Pugs can weigh from 14 – 18 pounds, and stand at a height of 10 – 13 inches.
All Pugs should have a square and compact body. So here again, there's not much difference between the male and the female.
Coat Types
As with their size, there's no difference in coat types between male and female Pugs.
All Pugs have a short and smooth coat. It should be fine and glossy, rather than coarse and hard.
With regard to their coat color, Pugs can be fawn or black. Fawn Pugs will have a black mask, as well as black ears.
Some people are keen to find less common colors like the white Pug.
Again, these colors apply to both male and female Pugs, so there's no specific difference between the coat of a boy or girl Pug.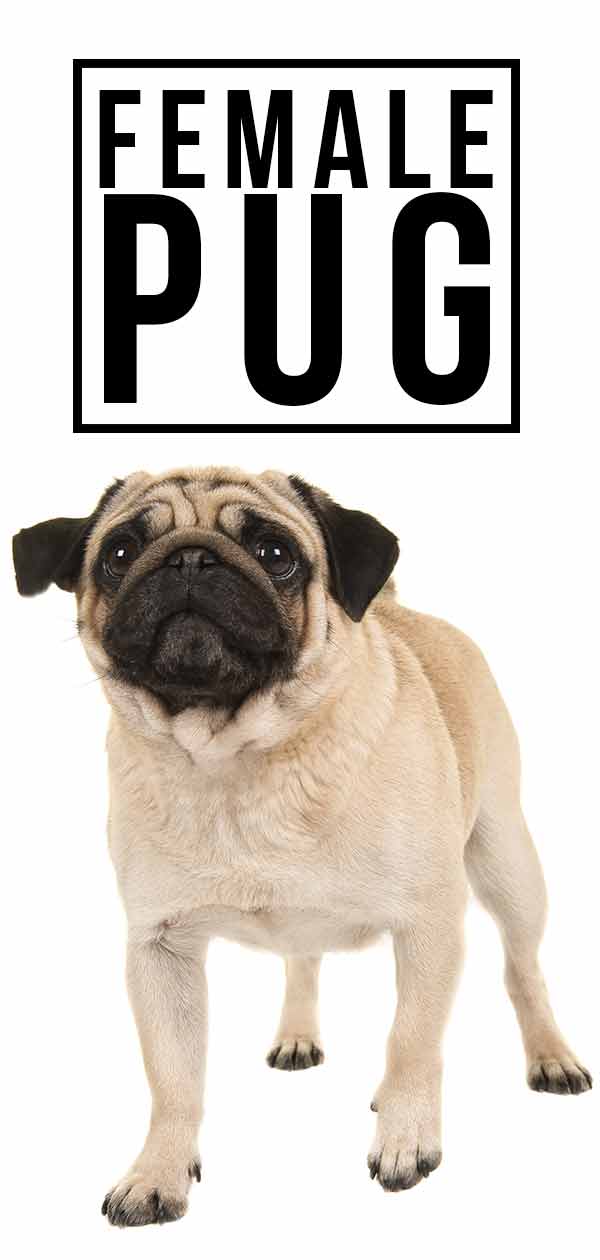 Female Pug Temperament
Pugs in general are known for their even temperament. They are loving and outgoing, with a playful nature.
But are there any differences between the temperament of male and female Pugs?
There's quite a bit of scientific research comparing differences between dogs of different sexes. While these can be useful in forming some general ideas, none of the studies refer to Pugs in particular.
However, in the interests of understanding all the research behind male and female dogs, let's take a closer look.
Studies Regarding Female Dogs
One study conducted in 2011 found that female dogs may well be more visually oriented. The study involved a ball disappearing and then reappearing. In some scenarios, the ball reappeared as a different size. The female dogs within this study spent far longer staring at the balls that had changed size.
While the authors of this study didn't link this difference to any evolutionary explanation, Stanley Coren, the author of Why Does My Dog Act That Way? suggests that the reason could be due to female dogs having to keep a close eye on a litter of pups.
Another study found that female dogs were more likely to interact with humans in a cooperative setting, while male dogs prefer to play with humans. This could mean that your female Pug will be easier to train, and less likely to lose focus during training sessions.
Female dogs may not be as good at implementing lateral thinking, though. Male dogs are shown to be faster at selecting a new tactic when tasked with finding a particular item.
As with all scientific studies, the results may not apply to your dog in particular. Effective and consistent training from a young age will always be more valuable than assuming your dog is going to be better at something because she's female, or vice versa.
Female Pug Health
Unfortunately, Pugs are prone to some quite serious health issues.
Many of these affect both male and female Pugs, so while we'll summarize the conditions here, we suggest reading our full breed review for a more detailed breakdown.
Brachycephalic Obstructive Airway Syndrome (BOAS)
This syndrome is a result of the Pug's short muzzle.
While a Pug's muzzle is significantly shorter than any other breeds, the amount of soft tissue within this area is the same as a dog with a longer muzzle.
BOAS can leave your Pug struggling for breath. While the snuffling or snorting sounds that Pugs are known for might seem cute, it's really a sign that they are struggling and in distress.
Surgery can be an option for Pugs with BOAS.
Brachycephalic Ocular Syndrome
Again, this syndrome is down to the fact that the Pug's skull is unnaturally short.
The shallow eye sockets leave their eyes exposed to ulceration and infection.
This condition can lead to recurring problems with pain and irritation within the eyes.
Obesity
Obesity is a major issue in Pugs, with one study finding that it is the most commonly recorded disorder in the breed. Female Pugs who have been neutered may be more likely to become obese.
Pugs with a higher body condition score (BCS) have been found to be at a higher risk of developing BOAS.
As well as the health concerns listed above, Pugs can also suffer from:
Screw tails
Hip dysplasia
Alopecia
Heart problems
Leg-Perthes disease
There's some evidence to suggest that Pugs may be more at risk of developing Lung Lobe Torsion (LLT) as a result of their brachycephalic face shape, although no difference was found between sexes.
Pug Lifespan
Despite their range of health issues, Pugs have an expected lifespan of around 13 – 15 years.
Female Pugs have been found to live slightly longer than male Pugs, on average.
This is not a significant difference, however.
Spaying A Pug
If you're not planning to breed your female Pug, your veterinarian may recommend that you have her spayed.
Many owners choose to do this, as it will stop your Pug coming into heat, and also remove the risk of an unexpected pregnancy.
There are advantages and disadvantages to spaying, so let's take a look at those now.
Advantages of Spaying
Spaying has long been thought to reduce the risk of mammary tumors. However, a detailed review of scientific studies in this area found there was limited evidence to support this.
Pyometra, or an infection of the uterus, is a serious condition which may affect your unspayed Pug as she grows older. By having her spayed, you remove this risk.
Disadvantages Of Spaying
Spayed Pugs are potentially at a higher risk of becoming obese, which in turn increases the chance of developing BOAS.
Spaying may increase the likelihood of your female Pug developing urinary incontinence, although the evidence is weak.
Waiting until after your Pug is 3 months old may decrease the risk somewhat. For a toy breed such as the Pug, which do sometimes have issues toilet training already, that's something to bear in mind.
For some breeds, the incidence of non-mammary cancers is shown to be slightly higher in spayed females, but Pugs weren't included in this study.
You can read more about whether or not to spay your Pug here.
Living With An Unneutered Pug
If you decide not to spay your female Pug, then there are certain practicalities to bear in mind. Your female Pug will come into heat, which usually happens twice a year. At this point she will become more attractive to, and want to seek out the attention of, male dogs.
You might find that she becomes more vocal, or looks for ways to escape your backyard. If your neighbors have intact male dogs, then you'll need to take extra precautions like keeping her inside while she is in heat.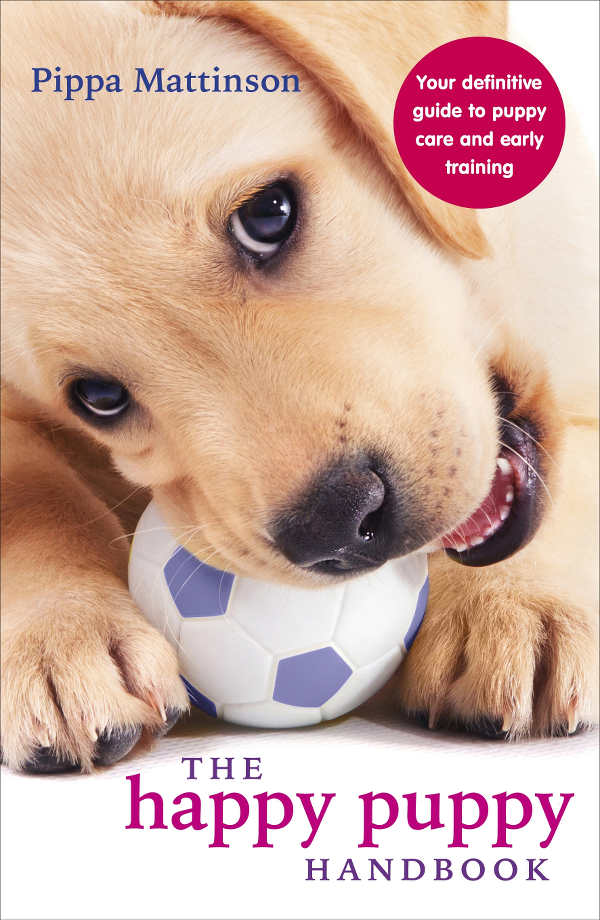 She will also discharge blood, which can be messy to clean up. Doggy diapers are available to help keep the mess to a minimum.
It's generally a good idea to avoid going for walks with your female Pug at this time, as entire male dogs can become overpowering if they smell a female dog in heat. With some energetic breeds, this can be problematic. But, as most Pugs can only tolerate a little exercise, this isn't too much of an issue with your female Pug.
If you use doggy day care facilities, they may not accept your female Pug when she's in heat. Female unneutered dogs can also be more temperamental than males and neutered females.
Male Vs Female Pug
While the difference between male and female dogs can be quite pronounced in some breeds, that's not really the case for the Pug.
For the most part, both male and female Pugs are even-tempered and amenable little dogs.
With any breed, it's better to focus on the overall characteristics of the breed, no matter the sex.
If you visit a litter of pups, you may find yourself drawn to one pup in particular. While you may have intended to choose a male puppy, you may find yourself selecting a female instead!
If you choose not to spay your female Pug, then bear in mind you'll need to alter your routine while she's in heat, to avoid unwanted pregnancies.
Do Female Pugs Make Good Pets?
While the Pug's character alone might make it a very good pet, health also needs to be taken into consideration.
As a flat-faced, brachycephalic breed, the wide range of health issues means we do not recommend selecting a Pug puppy, whether female or male.
With Pugs becoming more and more popular due to their cute looks and low activity levels, you may still be very tempted by this breed.
In that case, we recommend looking into rescuing an older, female Pug. Speak to any rescue organization so you have a full understanding of the additional veterinary care she may require. You could also look at alternative small breeds like the Border Terrier.
Do you have a female Pug? Let us know in the comments!
References and Resources
Muller et al. (2011). Female but not male dogs respond to a size constancy violation. Biology Letters: Animal Behavior.
Egenvall et al. (2001). Breed risk of pyometra in insured dogs in Sweden. Journal of Veterinary Internal Medicine.
McNiel et al (2006). Evaluation of risk and clinical outcome of mast cell tumours in pug dogs. Veterinary and Comparative Oncology.
O'Neill et al. (2016). Demography and health of Pugs under primary veterinary care in England. Canine Genetics and Epidemiology.
Scandurra et al. (2018). Behavioral and Perceptual Differences between Sexes in Dogs: An Overview. Animals.
Fugazza et al. (2017). Sex differences in dogs' social learning of spatial information. Animal Cognition.
Liu et al. (2017). Conformational risk factors of brachycephalic obstructive airway syndrome (BOAS) in Pugs, French Bulldogs, and Bulldogs. PLOS One.
Official Standard of the Pug.
Beauvais et al. (2012). The effect of neutering on the risk of mammary tumours in dogs – a systematic review. Journal of Small Animal Practice.
Spadafori & Becker. How to pick your preference? Male or female dog?
Fields. (2011). Female Dogs Aren't Easily Fooled. Science.
Usborne. (2019). 'This is a calamity': the surgeons keeping pugs and bulldogs alive. The Guardian.
Holmes et al. (2018). Lung lobe torsion in adult and juvenile Pugs. Veterinary Record Case Reports.
Flegel. (2017). Breed-specific magnetic resonance imaging characteristics of necrotizing encephalitis in dogs. Frontiers in Veterinary Science.
Dobson. (2013). Breed-dispositions to cancer in pedigree dogs. ISRN Veterinary Science.
Beauvais et al. (2012). The effect of neutering on the risk of urinary incontinence in …. – a systematic review. Journal of Small Animal Practice.
Hart et al. (2014). Long-term health effects of neutering dogs: comparison of Labrador Retrievers with Golden Retrievers. PLOS One.
Genetic Welfare Problems of Companion Animals. Universities Federation for Animal Welfare.
Packer, et al. (2015) Impact of Facial Conformation on Canine Health: Brachycephalic Obstructive Airway Syndrome. PLOS One.