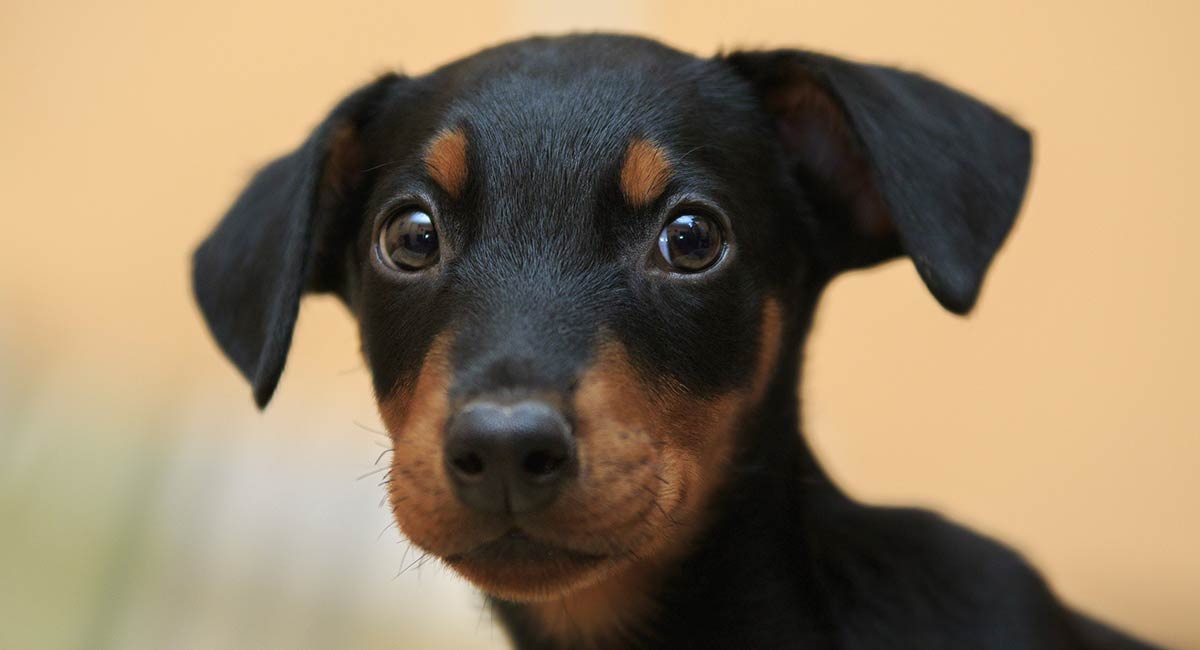 Doberman ears are one of the things that makes this breed recognizable. But did you know that a purebred Doberman's ears don't naturally stand at all, nor are they pointed?
In their natural state, a Doberman's ears are wide and floppy, resembling those of a puppy.
So why do owners have them changed, and is it a good idea?
Let's take a look.
The Doberman Pinscher
Doberman Pinschers are ranked a high 15 out of the 193 breeds recognized by the American Kennel Club.
What are the first things you notice when you look at a Doberman Pinscher?
They are slender and powerful with a glistening coat of short, usually predominantly brown or black hair.
Dobermans are famous for their agile body structure and often tall, forcibly-shaped ears. This shaping of the ears exposes the entire inside of the ear, including the ear canal.
Doberman Puppy Ears
Doberman puppies take on their characteristic glistening coat soon after birth.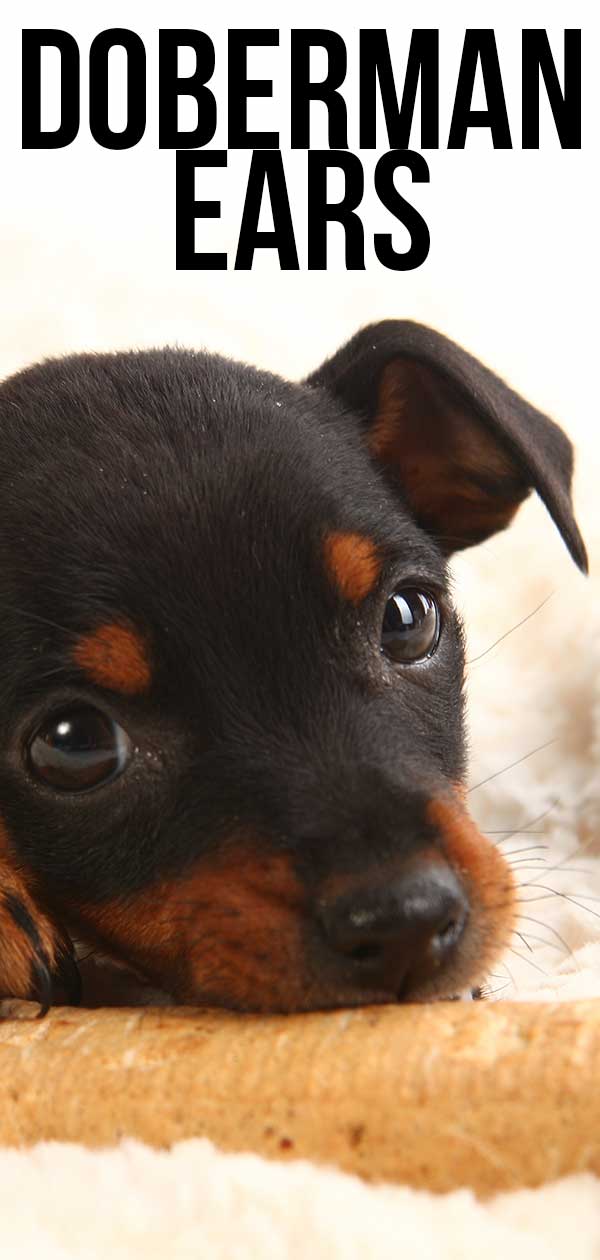 Their ears are naturally wide, floppy, soft and silky to the touch. The inside of a Doberman puppy's ear is smooth and usually pink in color.
The inside of the Doberman's ear will darken with age. A soft, fuzzy layer of hair will begin to grow on the inside of the ear as your puppy matures.
The ears of a Doberman Pinscher will not change shape with age unless there is surgical interference.
As the Doberman puppy grows, its nose will become longer and more pointed. The shape of its body will appear sharper and more distinct.
Your puppy will soon develop the muscles that allow for its extraordinary speed and strength. Its muscular chest will begin expanding within its first few months.
Doberman Ears
The wide and floppy nature of a Doberman puppy's ears carries through to adulthood.
The ears also retain their silky feel and glisten to match the rest of the coat.
A Doberman's natural ears are relatively large in proportion to its head. Online you can find many images of Doberman Pinschers with their ears flapping comically and magnificently in the wind.
It is a common belief that leaving the Doberman's ears in their natural state causes hearing loss and a higher risk of infection.
The argument for this is that the bottom half of the ear closes off the ear canal. This can block sound from reaching the dog's hearing receptors and trap in bacteria.
Many studies have been performed to test for this dysfunction, including a 2003 study by George Strain at the Louisiana State University.
Deafness in Doberman Ears
Strain's study found that deafness in Doberman's was primarily caused by the destruction of hair cells in the cochlea (a small snail-shaped part in the inner ear).
The secondary natural causes were exposure to toxic substances, and natural aging.
Ear cropping would not prevent any of these deafness causes.
Despite these findings, many Doberman owners opt to crop their dog's ears anyway for aesthetic reasons. Some owners also do not take the time to thoroughly research the risks and potential damage associated with ear cropping.
Cropping Doberman Ears
Cropping a Doberman's ears is not only an unnecessary procedure, but it is actually hazardous to your pet's health.
Multiple studies have reported adverse effects on Dobermans that have undergone the ear cropping procedure. These include hearing loss and increased risk of infection.
In addition, there is no valid argument for cropping Doberman ears. The hearing loss/bacteria entrapment theory has never been effectively proven.
Doberman owners will often opt to have their dog's ears cropped. This can be an attempt to augment hearing. Or to complement the natural physique of the dog by making his ears appear taller and more pointed.
While the intention of this practice is not malevolent, it can be very damaging to your Doberman Pinscher.
Studies on Ear Cropping
In Turkey and other parts of Europe, ear cropping and tail docking have been banned entirely in the interest of animal welfare.
The Italian Journal of Animal Welfare defines ear cropping as a convenience surgery that is not justified from a veterinary medical perspective.
When tested on several breeds, ear cropping was found to result in weeks of acute pain for the recipient.
Ultimately, the procedure had no impact on overall hearing and actually increased the risk of ear infection for the recipient during the healing process.
In a study by Katelyn Mills et al, it was identified that owners of a Doberman bearing cropped ears, when seen with their pet in a public area, were negatively perceived by the public population.
Not only is there operative and postoperative pain to consider for your Doberman, but also the potential damage ear cropping can have on your pet's overall health.
The Italian Journal of Animal Welfare issued a study that noted a higher risk of neurological damage and reduced ability to communicate effectively in dogs with cropped ears (when paired with a docked tail).
Doberman Ear Cleaning
You should gently wipe your Doberman's ears every few days. Do this using a paper towel and some baby oil. Your vet can show you the best method for doing this if you're not sure.
You may find other recipes for cleaning your Doberman's ears online. We highly recommend against using any method not recommended by the AKC or other canine authority or veterinary association.
Cleaning your Doberman's ears using unapproved methods can result in damage to the ear and lead to potential infection. If the substance is toxic to your dog's health, it may even cause vestibular damage resulting in deafness.
While you're cleaning, look for signs of mites, scabs, or excess wax buildup. Also watch your Doberman for excess scratching of the ears, as this could indicate an infection. If you notice any abnormalities, call your vet right away.
The Doberman Pinscher is not particularly susceptible to ear infections, but it is important to look out for signs of infection regardless.
Dog Ear Health
Your Doberman Pinscher's ears are best maintained when its ears are left in their natural state and cleaned diligently at regular 3-4 day intervals.
You may read or be told that leaving your Doberman's ears uncropped will be detrimental to its health. This is absolutely untrue and you may refer to many studies supporting otherwise.
Doberman Pinschers are not especially susceptible to ear infections or hereditary deafness (when adopted through a responsible breeder).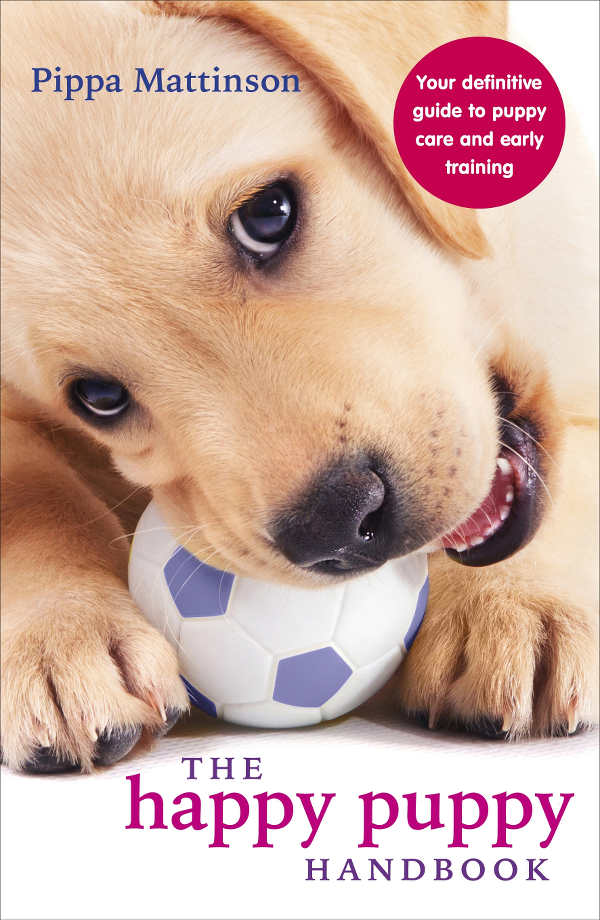 If you notice your dog shaking its head excessively or becoming less responsive, this could indicate ear discomfort and declining ear health. Report any out-of-character behaviors to your veterinarian right away.
Doberman Ears Summary
The ears of the Doberman Pinscher breed are naturally wide and floppy, with a glistening sheen congruent to the rest of its primarily black or brown coat.
Ear cropping is a common practice with this breed, particularly in the USA, despite much evidence to discourage this practice. Many countries have banned the practice of convenience surgeries (i.e. ear cropping and tail docking) altogether.
Public perception of owners of Dobermans with cropped ears is generally negative.
Damage to hair cells in the inner ear is the primary cause of Doberman hearing loss. Secondary causes of hearing loss are exposure to toxic substances and the natural aging process.
While a Doberman's ears are not particularly susceptible to infection, it is important to clean them regularly using approved techniques. Clean the ears thoroughly every few days and check for any sign of infection.
What are Your Views on Doberman Ear Cropping?
Please join in the conversation with other Doberman owners using the comments box below.
References and Resources
Busch, T. Canine Ear Cropping. New Zealand Veterinary Journal 1983.
Mills, K., Robbins, J., von Keyserlingk, M. Tail Docking and Ear Cropping Dogs: Public Awareness and Perceptions. Plos One Journal 2016.
Sinmez, C., Yigit, A., Aslim, G. Tail Docking and Ear Cropping in Dogs: a Short Review of Laws and Welfare Aspects in the Europe and Turkey. Italian Journal of Animal Science 2017.
Strain, G. Hereditary Deafness in Dogs and Cats: Causes, Prevalence, and Current Research. Louisiana State University 2003.