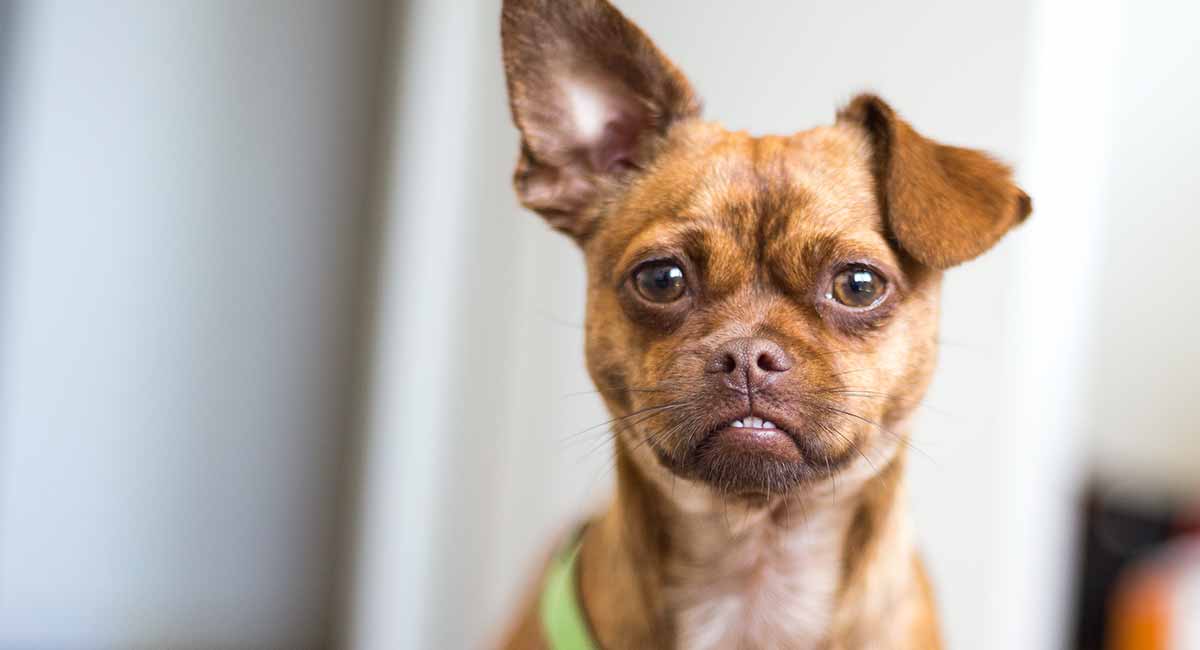 What is a chug dog?
It's a Chihuahua Pug mix!
One of the most popular mixed breeds around.
It is recognized across all hybrid registries.
Both the Pug and Chihuahua are popular, too.
They ranked 31 and 32 respectively as the United States' most popular dog breeds.
It's no surprise that the chug dog breed is also gaining popularity.
But not among all people.
Designer Dog Controversy
You may have heard people say that designer dogs are overpriced, unhealthy dogs.
Especially in comparison to purebreds.
This is not true.
In fact, there are cases in which purebred dog breeds are unhealthy due to inbreeding of dogs to meet strict conformity standards.
Breeding for traits can inherently put the animal at risk for health problems.
Such as overly large heads and narrow hips, which make whelping difficult and dangerous.
On the other hand, mixed breeds are less likely to inherit genetic health problems because their traits come from a larger gene pool.
Diversity in the Genes
Diverse genes also mean that the genes from one parent breed may correct traits that are inherently unhealthy.
With that said, other traits of mixed breed dogs also aren't as predictable as those of their purebred counterparts.
Because they're inheriting from two distinct sets of genes, mixed breed dogs are less likely to inherit any one trait than purebred dogs are.
Note that not all designer dogs are half one breed and half the other.
In the case of the chug, that would be half pug and half Chihuahua.
Multigenerational crosses are very common.
Such as breeding a chug with a Chihuahua to produce pug and Chihuahua mix puppies that are 25 percent pug and 75 percent Chihuahua,
Multigenerational crosses will be more likely to inherit the traits of the parent breed that makes up more of their DNA.
But there's no way to guarantee that puppies will have certain traits regardless of how much of which breed is present.
For this reason, I'll be explaining the traits of both parent breeds to give you an understanding of all the possible traits that a chug can have.
I'll also note any traits common to both breeds, which are especially likely to be present in a pug Chihuahua mix puppy.
Origins of the Chihuahua Pug Mix
Like most mixed breeds, who first intentionally bred the pug Chihuahua mix and when isn't clear.
But we can guess that it probably occurred in the United States sometime in the last two decades or so.
Fortunately, the history of the two parent breeds is better understood, and both breeds have ancient origins.
Pug History
The pug originated around 2000 years ago as companions for Chinese royals, who favored flat-faced breeds.
The pug then spread to other parts of Asia, such as Tibet.
Here Buddhist monks also kept pugs as pets in their monasteries.
In the 16th century, the pug began to gain popularity among European royals.
As well after Dutch merchants brought pugs back to the Netherlands.
From there, the pug spread to England and then the rest of Europe throughout the sixteenth and seventeenth centuries.
Even in present day, pugs continue to be a favorite of royal families across Europe.
Chihuahua History
The Chihuahua's ancestors date so far back that we cannot determine where Chihuahua-type dogs first originated because their origins predate recorded history.
The Chihuahua itself appears to have descended from the Techichi, the breed of choice of the Toltec civilization in Mexico.
After the Toltecs were conquered by the Aztecs in the 1100s, the Aztecs began to breed the Techichi to be smaller and lighter.
The direct predecessor of the modern Chihuahua.
However, due to Spanish colonialism starting in the 1500s, the breed became rare.
It was not standardized until Americans became interested in the breed in the late 1800s and early 1900s.
Pug Chihuahua Mix Size and Appearance
Despite both being toy dog breeds, the pug and Chihuahua have very different builds.
The pug typically stands 10 to 13 inches at the shoulder and weighs between 12 and 18 pounds with a broad, stocky frame and curly tail.
In contrast, the Chihuahua is usually between 5 to 8 inches tall and 3 to 6 pounds in weight and has a slender build.
A fully grown chug dog can end up at either of the two extremes but will most likely be somewhere in the middle, between 7 to 11 inches and 10 to 15 pounds.
The coat is fairly dense and is most often short, straight, soft and glossy.
But if the long-haired Chihuahua has contributed genes the coat may be longer and have a slight wave.
Chug Coats
A chug descended from a long-haired Chihuahua may also have an undercoat.
As well as a fringe on the ears, full and long fur on the tail.
There will also be feathering on the feet and legs, "pants" on the hind leg.
Not to mention a ruff around the neck.
Chugs can be cream, white, brown and black.
Markings can include brindling, sabling, spots and a black mask.
The chug has a round face with a black nose and dark eyes.
Eyes usually protrude slightly, and ears may be erect or folded.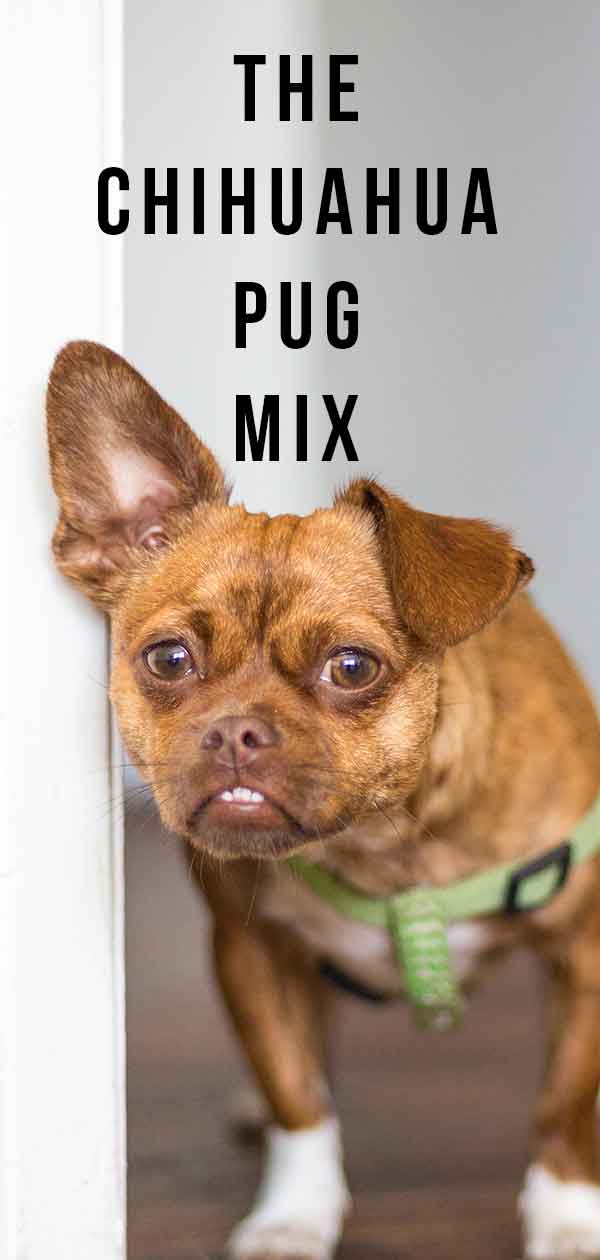 Caring for the Chihuahua Pug Mix
Both the pug and Chihuahua are moderate shedders.
Weekly or biweekly brushing and only occasional bathing should be sufficient for short-haired chugs.
But a long-haired chug dog may need brushing and bathing more often, especially during shedding season.
Both the pug and Chihuahua can be prone to dental issues, so regular dental care, such as teeth brushing, is necessary for the chug.
Treats that promote good dental hygiene can also be helpful.
But both breeds can also be prone to obesity so giving too many treats should be avoided.
If the pug Chihuahua mix inherits the pug's wrinkles, the wrinkles will need to be cleaned and dried daily to avoid skinfold dermatitis.
Ears need to be checked regularly, especially for chugs with folded ears, which can trap dirt and moisture, leading to infection.
Short-haired chugs with a smaller build may be sensitive to the cold and need additional protection from chilly weather.
Pug Chihuahua Mix Temperament and Behavior
Like both the pug and Chihuahua, the chug will have a lot of personality in a small body.
She may be enthusiastic and happy-go-lucky with a zest for life.
As the offspring of two companion breeds, the chug enjoys time with her family and may follow them around the home. They're especially fond of cuddling.
Without adequate attention, chugs can be prone to behavior problems and may experience separation anxiety when left alone.
Chugs will typically want to please their owners but can have a stubborn streak.
This is where the predictability ends, however.
Pugs tend to enjoy naps, especially when sitting cozy next to their people.
They can also be playful at times, but don't usually enjoy chase games or roughhousing.
Chug Behavior
Pugs usually get along with children and other animals, especially if properly socialized from a young age.
They also usually respond well to strangers, though they may be a bit wary at first.
Chihuahuas, on the other hand, are constantly on high alert.
Chihuahuas generally do not do well with children, especially children that like to play rough.
They also have a tendency to dislike any other animals with the exception of other Chihuahuas and Chihuahua mixes.
Chihuahuas, especially when frightened or poorly socialized, have a tendency toward aggression.
Chihuahuas often become overly loyal to and protective of one person.
They will attempt to defend them if they perceive that person as being threatened.
They can also be territorial of their spaces.
Chugs may inherit traits from either extreme or a mix of both.
Cold-sensitive chugs like to make themselves at home in blankets.
Especially under the covers at the foot of the bed, and in warm beams of sunlight.
Chihuahua Pug Mix Training
Small breeds like the pug, Chihuahua, and pug and Chihuahua mix are less likely than dogs of larger breeds to undergo adequate training and socialization.
This leads to small-dog syndrome.
Socialization and training starting early in the dog's life, and continuing throughout it are essential in preventing small-dog syndrome.
A toy dog puppy should never be permitted to behave in a way that would be unacceptable from an adult.
Standards of behavior for an adult toy dog should be more or less the same as an adult of a larger breed.
As people pleasers, chugs are generally easy to train as long as the owner is consistent and asserts his or her leadership.
Harsh training methods, however, can backfire with this sensitive crossbreed.
Owners will see much more success with positive training methods.
Chug Exercise
The chug, like most small breeds, doesn't require much exercise.
Thirty to 45 minutes of exercise throughout the day and walking five to six miles throughout the week should be plenty.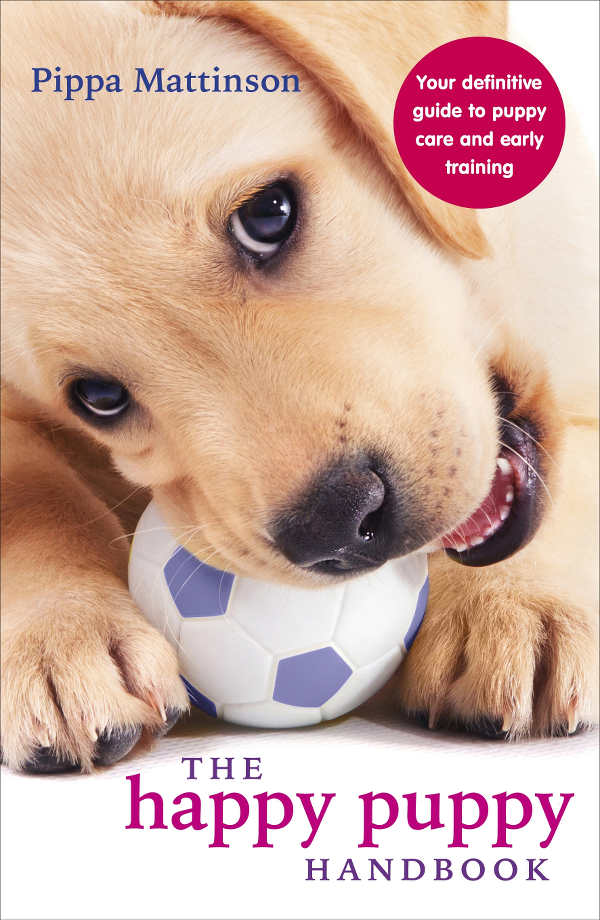 Chugs typically enjoy the adventure of a walk, but their stamina may give out before their enthusiasm does. Fortunately, they're small enough to be picked up and carried home.
Participation in dog sports like obedience and agility competitions is a great way for owners to give their chugs exercise and discipline.
Chug Health Issues
Even as a mixed breed, the pug Chihuahua mix is at risk for many health issues.
For one, the pug and Chihuahua are both prone to many of the same health problems, including:
In addition, the pug is brachycephalic, meaning that it is flat faced in comparison to other dog breeds.
Brachycephaly results in problems with breathing (Brachycephalic Airway Obstruction Syndrome) and with the eyes (Brachycephalic Ocular Syndrome).
Possible problems due to brachycephaly include:
Breathing difficulties and problems regulating body temperature by panting
"Reverse sneezing" (formally called pharyngeal gag reflex)
Stenotic nares
Eye problems—including corneal ulcers, pigmentary keratitis, entropation and eye prolapse
Dental problems
Anesthesia sensitivity
Because brachycephaly is part of the inherent structure of the pug, any pug mix is almost guaranteed to have some degree of brachycephaly.
The pug's curly tail also puts her at risk for hemivertebrae, deformity of the bones in the spine.
On top of these structural problems, the pug also has a significant genetic risk for hip dysplasia and degenerative myelopathy, which can be inherited by chug puppies.
Chihuahuas have their own set of genetic health risks, such as hydrocephaly.
Because of their physical structure, they are also at increased risks for hypoglycemia and a collapsed trachea.
Small, "teacup" chihuahuas have a greater risk for health problems.
All of these health problems are likely to be inherited by chug puppies.
Choosing Chihuahua Pug Puppies
Unfortunately, because of the health risks, we cannot recommend the pug Chihuahua mix.
For a similar but healthier dog, try a different Chihuahua mix.
If you insist on a chug puppy, make sure that the parents have undergone the proper health testing.
The results are registered with an organization such as the Canine Health Information Center (CHIC).
For registration, CHIC requires that pugs undergo an eye exam.
And genetic testing for hip dysplasia, patellar luxation and NME.
They also recommend tests for elbow dysplasia and pyruvate kinase deficiency (PKD), as well as a serum bile acid test for puppies.
CHIC requires that Chihuahuas undergo cardiac evaluation, an eye exam and a genetic test for patellar luxation.
Before purchasing a pug Chihuahua mix puppy, make sure that the chug breeder's dogs go through all of these tests.
Do not purchase from any breeder that tells you that he or she can guarantee specific traits or that a particular breed is the "best of both breeds."
Resources and Further Reading: