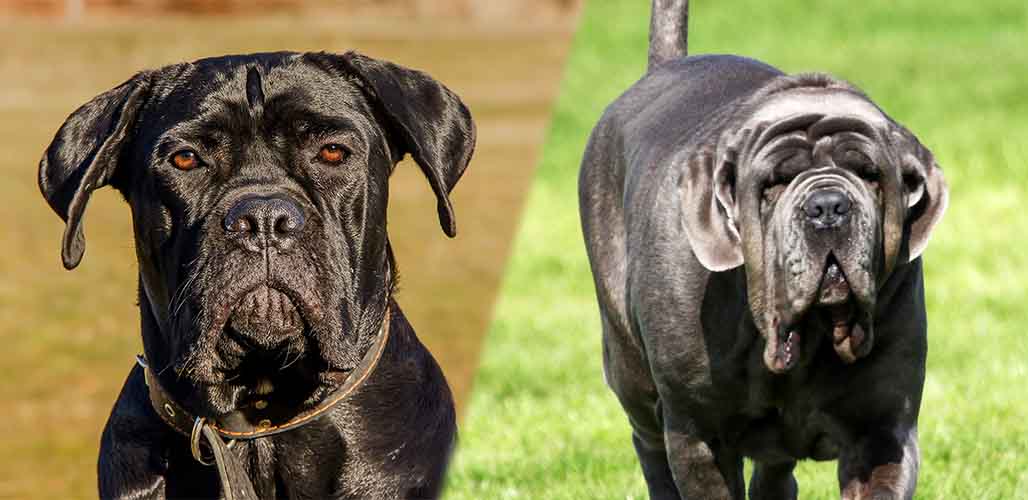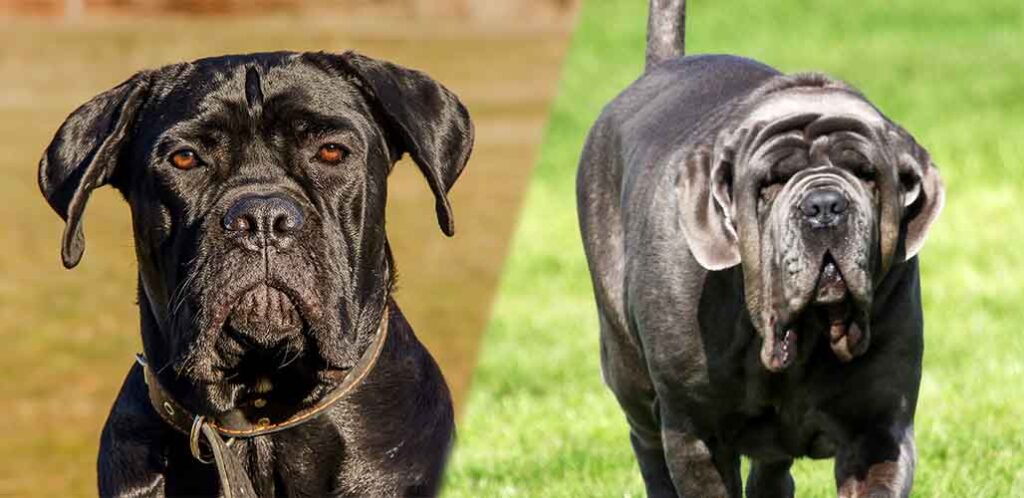 The Cane Corso Neapolitan Mastiff mix is a strong, large, and protective combination. This hybrid designer breed is loyal, affectionate, stubborn and strong willed. They suit active homes that love positive reinforcement training and have plenty of time for socialization. Purebred Cane Corsos and Neapolitan Mastiffs are two very impressive breeds. Many people confuse the two, but they are distinct dogs! However, their similarities have led to an increased interest in mixing them together. The resulting puppies can be quite unpredictable, despite the similarities between the parent breeds. We take a closer look at what to expect and if this unique mix will suit you.
Contents
Are you considering this mix, or still deciding if it's right for you?
The Cane Corso Neapolitan Mastiff Mix
The Neapolitan Mastiff Cane Corso mix is not a common combination. This mix is a large and strong dog that won't suit a lot of homes. Families that bring home this mix must be prepared to dedicate lots of time to training and socialization to ensure their dog does not grow up to be aggressive or injure anyone.
Though these two dog breeds share some important similarities, there are still some differences that set them apart. And, because of this, mixed breed puppies can be unpredictable. So, owners must understand all possible outcomes before committing to a puppy.
Cane Corso vs Neapolitan Mastiff
Both the Cane Corso and Neapolitan Mastiff are ancient breeds with long histories alongside humans. In fact, these two breeds descend from the same ancestors – mollosus dogs that were bred with Italian dog breeds at the height of the Roman Empire.
Over time, the two breeds became distinct. And now, there are some important differences that separate them. Including their size, coat colors, and some temperament traits.
However, both are large, powerful dog breeds that are known for their protective natures and their guarding abilities. Neither the Cane Corso or Neapolitan Mastiff are common as family pets, since most homes will suit a less protective dog. But, in the right environment with the right care, both of these breeds can make a good companion.
Neapolitan Mastiff Cane Corso Appearance
The Cane Corso and Neapolitan Mastiff are both large dog breeds. So, you can guarantee that a mixed puppy will also grow up to be a large dog. As a general rule, they will stand anywhere from 24 to 30 inches tall, often weighing over 100 lbs. Females tend to be smaller than males.
Both parent breeds have smooth, short coats. So, a mix will have the same fur type. But, their coloring can differ depending on the parents. They can be solid in color, brindle, or with markings like a black mask. Here are some of the most common colors for this mix:
Black
Blue
Red
Mahogany
Tawny
Grey
Fawn
This mix will have a very muscular appearance. The more they take after their Neo parent, the more wrinkled their face will be. It's common for the parent dogs to have cropped ears, though this practice is becoming less popular.
Cane Corso Neapolitan Mastiff Mix Temperament
The Cane Corso and Neapolitan Mastiff have been used as guardians, fighters, war dogs, and more throughout their histories. Both breeds are known for their protective, loyal temperaments. They form very strong bonds with their immediate family, though aren't necessarily affectionate to close family members.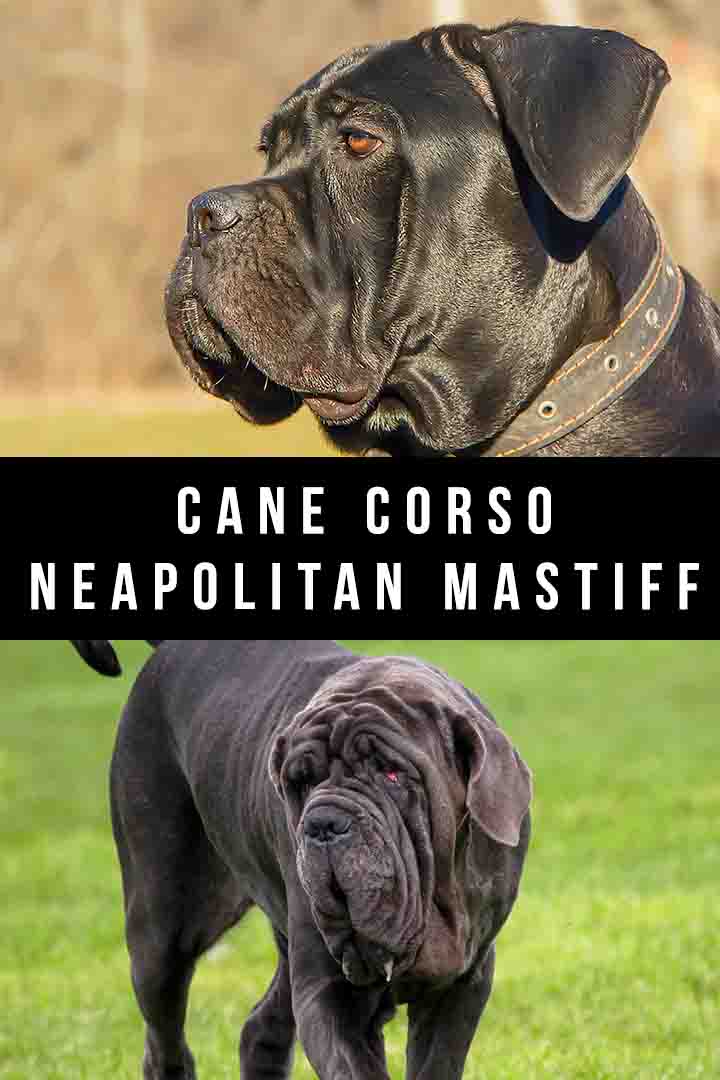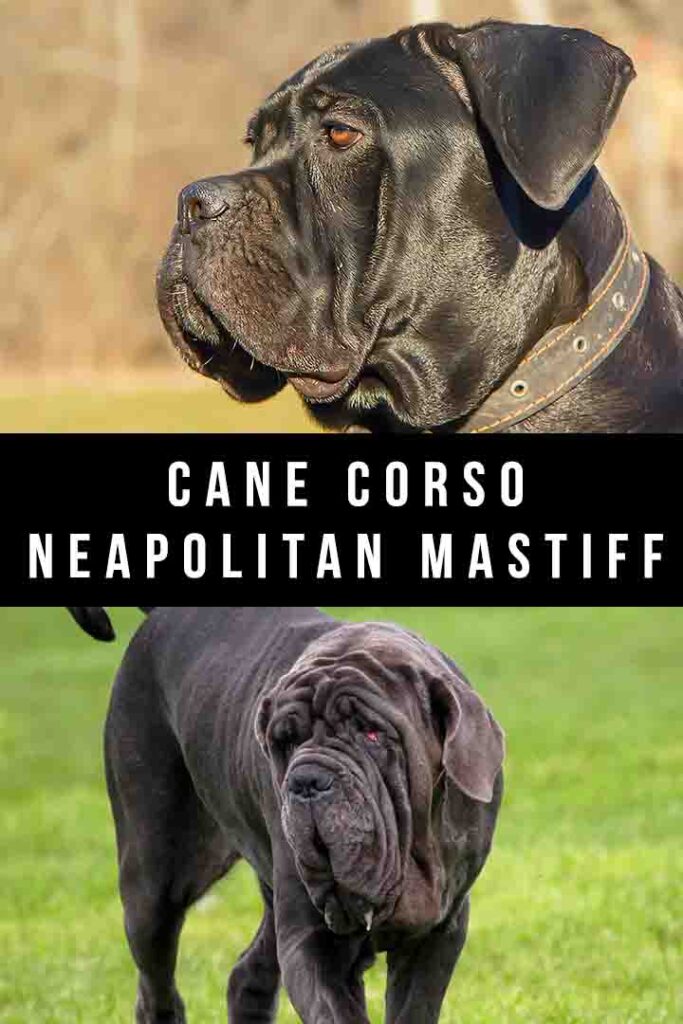 This mix is likely to inherit the same protective nature. But, this makes proper socialization ever-more important. In most modern homes, an overly-protective dog can be problematic. Particularly if your dog sees harmless things as threats, like the mailman, other dogs at home, or your kid's friends visiting after school. Proper socialization will help to reduce aggression and fearfulness, so should happen from 8 to 16 weeks and beyond.
These dogs are not extremely high energy or very playful. But, they will still need exercise and mental stimulation. The Cane Corso parent tends to be more open to strangers, more energetic, and more playful. So, your puppy's temperament can depend on which parent it favors.
Training and Exercise
Neos tend to be less active and energetic than Cane Corsos, so energy levels in this mix will vary. But, either way, this mix will need regular exercise. Larger dogs can be more prone to joint problems, so be wary of over-exercising them as a puppy and letting them jump or access stairs before 3 months old.
Positive reward training methods work best for this breed, as they will build on the strong bond between you and your dog. Puppies that take after the Cane Corso parent tend to be more eager to please than those that take after the Neo. But, work in short, consistent sessions for best results, no matter which parent your puppy favors.
On top of training and exercise, these dogs will need daily mental stimulation. This can be through further challenging training games. You can invest in interactive training toys, or teach your dog scent work, or games like hide and seek.
Cane Corso Neapolitan Mastiff Mix Health
A Neo Mastiff Cane Corso mix can be prone to a number of health issues associated with their size. But, they can also experience health issues found in their purebred parents. Some of these problems can be tested for, but others might be less predictable. Here are some of the most common health problems this mix might encounter:
Hip and elbow dysplasia
Gastric dilatation volvulus (bloat)
Patellar Luxation
Autoimmune thyroiditis
Entropion
Ectropion
Expected Lifespan for this Mix
Mixed breed dogs tend to live longer average lifespans than purebred dogs. But, large breeds often have shorter lifespans than smaller breeds. On average, the Cane Corso breed tends to live to 9 years old. The Neapolitan Mastiff has a slightly shorter lifespan, only reaching an average of 8 years.
Since mixed breeds often live longer than their purebred parents, you might find that a Neo Cane Corso mix lives to double figures. Particularly if you choose a puppy from a reputable breeder and give them the best possible care.
Finding Cane Corso Neapolitan Mastiff Puppies
This mix is not one of the most common mixed breed dogs out there. So, it could take a while to find a reputable breeder. Particularly depending on where you live in the world. Avoid puppy mills and pet stores, as puppies from these places often experience more health and behavioral issues.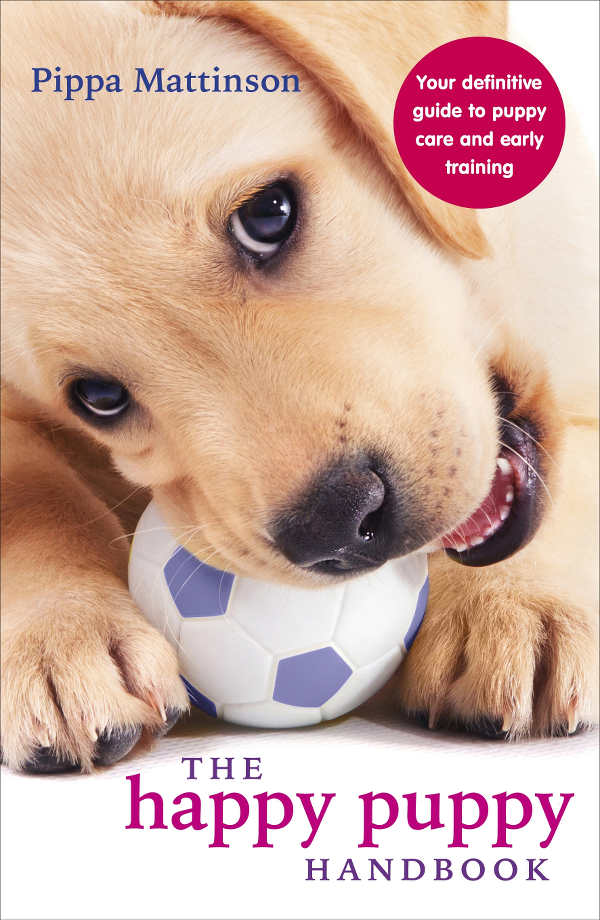 Puppy price will depend on a number of things, including coat color, local demand, predicted adult size and more. But, this mix costs around $800 on average.
If you're struggling to find a puppy from a reputable breeder, or if you're looking for a cheaper alternative, you can also check local rescue centers. There are plenty of rescue centers dedicated to specific breed types, including Mastiff dogs, large breeds, and so on. Dogs from rescue centers are often older than puppies from a breeder, but they can be cheaper and some may even have some training.
Is the Neapolitan Mastiff Cane Corso Mix a Good Family Pet?
This mix won't be right for every home. Cane Corso Neapolitan Mastiffs are protective, strong dogs that need plenty of training and socialization from an early age. They are also prone to a number of serious health problems, many of which can impact their mobility from a young age. So, they're more high maintenance than people might first expect.
If you're looking for a large dog breed that will be cuddly and affectionate, this might not be the right pick for you. This mix isn't necessarily best for first-time dog owners. But, for experienced owners that are looking for a clever, loyal breed, this mix could be perfect.
Have you got a Neo Mastiff Cane Corso mix at home already? Or are you still trying to find one of these puppies to bring home? We would love to hear about your experiences with this large dog in the comments!
Similar Breeds and Mixes
References and Resources