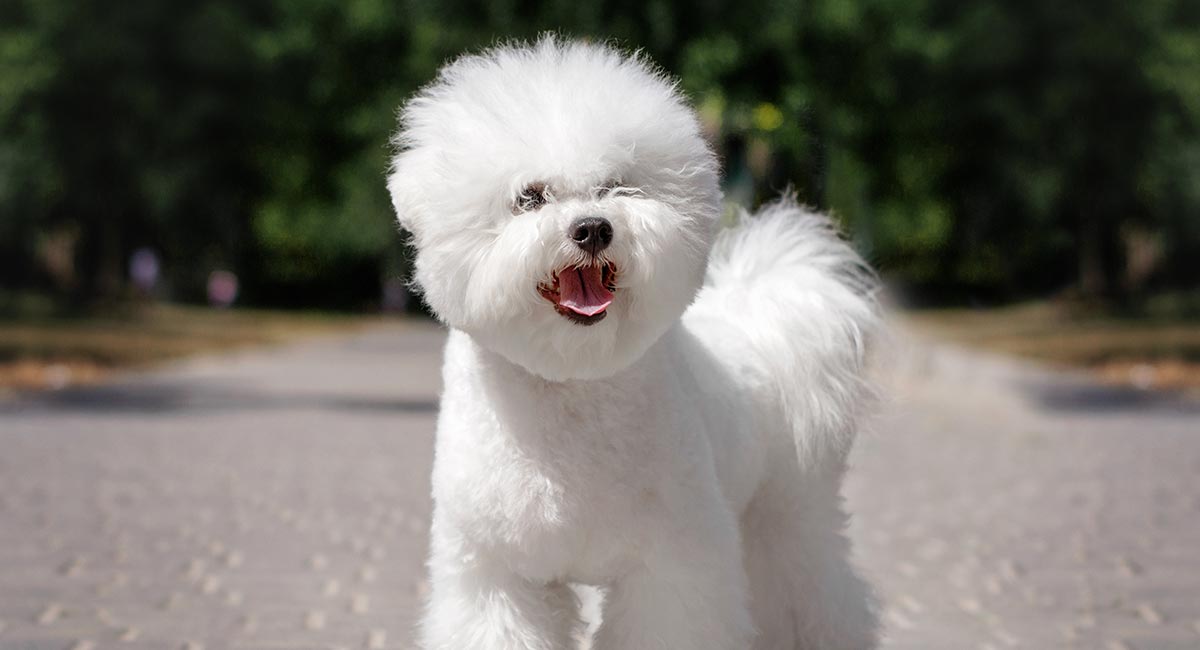 With their playful disposition and compact size, a Bichon Frise makes an ideal pet for many singles and families alike. Today we are going to take a look at the pros and cons of life with a full grown Bichon Frise, and give you some great tips for raising your Bichon Frise puppy!
Contents
Bichon Frise FAQs
Our readers' most popular and frequently asked questions about their Bichon Frise dog.
Breed At A Glance
Popularity: 45 in AKCs ranking
Purpose: Companion
Weight: 12lbs to 18lbs
History and original purpose of the Bichon Frise
Although typically seen as a French dog, did you know that this breed initially had a Spanish origin? That's right! The Bichon is one of four types of what was formerly called the Barbichon group, with the other three members being the Maltese, Havanese, and the Bolognese.
Believed to have developed on Tenerife in the Canary Islands, this breed is said to be a descendant of the Bichon Tenerife, a sailor's favorite traveling dog! Since the Bichon was known for his jolly personality and compact size, he was a top choice for voyagers and eventually became a favorite amongst nobility.
Bichon Frise Pronunciation
If you are not sure how to say Bichon Frise, you are not alone! Here's the correct pronunciation
Fun facts about Bichon Frise
In fact, this dog's fame truly skyrocketed in the late 1500s, when it became the preferred breed in the court of Henry III. Despite this pup's renowned charm and loving nature, the Bichon breed did have somewhat of a trying history, going from rags to riches to rags, then riches again!
During this time the Bichon enjoyed lounging on the laps of royalty, running around the streets with commoners, and even wowing audiences with spectacular tricks in the circus! Finally, the breed was brought to the US in 1955. He was officially recognized by the AKC in 1976. Today, it is a very popular dog and excels both in show and as a loving family pet.
What does a full grown Bichon Frise look like?
The size of this breed may be small, but they are tough as can be! A Bichon Frise adult may grow up to only be 9.5 to 11.5 inches and weighs about 12 to 18 pounds, but don't let their miniature stature fool you.

The full grown Bichon compensates for his tiny size with his big personality! But we'll get into that a bit further down. For now, let's go into more detail about what this curly cutie looks like.
Bichon Frise Coat color
A defining characteristic of this breed is their long white coat. If you see this breed offered in other colors they won't be pure bred. There is no such thing as a black Bichon Frise for example, snow white is the only option. Sometimes a bit of cream or apricot color can gather around the Bichon's ears, nose, and paws. However, this "off-white" fur should not cover more than about 10% of their body.
While many Bichon Frise dogs have dense, curly hair comparable to the poodle, others may have straighter hair. What you get will really depend on the litter of Bichon puppies that and their genetics.
Do Bichon Frise shed?
Like Poodles, the Bichon Frise doesn't shed much hair around your home, and for the same reason. It's not that your dog's hair doesn't fall out, it just never makes it to the ground. The loose hair gets trapped inside the curls and your dog carries that hair around until it is clipped or the loose hair removed with a grooming tool.
Bichon Frise temperament
Described by the American Kennel Club as being a "canine comedian," this little dog is spunky, silly, highly energetic, and very playful! Though they make good watchdogs since they enjoy using their voices, they are all bark and no bite. They have never met a stranger and their bark is pretty much always a "hello," and never "go away."
Remember, the Bichon was bred to be a companion dog, and he won't tolerate being left alone for long periods of time. He can become very attached to his people and can suffer separation anxiety. Still, because he was bred primarily as a companion dog, the Bichon does great with families and is excellent with children as he is so curious and spirited. However, he is a smaller dog, so he may not be the right fit for very young toddlers or rougher kids.
Bichon Frise Personality
The Bichon's personality also makes him an ideal dog for those who enjoy exploring the world and are looking for a traveling companion. Considering that his ancestors were famous for their traveling exploits, this is a great dog for nomads who are constantly on the move!
The easygoing nature of the Bichon makes him wonderfully adaptable to all kinds of living, whether it is larger home types, smaller apartments, or even RVs that are traveling across the country!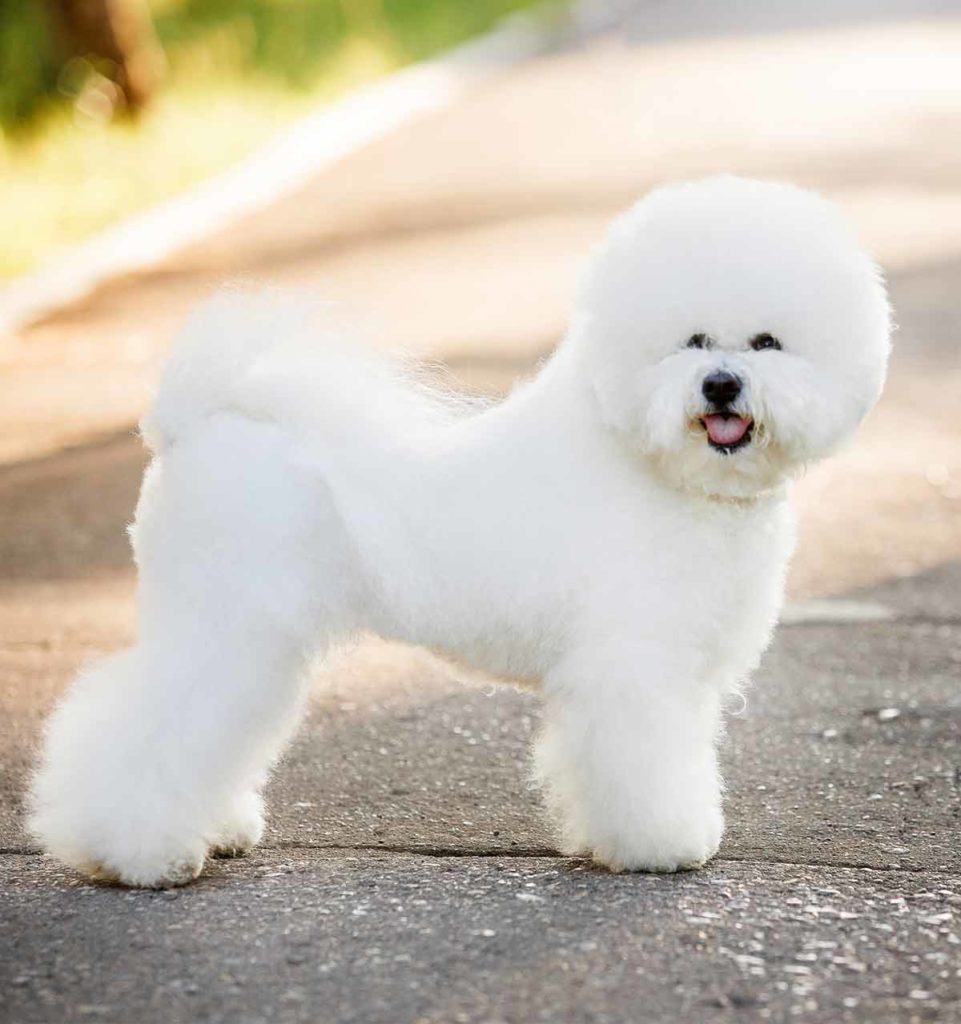 Training and exercising your full grown Bichon Frise
Dog training should be a breeze, as this breed is very intelligent and is eager to please his owners. With any breed, you should always utilize positive training methods and be consistent and patient. The positive reward system works best with all dogs, and the Bichon is no exception.
The Bichon is sensitive and this will only hinder the training sessions instead of helping him to learn the lessons you are trying to teach him. As we mentioned above, we recommend early socialization and obedience training to help ensure your pup is a happy and well-rounded dog.
Socialization
We especially recommend early socialization and obedience training in your Bichon Frise before they are full grown. Especially if you plan on traveling with him often. Since he is such an adaptable dog, he should make a wonderful traveling companion. Still, it will be easier on him and you if he is properly socialized from an early age, since he does have it in him to become territorial or hyperactive.
Although they can have a lot of energy, he is small enough that a nice run in the yard or a brisk walk down your street should do the trick to keep him happy. He loves attention and will enjoy learning new things, so you can keep him stimulated by offering him new toys, doggy puzzles, and tricks.
Bichon Frise full grown health and care
There are some inheritable health conditions to be aware of with this breed. These include skin and allergy issues, bladder stones and bladder infections. Some health concerns are:
patellar luxation
disc degeneration
gingivitis
early tooth loss
cataracts
Other Conditions
He can also be prone to the following:
lung, hemangiosarcoma, and liver cancers
mitral valve disease
liver shunt
gastrointestinal problems
diabetes
pancreatic diseases
Cushing's disease
To help avoid or prepare for the above health conditions in your Bichon, we recommend early health screening and testing.
Keep in mind that, when going through a breeder, reputable breeders should be able to offer certificates proving their dogs have been screened for any generational health issues and are healthy and adoptable. Remember, vet bills will add to the longer term Bichon Frise price.
Bichon Frise lifespan
A healthy Bichon lifespan can range from 14 up to 20 years! This is partly because small dogs do generally have a longer lifespan than larger breeds.
But if you go too small, the lifespan advantages start to diminish, and a teacup Bichon may have a much reduced life expectancy.
Grooming and coat care
The Bichon coat is not low maintenance. Those tight curls can get very matted if allowed to grow without intensive grooming. Like Poodles, the Bichon needs to have their coat clipped very short, or be groomed daily
This is actually a wellfare issue as matting can become serious quite quickly and can cover the dog's eyes and cause soiling around the rear end.
A regular visit to a good groomer can be a big help with keeping your dog's coat in great condition and reducing the amount of grooming you need to do in between. You can even choose your favorite Bichon Frise haircut!
Grooming For Show
If you are planning to show your Bichon, you will either need to learn how to groom him to show standard or have him groomed by a professional. Many Bichon owners choose to go the professional route when planning on showing their dogs!
Bichon Frise hypoallergenic status
You will sometime hear this breed referred to as hypoallergenic. And while no breed of dog is entirely hypoallergenic, like other curly coated breeds the Bichon sheds very little hair around your home, and can be tolerated by some allergy sufferers.
The Bichon will also need a bath and regular trimming at least once a month. Of course, as with all dogs, the Bichon will need his nails trimmed regularly to avoid painful cracks or splits. He will also need his ears cleaned regularly to keep moisture and wax from building up, as that could lead to ear infections.
Do Bichon Frises make good family pets
This loving little creature gets along well with all sorts, including adults, children, and even other animals! However, although the Bichon is a very social dog, without proper training he can have a tendency to become hyper and overly excited.
He can also become territorial, but this behavior can be easily discouraged with proper training and early socialization. Early socialization and obedience training are always recommended for dogs to help keep them happy and well-rounded in any situation.
Rescuing a Bichon Frise
Bichon Frise adoption is a great route to finding your new friend if you are fortunate to come across a suitable dog. Since this is a purebred dog, it may be more difficult to find one at a shelter, especially if you are looking to get a puppy.
Still, it is always worth contacting your local rescues just in case, and there are benefits of getting your dog at a shelter or rescue. Aside from offering a home to a dog in need, the price is going to be a fraction of what breeders will charge.

Also, shelters and rescue centers will often cover the initial veterinarian fees, helping to ensure your Bichon is as healthy as can be and ready to be adopted. You can find a list of Bichon rescue centers at the end of the article by clicking here.
Finding a Bichon Frise puppy
These puppies are pint-sized and oh-so-cute, but how much are they and where can you get your hands on one? The Bichon Frise price will vary depending on where you plan on getting one from. If you have your heart set on a rescue or a shelter, keep in mind that adoption fees could be anywhere from $50 to $100.
However, you might have your heart set on a Bichon Frise puppy from a breeder. In that case, you can expect to pay anywhere from $500 to over $1000. This will depend on the breeder and the parent dogs of the Bichon.
If the parents are show quality, the price of your puppy is always going to be more. Be sure to check out our Puppy Search Guide.
Breeder Benefits
One of the benefits of going through a breeder is that you have the ability to ask questions about the parent dogs and previous litters and ask about health and temperamental issues. Remember that reputable Bichon Frise breeders should be able to offer health certificates proving their dogs have been tested and health screened for certain inheritable health issues.
And of course, as previously mentioned, you should always consider health screening your dog on your own, whether you go through a breeder or through a shelter.
If you are unsure of how to find a breeder, you can always attend local dog shows. Events such as dog shows will offer a large networking opportunity. Remember, the most important thing for you and your future pet is that you get your puppy from a reputable source and that you are prepared to care for him.
Bichon Frise Price
Responsibly bred puppies raised with care are not cheap, but it's important to avoid puppies from puppy mills or pet stores. Not only could you end up at the animal hospital spending all the money you thought you'd saved (by not going to a reputable breeder) on a sickly puppy, you'd also be supporting the sad trade in puppy mill puppies with all the cruelty involved in it.
So how much is a Bichon Frise from a reputable breeder? You are probably looking at between $1500 to $2000 for a properly health tested puppy that is in good health and free from parasites and other nasty infections.
Raising a Bichon Frise puppy
Caring for your baby Bichon is a big responsibility. There are some great guides to help you with all aspects of puppy care and training.
You'll find them listed on our puppy training page
Miniature or Teacup Bichon Frise
If you are a fan of small dogs it can be tempting to go for a miniature version of your favorite breeds. However, when an already small breed is miniaturised even further, some serious health issues can arise.
So before you buy or adopt a miniature Bichon, do check out our article on Teacup dogs.
Popular Bichon Frise breed mixes
If the idea of mixing things up a little appeals to you, there are a number of Bichon crosses that are growing in popularity. They include:
The appeal of Bichon Frise mixes can sometimes be that people are looking for different colored Bichon Frise. Brown, apricot, red, black and other colors are not available in a pure bred dog. But can be found in Bichon Frise Poodle mixes and some other hybrids too.
Others are worried about the health of dogs bred within a closed purebred register and would rather have a dog with greater genetic diversity.
If you like the feature of the white coat, and are limiting your search to a small white puppy, then if you can find one, the Bichon Frise Maltese mix might suit you.
Similar Breeds
Other dog breeds you might want to consider: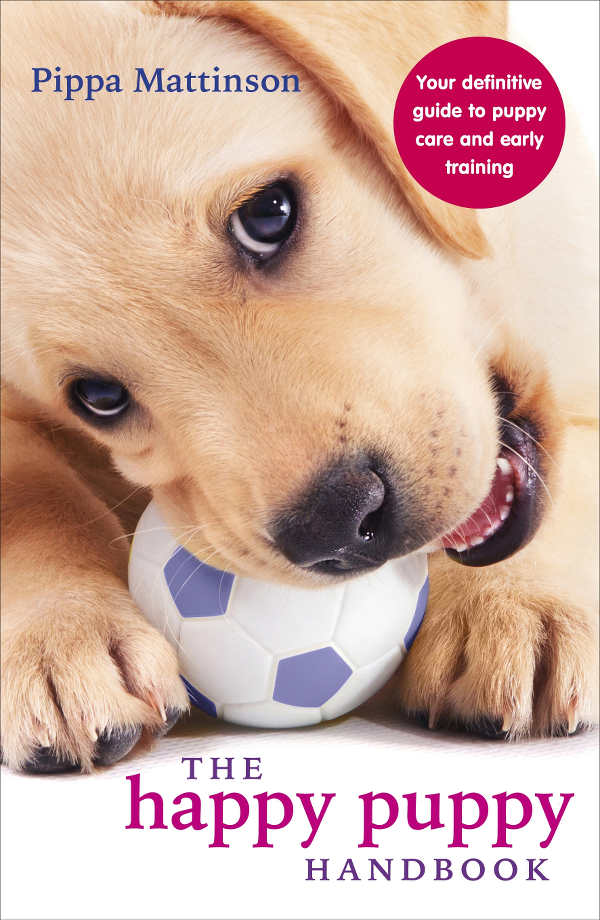 Pros And Cons of Getting A Bichon Frise
A full grown Bichon Frise comes with up and downsides.
Cons:
Keep in mind that grooming a Bichon could be a daily task and he will not do well if left alone for too long.
There are quite a few genetic health concerns that might trouble your pooch.
Pros:
The Bichon is a very adaptable and loves both people and other household pets!
Because of his compact size, he will enjoy laying on your lap as much as he will enjoy running about in the yard or playing with his toys.
If you are a consistent traveler looking for a traveling companion, this would be the perfect dog for you!
This is one of the most easy-going of all the small curly haired dog breeds, and will provide you with delightful company for many years.
Bichon Frise products and accessories
Best Interactive Dog Toys
Bichon Frise Breed Rescues
USA
UK
Australia
Canada
Do you know of any other great rescues for these puppies? Let us know in the comments below.
References And Resources
Gough A, Thomas A, O'Neill D. 2018 Breed Predispositions to Disease In Dogs and Cats. Wiley Blackwell
O'Neill et al. 2013. Longevity and Mortality of Dogs Owned In England. The Veterinary Journal
Schalamon et al. 2006. Analysis of Dog Bites In Children Who Are Younger Than 17 Years. Pediatrics
Duffy D et al. Breed differences in canine aggression. Applied Animal Behavior Science 2008
Strain G. Deafness prevalence and pigmentation and gender associations in dog breeds at risk. The Veterinary Journal 2004
Packer et al. 2015. Impact of Facial Conformation On Canine Health. PlosOne
Adams VJ, et al. 2010. Results of a Survey of UK Purebred Dogs. Journal of Small Animal Practice.
Kirk N. Gelatt, Margaret R. Wallace, Stacy E. Andrew, Edward O. Mackay, Don A. Samuelson, Cataracts in the Bichon Frise, Veterinary Ophthalmology
Richard G. Beauchamp, The Bichon Frise Handbook
Ross D. Clark, DVM, Medical, Genetic & Behavioral Risk Factors of Bichon Frises
Tiffani J Howell, Tammie King, Pauleen C Bennett, Puppy Parties and Beyond: the role of early age socialization practices on adult dog behavior, Volume 6, pages 143-153
Nathan B Sutter and Elaine A Ostrander, Dog Star Rising: The Canine Genetic System, Nature Reviews Genetics, Volume 5, pages 900-910