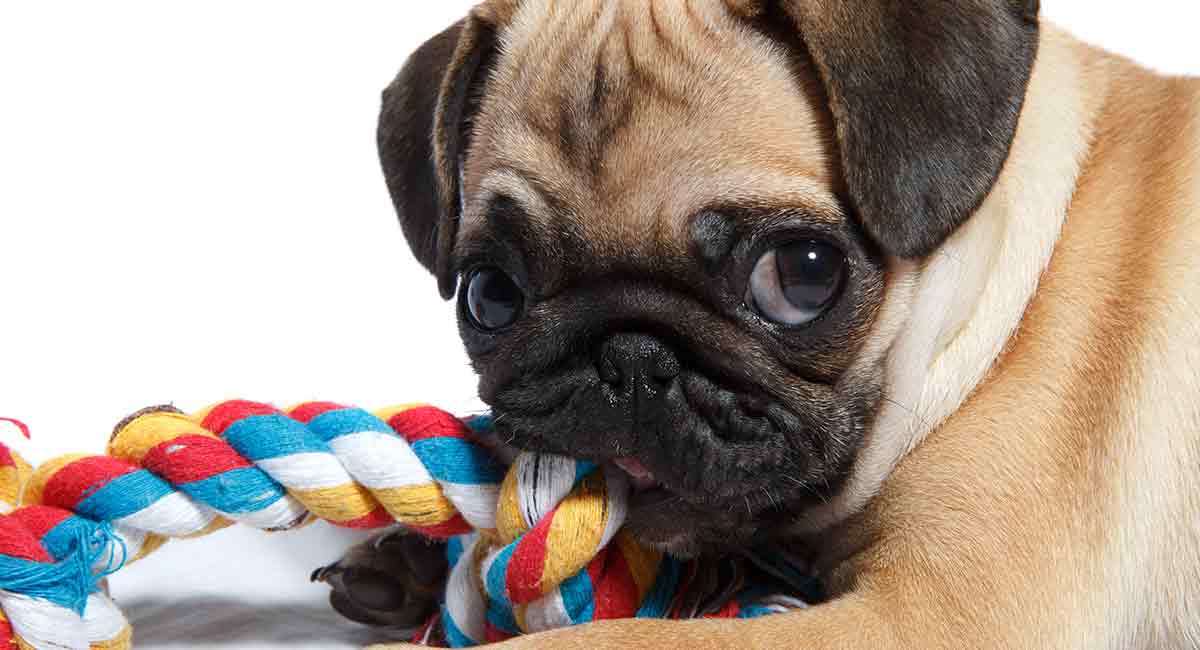 Offering a rotating selection of the best toys for Pugs is important to keep your Pug happy and healthy!
If you are a first-time Pug parent, you may not yet know much about the dog breed or what they like to do for fun.
How exciting – you have so many things to learn about your new fur sidekick!
Of course, not every Pug will have the same favorite toys.
Choosing the best toys for Pugs
Just because the Pug down the street likes a particular toy doesn't mean your Pug will like it too.
This means finding the Pug toys may take a few rounds of trial and error.
But that is also part of the fun of getting to know each other!
We hope this curated selection of some of the best dog toys for Pugs will give you a great starting point in your toys for Pugs search!
What Do Pugs Like to Do?
Most of all, Pugs love to be with their people.
This is what the Pug dog is best at and what this breed loves most.
Pugs have such a long and noble history.
This dog was first bred to sit on laps in the royal palaces of China!
Find that your Pug companion wants to be wherever you are and even sitting or lying down on you while you do it?
Your Pug is doing exactly what this dog breed has been carefully bred to do – be your companion!
Pugs are also quite adventurous, outgoing, friendly, and eager to try new things.
As long as you are there, your Pug will be up for pretty much anything, including trying out new toys together.
Choosing the Best Toys for Pugs
Choosing good Pug toys is actually not too hard.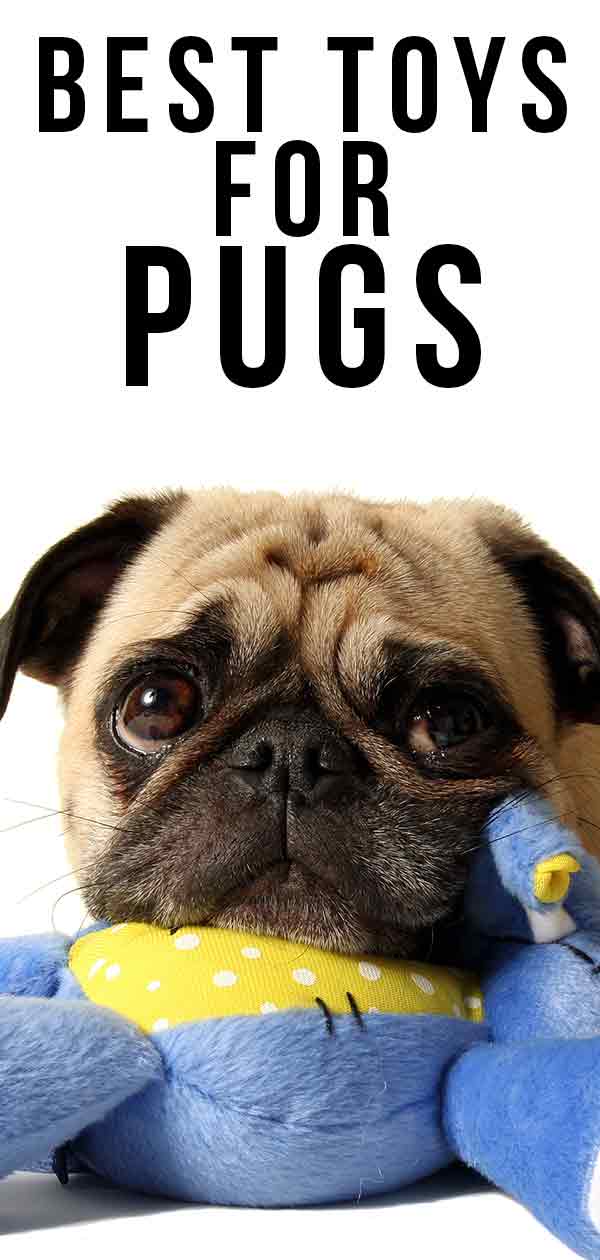 If you hold any toy, it is highly likely your Pug dog will want to check it out and play with you.
However, finding good toys for Pugs for solo play when you are otherwise occupied can be a little more challenging… unless there is food involved.
Many Pug owners say it is unclear whether their Pug loves them or food more, and we may never know for sure!
Brachycephaly Impacts Toy Choice
Pugs are one of the dog breeds that are brachycephalic (flat-faced).
A flat-faced dog breed has a shorter muzzle and smaller mouth.
With a smaller mouth comes more crowded teeth, which can make grasping toys or food difficult.
And because brachycephalic dog breeds have shorter respiratory pathways, they can overheat quickly and are best kept inside for exercise and playtime.
Learning about your Pug's face shape will help you choose the best toys for Pugs that are fun, frustration-free, and super healthy for your little fur love!
Best Toys for Pugs to Chew
Pugs love their food!
This means that any kind of chew toy that smells or tastes good and is easy for your Pug to grip in her small jaw is likely to be a hit!
This chew toy is a great choice for a teething Pug puppy (choose size small).
There are three flavors (peanut butter, bacon, chicken) to keep chew sessions interesting.
This starter pack from trusted chew toy maker Nylabone offers great value and is one of the best chew toys for Pugs to add to your puppy's toy rotation.
The pack includes a chicken-flavor chew, a bacon-flavor chew, and a dental dinosaur, along with two pacifiers you can freeze for pain relief.
This toy comes in a hedgehog, a lion, or a dinosaur.
The toy has three layers of soft yet durable gauze and is non-toxic.
It is easy for small dogs to grip and carry and is designed to withstand daily chewing.
Best Toys for Pugs for Interactive Play
Interactive play is always going to be a Pug playtime favorite.
Pugs are just known for wanting to be with their people all the time.
These interactive toys for Pugs can be great fun for you both!
This soft plush ball is lightweight and won't harm any of your indoor furnishings for inside play.
It is designed to be high-visibility in orange and bright blue.
The soft chenille fabric is gentle on your Pug puppy's mouth.
Your Pug might favor the great indoors, but this doesn't mean he can't enjoy chasing squirrels with the best of them!
This incredibly popular interactive game toy comes in four versions (squirrel, bee, hedgehog, or bird).
The small creatures are housed inside a hiding spot, and your dog has to find them and drag them out.
These small, lightweight, bouncy rubber tennis balls are a hit with Pugs and their owners.
They come in a pack of three vibrantly-colored balls that are made of non-toxic all-natural FDA-approved rubber.
Best Toys for Pugs for Solo Play
Finding good toys for Pugs for solo play may be a bit more challenging.
Toys that simulate interactive play by moving or making noise are good choices to give your Pug more of a sense of connection while you're busy.
Many Pugs also like soft toys that are cuddly and lightweight for snuggling and carrying around.
This stuffing-free squeaky yet soft toy earns top marks from dog owners and their pups.
The toy includes six noisemakers to keep play fun.
Many Pugs also like carrying this toy around and napping with it.
Choose from several adorable animal character options from a purple rhino to a pink elephant.
These soft, squeaky plush toys can make a great game of indoor fetch or simply offer comfort while you are away.
This lovely small and soft furry pup comes with two secret surprises: a pulsing "heartbeat" and an inner heat source that is non-toxic and disposable.
This is a great toy for solo play when you have to be gone!
Best Toys for Pugs for Treats
You likely won't have to look far to discover treat-based toys for Pugs that your Pug dog will like.
Pugs are sometimes said to lead with their stomach!
Here, just be sure that if a toy isn't meant to be ingested that you watch your Pug while he enjoys it.
The KONG Wobbler is an absolute classic, and the small size is perfect for your Pug.
This durable, dog-safe polymer rubber toy features an inside hiding spot for treats.
It wobbles about and dispenses the treats (up to ½ cup of kibble or other treats) to slow down gulping pups and also provide a puzzle challenge.
This durable yet slim puzzle toy comes in three bright colors.
The material is guaranteed against dog damage.
You can place treats inside to make treat time and solo play fun.
We recommend the small size for Pugs.
This toy comes in four sizes (XS, S, M, L).
You can adjust the size of the middle opening where the treats come out to change the difficulty level for your pup.
Best Toys for Pugs Puzzles
Because your Pug has the brachycephalic face and muzzle shape, indoor play that is not too strenuous is typically your safest choice.
But even during indoor play, Pugs can sometimes have trouble gripping toys in their overly crowded, shortened mouths.
Puzzle games are especially great for Pugs because they provide plenty of healthy exercise for the mind without being too challenging to the body.
This puzzle by internationally known dog puzzle creator Nina Ottosson can pull double duty as a fun game and a slow feeder for Pugs who gulp dinner too fast.
This petite brightly colored ball holds treats inside it.
The ball is lightly textured to make it easier for your Pug to grip, chew, and play with it.
This small and simple treat-based puzzle toy for dogs is designed for small pups.
You can change the level of difficulty to keep your Pug engaged.
Best Toys for Pugs
We hope you have enjoyed learning about some of the best toys for Pugs!
When you've had the chance to try out a few of these toys for Pugs, we'd love to hear which ones your Pug dog likes the most.
Please check back and post a comment to let other Pug owners know which ones your Pug likes best!
References
Coren, S., PhD., DSc, FRSC. "The Dogs of Napolean Bonaparte." Psychology Today, 2018.
Axton, B. "What the Books Didn't Tell You About Pugs." Pugalug Pug Dog Rescue, 2018.
Kipperman, B., DVM, DACVIM. "The Ethics of Enrichment." Veterinary News DVM 360, 2017.
O'Neill, D.G., et al. "Demography and health of Pugs under primary veterinary care in England."Journal of Canine Genetics and Epidemiology, 2016.