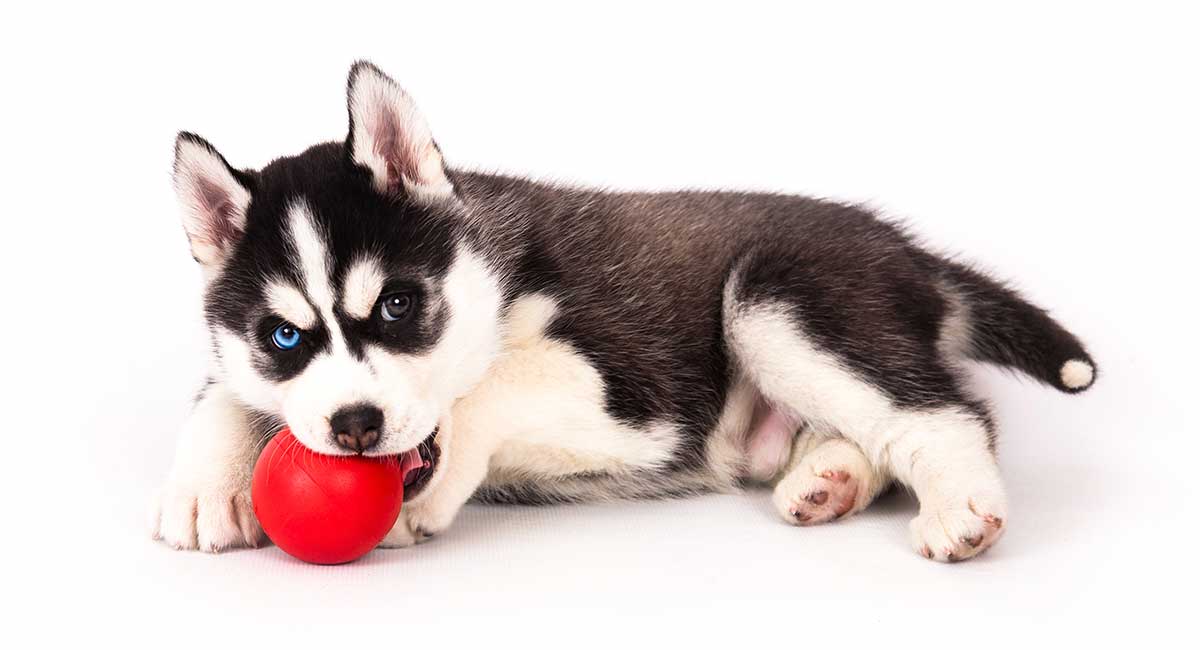 Choosing the best toys for Huskies is an important part of providing an enriching, fun daily life for Husky puppies.
There are many Husky toy options of every size and shape and color and design.
The best toys for Huskies ease the pain of teething, make mealtimes safer and more fun, and engage their lively minds.
These toys can also direct chewing onto safe objects, rather than something like household plastic.
All of these products were carefully and independently selected by the Happy Puppy Site team. If you decide to make a purchase from one of the links marked by an asterisk, we may earn a small commission on that sale. This is at no extra cost to you.
Choosing the Best Toys for Huskies
If you are caring for a Husky dog for the first time, you may feel at a loss to know exactly which Husky toy your dog will enjoy the most.
The good news here is, you have lots of time to try different toys with your pup!
Just like kids, dogs tend to like certain toys more than others and often for reasons only your dog will understand.
So the best toys for Huskies in your household may look quite different than in the Husky household just down the street!
To pick out new toys, it also helps to learn about Husky dog history, Husky temperament and personality and what the Husky was bred to do.
To hear experienced Husky breeders and owners tell it, Huskies love to run, dig, play with other friendly dogs and people, compete in canine athletics and of course work at a job if one presents itself (did you know Huskies make great K-9 and service dogs?).
Just remember, never ever ever let your Husky off-leash in an open area or you may end up posting a notice like this one!
So the best toys for Huskies are often those that approximate what this dog breed has evolved to excel at doing.
Let's take a look at some of the best dog toys for Huskies in each category now.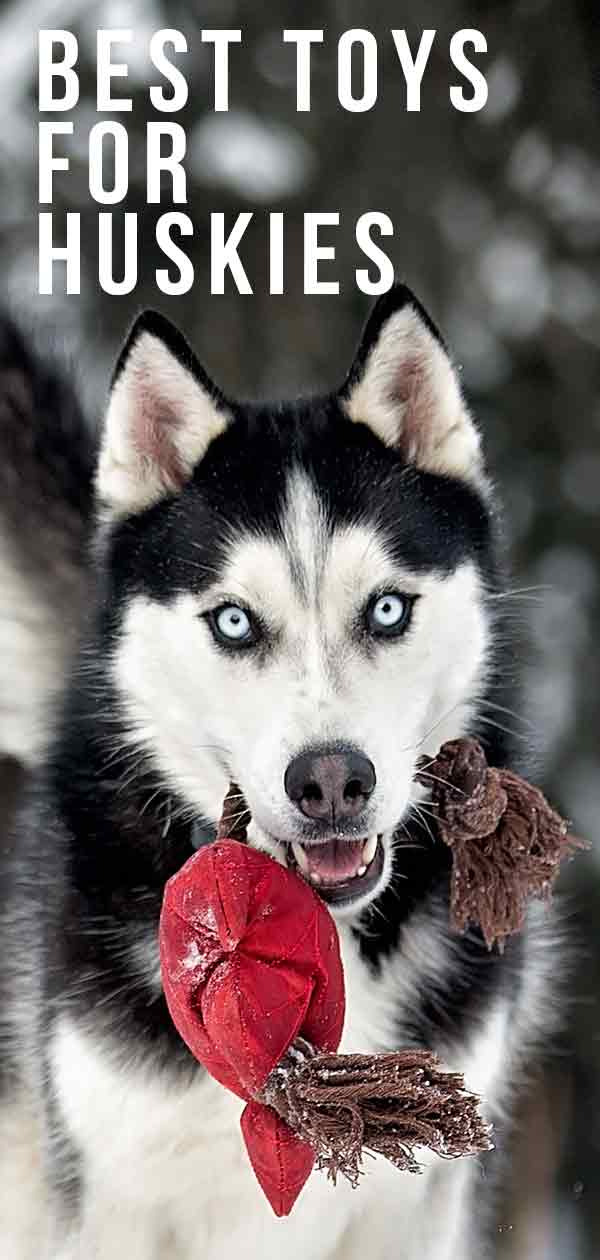 Best Toys for Husky Puppies
The best toys for Husky puppies will need to tend to what, for many dogs, is the most uncomfortable stage of a dog's life – the teething stage.
This all-in-one puppy play mat by Houndgames* features several teething rings.
It also includes chewing ropes, toys and a padded mat for napping.
This bacon-infused chew toy by OneIsAll* can be frozen for extra teething relief.
It's designed to clean teeth and gums while your puppy chews.
This two-fer set by Mr. Play* features a knobby ball and a bone, both of which can be frozen for extra teething relief.
Best Chew Toys for Huskies
The best chew toys for Husky puppies and adult dogs may vary depending on chew strength rating, but Huskies at all life stages need and want to chew.
Chewing is also great for dental health as well as for enjoyment.
This large size West Paw super-durable interactive treat toy* encourages chewing for dental health.
It does this while dispensing tasty treats.
This popular and durable chew toy by Nylabone* comes in several styles.
It's flavored naturally to encourage your Husky to chew, chew, chew.
This dental chew toy by Idepet* comes in several colors and features teeth-like indentations where you can hide treats to encourage chewing.
Best Toys for Huskies That Are Interactive
Eminently sociable and used to living in packs with dogs and people, Huskies naturally gravitate to interactive play.
Every Husky should have the opportunity to chase squirrels in this fun interactive "log" by Outward Hound*.
It comes with three hidden squirrels inside.
This treat dispensing toy by OurPets* requires some serious IQ skills to figure out how to wobble it "just so" to extract tasty treats.
It is also great as a slow feeder.
This indoor dog ball by Chuckit* is a softer version of the traditional Chuckit! Ultra Ball*, and perfect for indoor games on inclement weather days.
Best Toys for Huskies to Slow Down Meals
Husky dogs have been bred for generations to work long, hard hours on surprisingly little food. But pet Huskies are as vulnerable to packing on the pounds as the next pooch.
If your hungry Husky tends to quickly gulp down meals, slow feeder toys like these can also add enrichment and excitement to slow down meal times.
This popular dog-safe, anti-skid slow feeder dog bowl by Wangstar* comes in two sizes and several fun colors.
The feeder bowl comes in the form of a maze and your Husky has to navigate through the narrow tunnels to extract dinner.
This unique interactive slow feeder bowl by PAW5* comes in two colors and pairs an inner paw-shaped maze with a gentle rocking motion that emits kibble through a low hole in the base.
Your Husky will have to bring the smarts to get dinner.
This interactive toy* combines an IQ game with a snuffle mat for extra mealtime enrichment.
Best Toys for Huskies for Solo Playtime
The Husky dog is known to be very sociable and enjoys nothing more than spending time with "their" people.
However, there will be times during most days when your pup will need to be self-entertaining and these toys can help make solo playtime fun!
This special plush toy by Petstages* can be microwaved for warmth and has a special knotted tail to encourage chewing and self-soothing.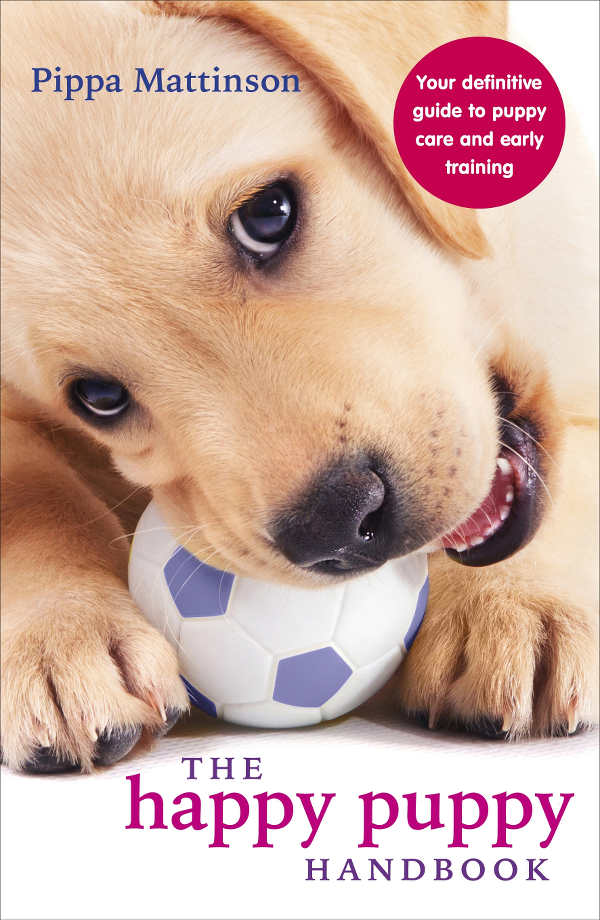 It's perfect for newly rehomed Husky puppies!
This comforting yet surprisingly durable duck toy by multipet* is a favorite among dog owners.
It also comes in mallard and is also fun for games of fetch.
A KONG* is one of the best toys for huskies, hands down – all dogs should have at least one KONG.
KONGS are great frozen or room temperature and can be packed with tasty treats for solo play.
What Are the Best Toys For Huskies?
As you can see, there are so many great Husky toys to choose from that are also durable, safe and – most importantly – fun!
However, even if a Husky toy promises to be safe for solo play, it is always smart to supervise your dog at first whenever you offer a brand new toy.
Does your Husky puppy or rescue dog have a favorite Husky toy?
Please share your pup's faves in the comments here – we love to learn from our readers!
Affiliate link disclosure: Links in this article marked with an * are affiliate links, and we may receive a small commission if you purchase these products. However, we selected them for inclusion independently, and all of the views expressed in this article are our own.
References and Resources