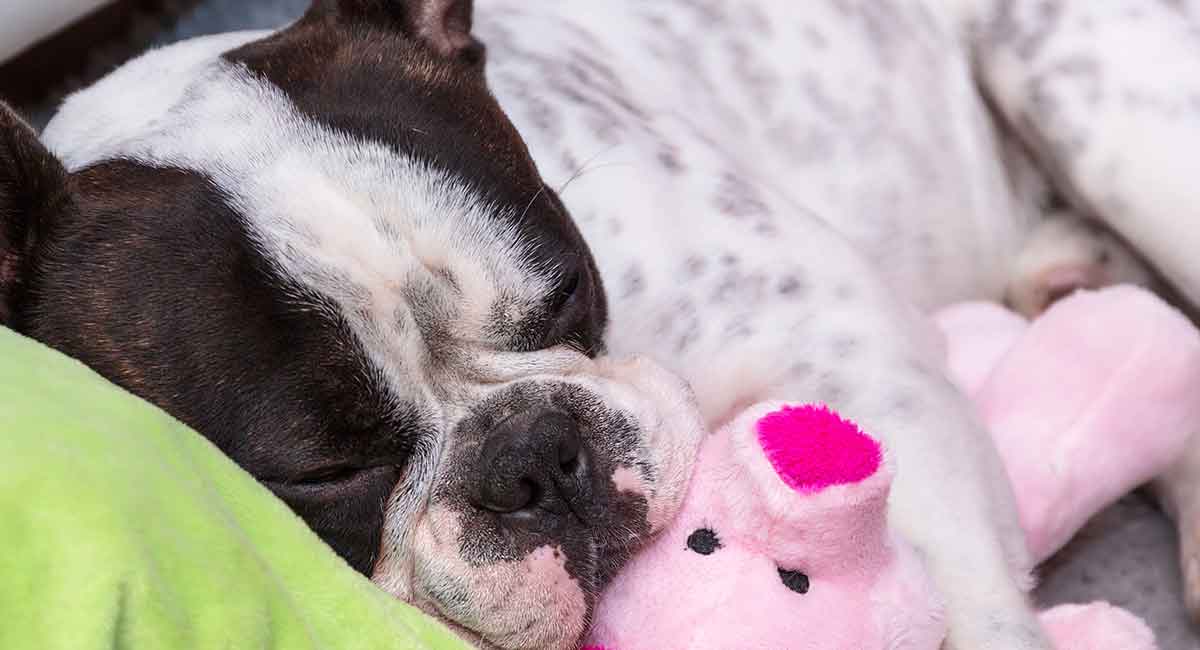 Finding the best toys for French Bulldogs ensures your pup enjoys playtime to the max each day!
Did you know that French Bulldogs are the fourth most popular purebred pet dog in the United States today?
Yet these engaging and playful dogs do have some special health and activity needs because of their extremely flat muzzle shape.
In this article, learn how to pick out the safest and best toys for French bulldogs.
All of these products were carefully and independently selected by the Happy Puppy Site team. If you decide to make a purchase from one of the links marked by an asterisk, we may earn a small commission on that sale. This is at no extra cost to you.
The Five Best Toys for French Bulldogs
In this article we are going to look at the five test toys for French Bulldogs in five categories:
Ball toys
Tug-of-war toys
Puzzle toys
Treat toys
Chew toys
Each of these toy categories meets one of the three key playtime needs for Frenchies:
Ball and tug-of-war toys are great for active playtime.
Puzzle and treat toys are perfect to engage your dog's brain and extend mealtimes.
Puzzle, treat and chew toys are ideal for solo play when you are busy or away.
Firstly, we will go into more detail about each toy category and our top picks for the best toys for French Bulldogs in each category below here.
But if you're in a hurry and need toy ideas now, you can't go wrong with these five best toys for French Bulldogs.
The Importance of Toys For French Bulldogs
To understand why toys are so important for your French Bulldog's health and wellbeing, it helps to learn more about the "classic" Frenchie traits, temperament and personality.
The French Bulldog is known to be smart, playful and adaptable.

In other words, this dog breed can be as easily at home in a tiny urban flat or on a sprawling country estate. The main reason for this is because French Bulldogs have been bred over the centuries to be a lap dog rather than a working dog breed.
This also means your French Bulldog will always be happiest when you are home. In a way, you are your Frenchie's favorite and best toy! However, you can't always be there and your pup will need toys for self-entertainment when you are busy or away.
French Bulldog Health
Additionally, French Bulldogs have special health issues.
Healthwise, the Frenchie's increasingly flattened muzzle makes breathing a challenge especially in very hot or humid conditions, since dogs primarily "sweat" through panting.
Additionally, since purebred Frenchies traditionally do not have thick warm coats, these dogs need to stay indoors during very cold weather.
So while your French Bulldog won't be able to tolerate long daily walks outdoors or hours of fetch in the height of summer or depths of winter, your dog does need daily exercise and playtime to stay healthy.
This is where the importance of toys for French Bulldogs really shows up!
Needs Fulfilled by Toys for French Bulldogs
The best French Bulldog toys can meet a number of your dog's vital needs:
Daily mental and physical stimulation in an enriching environment.
Year-round opportunity for physical exercise under safe indoor conditions.
Comfort and self-entertainment when you are absent or just busy.
Extend the excitement of mealtimes (Frenchies do love their food).
Offer another type of training reward besides food (see "Frenchies do love their food").
Ease the aches and pains of teething for French Bulldog puppies.
Important Features of French Bulldogs Toys: Ball Toys
French Bulldogs love ball toys.
But the French Bulldog's wide yet narrow jaw can make actually grasping a ball challenging.
As well, because of the French Bulldog's compressed face, gripping a ball can actually cut off airflow to the nose, making it hard for your dog to breathe.
For these reasons and more, our top pick for the best ball toy for French Bulldogs is this one.
ChuckIt! Small Durable Breathe Right Ball Toy
Owners of flat-faced (brachycephalic) dog breeds give this bright orange lightweight ball* two paws up for supervised playtime.
It's easy for them to pick up and play with.
Best Ball Toys for French Bulldogs
Ball toys have been a Frenchie favorite pretty much since dog toys (and dogs!) were invented. So you will never have to fear facing a shortage of options in this category.
Here are our runner-up ball toy picks for French Bulldogs:
JW Hol-ee Roller Original Treat Dispensing Dog Ball Toy
This durable rubber toy is a ball toy*, chew toy and treat toy in one.
Additionally, it features an open design of interconnecting segments that make it easier for your French Bulldog to grab onto it and still breathe easily.
Hartz Dura Play Bacon Scented Dog Ball
This solid dog ball is soft and flexible*, bouncy and yet durable.

Best of all, the bacon scent lets it squeak by as a treat toy – all of the taste and none of the calories.
Important Features of French Bulldogs Toys: Tug-of-War Toys
Similarly to ball toys, Tug-of-war toys can double as chew toys for solo play. But of course, tug-of-war is a lot more fun when you join in!
With double the fun on offer, it's important to make sure you choose a safe and suitable Frenchie tug of war toy.
You will want to make sure that the width of the tug toy is sufficiently narrow that your dog can easily grab it, tug on it and pick it up without strain or injury.
Our top pick for the best tug-of-war toy for French Bulldogs is this one.
Jolly Pets Romp-n-Roll Tug-of-War Toy
This colorful, durable blueberry-infused toy* combines a tug-of-war, chew and ball toy all in one toy!

The durable rope is knotted at each end for a better grip and the ball in the middle won't deflate if punctured.
More of the Best Tug of War Toys for French Bulldogs
Providing tug-of-war toys with different colors and textures not only ups the enrichment factor during playtime, but also gives you workable options for both indoor and outdoor play.
Here are our runner-up tug-of-war toy picks for French Bulldogs:
Zippy Paws Skinny Peltz No Stuffing Squeaky Plush Dog Toy
Choose from a raccoon, fox or squirrel* – or pick all three!
These soft, stuffing-free squeaker dog toys are one-part plush comfort and one part tug-of-war.
Redline K9 Jute Tug Toy
While most jute toys are wide-surfaced for larger dogs, this narrower toy is ideal for the unique mouth shape of your Frenchie*.
Jute is easy to clean and owners say it is very durable.
Important Features of French Bulldogs Toys: Puzzle Toys
Puzzle toys are not just great to stimulate your dog's natural instincts but can also be great for solo play when you are busy or absent. Puzzle toys often incorporate treats, but these are not always food.
Watch out for brittle, breakable, or detachable parts which could pose a choking hazard.
Additionally, make sure the puzzle toys you choose are a match where your Frenchie's problem-solving skills are at this moment.
Buying the trickiest puzzle right away might seem like getting value for money, but if your Frenchie is too baffled by it, he's likely to become frustrated and miserable.
For these reasons, this is our top pick for the best puzzle toy for French Bulldogs.
Outward Hound Hide a Squirrel Puzzle Toy
Is there any pup who doesn't love to chase a squirrel?
This super-popular puzzle toy* features "treats" in the form of plush squeaking squirrels.
Best Puzzle Toys for French Bulldogs: Puzzle Toys
Puzzle toys can also double as slow feeders if your Frenchie has the tendency to gulp down dinner, which can be doubly dangerous in flat-faced breeds with breathing and digestive difficulties.
Here are our runner-up puzzle toy picks for French Bulldogs:
LickiMat Slow Feeder Dog Mat
You can use all kinds of different dog treats with this puzzle mat, from yogurt and peanut butter to dog ice cream or wet food.

As a side perk, this mat is also great to calm anxiety.
Outward Hound Nina Ottosson Treat Tumble
Nina Ottosson is a leader in puzzle games for pets*.

This fun two-toned ball can be used for dispensing treats and as a slow feeder.
Important Features of French Bulldogs Toys: Treat Toys
Treat toys are important for more than just helping your French Bulldog while away the hours between breakfast and dinner.
The best treat toys combine smarts and positive rewards into a single experience.
The toys you will read about here are safe for independent play between meals.
Our top pick for the best treat toy for French Bulldogs is this one.
StarMark Treat Dispensing Chew Ball
This durable dishwasher-safe chew ball* can be filled with dry kibble or dog food (or a combination).

It bounces and rolls around to challenge your Frenchie to figure out how to get the treats out.
Best Treat Toys for French Bulldogs: Our Other Favorites
Treat toys are enriching to body and mind and are a great addition to your pup's regular toy rotation for solo play and comfort when you are busy or absent.
Here are our runner-up treat toy picks for French Bulldogs:
Our Pets IQ Treat Ball Food Dispensing Dog Toy
This translucent orange ball* is wildly popular with dog owners and their pups.

It is simple to clean – just rinse it in soapy water and let it air dry. Most importantly, you can also use it to keep your pup from gulping down dinner.
PetSafe Chilly Penguin Treat Holding Dog Toy
This treat toy is a perfect choice* for French Bulldog puppies who are enduring the aches and pains of teething.

You can fill it with bone broth, water or even dog ice cream and freeze it.
Important Features of French Bulldogs Toys: Chew Toys
If there is one fact nearly all Frenchie owners agree on, it is their pups' universal love of chewing. Chew toys are essential to make sure your French Bulldog learns early on to direct chewing efforts towards toys and not couch cushions or table legs (or your fingers).
Nylabone is a company that is frequently mentioned on Frenchie forums and breeder sites.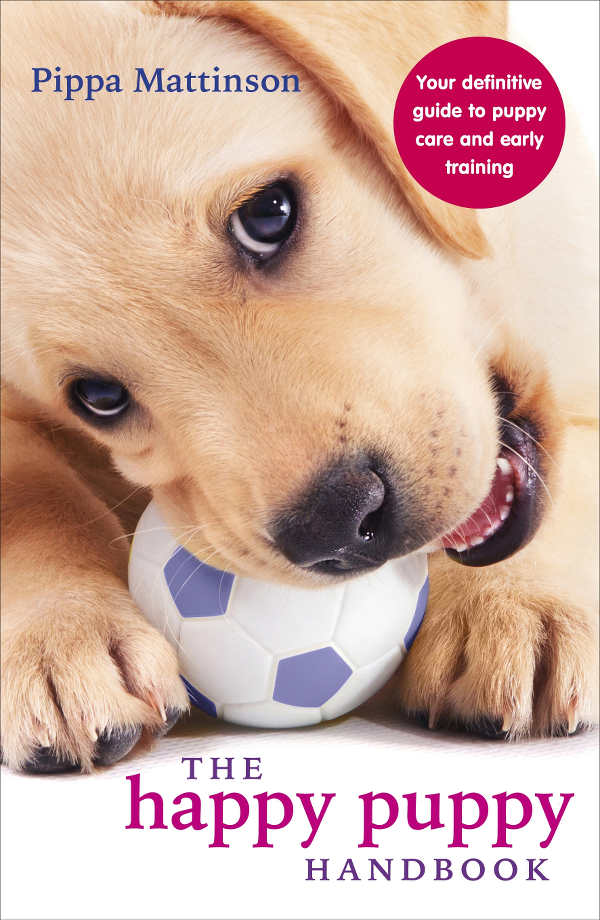 Their chew toys are durable, tasty and relatively long-lasting even in the jaws of a determined chewer. Best of all, Nylabone offers different size chew toys for puppies, miniature Frenchies and adult standard French Bulldogs.
Our top pick for the best chew toy for French Bulldogs is this one.
Nylabone Classic Twin Pack Power Chew Dog Toy
This flavor-infused chew toy* comes in four sizes for puppies and adult dogs.
Choose from a twin-pack of bacon, chicken or peanut butter flavor. This toy raises bristles as your Frenchie chews to help keep teeth and gums clean.
Best Toys for French Bulldogs: Chew Toys
Puppyhood is a very brief time in your French Bulldog's life, but it can be a painful and stressful time too due to teething.
However, there are things you can do to help. These chew toys can be frozen to help ease teething pain and will also help to redirect puppyhood chewing away from your fingers!
Puppy KONG Chew Toy
No puppy should make it through puppyhood without having at least one KONG toy of their very own.


These puppy KONG toys are a bit softer, so you will want to switch to an adult KONG after teething concludes. You can hide treats or even plain water inside and freeze them for pain relief.
Best Toys for French Bulldogs
We hope this article has been a source of guidance and inspiration as you search for the best toys for French Bulldogs! Now you have fresh new ideas for teething toys, treat toys, comfort toys, activity toys and more.
Does your French Bulldog have any favorite toys? Do you see any toys in the lists here that you think your Frenchie might really love?
Please drop us a comment to share your stories about your French Bulldog's go-to toys – we love to learn from our readers!
Affiliate link disclosure: Links in this article marked with an * are affiliate links, and we may receive a small commission if you purchase these products. However, we selected them for inclusion independently, and all of the views expressed in this article are our own.
References and Resources
Simon, S., "French Bulldog Official Health Statement," French Bull Dog Club of America, 2015.
Hoppe, L., et al, "New Owner FAQs," Blue Haven French Bulldogs Kennel, 2019.
Lombardi, L., "Are We Loving French Bulldogs to Death?," National Geographic, 2018.
Kiss, G., "Fun Games to Train Your Frenchie," TomKings Kennel, 2019.
Dunn, Jr., H., "French Bulldog History," All Star French Bulldogs Kennel, 2019.